I Need Romance 3: Episode 16 (Final)
It's a sweetly satisfying conclusion for the third installment of the I Need Romance franchise, with enough closure to feel like we're sending characters off as better versions of themselves than when we met each of them, but also enough open-endedness to remain realistic and true to the tone of the series. Well, as realistic as a fantasy world in which Wannie is a real man. But my world has aliens and gumihos and ghosts, so what's another sweet potato to add to the mix?

SONG OF THE DAY
Sung Joon – "사랑은 웃는 것 (Love Is Smiling)" for the OST [ Download ]
Audio clip: Adobe Flash Player (version 9 or above) is required to play this audio clip. Download the latest version here. You also need to have JavaScript enabled in your browser.

FINAL EPISODE: "The words 'I love you' are…"
It's the morning after love confessions and heady first nights, and Joo-yeon wakes up early to gaze at Wan and run her fingers along his face in wide-eyed wonder.
She narrates, "Just one word—love—and one night's time has passed. But you're different than you were yesterday, in my eyes."
She kisses his cheek and he stirs awake, requesting another on the lips. She complies and they snuggle blissfully. Can we just stay in this scene for another few hours?
Elsewhere, Hee-jae is having a little more trouble enjoying the morning after because she wants to look her best. She even turns down breakfast in bed (What. Why.) but Woo-young just finds her adorable and jumps back into bed to keep her from getting dressed.
As Wan drives Joo-yeon back, she says to herself that she suddenly understands things she never could before. She flashes back to a conversation with her team, where the other girls fawn over the hottie waiter straight out of Coffee Prince and talk about the endless body parts they find sexy on a man, like his neck while he shaves or his arms while he drives.
Throughout the entire conversation, Joo-yeon and Woo-young just shake their heads dubiously. But now, Joo-yeon finds herself completely enamored with the perfect specimen of a man at her side. I love that she outright ogles him, taking in his arms and his hands while he isn't looking.
He asks if she wants to stop for brunch, and she just shuts her eyes and squeals internally, "That voice!" You're so cute right now. Are you seriously only noticing all this for the first time??
And in another car, Woo-young makes sure to point out that he's about to look sexy while driving, since he remembers Hee-jae swooning over the way a man looks while driving in reverse. She laughs, and rewards him with a kiss on the cheek.
At brunch, Joo-yeon is in full love-struck mode, now noticing the way he looks from behind, the way clothes hang on him, the way he so perfectly touches his lips to his coffee mug. This is cracking me up.
He calls her out for being weird all morning, wondering why she isn't eating or saying anything and just staring. All she can do is berate herself in inner monologue: "What woman called this man a sweet potato?!" Ha.
At work, she asks the girls (plus Se-ryung), "Have you ever seen a man so perfect? Have you?!" When they all agree wholeheartedly that Wan is hot, she chirps in delight at their good taste. But when they point out that the entire world knows he's hot and he has the fans to show it, she starts to get a little nervous.
She gulps to hear how many young pretty girls send him gifts, and she admits to Se-ryung that being with him does make her really anxious. Se-ryung assures her that there's no such thing as a safe relationship—only ones that make you feel less nervous because you care less.
Tae-yoon comes up to them and mentions that he heard Se-ryung will be sticking with their company, and she says she never intended to leave in the first place. She reminds him that he knows why she came here in the first place.
Joo-yeon marvels at her confidence, and Se-ryung just says that in the dating game, the final match is the one that's most important and she has no intention of fighting through the first ninety-nine rounds only to lose in the end. She has one last chance and she's going to take it.
Wan interviews a pair of idols on his radio show, and when he asks about their ideal men, one of them confesses to having a huge crush on him. The best part is Joo-yeon's face as she watches this online, grumbling jealously at every word.
But after coaxing compliments out of them, Wan says cheerily that he hopes his girlfriend is watching this, and adds: "Are you listening, Shing Shing? I love you." Aw. Joo-yeon lights up and says in voiceover: "My man. Try as I might, I can't not love him."
She's waiting for him outside when he arrives that night, and he bounds up the stairs to meet her. She denies having missed him all day, but says she's curious about something now and asks why he likes her when there are so many pretty young girls around him.
Wan: "So what? Those women aren't you." Good answer. He asks if he makes her feel insecure, and she admits he does a little. Wan: "You like me a lot, don't you?"
He tells her not to feel insecure, and instead to just be good to him as much as she likes him, starting with the truth—that she missed him all day. She openly confesses to both, and he kisses her.
As they head inside, she narrates that they've gone back to living together, and other than being love, nothing is all that different day to day… except for things getting slightly awkward at bedtime.
They're snuggling on the couch when Wan suggests they go to bed, at which she suddenly darts up nervously, blurts goodnight, and goes to her room. I love the incredulity on his face.
He texts her to ask his room or hers, and she spins her wheels trying to figure out how to answer. She starts to think of dating in terms of marketing strategy, since that's all she knows, and decides she doesn't want to be too easy and therefore unappealing.
She decides to play dumb, which makes him scoff. It backfires on her, and she lies in bed wondering why he isn't responding. She tries Home Shopping Strategy No.2: make him think he only has a few minutes left to buy.
When that doesn't work, she remembers that sometimes a free gift with purchase is the way to hook people, and sends him a picture of the giraffe: "The giraffe misses you." It works to get him down to her room, and she asks what he wanted to say, still playing coy.
He skips straight past the playing dumb: "Wanna kiss?" He kisses her and asks if she wants to return or buy, and she declares him a keeper.
She gets on top of him for more kisses (rawr), but then he stops her for a second to say that he doesn't like all this dancing around—he likes being direct, like saying he wants to sleep with her when he wants to sleep with her.
He asks her to do the same, because he can't read her mind, and doesn't want things to end in a haze of misunderstanding. So he asks her point-blank if she wants him to stay or go, and she shyly tells him to sleep in her room tonight. Kiss!
At work the next day, Joo-yeon asks the girls about initiating sex, admitting that she's never been able to do it. Unsurprisingly, Se-ryung and Min-jung have no problems asking for what they want when they want it, while Hee-jae falls much more into Joo-yeon's camp.
Hee-jae says she'll reject sex in cars outright, while Min-jung says she has fantasies about having sex in public places. They all agree to name fantasies (while attributing them to "a friend I know") and Hee-jae admits to wanting to be tied up, and hating the fact that her boyfriend always has to turn the lights off.
Woo-young arrives from a meeting two seconds later, and everyone freezes up awkwardly. Hee-jae runs to her desk, and when he prods to be let in on the conversation, Min-jung tells him to turn on the lights, and Se-ryung tells him to try bondage. Pffft, poor guy.
He calls Hee-jae up to the roof and has it out with her for blabbing about their sex life with everyone. He's understandably pissed, countering that she could initiate sex once in a while but he doesn't go talking about it with his friends. But he doesn't stay mad and ends with: "See if I ever turn the lights off again!"
Min-seok starts to freak out while fake-babysitting when it starts to sink in that twins mean literally doing everything—feeding, rocking, changing poopy diapers—twice.
He tries to figure out where to cut down on his work, wondering if he should cram in more work now so he can cut his hours when the babies come, only to wonder why he's thinking about this when he's planning to run away.
He's even more shocked when a deliveryman arrives with a mountain of baby supplies including a twin stroller, and he brings it over to Min-jung and admits that he must've ordered the stuff while drunk. Hahahaha.
He doesn't even remember doing it, but his credit card receipts revealed his new drunk baby shopping addiction. She asks how he feels about living their separate lives and not getting married, but just raising the kids together.
She promises not to hold onto him if he ever wants to run away, but asks him not to be so scared about stuff that hasn't happened yet. She hands him her baby diary and tells him to take a look when he's ready.
Hee-jae tells Woo-young that she has something to say, and turns on the radio. It's Wan's show, and he starts to read a message sent in from a listener, and Woo-young realizes that it's from her.
She says in the message that she's spent years working herself to the bone and saving all this money, but it suddenly dawned on her that she didn't know what it was all for. She decided that she wants to travel the world for a year, but worries that her boyfriend won't cheer her on.
Wan thinks her worry is unfounded: "Of course he'll cheer you on—the person he loves wants to be happy. I hope the two of you will meet again as happier people."
But Woo-young isn't quite so open-minded about the fact that his new girlfriend suddenly wants to be apart for a year. She reminds him that he's the one who encouraged her to figure out what she wants.
She says she needs to do this alone because she wants to become someone who can stand on her own and be happy on her own. Good for you. She thinks that they have all the time in the world because they're still young, but he refuses to see it her way and tells her she'll have to break up with him first if she wants to go.
Wan finishes up the radio segment by saying that being insecure in a relationship's future is a given, but it's more important to focus on being happier in the present: "Because there is no future if there is no present." Deep, yo.
Joo-yeon listens to his show while bumbling her way through making dinner at home, and he's a little taken aback to come home to her in an apron: "You didn't cause an accident did you?"
He finds the kitchen a mess with her half-burnt, half-raw meal in process, but encourages her not to give up on it, deciding that she should cook one day a week from now on. He sighs while washing up because he already ate before coming home, but he braces himself to eat another meal (and of questionable edibility at that—now that's love).
She watches him eat with such expectant eyes. He's a trooper about eating her food, struggling not to grimace and bust out laughing at the same time. He can't help but point out the things she did wrong, but then one compliment puts a smile right back on her face.
As they brush their teeth together before bed, she tells him that she's going to sleep with him tonight. That catches him off-guard, but he recovers and decides to play hard to get. She asks if he's tired, at which he spits back that he is NOT, nor will he ever be, lacking for stamina. Ha.
She asks what he'll do if she rejects his rejection, so he challenges her to make it so that he can't resist. Challenge accepted. She drops her robe to reveal a tiny leopard nightie, and if he had cartoon eyeballs, they would be jumping out of their sockets.
She tells him to go ahead and resist, and backs him out until she's got him pressed up against the wall. She kisses him lightly and throws his line right back at him—he can tell her to stop if he wants.
She leans up to kiss him on the neck, and he can't take it anymore, and picks her up and carries her inside.
Hee-jae hesitantly tells Woo-young that she's going to hand in her resignation today, and he answers coldly that he doesn't care because they broke up yesterday.
Joo-yeon and Min-jung get called to the boss's office, where Tae-yoon is already explaining Min-jung's pregnancy and asking for some leniency in letting her run her team. What, are you actually being human now?
They're shocked to hear that Tae-yoon went to bat for Min-jung, and their boss asks if they'll be able to handle the workload when it doubles, because Tae-yoon is leaving for Hong Kong to run their office there. They reassure her that they're up to the task.
Hee-jae gets up when Joo-yeon walks in, but Woo-young suddenly darts up and cuts her off before she can say anything and drags her out of the office angrily. What are you going to do, lock her in a file cabinet?
He's still roaring mad, but despite it all, he takes her shopping for a new suitcase and a camera. He demands the shopkeepers to give him everything on a twelve-month payment plan, refusing to do it any other way.
It seems like a strange fixation until he grumps at her that he's still mad, but this way she'll have to come back to the man who's paying for her suitcase in monthly installments. Ha, that's cute.
She hugs him in the middle of the store and thanks him for coming around, but he's still too pouty to enjoy the hug.
Hee-jae hands in her resignation the next day, and Joo-yeon starts to argue, but then decides to let her go. She admits to needing her here at work, but tells her not to listen to her if she tries to talk her out of it tomorrow, and just leave to go find herself.
She offers advice, not as her boss but as an unni, not to live by her "Because it hurts, it's youth" motto. She tells her to stop and figure out why she hurts and fix it then and there, and not waste her youth becoming a robot who doesn't know who she is and what she wants.
Min-jung and Min-seok go in for an ultrasound together, and he gets adorably concerned about the number of fingers and toes on babies that are still the size of a peanut.
Wan sets the table and calls to see when Joo-yeon is coming home, and insists she sign off with an "I love you." She adds a kiss for good measure.
Tae-yoon gets ready to leave for Hong Kong, and Joo-yeon calls to send him off and promises to hold down the fort here while he's gone. Se-ryung shows up at the airport and says there's one more thing she needs to say so that she doesn't have regrets later.
She hands him the necklace he once gave her when they were happy and in love, and says that words don't work on a man like him, and he's not going to answer her or give her promises anyway.
She simply asks him to put that necklace back on her neck when he returns, and walks away without looking back.
At a different terminal, Woo-young hugs Hee-jae and puts in one last-ditch effort to say she doesn't have to go. She sticks to her guns and says goodbye with a kiss and "I love you."
Wan (voiceover): "'I love you' isn't just a phrase that means 'I like you'—it means 'Through you I'm going to discover a new me.'"
Joo-yeon finds Wan waiting for her outside when she arrives home. He says he wanted to see her one minute sooner, and sticks out his arms for a hug. I love it when he does that. Now Joo-yeon is the first to say it, unprompted and without reservation: "I love you."
Wan (voiceover): "The words 'I love you' are an oath to conquer insecurity and make new moments every day."
Min-jung and Min-seok argue over what they can and can't see in their ultrasound picture, and then he coos, "I love you," at the babies… only to turn and kiss Min-jung on the cheek. Eeee. Did you say that to her?
He swears he directed it at the babies, so she kisses him on the cheek right back and says, "I love you," also at the babies.
Joo-yeon (voiceover): "The words 'I love you' are a promise to think of the present moment as forever, and not worry about the future."
Back on their doorstep, Wan and Joo-yeon say "I love you" one more time with a kiss as stars fall from the sky.
Wan (voiceover): "I was happy that you remembered the meaning of the words you had forgotten, and were able to say them again, that you're able to dream of love, and believe that love exists once more."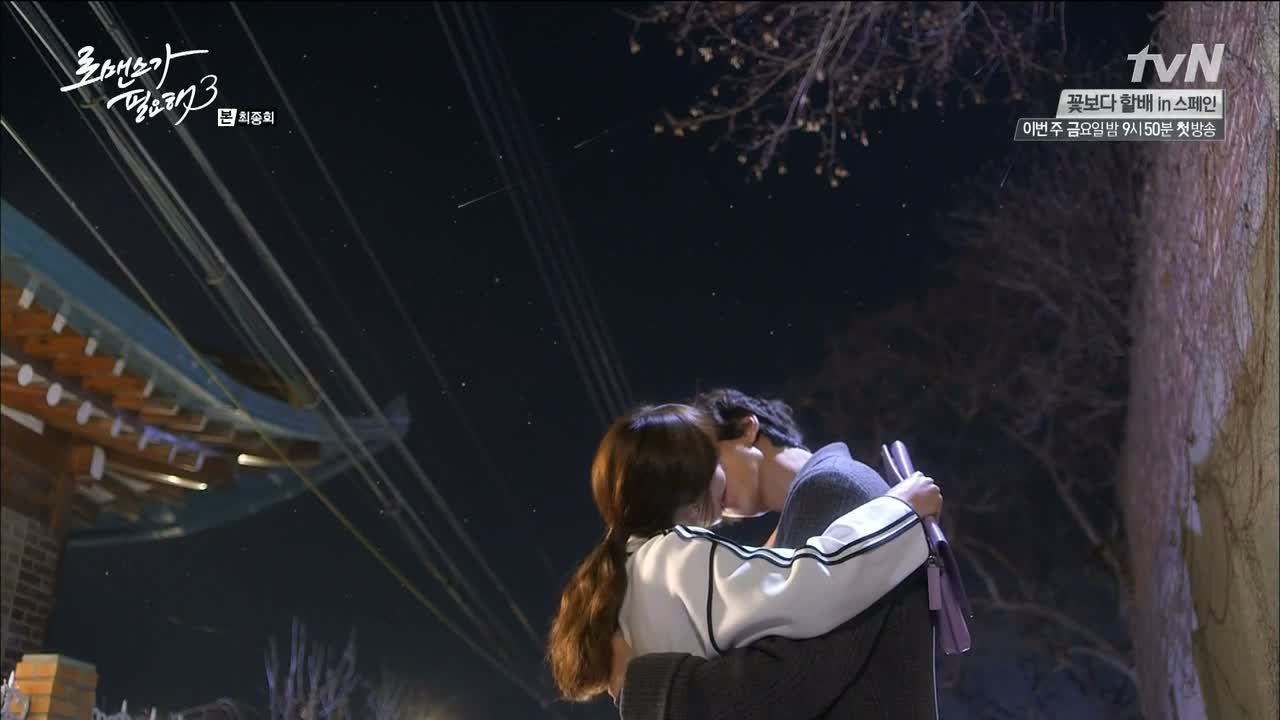 COMMENTS
Not that I was ever worried, but I'm happy with where we end up, with our main characters each finding love or a new version of themselves to make them happy. The commonality for all of them isn't love but courage to do the scariest thing they face, whether it's sticking around to be a father, leaving everything you know to go find yourself, or the courage to grab hold of love. I was a little concerned that one episode of happily ever after wasn't going to be enough for Wan and Joo-yeon, but they sure managed to cram a lot of kisses into one finale. How much do I love that they somehow spent an entire episode on arguing the merits of equal responsibility in initiating sex, like this was their biggest problem in life? First world problems, y'all.
I certainly credit Kim So-yeon and Sung Joon for being the reason I was invested in this show from the start. I'd watch an entire drama for either one of them, so their pairing buoyed what would've been mild interest because of the franchise alone. And of course the fact that they had fantastic chemistry sealed the romance. I loved every bit of Kim So-yeon's performance, even when I was frustrated with the character—she played every moment with depth and vulnerability, and carried the show.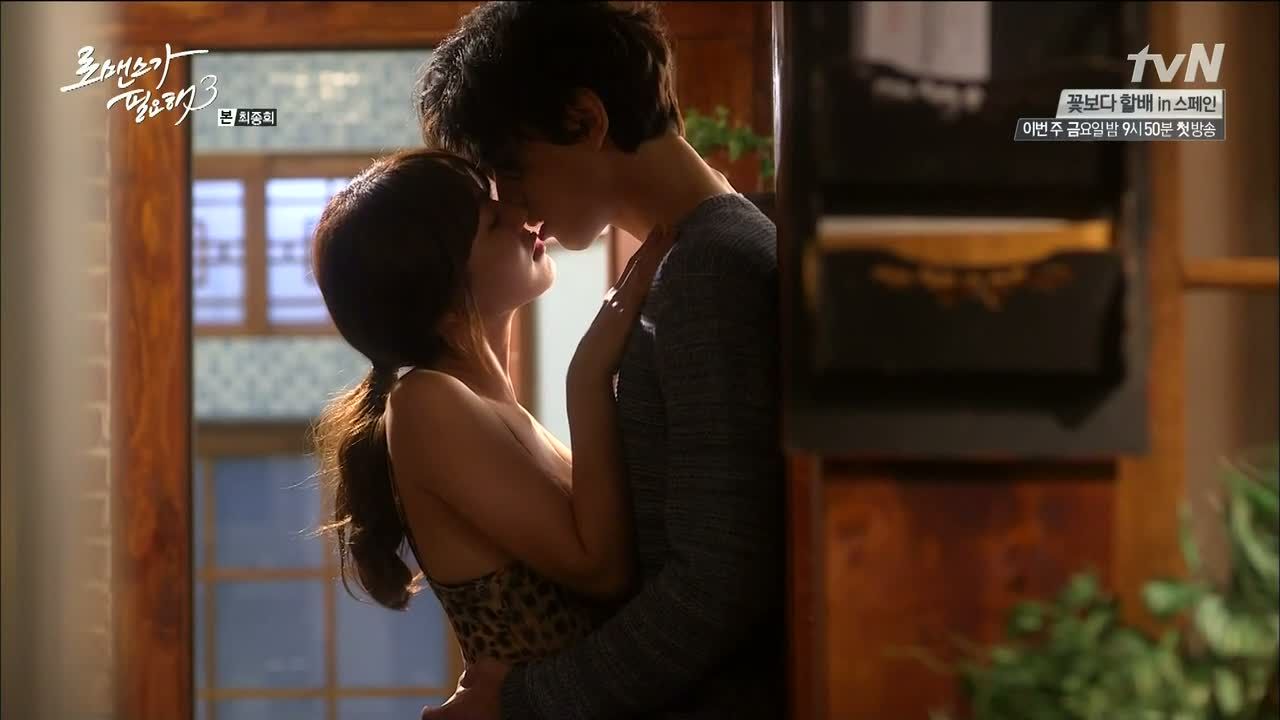 In many ways this season of I Need Romance was the least like its predecessors and much more like a standard workplace rom-com. The lack of a strong girlfriend trio was keenly felt, and though I came to love Joo-yeon's growth in that department, I would've much preferred to have her discover friends early on so that the conversations we got in the last two episodes could've been spread out over at least half the series. There's only so much you can get out of a one-sided conversation with a judgy giraffe. I didn't mind the fact that the romance took a rather straightforward trajectory, given that Wan's character was more in the mold of the previous seasons' second leads (whom I preferred), but it did lack a bit of suspense and tension as far as the plot goes. But yunno, cohabitation hijinks wins you a lot of love in my book.
I've enjoyed all three seasons of I Need Romance, and it's clear that everyone has a different take on which installment is their favorite, because we're all going to have different characters we feel are closest to ourselves or our ideal. This third season is the most satisfying for me, mostly because I never quite got over the jerkiness of the first two seasons' heroes, despite understanding why those heroines loved them. Wan is basically their polar opposite in every way, enough to actually be unrealistic as a human being, but whatchoo gonna do—a perfect puppy noona-killer is just my number.
And though Joo-yeon was at times frustratingly blind to her own heart, I understood every bit of her kneejerk reaction to build as tough a shell for herself as possible. A woman who protects herself so well that she forgets to sometimes let others in—that's a character I fundamentally understand and relate to. I didn't love that Wan was relegated to a fixer role in her life, because for one, that's presumptuous, and two, it left less room for him to be an independent character.
But I'm glad the show took care to make him wrong at times, and have him realize that he doesn't know everything and that he isn't actually a love guru trapped in the body of a young man. He doesn't know better than her—he's just braver than she is, because he's less hurt and jaded. But that's what I love about noona romances (well the ones that work), because they counter cynicism with relentless optimism. She's a realist enough for both of them and maybe an army, so it takes his starry-eyed belief in love to move her heart at all. And two people who acknowledge that the future is uncertain but they'll choose to live in the present for each other anyway—I'm going to root for them to have many more todays just like this one.

RELATED POSTS
Tags: featured, I Need Romance 3, Kim So-yeon, Sung Joon