Na PD on grandpas, money, and Seo-jinnie the con artist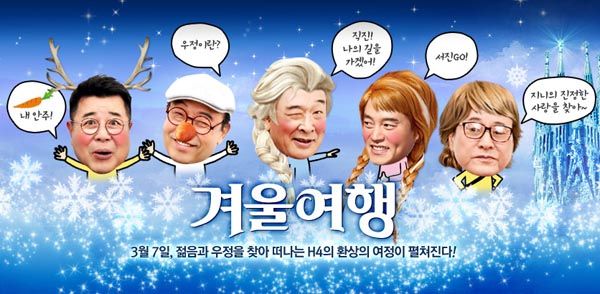 Grandpas Over Flowers is gearing up for the premiere of its third trip to Spain this Friday, and the show's PD Na Young-seok (known more commonly to all as Na PD) has been giving interviews left and right about the new season and the things we can expect from the halbaes and luggage boy Lee Seo-jin. We cherry-picked the best phrases to translate, but they're pretty much all zingers.
From the mouth of Na PD:
"Luggage boy Lee Seo-jin — he doesn't even rebel now."

"A tough journey is uncomfortable? That just makes it memorable."

"Lee Seo-jin is a genius who doesn't have to try."

"He's been to France, Switzerland, and Taiwan before so he didn't have to do much preparation. But this time he's going to a country where he can't rely on English, so I saw him preparing for the first time. You'll also see him making mistakes repeatedly out of stress."

"Recast the luggage boy? Never. Lee Seo-jin is a 'Wonderful luggage boy'" (a pun on Seo-jin's Wonderful Season).

"If Teachers Lee Soon-jae and Park Geun-hyung enjoyed the daytime sights of Spain, then Teachers Shin Gu and Baek Il-sub enjoyed nighttime Spain.
"We reduced the allowance money and extended the route."

"The key point of the show is Lee Seo-jin coming to blows with the production."

"In order to get more money for the halbaes, he [Seo-jin] came nearly to scam artist levels with the staff."

"He used his brains a lot to con us of more money for the elders, by any means possible. We producers couldn't let our guards down for even a moment through the ten days. We tried really hard not to be fooled."

"You'll find a new and different aspect of fun in the back-and-forth push-pull game between the staff and Lee Seo-jin from previous trips. Now there's no need to keep up appearances with each other so everyone let it all out and it turned into 'babies fighting.' In an extreme situation, Lee Seo-jin and the production crew crossed over from a push-pull game into an actual tense showdown."
"Lee Seo-jin really hates to cook. He said this was the first time he's cooked since France. He really hates cooking and is frightened of it, but [the halbaes] want it so he cooks."

"I half-jokingly, half-seriously teased Lee Seo-jin the whole time, that we should do a show called 'King of Cooking Seo-jin.' A program where every time he cooks it's a failure."

"Lee Seo-jin approaches everything with seriousness. He never loses his poker face even in nervous situations. In Spain he was caught by the police while driving a rental car [!!!] but still confronted the situation seriously."

"Lee Seo-jin and the staff end up in a much fiercer battle than expected. Before we would've said things like, 'You can't do that,' but now our exchanges sound more like: 'What're you doing! Stop right there! Catch him! That bastard is a thief!'"
Aaaaand below, Na PD flinching when Gu halbae turns into a badass:
RELATED POSTS