Running Man: Episode 188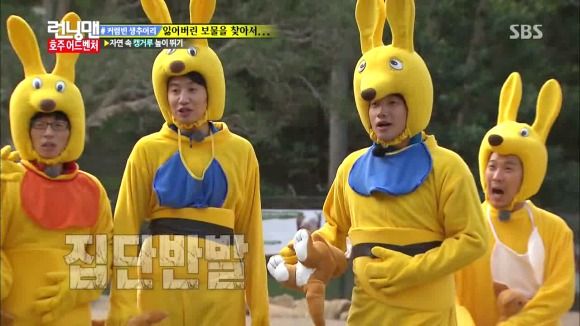 Our cast heads down under to find the four elements and track down a hidden treasure chest on a massive hunt across Australia. This first day is chock-full of adventure from start to finish, so get ready to dive into the ocean's depths, make some unlikely friends, and explore everything this continent has to offer.
EPISODE 188. Broadcast on March 9, 2014.
Somewhere off the Australian coast, a hidden treasure chest lies waiting to be found. Man, it looks like Running Man pulled out the big guns for this overseas adventure with those niiiiccee hi-def cameras, and I'm gonna be honest with y'all: I am SO excited.
Back in Seoul, we meet our two special agents looking as dapper as ever: actor Kim Woo-bin (Heirs) and Rain (or Jung Ji-hoon), the Hallyu star who needs no introduction.
They join our regular cast members on the dock (sans Ji-hyo, who's probably on her crazy drama-filming schedule for Emergency Couple) and Woo-bin gets teased for already tearing up.
Are you sad Jong-seokie couldn't make it? Darn that swine flu! (And no worries, his eyes are stinging from the sea breeze.)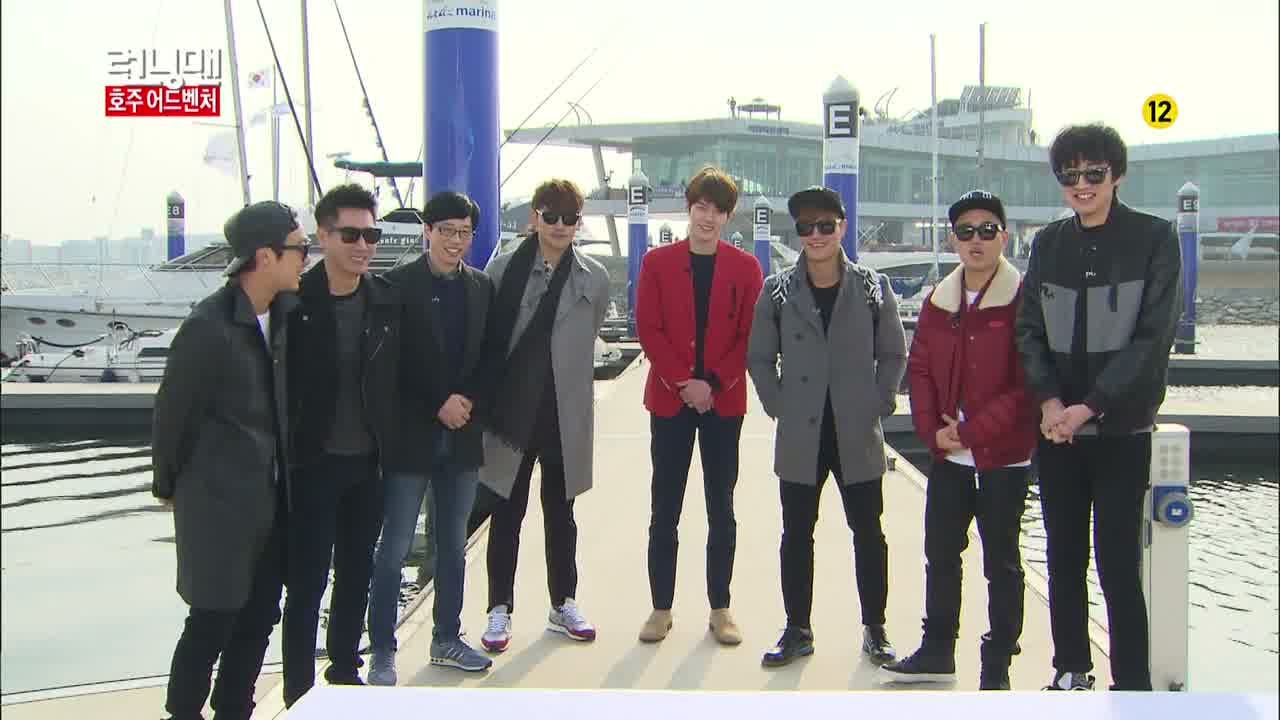 Time to divide into teams, which are as follows: Rain and Kwang-soo, Woo-bin and Jae-suk, Jong-kook and Haha, and last but not least, Suk-jin and Gary. I love how Gary offers to be paired up with Rain to give us our first pun of the day: "How about bigae [pillow]?"
Jo PD introduces the mission to our team of special agents: to recover the lost treasure chest, which can only be found when the four elements (wind, water, earth, and fire) are aligned. Luckily for them, they're informed of the chest's location: Tagalooma Island Resort in Brisbane.
One last thing: the agents pick a card that points to one of the aforementioned elements, but we have yet to see how those will come into play.
Then without further ado, it's off to Brisbane, Australia, where they're warmly greeted by a sea of screaming fans. Another helicopter ride takes them along the coastline—a fun experience for some whereas others are gripped with fear.
It's time to run as soon as they land and they hop on ATVs to drive to the ship wreckage off the shore. As Woo-bin and Rain speed down the seashore, Gary cries out to Suk-jin in alarm: "We're heading to the sea!" HA.
Rain pulls ahead of Jong-kook for the lead, and then the agents are promptly told they must dive underwater to recover the treasure chest. So they change and climb into a boat, and Kwang-soo asks the staff if the ship is real (versus built by the staff) Caption: Does that even make any sense?
Between an airplane, helicopter, ATV, and boat in such a short span of time, Woo-bin is left awestruck and says it's the first time he's ever done all these things. It really is chaotic because it's run-run-run at the start—here, they must find the right key to open the treasure chest.
Everyone's motivated today, but then both Suk-jin and Gary admit that neither of them are good divers. Suk-jin: "I was in the Navy, but I didn't dive."
Thankfully the water doesn't look too deep, and it's Rain who spots the first treasure chest. He grabs all the available keys (smart) before taking a minute to catch his breath. Haha dives down, but then knocks his head on the wreckage. Owwww, that sounded like it hurt.
Diving below turns out to be harder than it looks, but Jae-suk fights his fears to try a key. It doesn't work, and while Kwang-soo tries one of his keys, Jae-suk grabs onto him like the prankster he is.
There are a lot of keys and the agents grow frustrated that this mission is too hard. And then, Rain unlocks a chest and swims back first. Kwang-soo drags his Easy Brother hyung Suk-jin back with him to the boat, which leaves Gary wondering where his teammate has gone.
So while Suk-jin grabs another lifevest, Gary tirelessly does the work for the both of them. Serious props to Gary to dive again and again, but it's Woo-bin who unlocks their chest first.
Back on shore, Rain remains humble about his lucky find whereas Kwang-soo sings his praises. All that hard work was to recover a bottle, which contains a map to their next location: Currumbin Wildlife Sanctuary.
That means another helicopter ride (Kwang-soo's jaw drops), and Kwang-soo and Rain are given a chance to ask which element card they chose. Neither of them knows that they both chose "wind," and while they decide on who gets to ask, the captions tell us that they can both ask. Hahaha.
Rain allows Kwang-soo to ask on the condition that he's told what card Kwang-soo has "because I hate being betrayed." So when Kwang-soo tries to spin it a different way, Rain asks if he intends to betray him later. Is that really a question?
They spend a good few minutes arguing about it some more until they both agree to ask. Rain guesses wrong, and then Kwang-soo jumps through hoops to dance around the question, concerned that they'll both know if he guesses correctly.
With Rain's looming threat that he'll chase Kwang-soo relentlessly if he betrays him later, Kwang-soo finally asks and guesses wrong. Jae-suk and Woo-bin learns that one of them is "fire" (it's Jae-suk), and then it's back to the helicopter.
Did Jong-kook use his strength to rip the lock off of the chest? It's hard to tell, but he open it regardless. After Gary manages to unlock the last chest, he insists that they both worked hard before conceding that he pulled it off. But then they have to double back for the bottle.
Here at the wildlife sanctuary, the teams must high jump a combined 3 meters… wearing kangaroo suits. They look ADORABLE in them, and ha, Woo-bin pops on a pair of shades.
Rain attempts to jump 1.8m and falls on his butt. Woo-bin attempts the same height from the springboard… and then faceplants onto the pad. Rain and Kwang-soo resort to taping their pouches onto their bodies. Is that against the rules?
What's more hilarious is how the others gripe that the athletic world star can't resort to cheats, but Rain presses that he'll do it this way, Ninja Assassin be damned. He does remove the tape though and easily jumps over 1.5m.
The small troop of kangaroos hop away when Kwang-soo tries to get the crowd riled up, but then they oddly stop to watch when he calls out to them. Ack, I hear kangaroos are deceptively aggressive—don't get them worked up!
Jae-suk and Woo-bin succeed first and are instructed to feed the baby kangaroos. The little ones eat willingly and even allow the Running Man roos to pet them. After overcoming their fears and making some new friends, they're sent to take a picture of a koala. Gulp, I hear they aren't naturally friendly either.
Things just aren't going in Gary's way today as Suk-jin accidentally headbutts the pole. Rain and Kwang-soo clear their mission and stop to feed the kangaroos.
Jae-suk and Woo-bin chat while they explore the wildlife exhibits, talking about all the things Woo-bin has done for the first time today. Woo-bin acknowledges that this show brought out his inner heodangness and comments on how everything looks so easy as a viewer when the reality is far from it.
Aww, the koalas look cute as they sleep on, but will they be able to find the right one? Also, do I have to worry for their safety a little bit?
All the teams eventually move on to search for their respective koalas, but it doesn't help when most of them sleep for the majority of the day. Jae-suk's first guess is incorrect, but it's funny how he tries to pry information out of the trainer anyway with his limited English. She doesn't budge, hee.
Jae-suk picks up on her body language for clues and gets lucky the second time around. The next chest contains more clues: buy groceries and a picture of a license plate.
They drive to the market in an open jeep (which Woo-bin says it's his first time riding in one) in order to buy groceries. Their list is written in English, however, and while resident cook Haha makes some educated guesses, the language barrier lies in his pronunciation. (And also, the employees can't give them any answers.)
A kind resident understands him though, and even recognizes him, which is pretty cool. Everyone does a fair job of acquiring their necessary ingredients, and it's Rain and Kwang-soo who succeed first.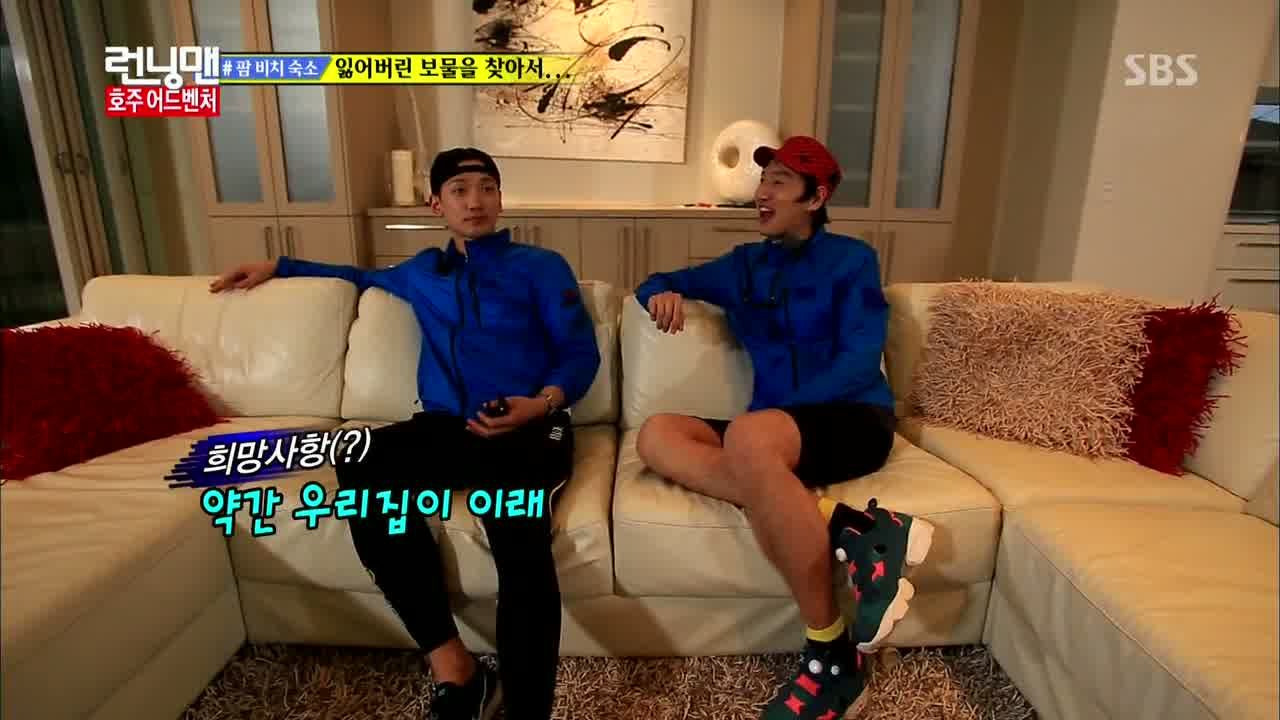 They arrive at their accommodations for tonight, which is this huugggeee luxury house. Kwang-soo asks why Rain doesn't seem surprised, and Rain jokes that it looks exactly like his own house. Heyyy there, we've seen your place before!
Wow, it opens up right in front of the beach and the boys stretch out like they own the place. Rain warns Kwang-soo again against betraying him, but while everyone is busy looking at the view, Rain quietly asks the staff if he's "fire."
Then Rain totally feigns ignorance when Kwang-soo returns, and tells him the half-truth instead. Kwang-soo gets caught asking Jo PD but doesn't initially get to hear an answer. He promises to tell Rain what he heard, but something tells me it won't be that easy.
I love how everyone is thrown off by the fact that they can wear shoes indoors, simply because you don't in Korea. Once everyone's gathered together, they're told that they can switch teammates in order to help deduce who picked what element.
That makes them wonder what the final mission and Jong-kook guesses that it might be nametag ripping where no one knows each other's identities. The mention brings up sour memories from the You From Another Star parody episode, to which Jong-kook asks that Jae-suk allows him to beat him.
Then Gary jumps on that bandwagon and asks that Suk-jin do the same for him, yunno, for all the hard work he put in today. Ha.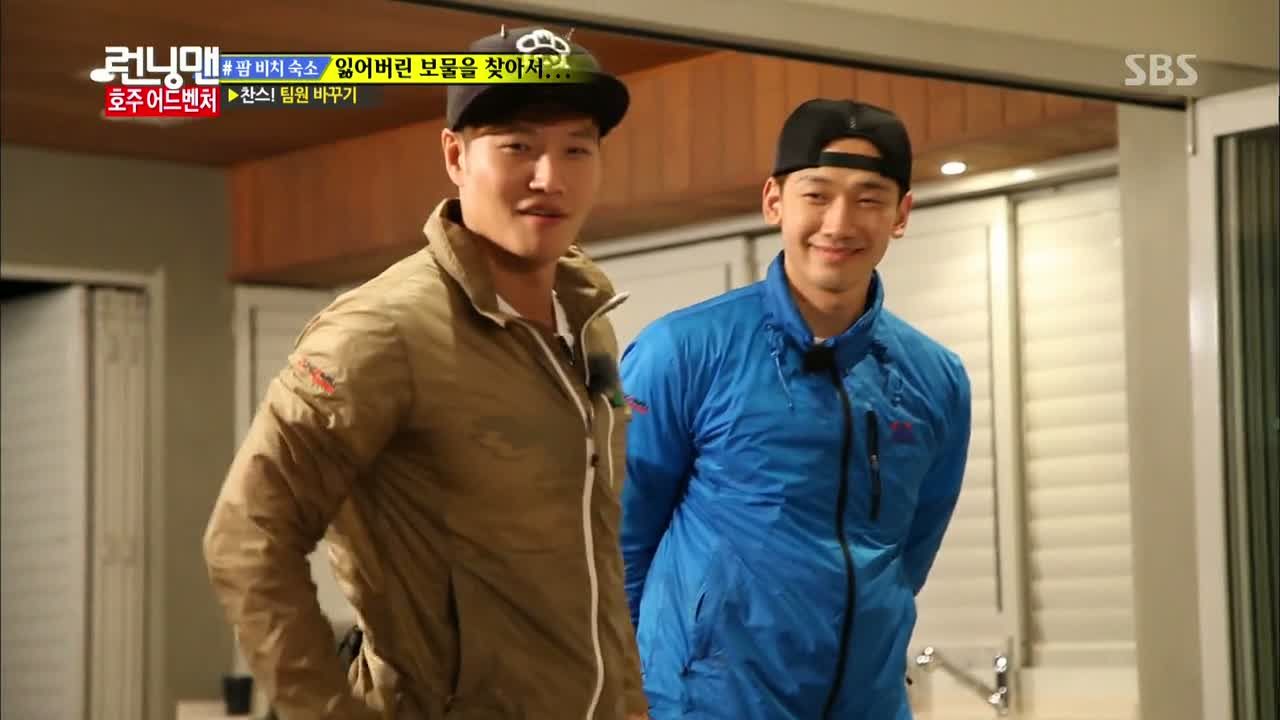 Rain is given first pick, and despite the cast's suggestions that he choose Suk-jin, he goes with Jong-kook. Damn, it's game over tomorrow, isn't it?
After some initial griping over the dangerous combo, Jae-suk jokes that Woo-bin's revenge towards Jong-kook (for easily throwing him into the pool one time) is long gone. And then Haha says that it'd be hilarious if Woo-bin and Kwang-soo were paired up. You're putting ideas into Kwang-soo's head!
Kwang-soo pairs up with Woo-bin as planned, which leaves the mat-hyungs stuck together and Gary with Haha.
The boys are feeling mischievous as they cook dinner, and silently crowd around Suk-jin to throw the mat-hyung into the pool. And then Kwang-soo jokingly pushes Jong-kook in afterwards. Ohhh you are soooo going to pay for that.
So Jong-kook pushes both Kwang-soo and Haha in as payback, and then they're kicking and pushing each other into the pool left and right. I love how it turns into this big celebratory thing between them where no one is safe, and Rain tries his best to literally keep his head down.
It's scary-funny how they tap on the glass like a trio of water zombies and then disappear before Rain sees just to freak him out. They eventually corner him to throw him in anyway, shirtless. Best. Episode. Ending. Ever.
And oh yay, Ji-hyo will join the others starting from the Melbourne leg of the trip next week!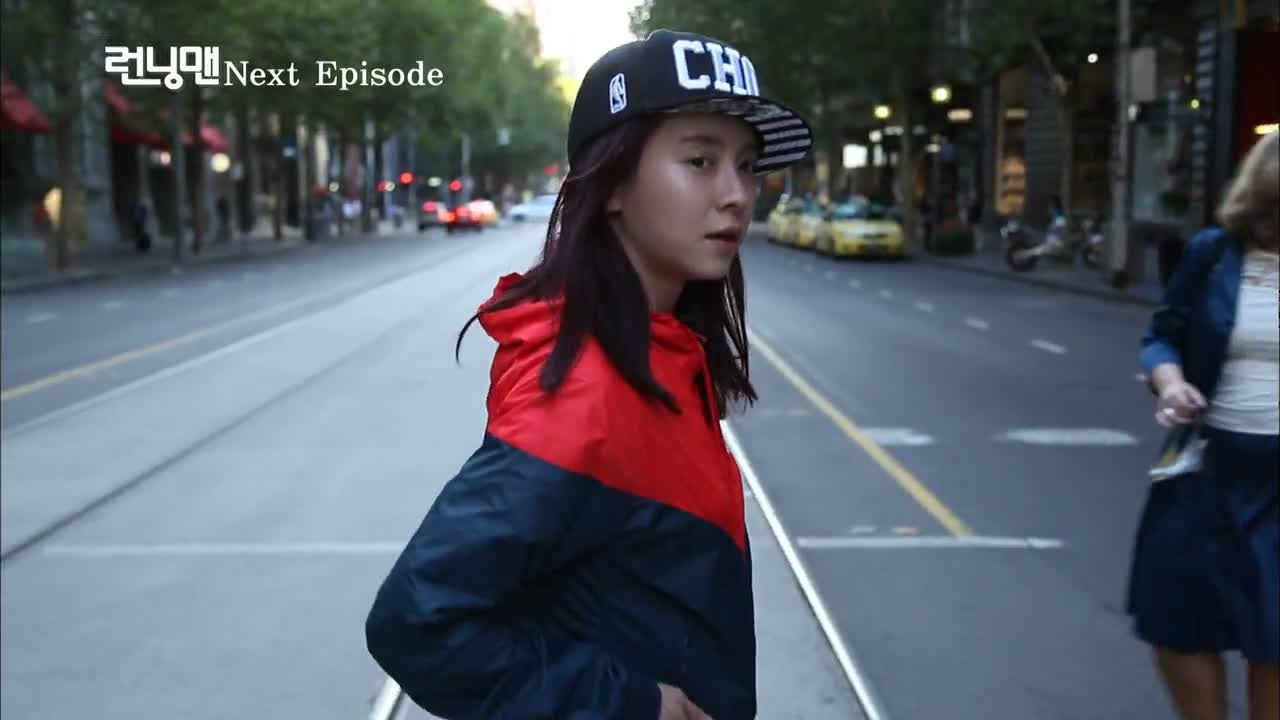 RELATED POSTS
Tags: featured, Haha, Ji Suk-jin, Kang Gary, Kim Jong-kook, Lee Kwang-soo, Running Man, Song Ji-hyo, Yoo Jae-suk