Running Man: Episode 189
The search for the lost treasure continues in this second half as our cast members take by sea, land, and sky to hunt down the four elements. Their journey will take them to Melbourne, where new surprises await them—and it's also where the earth goddess takes some time to munch on the city's yummiest eats. Now that mission I'll take any day.
So hold onto your glasses as we take off from the shore and head into the city because adventure waits for no one.
EPISODE 189. Broadcast on March 16, 2014.
We resume our Treasure Hunt in Australia at the beach house, where the boys had been informed of their morning mission (at 5 AM!) before last week's dinnertime pool antics. They'd also been given their own cameras to film themselves, which are used to capture some more late-night mischievery.
Thus we tune into Kwang-soo and Haha's behind-the-scenes midnight shenanigans. The duo's plans to scare Gary go awry when they're the ones to be spooked instead.
No matter though, because they go ahead and (literally) expose Gary's sleeping habit: snoozing in the nude. HA.
Then Jong-kook joins in with his own bedtime leg-splitting which no one is safe from, least of all the world star and Woo-binnie. Oww. I love how Woo-bin shies away in an attempt to hide, but the maknae has no chance in a roomful of hyungs. Boys will be boys.
Meanwhile, the mat hyungs are busy bickering in their own room, so Kwang-soo and Haha lighten up the mood with an impromptu dance party, with flickering lights and all. Watching a pair of men in their forties jumping on the bed like they're 8 years old is downright hilarious, and the energy lasts a good minute before Suk-jin collapses in exhaustion. Aw.
Collective alarms go off early the next morning, and as expected, Rain and Jong-kook are already out the door. Hee, did you eat breakfast at 4 AM again, Kookie? It looks like yesterday's teams are already a thing of the past, as Rain tells Kwang-soo to butt out while he strategizes with Jong-kook.
The teams are to choose between four ways of transportation, and both Kwang-soo and Jae-suk hear the word "seaplane" as "sea-plain," giving us a one-two punch pun: "Bread of the sea?" "[Plain] yogurt?".
Aww, today is Gary's birthday (February 24th), which is part of the reason why Kwang-soo gets robbed out of his choice (Suk-jin: "Let your hyungs go first!"). He teaches Woo-bin on Betrayal 101 in the car, and I love how Woo-bin doesn't believe for a second that Kwang-soo was the brains yesterday.
Woo-bin worries that he won't be able to take revenge on Jong-kook because he thinks Kookie has gotten fitter since they last met. So Kwang-soo offers some tips: hit Jong-kook in the solar plexus or elbow… as long as you apologize for it. Lol.
Each team has a different task this morning, and Haha and Gary's faces fall at their parasailing speed quiz mission. Gary hands off the honor(?) of flying to Haha with his limited English, excusing himself because it's his birthday: "Congratulations!"
Rain, Jong-kook, Kwang-soo, and Woo-bin go off-roading for their own mission, and they look like they're genuinely enjoying themselves, whereas Jae-suk and Suk-jin groan at the prospecting of stringing beads on a seaplane. Talk about motion sickness.
After yesterday's grueling first day, I say Gary should use his "It's my birthday!" card to get out of all things today. Like a good friend, Haha is willing to oblige, though, the scaredy cat gulps at the thought of flying high.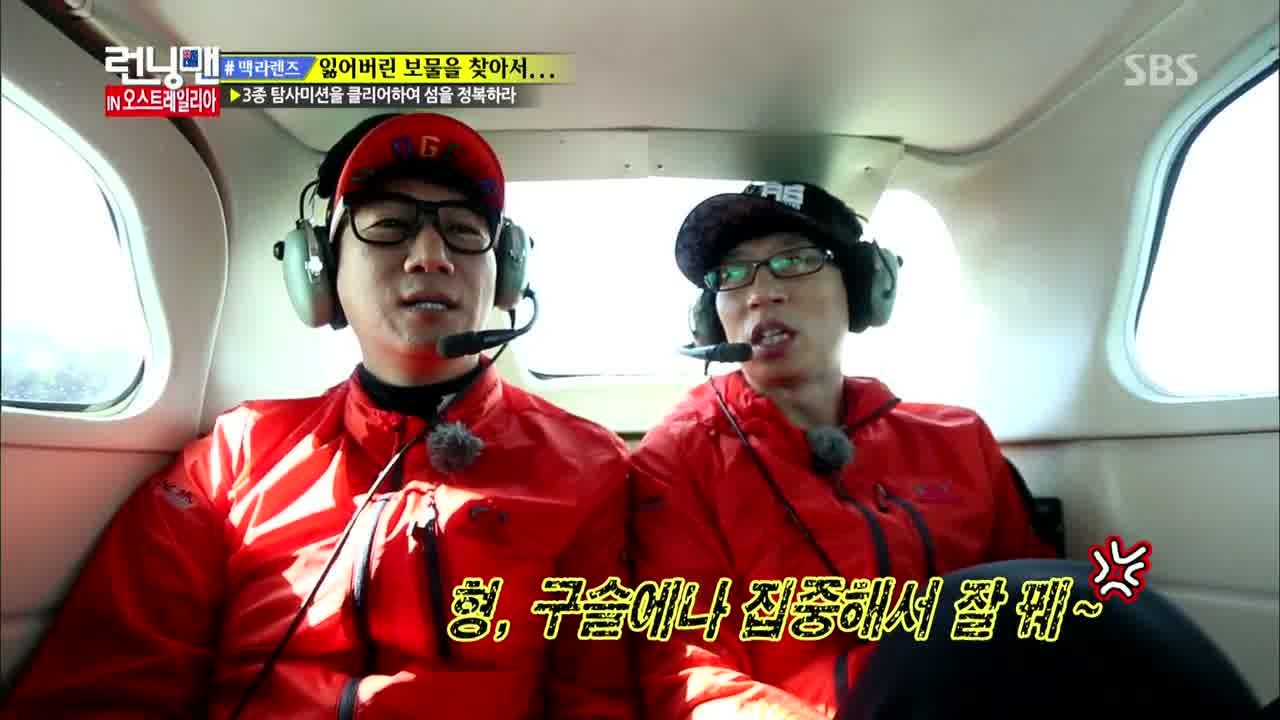 Meanwhile, the mat hyungs have been bickering from the car ride all the way to their destination. They voice their complaints to the staff, then at each other. Well, mostly it's just Jae-suk saying that Suk-jin should get up earlier and stop pretending to be on the move when he isn't.
Their breezy back and forth (the kind without any hard feelings) is a product of their longstanding friendship, but they're both nervous climbing into the seaplane, and the pilot warns that it's a "very scary ride." Eep.
Their uneasiness is funny even without the comical music cues, and it isn't long before they're up in the sky.
Kwang-soo and Woo-bin continue to enjoy their ride on the beach. When Kwang-soo starts strutting poses for the cameras, the staff choose to focus on Woo-bin instead. And well, I'm certainly not going to complain about that.
A little while later, Rain and Jong-kook are informed of their mission: not to lose over 100ml of water from their glasses by their next station. Then Rain points to the skies to segue into our seaplane pair, who are busy trying not to hurl.
Their own task of stringing beads isn't made any easier with the plane's turns and dives in the sky. Their facial expressions are absolutely priceless, but kudos to them for trying to take advantage of any brief seconds at their disposal.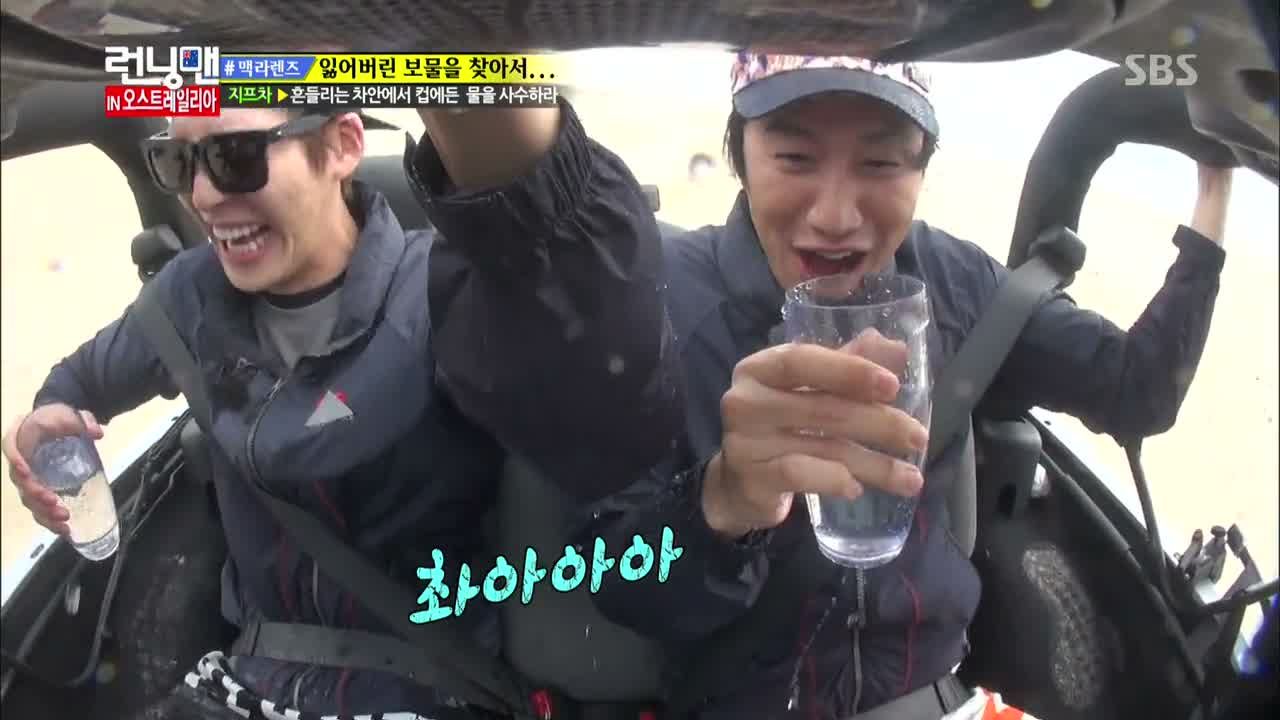 Oh man, I'm getting motion sickness from just watching our teams travel in the sky and on land. Suffice to say that things aren't looking good for Kwang-soo and Woo-bin, who lose splatters of water with each bump, though they tell themselves that everything's fine.
I suppose Rain and Jong-kook aren't that much better off, but both teams are still having a better day than the mat hyungs, who let out another cry of horror. Poor Suk-jin has yet to string a single bead, and the seaplane isn't going to let up anytime soon.
Both off-roading jeep teams are well-below their necessary limit, and there's a moment when it starts raining and the boys joke that Rain is gathering strength from his natural element. Ha.
While Jong-kook tries to strike a deal with the staff to lower their water limit, Kwang-soo whispers a strategy to his teammate. Ha, then we see both Kwang-soo and Woo-bin sneak an extra gulp of water before riding in their car.
Kwang-soo gets called out by Rain though, so he takes another gulps of his own glass (which I guess could be… smart?). They try to gather a few extra drops of rain before heading off, and it's a mostly silent ride because both their cheeks are stuffed with water.
It's not any better out at sea where the huge waves makes it a rough ride on Haha and Gary. The waves are getting bigger by the minute until they have to call the whole parasailing mission off, for everyone's safety.
Haha and Gary don't seem to be too upset about it, but it's great how the show compares the ocean waves to the ones back on land, aka Kwang-soo and Woo-bin balancing their water glasses.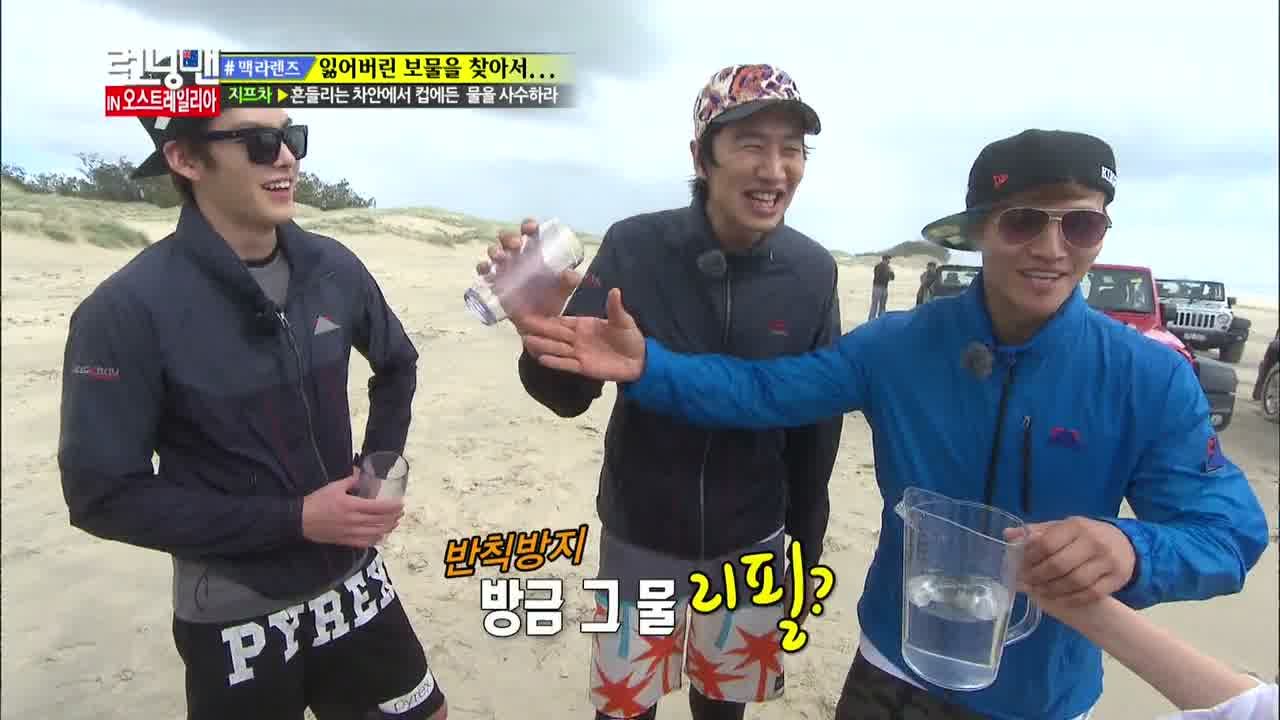 Anybody can tell that both boys have more water in their glasses than they started out with. They bring their water-saliva glasses (ew) to the staff, and though they technically pass, both Jong-kook and Rain call them out on penalties.
Kwang-soo insists that they drank out of their own glasses, which the others are okay with. But the issue is Woo-bin (who drank extra water), and the actor caves under pressure. "I was going to do things Kwang-soo's way, but then I saw Rain hyung!" Lol.
The staff call Kwang-soo out on his bluff by pouring him the recycled water (eww), but then offer Woo-bin a refreshed glass, to Kwang-soo's ire. But don't worry—everyone gets new water.
Up in the skies, Jae-suk and Suk-jin finally manage to complete their mission (and before anyone else!), and are more than grateful to pass out on the boat taking them back to shore.
I love how Rain and Jong-kook have adopted the "gulp and spit" method too, and Kwang-soo jokes that his glass is so warm that he can cook ramyun with it. Hee. This time, both teams pass with flying colors.
Haha and Gary excitedly spot dolphins in the water and name them after themselves. Aw, that's pretty cool.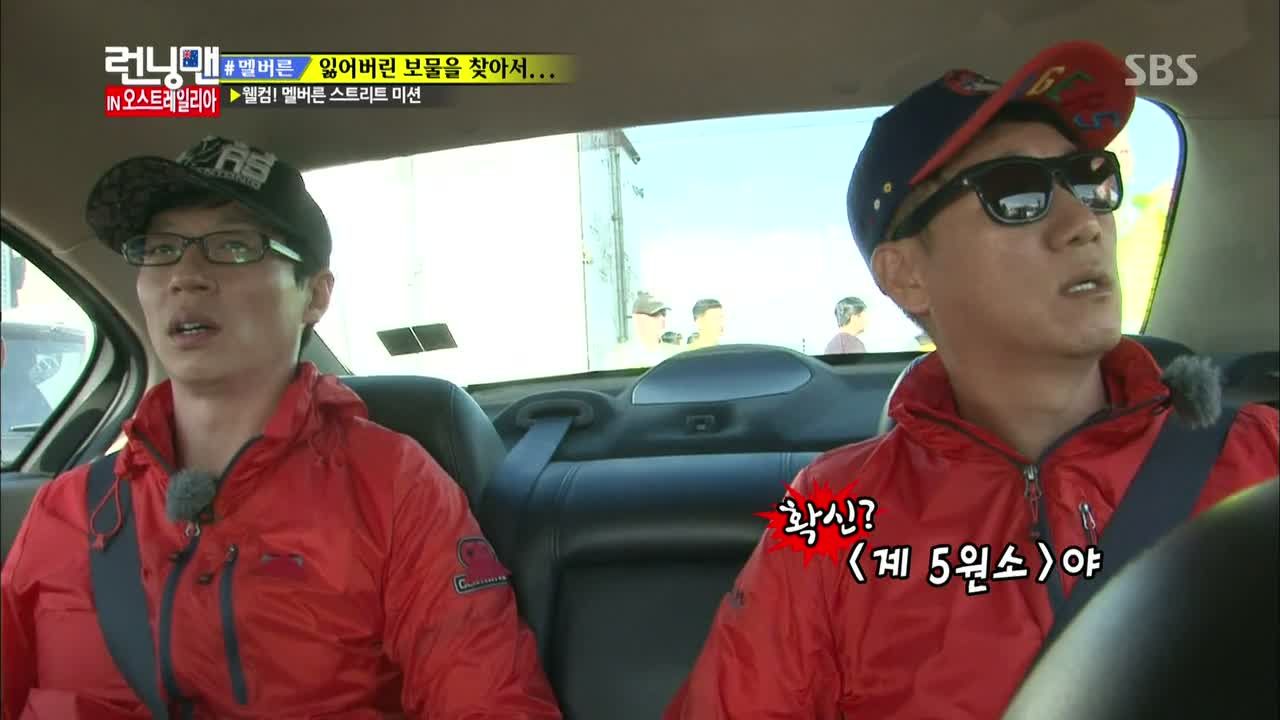 The mat hyungs are allowed to ask which elements they are for coming in first place, and both Jae-suk and Suk-jin guess correctly with fire and water, respectively. Then Rain is able to deduce his own element (wind) with another question.
It's off to Melbourne for our cast members, where Jo PD explains their final mission: gather the four elements together to unlock the hidden treasure. Ooh, I predict a lot of mind games and alliances up ahead.
For now, each team are headed off into different directions, and it looks like another game played on the beach with the locals was edited out. In a different car, Suk-jin likens the race to the movie The Fifth Element, which means they'll need a young woman. Or in this case, Ji-hyo.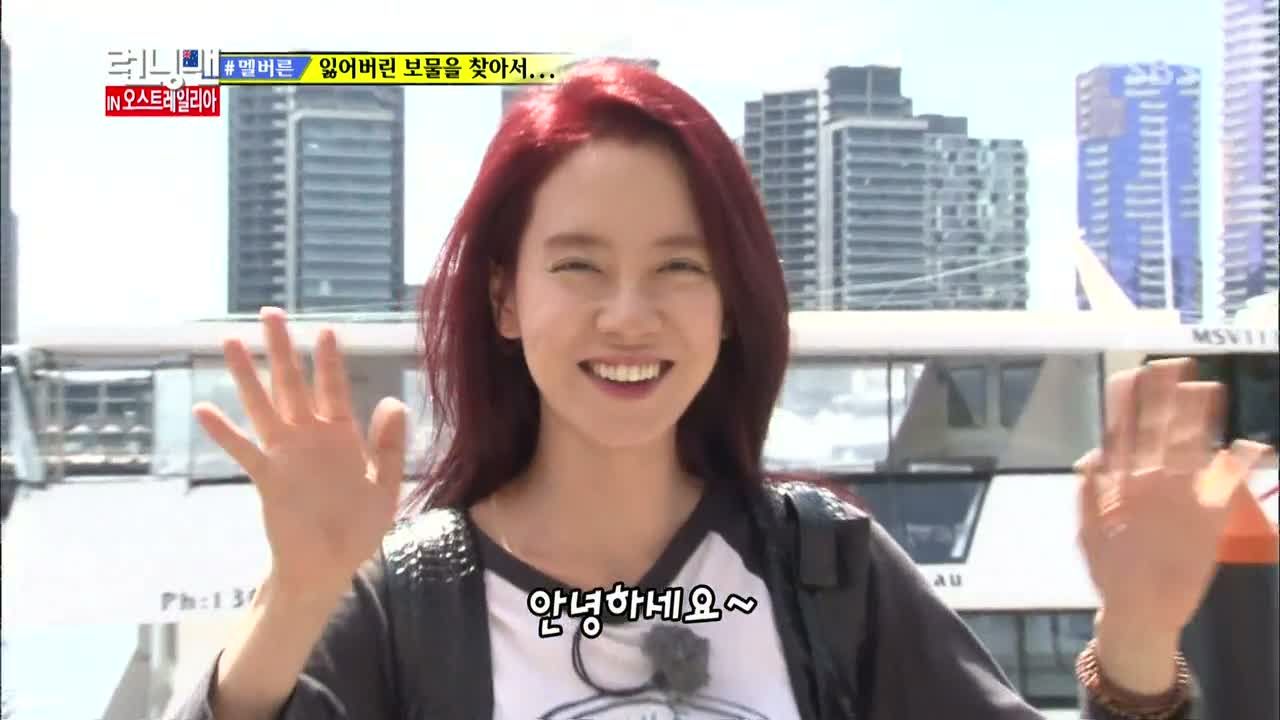 And that's how we catch up with Ji-hyo, whose flaming red hair makes her appropriate as today's Leeloo. Gosh, that thirteen-hour flight might be the most sleep she's gotten ever since she started filming Emergency Couple.
She's ready to go despite her jetlag, and is told that she's the missing element "earth." She lights up to hear that she needs to eat ALL THE FOOD (yes yes, feed the girl!) in order to acquire her card. Best. Mission. Ever.
Her job is to eat, eat, and eat while avoiding the other cast members… and now I'm salivating at all the deliciousness. And I've never been happier to see Ji-hyo get to eat to her heart's content.
She gains the first of three necessary earth cards with her macaron adventure and heads off. At the same time, the boys take in the city sights, and Kwang-soo and Woo-bin (well, just Kwang-soo) stop to shoot an impromptu MV in a graffitied alley.
Woo-bin joins in for a few seconds before crumbling in embarrassment, but they take a few more shots together and Kwang-soo calls it "the best MV I've ever shot!" Hahaha.
Ji-hyo settles down for some soup, but then hears screams nearby. Uh oh, is someone else here, too?
It's Jae-suk and Suk-jin, who maneuver past the eager fans (and Ji-hyo) to nearby location. They're soon followed by Rain and Jong-kook, who also walk right past Ji-hyo's hiding spot.
Being discovered risks getting her earth cards from being taken away from her, so it's a good thing Kwang-soo and Woo-bin are at the maracon place she left earlier.
I do have to say that Kwang-soo's English is pretty impressive since he manages to enlist the help of a few people just fine (and even sings Happy Birthday to one of them). Here, he and Woo-bin must beat four people in arm-wrestling, and Kwang-soo proposes to take on the infant. Lol.
They're up against pretty strong competitors, and lifting weights with Jong-kook must be paying off because Kwang-soo overtakes the birthday ajusshi.
Elsewhere, Jong-kook and Rain are busy trying to guess melodies sung by a local. Rain fails to recognize his own single "La Song." Ha, that's embarrassing. They pick "fire" to add to their set.
Ji-hyo picks up another earth card, and somewhere nearby, the mat hyungs are busy talking to themselves in Korean while trying to evoke a line from the employee in English. Needless to say, she's plenty confused, but they cross the language barrier soon enough to pick up "wind."
Haha and Gary succeed their mission of singing pop songs to pick up "wind" as well, and then Kwang-soo and Woo-bin pick up "fire."
Ji-hyo is literally caught between two different teams and no longer has the luxury of fully enjoying her food. She downs her coffee and picks up her last earth card. At the same time, the other teams are instructed to find her, which is no easy feat in a growing sea of fans.
The fans have started to congregate around her too, and the cast worries about the public safety with the masses crowding around together. Ji-hyo sends out one final text to the teams to come and find her.
Ji-hyo arrives at the Royal Exhibition Building (part of Museum Victoria) ahead of the teams, and wow, it's breathtakingly gorgeous. All she has to do is wait, because the others must find their own element card hidden in the building.
So there isn't much time to talk when they others trail in, since the faster they find their cards, the better. How cute is it when Kwang-soo happily greets Ji-hyo with a running hug? I seriously love those two, and they luff each other. Like noona and dongsaeng, I mean.
Kwang-soo sort of understands what's going on, but then he asks if they can steal the earth card from Ji-hyo. That remark earns him a smack upside the head. Lol.
Not everyone knows what element they are, but thankfully the mat hyungs do. All they need to do is find their own and step up with Ji-hyo to win. Rain and Jong-kook are in the same position, and then Rain stumbles upon his own card.
Kwang-soo loudly announces that fact to the others, but maybe instead of trying to block Rain, maybe you should be busy looking for your own?
Gary discovers both his and Haha's, and they set out to find their missing "water" card. Suk-jin finds an envelope stuck underneath a pillar, and it isn't long before he's surrounded by the others who are eager to steal it from him.
Rain discovers another envelope—it's Kwang-soo's. So then he charges after the giraffe to rip off his nametag, which is when we learn of another rule: in order to acquire someone else's card, you must first eliminate them.
Which is how Kwang-soo gets ousted from the game, much to his confusion. Gary finds yet another card (Jae-suk's) and gets some additional help to take the grasshopper down. Sure, everyone's teaming up now, but just wait until they have to start stealing cards left and right.
Both left without teammates, Jong-kook offers to split the winning prize with Suk-jin and Woo-bin if they help his team win. They readily bite the bait, since they can't win on their own. But couldn't you find and steal cards from the others?
In order to win, they need a "fire" card, and then Woo-bin shows them the one card they need. Oh, you naive heodang, Woo-bin. Suk-jin: "Why did he show us then?" Jong-kook: "Because he's naive."
Woo-bin has essentially painted a large bullseye on himself for revealing that little fact. But he finds Jong-kook's envelope, and now's his chance to exact his revenge.
Suk-jin offers his help to take on Jong-kook, and I love how Woo-bin's all, Yeah, right. Woo-bin then pulls Haha aside for a quick chat and explains the situation before asking for his help.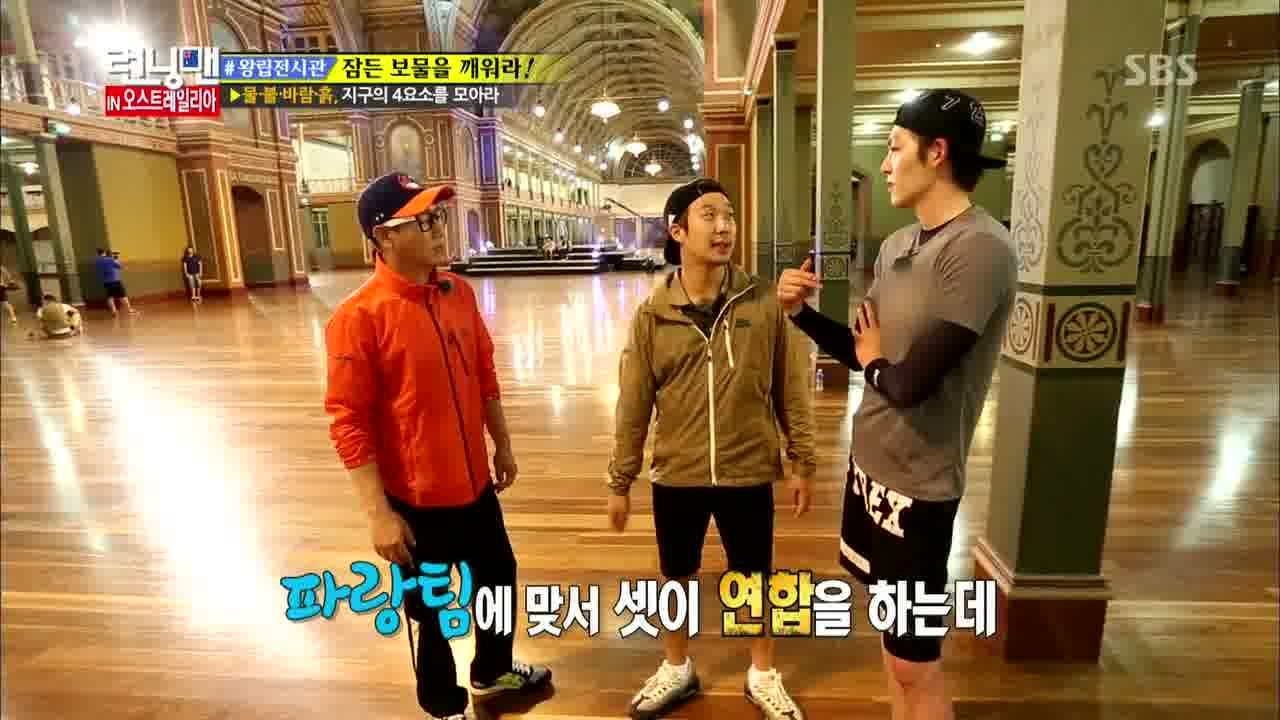 The issue is how to split the prize if they win, and Haha suggests that Woo-bin is an "heir," so Woo-bin should be content with the trophy while he'll take the gold. Ha.
They let Suk-jin on in the alliance, and Woo-bin gives himself the largest cut. Well, he'd probably be doing most of the work anyway. Hee.
So when Rain discovers another card (it's also great how you can read his expressions like a book), Woo-bin charges after him… but then Rain grabs his back and rips off his nametag. At least Woo-bin coolly admits his defeat.
Now with Woo-bin's "water" card, Jong-kook and Rain just need Ji-hyo to join them. Curiously, Ji-hyo runs away from them, having allied with the others—after all, it is her choice at the end of the day.
Then Rain pulls her with him to the platform while Jong-kook holds the others back. And unfortunately, Gary is two steps too late.
Rain sets down the four elements (with a little CG help) and the treasure rises to the surface. Is that a golden globe?
Thus Rain wins it for his team and he gets to go home with the gold. Jae-suk: "Your girlfriend will really like that." Hahaha, now you have to give it to Kim Tae-hee.
RELATED POSTS
Tags: featured, Haha, Ji Suk-jin, Kang Gary, Kim Jong-kook, Lee Kwang-soo, Running Man, Song Ji-hyo, Yoo Jae-suk