Three Days: Episode 1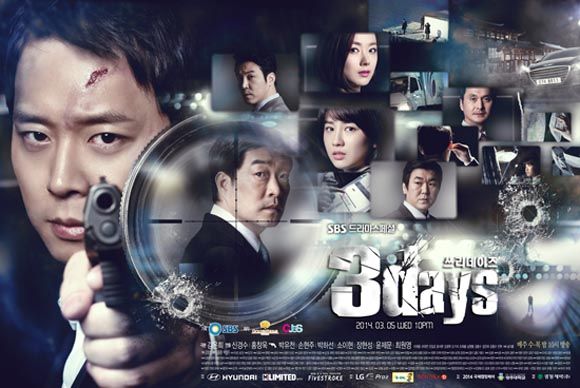 We are just awash in premieres, aren't we? SBS's 24-esque Blue House thriller Three Days opened this week, and it certainly has the grandeur of a presidential drama, with a tone of solemnity that I find compelling in its own right. The story itself is just getting started so it's unclear where that'll go, and the first hour didn't do the tightest job in hooking us into that conceit, but I think there's room for it to get suspenseful and interesting. It's not a sure thing, which concerns me a little, but there's enough here to keep me watching at least.
Ratings: Three Days opened with an 11.9% rating, which is much lower than the drama it took over from (You From Another Star) and allowed KBS to just barely edge it out for first place with 12.0%. Sly and Single Again also enjoyed the bump up as a result of Star's absence, jumping to 10.3%.
SONG OF THE DAY
Jung Eunji – "그대라구요" (It's You) from the Three Days OST [ Download ]
Audio clip: Adobe Flash Player (version 9 or above) is required to play this audio clip. Download the latest version here. You also need to have JavaScript enabled in your browser.

EPISODE 1 RECAP
In a darkened, ramshackle room, a man hunches at a desk and types up a document. We only catch glimpses of it as he types phrases like "February 1998" and "24 people injured and killed."
He saves the file onto a floppy disk and writes "Confidential 98" on its label. This he slips into an envelope and locks in a safe in the room.
Caption: 16 Years Later, March 2, 2014.
A middle-aged man drives down an empty highway at night, casting nervous looks into his rearview mirror. He calls in to the Blue House secretary's office and insists that he has something very important to tell the president.
In a dimly lit restaurant, two men drink together, but it's clear they're really here for the conversation. The mood is loaded and rife with tension; the younger man has asked a favor of the older man, who notes, "Both now and sixteen years ago, you ask a difficult thing."
The nervous driver is told that the president is currently not taking any calls. He reiterates that it's urgent, just as headlights loom in his rearview mirror. Bam! A large white truck rear-ends him. Once—twice—three times—and off the road. His car careens down a hill and flips, landing with a violent crash.
In the bar, the older man replies to his companion's request with a favor of his own, though his ominous tone speaks more of warning: "Don't do a thing. What you're trying to do—don't do any of it." The younger companion keeps a smile on his face, but his hand betrays him—it shakes as he pours a drink, missing the glass.
The older man adds that he would like to quit meeting like this, admonishing his companion to come see him officially—at the Blue House. As he rises, so does every patron in the restaurant, ready to escort him out. So this is our president, LEE DONG-HWI (Sohn Hyun-joo) with his Secret Service, taking a clandestine meeting.
President Lee and his entourage leave and head back to the Blue House.
The driver of the totaled car, meanwhile, lies bloody and unconscious behind the wheel.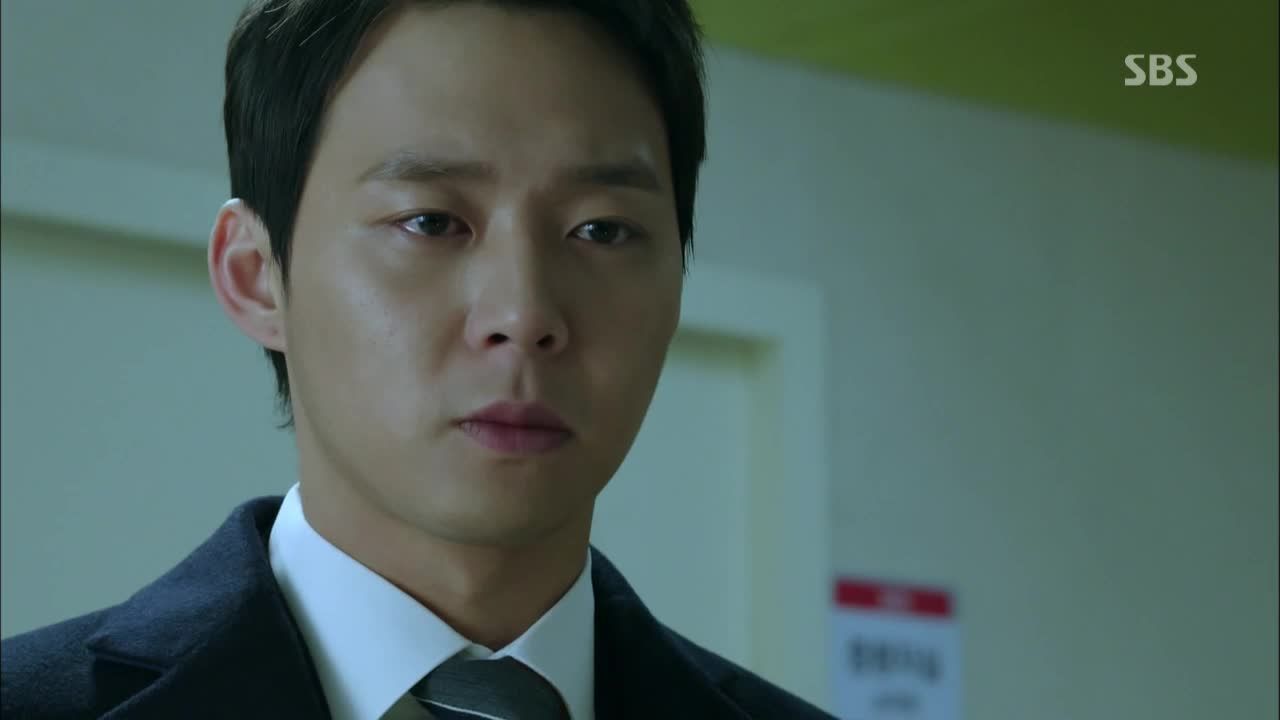 March 2. 8:37 AM.
A man races through the hospital to the emergency wing and asks for the patient who was brought in this morning from the car crash. This is our hero, HAN TAE-KYUNG (Park Yoochun), and he is the son of our driver, who now lies comatose and hooked up to machines. Tae-kyung is given his father's personal belongings and told that they suspect Dad dozed off behind the wheel. A simple traffic accident.
Via TV news, we hear that President Lee is in his third year of his term and once enjoyed an overwhelming approval rating, which has since seen a 10% drop. He's the subject of an independent investigation regarding use of funds for a company he'd run in 1998, and protesters demand an inquiry into possible corruption.
The president has a public appearance on the agenda for the day, so his security team makes the preparations, led by Team Leader HAM BONG-SOO (Jang Hyun-sung), who keeps a tight rein on the operation.
Tae-kyung rushes to work, late to take his post on the presidential escort team. He's just in time to take his position in the entourage as President Lee moves out. His appearance will take him to the public marketplace, requiring maximum security from all quarters. Team Leader Ham warns his team to be vigilant for concealed bombs or suspicious activity.
The president is unnerved to hear that no calls have come from Han Ki-joon—the man lying in the hospital—though he hides his anxiety.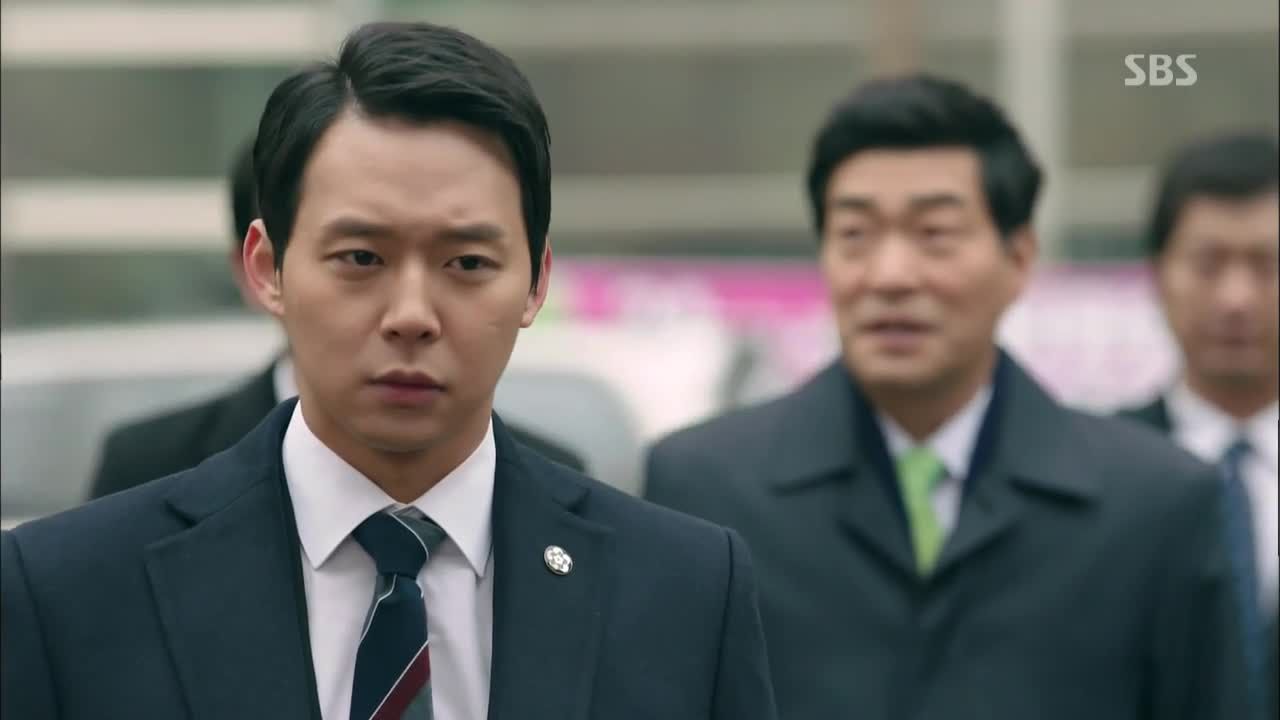 Also hiding anxiety is Tae-kyung, who gets a text from the hospital that his father is in critical condition, asking for a call back. But it's go-time for the president, and he puts his phone away, taking up his position as the president is escorted along.
The reception is welcoming, and President Lee obligingly eats the things ajummas shove at him, waving at the cheering citizens. Tae-kyung remains alert and on the job, ignoring the phone buzzing in his pocket. But the more it rings, the more insistent it becomes until it's all he can hear, the sound drowning out everything else. And perhaps that's why he doesn't see the scruffy old man who pushes his way toward the front of the crowd, carrying a large bag.
A note gets passed from one hand to another, and then the old man throws something at the president. Secret Service leaps in to take down the offender while the president—covered in white powder—is rushed away under cover. He doesn't seem injured, but Tae-kyung is deeply rattled in the aftermath.
His phone buzzes again, and his teammate yells at him for daring to think about something else right now. He snatches the phone away, but relents when he reads the message: "Your father just flatlined."
At the Blue House, Tae-kyung gets reamed by Security Team Leader Ham, who is not in the least mollified by the fact that the president was attacked by flour, because it could have just as well been a bomb. Same thing goes for the Blue House Chief Secretary SHIN KYU-JIN (Yoon Je-moon), who is furious about the flour-covered president being splashed in all the newspapers.
Team Leader Ham steps in, though, reminding Chief Secretary Shin that the security department opposed today's outing. He adds that Tae-kyung is the son of the president's economic advisor who just died, standing up for his subordinate. But it's Tae-kyung who counters that this was his responsibility that he failed, and he will bear whatever punishment is doled out. Mention of Dad's death does, however, get Chief Secretary Shin to back off.
Tae-kyung is put on probation and hands in his badge. Team Leader Ham urges him to attend to funeral matters, but ever the dutiful civil servant, Tae-kyung insists on leaving after he's completed his report.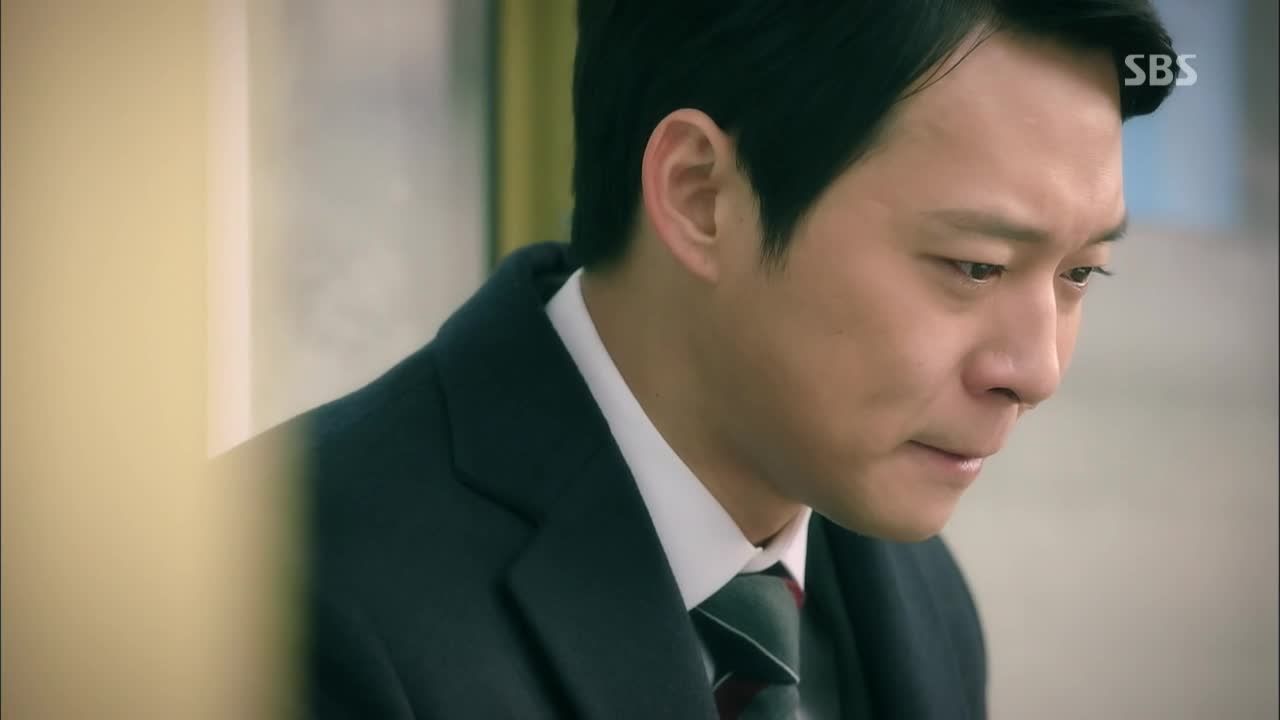 He only allows himself to cry after he's left the Blue House, as he sits at a bus stop for a long while, oblivious to his surroundings. It's a while before he registers anything, as somebody pulls up to the curb in front of him. It's President Lee, who invites him to ride in his car.
Tae-kyung apologizes to President Lee for his lapse, but is told he did nothing wrong, and that the wrongdoer is someone else. President Lee speaks with a warmth and wisdom that is comforting… sort of. Because while his outer mien is avuncular, he is no teddy bear, and as he drops Tae-kyung off at the hospital, he asks whether Tae-kyung was given Dad's remaining possessions. So he's working some ulterior motives despite the kindly exterior.
President Lee asks casually what the items were, though he doesn't press any further upon hearing that the only things found were car keys, a cell phone, and a wallet.
Tae-kyung receives mourners at his father's funeral hall, and is approached there by YOON BO-WON (Park Ha-sun), a police officer who is investigating the traffic accident. She asks questions about Dad's reasons for being in the Cheongju area and has a keenness to her probing that he finds off-putting, until he realizes that she suspects much more than an accident.
Bo-won asks if there was a large white envelope in Dad's possession when he died, but doesn't explain why, which certainly does nothing to ease the suspicions she has now roused in Tae-kyung's mind. He asks why that envelope is important but she doesn't give him any answers. She only hands him her business card asking him to contact her if he finds out more about his father's reasons for being in Cheongju.
March 4. 10:13 PM.
It's two days later, and Tae-kyung comes home thinking of the curious interest in his father's belongings. He comes to the office, and there's a mess of paperwork everywhere—the place has been ransacked. He logs on the computer to look at recently opened documents, and finds that file named "Confidential 98." It's password-locked so he can't open it, but he's able to glean a clue from the metadata: It was last modified at 8:25 pm, just hours ago.
So the intruder was interested in the file. Tae-kyung heads to security to request a look at the CCTV footage from tonight and spots a person of interest hurrying down the hall, then gets a look at the license plate on his car. He tracks that plate to an address, though when he arrives the gate is suspiciously ajar.
He makes his way inside the darkened home, then spots a man is sprawled on the ground, bleeding from a gashed neck. Tae-kyung tries to stanch the wound with one hand and dial emergency with the other, but the dying man gasps out a protest.
He manages a few words: "bodyguard… March 5… president… will die." With that, he dies.
March 5. 8:05 AM.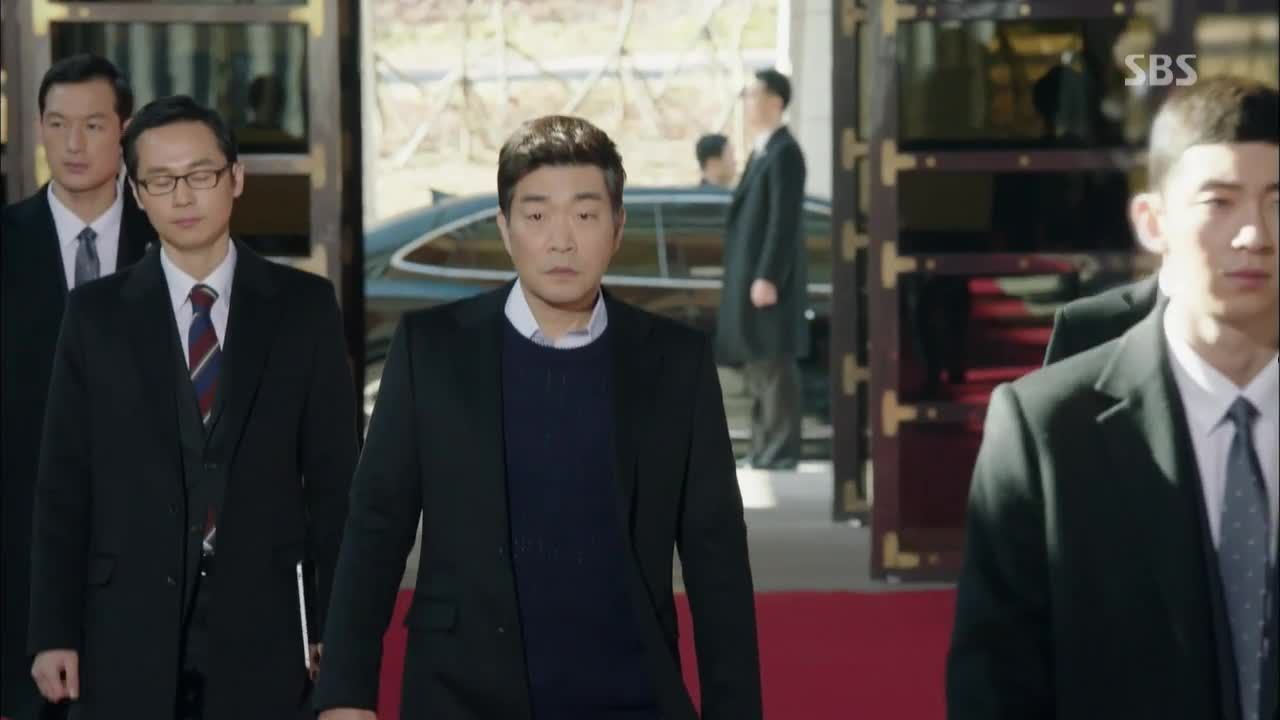 With the results of the independent investigation impending, President Lee plans to retire to his villa for a four-day stay. The property is given a thorough sweep and security tightened.
The president has a terse exchange with two of his aides, asking if preparations for "it" are proceeding, and emphasizing that "it" is a matter of huge importance to him: "Move according to my orders." Shiftier and shiftier.
It isn't until this morning that Tae-kyung is allowed to leave the crime scene after calling in the murder. He gives the lead detective the relevant details, including the tall young man he saw leaving as he arrived. When asked as to his own presence here, he stretches the truth a bit to say that the victim and his father knew each other.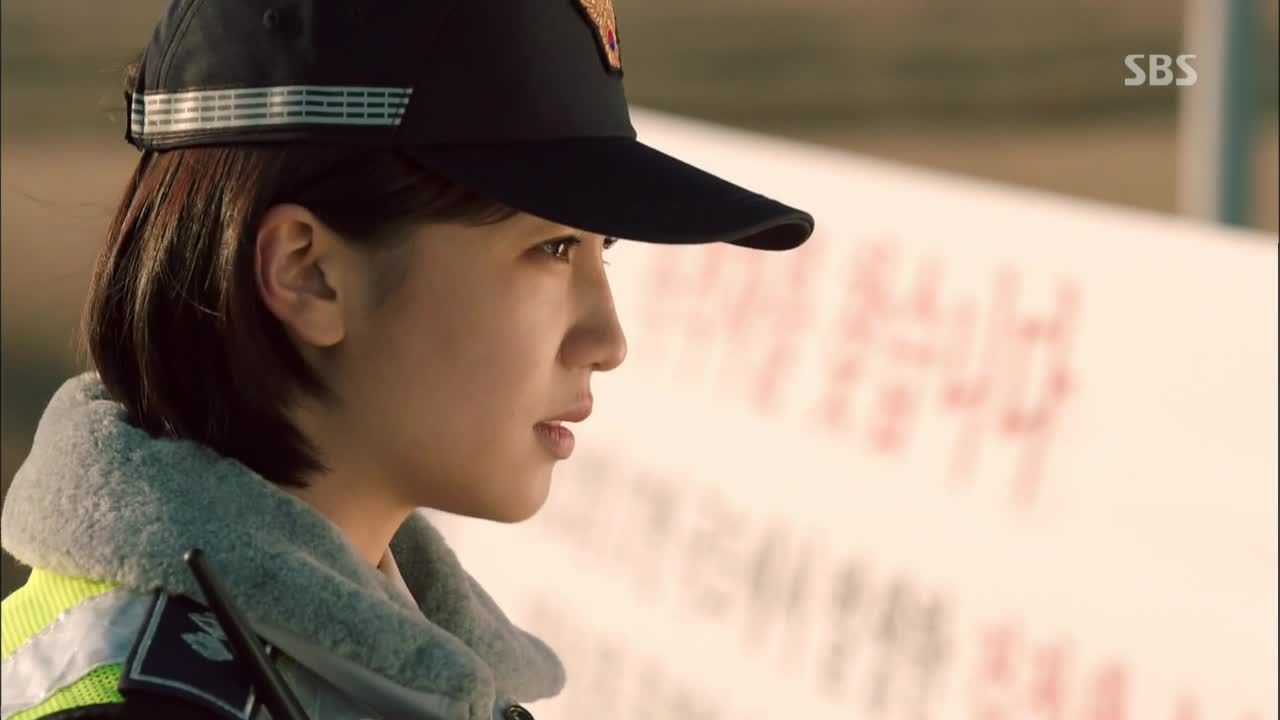 At the scene of Dad's car crash, a banner is posted asking for witnesses to the scene to call police. Standing watch over the scene is Officer Bo-won, looking pretty damn determined to get to the bottom of this, although given the context of what we know, she does look a little in over her head in her traffic cop uniform.
We flash back to her memory of the night of the accident, when Bo-won is the one to receive the call and is the first on the scene of the accident. Seeing the mangled car with the victim badly injured inside, she calls for backup and tells Dad that help is on the way. Dad, however, is fixated on the white envelope in the seat next to him. He can't quite reach and says repeatedly, "Documents… the envelope…"
As she's urging him not to speak, Dad musters his energy and grabs her hand. "They'll be after that envelope… It's important…"
Thus it's with incredulity that Bo-won later hears that the case was closed as a simple accident. No envelope was listed among his belongings, either. So now she has taken on this case doggedly, intent to pursue it anyway.
A car stops in the road to chat with Bo-won. Inside are the little old ladies who play Go-Stop with her, and they pass along a tip: One of the grannies at the farm down the road saw a car driving by that night. There was a big white truck that zoomed by, and it had some kind of circular shape printed on the back.
On his way inside the Blue House, Tae-kyung is met by LEE CHA-YOUNG (So Yi-hyun), a member of the security office's planning team who also seems to be quite familiar with him, from the way they speak banmal to each other. She senses that something's troubling him, and he says that he heard something odd, thinking of the dead man's last words. Cha-young has heard something strange too, and informs him that the attacker from the other day confessed, and said he was acting under somebody's orders. He was merely hired for the money.
Thickening that plot, Cha-young explains that they have identified the man who'd given those orders, whose true goal was to get close to the president. This was just a disguise enabling him access—and a flashback to the moment of the flour bomb hones in on the note that was passed while everyone was distracted. Ah, it had been pressed into the president's hand by a man in the crowd.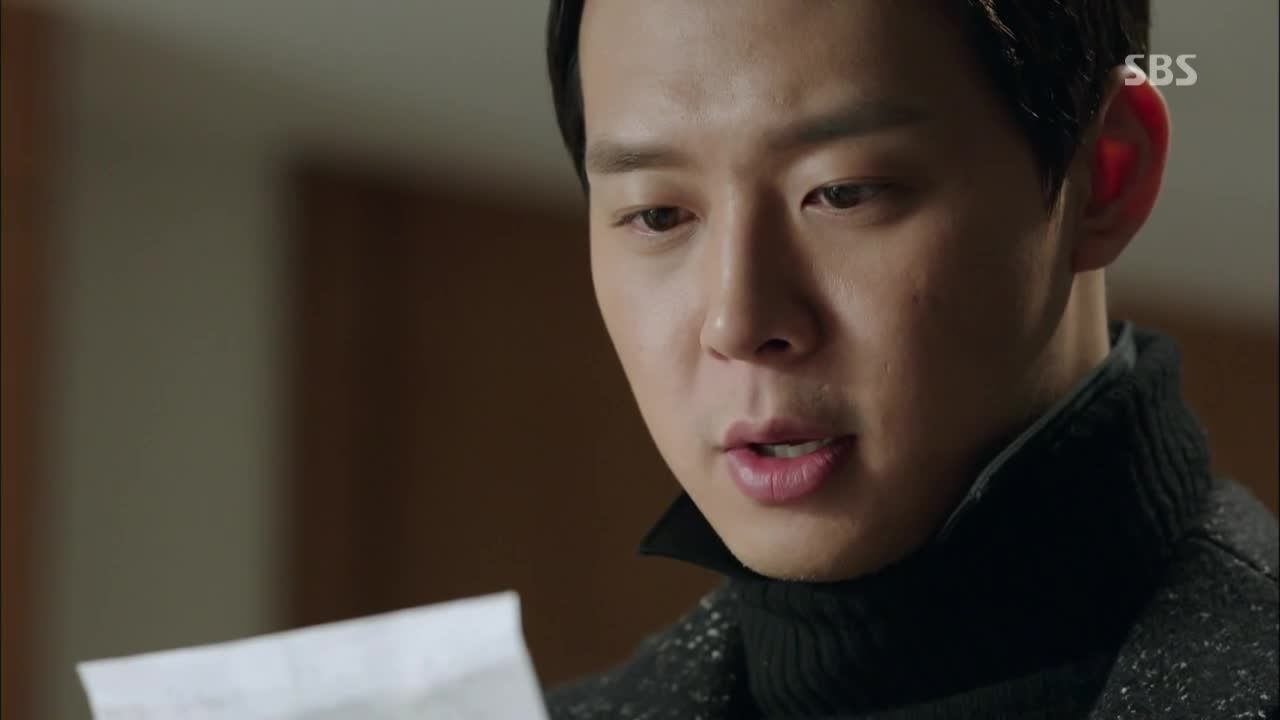 Cha-young shows Tae-kyung the footage of the incident and points out the face of the mastermind, barely visible behind a bodyguard. They don't have any leads on the motive, and will have to investigate further, she concludes.
But Tae-kyung freezes, instantly recognizing that face. He has a name to go with it: Yang Dae-ho—a colonel at Army Headquarters. Aka the dead man in the house, who'd warned him that the president would be killed today.
Cha-young shows him the note that was passed, which bears a message that sounds meaningless. Something about it niggles at Tae-kyung, who examines the note for something else. On the back he sees a calculation: 1250 + 2005 = 1007. Well, that's clearly not math.
Hit with an idea, Tae-kyung rifles through his notes, checking the numbers against the code words his team had used during the operation. And wouldn't you know it: The numbers match to read "Event location… planned… assassination."
So, the colonel attempted to warn the president of an assassination attempt and went to rather extreme lengths to slip him the message, then was killed. Now the pressing question: Who is attempting the assassination?
Cha-young is a step behind Tae-kyung in believing the theory, but he realizes there's no time to waste—he has to go to the villa directly and report what he knows.
Out in the road directing traffic that night, Bo-won's patrol car almost gets hit by a truck. It's a familiar-looking white truck, its front bumper dented by a collision. She gets out to speak with the driver, whose face is obscured by his hat, though we can see that he's a young, probably tall man. She seems to get a sense that something's up but there's no glaring reason for her to suspect him, so she lets him go with a warning to drive safely.
As the driver rolls his window back up, the man seated next to him pockets the gun he'd had ready. In English, the companion tells him (in amazingly bad acting, wow) that the scheduled time is 8 PM.
It's only as the truck drives off that Bo-won notices the insignia on the back of the truck, vaguely round like the grandma said. Spidey sense tingling, Bo-won gets in her car and takes off after it.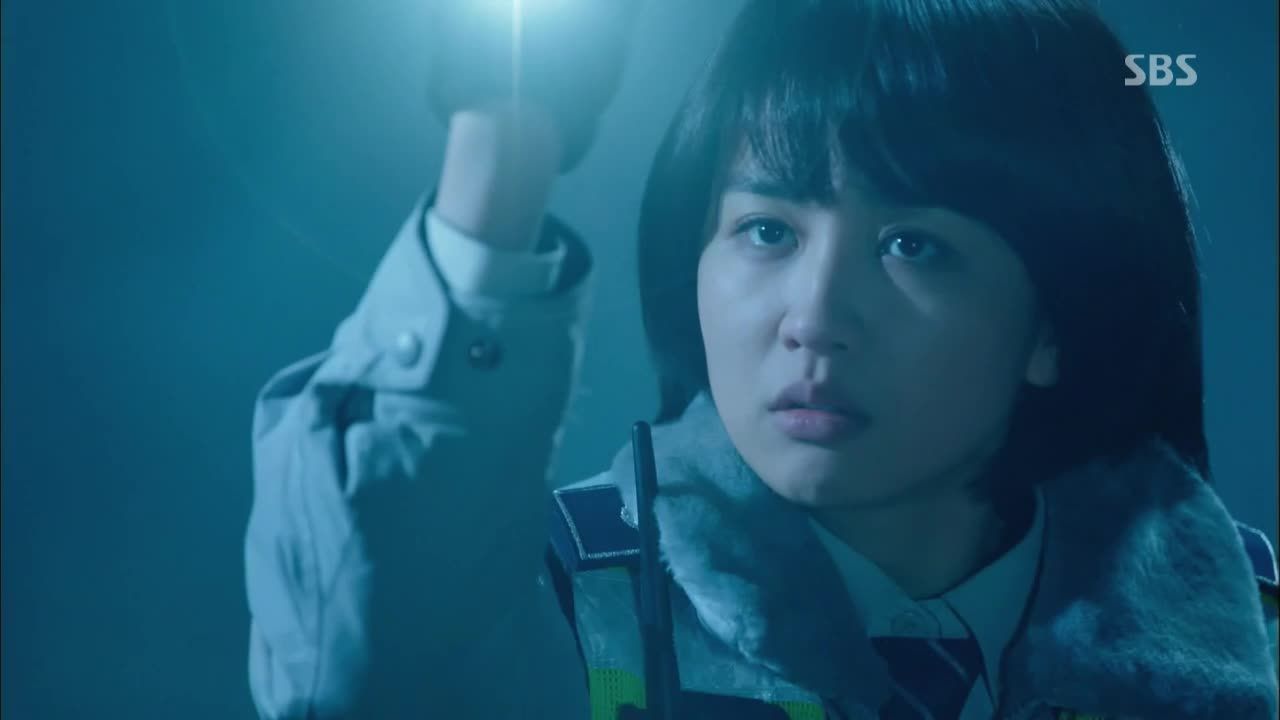 Down the road in a secluded area, Bo-won comes upon the truck and approaches slowly, gun drawn. It's empty, so she looks around for signs of any suspicious activity. Nearby, something catches her eye—something to do with the large utility boxes erected there. She approaches and starts climbing the tower of utility cables and boxes, which has Bad Idea written all over it.
Tae-kyung drives down to the villa and rushes to the gate, where he is blocked from entry. He identifies himself and asks to see his boss, but unfortunately for him, he doesn't have his badge and they won't let him in without it. All he can do is yell insistently that he must see the security chief urgently.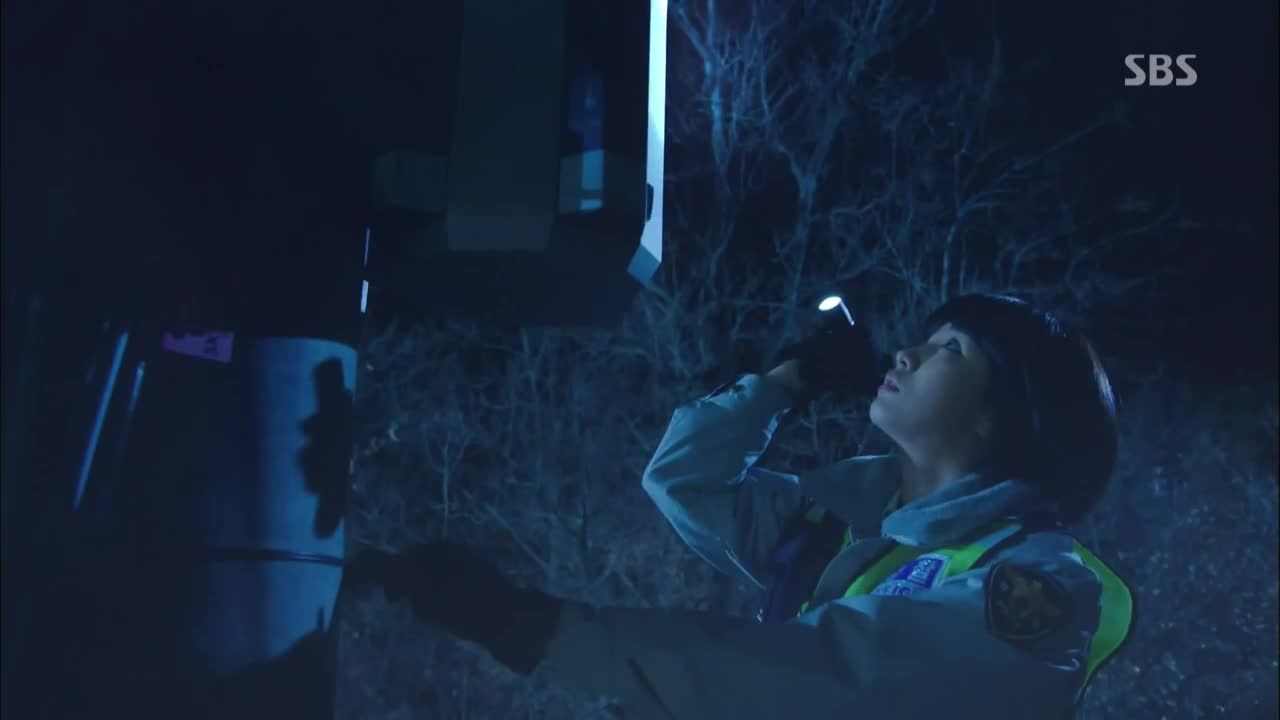 Near the top of the climb, Bo-won takes out her flashlight to examine the oblong metal object that looks like it's been bolted onto it. The ticking metal object, which is counting down with 54 seconds left on the clock.
It takes her a while to see the numbers, though, and her eyes widen when she realizes she's got five seconds left to boomtown. The clock hits zero.
An electric charge runs through the metal bolt she's hanging on to and she goes flying off the tower, about a twenty- or thirty-foot drop to the ground. Even as she's falling, she manages the thought, "It isn't a bomb?"
Then a massive blue light beams out from the box like a sonic cloud, and the caption tells us: March 4. 8:00 PM.
At once, every single light in the area cuts out. The entire town goes black, including the presidential villa. That includes the walkie-talkies, which cut out mid-emergency warning, and the whole premises launches into panic mode.
That gives our evildoers the opening to slip inside the impotent gates. In foreboding, Tae-kyung says to himself, "No!"
And then, a gunshot. Two. Three.

COMMENTS
Ah, thankfully this episode goes out with a much bigger punch (or boom) than we started on, which is encouraging. As I started watching this premiere, I was far from impressed. I found the initial setup slow, emphasizing all the wrong things and cluttered with more flash than substance in a way that bored me. Everything looked cool and cinematic, but I found myself antsy to get to the real story, and to reasons to care about the story. Instead, we had to sit through shadowy conversations and big moments that were directed to Feel Big, but as we hadn't yet been given reasons to care, they did not feel big.
In the lead-up to the show's premiere, there were articles wondering whether Three Days would be able to make good on its extensive budget, as these high-budget blockbuster dramas have often failed, or at least fallen deeply short of expectations. Why do high budget productions fail? the media wonders so innocently, like it's a mystery of the universe that cannot be understood.
Except that it can be understood. It's not big budgets that fail—it's dramas without good stories that fail, or without good abilities to get out the storytelling in a compelling fashion. And the truth of the matter is that high-budget productions often use their flashy tricks as crutches—as substitute for a solid plot progression. Me, I want a story first and foremost.
So I did find the first half of the episode to be frustrating; I was tapping my foot impatiently and willing it to move faster, instead of lingering on cool shots. I'mma be honest, I don't think this director is quite up to making this show the "Korean 24" as it is touted, because for one, the time mechanism could be done away entirely, and secondly, he could take a few lessons on effective split-screening from the Nine and Queen In-hyun's Man director.
Once Tae-kyung met Bo-won, I felt things picking up significantly, and that wasn't so much because I like the two actors but because that's when Tae-kyung clues into the conspiracy and takes active interest in this investigation. And so far, Tae-kyung is really the emotional crux of this show (the other characters don't make much of an impression yet, though it's admittedly early days) so we really, really need him taking an active role here.
I do love the idea of him being a deeply principled bodyguard, to the detriment of his personal relationships—the perfect robotic subordinate. And it appears Tae-kyung is his own harshest critic, not willing to cut himself any slack. So it's compelling to have him fail at his job early on, to set him up to be the persistent investigator in finding the president now. Partly because he's the consummate professional, but also partly in penance. It's a rich and intriguing character, and I'm hoping Yoochun takes it to complex emotional places.
I do also find a thread of interest in Bo-won, because she's such a small-time cop and she's getting herself into something that's so much bigger than her, but she approaches it with a gusto that I find appealing. She's every bit as dogged as Tae-kyung, but not in the same way; she's optimistic and plucky, while he's repressed and resigned. I look forward to seeing their dynamic develop.
So no, the premiere did not win me over immediately, and I'm not completely sure I'm going to fall in love with this show. More than anything I worry about the writer, whose previous dramas I haven't been drawn to (Ghost, Sign). But the show does have an epic bombast to it that could be really interesting—it has the money to make it feel grandiose and presidential, rather than dinky or campy. And Sohn Hyun-joo is the perfect guy to cast as the is-he-or-isn't-he-shady president, capable of being simultaneously inviting and chilling. Let's hope for good things, 'cause if I get stuck with a dud, I'm gonna be a pretty big crankypants.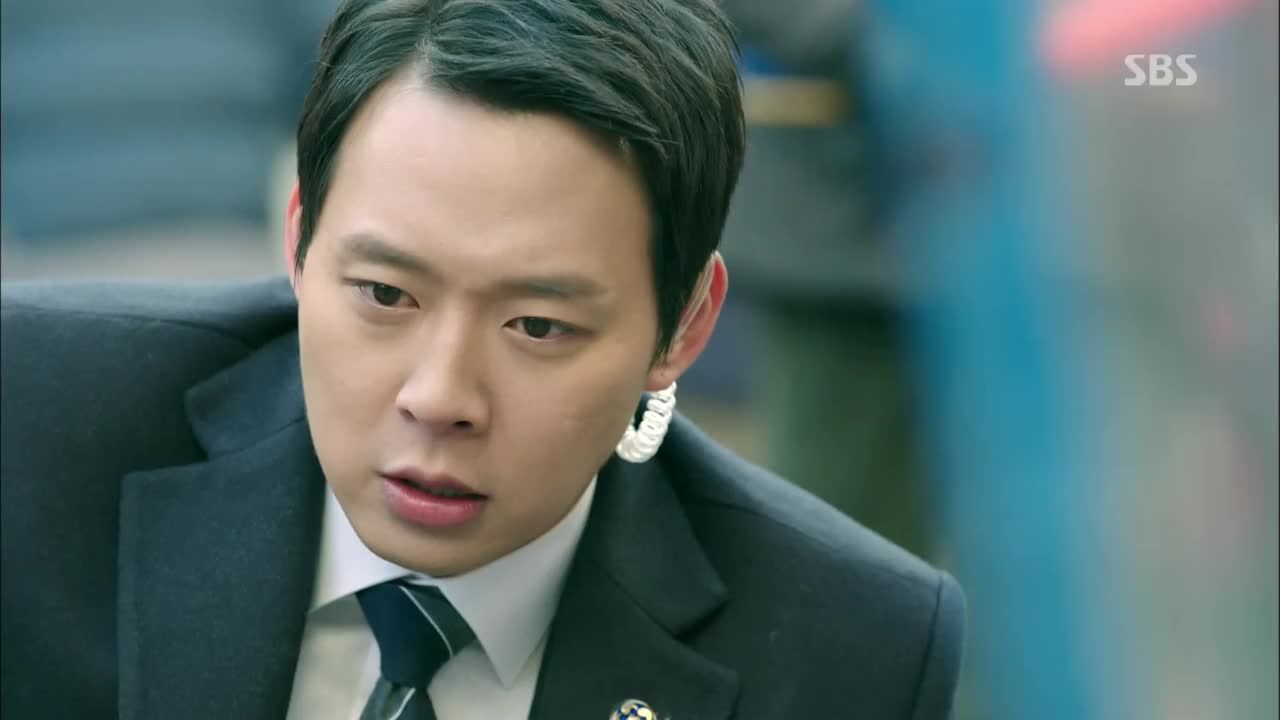 RELATED POSTS
Tags: featured, first episodes, Micky Yoochun, Park Ha-sun, So Yi-hyun, Sohn Hyun-joo, Three Days