Big Man gets a two-week delay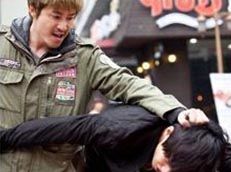 With all the stations readying its new crop of shows for launch, KBS has decided it would rather push back the premiere of Big Man, the chaebol-stole-my-heart-and-not-in-a-good-way melodrama that was set to take over Full Sun's soon-to-be-vacated Monday-Tuesday timeslot.
So rather than starting at a disadvantage against MBC's sageuk smash Empress Ki and SBS's suspenseful thriller God's Gift – 14 Days, it has decided to wait it out until those shows end. (Fyi, Full Sun is currently getting pummeled in the ratings in that slot — it's dipped into the 2% range — and has even lost out to a cable show, JTBC's Secret Love Affair, which is on track to netting double that.) Although maybe somebody over at KBS did some bad math because Big Man's premiere actually goes up against Empress Ki's finale. Maybe they figured one week of being crushed was better than ALL the weeks of being crushed?
This move puts the premiere of Big Man on April 28, when it'll go up against a more level playing field — the "medical-spy thriller" Doctor Stranger will premiere on the same day. For the two weeks in the interim, KBS will broadcast the rerun of a four-episode Drama Special, Her Perfect Day.
I am trying to look at this news in a positive way and not a pessimistic one, because I really don't want to think of Big Man as a terrible drama before it even has a chance to prove that it is. I mean isn't! It could totally prove it isn't bad! There goes that darned pessimism again. But maybe this will be a good thing for Big Man? It has more time to polish up and get really good? Yes?
Via MBN
RELATED POSTS
Tags: Big Man, Kang Ji-hwan