Full Sun: Episode 16 (Final)
What a ride Full Sun has been over the past eight weeks, and now that we're at the finish, I would say that I don't regret the choice for a moment. Sure there was pain (and I mean lots of pain) and the show sought to wring tears out of me to the bitter end, but never have I enjoyed watching such solid acting performances that commanded my attention from start to finish.
In its final hour, there are plenty of tears to be shed along with numerous noble acts to protect loved ones. Not everything is tied up in a neat little bow, but I suppose nothing in life really is. All you can do is hope that there's a silver lining, like the 2.7% in ratings the final episode pulled in. It wasn't always rosy Full Sun, but still, you'll be missed.
SONG OF THE DAY
Mad Clown (feat. Hyorin) – "견딜만해 (Without You)" [ Download ]
Audio clip: Adobe Flash Player (version 9 or above) is required to play this audio clip. Download the latest version here. You also need to have JavaScript enabled in your browser.
FINAL EPISODE RECAP
Back at the villa, Se-ro recounts to Young-won about Woo-jin's final moments—how he seemed like a good man who was wronged. He still regrets how he left Woo-jin alone, wondering if the man would still be alive if he didn't.
Young-won says it wasn't Se-ro's fault, and in fact it was Se-ro who reported the incident to the police, called her, and exposed Daddy Han's wickedness. And for that, Woo-jin is sure to thank him. But the tears keep coming, and Young-won argues that Se-ro had to live to tell the world how angry and hurt he was. Se-ro counters that Young-won would have been able to live a comfortable life if only he didn't come back and she didn't meet him.
She answers that she prefers the harder choice to loving him and being with him even through the hard times. "I love you," she confesses as she hugs him. Se-ro murmurs back, "I love you."
With the police patiently waiting to arrest Daddy Han, the chairman issues final instructions to his family at the breakfast table. Madam Baek can't believe that her husband would remain prideful at a time like this, particularly towards her. Then she holds her own pity party over how she wasn't a gold digger, and he was the one who couldn't trust her.
It's Daddy Han who interrupts her wallowing, reminding her to act her age. She counters that this is the only time she'll be able to express herself when he's preparing for their divorce. Daddy Han says there are plenty of things he'd like to say since his burden is great, but she already knows it without him specifically saying so.
And maybe for the first time in a long time (if ever), he offers up a simple praise to his wife's cooking. He acknowledges Madam Baek's deep regret towards Young-won, and with his head held high, gives himself up to be arrested.
Young-won assures Hong and the others that Se-ro is safe with her. It's cute how Hong bids the couple goodnight with a kiss over the phone and smiles wide.
No one wants to be the one to relay the news to Kang-jae that Se-ro is fine, though they all know that Kang-jae cares. Hama appeals to Jae-in to try to persuade Kang-jae because of his feelings for her.
Hong wonders when they'll be dating, and even though I know that the show has joked about a "bromance/romance" between Hong & Hama, I can't help but sympathize with Hama's slight disappointment at the clarification of when they'll be each be dating other people.
Daddy Han's recent scandal and arrest leaves President Shin grumbling about his potentially failed investment in Belle la Fair. Kang-jae assures him that they should maintain the company's stock price even if they have to take out a loan—plus, he can buy some time and keep Daddy Han under his thumb.
President Shin doesn't seem too convinced, and he asks if Kang-jae really believes Se-ro wasn't the one to hand the incriminating evidence on Daddy Han. Oh interesting, so you are trying to protect Se-ro.
Se-ro is of no concern to them now, Kang-jae argues, but President Shin thinks differently—Se-ro's a walking time bomb and they either need to throw him in prison or terminate him.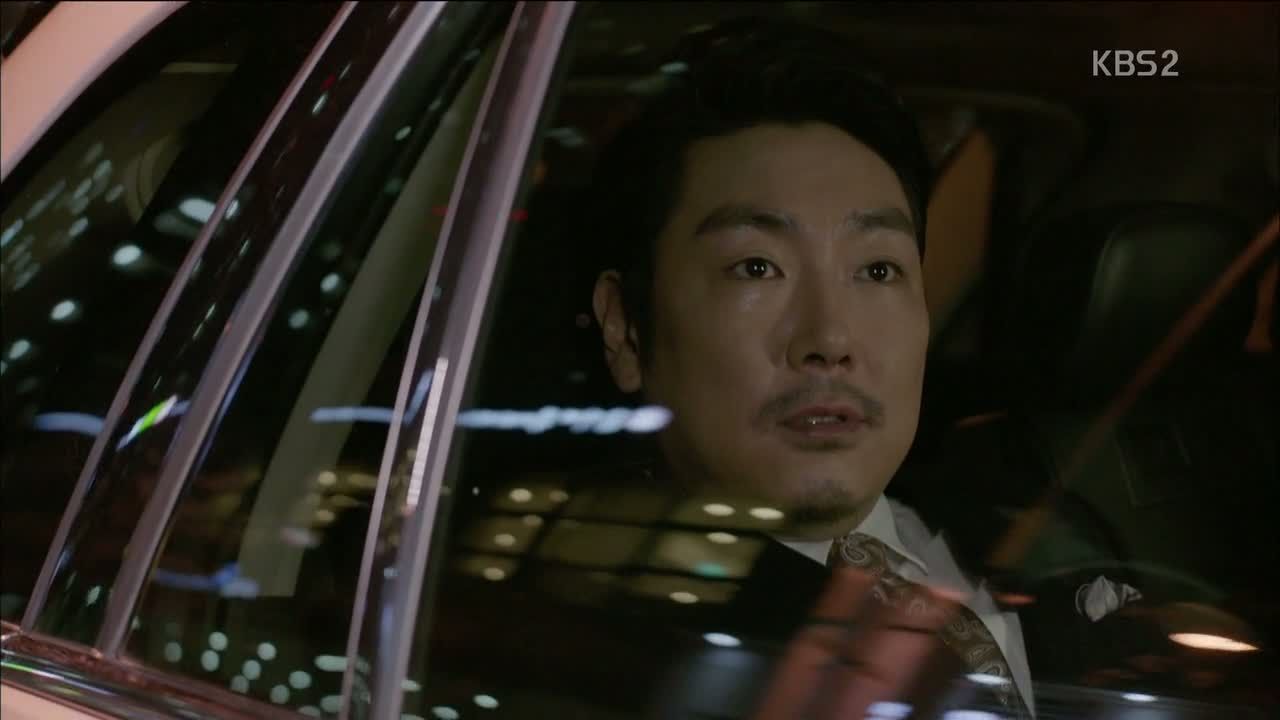 Jae-in sends a text to Kang-jae informing him that Se-ro's fine (and refrains from asking how he's doing). Upon seeing the message, Kang-jae muses to his lackey that he prefers the nighttime to the daytime. Looking out his window, he says, "[Things] sparkle. I want all of those things that sparkle."
Neither Se-ro or Young-won fall asleep right away that evening as they lie next to each other, staring into each other's eyes. Young-won tells him not to give up on himself, because he's in love and loved by someone.
"But I can't have you," Se-ro replies. She counters that he has her now, even if things are different tomorrow. She likes that he's alive and that he's tangibly with her now. Putting a hand on his heart, she says that it's a miracle how the person who loves her the most loves her back, and that she can look him in the eyes and talk to him.
Se-ro says she should thank Woo-jin because her resilience stems from her love for him. Young-won asks if he's ever loved someone else, and Se-ro answers that he was too busy and never thought that love existed.
She jokes that his life sounds pretty boring, which gets him to crack a smile. She figures that he's probably never held a long conversation while looking into someone else's eyes like this and wishes that time would stop.
And for a moment it does as Se-ro narrates in voiceover that while people can make other people die, it's only people who can help other people live. Se-ro wakes in the middle of the night to see Young-won curled up to him. He thinks to himself, "I'm lucky to have met you in this harsh world. Thank you for loving me. You saved me. That's what I wanted to say."
It's both sweet and sad how mundane their conversation is over breakfast. Young-won takes note of Se-ro's favorite things, and Se-ro musters a smile to say that he'll make sure to check if she remembers if they meet again.
He's content with knowing that she'll remember everything because seeing each other will only bring up painful memories for them both. He'd be sorry over how he can't make her truly happy because they can't undo the past.
She asks that he doesn't forget how much she loved him, and Se-ro promises to remember. He sends her off by herself after breakfast, nodding along that he'll make sure to get treatment and that he won't remain in the dumps.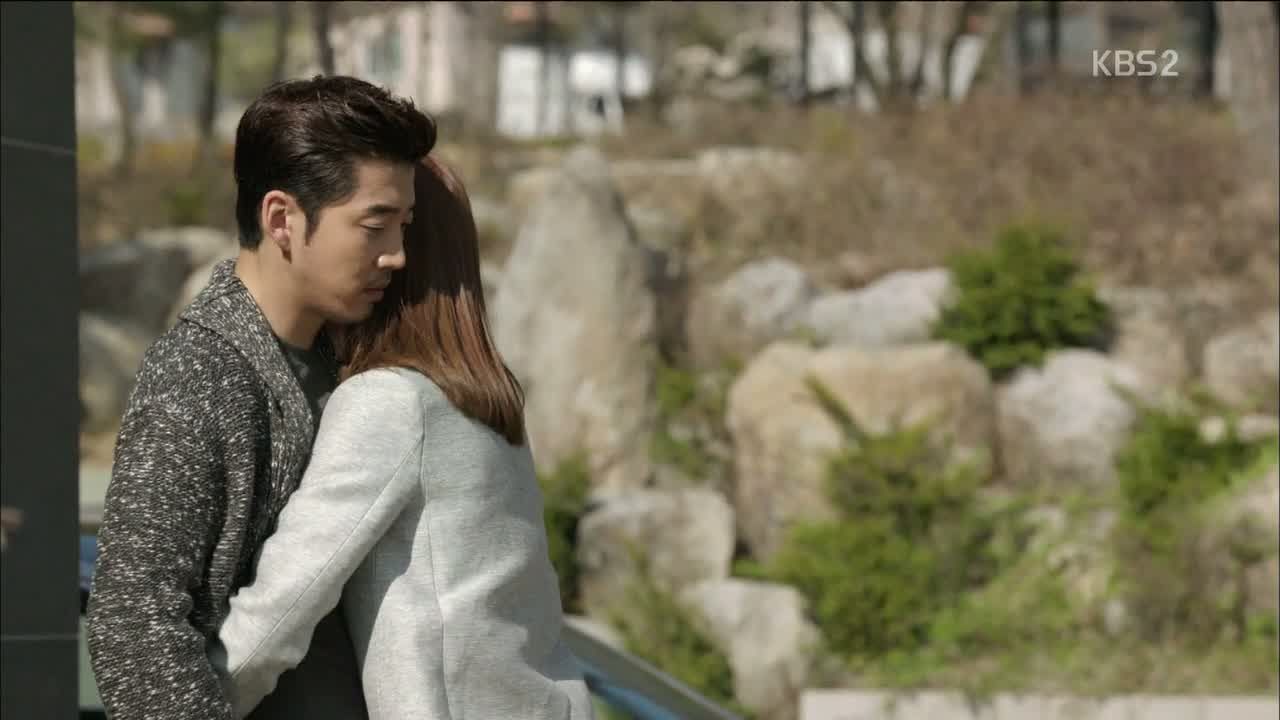 Young-won turns back to hug him one last time, telling him that she knows the hard knock life he's led, the pain that he's in, and that they still love each other even though they have to part.
As she drives back to Seoul, Young-won promises to Se-ro in her head that she'll make everything her father did to him right again. She then sits down with a reporter to tell a very long story, starting from the events in Thailand five years ago.
Daddy Han sticks to his right to remain silent despite the argument that his silence could be misconstrued as contempt in court. He doesn't deny what's already been made known but when he doesn't speak any further, he's told that Young-won called to volunteer to testify against him.
Although Daddy Han argues that his daughter is innocent, he's told that Young-won could also face punishment if they find that she deliberately overlooked the money laundering. It's too late to ask to spare her now in exchange for his cooperation, but Daddy Han pleads his case anyway.
Se-ro keeps his promise to Young-won and gets himself checked out. It should come as no surprise that it's serious and another damaging incident could end Se-ro's life. He needs an operation as soon as possible, but we know that that option is never a drama hero's first choice.
Third Wheel Lackey still keeps tabs on the others, and Hama smiles with glee at the recent shipment he's planning to sell at a higher price. Stealing is all that they know and they still have to make a living, and just as Hong reluctantly agrees to make this his last job, they hear sirens approaching.
It's almost sad/funny then that they try to act cool while sneaking out, but then forced to run anyway. Hama ends up getting caught, and maybe the police aren't there to nab him for the diamonds because they ask where Se-ro is instead. Hama gags, having swallowed the diamonds moments before getting caught. Ew.
Hong guesses that Kang-jae made the order to squeal on them, but then we see Third Wheel Lackey take a beating for acting without orders. Kang-jae firmly states that he's the one to make the decisions around here.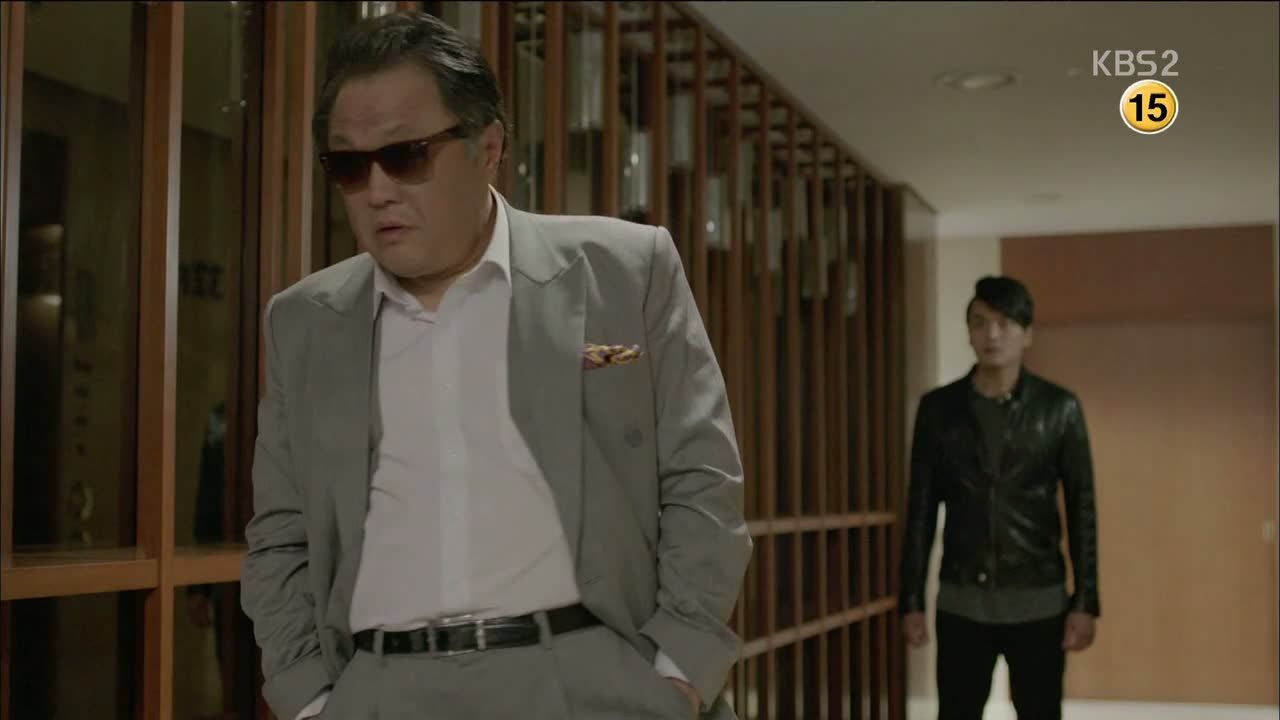 Neither Daddy Han nor President Shin is paying attention to him now, and Kang-jae plans to threaten the former with that USB drive before he runs for himself. Little do they know that President Shin has overheard that declaration from outside the office.
Kang-jae barks at his lackey to leave, and just outside, President Shin silently crooks a finger to Third Wheel Lackey, beckoning him to follow. Ohhh snap, you're going to use Third Wheel Lackey against Kang-jae…
Kang-jae recalls his last painful conversation with Se-ro at home. The doorbell rings, and he's surprised to see Jae-in. She's here to reconcile with him, taking his hand for a handshake.
He apologizes for his behavior towards her last time, and notes her awkward reaction. Then Kang-jae does the most adorable thing and says he doesn't get how far their reconciliation goes.
He tests his boundaries with a soft kiss, and when Jae-in doesn't protest this time, he swoops in with a deeper kiss, and she closes the door behind them.
Se-ro frowns to hear about Hama, but he's certain that the old man won't face severe consequences. He tells Hong not to worry because he has to clear his own name and apologizes for getting him and everyone else into this mess.
Although I'm not exactly sure how President Shin persuaded (or threatened) Third Wheel Lackey, but the One USB drives ends up in his hands. The problem now is what to do with Kang-jae—should he give him another chance or is he useless now?
Speaking of whom, Kang-jae is having a most pleasant morning talking about his love for musicals with Jae-in. He's adorable. They're adorable. His cheery mood is cut short when he receives a call from President Shin with an order to bring Se-ro to him tonight.
He knows that Kang-jae has kept in contact with Se-ro and challenges Kang-jae to prove that he's on the businessman's side. This threat is clearly something Third Wheel Lacky didn't anticipate.
Se-ro makes his presence known once Kang-jae is off the phone, and declares that he's going to turn himself in on the grounds that he doesn't want to fight with Kang-jae anymore.
President Shin's threat looms over Kang-jae's head as Se-ro explains himself and says this might be the last time they see each other. Kang-jae tells him to do whatever he wants, but asks if he's free tonight.
Young-won is told that she won't have to go under investigation. We see why when Daddy Han walks in dressed in prisonwear and shares his decision of how he plans to come clean about Belle la Fair, making sure to leave her out of it.
When Daddy Han says he cherished his daughter and was amazed by all the little things she did, Young-won points out that the men she loved were also cherished by their own parents. She asks if her father had her so that she can live a miserable life and cries over how she once adored her father.
She promises never to see Se-ro anymore if her father can clear his name. Daddy Han asks if his daughter doesn't care what happens to him, and Young-won answers, "Wouldn't it be hard to forgive you?"
Se-ro is on his way to meet Kang-jae when learns that Young-won revealed her father as a murderer. Which means he's probably not going to make that meeting, and after Kang-jae can't reach him, he slips outside to plead with President Shin to leave Se-ro alone, only to get hung up on.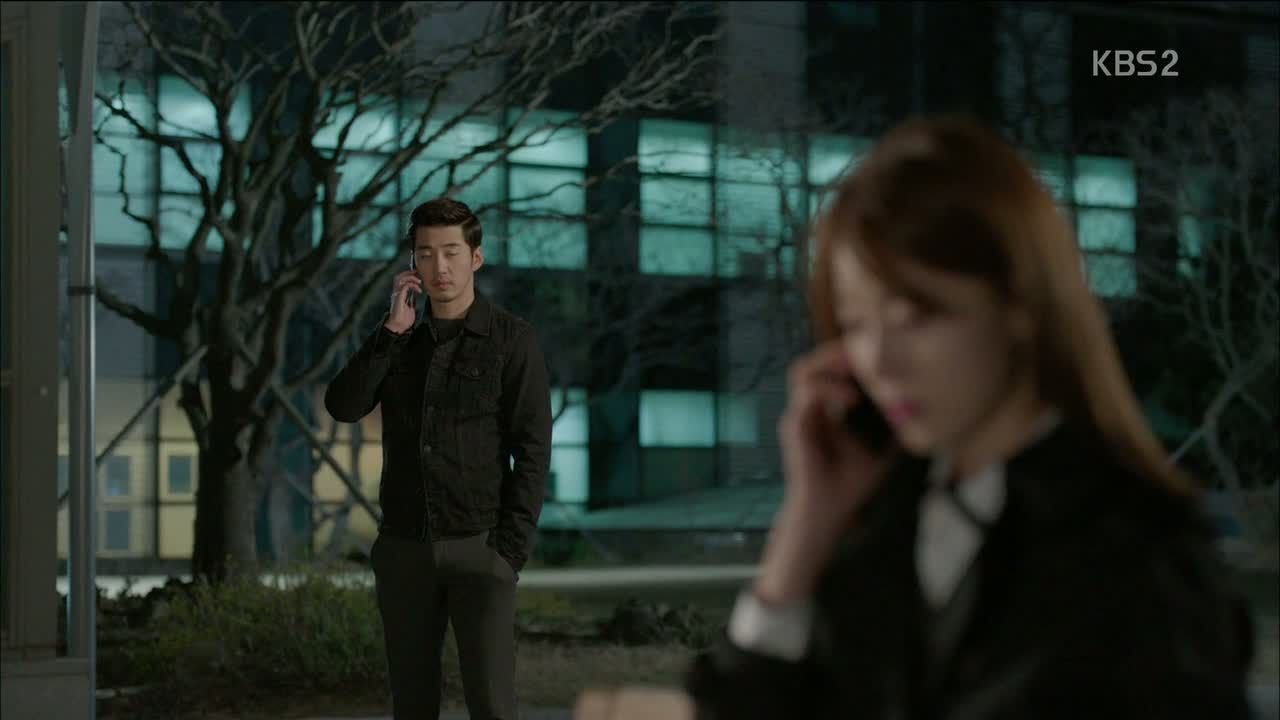 Se-ro learns of Young-won's whereabouts through Manager Min and watches her from a distance as she calls him. He picks up and Young-won says that she feels like he's close but can't bring herself to turn around and see that he isn't there.
He asks why she took it upon herself to bring Daddy Han down when he could manage just fine. She tells him to take care and hangs up.
Kang-jae heads over to the designated rendezvous point, asking where Se-ro is. He'd led to the car and locked in. Oh crap. Kang-jae is sharp enough to realize what's going on and fights both men in the car, though, one of them starts stabbing him like crazy. Accckkkk.
By some sheer miracle, Kang-jae fights him off and is somehow still conscious enough to call Se-ro. He tells Se-ro there's no need to come anymore, saying that he took care of everything.
He apologizes and thanks Se-ro, adding that they'll talk tomorrow before abruptly hanging up. Omg, and then it's totally heartbreaking how Kang-jae drops his phone before he can call Jae-in, who's at home watching a movie by herself.
She calls in worry, though, her call goes unanswered, and Kang-jae chokes out his last breath. *tear*
Daddy Han learns of Young-won's accusations towards him and that Young-joon went to threaten President Shin for the One USB drive. Daddy Han realizes the day has come for him to come clean about everything.
Se-ro returns to his old home to find it tidied up, along with a present and note from Young-won. In it, she writes that Se-ro can have a warm inviting home to return to, and for him to know that she's living somewhere in this world, breathing the same air and thinking the same thoughts as he is—that way he'll know that he's not alone.
Se-ro lies down outside with his eyes closed, taking in the sunny weather.
Three Years Later. Se-ro walks along the road with a little boy named Min-jae, enjoying the beautiful spring weather. He walks into a flower shop, and as it turns out, Min-jae is actually Jae-in's son, and she warns Se-ro not to take her boy to play with Hama, lest he pick up bad life lessons.
Wait a minute… does that mean Kang-jae's alive?! This show better not give me a cookie and then take it away from me!
Se-ro happily takes the boy to see Uncles Hong & Hama and Grandma, too, and while it's just downright adorable to see everyone smiling and laughing, are we going to get an explanation of how this happened in the next four minutes?!
Hong says the boy resembles Kang-jae, and ohhh now I get it—Jae-in must have gotten pregnant on that night she spent with Kang-jae. Grandma grumbles over not having a grandson of her own.
Se-ro is sent out on a delivery for an order of white roses, and something tells me I know exactly who that recipient is. Back at Belle la Fair, Young-won returns to work as a jewelry designer, now that Manager Min is the company president.
So when Se-ro comes bearing flowers in a similar manner that started off the series, Young-won comes to smell the flowers, then peeks her head out with a smile. Aw.
And this time, she greets him as Jung Se-ro, who smiles back at her. Double Aw.
As they walk underneath the cherry blossoms holding hands, we hear Young-won say in voiceover that there were so many things she wanted to do with him if they ever crossed paths again: watch a movie together, to take a stroll together, to eat his cooking, and so on… all things Se-ro wanted.

COMMENTS
Aw, I really didn't expect to get a happy and open-ended ending, but I'm so glad that we did considering the turbulent emotional rollercoaster that was Full Sun. Even though I should be relieved and happy that our hero gets to live and even has another chance to love the love of his life, I can't help my suspicions of whether this was our originally intended ending, because not many shows that starts off with its hero about to commit suicide gets a rosy ending.
Far be it from me however to deny Se-ro happiness, given how much pain and torture he's gone through. Hell, he deserves ALL the happiness and love in this world and more. Still, it's almost jarring to see all of our characters be built up for eternal sadness to see them genuinely happy. So I'm going to guess that Se-ro did get that operation after all. That's why he's alive, right? Right? You know what, I'm going to stop being a Debbie Downer about it and accept our happily ever after, because we could all use a bit more cheer in our lives.
But allow me one solemn minute to grieve over Kang-jae's death, because I absolutely adored his character from start to finish. It was sad to see him go, especially when he got the girl and I just wanted Jo Jin-woong to live long enough through a show to enjoy life in a dramaverse. Kang-jae was by far one of the more intriguing and compelling characters in this show, and I can't stop singing praises about him—especially when he breathed his last trying to protect Se-ro.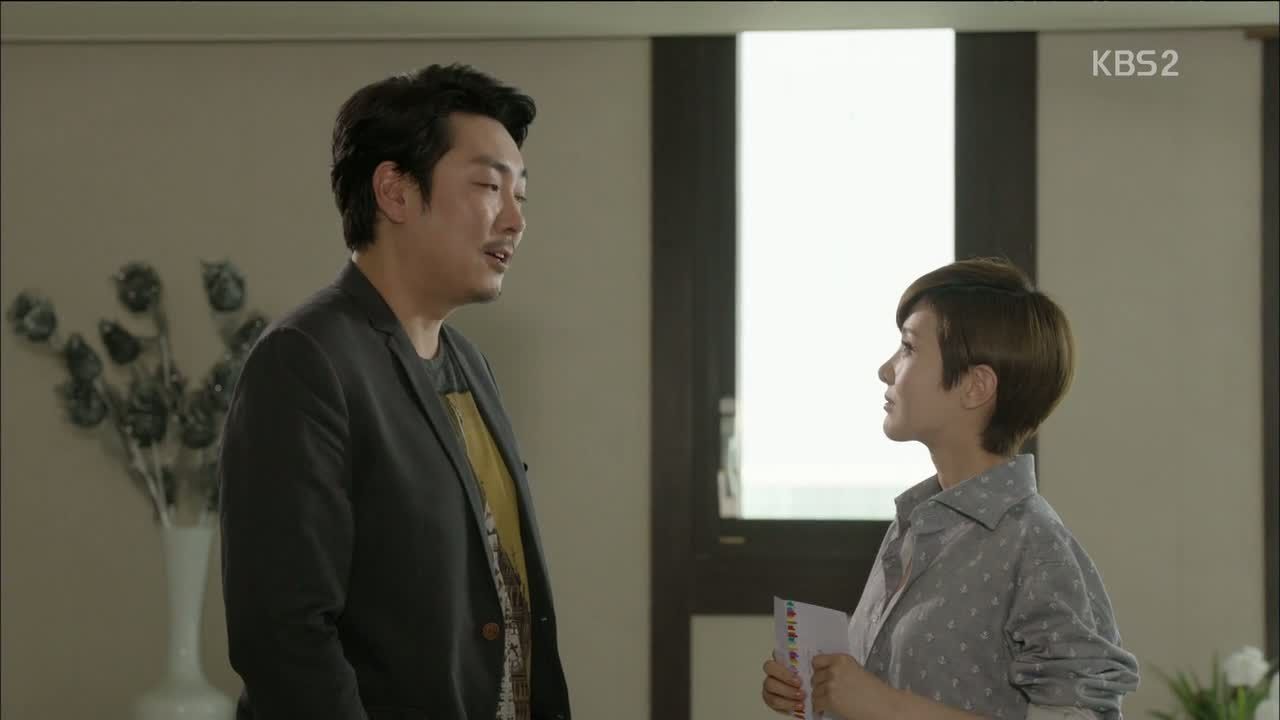 That very thought makes me realize a glaring plot hole in Full Sun's finale with the question of whatever happened to President Shin's intention to kill Se-ro off, too. I suppose I could guess that Daddy Han's full confession got the businessman thrown in prison, too, but surely that corrupt businessman wouldn't simply give up on a target. But then again, this is a world that takes forever and a day to get things done.
And as for Se-ro's revenge that was sometimes, if not more convoluted than it ever needed to be, I'm happy that the show turned its attention to our leading couple, because they commanded more of my attention than any of the business dealings in this show. Full Sun is one such case that benefited from a strong cast with both interesting and intriguing characters when it came to people we actually cared about, along with strong acting performances from all, and notably, Yoon Kye-sang and Jo Jin-woong.
It's a pity then that the actual ratings didn't reflect my growing love for the show, especially in its latter half. However, it was comforting to know that the cast didn't give up on the show in terms of performance, and the writing didn't resort to pulling anything out of left field to save its numbers.
Overall, we got a solid melodrama with an intense opening with a narrative that chugged along to tell a very long story of one man who was wronged. Getting a satisfying show feels like a rarity in dramaland nowadays, so I have to treasure it when I can. Would I recommend this show to a friend? Let me cry a hella loud damn yes. Just make sure to bring a tissue. Or twenty.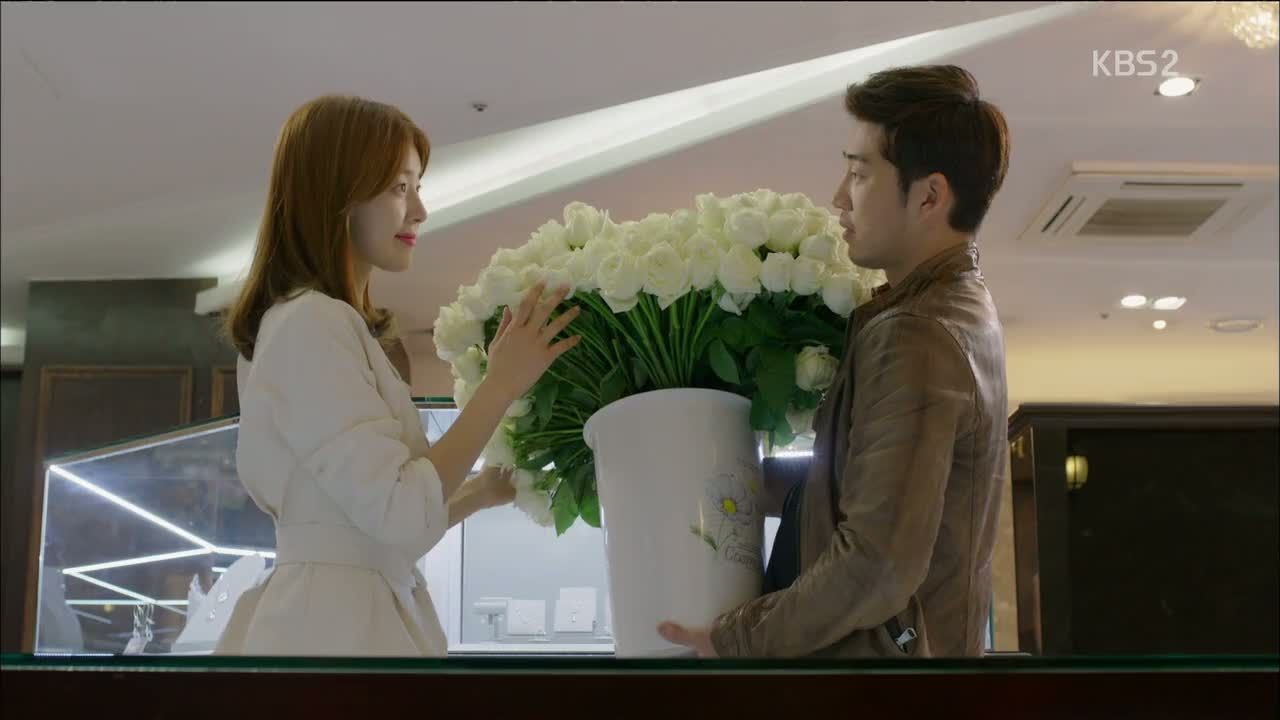 RELATED POSTS
Tags: featured, Full Sun, Han Ji-hye, Jo Jin-woong, Kim Yuri, Song Jong-ho, Yoon Kye-sang