Gap-dong: Episode 1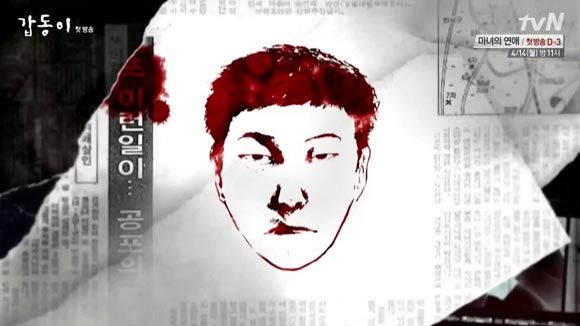 I'm up to my neck in premieres! Today is Gap-dong's turn, and we get a jam-packed hour of tension and mystery. Or rather, seventy minutes of it, since tvN cannot for the life of it exercise restraint or appreciate the beauty of a tight edit. (Seriously, I do tend to really enjoy tvN's programming but find its bloated lengths frustrating.)
Even so, I did find Gap-dong to be as sharp and well-plotted as I'd expected, with writing that inspires confidence that the show knows what it's doing with its complicated mystery and how it plans to unravel it. The show isn't perhaps as dark as I had been fearing, which is both a relief (I am such a wuss with horror) and disappointment (really well-done macabre stories do have their chilling appeal). Not that we don't have plenty of time to delve into the murder, of course, so don't write off that darkness angle yet.
Most of all, what draws me in is the awesomely intense acting of the leads, namely Yoon Sang-hyun and Sung Dong-il who are like bulls butting heads at every turn, practically spitting fire at each other in every scene. It's tense and flying with sparks, and I love it.
SONG OF THE DAY
Leessang – "Carousel" [ Download ]
Audio clip: Adobe Flash Player (version 9 or above) is required to play this audio clip. Download the latest version here. You also need to have JavaScript enabled in your browser.

EPISODE 1 RECAP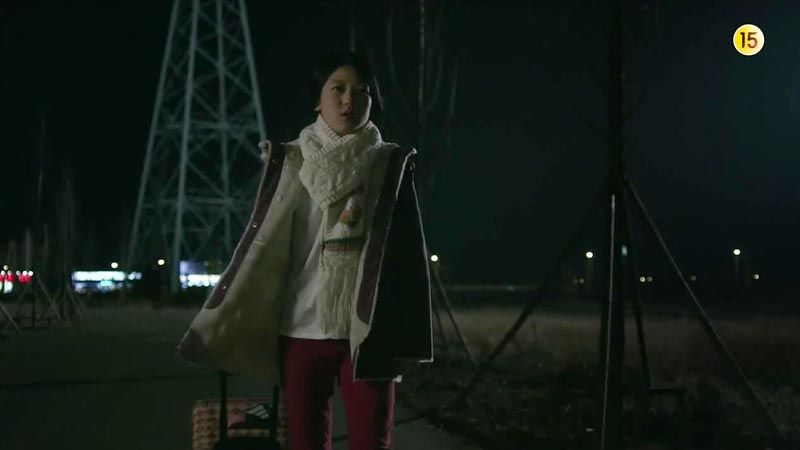 1996, Gyeonggi Province, Iltan. A girl walks along a dark road, pulling a suitcase behind her. Oh god. (I saw the webtoon, so I'm already freaked out.) Somebody starts whistling.
The girl walks faster, but when she checks behind her, there's nothing. We see the man walking behind her in the shadows, but she can't.
Then out of the reeds, a black shadow jumps at her. She screams.
Not far away, we see two neighborhood kids out on their own, and they must pass close to the kidnapping site because the captor muffles the girl's screams. Then we see the kidnapper playing a game of rock-scissors-paper, and I'm guessing the prize isn't a cookie. Shudders.
It's not long before the area is a crime scene, with police officers swarming around the dead girl's body. A detective joins the proceedings—YANG CHUL-GON (Sung Dong-il)—and sees a young girl being comforted by her mother, her eyes wide in shock. Ah, she's the neighborhood girl who must've wandered too close and been traumatized by what she saw. Chul-gon takes in the scene with deep dismay.
The boy runs to the scene and charges past the police tape, glaring for some reason at Detective Chul-gon. The boy is HA MU-YEOM (our future hero) and the detective is strangely derisive of him, asking if he found this scene by sniffing out the blood.
Mu-yeom declares in a voice that hasn't dropped fully, "I'm going to catch him—Gap-dong." Chul-gon sneers, "A beast child is going to catch the beast?" He laughs in the boy's face.
Seventeen years later.
The serial killer is the subject of a lecture being given by a profiler who worked the original case. He tells the class about Gap-dong (a nickname given by police) who kicked off his murder spree in 1993, eventually totaling nine killings within a twelve-kilometer radius. A student wonders how a psychopath could suppress his urges for twenty years, since he has been inactive and uncaught for that long. The profiler doesn't have that answer.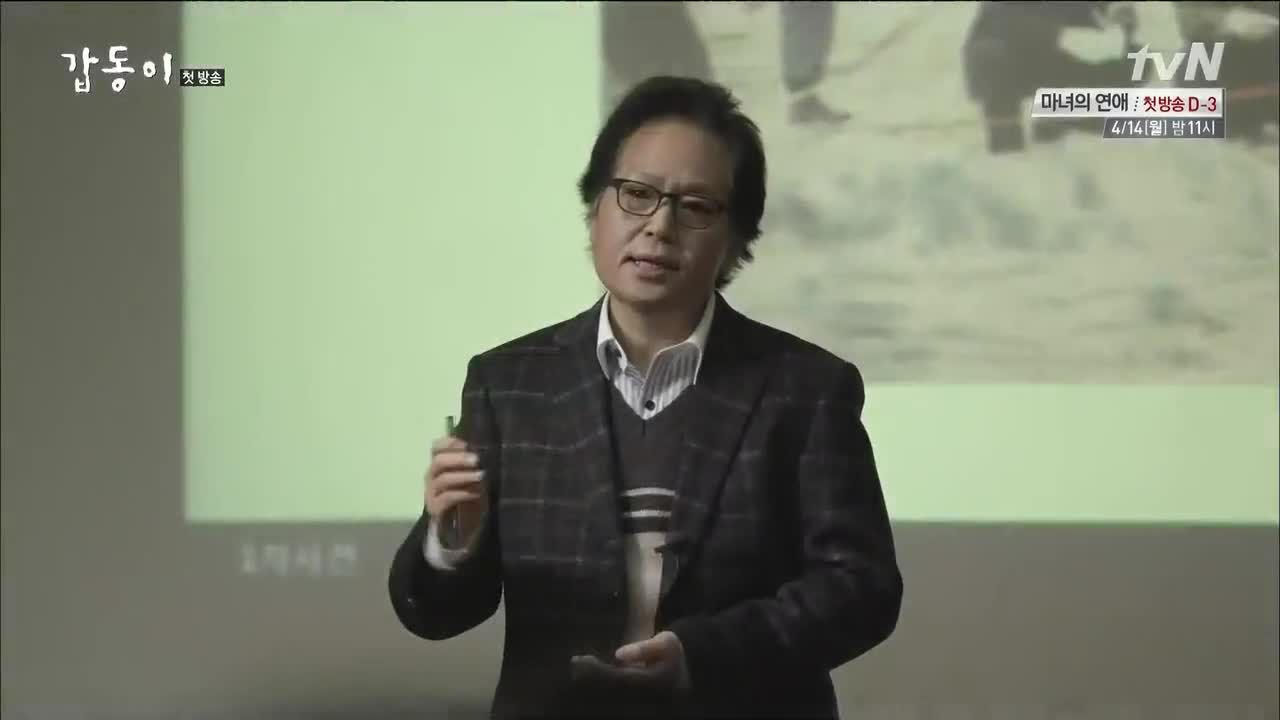 At the police station, Chul-gon is given a promotion and asked where he'd like to be appointed—the Blue House, perhaps? Yet Chul-gon shocks everyone by requesting the Iltan post, a distinct step backward. But Chul-gon tells the police director, "I want to end my career by capturing that bastard."
In a dingy alley, a man intercepts a petty thief just before two detectives arrive. Here's our hero (Yoon Sang-hyun), grown-up Mu-yeom, who goes to the station to argue with the station chief. Not on his own behalf—he's a detective too—but on behalf of the kid whose crimes are misdemeanors and not worth sending him to juvie for.
But Section Chief Cha has other concerns and shows him a newspaper article featuring Chul-gon ("a detective even murderers fear"). Mu-yeom is upset to hear that Chul-gon has been appointed the new detective squad chief.
Section Chief Cha figures that Chul-gon is back to get Gap-dong once and for all, and that sets Mu-yeom off. The statute of limitations has expired—why now?
A girl in high school uniform sneaks onto the premises of a Buddhist temple, where she is clearly on close terms with the young monks-in-training (who call her noona) and the grouchy-faced old monk (who takes her to task for playing hooky again). The girl just insists that she's not playing hooky; she has merely decided her career path early. The monk scoffs.
The girl, named MA JI-WOOL (Kim Ji-won), smiles to see Mu-yeom there, praying with eyes closed. She begins drawing him, and judging from the sketches she's already got in her book, this is a common occurrence.
Mu-yeom takes the sketchbook out of Ji-wool's hands and chides her, asking if she's stealing again. Aw, does he have a habit of helping delinquents? She huffs that it was just the once and says she'll pay him a model fee once she makes it big.
Then Mu-yeom gets a call from "Wife"… who turns out to be his police partner. Heh. I know it's common parlance but it still makes me laugh. Wife-Partner informs him of something he ought to see, and while Mu-yeom finds a graffiti case petty, there's something special about it that has him going anyway.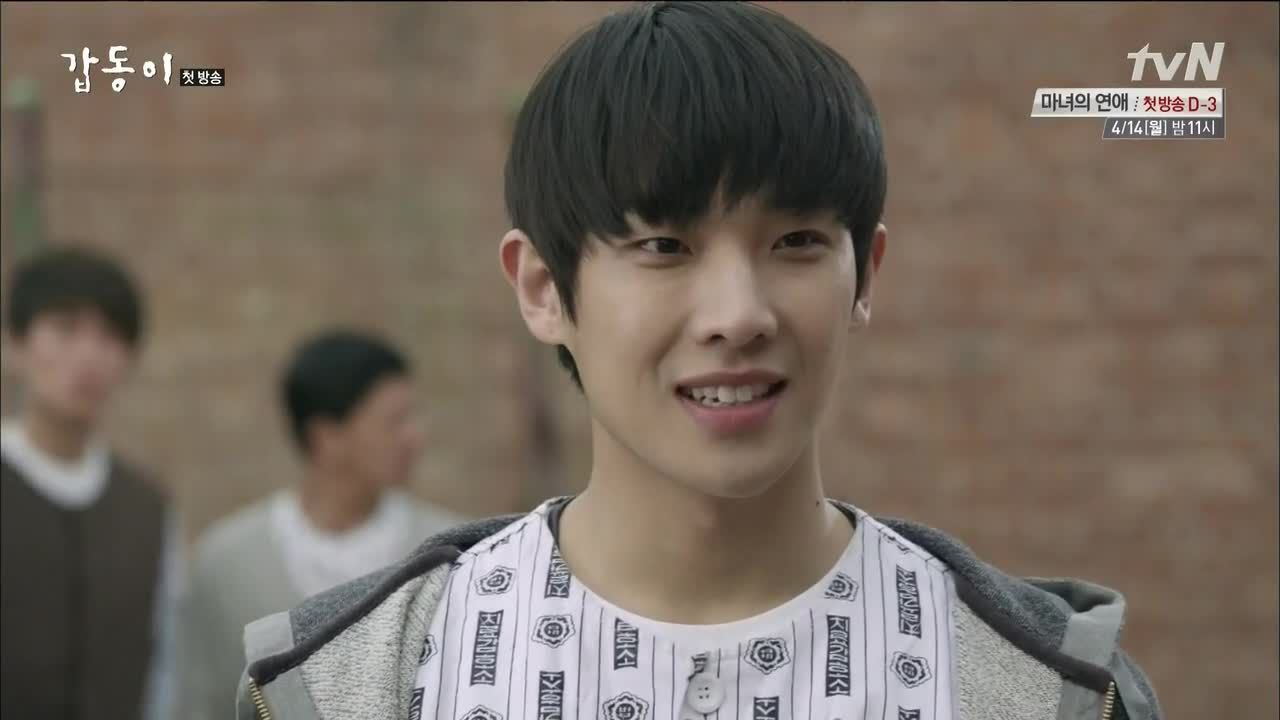 He's directed to a combined prison and psychiatric hospital, where we see a group of inmate-patients out in the yard. We linger in particular on one patient, whom we'll come to know as RYU TAE-OH (Lee Joon), who interrupts a bullying session. Tae-oh plays it off as a mistake (Whoops, that basketball totally just slipped out of my hands) but his presence has the bullies sitting up in tension. Then as Mu-yeom walks toward the facility on the other side of the fence, Tae-oh takes note.
Mu-yeom is shown to the graffiti and one look is enough to raise his hackles: Scrawled in red paint (or is it?) are the words "I am the real Gap-dong."
His face hardens and he seems rattled, but he tells the worker to go ahead and erase the words, like the graffiti bears little importance. As the workers wash away the paint, Tae-oh pushes his way to the front of the crowd of patients, taking particular interest in Mu-yeom's reaction. He smirks.
Mu-yeom returns to the station and looks over the old Gap-dong case with Profiler Han. Mu-yeom asks, not entirely joking, whether they're sure Gap-dong is a human and not, say, a monster or alien. He then asks how Profiler Han knew that Mu-yeom's father wasn't the criminal.
Profiler Han explains that Gap-dong used a trademark knot when tying up his victims—a fact he purposely left out of the official reports to keep it from leaking out. He points out that Mu-yeom doesn't know how to tie his sneakers, and never learned how (a glance down confirms that the laces are pulled together in an unconventional arrangement), as his father wasn't able to tie his own precious son's shoes for him. It's not exactly hardcore proof, but I suppose that's why it was just Profiler Han's hunch, not legally submitted evidence.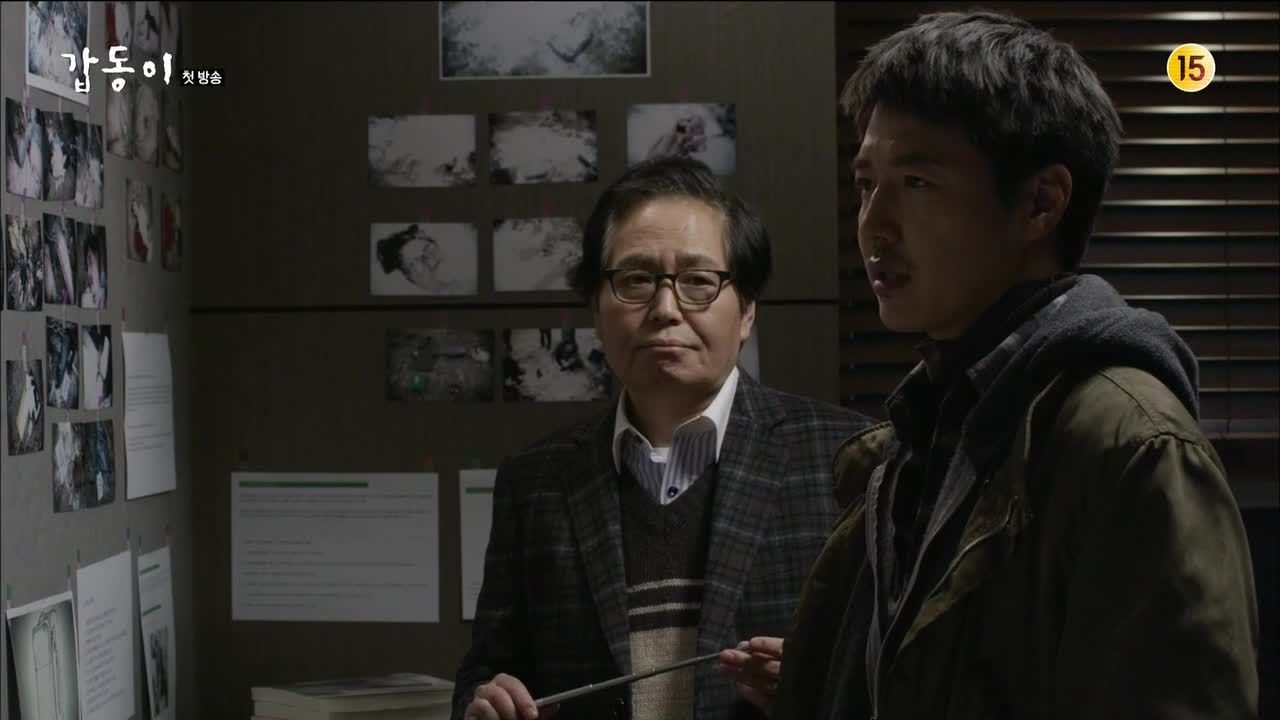 Mu-yeom wonders if Gap-dong has truly returned, and Profiler Han muses that the swiftness with which Chul-gon transferred suggests that he believes so. He warns Mu-yeom to be on his guard.
And so, Chul-gon rides into town to reclaim his old turf. Mu-yeom wonders, "Why now? It can't be… that he wants to confirm that?"
Flashback. A young Mu-yeom goes around looking for his father and hears the gossip that he was found wearing blood-spattered clothes. Mu-yeom arrives just as Chul-gon is interrogating a man who's not mentally all there—Mu-yeom's father—telling him to surrender himself.
The man's face is bloody, but instead of answering questions he just sings a song. Furious, Chul-gon kicks him in the gut and sends him to the ground. Mu-yeom watches from the door, enraged but powerless.
Chul-gon turns to question Mu-yeom instead, wanting to know where Dad's jacket went. Mu-yeom screams that if he found no evidence he's supposed to let Dad go, taking a swing at the detective.
Dad jumps in between and blurts, "It was Gap-dongie!" This is a name nobody's heard before, but Chul-gon practically rolls his eyes when Dad blubbers about the Gap-dong Ghost that lives nearby.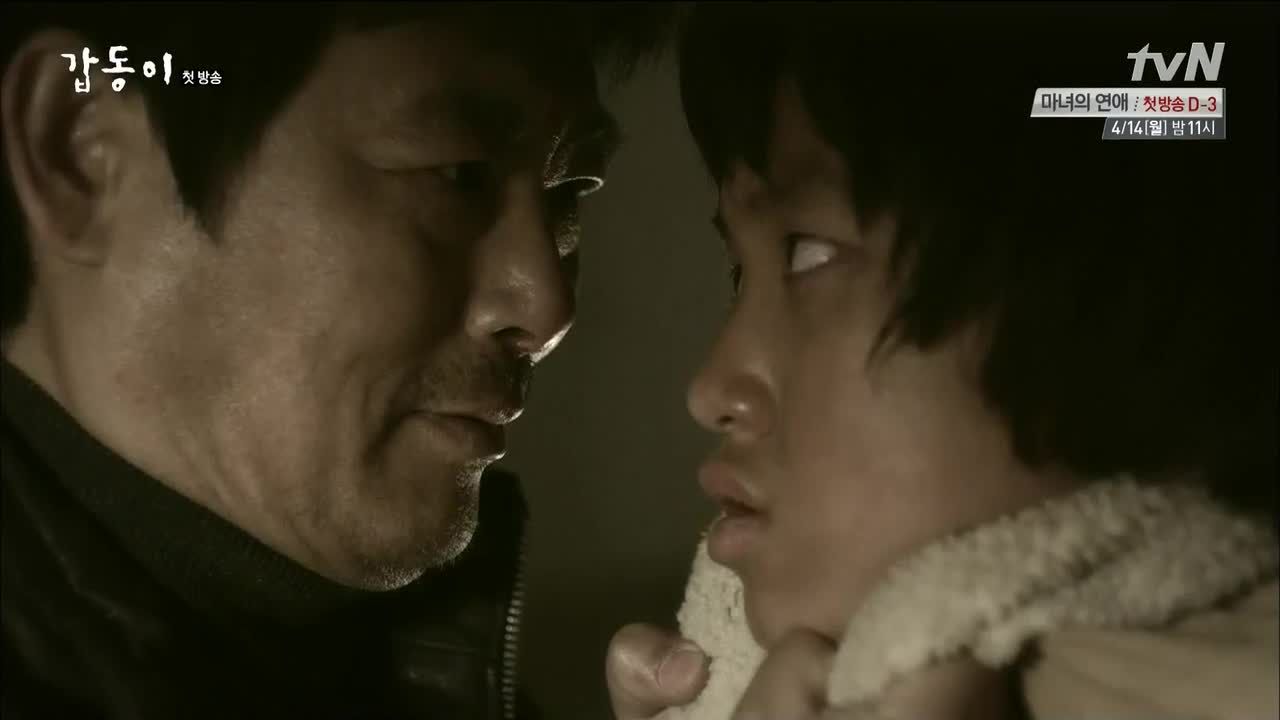 In the present day, Chul-gon is presented to his squad and welcomed back to Iltan. Mu-yeom barges in late and gives a sarcastic salute to Chul-gon, the air immediately crackling with tension between them. Asked what assignment kept him out so late, Mu-yeom declares, "I am the real Gap-dong."
Everyone stiffens in shock, and he adds, "…is what someone has popped up to assert." Chul-gon laughs derisively, and Mu-yeom joins him in an intense bout of glaring. I'm digging just how aggressively these two are going at each other right from the get-go, even though it has the rest of the squad on edge.
Mu-yeom jeers that Gap-dong is sure to welcome the new chief's arrival, and wipes the smile from Chul-gon's face by adding the jab, "You pulled a lot of dumb stunts back then." Since Chul-gon accused multiple people of being Gap-dong, it's likely one of them pulled the graffiti prank.
Afterward, the other officers gossip about the bad blood between the two men. It's rumored that Chul-gon coerced Mu-yeom's father into making a false confession, bribing him with promises to send his son to college. One officer argues that you wouldn't confess falsely just for that.
Chul-gon reviews the old Gap-dong files, and asks Section Chief Cha if he supposes Mu-yeom wrote that graffiti himself, just to mock him. Section Chief Cha says he understands how Mu-yeom might feel right now—he believes Chul-gon killed his father, so being forced to work together is a nightmare. Chul-gon stubbornly insists, "Whether he believes it or not, the first Gap-dong was his father, Ha Il-shik." He blames the insufficient forensic technology for not nailing him back then, but says these days he'd have been caught a hundred times over.
Cha urges him to let it go since the man is dead, but Chul-gon fires back, "I have to catch him even now." His plan: Go over the traces Gap-dong left behind.
Mu-yeom takes his partner and a few forensic experts back to the hospital graffiti scene, but tells them only to pretend to be looking for evidence. His partner protests, but Mu-yeom seems to be operating on a different plan. His attention is caught by an unusual scene unfolding in the ward: A doctor is washing patients' feet. Apparently Dr. MARIA OH (Kim Min-jung) has made a splash with her attentive caring for the patients. The male inmates love it, of course, and try to make passes at the pretty doctor.
When it's Tae-oh's turn, Mu-yeom usurps his spot and demands a foot bath. He grabs Dr. Maria close and whispers a warning about what her patients are really thinking. She's unflappably calm, however, and simply washes his feet. Tae-oh finds this amusing.
Then Mu-yeom takes the patient's chair for a therapy session with Dr. Maria, telling her of one person he hasn't been able to forget for the past twenty years. He was chased by that person even in his dreams, and wished they were alive so he could find them. But one day he decided to erase that person from his mind, on January 18, 2011.
Maria recognizes that date and starts in surprise, while a flashback reveals to us that that's the day the Gap-dong statute of limitations ran out. "What should I do?" he asks.
Maria says he seems to have already decided. Mu-yeom says she's quite patient for sitting through his cliched first love story and offers to buy her lunch to make up for it, but when he gets up to go, she asks, "Is that person Gap-dong?"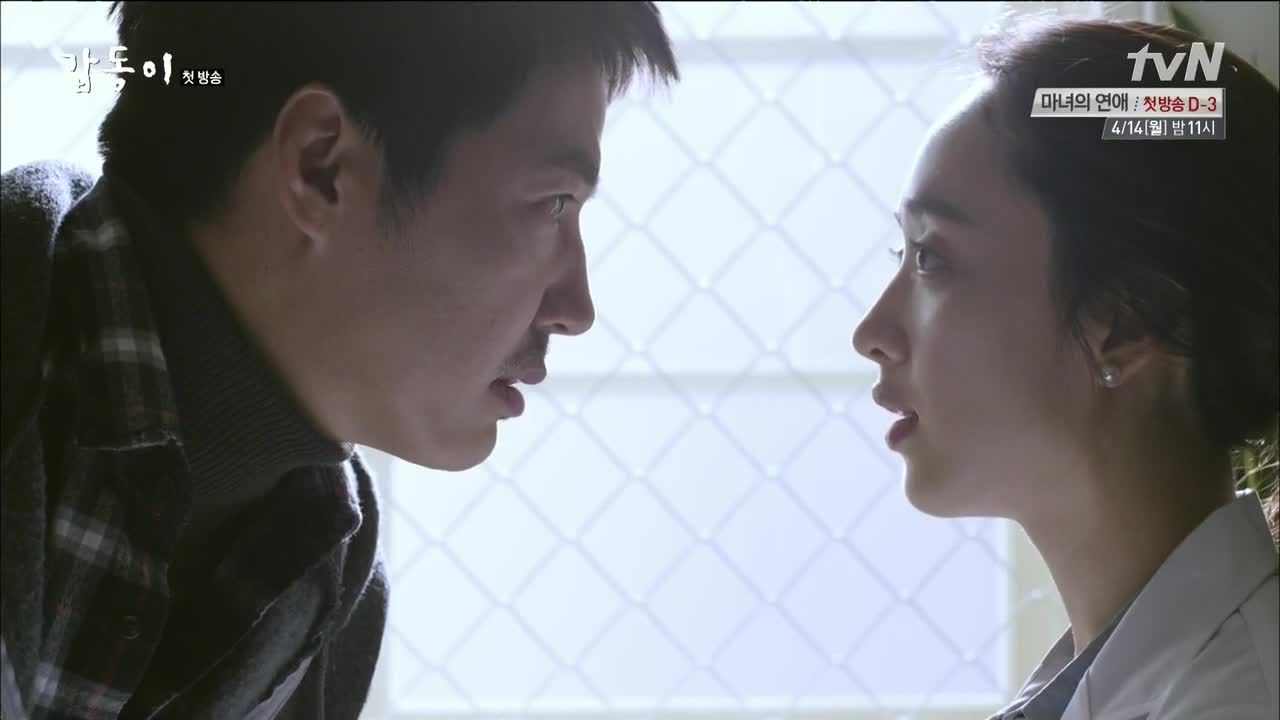 He snaps to attention, and she rattles off the specs of Iltan's infamous rapist-murderer, including his suspected height, age, and physical features. She tells him of the customary two reactions people have upon meeting their first loves again: forced indifference, or going after them honestly. He's doing the former, she diagnoses, saying that when he speaks of Gap-dong, his expression is that of someone searching for a reason to live. "You've never actually forgotten him, have you?" she asks.
In the kitchen, patients work at boxing up cakes, and Tae-oh is one of them. But his attention is fixated on his partner, whom he regards with growing excitement. Tae-oh asks, "Were you Gap-dong?" We don't see the other man's face, but Tae-oh's face brightens and he asks, "You were really here all this time?" He grins widely. Creepily. "Great to see you, Gap-dong-ah," he says.
Then he amends reverently, "No, my God. My hero."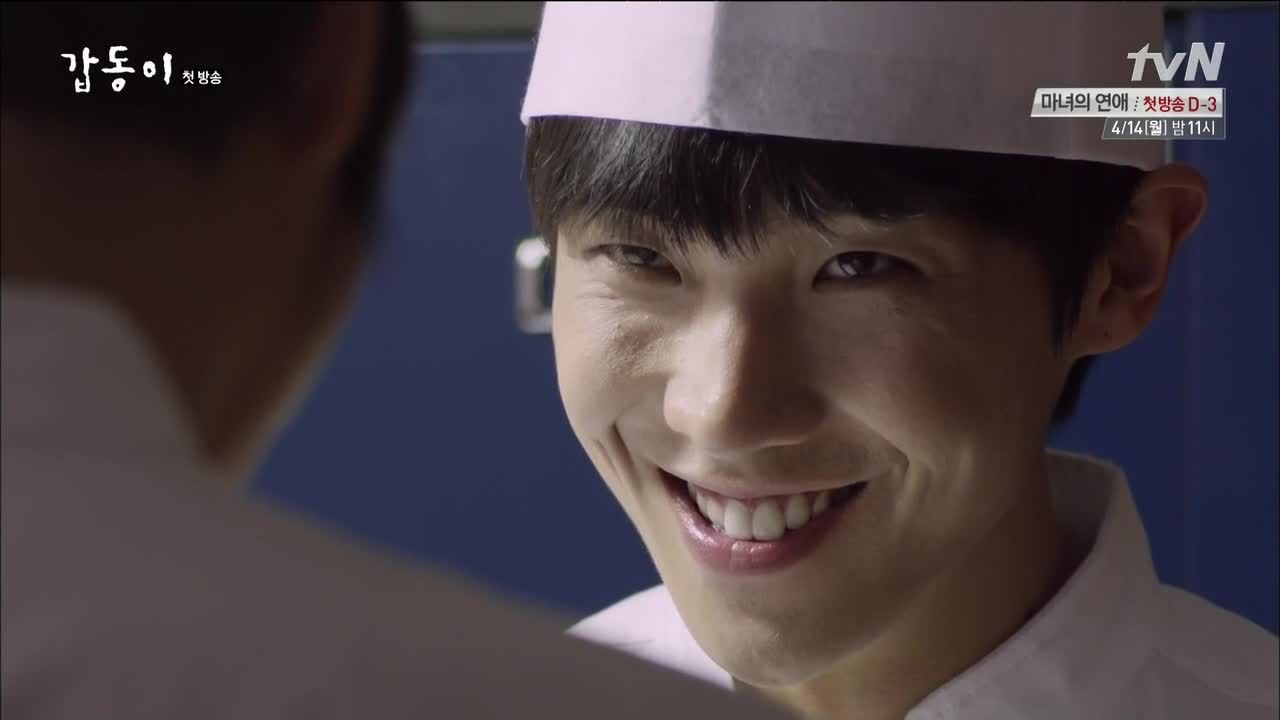 The other man just goes on wrapping that cake… tying it with an interesting knot. And Tae-oh goes to bed that night harboring all that newfound glee.
The next day, the patients are lined up and instructed to spray-paint the words "I am the real Gap-dong." Looks like a futile exercise, and on the ride back to the station, Mu-yeom wonders how likely it is that Gap-dong is still out there. His wife-partner surmises that the likeliest reason for Gap-dong's activities to have stopped so completely is that he was locked up.
Wife-partner (named Hyung-nyun) admits to having tried to locate the only witness—that traumatized little girl, Kim Jae-hee—but couldn't find her because she was granted a tracking ban, meaning they aren't allowed to find her. They wonder what lead Chul-gon could possibly have to prompt him back on the case.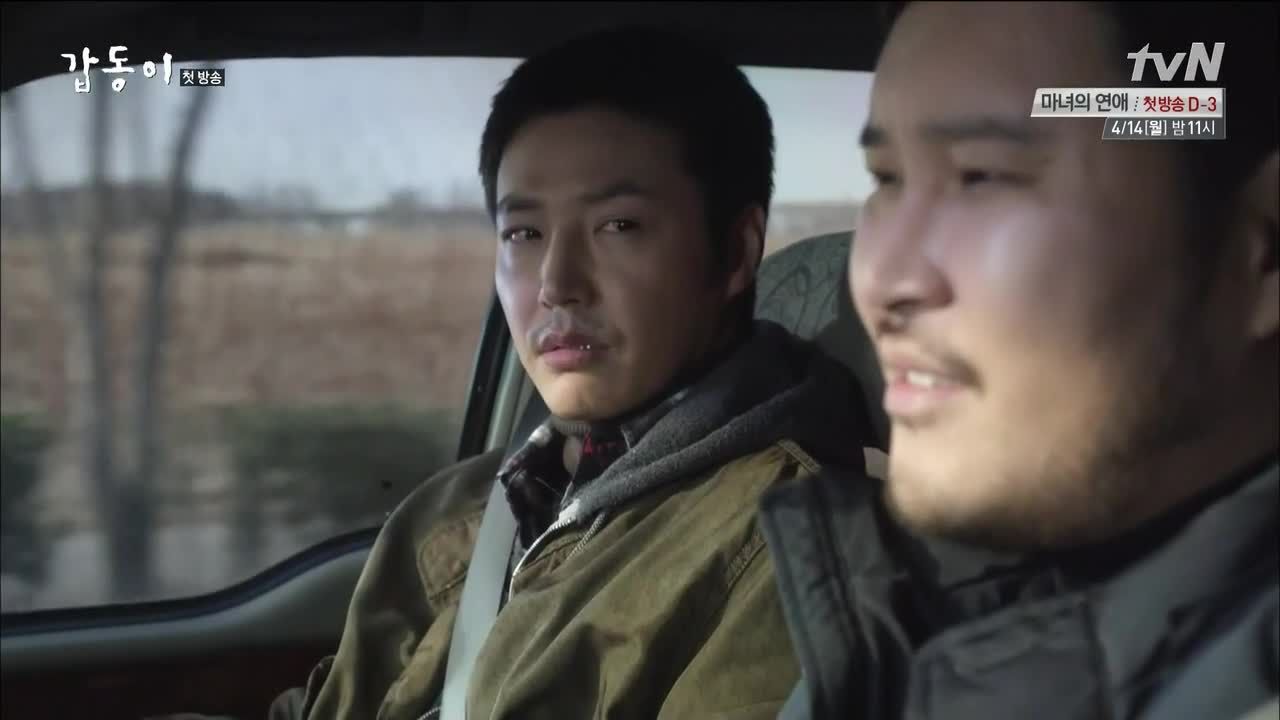 Answering that question, we move to the forensic archives where Gap-dong's DNA is stored. They come from his feces, left at one of the scenes. Chul-gon orders his team to get the DNA and look for a match, which elicits protests all around—it's labor-intensive to look for those matches. With the statute of limitations expired, they could run into civil rights violation issues, too. Chul-gon orders them to proceed anyway.
Chul-gon takes one of his subordinates to lunch, Detective Nam Ki-ri, and gives him explicit instructions to get the DNA information of all the Gap-dong suspects. By any means necessary. Ki-ri gulps, knowing this will take some doing, but he complies by going after that DNA sample by breaking into a locker and taking an electric razor from it.
Mu-yeom, on the other hand, is at the hospital gathering cheek swabs from the patients. One patient worries that his DNA might trigger something else, because he hasn't been caught for a theft where he left his crap at the scene. The other inmates warn that these days, forensics can trace your poop back to you, and the inmate quakes in his boots. (He seems rather too meek—and stupid—to be a likely Gap-dong suspect, but who knows in this drama.)
Dr. Maria has a consultation with Tae-oh, asking him to start with talk of his father. Tae-oh fidgets and stalls, so she doesn't press. She notes that he's being released tomorrow, and Tae-oh promises to drop by on visits. He grabs her hand for a pinky-swear, but at the contact she flinches and breaks contact.
Mu-yeom barges into her office, requesting another therapy session. As Maria tells him to call for an appointment, something strikes him about Tae-oh, making him look closer. Tae-oh avoids his eyes and Maria takes Mu-yeom aside indignantly to take issue with his high-handedness. He turns her attention toward Tae-oh's looks, prodding, "Doesn't he resemble someone's police sketch?"
Tae-oh's age (23) makes it impossible for him to be Gap-dong, but Mu-yeom can't shake the feeling. He admits to having the fleeting thought that Gap-dong was an ageless being, like a vampire or monster. At that, Maria turns a disapproving look on him, like he's talking crazy. Not that I blame her.
She indicates the patient ward and says, "Gap-dong might be inside. That's much more realistic than a vampire or monster."
Mu-yeom scoffs, thinking she clearly knows nothing about Gap-dong. But she seems to know more than he gives her credit for, asking, "Do you think he'd be the same? You could put him right in front of a witness and they wouldn't know, not anymore. He'll want to have changed. He will have transformed into something completely different than the face the world knows."
Tae-oh watches this exchange intently.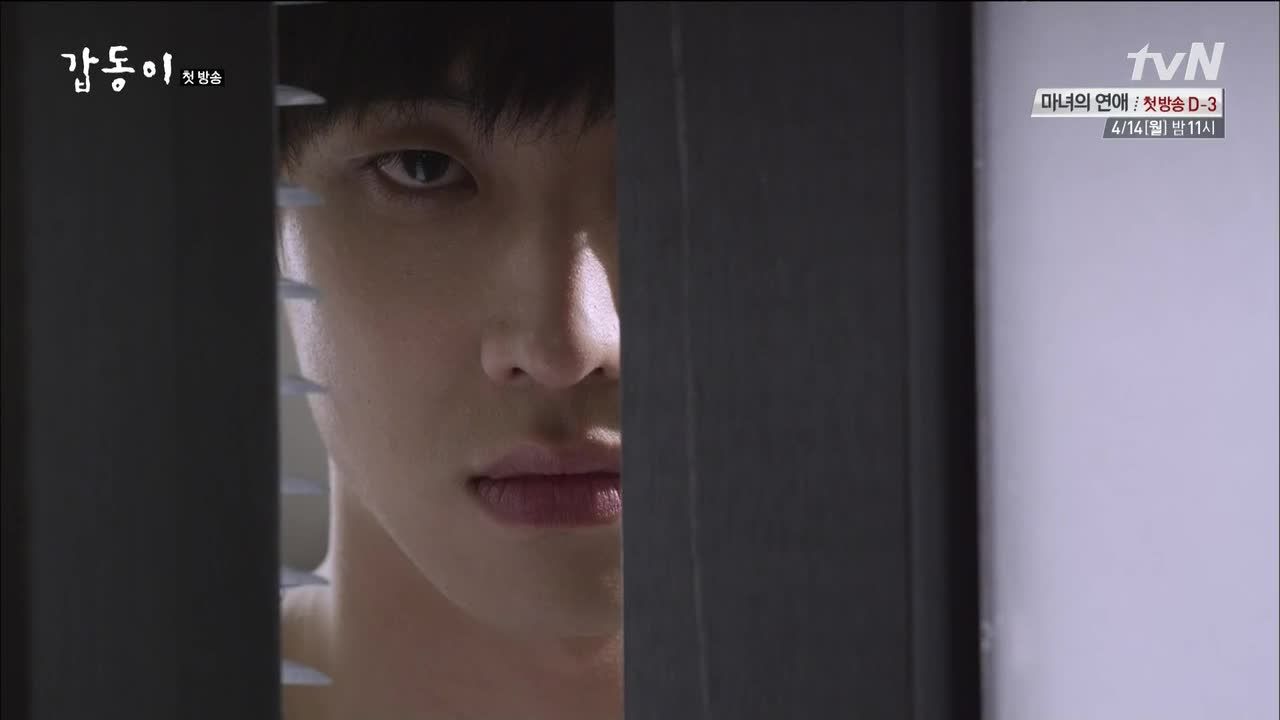 Mu-yeom takes boxes of evidence to the lab, where the technician gives a deep sigh—he's up to his neck in evidence. Mu-yeom tells the tech that there's no rush.
Then, Detective Ki-ri comes by to drop off Chul-gon's special request for testing, saying that it's from "a strong suspect." Mu-yeom asks who that is, and Ki-ri jumps to see him, trying to pass the evidence along before Mu-yeom can get to it.
He's too slow. Mu-yeom finds the bag of hair shavings… marked with his own name. OH NO YOU DI'N'T. I knew I didn't like Chul-gon before, but now it's war, old man. I mean, inasmuch as I can fight you from this side of the computer screen.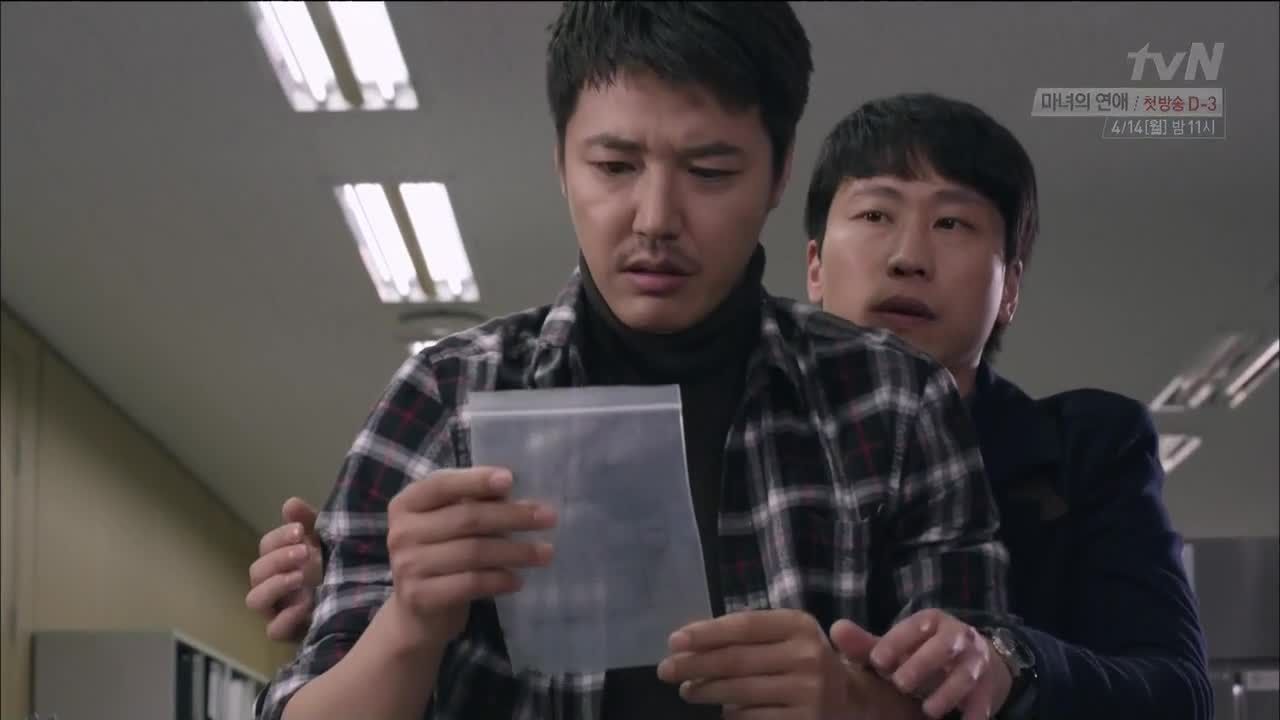 Chul-gon takes a meeting with the district attorney that night, who says that he also believed that Ha Il-shik was guilty, but with the lost evidence, what are they to do? Chul-gon says coldly, "We're not entirely without methods." Yeah, we've seen your methods.
Mu-yeom storms into the police station, ignoring Ki-ri's pathetic excuses. He interrupts the meeting, and the district attorney wears a strange look at the sight of Mu-yeom. Hm.
Mu-yeom confronts Chul-gon angrily for his stunt, but Chul-gon has no remorse about it. After all, having the suspect's son within reach means that the son's DNA can prove the father's guilt. He bets that Mu-yeom's blood would come up an undisputed match for Gap-dong's DNA.
Mu-yeom sneers in his face and asks what the point is of investigating now—does he mean to put a dead man in prison? Chul-gon goads Mu-yeom to do the DNA test if he's so sure. Mu-yeom says he'll give up his arm if the test results prove his father was Gap-dong: "But if it isn't my father, offer one of your fingers—and cut it off."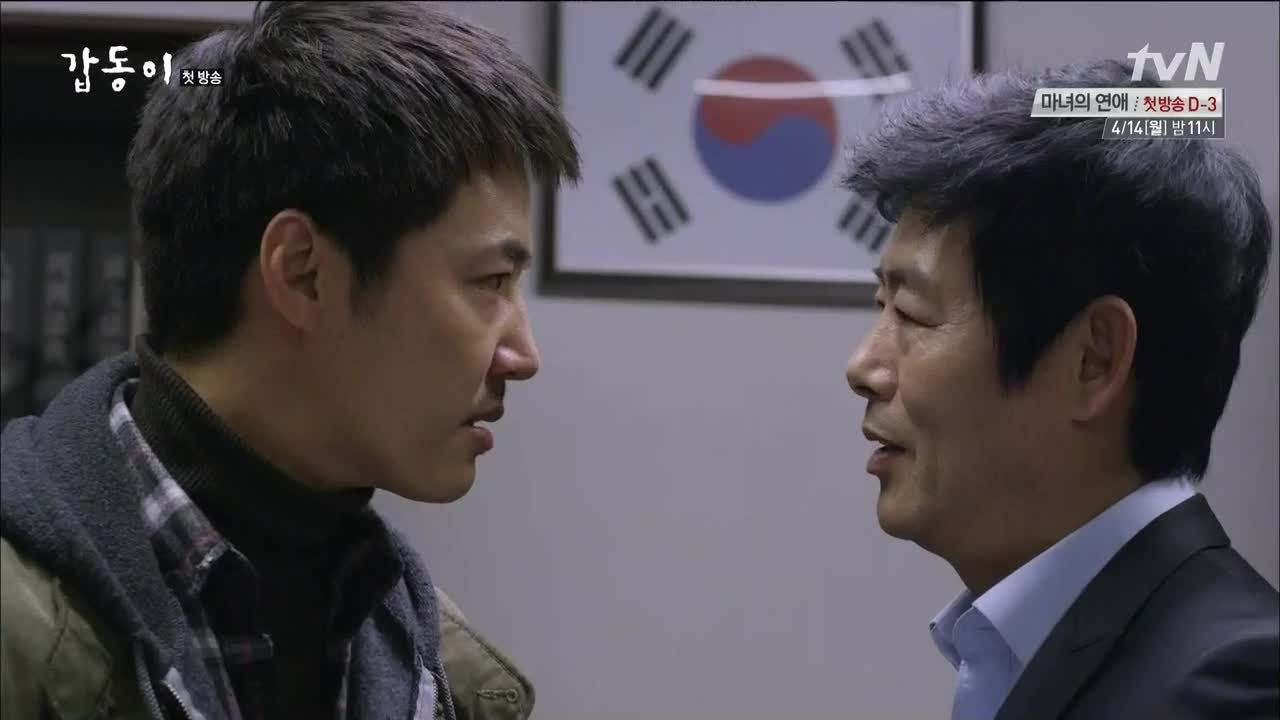 Chul-gon laughs that there's no way he'd give up a finger to a crazy man. "You have no confidence?" Mu-yeom asks. "You've already lost—to me and to Gap-dong."
Chul-gon growls that even if the test results are negative, "Your father is still Gap-dong. You should know this too, that Gap-dong isn't one man." And Dad is one of them, he is sure of it. Then he states that Mu-yeom wasn't entirely free of that suspicion either, that his father might be guilty.
A flashback shows us young Mu-yeom burning his father's jacket. Dad insists he didn't do it, but Mu-yeom can't understand why he'd hide the blood-spattered jacket then. That's when Chul-gon arrives, too late to save the evidence, practically howling in fury.
So now, Chul-gon congratulates Mu-yeom for putting on a convincing act of looking for Gap-dong and advises him to take a break.
Mu-yeom tells him to give up on this long-dead case. "If he was around, I would have caught him! And if he comes back now, I'll catch him."
Fine, Chul-gon says. If he brings the true Gap-dong to light, and it's not his father, he'll give him this finger—and he flips him the bird.
He adds that Mu-yeom won't be able to find the culprit, because you need to be a different breed to catch the scent—and Mu-yeom, like his father, is a mere beast.
Burning with rage, Mu-yeom just barely holds back from delivering a well-deserved punch. Instead, he grabs Chul-gon's arm and slaps his hand on the desk. Taking a pen, he writes on his finger, "This belongs to Mu-yeom!"
The police chief is called in to deal with the situation: Chul-gon behaved improperly by taking Mu-yeom's DNA without his knowledge. Mu-yeom agrees to cooperate with the test anyway, but there's another worry: The investigation of an Iltan police detective will become public knowledge, and that'll raise a fuss.
The police chief deliberates, then issues his decision: Drop the case. He can't subject the entire police department to chaos and controversy over an old case. All the collected DNA is to be discarded.
Mu-yeom swears in frustration—that's not what he wants. He storms out to his partner and demands a case to work on—anything with suspects needing catching. Don't they have something involving crazy raging murderers?
An interesting choice, then, to cut next to Tae-oh as he's released from prison-hospital.
Back to Ji-wool, at work on a webtoon about a killer that she's titled "The Beast's Path."
Ji-wool explains the meaning of the title—in the mountains, the path trod by animals is sometimes mistaken by hikers for a real trail, and they walk along it unknowingly. She's telling this to a boy who's much more interested in her than the story, and as she's explaining she lights up to see Mu-yeom walking by. He ignores her and walks by.
But when the boy tries to make a move and brushes Ji-wool's hair out of her face, he's interrupted by Mu-yeom, who's turned back to slap his hand aside.
Ji-wool clearly loves his intervention despite pretending not to, then marvels at Mu-yeom's curious mood today. So intense, sad, different. She pelts him with questions about why, bristling at the thought that it might be a woman-related issue.
Mu-yeom is called away on a sudden case, though, and runs off. The incident involves a psycho on the loose at a shopping center, who is going around stabbing bystanders. He swings his knife wildly at—and into—anyone nearby enough to stab, and pandemonium ensues.
Maria walks by at that same shopping center, looking a lot different than the clean-faced doctor we know. This Maria is edgy and leather-clad, sexy and mysterious. She turns at the sound of screams and spots the stabber in the distance, dragging a victim into the fountain. He sure looks familiar… Tae-oh?
Mu-yeom arrives on the scene, knocking past Maria, and catches up to the killer as he's holding his victim on a ledge. We see the perp's face—not Tae-oh after all.
Mu-yeom locks eyes with the stabber and invites him to have soju together—a drink among two angry souls in a goddamned world. He says he knows what it feels like, that he was told he was a beast too. He climbs up on the ledge and repeats a famous saying of Bruce Lee's: "Don't think of fear."
The stabber takes a few wild stabs at Mu-yeom. Mu-yeom challenges him to do it properly—look into his eyes and forget fear.
Mu-yeom edges closer and says, "I can deal with injustice but not curiosity, so tell me this: Was there no other method than this? Didn't you want to stop? When you took that knife, didn't you think you wanted to stop? When you stabbed the first person, and the second—did you not think to stop your insanity then?"
The stabber holds the girl closer to the ledge and threatens to shove her off. Or if not, Mu-yeom can jump instead, he taunts.
At that, Mu-yeom turns out toward the crowd below. Bluffing, or crazy? He steps closer to the ledge…
And then a voice calls out behind them, bored. "You pathetic loser."
It's Vixen Maria, and she scoffs, "You don't intend to die at all, do you?" She disparages the killer for taking out his angst on a girl, and not having the guts to go up against another man. She crooks a finger at the stabber, telling him to come at her so she can prove his loser-ness.
Riled, the stabber goes after her and Mu-yeom leaps at the chance, taking him down in a flying tackle.
By the time the police arrive, Mu-yeom is already escorting the stabber out, beaten and bloody. Maria notices that Mu-yeom is trailing blood, and we see that he's sporting a knife wound in the side. He mumbles at her, "I can't stop…" or maybe it's "He says he can't stop"—the pronouns are deliberately ambiguous. And then he collapses in pain.
A woman walks on a familiar road at night. Ack, go away, turn back! Is it a coincidence that she's holding a cake like the one our "Gap-dong" packaged? And then, a familiar whistle begins.
She hurries along the road, getting nervous. A man in black stalks her, a few steps behind. She turns back… and then a dark figure rushes at her. She screams.
Christmas Eve, 2013. The first incident occurs.

COMMENTS
Overall, quite a well-done premiere. It was as strong as I was thinking it would probably be, although I was a little surprised that it was strong for different reasons than I expected. For one, the drama isn't actually that scary or grisly, which I'm perfectly fine with. Those of you who wanted Dexter, however, will probably be disappointed.
The first hour was quite character-grounded, which was great in that I absolutely love our hero and find the rest of the characters intriguing. It wasn't actually that plot-heavy, which is a choice that may not be a bad one but leaves me still wanting more, because right now this serial-killer case seems rather simple. I want to get to the part where we're amazed at Gap-dong for escaping capture for so long, instead of thinking the cops bungled it with their blind insistence that it was one guy when it clearly wasn't. And for that, we have Sung Dong-il to blame, and he does such a fantastic job being a sneering jackhole that it's quite easy to blame him. (Really, I hate Chul-gon. So, so much. I want to slap him every time he smiles or laughs or breathes, because he is the worst kind of everything to Mu-yeom, especially when he was a child.)
Mostly I want the show to ensure that there's a complex mystery here, and I hope we get that in the next episode because there's got to be more to Gap-dong than him being locked up for twenty years. That does give us the chance to explore the interesting case of Tae-oh, who is a charismatic character inasmuch as psychopaths are charismatic. I'd love to know why he has such psycho-killer tendencies, and what that has to do with his father issues. Is he Gap-dong's son? Although I suppose he'd know if he were, wouldn't he? But why else would he resemble him so much?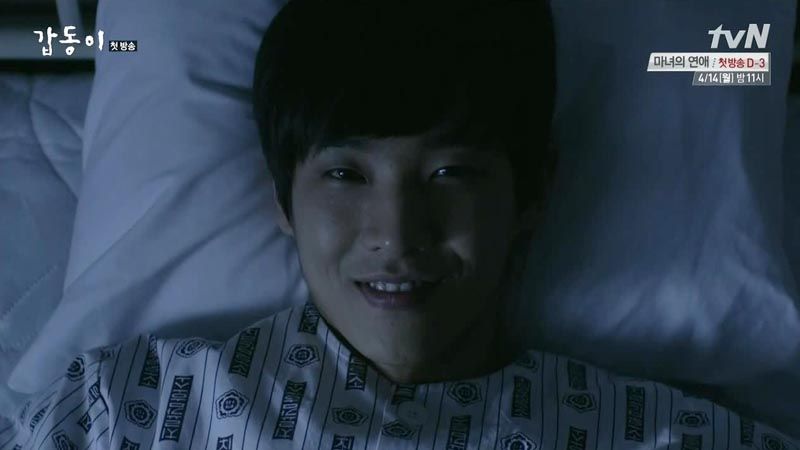 But on the score of our hero, the show has done such a great job that I could imagine the entire show being upheld by him (and by extension, Yoon Sang-hyun's performance). I've always enjoyed Yoon Sang-hyun's acting whether dramatic or comedic, and have thought he just needed to pick better projects on the whole. This one suits him perfectly, and I love that crazy wild streak to him, which does contribute to his doggedness as a detective. He calls it forgetting your fear, but his wildness seems to go beyond that—self-loathing, perhaps, or rage at the world turned inward.
And yet he also has that deeply compassionate side, taking care of "my kids" at the temple and trying to give delinquents fair chances to improve their lots. He's picked up a ragtag team of discarded kids, it seems, and you can't help but love someone who does that. Plus, it's really not too hard to side against whoever Chul-gon is going after, frankly. It makes you want to go after Gap-dong with everything he's got and rub Chul-gon's face in it, even though I sort of fear for what happens to his life after Gap-dong's case is closed, since he's lived his whole life with that one driving motivation.
But that's a worry for another day. For now, the murder chase is on, and time's ticking.
RELATED POSTS
Tags: featured, first episodes, Gap-dong, Kim Ji-won, Kim Min-jung, Lee Joon, Sung Dong-il, Yoon Sang-hyun