Grandpas Over Flowers in Spain: Episode 4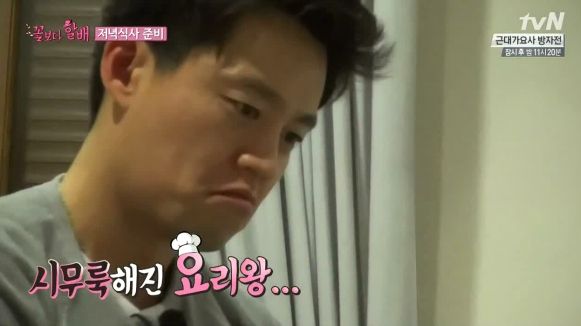 EPISODE 4. Broadcast on March 28, 2014.
girlfriday: We return to the train sleeper car from hell, where four grown men are supposed to spend the night packed in like sardines.
javabeans: All I can say is: Thank god for liquor. Because if not for the bar car, I'm pretty sure Il-sub halbae would have exploded.
girlfriday: It's pretty funny to watch Seo-jin when we rewind a bit to their arrival, because his way of dealing with the halbaes' anger is to… not deal. He sticks his head in a book and avoids eye contact, and then finds a dining car to run away to, all because he can't face it.
javabeans: We see the two men silently sipping their drinks, and then Seo-jin suggests a second round, and the show tells us this is the second time they've talked in half an hour. It's funny how later, Seo-jin interviews that he's pretty comfortable with Il-sub halbae because they've got a familiar father-son vibe, and Na PD asks a little incredulously whether he isn't frustrated at all the silence. Seo-jin just says matter-of-factly that he was raised to be quiet anyway, so it all works for him. Haha. I love that Na PD can't wrap his head around that concept.
girlfriday: Yeah Seo-jin is really old-school that way, whereas Na PD is more like, How do I fix this? With jokes? Do I beg? I can beg.
javabeans: Like, Na PD is watching this happen while feeling stress, while Seo-jin is thinking, Ahh, this is nice.
girlfriday: Seo-jin thinks this is perfectly normal because this is how he is with his father, which I totally get from having watched plenty of Korean fathers and sons interact, but I'm with Na PD here. It makes ME uncomfortable.
javabeans: Oh, see I feel like Seo-jin. It's calm and familiar. I don't have that stress. At least, not in this instance when I know Seo-jin and Il-sub halbae aren't stressed about it. I love how later Seo-jin is amazed at how much he drank and says, "I don't remember how I got into bed." Thankfully the show has footage to show us how he clumsily shoved himself into the top compartment.
girlfriday: Seo-jinnie's drunk face is priceless. I want it on a t-shirt.
javabeans: Aw, it's sweet how you see Il-sub halbae tucking Seo-jin in a few minutes later, and then a little while after that Gu halbae takes off Il-sub halbae's socks for him. Then in the morning it's the earlybirds, Soon-jae halbae and Geun-hyung halbae, who are up in the breakfast car. Hearing that their dongsaengs were up late drinking, Geun-hyung halbae jokes that they should be cut from the show, and that on the next trip he and Soon-jae hyungnim can go with two ladies. Haha.
girlfriday: After a bleary-eyed morning on the train, they finally arrive in Granada and Seo-jin guides them to their hotel in no time. He gets a little worried about the place judging from the exterior, and we're reminded of his traumatic experience with that Rainbow place on their first trip.
javabeans: He keeps his calm face on as he checks into their two rooms (one double, one triple) and ushers the halbaes into the elevator… and then sprints like a madman up the stairs to check first. Run, Seo-jinnie, run!
girlfriday: It cracks me up that he races up there to beat them. He opens the door, and eep, it's a tiny room with three beds crammed in wall-to-wall. It's basically the exact same setup as Rainbow. Seo-jin gets hilariously avoidy again, and hurriedly runs off before the halbaes can get upset.
javabeans: He ushers them down to breakfast before it ends, then lingers behind with Na PD. After a while, Na PD tells him to go up and rest, and Seo-jin quips, "Do you think going TO the room is resting?"
girlfriday: He decides crashing on the tiny sofa is better, and naps in the breakfast room. A few hours later they head out to the Alhambra, and already Na PD is asking Seo-jin for money because they pre-paid for tickets. Seo-jin just turns to Soon-jae halbae, "Shall we not go inside, teacher?" Pre-paying for tickets was your first mistake, Na PD.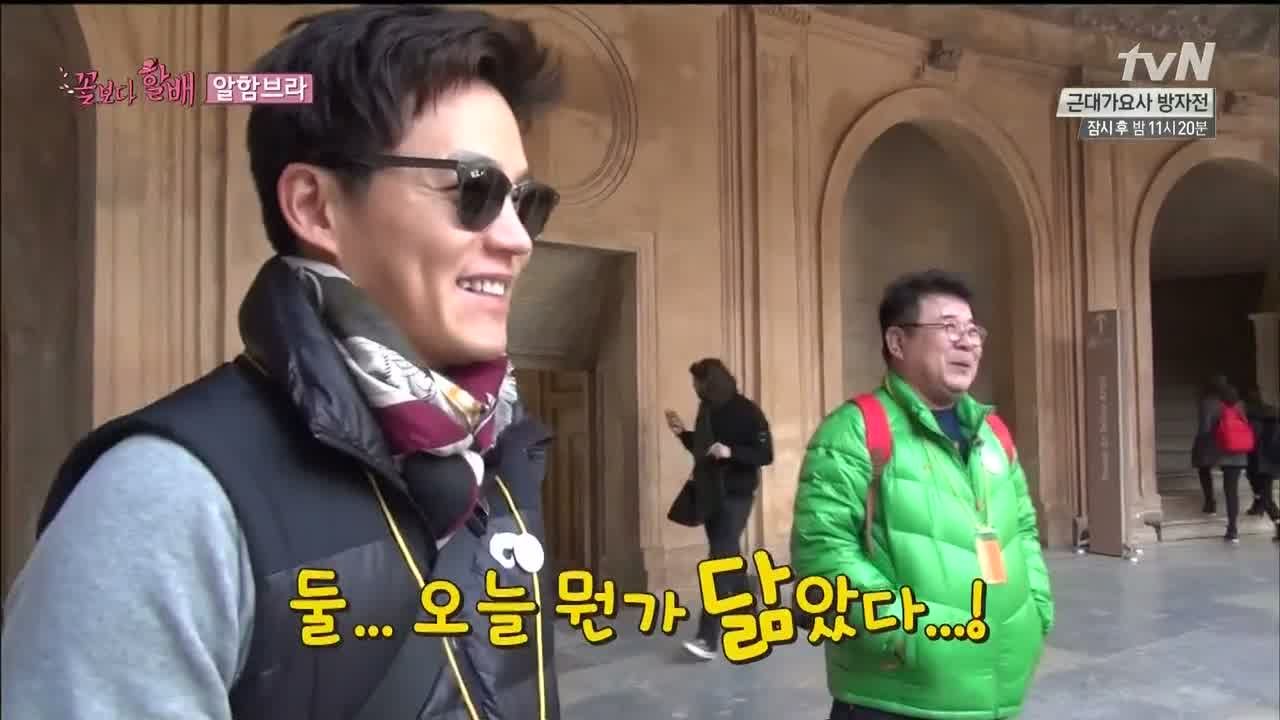 javabeans: Ha, the writer prods Seo-jin to explain "for the viewers" what Alhambra is, and what the palace is like. He retorts, "What do I know? They can look it up on the internet." The PD tries to prod him for a reaction, saying, "Wow, the palace is really beautiful." Seo-jin just sighs to himself, "Where are we going to sleep tomorrow? Augh."
girlfriday: She keeps trying to tell him stuff about the history of the place to get a reaction, but he just keeps asking about their next destination and muttering to himself about the drive and where they'll eat. Finally she's like, "Are you listening to me?" He doesn't even answer. Lol, and then the same thing is happening over in Il-sub halbae's corner, where another writer is explaining things to him and he's clearly giving obligatory nods and not listening.
javabeans: They're explaining to the halbaes that the courtyard space is designed for concerts and was acoustically engineered so you could hear from one end to the other. Cue random scream from Gu halbae, who's testing it out, only nobody else was expecting it so they all jump and an employee has to tell him not to shout.
girlfriday: I love that Soon-jae halbae discreetly backs away, embarrassed. Then everyone else gets curious and gathers in the center spot, and Il-sub halbae suggests farting to see how that'll carry. Pfft. Then they gather for a group picture, where Seo-jinnie tries to get away with not making heart hands over his head, and gets ratted out for it. All it takes is one silent look from Soon-jae halbae and he complies sheepishly.
javabeans: They head inside for more sightseeing, and I'm cracking up every time the camera goes to Seo-jin and he's still fixated on how they'll make it to Lisbon tomorrow and how the drive will be and where they'll stop to eat.
girlfriday: Na PD tells Seo-jin that he'll like visiting the harem's quarters, and Seo-jin insists that he doesn't and would never step foot inside a place like that. Na PD: "It's only one woman for you?" Seo-jin: "Of course." Na PD: "You're going to get struck by lightning."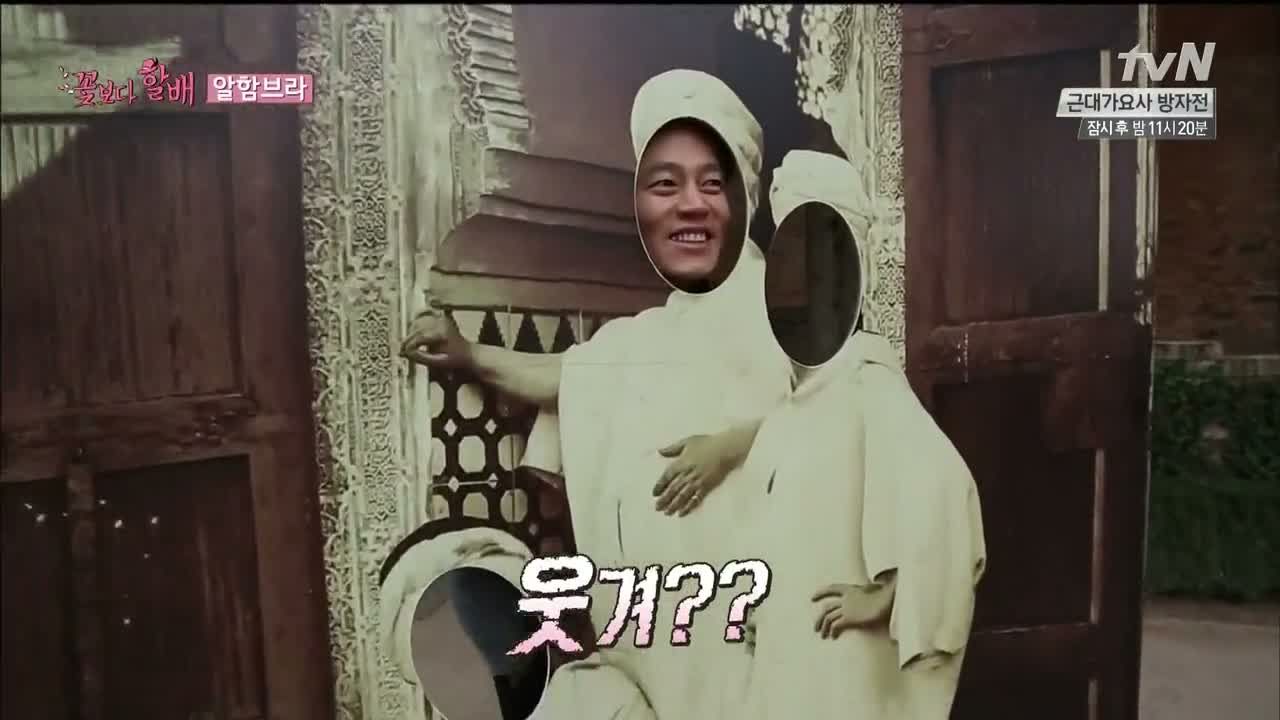 javabeans: Seo-jin wanders to one of those photo op walls where you stick your head in and take a funny photo, and it's funny that the show is all, Surely he wouldn't find this interesting… SURELY and then is incredulous when he gives them the funny photo op anyway.
girlfriday: He's clearly not above doing things for a laugh, because he keeps asking, "Is it funny? Is it?"
javabeans: Then he sits with Il-sub halbae who requests a bottle of wine for later, and he's all, "Maybe two bottles would be better," and then one sentence later says, "I'll buy three then."
girlfriday: Il-sub halbae says he needs to cut down on the liquor, and the writer points out that they're buying wine. Il-sub halbae: "Wine isn't liquor." Hahaha. Well if wine doesn't count then I'll be on the no-liquor diet too. Gu halbae is extra eager today, and wants to see every inch of the palace and even climbs up the tower for the view.
javabeans: As they all head out after seeing the palace, they head to the cars, which is when our scary thriller music starts and portends ominous things. For now the group settles in a cafe to detail tomorrow's plans, which are packed: first a two-and-a-half-hour train ride to Seville, then a five-hour car ride to Lisbon. Eek.
girlfriday: It gets worse when the group splits on what they want to do. Even if it's a tough trip, Soon-jae halbae and Gu halbae want to go, while Geun-hyung halbae and Il-sub halbae are vehemently opposed to an entire day spent in a car.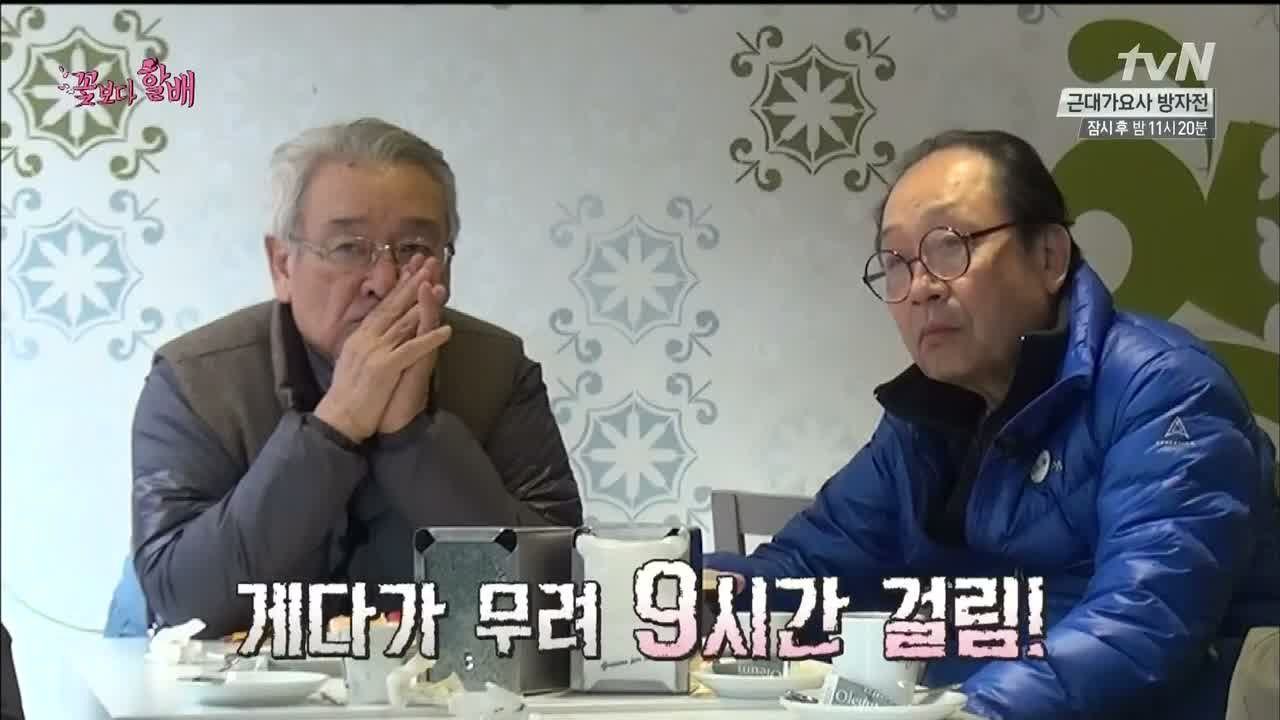 javabeans: They also don't want to force Seo-jin to drive all day, since they don't know the roads and it could be dangerous. Seo-jin says he's fine to drive, but the conversation gets more and more involved as the group argues the pros and cons. Na PD suggests that Soon-jae halbae make the executive decision because either way they'll have to make reservations for the night somewhere, and he decides no. Aw, he's operating on the principle that if one person is uncomfortable with it, it's better not to do it.
girlfriday: He does the leader thing, which is smart, but poor Gu halbae is clearly sad about not going. He was especially interested in Lisbon when they were planning the trip, so it's especially disappointing for him.
javabeans: We even get this whole extended sad music video montage of him basically saying goodbye to the idea of going to Lisbon. Haha, I love how Seo-jin heads out to find a supermarket and wonders laughingly, "Despite knowing this is how things are going to end up, why do you suppose I didn't learn how to cook?"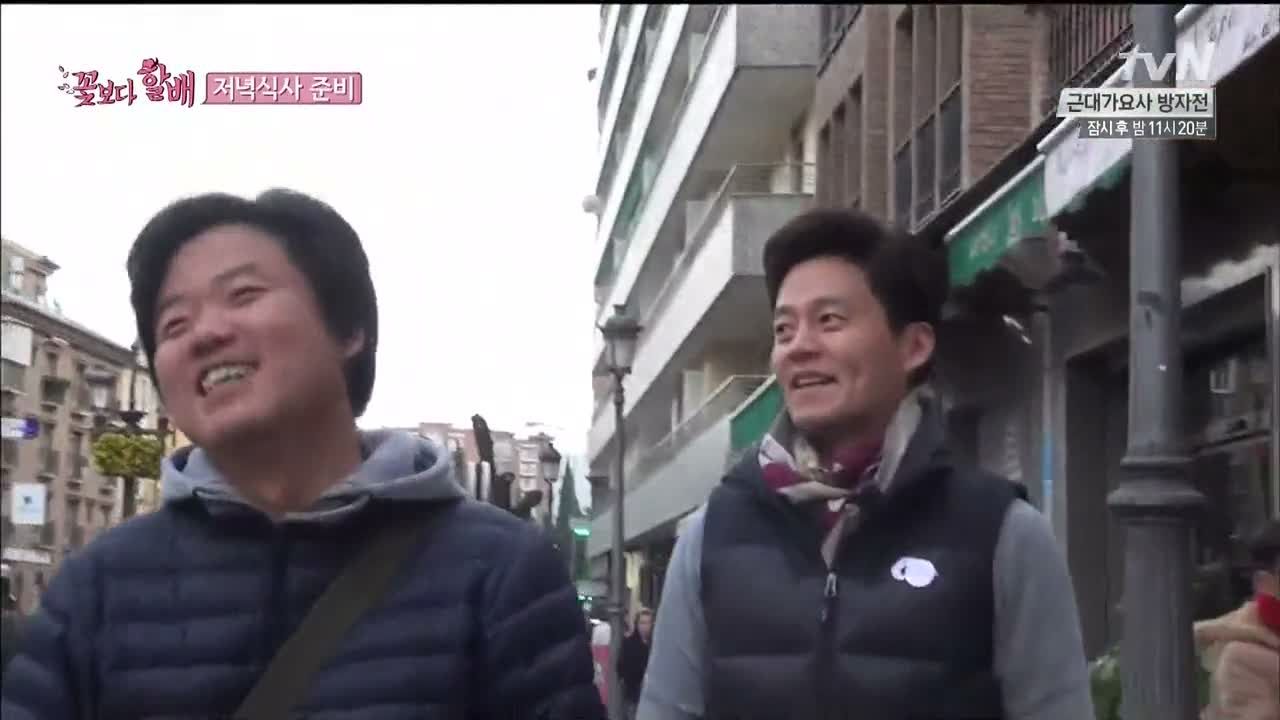 girlfriday: Lol, probably to keep Na PD happy?
javabeans: He finds a grocery store and starts shopping. "This is lettuce, right?" Caption: "CABBAGE (which he thinks is lettuce)."
girlfriday: He stands in the produce section just scratching his head and wondering what goes in soybean paste soup, and asks what time it is in Korea. When he hears it's two in the morning, he sighs. PD: "Were you going to call your mom?" Seo-jin sighs yes.
javabeans: Na PD pesters, "Hyung, what if you try making some pumpkin pancakes? I wanna eat them all of a sudden." Seo-jin: "Imma kick you."
girlfriday: I just love Seo-jinnie's market questions. "Is tofu refrigerated?" "What would happen if I put hamburger in soybean paste?"
javabeans: Writer: "Aren't you feeling ambitious? Like suddenly you want to do a really good job?" Seo-jin shakes his head no: "I dislike myself for asking these things." He makes it back to the hotel, where he at least has the stash of food his mother sent. She has these instructions written on it too, which is cute. "Do a good job!"
girlfriday: I find it more entertaining when Seo-jin has to cook in a hotel bathroom. It just adds to the ridiculous factor.
javabeans: Meanwhile, the crew is rifling through the food stash swiping containers. Ack!
girlfriday: They're full-on having a picnic with all his mom's food, while Seo-jin is crying over the onion he's cutting in the bathroom sink.
javabeans: This is the saddest cooking sequence I've ever seen. I mean, he's doing a good job with what he's got, but he's got so little to work with.
girlfriday: Na PD watches as Seo-jin dumps an entire potato in boiling water and complains that it's potato stew now, so then Seo-jin starts scooping them back out. Then he puts them back. And then two seconds later, he scoops them out again. I have no idea what he's doing. He looks up at Na PD with this serious look and asks if he puts the soybean paste in now, and Na PD swears he doesn't know either.
javabeans: He asks the VJ for directions, because the VJ seems to marginally know more about jjigae-cooking, but not a whole lot, so ultimately it really just feels like the blind leading the blind here.
girlfriday: Ha, the VJ just watches as Seo-jin puts way too much paste in, and quietly whispers to Na PD that it's too much. Tell the guy making the jjigae!
javabeans: Even so, they mock him for his "soybean water" because it's somehow not right yet, and Seo-jin adds even more paste. But suddenly something magically happens because he tastes it and looks surprised: "It's okay." Na PD is skeptical, but even he concedes that it tastes decent.
girlfriday: The halbaes come and they eat on the floor, which always makes food more delicious for some reason. It's like a camp picnic, complete with wine in styrofoam cups.
javabeans: Meanwhile, the staffer who stole most of Seo-jin's food (the show nicknames him "Hyena Bong") takes the huge bag to share with the staffers, and on the way he heaps Seo-jin's mother with praise (speaking to the camera), thanking her for the food and saying that he has to walk a lot and keep up his energy and therefore needs to eat. Then the staffers have their own picnic party with most of Seo-jin's food.
girlfriday: Once dinner ends Seo-jinnie just collapses and starts whining to Na PD not to make him cook anymore
javabeans: The next morning they head out in the rain to take their train to Seville, and Na PD pesters Seo-jin during the ride to make him some kimchi pancakes. Seo-jin sticks to the "I don't know how" line, while Na PD tells him how eeeeeasy it is and how all you need to do is mix a little flour with kimchi, and Seo-jin retorts, "I don't even know what flour looks like!" Na PD: "Flour is white." Seo-jin: "I don't know, I can't buy it, what if I buy baking soda instead? Nope." Na PD: "Don't you know what flour is in English?" Seo-jin: "Nope!"
girlfriday: THIS is why Seo-jin doesn't learn how to cook. The less you know, the more you can deny.
javabeans: So then Na PD decides he'll have to ask the halbaes if they want kimchi pancakes, and I think Seo-jin just slapped him. Ha. His hand flies offscreen but you hear a smack, haha.
girlfriday: I can't believe we didn't get a full shot of that. Make them reenact it!
javabeans: He tells them they're sleeping, and when Na PD rises to go ask them Seo-jin shoves him back into his seat. The writer is totally being the devil on his shoulder, saying she wants to do their next variety show together about Seo-jinnie cooking. He barks that there's no way he'd do that, and she points out, "But it's fun because it wouldn't be a program where the participant enjoys cooking!" He orders her not to mention this to his agent and sits back in resignation when she jokingly tells Na PD that they've all agreed to do it. He grumbles, "I'm gonna work really hard to ruin your show! I'll make sure it's no fun at all!"
girlfriday: If only he knew how that just makes it fun for everyone else.
javabeans: The problem is, he can totally tank the idea Na PD sells to him, but Na PD will just take that and turn it into something else that's more brilliant.
girlfriday: He sits there writing the theme song already: "King of cooking, king of cooking, Seo-jinnie is the king of cooking~!" Lol.
javabeans: Then we get this whole mock teaser for the show, done up all sleek and professional-like, with (old footage of) Seo-jin announcing on tvN News that he's doing a new cooking show, and cut together to look like he's a real reality show contestant.
girlfriday: Hahaha. This is hilarious. It looks real. The group arrives in Seville and Seo-jin goes to get a rental car, and is told that they only have manual available. Uh-oh, remember what happened last time?
javabeans: Ack! This gives me flashbacks to being in France with my dad trying to drive a stick (which he learned once, like, twenty years prior) and sliding backwards down hills at red lights.
girlfriday: Seo-jin pulls out all the stops (dimples, compliments, the works), but the clerk can't find him an automatic car. Suffering it is.
javabeans: From the looks of it, next week will have plenty of that. There'll be lots of police, dead batteries, and wandering in store for us with "The Rental Car From Hell."
RELATED POSTS
Tags: Baek Il-sub, featured, Grandpas Over Flowers, Lee Seo-jin, Lee Soon-jae, Park Geun-hyung, Shin Gu