Grandpas Over Flowers in Spain: Episode 7
EPISODE 7. Broadcast on April 25, 2014.
javabeans: The group embarks on the final leg of their tour of Spain, heading to Madrid. It's a crowded ride in the subway with their luggage, but Seo-jin earns his title (well, one of his many titles) by watching out for everyone's bags and doing some heavy lifting.
girlfriday: Once they get out of the subway station with their luggage in tow, Seo-jin leads the way to their lodgings by following the navigation on his phone. It seemingly only takes him a minute though, and he stops in front of a swanky hotel. That can't be right.
javabeans: Na PD tells the group that because they've suffered so much on this trip, the production is booking them a special gift for their last stay, and when we get to the place, let's just say it has the words "grand luxe" in it.
girlfriday: Guess it pays to take a sleeper car made for sardines when the reward is this nice.
javabeans: They settle into their swanky rooms, then head down to dinner. Where Na PD (of course!) tells them, "Since we paid for the room, you can buy good food with your allowance." And then Seo-jin takes that one step further, offering to treat the whole group, including the crew, with his personal funds. Cue: Na PD ordering steaks.
girlfriday: Hahaha.
javabeans: Seo-jin quips that he's sure going all out, and shameless Na PD says, "If I get to order on someone else's dime, I'm unstoppable." He orders paella, steak, and salad, and when someone mentions soup he's all, "Soup? Okay, that too."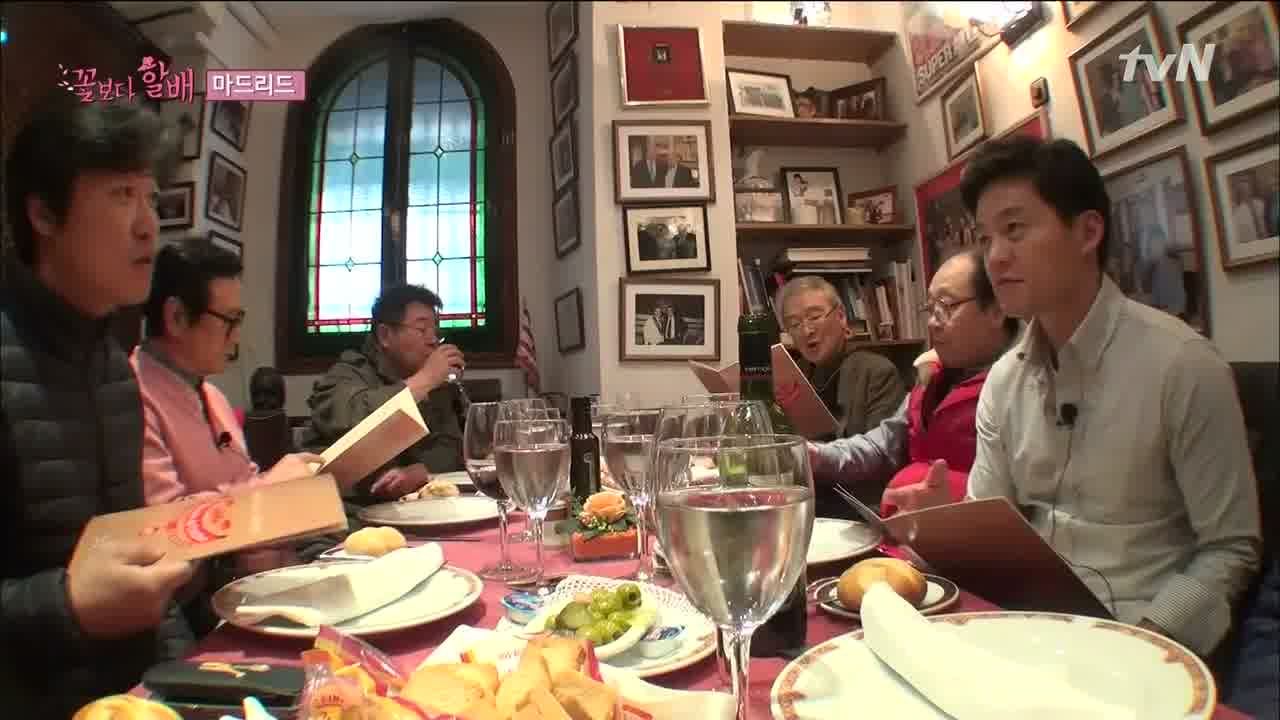 girlfriday: It's so cute how eager he is to spend Seo-jin's money. Though really, I think I would be as happy as Seo-jin is to be allowed to spend my own money instead of being careful about sticking to a production budget.
javabeans: I know, it's like, "I can spend five bucks of your money and eat peanuts, or I can pay for my own gourmet meal? FEAST PLEASE."
girlfriday: Right? I'd be doing that every night. But then I guess you can't do that every night because you derail the show and its rules. Na PD is really going to town — there are multiple courses, and a pitcher of sangria arrives. Seo-jin explains to the halbaes: "It's like juice." Listen, that's going to get you into trouble.
javabeans: Soon-jae halbae isn't a big drinker, so I find it really cute when he gets a tiny taste first, and then is all, "Ooh." *Holds out glass for more*
girlfriday: Isn't it funny how the whole group cheers, like they finally discovered the drink that Soon-jae halbae likes?
javabeans: Na PD tells the group that they'll each get their individual free time to do whatever they like. They'd had free time before but went off in a group, so I guess they're encouraging each halbae to do his own thing. Seo-jin probably knows Soon-jae halbae's tastes by now because he tells him where the Prado museum is, and Soon-jae halbae immediately starts poring over his guidebook once he's alone, readying to go out. The show cuts in the Barcelona footage where they got hopelessly lost, as though he's afraid of losing his way again.
girlfriday: But Seo-jin is so on the ball that he wakes up and goes to Soon-jae halbae's room and offers to walk him to the museum first thing in the morning. It's impressive that he knows how stressed Soon-jae halbae is about getting lost after Barcelona (when he wasn't even there) and thinks to preempt all that.
javabeans: As they head out, the show points out their matching footsteps and how carefully Seo-jin looks after him and how he described Soon-jae halbae as a fatherly figure to him (and saying, "If it's Teacher Soon-jae, I could travel anywhere with him, even all around the world"). They're both thoughtful and stoic so they don't speak much, but they seem to get each other.
girlfriday: With them there's zero awkwardness, like a real father-son pair. It's cute that when the PDs ask Soon-jae halbae about Seo-jin having a particular attachment to him, he laughs that it'll hurt the others' feelings.
javabeans: Seo-jin makes sure to usher him to the Prado and buys his ticket for him, and then the camera has to fade out since it's not allowed inside. We see the other halbaes heading out on their solo adventures, and Geun-hyung halbae and Il-sub halbae both head for the museum, on their own. I kind of like that this format lets them go separately though, because there's no stress of waiting for someone or trying to hurry when you really want to linger. Museums are made for solo trips, in my book.
girlfriday: Yeah it's actually surprising how much they manage to do as a group because by the second day of a trip I'd be running off to do something on my own. I suppose that's why we always see Seo-jin hiding in the staff room or sneaking solo breakfasts when he can. Geun-hyung halbae spends his day taking lots of pictures as usual, and then gets a little sad when a staffer mentions that it's his last day (he has to leave a day early). He says this trip in particular really flew by.
javabeans: Seo-jin enjoys wandering the city at his own pace, just walking, walking, walking. Asked later which city was most memorable, he says Madrid because he got to see it on his own. I'm thinking he barely even remembers the other cities when he was mostly seized with panic over what to eat for dinner or how to get to the hotel.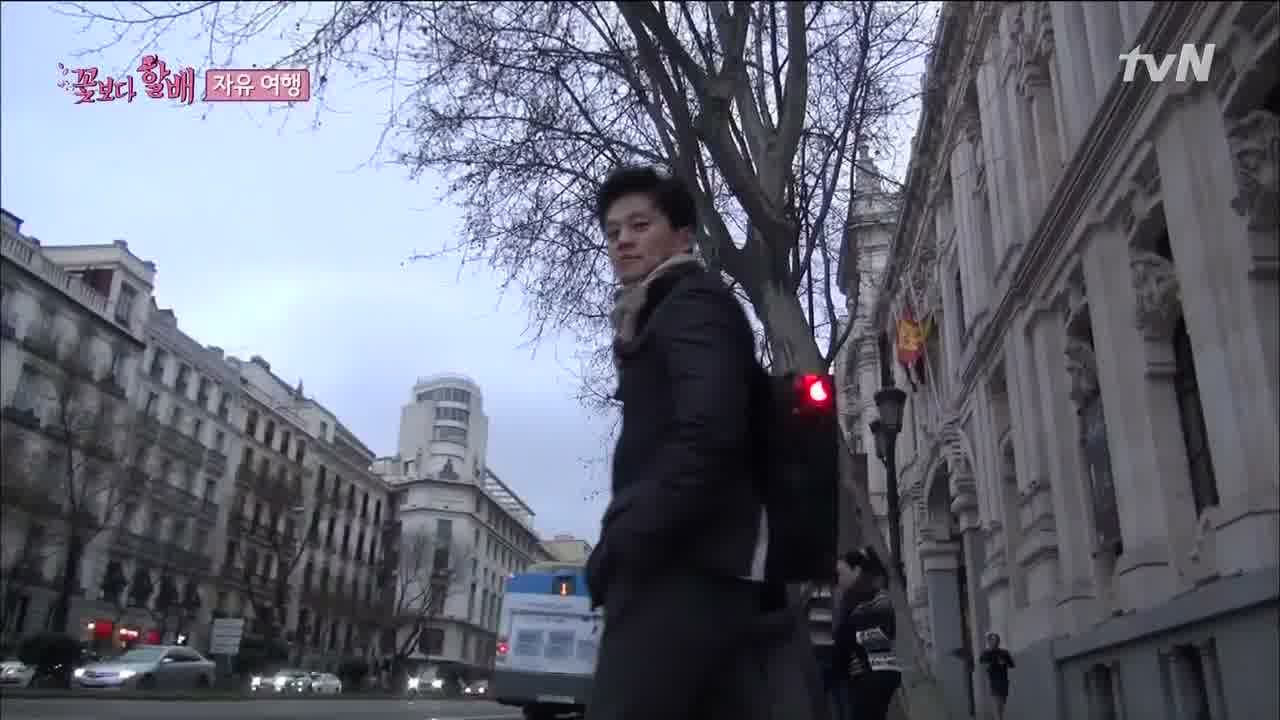 girlfriday: Yeah it's the first time he seems to be enjoying himself without thinking about what comes next.
javabeans: Ha, then he steps aside to go shopping for a thicker coat, not having brought one, and we get a montage of him pronouncing the clothes either too much or too stuffy or too this-and-that. Asked about his fashion taste, he says he likes things simple, unobtrusive, and well-fit. I bet his taste is also super expensive. Only the best!
girlfriday: Guys like him are the worst when you go shopping, because it literally has to be PERFECT, and they claim to not be picky while turning down every option. I love how he says it like it's so obvious, I just want it to be perfectly tailored to my body. Is that hard?
javabeans: Don't you love how he tells his VJ outside the store, "I will be ONE minute" and then leads him around for (seemingly) forever? He finally finds something he likes, and the show does this hilarrrrrrious split-screen with "The old one vs. the new one" which are virtually the same thing.
girlfriday: Pwahaha, and you know he dropped a bunch of money on it too. But he seems mighty pleased with himself.
javabeans: Soon-jae halbae gets on the topic of For Whom the Bell Tolls, which is set during the Spanish Civil War. He has a funny story about that movie, saying that when he was in his third year at university he went on a date with this girl, and she invited him to see this movie. "But the movie's quite long," he says, which already makes me laugh. Halfway through it he got a stomachache, so he stuck it out and then had to make up an excuse about having to run to another thing (so that he could rush to a bathroom), and that was the last he ever saw of her.
girlfriday: Aw, that could be a movie in and of itself.
javabeans: It's so sad! It's one of those things that you could think of independently of your happy life now, just always feeling that pang for what could have been, even if what ended up to be was great.
girlfriday: I know, all wistful and romantic. The details really add to the story too, like how he says it was snowing really hard that day.
javabeans: I want for that grandma to hear this story and think, "Aw, so he didn't dislike me! Sigh…"
girlfriday: See, now that's the kind of first love story I'd like to see dramatized. Gu halbae goes out on the town and enjoys the sights for a bit before finding a music store, where he asks a clerk for the CD section of traditional Spanish music. I don't know what's cuter, that he's spending his day music-shopping, or that he stops to take a selca with his purchase.
javabeans: It's interesting to see how each person's approach differs, even when what they're doing is similar. Like, Geun-hyung halbae is going to remember his Spain trip by looking through all his photographs, and Gu halbae is going to remember it by listening to his new flamenco CDs.
girlfriday: Gu halbae takes a liking to the street performers, and stops to take pictures with them. Meanwhile, Il-sub halbae wanders to the market square and finds an endless array of delicious foods on display.
javabeans: We pick up with Soon-jae halbae as he's making his way to the Don Quixote statue, and we see in flashbacks that he's super interested in seeing Don Quixote's birthplace and taking a picture there.
girlfriday: It's so heartfelt, the way he genuinely lights up when he gets to the statue. And then he says that he played Don Quixote on the stage for two years, which explains why the character is especially near and dear.
javabeans: Aw, thinking of him as that particular character is sad and poignant, for some reason, all out of touch but idealistic.
girlfriday: It's perfect for him. He talks a little bit about acting, and he says that anybody can become a star, but a true actor is someone who does that job for a lifetime, whether he's twenty or seventy. I know Lee Soon-jae has been known to say divisive things about acting before, but you can't argue with a lifetime devoted to one craft.
javabeans: Gu halbae wanders into a cafe for a cup of coffee, and surprises his guide by bringing him forward to have a seat and chat with him, and asks him about his life here in Madrid and general things about life and learning. Everyone seems to be in a philosophical mood tonight.
girlfriday: Or maybe that's just the default mode when you're a halbae, and it's only being around each other that makes them little kids.
javabeans: Ha, Il-sub halbae takes his crew to a restaurant for snacks, and tells the camera, "Na PD, I'M buying this! …because I've run out of money." Cute. And then Geun-hyung halbae wanders into the official store for Real Madrid (soccer team), and decides to buy two jerseys as gifts. Aw, one is for his own son, and the other is for his drama son Lee Sang-yub (Would You Give Love Away, which wrapped a month ago). That's so cute.
girlfriday: Best drama dad ever.
javabeans: Isn't it funny how now I automatically think Lee Sang-yub must be awesome in real life, if Geun-hyung halbae is going to buy him gifts when they're not even working together anymore? I mean, it's not like he's buying his whole drama cast jerseys.
girlfriday: Right? It's like instant street cred. Meanwhile, Seo-jin goes out for tapas and more sangria (my kind of night), and his crew starts asking him about his ideal woman.
javabeans: Haha, he must be in a good mood if he's answering honestly. It's not the sangria since he's not even into his glass yet, but he says he likes short and chubby women ("with a bit of a belly, I like that"), with bright and funny personalities. Ha, not what I would have guessed. Then the check comes, and apparently his crew feels kinda bad that it was so expensive that they offer to split the cost. Seo-jin says, "If you don't tell [Na] Young-seok, shall I tell you a secret?" We cut to Na PD's sneaky airport contract stunt regarding the reduced budget…
girlfriday: It turns into this whole detectivey flashback sequence, where we watch as Geun-hyung halbae calls Seo-jinnie right away to tattle on Na PD scamming them out of money (in itself awesome), but they're immediately put at ease when Seo-jin replies that they shouldn't worry about money and just eat and drink delicious things until he joins them. Hm, what secret weapon DO you have?
javabeans: He tells his producer that they always have some sort of blind spot, and this time, he fortified his wallet with his personal cash (a thousand bucks!!) so that he could just use it freely, without worrying about maxing out their small budget.
girlfriday: LOL. It's brilliant.
javabeans: In fact, it's so genius-simple that you wonder, why did Na PD NOT see this as a possibility?
girlfriday: Maybe he's enough of a cheapskate that it wouldn't occur to him as a desirable option?
javabeans: Oh, but he's been shrewd about it! He says that if he uses too much money too freely, that would invite suspicion, so he's been making it a point to complain about being broke all the time.
girlfriday: Omg, he IS a con man! This so makes up for Na PD conning Soon-jae halbae in the first place.
javabeans: Now we revisit the moment that Na PD rifled through his wallet and noticed that he had more cash than he mathematically should, and this time instead of being outraged, Seo-jin was actually nervous about being caught. LOL.
girlfriday: And then we see the smirky laugh that Na PD gave when he got extra money out of Seo-jin at the train station… followed by Seo-jin's secret smirk behind his back because Na PD didn't know the REAL-real truth about where that money came from. It cracks me up, the constant gaming, but I love that Seo-jin gets the actual last laugh.
javabeans: Na PD soooo deserved this for trying to make them suffer extra with less money.
girlfriday: There's a funny little sequence where none of the halbaes can figure out how to turn the lights out in their hotel rooms, and spend the whole night futzing with the switches to no avail. Gu halbae gets a Godfather moment (he's sitting in the dark in a bathrobe for no apparent reason), and Soon-jae halbae seems a little jealous that he doesn't have a bathrobe too.
javabeans: Geun-hyung halbae has to leave the next morning to fly back home, and Gu halbae and Soon-jae halbae come down early to eat breakfast with him. They devour lots of bread, and then we see Seo-jinnie emerging from his room, looking like the dead but ready to resume luggage transporting duties. He is so not a morning person.
girlfriday: This is why I like him (among a zillion other reasons) — he's so pretty, but he's not so vain that he won't drag his ass out of bed looking like a zombie.
javabeans: As the other halbaes wait to head out, the head writer says she has lots of autographs to get (from the halbaes), but Gu halbae just looks at her blankly, as though saying, Autographs? Whose autographs? She makes specific requests, such as wishing one student to study hard, or telling a girl with monolids not to get eyelid surgery because she won't listen when people tell her not to ("But I think if you say something, she might listen"). Cute. Omg, then there's one where the writer asks Soon-jae halbae to tell a dieting kid to eat less and be really harsh about it, and then he writes, "Eon-joo! Eat whatever you want!" I love him.
girlfriday: He's so awesome. Today the group gets a comfy guided tour by van, so all they have to do is sit back and listen to the guide tell them about the sights. It's amusing to watch his face as he realizes that half the group isn't listening at any given time, which means he basically has to repeat everything.
javabeans: But then Soon-jae halbae starts quizzing him, and I love the gleeful look on his face when he stumps the guide, who wasn't expecting questions like who was Queen Isabel the daughter to. The halbaes start asking questions, and I swear you can see the guide gulping a little, hoping he can answer them.
girlfriday: They get out of the car to walk around, and before they can get to the heavy hiking, Il-sub halbae parks himself in a cafe. He worries about Soon-jae halbae, who's been battling a cold this whole time. We see that he's been quietly taking meds and going to bed early, and maybe just a bit less energetic than usual.
javabeans: You get the feeling he must be hurting because when told about a particular sight, he actually starts to walk away for a second (declining the chance) before changing his mind, and you know he'd never miss out on a sight if he were feeling well.
girlfriday: I know, it actually worries me. But he sticks to his guns and pushes through it, deciding that he'd rather see one more sight and not waste the opportunity. So he joins them for the walk, and I love how Gu halbae and Soon-jae halbae look more and more like twins every day of this trip, especially now as they walk side by side.
javabeans: Oh that's true! I was thinking just buddies, but they're similar in height and shape and walk the same way. We get a tease of the soccer game that'll cap off the night… and then the "unending Na PD vs Seo-jinnie battle." Over dinner, Seo-jin repeats what he said about there being blind spots in the production, only this time it's in front of Na PD and the writer. Them's fighting words.

RELATED POSTS
Tags: Baek Il-sub, featured, Grandpas Over Flowers, Lee Seo-jin, Lee Soon-jae, Park Geun-hyung, Shin Gu