Pre-revenge happy days in store for Big Man
I'm a little surprised that the teasers for Big Man keep showing us funny scenes, but maybe this melodrama is less revengey than your average bear. Either that, or someone figured out that Kang Ji-hwan was wasted being dark and broody when he could be silly; imagine that. The trailer below is a lot like the last one, showing a funny quirky hero who goes from happy and poor to sudden chaebol in danger of losing his heart (the vital organ, not his feelings) when Daniel Choi enters the picture.
The new KBS Monday-Tuesday drama stars Kang Ji-hwan as an orphan with a checkered past whose shamelessly brazen attitude has always kept him afloat. He has modest dreams of running his own stand at the market, and is known for punching first and thinking later. According to producers, Kang Ji-hwan picked out his own ugly tracksuit outfits (like the one pictured below), and has been planning every detail of the character's physical traits, from head to toe. You mean, I only have Kang Ji-hwan to blame for that hair? Good to know.
Daniel Choi plays the chaebol son with the charmed life — he's got everything he could want, a conglomerate to run, and the perfect girlfriend (Lee Da-hee) at his side. Despite all his riches he can't procure the heart transplant that he needs, but it's nothing that an involuntary heart-swap with an unconscious plebian won't fix, right? Don't ask me how they even manage to pull it off (a car accident and suspension of disbelief are involved), but in any case, the hero gets his heart stolen.
Part of the con is faking a birth secret to make Kang Ji-hwan think he's Daniel Choi and Jung So-min's older brother, and I think this will likely be the focus of the drama, because most of what I'm seeing makes the drama look like a Cinderella-gone-dark sort of tale, all about the rags-to-riches transformation from mismatched tracksuits to sleek tailored business suits. Naturally the heroine falls for Kang Ji-hwan, which fuels rivalry and revenge on both sides of the faux-brotherly divide. I think I'll soak up the happy moments while I can.
Big Man premieres next Monday, April 28.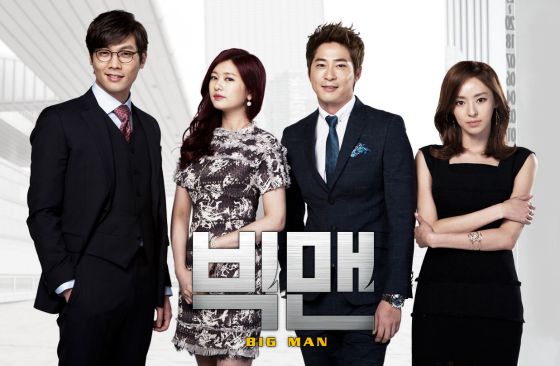 RELATED POSTS
Tags: Big Man, Daniel Choi, Kang Ji-hwan, Lee Da-hee