Sly and Single Again: Episode 16 (Final)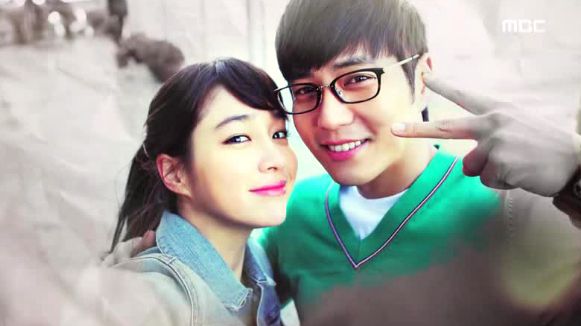 We've finally reached the end! As the first drama I've recapped for Dramabeans, Sly will always have a special place in my heart. I think of it like my child, in that I despaired whenever I saw it heading down the wrong path, yet I defended it rabidly against its detractors and always tried to explain its idiosyncrasies so as to place it in the best possible light. And while Sly may not win any awards or get a scholarship to a drama Ivy League (no, this analogy will never end), it's shown a lot of heart, loads of cuteness, and the self-awareness both to laugh at itself and to learn from past mistakes.

FINAL EPISODE RECAP
Ae-ra has tracked down Jung-woo to a battered old office, where he divides his attention between several computers and a cup of instant ramen. History is repeating itself before Ae-ra's eyes, and she is pissed! She calls out to Jung-woo and he adorably tries to run away, cowering when she blocks his escape.
Ae-ra reams him out, and returns the glass CEO nameplate that Jung-woo threw away after quitting. She tells him not to show up in front of her again and stalks away. But Jung-woo's gooey expression as he watches her go suggests that he's not all that discouraged by her coldness.
That night, Ae-ra considers a number of messages to send to Jung-woo, all of which express encouragement or concern. After sending one, however, she deletes it immediately.
Jung-woo receives her message in his Programming Man-Cave, hard at work with coffee and junk food. The message reads, "Don't appear before me again… ever!" Jung-woo only laughs and murmurs, "See you tomorrow, Ae-ra."
Sure enough, the next morning she's knocking on the door of the JW Ventures office, though no one answers. She circles around to a window, and sees Jung-woo and Secretary Gil sitting together.
Since Ae-ra doesn't know that Jung-woo is working on designing a new game, it looks like the two of them are just wasting time. She huffs that he can't have felt that poorly, if he's well enough to be playing games. The mood is playful and light despite Ae-ra's angry eyes, and then Seung-hyun has to ruin it by showing up outside.
Jung-woo and Seung-hyun have a private chat, during which Jung-woo learns that he still has some supporters among the investors and employees at DonTalk. President Kook's health isn't very good, and Jung-woo's name is still valuable for the company's image. Seung-hyun tells Jung-woo that the choice to return or not is up to him.
Ae-ra and Seung-hyun head out for a quiet talk in the park. While Ae-ra waits for Seung-hyun to return with drinks, she sees a father and son go by and flashes back to the moment when she explained to Jung-woo her real reason for leaving him. Losing her baby made her last hope for a brighter future disappear.
Seung-hyun arrives, bringing Ae-ra back to the present. He admits that he talked with Jung-woo about returning to the company, and asks Ae-ra how she's holding up. She's ignoring love, and only focusing on helping Jung-woo make his comeback.
Seung-hyun says that he, too, is trying to control his feelings, although he feels starved "in body and heart." He reminds Ae-ra about the meal that she still owes him, and she promises to make good.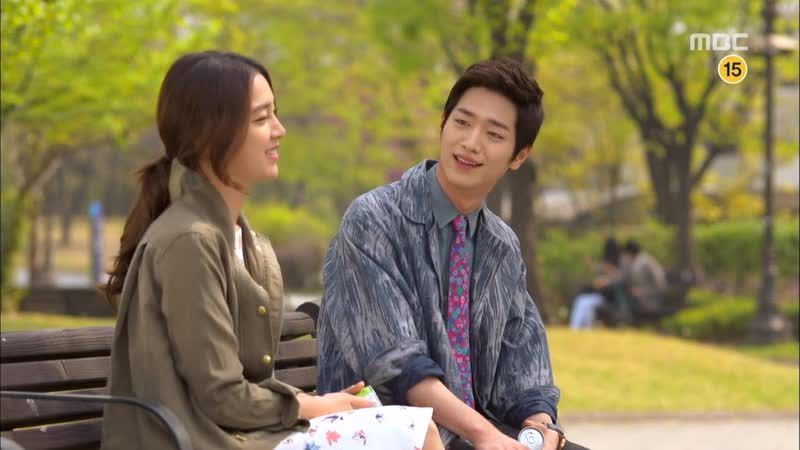 Later, Jung-woo visits President Kook in the hospital. Jung-woo promises that no matter what happens, he won't forget his debt to the man who changed his life. Even if they went down different paths, Jung-woo's gratitude will remain.
The ailing businessman is glad not to have lost Jung-woo's regard, but he can't leave matters as they are: he asks if Jung-woo can't stay beside Yeo-jin and Seung-hyun, to protect them even after their father passes away.
In a surprise twist, Manager Kam and Team Leader Wang meet on the rooftop for a clandestine chat. It's not as clandestine as they might prefer, however, since Soo-cheol sees them through the Big Glass Elevator. Jung-woo was right in Episode 15… they have got to install opaque walls in that thing!
At the family restaurant, Min-young keeps her new mother and father-in-law well-supplied with refreshments while they work. The parents reflect that Soo-cheol couldn't have found a better partner. Talking about their new daughter-in-law leads them to the topic of their ex-son-in-law, who chooses that exact moment to enter the restaurant.
Ae-ra says she thought she told him never to appear in front of her again, but Jung-woo only scoffs and asks for a bowl of rice soup with extra scallions. I love this version of Jung-woo, who cowers in front of Ae-ra when she gets mad, yet steadfastly ignores her attempts to be a Noble Idiot.
Ae-ra's father decides to lend Jung-woo a helping hand by strolling through with a dirty grill, muttering that he needs to hire a part-timer to help with all the work. Jung-woo takes the cue, offering to help wash the dishes. Back in the kitchen, Dad offers Jung-woo some sage marital advice: say "I'm sorry, honey," and "I understand, honey." A call comes for Jung-woo, hinting that there may be a problem brewing with the software development for the computer game.
After they get off work at the restaurant, the young people drink a few beers and camp out under the stars. When Min-young and Ae-ra go to replenish their snack and beer supply, Soo-cheol seizes the opportunity to ask if Jung-woo is planning a comeback. He's quite put out to hear that Jung-woo has no intention of reclaiming his position, but that he's merely preparing something to help out the company if the game Jung-woo was responsible for runs into problems.
Later that night, while Jung-woo pretends to be asleep, Ae-ra checks his phone to see what he was staring at earlier. It's the selca he took in his apartment, the night she got drunk and ruined her own plans to be a Noble Idiot. Jung-woo pulls her next to him, and they share a comfortable moment of silence.
The next morning, Ae-ra is already at work cleaning the tiny office when Jung-woo arrives. Ae-ra gives him a resume, declaring that she wants to work with him. The two of them are so incredibly cute, belatedly adding the polite "-yo" so as to keep up a professional tone in their new workplace.
The interview only consists of one question: why should Jung-woo hire her as his personal secretary? Ae-ra replies archly that no one else knows him as well as she does. "You pass," Jung-woo declares with a smile.
At the company, Yeo-jin hears that the game is running into issues, and the only sure way to fix them is to bring back CEO Cha. Needless to say, she doesn't seem to like that idea.
At Jung-woo's new startup, Ae-ra keeps sneaking peeks at Jung-woo while he works. She then gets called out to dinner by Seung-hyun, who says that it's his birthday.
It doesn't take a genius to figure out that it isn't, in fact, his birthday. He wanted to see her, and knew that she wouldn't have come if he hadn't lied. Since she's already out, Ae-ra lets it slide and continues to spend the evening with him. She's a little more forgiving in this situation than I would be, but maybe by this point she's realized that the easiest way to deal with Seung-hyun is just to let him get his petty out.
Jung-woo calls Ae-ra later, wanting to know where she is. She prevaricates for a while, but he eventually learns the truth. "Whose birthday?!" he bursts out. "Seung-hyun's birthday is in the middle of winter when there's tons of snow! Get back here!" Pfft.
The cavalry arrives at Jung-woo's office in the form of Secretary Gil, Manager Kam, and Team Leader Wang. It turns out that their sneaking around on the roof was part of Jung-woo's plan to look after the company even after leaving. They're keeping tabs on things, and Jung-woo tells them the good news that Shilla Hotel has expressed interest in investing.
While the investment problems may soon be resolved, the issues with development seem a little more serious. Right on cue, Jung-woo receives a call. He rushes to the DonTalk headquarters, ready to save the day. I was hoping he'd change into his DonTalk Superman uniform, but instead he rocks the Sweatsuit of Programming Power.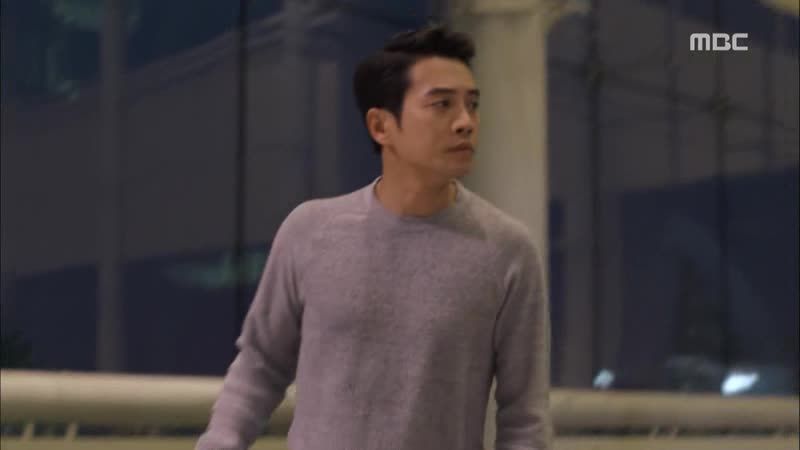 With the development team and Yeo-jin looking on, Jung-woo tries to get to the bottom of the problem. He thinks he knows what's wrong and intends to fix it, while he and Yeo-jin awkwardly ignore the tension between them.
Jung-woo's new office becomes unexpectedly lively, as his fellow conspirators join him to help the company. Team Leader Wang and Manager Kam throw themselves into the project wholeheartedly, with Ae-ra, Soo-cheol, and Secretary Gil all offering their help.
After they get off work, Min-young and Ae-ra invite Team Leader Wang over. She says that everything is up to the CEO now, and pulls out her tarot cards. The card she draws is death, which she interprets as an end to Ae-ra's relationship with Jung-woo.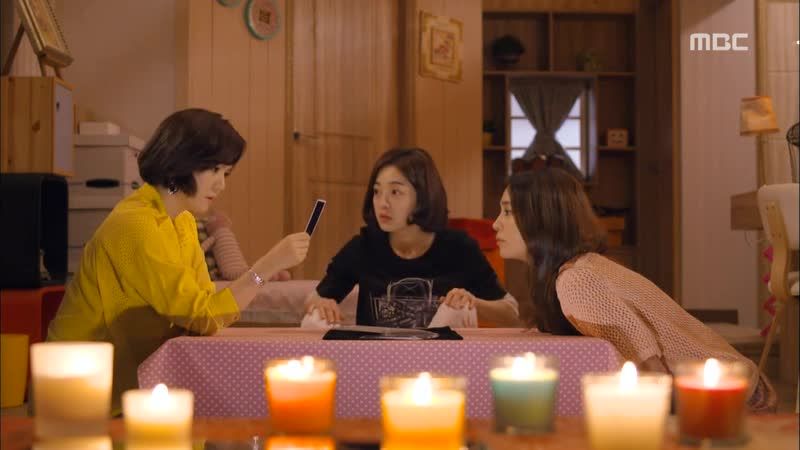 Team Leader Wang tells Ae-ra that she should be good to Jung-woo while he's by her side; she herself was widowed, and knows what it's like to miss someone who's no longer with you. Although the tarot card makes her uneasy, she points out how special it is to love someone not once, but twice.
Jung-woo is working overtime at the office when Ae-ra walks in. She's carrying a tray with snacks, and is dressed to kill with a short skirt and lipstick worthy of Chun Song-yi. Jung-woo can't believe his luck, and puckers up to smooch his sexy secretary…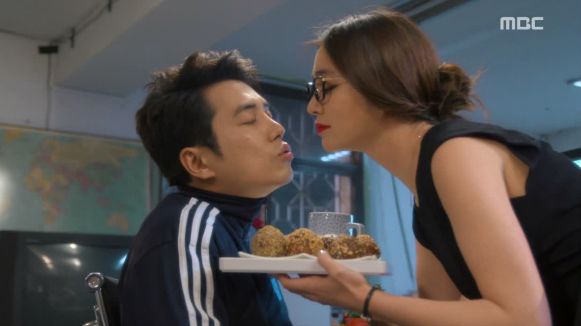 …and it turns out to be Secretary Gil. HA! Jung-woo rubs the sleep from his eyes. Secretary Gil reflects that it's just like the old days, which triggers a flashback to Jung-woo's days as a poor aspiring programmer.
He owes some money to the internet café, but when he comes back to pay his bill, he finds out that a certain employee already paid for him. Jung-woo wants to pay him back, but he's already left for the army.
Secretary Gil had no idea that the grungy hobo from the internet café would turn into an IT mogul and offer him a job, but we're certainly glad he did. From such small acts of kindness are the greatest of bromances born.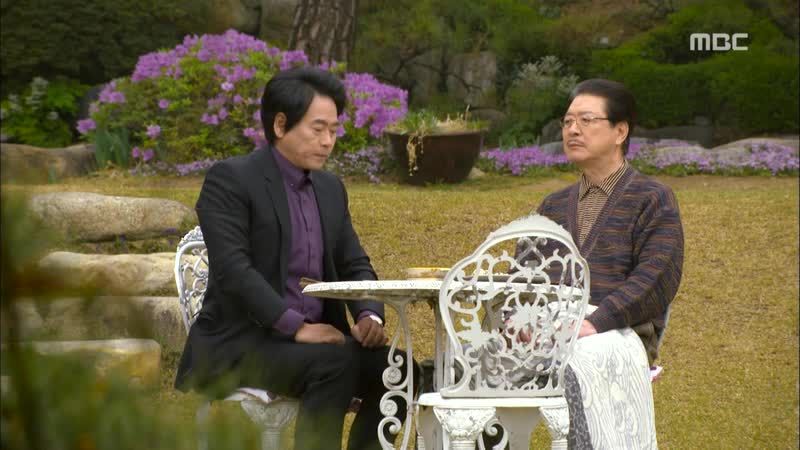 At the Kook household, Director Oh sits outside with his employer and feeds him rice balls. A flashback shows us the root cause of Director Oh's loyalty to the abrasive businessman: when Director Oh was just a child, saving his food to give to his younger siblings, President Kook offered him a rice ball and a job.
From that moment on, Director Oh viewed the president as older brother, father, and mentor all in one. He reiterates his desire to always be there for the man who gave him everything, and the president shakes his hand with a deep, unspoken gratitude. President Kook may have finally decided to divorce his wife, but bromance heals even the deepest of wounds!
A TV announcer's voice informs us that Jung-woo's new company, JW Ventures, is growing fast and likely to become even more successful. But business doesn't seem all that important to Jung-woo, who leads a blindfolded Ae-ra up the stairs of their dream house. He leaves her on the stairs for a second, when he sees that the wind has scattered the rose petals which had been laid out in the shape of a heart on the lawn.
"Secretary Gil told me it wouldn't be windy today!" Jung-woo gripes, as he hilariously tries to push the errant rose petals into the proper shape. Ae-ra joins him before he can finish, and the two throw flower petals together.
They are seated together at a small table on the lawn with cake, a bottle of wine, and the model of their dream house. Ae-ra scoffs that for an IT leader, this proposal is surprisingly low-tech. Jung replies, however, that after hours of searching the Internet for proposal ideas, he found that most people still favored the classic approach with candles and flowers.
Jung-woo gives a heartfelt speech about how he came to realize that he still loved Ae-ra, and how he overcame his resentment. In spite of his claim that classic proposals are still the best, he whips out an iPad to add a little technological flair (although he starts with the wrong image). He offers her the ring, and asks Ae-ra to marry him once again.
Ae-ra says she can't accept the ring, and Jung-woo covers her mouth when he thinks she's going to refuse him. She bites his hand and snaps at him to let her speak. Ae-ra is ashamed of trying to send him away a second time, and wants him to know that she'll stay by his side forever this time. She asks him to marry her, and sticks her hand out peremptorily to receive the ring.
They kiss joyfully in the yard, and we see a montage of the highs and lows of their second courtship. Three cheers for a second chance at love!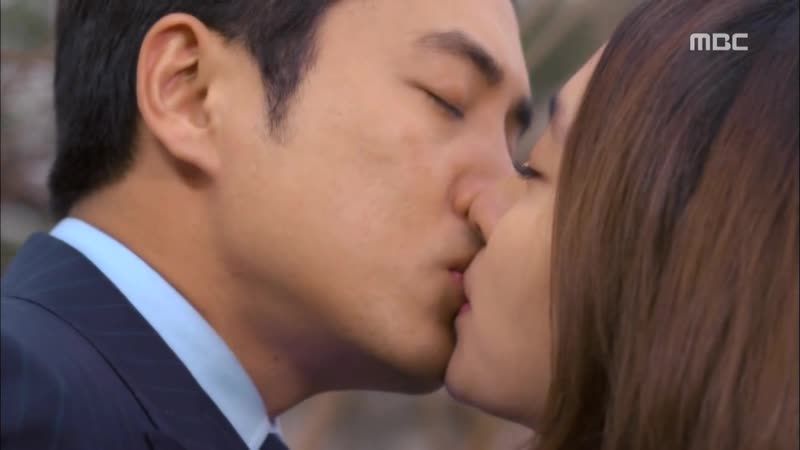 We leave our favorite couple briefly to follow up on the unfortunate Kook siblings. Seung-hyun is painting in his studio, and comes across the painting he made of the selca he took with Ae-ra. It causes him to pause for a long moment, and remember his time with Ae-ra.
A woman arrives outside the studio, sees Seung-hyun, and turns to walk away. That's when Yeo-jin arrives, and we learn that the woman is her mother. She opens her arms wide, and mother and daughter embrace.
Back to Ae-ra and Jung-woo sitting together on a swing outside their house. They have a cute little dog wearing a sweater, but that's not the only change in store for these two. They bicker back and forth about baby names, letting us know that Ae-ra is expecting.
Our final scene depicts the first time they met, with Bowl Cut Jung-woo and Exam Village Goddess Ae-ra making a glorious comeback. They're both on the phone with their relatives, so they don't see each other walking towards the door to the rice soup restaurant.
They reach for the door at the same time, and their hands touch. They look at each other: Jung-woo is instantly smitten, while Ae-ra looks him up and down with a sly smirk. And so, at the end of our journey, we finally see how it all began.

COMMENTS
I can't believe it's over! Sniff… excuse me, I'm a little emotional. Granted, there were times when all I wanted was for the show to be over, mostly when Yeo-jin broke my heart by becoming petty and boring. Looking back, however, I can honestly say that I really enjoyed Sly, and I think it did more things right than it did wrong. Was it amazing or groundbreaking? Not especially. Were there moments that annoyed the heck out of me? Absolutely (I'm looking at you, Jung-woo's family!). But it dealt with the issue of divorce in a way that seemed realistic, without losing any of the humor, sweetness, or playfulness that first drew me in.
My first gripe: Yeo-jin. I was rooting for her in the beginning, because I thought I saw glimpses of uncertainty and quiet pride, mixed together with a reluctance (at first) to sink to the same depths as many bitchy second leads who came before her. Unfortunately, it turned out the writing team was only biding its time before turning Yeo-jin into exactly that tired archetype of the conniving woman, without enough emotional depth to motivate her scheming or make it sympathetic.
It's a shame, because her character had such potential. If you'll allow a wannabe writer to indulge himself in a little rewriting, let me try to back up that claim and create Yeo-jin 2.0. Imagine if Yeo-jin hadn't lost her leg in a stupid and entirely avoidable car accident with a random hottie who's never mentioned again. Picture this scene instead: Years ago, when Yeo-jin was 9 or 10, President Kook's wife left the house with Yeo-jin and Seung-hyun in tow. She meant to spend a few nights out of the house to protest her husband's treatment of her. But her husband catches up to her, and the two start arguing next to the road. Yeo-jin tugs at Daddy's suit, but he brushes her aside. She trips and falls, directly into the path of a fast-food delivery scooter that can't swerve in time, and the ensuing accident causes her to lose her leg.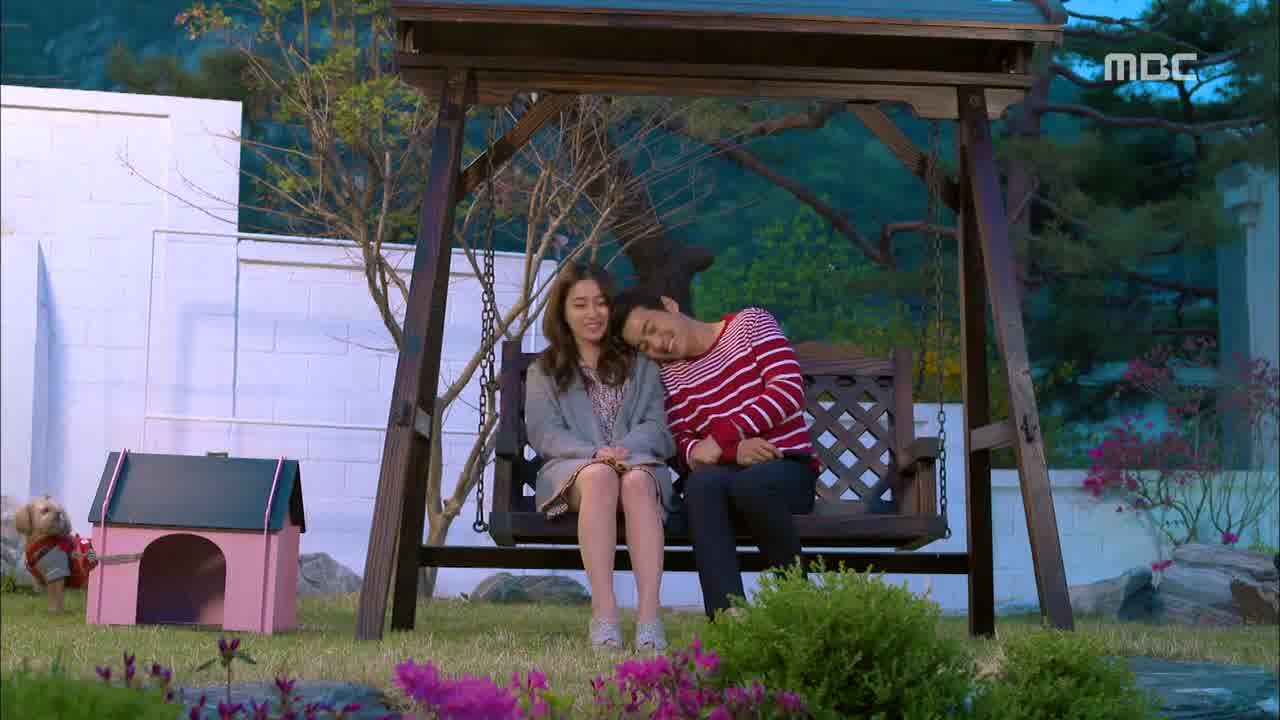 Yeo-jin 2.0 still has cause to resent her father, but she has to stay with him because of the cost of rehabilitation. As she grew up, she would have become bitter and cynical about love, not only because of her parents' failed relationship, but also because of the way boys treated her when they discovered she had a prosthetic leg. In this alternate world, Yeo-jin's budding feelings for Jung-woo would represent the first time she gathered her courage to take a chance at love. The audience would want to root for her, because we see her overcoming her old wounds and allowing herself to be vulnerable again. The heartbreak when Jung-woo doesn't return her feelings would be real and hopefully touching, but ultimately it would be result in positive growth and self-affirmation. Yeo-jin would realize that even though she can't be with Jung-woo, she deserves to find someone who loves her in spite of her disability, and even learns to hope that another Mr. Right is out there.
Ok, enough of that. As much as I might want to, I can't change the fact that the real Yeo-jin bought a one-way ticket to Crazytown. And even though she doesn't reconcile with Jung-woo or Ae-ra, Yeo-jin does meet her mother at the end. So I guess there's hope that one person, at least, may care about our grief-stricken Chaebol Princess.
My second-largest disappointment for this show was Jung-woo's father dying in the same episode in which he was introduced. He was the only member of either family whom I liked without reservation. While Ae-ra's family got better as time went on (and Jung-woo's female relatives disappeared entirely, thank goodness), they just didn't touch my heart the way Jung-woo's kindly old dad did.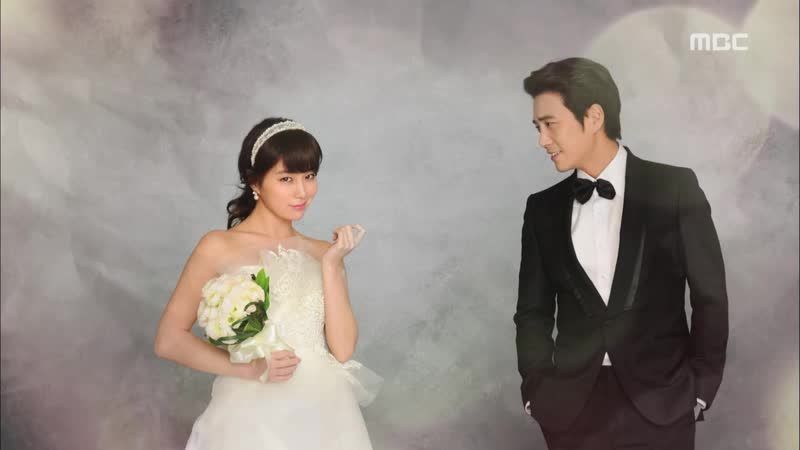 Sometimes the plot felt a bit unsteady, with side characters taking on slightly larger roles and then fading into the background. For instance, what ever came of Song-hee's run-in with Secretary Gil at that bar? They even had a follow-up moment in the Big Glass Elevator, but that was the end of any interaction between them. Not only that, but Song-hee disappeared almost entirely from the final episode, not even taking part in Jung-woo's crusade to save the software development for the computer game.
In spite of the few head-scratching moments, though, the show stayed cute even when obstacles were looming large. I loved the way Ae-ra gave up her own plan to be a Noble Idiot, for example. She geared up for her big sacrifice, like so many other misguided heroes and heroines in dramaland, then blurted out the whole thing the moment she had a few too many shots. I thought it was a neat bit of writing, playing off of our expectations and avoiding the pitfall that we all saw coming.
So thank you, Sly, for keeping your light-hearted tone. I loved the heck out of our main couple, from their bickering to their fantasy sequences to their realization, at last, that they have to forgive each other and be honest about their feelings. It's time to say goodbye to Bowl Cut Jung-woo, the Rooftop of Not-So-Private Conversations, the Big Glass Elevator, Ae-ra's scornful facial expressions, and of course, DonTalk Superman and Marilyn Monroe. It's been a long and sometimes bumpy road, but we (and Jung-woo and Ae-ra) ended up in a better place than we started.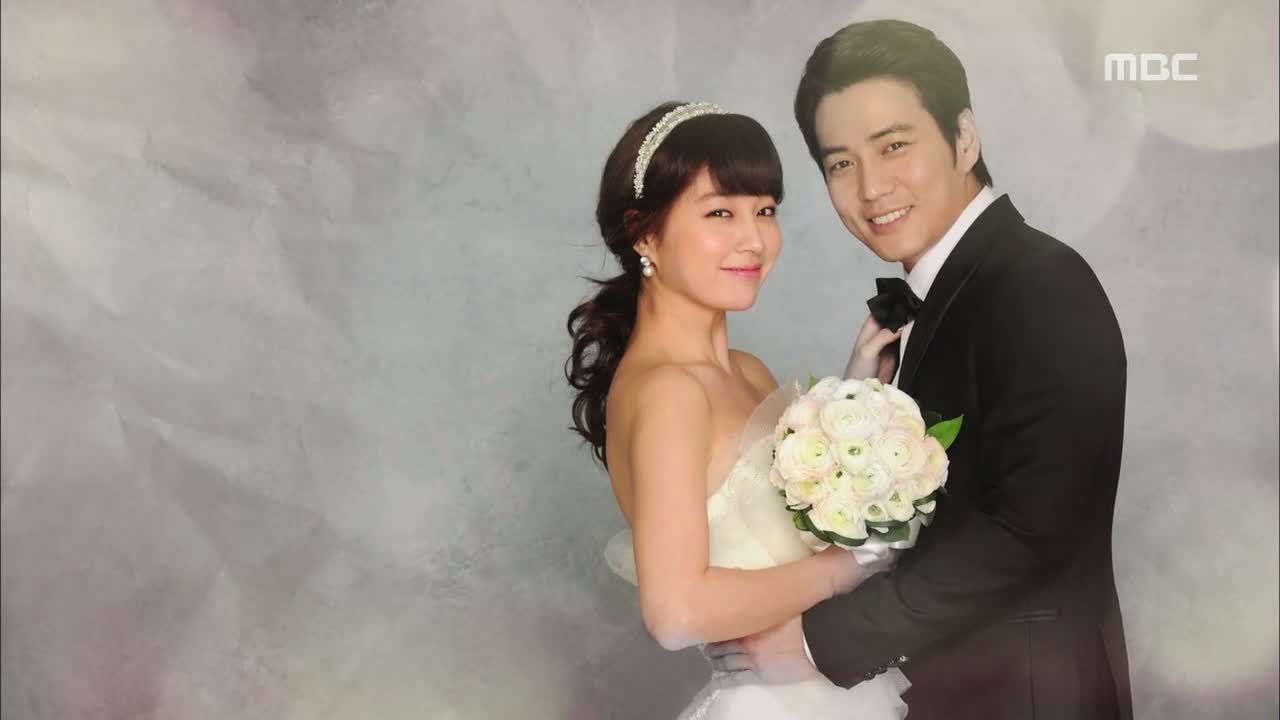 RELATED POSTS
Tags: featured, Joo Sang-wook, Lee Min-jung, Sly and Single Again