Three Days: Episode 11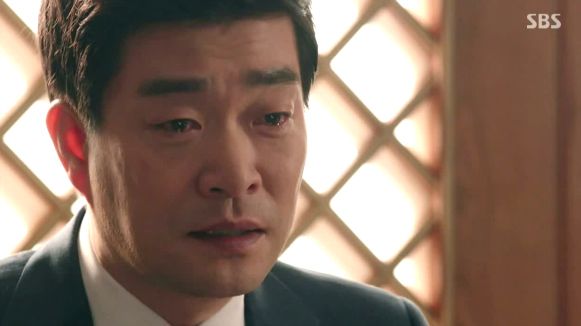 Augh, guys, this show is finally good. Or good again? I'm sure there's actually a mathematical pattern to which episodes of this series are a cut above the rest, but that would require me to do math. Three Days is a drama written with such a focus on the mini-arcs that it has an interesting effect of delivering one stellar episode to the detriment of a handful of setup episodes each time we reset the timetable, but I suppose as long as I'm in the game, I might as well just be happy when I get one of the good ones.

EPISODE 11 RECAP
The president goes off-book and takes the evidence—the original Confidential 98 that Cha-young nearly died trying to retrieve for him—to the enemy himself. He hands the file to Chairman Kim in exchange for calling off the impeachment, and says that to stave off more unnecessary sacrifice, he'll be their dutiful dog once again.
Downstairs, Tae-kyung is raging mad that they're not taking the file straight to the prosecutor's office as promised, and the other agents have to pull a gun on him just to keep him from storming the meeting.
When the president returns, Tae-kyung demands an explanation. President Lee asks if Tae-kyung can't just trust him on this, but Tae-kyung fires back that he can't. Aw, I know why, but I hate it when you two fight.
Tae-kyung can't fathom why he'd hand over something so crucial, and looks at him with crushing disappointment on his face. The president just tells him to stay by Cha-young's side: "She was hurt because of me."
Chairman Kim delays the impeachment proceedings for now, and Tae-kyung walks into the prosecutor's office empty-handed and head hanging. Prosecutor Choi is actually the one to ask whether the president might've made that choice to hand over the evidence in order to stop whatever Yangjinri Redux might turn out to be.
Tae-kyung doesn't understand why, because if they used that file to indict Chairman Kim, they could put a stop to it by throwing him in jail. Should I be worried that you think it'll be that easy, or find it idealistic and cute?
Prosecutor Choi, on the other hand, knows that it won't be so cut and dried—whatever attack Chairman Kim has planned next can't be stopped if he finds a way to slip through the cracks. He suggests that the president knows this and made a deal to stay in office to find out what Jaesin's next move is, and stop it.
Tae-kyung isn't so quick to believe in the president's noble intentions, and asks if the prosecutor has changed his mind about President Lee's credibility.
Prosecutor Choi turns the question around on him: "You're the one who's protected him by his side all this time. Why can't you trust the president?"
The question remains in his head as he sits by Cha-young's hospital bed. Bo-won comes by and apologizes that it's all her fault for being so suspicious. Tae-kyung counters that it's his fault—he thought he knew Cha-young better than anyone else did, and that means he should've trusted her no matter what.
Agh, it's a little heartbreaking to hear him talk about someone else so tenderly while Bo-won is beating herself up over being the one to blame. She blinks back tears and walks away with lingering glances over her shoulder.
She stops short when she gets to the hallway because she recognizes one of Jaesin's assassins talking to a nurse. She warns Tae-kyung, and he realizes that while digging for Secretary Shin's copy of Confidential 98, she must've seen something else that she shouldn't have. He asks Bo-won to protect her while they wait for agents to arrive.
President Lee gets back to the Blue House and asks for all the files and economic reports that Tae-kyung's father was working on before he died. At the same time, Chairman Kim assures his colleagues that the impeachment isn't cancelled, just delayed.
A flashback to his meeting with the president reveals that President Lee had other demands in return for letting the Yangjinri incident go—namely that he halts the investigation framing Tae-kyung as a murderer. If he refuses the deal, the USB drive's contents will be all over the evening news.
He's actually got Chairman Kim in a corner, and it's pretty great to watch him squirm. President Lee challenges him to turn down the deal and test his security team against the Blue House agents, and when Chairman Kim protests that there's only ten minutes until the impeachment verdict is due, the president breezes that he's a powerful man and he'll find a way. He walks out with the USB drive in hand, having won this round.
In the present, Chairman Kim tells his evil cohorts that they've got the perfect weapon to use—Secretary Shin, the man who wants to kill the president more than he does right now.
Secretary Shin is busy fanning the flames of discontent with the prime minister, as he tries to convince him that it's time they step up to challenge the president. He calls Chairman Kim on his way out to ask what happened to the impeachment, and promises to recover the USB drive he lost.
Tae-kyung is skulking around and overhears the crucial tidbit that the president still has the original file. He asks Secretary Shin about the papers that were in his car, and says that whatever they contained, someone is trying to kill Cha-young because of it.
He warns that that puts Secretary Shin in danger as well, and though he doesn't answer Tae-kyung's questions, it clearly rattles him.
Bo-won guards Cha-young in the hospital, and calls the prosecutor's office to check on the police detail that was ordered. But it's Shady Assistant Prosecutor who answers the phone and tells her the officers are on their way. Uh-oh.
Three officers arrive and she checks their badges, which seem legit. They tell her they were ordered to move her to a safer hospital, so she follows them down the hall as they load Cha-young onto the elevator.
She texts someone and then inside the elevator she gets an answer back: the officer's name she asked about is indeed registered at that precinct… but he died in the line of duty last year.
She looks at the three men warily, and eyes the gun on the one nearest to her. Acting quickly, she reaches for the gun and pulls it out of the holster. I love it—she's holding three men up at gunpoint. She tells them to stop the elevator on the first floor, and orders them to get out.
They try to overtake her and wrestle the gun away, but she's quicker than they are and gets them to back out. But when she looks away for a split second to close the elevator doors, they drag her out into the lobby.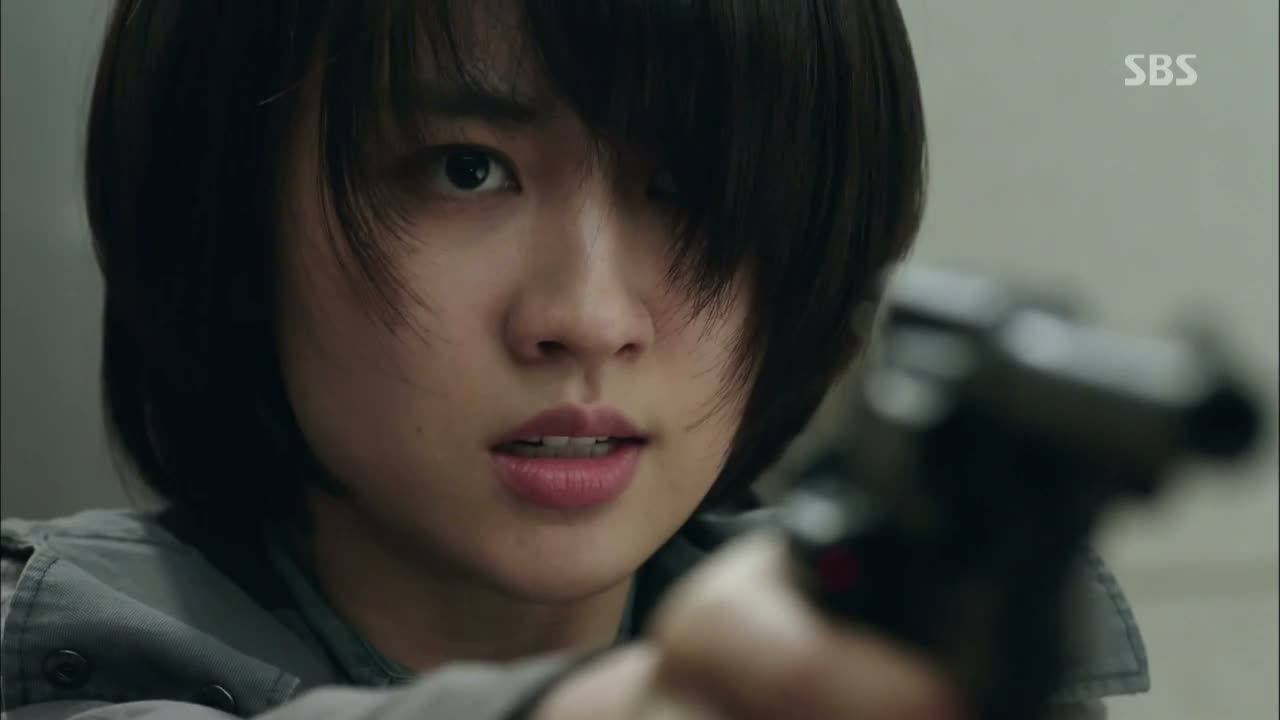 She beats some heads and fires a shot into the air, and manages to regain the upper hand. But just then, the elevator doors close… leaving the unconscious Cha-young alone inside. Crap. Bo-won runs down the stairwell to try and catch her in the basement.
As Cha-young lies there vulnerable to attack, we flash back to the moment she read the file from Secretary Shin's car. It's an incident report detailing the theft of sixteen pieces of gelatin dynamite. Well that can't be good.
Bo-won races down the stairs, while Cha-young arrives on the last floor. The elevator doors open, and then they close again. Suddenly a hand reaches out at the last second to stop the door and wheel her out. Ack, it's the assassin.
He's just about to get away with Cha-young, when Tae-kyung arrives to save the day. Fight! Despite being unarmed, Tae-kyung gains the upper hand and knocks the assassin around so that he never has the chance to use his gun.
But then when he flips the guy over to land a few feet away, it's just far enough for him to pull his gun before Tae-kyung can reach him. The assassin swings his gun away from Tae-kyung and points it at Cha-young…
It only takes a split second for Tae-kyung to react, and he lunges himself into the bullet's path. A shot rings out.
The assassin goes down, and behind him, Bo-won shudders with her gun still raised. Thank goodness for you.
Her knees give out and she slumps down to the floor, and Tae-kyung looks over at her in surprise.
Behind him, Cha-young stirs awake and the first thing out of her mouth is, "Explosives." She stops Tae-kyung from running for the doctor and tells him about the stolen dynamite.
A little later Prosecutor Choi has arrived, and he says that he never even received the request to protect a witness in the hospital. Tae-kyung concludes that Jaesin has a mole in the prosecutor's office, and tells him there's something even more urgent to deal with.
Meanwhile, Secretary Shin visits the president to say goodbye, and President Lee tells him the story of his first meeting with Chairman Kim. Kim was young and eager then, just having inherited his father's company, which he simply saw as a shiny new toy.
Kim asks Lee Dong-hwi, then just a consultant his father once trusted, about how a person could make more money than anyone could ever imagine was possible. Lee Dong-hwi tells him it's simple—he just needs to cause a second IMF crisis.
Kim laughs that that's not something you can just poof into existence, but Lee says it's possible in a divided nation like Korea. He says that if the North and South were to join hands in raising the threat of war, say an attack on the president or a terror attack in the middle of Seoul…
Oh no. This whole terrible thing is President Lee's brainchild? No wonder he feels so guilty. Also, how ironic that he hatched his own future assassination plot.
Back at the hospital, Cha-young tells Prosecutor Choi about the dynamite, and it's actually worse—there were multiple pages in those files, each reporting another stash of stolen explosives from various regions spread out over the country.
Bo-won deduces that small thefts from different provinces ensures that each incident will be investigated separately by regional precincts, and no one will notice that the total amount is cause for alarm. Cha-young isn't sure, but from her very quick scan of the documents, the thefts totaled over forty kilograms in dynamite.
In flashback, Lee Dong-hwi concludes his theoretical blueprint for inciting a second economic crisis by laughing that you'd have to be a completely insane bastard to actually enact such a plan—a crazy enough bastard who didn't care about selling his country for profit, and a crazy bastard who could gather a group of other crazy bastards from positions of power to ensure that nobody would then go to jail for trading citizens' lives to become gazillionaires.
Chairman Kim cocks an interested eyebrow, practically drooling at the possibilities.
In the present, President Lee asks Secretary Shin if he really thinks it'll be different this time. Did Chairman Kim promise him the Blue House with assurances that no lives would be lost? What a familiar tale.
The president admits to being afraid of what Chairman Kim is planning next, because he's a man who took what he thought was a joke over drinks, and turned it into reality. Secretary Shin denies having investigated dynamite thefts because he shares the same worry, but President Lee already knows he's suspicious enough to have done some digging.
The president says he's the one who created the devil, so he has to be the one to finish it. He pleads with Secretary Shin to return to his side and not be manipulated by Jaesin anymore, but Shin balks at the request, fixating on the fact that he's being asked to be the powerless bridesmaid again and totally missing the bigger picture about the terrorist and the dynamite. Augh.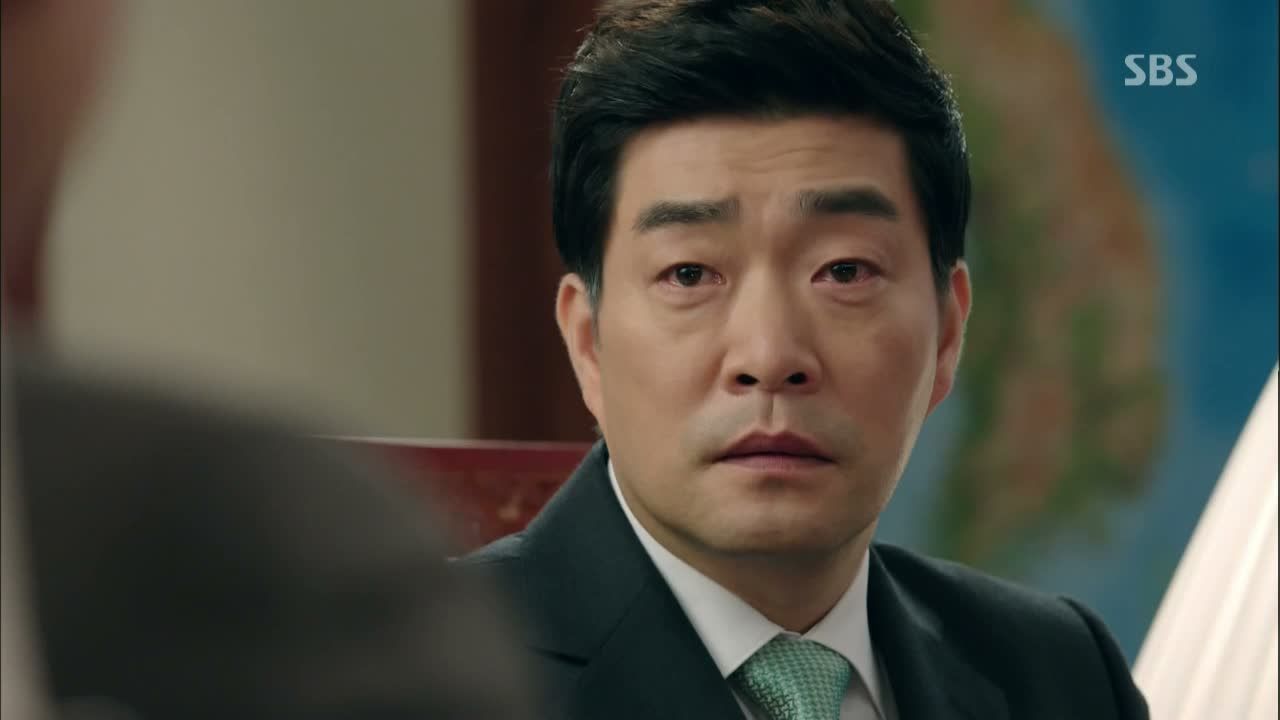 Secretary Shin holds his head up high and says that it'll be different this time—he'll make a better Korea and he'll do it right. Such good intentions, such a lack of perspective.
President Lee sighs and passes the USB drive to him and tells him to take it to Chairman Kim as he was ordered. He says he's curious too, whether Secretary Shin is truly different, and whether he can make a better Korea than he could.
He adds that Secretary Shin was never the second-class shadow; he was always his biggest support. He extends the offer to change his mind and return, whenever he'd like.
Later that night, Tae-kyung finds the hospital hallway lined with Blue House agents, and the president waiting inside Cha-young's room. He asks Tae-kyung to testify tomorrow about the dynamite thefts that Cha-young discovered, and Tae-kyung gets even more upset that the president knew about them.
He demands for an explanation, or even an excuse, asking why he didn't protect Cha-young and why he didn't go to the prosecutor's office. But the president just solemnly repeats his request for Tae-kyung to show up tomorrow, unable to give him any excuses.
Tae-kyung sits by Cha-young's bedside silently, and she wakes up to tell him that she's relieved he's okay. She says she simply did what was needed of her, and asks him to go do what's needed of him now.
March 11. 13 hours until the motion to impeach is automatically repealed.
The president gets ready for his cabinet meeting to testify to what he knows, and Tae-kyung shows up as requested after all. Prosecutor Choi is happy to see him there, and they walk in together.
But when they get inside, the room is totally empty save for the president, sitting at the head of the conference table with the saddest look on his face. Man alive, are there only three good guys in the whole entire country? Seriously, nobody came?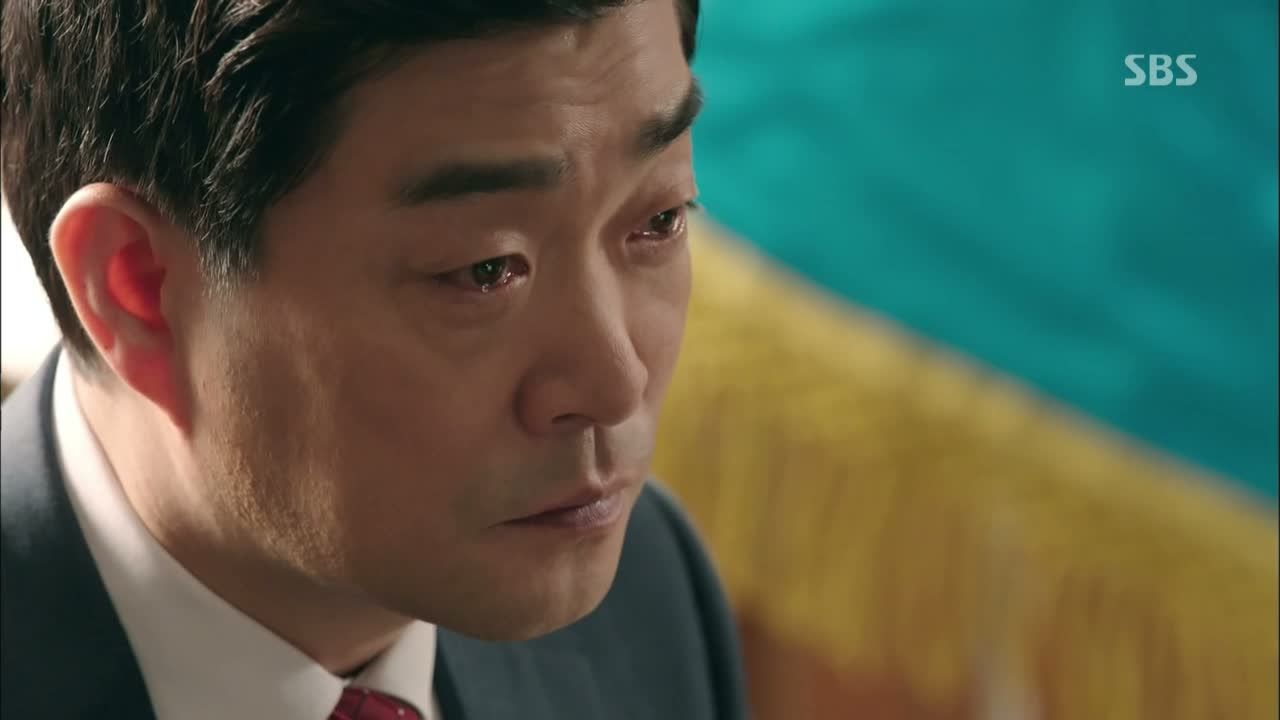 The look on President Lee's face is crushing. He holds back tears and finally speaks to answer Tae-kyung's request for an excuse. He says that he traded the Yangjinri cover-up to gain just one more day in office, because he needed to stop the next attack but without the title of president, has no way to do anything to stop it.
President Lee: "You were right. If I'm the president, I should have protected the president's people." He says he's the one who pushed Cha-young to the brink of death because he thought that by remaining in office, he could do anything it took to stop it.
"But I can do nothing alone." Tears pool as he addresses Tae-kyung, Prosecutor Choi, Cha-young, and all those who worked so hard for this moment, and he hangs his head in apology.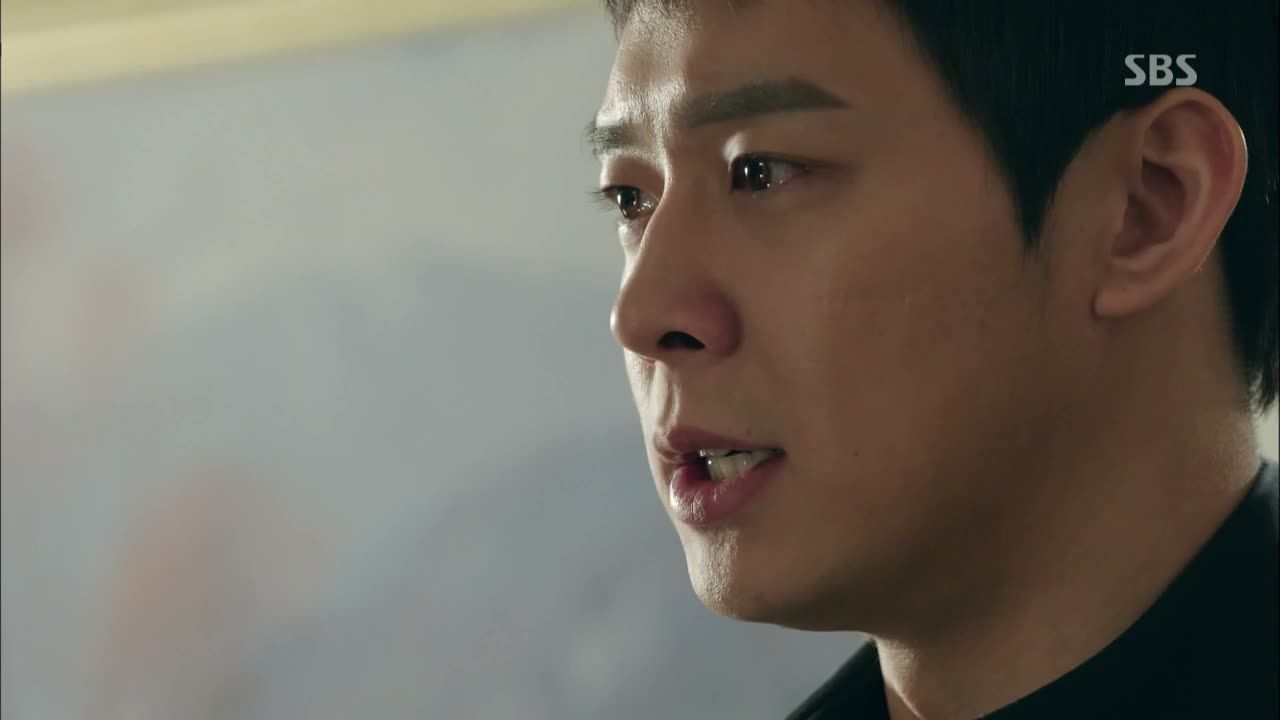 Tae-kyung: "The president I know is an honorable man. He didn't waver. Even when people were dying, he said he would never give up. You asked me to protect you. I will. I'll help you; I'll do everything in my power to help. So lift your head. You are the president of the Republic of Korea."
Proper goosebumps. The president's bottom lip quivers as Tae-kyung speaks, and when he's done, President Lee raises his head and meets Tae-kyung's eyes. It's a lovely unspoken moment between them.
Now that Tae-kyung is officially working with the president, he and Bo-won set out to investigate the dynamite thefts. There's over 100 kilograms of explosives stolen from around the country, and they track the assassin's cell phone (that he dropped in the fight) to try and see where they were taken.
The president meets with the prime minister and warns him that there are dangerous signs of a bank run on the horizon—someone is spreading the international rumor that Korea's economy is unstable, and the threat of war would tip the scales to full-fledged panic.
He explains how a bank run would destabilize the economy and launch a second IMF crisis, and requests his support in trying to assuage the economic panic before it grows. But the prime minister digs his heels in like a blind rat and refuses to help.
Secretary Shin hands over the USB drive and asks Chairman Kim if he's planning another attack. He denies it, and the second Shin leaves his office and is no longer useful to them, he orders him killed.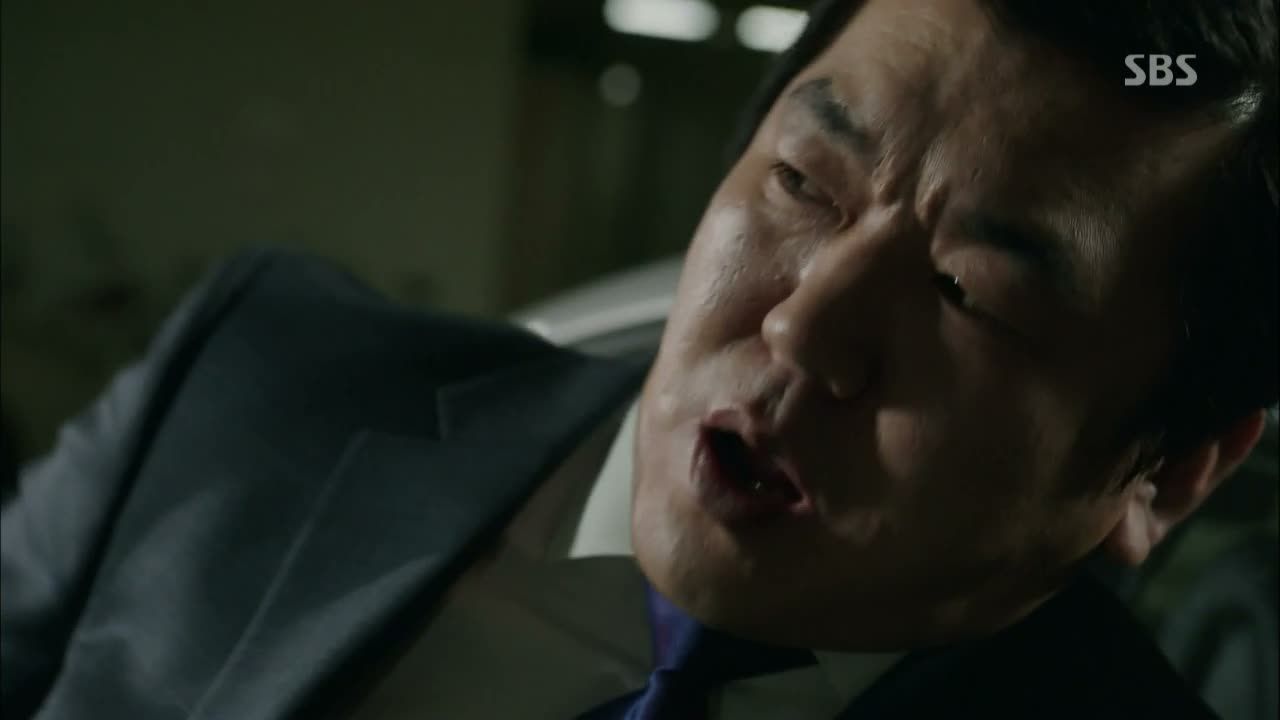 He gets stabbed in the gut before he even makes it to his car. Chairman Kim calls the impeachment hearing back on, and sits back to watch the fireworks.
The president is still busy trying to convince the prime minister that there could be a terrorist attack, when Tae-kyung calls to say they found out that the explosives were being taken to one of the last places Major Rhee visited—a power plant. Chairman Kim is after a thermal power generator.
Things seem to be going according to plan (the evil plan, that is), until Chairman Kim pops the USB card into his computer to check it and finds the drive empty. Nice.
Prosecutor Choi gets bombarded by the press asking what he thinks about the president's imminent impeachment, when suddenly a car swerves into the crowd of reporters. Someone staggers out trailing an alarming amount of blood behind him.
It's Secretary Shin, who stumbles over covered in his own blood to hand Prosecutor Choi the real Confidential 98. He falls to the ground and holds the bloody papers out to him, and thinks to himself as he shuts his eyes: I said I was different from you. He dies right there on the pavement as camera flashes go off in rapid succession.
The prime minister gets word that the tide has shifted, and he so very quickly joins the president's side and signs his motion to put a restriction on foreign investors that would essentially stop a bank run from happening.
The president is shocked to hear that Secretary Shin died to get Confidential 98 into Prosecutor Choi's hands. It's now been released to the public, and the news reaches the members of the assembly seconds before the final impeachment vote gets underway. Meanwhile the police are dispatched to the power plant, but the explosives don't turn up. Uh-oh.
Chairman Kim comes to the Blue House to congratulate the president on winning this round fair and square—if he had taken Confidential 98 to the prosecutor himself, he would've lost the presidency and failed to stop Chairman Kim. This way, he's successfully blocked him financially while holding onto the president's office.
He admits that his plan has failed, but then adds ominously, "I realized there is one thing I have left in my hand."
Tae-kyung and Bo-won go back to tracking the phone to figure out where it went after the power plant. The tech guy tells them that the assassin strangely took the train when leaving the area, which seems odd.
Bo-won remembers that there was a search in that area for an AWOL soldier that night, and military posts along every road checking vehicles. If they didn't want the truck full of explosives discovered, the simplest way would be to divide it into small bags and take it on the train.
The million-dollar question: Where are the explosives now?
Chairman Kim sits right up in the president's face and reminds him of Yangjinri's death toll. "How many will die this time?" He recites President Lee's own words at that dinner years ago that the way to do it would be to attack the president, or incite a terrorist attack in the middle of Seoul.
Chairman Kim: "When? Where? How… will people die? Aren't you curious?"
Tae-kyung runs to Seoul Station and stands in the street looking around him at the entire city spread out before him, with citizens going about their day.
As the clock ticks down, Chairman Kim's questions hover as Tae-kyung's panic grows.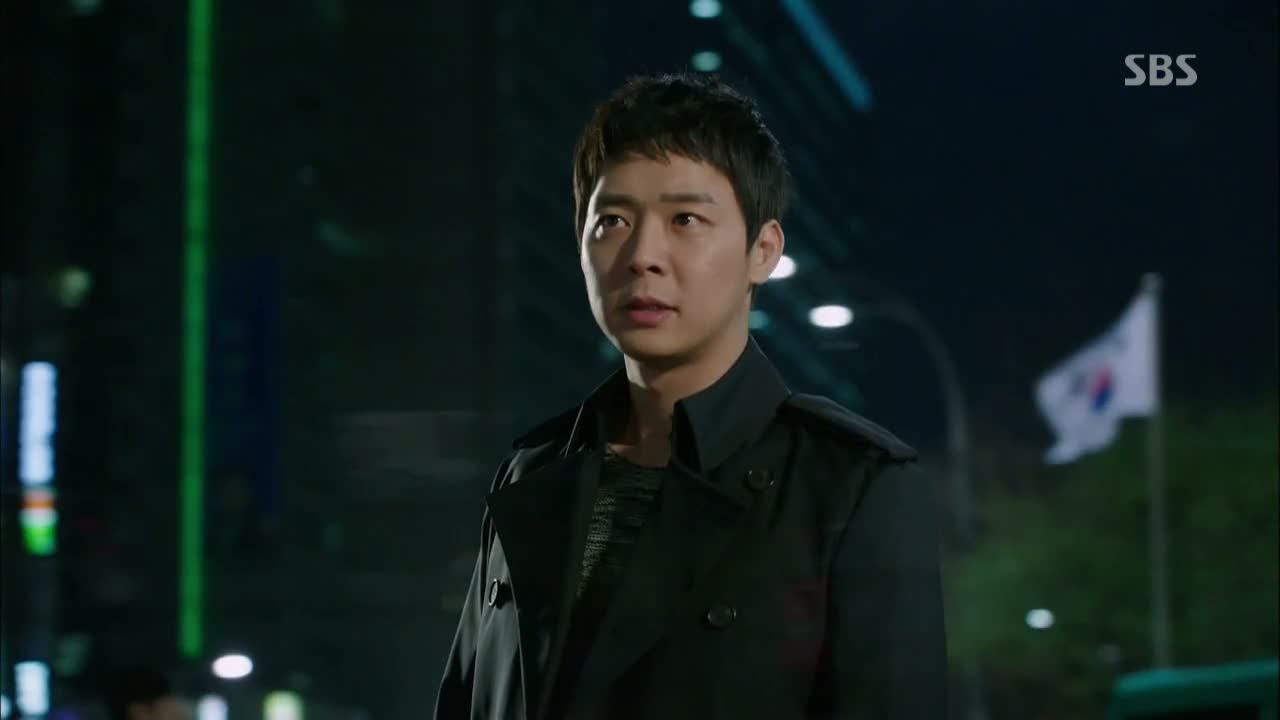 COMMENTS
Finally, there's a reason to count down with the clock! Of course the show would stop telling us what time it is when it actually starts to matter, but I've gotten used to this drama doing everything backwards. I'm just excited that this final arc brings something suspenseful, fast-paced, and moving, because it's not every episode of Three Days that fires on all cylinders. I don't think we've been at this level since Team Leader Ham made his glorious exit. Hm, maybe the correlation has to do with the deaths of major characters? Listen, if we have to off people to get good drama, I'm all for it. Spill the blood and let it rain.
I loved the revelation that President Lee was the brains behind this entire horrible series of events. Basically, Chairman Kim was just a bored evil chaebol who wanted to turn his money into bigger piles of money, but it was Lee Dong-hwi who was brilliant (in a terrible way, of course) and planted the possibilities in his mind. I don't know why people need to be told that it's always a fatal mistake to give the evil guy genius ideas, but I suppose no one could've known just how evil he really was. It's satisfying to know that Kim wasn't smart enough to come up with this diabolical plan on his own, but also worse to know that the president carries the burden of guilt for damn good reason.
It makes it all the more poignant that President Lee has the brains to outsmart Chairman Kim move for move, but what he lacks is people who trust him. He discovers in this episode that he's literally powerless, and even the highest political seat means nothing, if no one will give him the benefit of the doubt and stand at his side. It's such a hollow, sobering moment for him, especially after driving away his most trusted confidante, putting Cha-young in harm's way, and losing Tae-kyung's confidence to boot.
But Tae-kyung saves the day, not with any superhero tricks or bullets taken in the president's stead, but with a simple show of faith: I serve an honorable president, so be that guy. It's simple, direct, and empowering. It's equally poignant for Tae-kyung, who has lost all faith in his moral compass after losing his father. He's gone from someone who trusted everyone and everything at face value to someone who doesn't believe in anything anymore, so when he makes that declaration, it feels really earned. He's making a choice to trust, and that saves him and gives him purpose as much as it saves the president from crumbling into a hole of despair. When the show can merge the characters' arcs like this (Secretary Shin included, poor idealistic fool), there's an emotional heft that really makes the rest of the plot-heavy proceedings land with impact. Here's hoping that the rest of the series can go out with this momentum, given that we've got high stakes and a clock in place. Also, Badass Bo-won is awesome. Let's let her keep that gun, shall we?

RELATED POSTS
Tags: featured, Micky Yoochun, Park Ha-sun, So Yi-hyun, Sohn Hyun-joo, Three Days