TV Chosun's period drama Into the Fire prepares for (delayed) premiere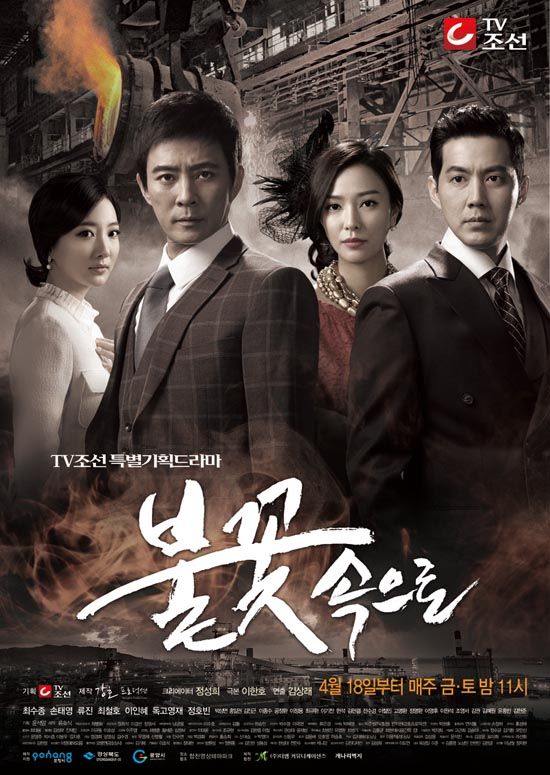 Choi Su-jong's new historical drama, Into the Fire (or Into the Flames), was to start this Friday, but the premiere has been pushed back due to coverage of the ferry tragedy and out of respect for the families of the missing. It's a bit of a wonder that TV Chosun, the cable channel on which Into the Fire will air, was able to land an actor of Choi Su-jong's caliber for this project, but the star is said to have taken on the drama because of an opportunity to send a message.
The actor said, "After finishing a difficult sageuk, I had such a hard time and I swore I would never do another. However, after reading this screenplay, I thought to myself, it delivers a message to young viewers — I need to take this on." He went on to say, "I wanted to pass on something to future generations, and to show how a previous generation overcame hardships and maximized opportunities."
Choi Su-jong plays the lead, a man loosely based on real-life "Carnegie of Korea" Park Tae-joon, the late and legendary former president of POSCO (one of the world's largest steelmakers). The drama is set in the period shortly after Occupation and the Korean War, and will show Choi Su-jong working tirelessly to build a mill that will produce the steel necessary to modernize Korea.
Into the Fire will tell the story of the people who battled the poverty and despair of the times with a relentless pursuit of economic innovation, and the choices they made in the name of love, loyalty and sacrifice. This being dramaland, it will also throw in a childhood-friend-turned-bitter-enemy storyline for good measure, which will serve to demonstrate the ambitious drive of Choi Su-jong and his rival.
Lee In-hye (Legend of the Patriots — she'll be reunited with Choi Su-jong, who starred) will play Choi Su-jong's wife, fluent in English and French and, as the description puts it, "inferior to no man." Sohn Tae-young (You're the Best, Lee Soon Shin) plays an "ice princess" character, Kumiko, who is the only daughter in a family that runs a prominent Japanese business conglomerate. She thaws as the drama goes on, particularly after meeting the hero, whose life she saves; she falls in love with him but is also hurt and angered after he leaves. Ryu Jin (Prime Minister and I) plays the man who loves her, despite her lingering feelings for the hero.
The drama will air on Fridays and Saturdays on TV Chosun, but the new release date has not yet been set.
Via Chosun Ilbo, World Daily
RELATED POSTS
Tags: cable programs, Choi Su-jong, Lee In-hye, Ryu Jin, Sohn Tae-young