A New Leaf: Episode 1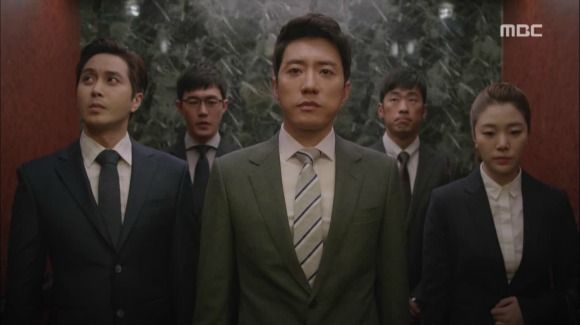 Oh, I love me some Kim Myung-min. Our new Wednesday-Thursday drama, A New Leaf, gives us some legal workplace action and a surprisingly comic clash of two characters. It's a pretty straight-forward episode, as most of the episode consists of introductions and building of the characters, but the potential – for hijinks, disputes, and romance – is definitely there. I'm looking forward to our leads' attempts at separating workplace and personal life because in dramaland, we know that such separation doesn't exist.

EPISODE 1 RECAP
It's a rainy day, and a crowd of elderly laborers have assembled to demand worker's compensation from the Yamada Steel Company. Some are holding funeral pictures of those who have died while working here.
The reporter describes the situation outside the courthouse, saying that the defendants lost in the first trial, and the second court proceeding awaits. On that note, a car rolls in: our lawyers have arrived.
In court, our lawyer – KIM SEOK-JU (Kim Myung-min) – speaks first, defending the Yamada Steel Company with the claim that they did not used forced labor.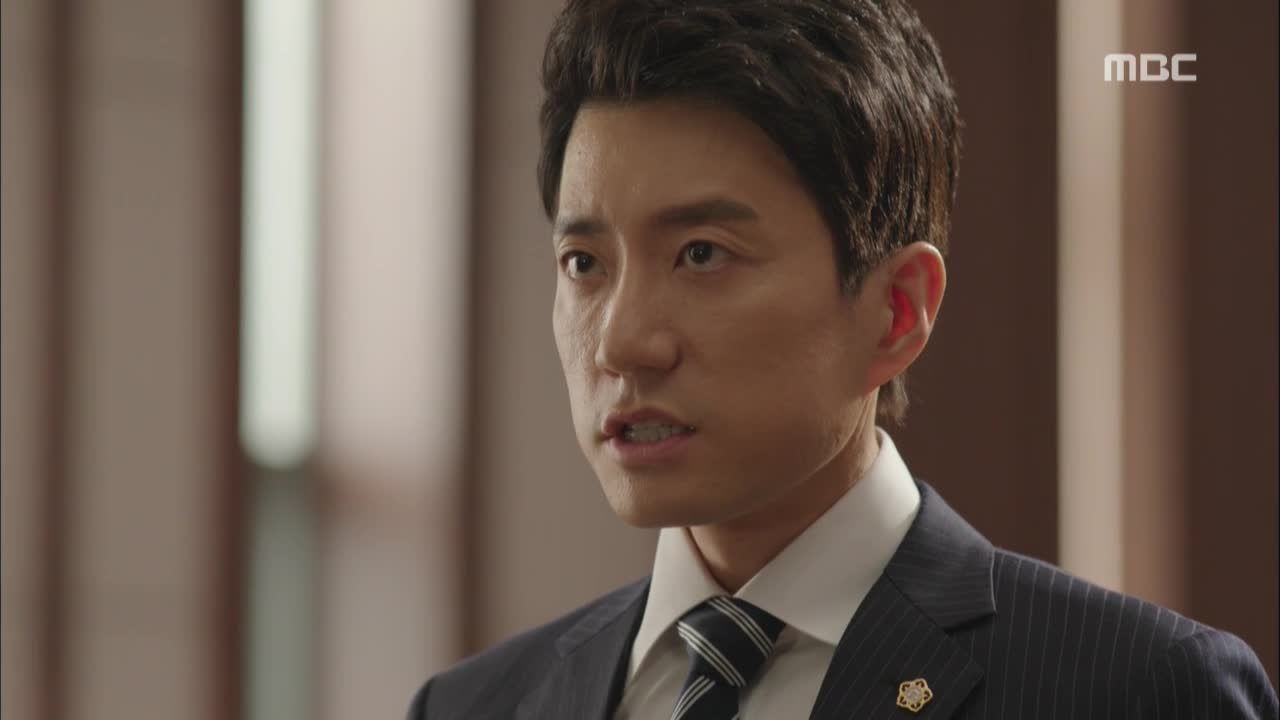 The opposing lawyer stands and gives us more background on the case. During wartime in 1945, the workers were put into dangerous mining conditions with meager amounts of food. When released from Japan, they were not properly paid, so they are seeking worker's compensation now.
Lawyer Kim stands up with another defense, stating that during wartime, Yamada was only following orders of the country and cannot be expected to provide any compensation. He backs up his statement with solid examples of Japanese law, upsetting the spectators but getting a nod of approval from his clients.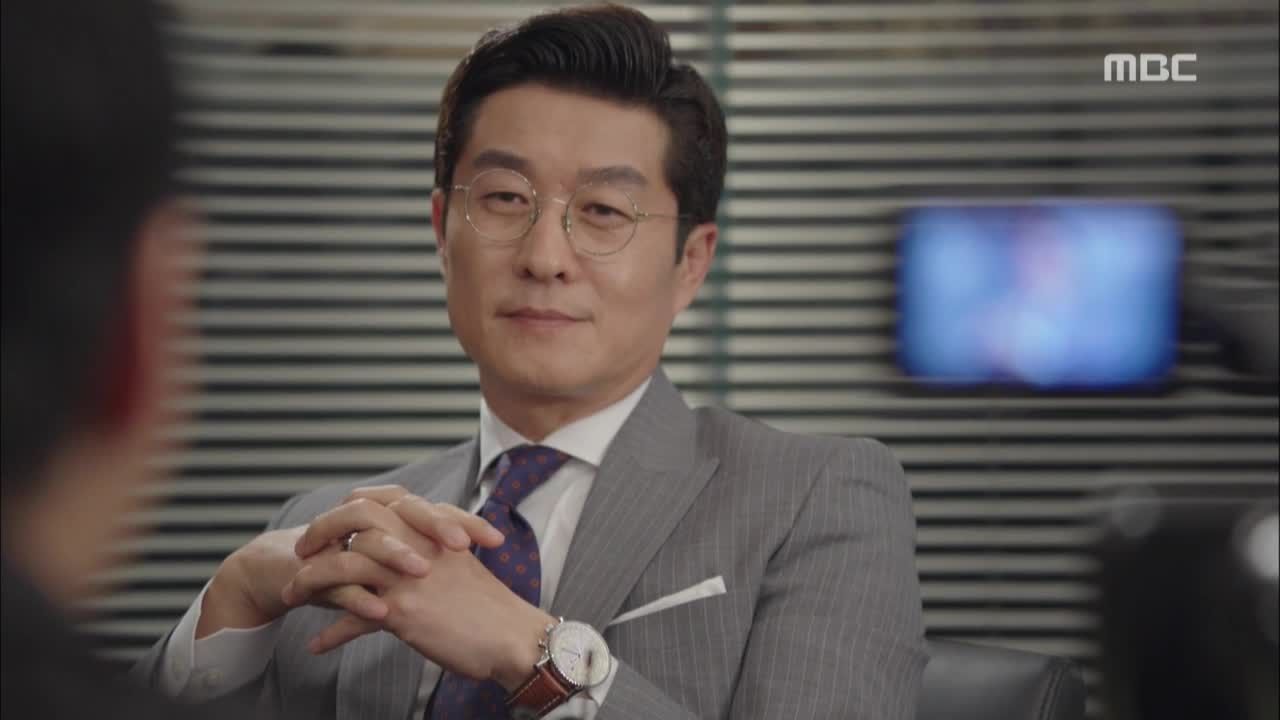 Cut to the law firm's CEO, CHA YEONG-WOO (Kim Sang-joong), who is being interviewed for his firm's excellent tax record and reputation. He talks with pride about the firm's long history and expertise in foreign relations.
Back in court, Kim Seok-ju makes his closing statement, but an outraged former laborer interrupts him, demanding justice for his few elderly surviving laborers. But Seok-ju doesn't blink an eye and wins the case for his Japanese clients.
After the trial, Seok-ju's client thanks him, and he replies, "We can't stop a litigation; instead, we can win." Yup, he's our cold-hearted courtroom shark.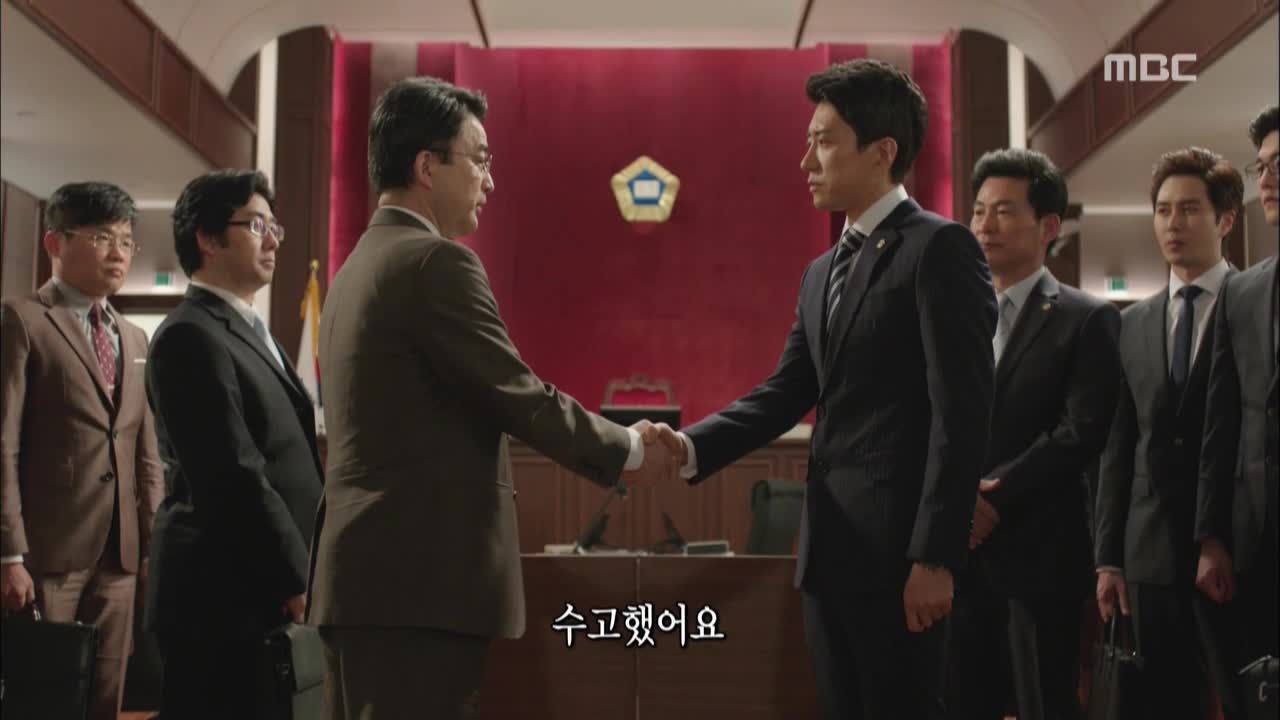 At the firm, Seok-ju enters an elevator full of associates. He gets an update on another case and quizzes the younglings on the possible reasons for the company's price reduction in the transaction.
Two of the associates suggest viable options, but the third simply states the obvious – that the transaction cannot occur without a price agreement. At that, Seok-ju basically tells him that an associate doesn't get paid stacks of money to waste a partner's time.
As they exit the elevator, Seok-ju tells his assistant to send the third associate to a different team. He's not the first associate to fail, and the assistant gives him a fair warning: you don't get into the elevator with Lawyer Kim Seok-ju if you're not confident and ready with answers.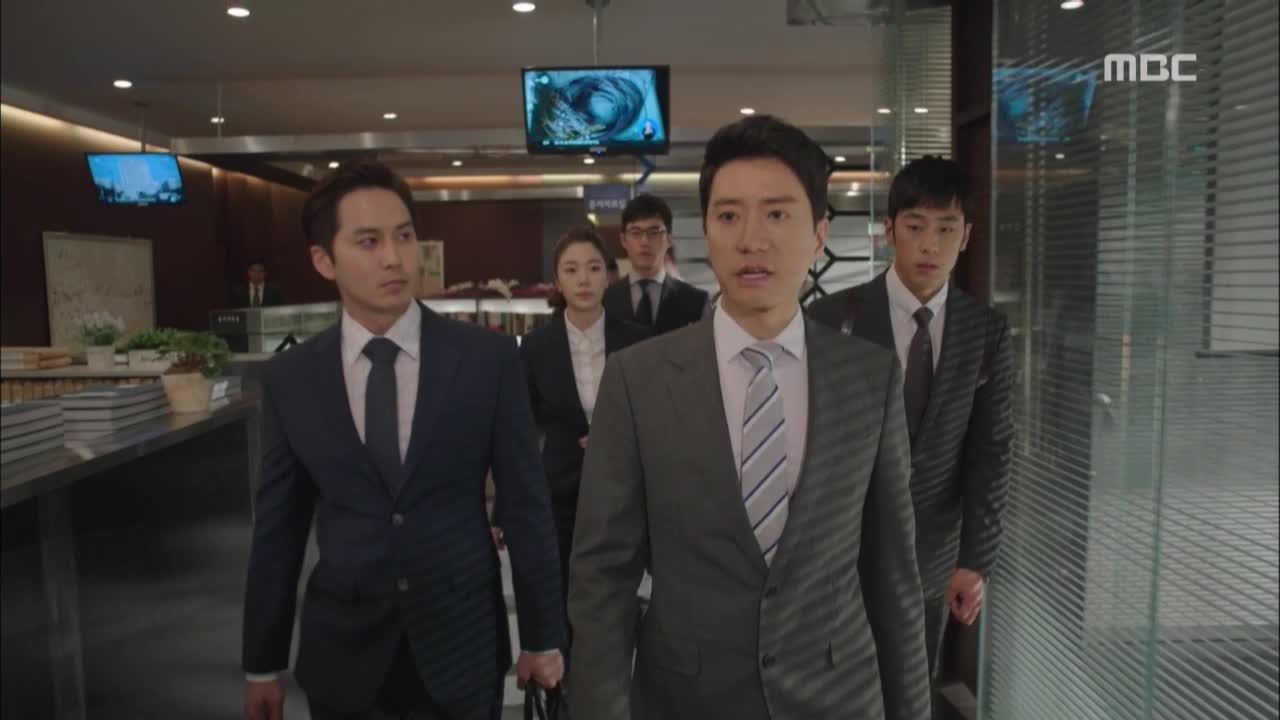 Walking through the office, Seok-ju wastes no time and orders his trailing associates to investigate every part of the opposing company's finances. The associates start going through piles of papers, but their manpower is obviously lacking.
They can't neglect the other cases to focus on this one case, but luckily, new interns are coming in tomorrow to bump up the efficiency. Any guesses on the interns?
In his office, CEO Cha Yeong-woo is on the phone with one of his chaebol clients, refusing to represent him in his sexual assault case. But this client brings in the big bucks, so he eventually complies.
The team leader in the office warns our CEO to step down from the case – if they can't prove his innocence, they're better off abandoning the case. But Cha Yeong-woo thinks differently.
He says that innocence doesn't mean "not guilty"; it means that the guilt wasn't proven. He begins to analyze the opposing lawyer team and notes that the case is proceeding abnormally fast.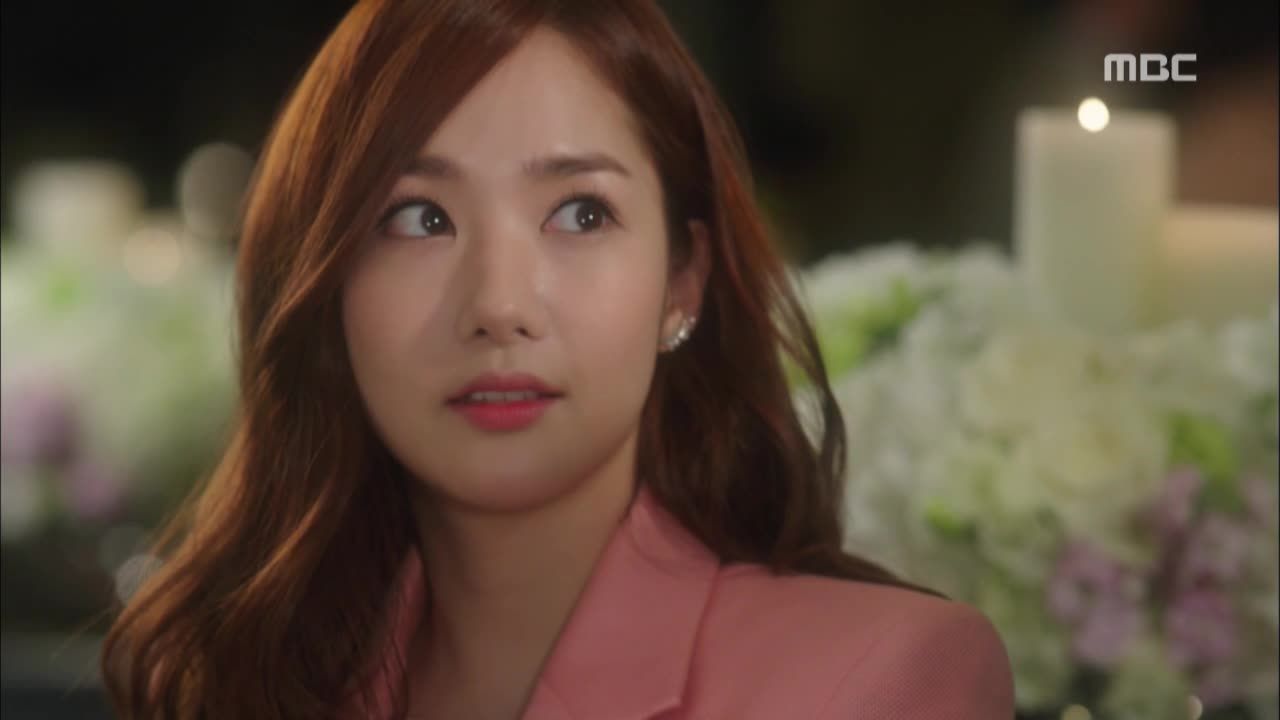 Now for our heroine, LEE JI-YOON (Park Min-young), who finds her seat at a wedding. She wonders why she was put on the groom's guest side but figures out soon enough when she meets the man sitting next to her.
Ji-yoon's friend placed her there so she can hit it up with JEON JI-WON (Jin Yi-han), and she swoons at his attractiveness. Don't we all? Then he proceeds to quote some romantic words from the book she's holding called Love Potion. More swoon.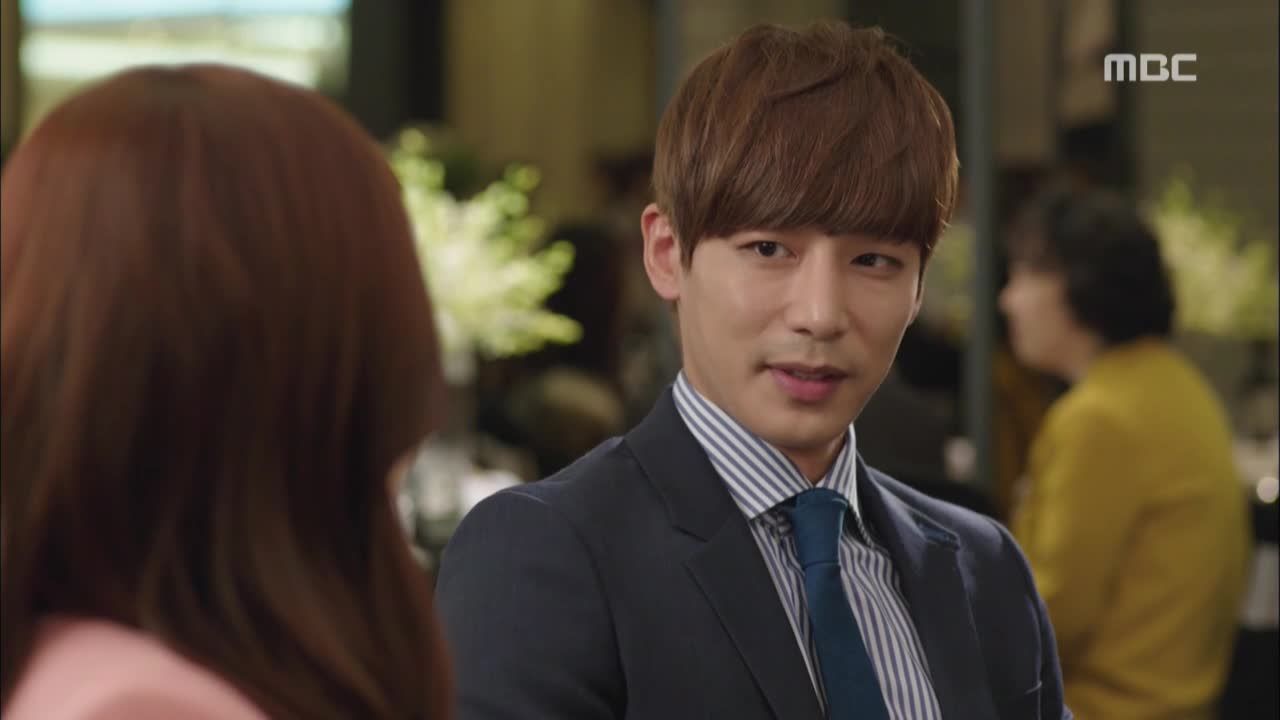 They introduce themselves, and Ji-won notices Ji-yoon's other books, guessing she's in law school. Ji-yoon's about to get her flirt on but gets a call, prompting her to leave reluctantly, still in admiration.
As Ji-yoon and her friend run excitedly to the bride's room, we see Seok-ju at the wedding on the phone with the chaebol's son, who's the one involved in the sexual assault case. He needs Seok-ju to be his lawyer because the other side isn't looking to settle with money.
After the call, Seok-ju makes eye contact with the bride (played by Lee Ju-yeon), who starts to freak out and kicks everyone out of the room. Worried, Ji-yoon offers her a painkiller and then the bride sends her by the door as a look-out.
The relationship is unclear, but the bride, Mi-ri, says she can't go on with the wedding with him there and asks Ji-yoon to get him out by any means necessary.
After a quick look of regret, she heads over to Seok-ju's table. Ji-yoon offers him a glass of wine and tries to make friendly small talk, but he refuses and gets up to leave.
Then in the most obvious way possible, she spills the wine on his pants and grabs him to scrub it off. Watching from a distance, the bride puts her painkiller in one of the wine glasses and asks the waiter to send it over to Ji-yoon.
Thinking it's for her, Ji-yoon drinks the wine in one shot and continues to grab onto Seok-ju, who looks thoroughly uncomfortable and confused. The effects of the drink kick in, and she walks out of the hall with him – grabbing, falling, and stumbling. It's pretty hilarious.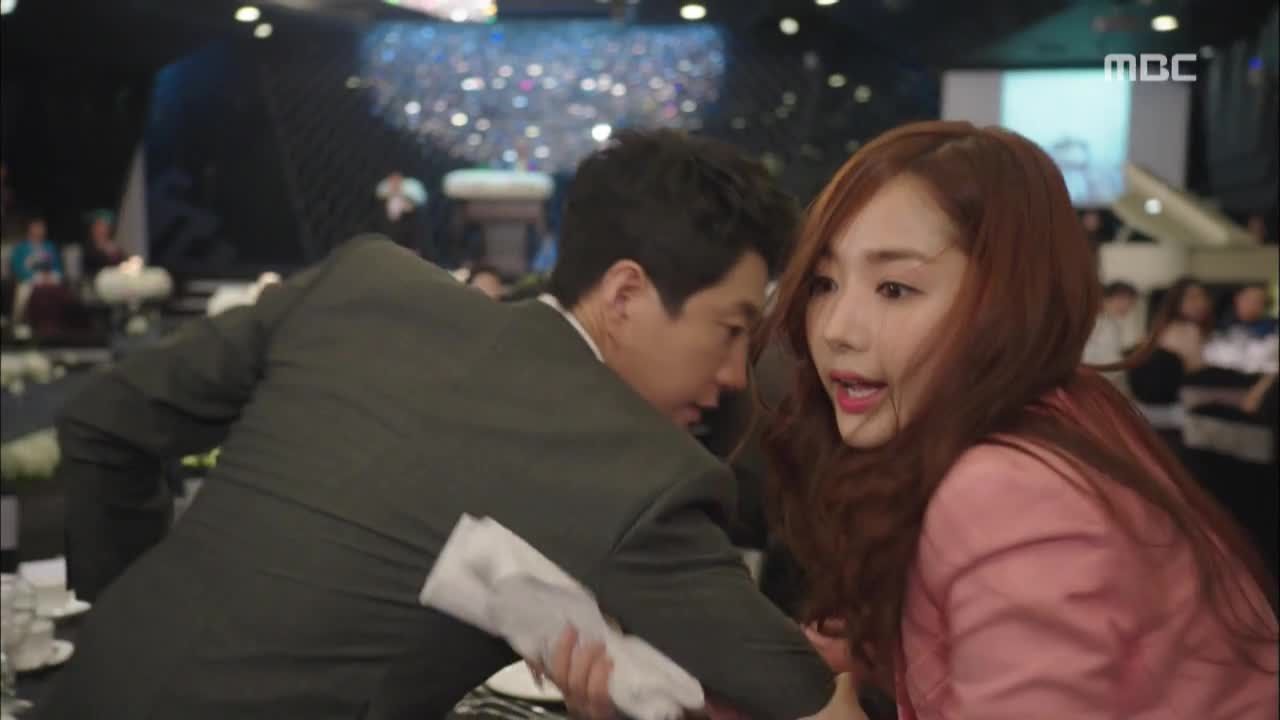 Back at the law office, Yeong-woo is getting briefed on the opposing prosecutor Lee Sun-hee in their new sexual assault case. Apparently, she and the detective were quick to act on this case, making Yeong-woo and his team a step behind.
Looks like Ji-yoon has made it home, and a thank-you text along with a honeymoon picture from Mi-ri wakes her up. Then she hears someone in her kitchen and cautiously walks out to find Seok-ju fixing himself a drink.
She demands to know why he's in her home, and he casually tells her that he assumed that he was invited over. She begins to reject his claim, but the memories of the wedding flood over her.
The wine, the grabbing, and the stumbling, but it gets worse. She gets a taxi and drags him into the car with her. Realizing all of this, Ji-yoon begins to explain her actions, but Seok-ju seems to have it figured out already.
The bride froze when she saw him, so she obviously sent someone to escort him out of the wedding. He wondered why Ji-yoon was the one to "seduce" him out, given her figure, but now he knows why. She's desperate, and it worked.
Ji-yoon takes offense to this and is under the impression that something did happen. She lists off laws regarding sexual assault, but Seok-ju seems very nonchalant about the whole situation, even acquiescing to her request for his contact information.
After he leaves, Ji-yoon goes to check the surveillance cameras for any evidence, determined to use it to sue. But there's only more footage of her hanging all over him and dragging him inside. Meanwhile, Seok-ju is back at the firm at the break of dawn, being his workaholic self.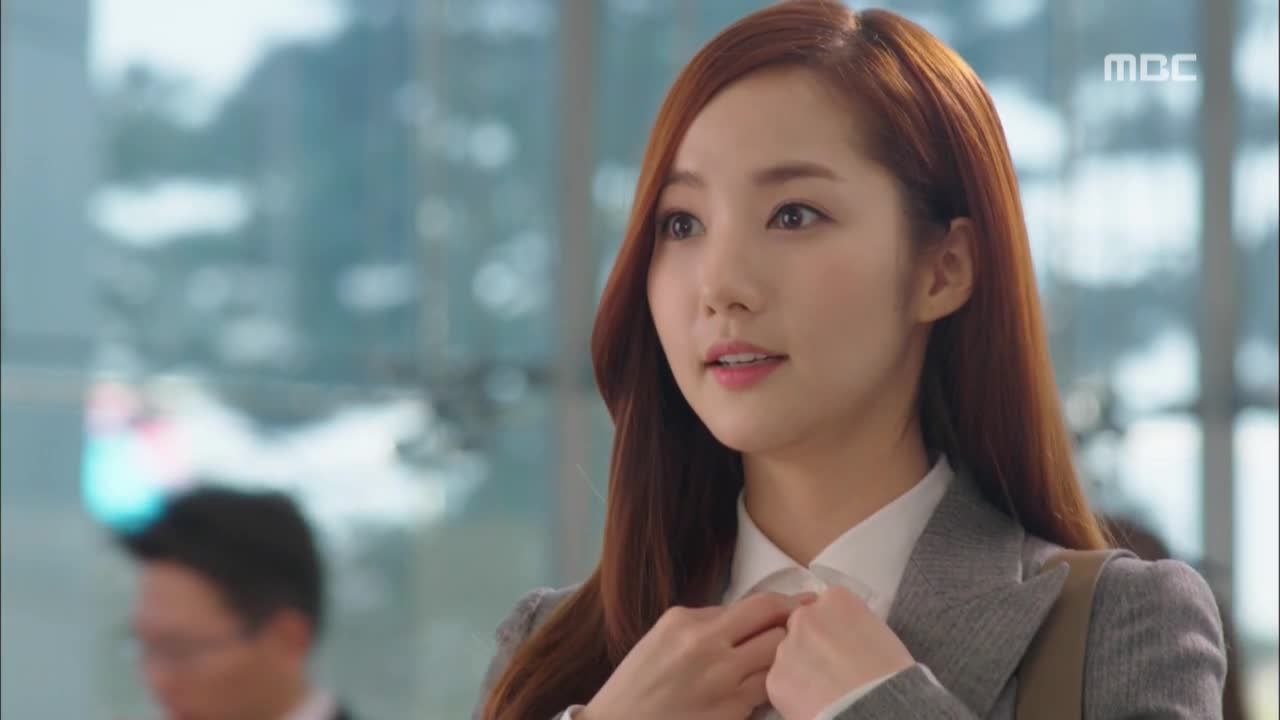 The next morning, Ji-yoon, bright-eyed and ready to go, arrives at none other than the Cha Yeong-woo Law Firm as an intern. As a welcoming gesture, the top-of-the-class interns are given a problem set due later that night.
Seok-ju is out to meet his older cousin and updates her on Mi-ri. He tells her that he went to the wedding himself to check that Mi-ri is married and officially done cheating with her husband.
She seems assured but still asks him if she should trust her husband again. Seok-ju says that the decision is up to her, but he's pessimistic about it – people don't change easily.
When she asks about his father in the hospital, Seok-ju remains silent, and she scolds him for not visiting him. As he leaves to get back to work, she reminds him of his mother's memorial ceremony.
CEO Yeong-woo is dealing with another case, this time about a Minister of Justice candidate whose faulty tax reports have been disclosed. He's released a public apology, but he's going to need the firm's help.
Seok-ju continues to work on his case and summons all the interns for the extra hands needed to look through the company's records. He passes by Ji-yoon, but neither notice each other.
Yeong-woo has got his hands full with the sexual assault case. Based on the aggressiveness of the prosecution, he deduces that they must have the upper hand with some solid evidence.
He gets a call from the chaebol client Park Ki-chul, who asks him to bring along the Minister of Justice candidate Kang Eun-chan for dinner. At their meeting, Ki-chul hands him a suspicious envelope, possibly evidence to kill two birds with one stone.
Back at the firm, Ji-yoon is coming back from the bathroom when she recognizes a voice – Seok-ju's. He's giving the interns incentive, saying that whoever finds the critical detail they need will be placed on his team.
Ji-yoon is shocked and falls to the ground to pick up her pouch. She faces the other way to hide her face and tells the intern manager and Seok-ju that she'll do her best.
Scared for her future, Ji-yoon texts Mi-ri to ask about Seok-ju. Mi-ri says that he's a meticulous and ruthless bastard who's the best to have on your side but the worst to have as an enemy. Sounds about right. She looks worried, but given the prestige of the firm, Ji-yoon decides to stick it out.
At the clients' dinner, we see that the envelope contained pictures of the opposing Minister of Justice candidate with a young boy – presumably his illegitimate child.
Ki-chul offers to send these pictures to the press, which will cover up Kang Eun-chan's tax scandal and give him the Minister of Justice position. In return, Eun-chan will pull some strings to release Ki-chul's son.
Ki-chul then requests to have Seok-ju as their lawyer on the case. Yeong-woo suggests other lawyers who are specialized in criminal cases, but Ki-chul's son wants Seok-ju, and he plans to continue spoiling his son by giving him what he wants.
Ji-yoon is still working after hours, reading through a case about a poor married couple requesting help for a better contract for their convenience store. When she gets on the elevator to leave, she hears Seok-ju and quickly pushes the button to close the door. The door closes just in time, and she breathes a sigh of relief.
Ji-yoon goes to the convenience store named in the case and talks to the manager about the unfair contract, which forces him and his wife to open 24 hours. He gets a nose bleed, showing how tired he is, and she promises to look into a solution.
The next morning, Seok-ju looks through an intern's findings with approval, saying that the intern found a critical point for their case in the records. He tells the manager to call this intern to his office.
That intern is Ji-yoon, and when she gets the call, she looks mortified just at the thought of the confrontation. So she stalls as long as possible, trying to avoid it.
Seok-ju can't wait much longer for Ji-yoon and heads over to a client meeting. He's interrupted by Yeong-woo, who calls him to his office to assign him the sexual assault case. Seok-ju says he doesn't have the experience for criminal cases, but Yeong-woo says that he needs to follow the client's requests. He's pressed for time, but he'll be given an experienced team and the necessary evidence.
At the meeting for the convenience store case, Seok-ju briefs his clients on the recent findings and calls Ji-yoon on speaker phone for a more detailed explanation of the franchise contracts. He asks her to explain the contract in English, and she does so quite well with both her accent and content.
Having gotten the point across, he stops her, but Ji-yoon still has something to tell Seok-ju. She doesn't realize she's on speaker and tells him that she needs to return his watch – the watch he left at her house the dawn after the wedding.
Seok-ju realizes who he's talking to and quickly hangs up the call. His team and associates around him are suppressing laughs and giving him strange looks, and they end the meeting there. He storms out to find the intern he called, and Ji-yoon hesitantly reveals herself.
They talk but seem to be stuck at a misunderstanding. Seok-ju has nothing to apologize for, but Ji-yoon is still under the impression that the one-night stand happened. She'd prefer if he didn't pay attention to her and adds that standing out because of her meticulous work isn't her fault.
Seok-ju says he doesn't have time to listen to her self-praise and asks for his watch. But she didn't bring it, making him even more frustrated. He tells her to get him his expensive watch and get out of his sight.
He starts to leave but turns back around to tell Ji-yoon that she'll be working on his team starting today. Separating personal issues and workplace issues, he's going to keep his word. She's on the team.
Seok-ju is onto the next order business: the sexual assault case. He sits down with Ki-chul's son to discuss the details and prepare for court. Based on his descriptions, it's pretty clear that he assaulted his ex-girlfriend and didn't get her consent.
The ex is an actress he sponsored for years, and after breaking up again for the millionth time, she clearly refused to sleep with him. When she tried to run away, he broke the phone and slapped her. I think it would be fair to call him an entitled scumbag.
Watching the news, Yeong-woo finds out that his firm is under scrutiny for Kang Eun-chan's Ministry of Justice position and calls Seok-ju to his office. Knowing the complications and misunderstandings looming for the firm, he plans on outing Eun-chan and asks Seok-ju to continue with the case, factoring out aid from the Minister.
Yeong-woo then calls Eun-chan into his office and tells him that while the client is important, the firm can't go under because of one client. For the sake of the firm, he simply asks Eun-chan to resign his position.
Seok-ju gathers his team and orders them to find any and all evidence – surveillance footage, the actress's financial records, phone records, hospital records – to use against her. He knows his opposing prosecutor Lee Sun-hee likes the smell of blood, so he's going to give it to her.
Yeong-woo watches the meeting by the door and predicts a dirty fight ahead. He wishes Seok-ju luck and walks out the door.

COMMENTS
Oh man, I can see the conflict already. I was pleasantly surprised by the contrast of our two leads, and it makes me even more excited for their interactions. Kim Myung-min does deadpan so well, and Park Min-young is definitely up there with her facial expressions. Her face can say so many things at one time, and it's quite fun to watch. That being said, this drama isn't overtly comic in any way. We definitely get a lot more legal action than I had anticipated, making the storylines more intertwined with the complexities of law. I was surprised at the topics that were covered in the cases – the Japanese occupation, sexual assault – both of which are quite controversial and sensitive topics. But they are as important as they are controversial, and I hope we'll be able to see more of these important topics come up. I foresee lots of legal terminology and proceedings coming our way. But I can deal with that, as long as we get some great courtroom scenes and moral conflicts concerning justice.
Based on our first encounters with our characters, I can only firmly say that our CEO Cha Yeong-woo has a high tolerance for corruption. His only catch is his self-interest, which we saw through his decision to sacrifice his client for the sake of his own firm. He seems to have no problem doing anything, as long as it doesn't negatively impact his empire. Bad Daddy instincts are back, but this time in the form of Big Law Firm CEO. Seok-ju seems quite similar to him, but I don't think we've seen enough of his own morality to judge that just yet. He's the best at what he does, and all that matters is that he wins. He's mechanical and quite heartless, and I'm interested to see his transformation when he goes through his amnesia phase.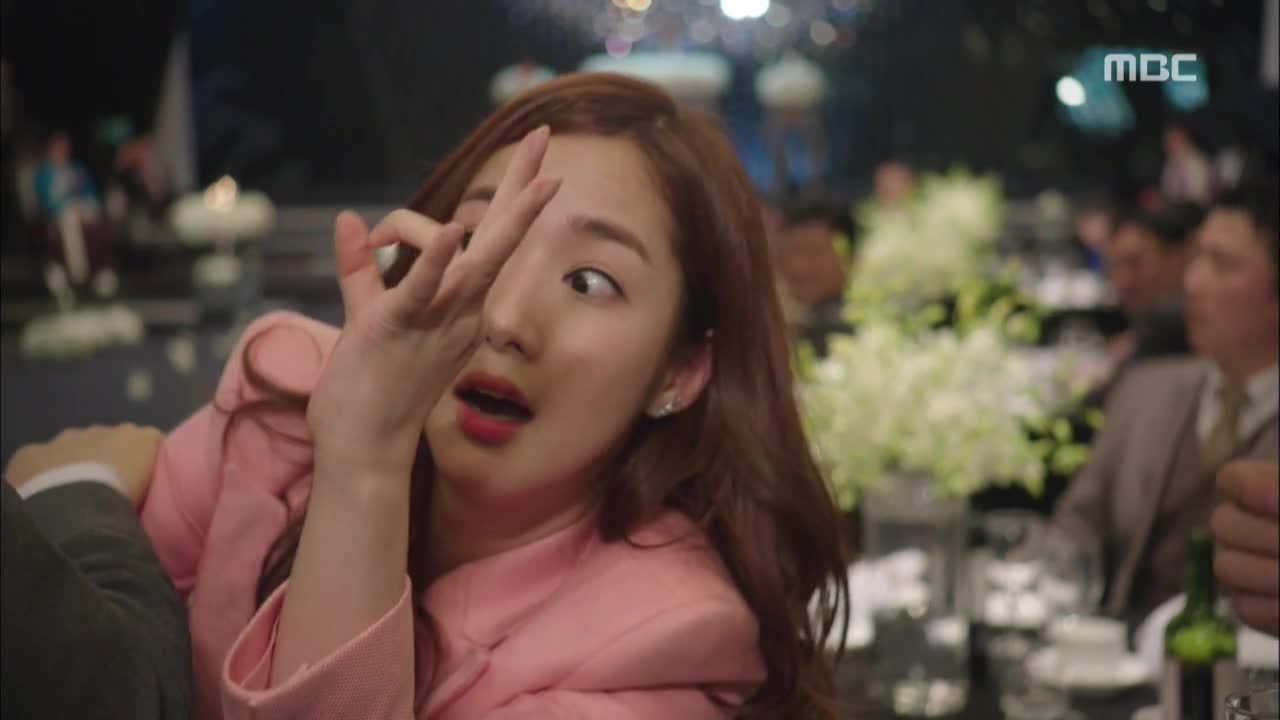 And Ji-yoon. I like her! At least so far. I was scared she would be that rebellious intern who wears her heart on her sleeve but acts too mindlessly to make an actual impact. You know, the typical frustrating dramaland heroine. But she actually has the smarts to support her altruistic tendencies, making her a much more effective character. I'm glad her actions have more relevance to the overall case because I've seen too many heroines travel into some ridiculous side stories that are distracting and frankly, a waste of time.
Overall, I think the first episode was a bit underwhelming, but I'm hoping for some more action and deeper conflicts as we move forward because we do have a great set of actors in for the ride. It would be great to see more character development because we've got to know enough about our characters for that amnesia element to make its intended impact. And I would always welcome more interactions with our leads because they were quite pleasant and funny to watch together. But I criticize because I know there's more potential. Just give me more, show. I know you've got it in you.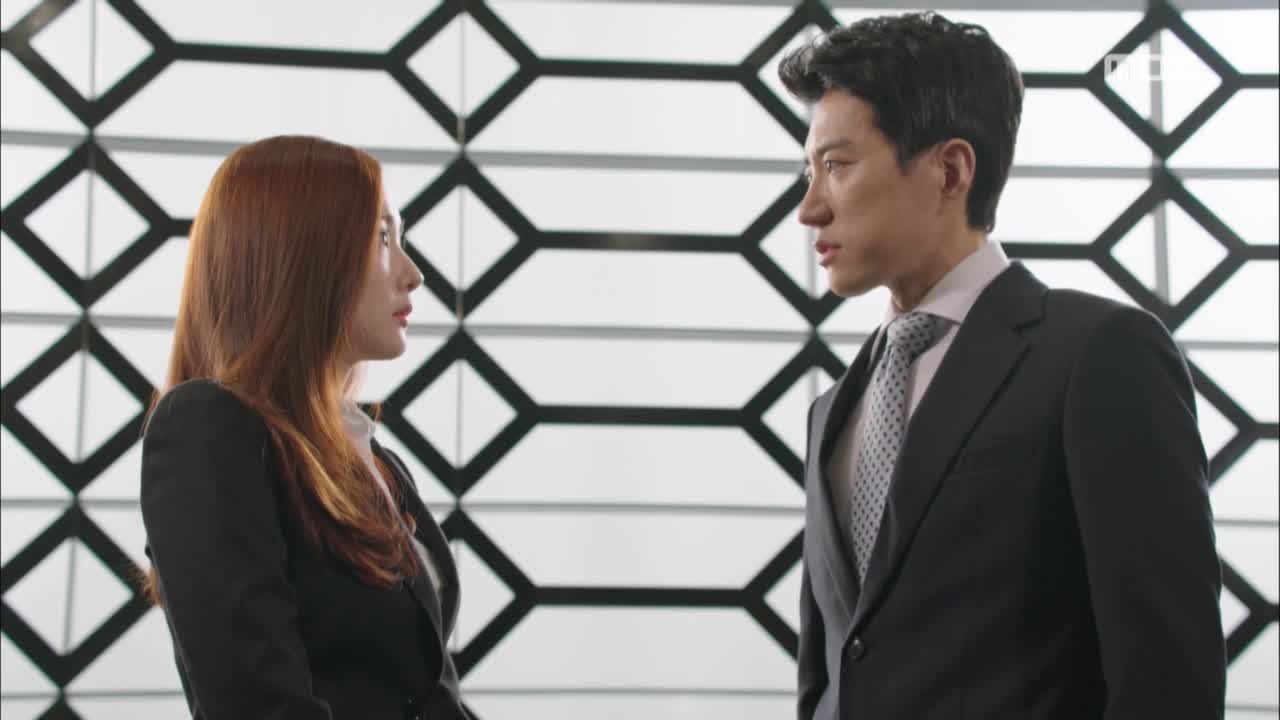 RELATED POSTS
Tags: A New Leaf, featured, first episodes, Kim Myung-min, Kim Sang-joong, Park Min-young