A New Leaf: Episode 5
Reality and disappointment hit hard as Seok-ju begins to uncover his past self. The truth is a lot worse than it seems, and Seok-ju is clearly questioning his legal ethics. We're not sure if he's willing to be that same ruthless and unforgiving lawyer he used to be, but that's showing signs of growth and change. True, people don't change easily, but it's a different story if they've lost their memory.

EPISODE 5 RECAP
Ji-yoon and Seok-ju leave the police station after discussing Seok-ju's accident, but Ji-yoon suddenly stops. Wide-eyed, she recognizes the person being brought into the station – it's Jung Hye-ryeong (the rape victim).
Of course, Seok-ju doesn't recognize her, but Hye-ryeong sure does. She lurches out violently at Seok-ju as the police officers try and hold her back. She manages to spit on his face, and Seok-ju looks confused and offended.
Hye-ryeong looks back at Ji-yoon as she's dragged away, and the police officers apologize to Seok-ju. Ji-yoon tells him that she'll explain the situation, but Seok-ju's determined to get an apology. As he follows Hye-ryeong, Seok-ju asks what crime she committed and stops in his tracks when the police officer tells him, "Murder."
Outside the station, Seok-ju looks up the news article of the murder on his phone. Ji-yoon explains the case, but he's still confused on why he was spat on. She ambiguously tells him that however he imagined himself in court, he's twenty times more intense than that. He needs to figure out the reason for Hye-ryeong's animosity, so they head to the firm.
At the firm, they wait for the Elevator of Uncomfortable Encounters, which opens to a string of the firm's employees staring at fancy Seok-ju and Ji-yoon as they walk by. The situation gets worse when Seok-ju and Ji-yoon are followed into the elevator by more associates and Sang-tae.
In the elevator, Sang-tae jokingly asks if they just came back from their engagement. Seok-ju asks Ji-yoon why she followed him here, and she replies by saying she was worried, making the elevator crowd even more suspicious of their relationship.
Sang-tae makes more jokes about Ji-yoon being such a loyal intern, but she stops him, whispering to him that Seok-ju just ran into Hye-ryeong at the police station. Seok-ju glares at her, telling her to go ahead and tell the whole world.
When they finally get off the elevator, they run into Team Leader Kang. Ji-yoon quickly excuses herself to do work, and Team Leader Kang asks Seok-ju if he's still taking care of the settlement case tomorrow. He makes some snarky remarks about how life is unfair, with the firm picking up after Seok-ju's absence while he's out partying.
Seok-ju says he'll be taking care of the settlement as planned and gets on his way. Sang-tae tells Team Leader Kang to take it easy on him; he just ran into Hye-ryeong. But he credits karma for the unpleasant encounter and thanks Sang-tae for the insider information before getting on his way.
Seok-ju looks through the files for Hye-ryeong's case and looks disturbed when he flips to the pictures of her bruised face and body. His associate comes in with more files, and Seok-ju asks him about May 21st. He only has one court appearance that day because he said he was busy. Hmm, what is that day?
After some hesitation, Ji-yoon decides to text Prosecutor Lee Sun-hee about Hye-ryeong's case. Just as she's about to send the text, Seok-ju approaches her to ask why she didn't openly recognize Hye-ryeong at the station; she handled the settlement, after all.
Ji-yoon says that she felt bad running into Hye-ryeong with Seok-ju. She probably felt betrayed seeing them together. But Seok-ju asks about himself: why didn't she tell him? She says that he would have been shocked, but Seok-ju doesn't want any bullshit.
He says that he wants to understand himself better, and the only way he'll be able to reflect on his past actions is if she tells him the entire truth. He wants to know what caused Hye-ryeong to spit on him and why he deserved to take that. Then he asks Ji-yoon how she managed to spread such great rumors in the short time she's been here as an intern.
We flashback to Seok-ju eavesdropping on a conversation outside his office. His secretary talks to Sang-tae about how Ji-yoon, a mere intern, is the first outside of Sang-tae to be so close to Seok-ju. They suspect that Ji-yoon's got some crazy connections, with Seok-ju being her biggest one to the firm.
Bewildered, Ji-yoon asks Seok-ju if he actually believes that. He doesn't and tells her that he's only trusting her from now on, so she needs to tell him the truth about everything. Seok-ju suspects that Yeong-woo is making her report to him before telling him anything, but Ji-yoon denies that. Yeong-woo simply wants to know if Seok-ju's memory is coming back.
Sang-tae passes by the two talking and walks back behind a window to eavesdrop. They've moved on to talking about Hye-ryeong's case, and Seok-ju asks if he has mutual acquaintances with Hye-ryeong. Ji-yoon remembers Prosecutor Lee Sun-hee, who prosecuted the case against Hye-ryeong's rapist in court.
Seok-ju is curious about how Hye-ryeong came to commit such a crime, as murder is not so easily committed, and it was after she received the settlement money. There had to be some deep-seated reason. On the other hand, Ji-yoon is more concerned with whether Hye-ryeong found a good lawyer to represent her.
Seok-ju brushes off her worries as idle thoughts, as Ji-yoon neither has the skill nor a license to be having those worries. He tells her to look into Hye-ryeong's close friends and family to find her motive for murder.
As Seok-ju walks away, he gets stopped by Sang-tae, who looks at him suspiciously. He could just call the prosecutor's office to find out Hye-ryeong's motive, but why is he looking into it himself? Is he actually worried?
Sang-tae goes on to corner Seok-ju and check his forehead for a fever. Caressing Seok-ju's face, Sang-tae decides that he has a fever from all the stress lately and excuses Seok-ju's abnormal worrying. To top it off, Sang-tae gives his friend a little smack on the butt, telling him that he can take some of his workload if it gets to be too much.
Ji-yoon watches the scene, thoroughly amused. She follows Seok-ju, who's weirded out by his friend, and he orders her to look into Sang-tae.
Before he leaves, Seok-ju is given documents for tomorrow's settlement case. He heads to the elevator, and Ji-yoon follows him to give him his suit jacket. He casually tells her to keep it until tomorrow and offers her a ride home.
Sang-tae and another employee watch their interaction and creep up behind them. He asks Seok-ju: since when does he give interns rides home? Seok-ju simply says that there's a first for everything and reminds Ji-yoon to look into his weird friend.
In front of Ji-yoon's house, Seok-ju tells her that he thinks he understands what she meant by the long list of people who hold grudges against him: getting spit on, being suspected by clients, getting pushed by a motorcycle.
From behind, Ji-won arrives and spots the two. He greets Ji-yoon and stares at Seok-ju. Ji-yoon picks up that they must know each other somehow, and Ji-won goes on to compliment Seok-ju's lawyer skills. His compliment doesn't seem to be too friendly, so they're probably business acquaintances.
Seok-ju takes the compliment and leaves. Ji-yoon then asks Ji-won about Seok-ju, if he knows anything about him on a personal rather than a business level. Ji-won doesn't know Seok-ju too well, but he says that he knows that he wouldn't give just anyone a ride home.
Ji-yoon begins to explain the situation, but Ji-won says an explanation is unnecessary and heads home. Before he gets too far, he turns around and compliments Ji-yoon's dress, making her all giddy and smiley.
But Ji-yoon's smile quickly turns into a scowl when she hears the sound of drums from her house. It's her brother, Ji-hyuk, and she yells at him to stop being a nuisance. She then realizes that he hasn't returned the drum for Seok-ju's watch and threatens him with her lawyer knowledge: he could be charged with theft.
Ji-hyuk asks her what she would have done with her pretentiousness if she didn't go to law school, but she shrugs it off saying, "So I went." Ha. She goes into her room, and Ji-hyuk drums as annoyingly as possible in front of her room, making her come out and yell at him again. Oh, siblings.
At his house, Seok-ju looks at the dog bowl again and wonders where the dog is. (But seriously, where?) He then goes on to prepare for the settlement and calls his associate when he runs into some confusing records in the documents.
The associate wakes up to answer Seok-ju's call about a small detail in the oil spill settlement case documents. The documents note an additional charge of 50,000,000 won (approximately 50,000 dollars) for three people. The settlement is still in progress, so why were these people already paid?
Seok-ju doesn't get his answer that night, but he gets briefed on the case the next morning with a flashback to the initial client meeting.
A Joowon Construction Company crane collided with a Hong Kong boat, causing 12,547 kL of oil spillage into the ocean. Seok-ju is representing Joowon Construction Company, whose representatives ask him how low he can get the settlement deal. He suggests that they buy time – about a month – to let the oil sink and lessen the apparent impact. During that time, the impacted citizens will start to get desperate and accept increasingly lower settlement offers. At that point, the company will only have to pay for the settlements and the dead marine life, lowering the payment to almost less than 5% of the original cost.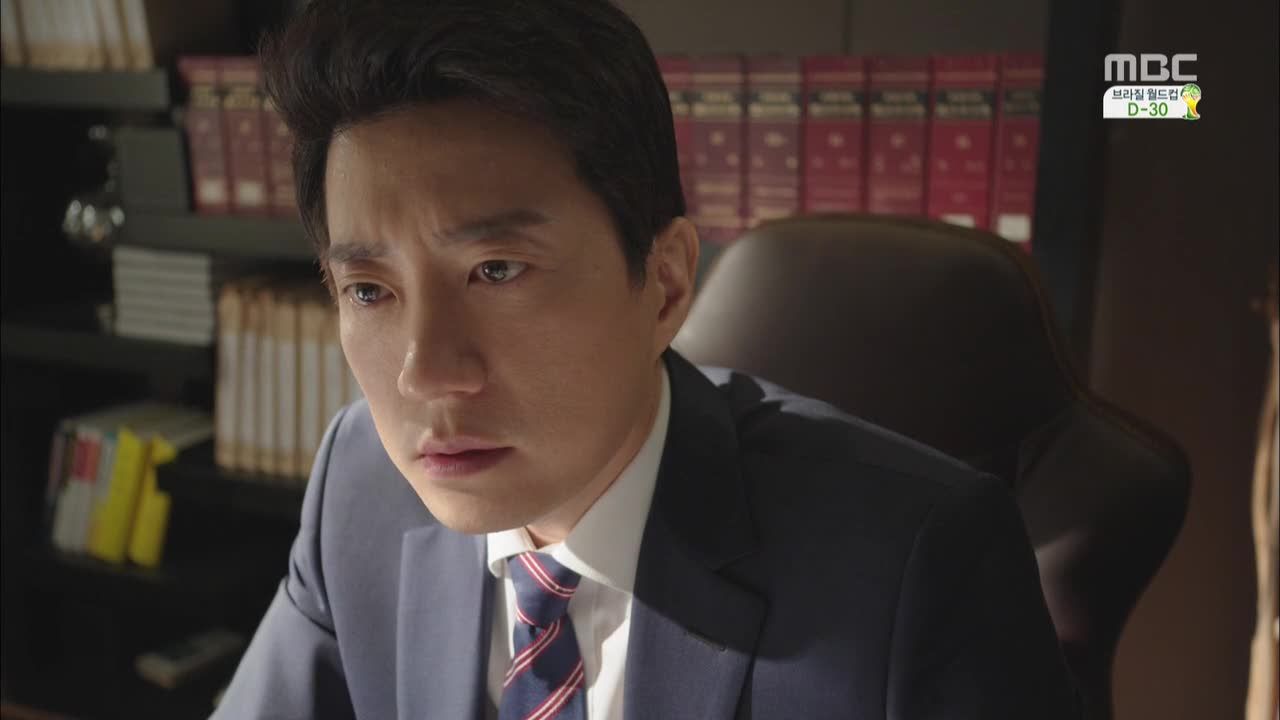 Back in the present, Seok-ju looks shaken by the direction of the case, and more specifically, himself. He thinks back to his experiences at the police station – Hye-ryeong and his long list of resentful people – and looks down at his hands, shocked at the kind of person he was.
Ji-yoon is called into Yeong-woo's office, and he has a special request. He asks her to move, and where else but right next door to Seok-ju. She chokes on her water and asks why. Yeong-woo says that he doesn't feel comfortable leaving Seok-ju on his own and thinks leaving him in an unfamiliar space won't help with his recovery.
Ji-yoon hesitates, and then asks Yeong-woo for any information he has on Sang-tae. Yeong-woo pulls up his file and gives us his background. He and Seok-ju did not seem to be great friends in college but got closer while training to become lawyers.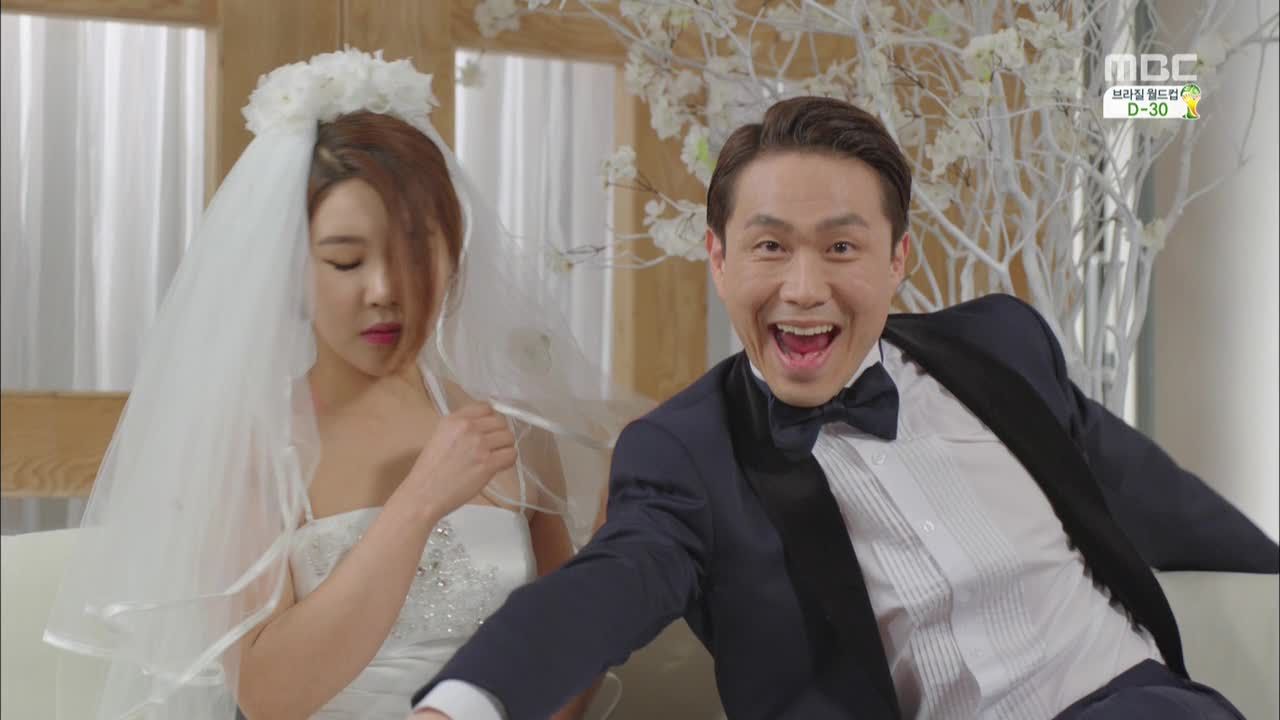 He's been divorced twice and has no kids. At the firm, he tends to take the lighter cases and some of the divorce cases, as he has experience in that field. Yeong-woo tosses in a fun fact: when asked about his study secrets to scoring so well on the entrance exam, Sang-tae admitted in an interview that tutoring helped him the most. At that time, tutoring was still considered taboo, and Sang-tae's interview forced his father to resign from public office. Haha.
Ji-yoon continues with Sang-tae's profile in Seok-ju's room. She tells him that he's a good friend but that they shouldn't tell him the truth yet. Another fun fact: Sang-tae has musical talent and likes to go out on audition programs. What an interesting friend.
Before Ji-yoon leaves, Seok-ju asks about Ji-won and how long she's known him. She says they met briefly at a wedding, and he happened to move in to the neighborhood. Seok-ju says that it's interesting how she could like someone she barely knows.
Ji-yoon looks like a deer in headlights and asks if it's that obvious. Seok-ju says that Ji-won probably already knows, and with that, she runs out of the office.
Seok-ju does more research on Ji-won and asks Yeong-woo about him as well. Ji-won is currently a judge and is the top candidate for the next chief justice in his region. Yeong-woo suggests that Seok-ju stay on good terms with him, as they'll run into each other in the future.
Ji-yoon is texting Mi-ri updates on her housing situation, when a crowd of elders with white styrofoam boxes come out of the elevator and enter the firm. They're the victims of the oil spill that happened five years ago, and they still have not received any sort of compensation.
At the settlement meeting, the elders demand an appropriate compensation amount since they've been suffering for five years now. Even after all that time, the seafood they catch is still contaminated by the oil, making it impossible to conduct business.
Seok-ju's team shows no signs of compromise, but Seok-ju begins to negotiate. He looks at the samples of seafood and agrees that it would be hard to do business with such contamination. He's ready to listen to more of the elders' grievances, but the clients seem frustrated and leave the meeting. The elders follow suit.
The clients come back into the meeting room to complain to Seok-ju: why is he backing down now? They request that next time, he stand his ground and get to their agreed amount for the settlement.
Seok-ju is called to Yeong-woo's office, where Yeong-woo tells him to take time off to get proper physical therapy for his accident. He tells Seok-ju that he can hand over any of his difficult cases to another team, since pre-accident Seok-ju took care of all the cases' troublesome aspects. He also hands Seok-ju a list of potential enemies that may help him figure out the cause of his own accident.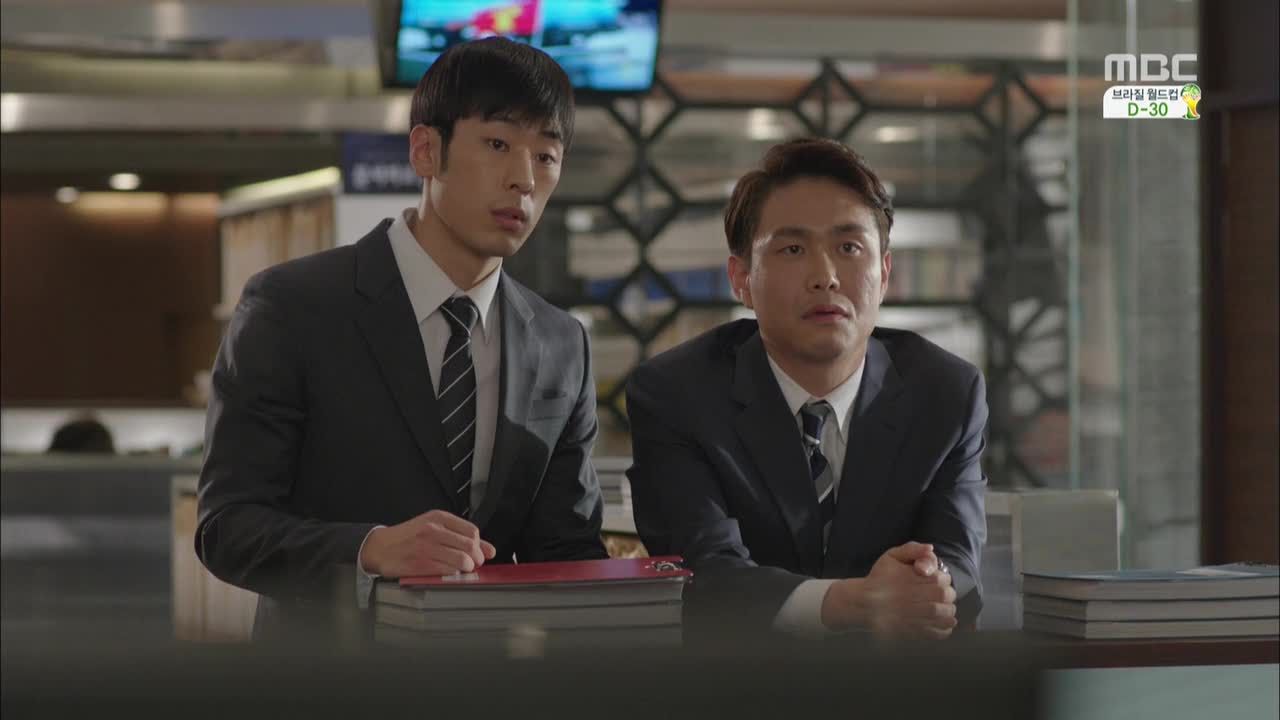 Outside Seok-ju's office, Sang-tae and an associate talk about Seok-ju's weird behavior after the accident. The associate says that Seok-ju is noticeably different, especially with his memory. And during the settlement meeting, he almost got fired by Joowon Construction because he tried to settle in favor of the oil spill victims.
Cue security guards, who run out of the firm down to where the oil spill victims have assembled a protest line with their signs and contaminated fish.
Seok-ju walks out of his office to leave the firm, and he looks quite shell-shocked. On TV, the news covers Jung Hye-ryeong's case and outside, the oil spill victims have set up a demonstration. Sang-tae and Ji-yoon follow him to the elevator, but he doesn't acknowledge them and leaves.
Ji-yoon follows Seok-ju outside, where the oil spill victims are demanding fair compensation. They start to throw the contaminated seafood, and Seok-ju's vision begins to blur while watching the scene. Clearly shaken, Seok-ju walks away, Ji-yoon on his tail.
Yeong-woo also comes down to check out the scene and sees Seok-ju walking away. He goes back up to the firm and calls Team Leader Kang to his office. When Yeong-woo initially asks Team Leader Kang to help out with the Joowon Construction settlement case, he refuses, saying his team is already busy on their own.
But when he clarifies that Seok-ju will be dropping the case, Team Leader Kang jumps at the opportunity and says that he'll handle the case; that case will bring him the big bucks.
The associate who has been on this case watches this change of leadership happen and reports to Sang-tae and Ji-yoon. Now Sang-tae is convinced that Seok-ju has some terminal illness. There's no way he would have dropped a case that would make him this much money. Ji-yoon listens and nervously drinks her coffee.
Team Leader Kang approaches Ji-yoon and tells her to take good care of Seok-ju. He goes on and on about how he's totally willing to take any more of Seok-ju's cases while getting blank stares from them. He's in such a good mood that he brushes off the oil spill victims' demonstration outside and decides to treat everyone in the office to coffee.
Referencing the case, Sang-tae notes how the person who won the lottery just can't hide his happiness. Ji-yoon takes this literally and seems fascinated that Team Leader Kang actually won the lottery. Sang-tae looks at her with disbelief. Haha.
Seok-ju goes to the police station to drop off the list of possible suspects for his own accident, which is quite long. The police officer comments that he must have been a pretty good lawyer, seeing that he's got a long list of potential enemies.
As Seok-ju exits the station, Hye-ryeong is escorted into a police van. As the van passes by him, he notices Hye-ryeong in the car and seems troubled.
Seok-ju drives over to his father's house and tries to take it all in. It's his first time seeing his father's house, so he takes his time observing the place.
Inside, Seok-ju's father seems to be waiting for his son, but he gives up and turns off the lights. Seok-ju is about to call his father when he sees the lights turn off, so he turns around to head back. It's a quite melancholy scene.
Yeong-woo gets updates on Jung Hye-ryeong's murder case and is reassured that it won't have any lasting impact on the firm. There's clear evidence – her DNA found under his fingernails – but there's one problem: Hye-ryeong won't admit to committing the crime.
At the prosecutor's office, Hye-ryeong answers the questions about the day of the murder. She says that she went to Park Dong-hyun's house to collect her belongings and ran out when she heard a voice. She says she went to a park and insists that she did not kill him. The prosecutor says that there's clear DNA evidence, so she'd better tell him the truth.
Seok-ju goes to the hospital for his therapy, and the nurse greets him as Myung-nam (ha, the name he first gave himself). He smiles and says it's nice to be recognized and feel like you actually know people. Aw.
On his hospital bed, Seok-ju looks up his father's profile. Looks like he was an esteemed figure in law, as he was both a long-time judge and also a human rights lawyer.
Seok-ju gets calls from both Ji-yoon and Sang-tae but ignores them. He then gets a text from Ji-yoon about one of the elderly oil spill victims jumping out of the building, but he throws his phone to the side and tries to ignore it.
At the firm, we see that the elderly man jumped out of one of the windows in the building and landed on top of a car. He's seriously injured, and as he's transferred into the ambulance, the firm employees rush out. Ji-yoon look visibly shaken as does Sang-tae, who asks about Seok-ju's whereabouts.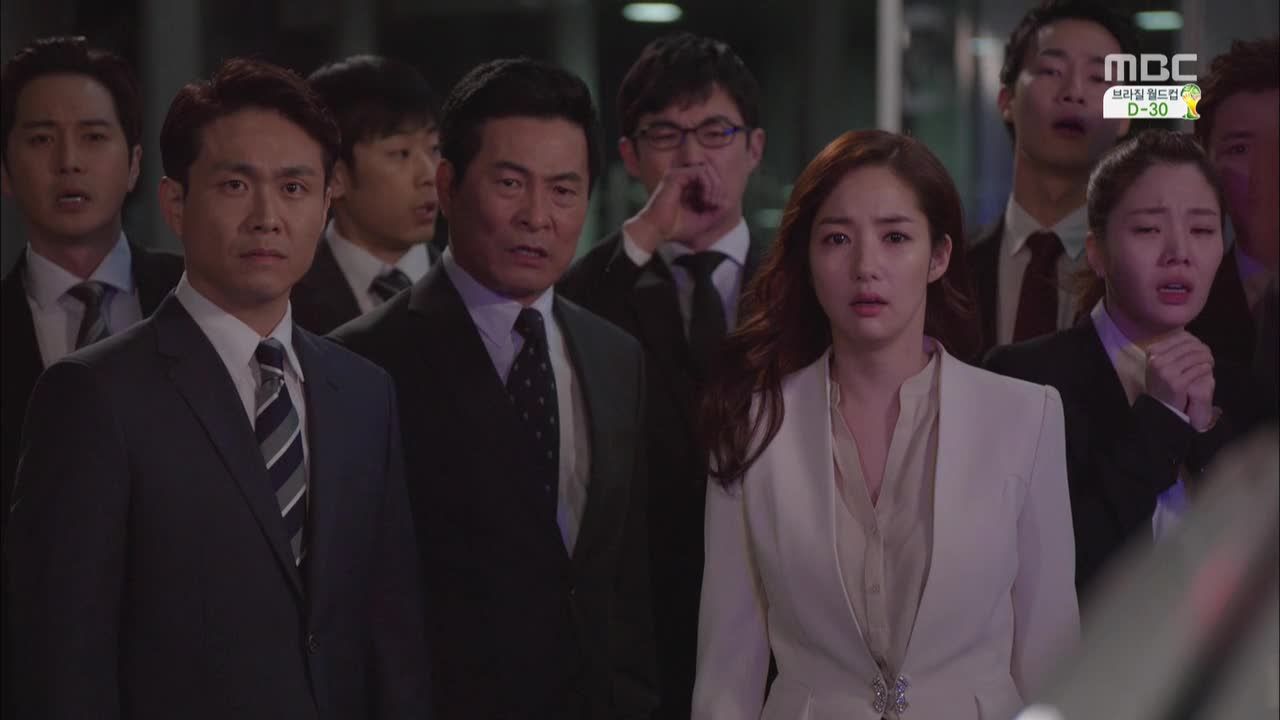 In the back, Yeong-woo watches the scene, and his assistant says that he'll try to handle the situation as quickly as possible.
Back at the hospital, Seok-ju has a visitor. It's the elderly woman he helped during his hospital stay, and she says that her husband is doing well thanks to him. She hands him an energy drink as a gesture of sincere thanks, and Seok-ju smiles.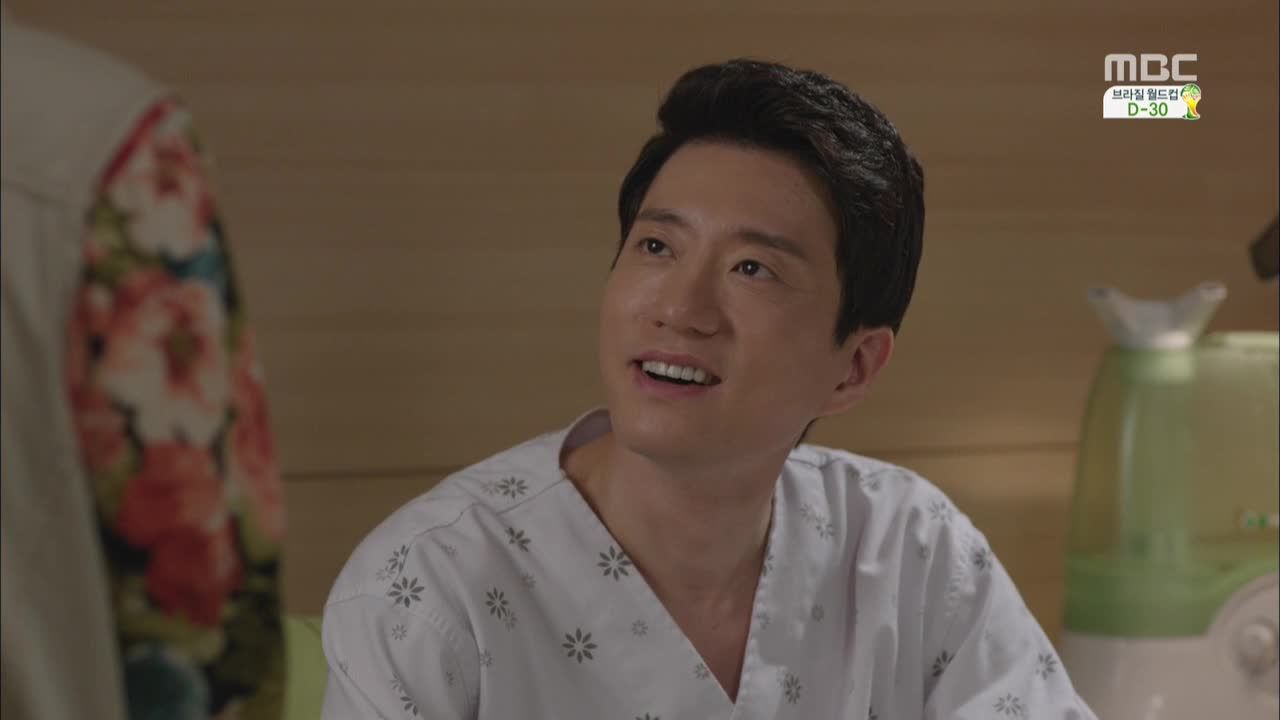 After she leaves, Seok-ju has another visitor. This time it's Ji-yoon, who runs in on the brink of tears. She tells him about the elderly oil spill victim and how he's in critical condition now. She also tells him about how Jung Hye-ryeong is going to plead innocent.
She expects some sort of reaction, but Seok-ju takes the news as casual information and says that both cases are out of his control now. He tells her that he's tired and asks the powerless intern to leave.
But once Ji-yoon is out of the room, Seok-ju opens his eyes with a worried look. He can't seem to let go of his guilt.

COMMENTS
I'm liking the gradual progression of Seok-ju's character, and it seems that he's changing bits of himself as he discovers his old self. It's clear that he doesn't approve of his past self – he's almost disgusted by how inhumane and uncompromising he was – and it's intriguing to see the slow but sure changes in his new amnesiac self.
I'm glad we got less of the heavy legal action this episode because sometimes it can seem a bit too much. I understand the purpose though. The legal proceedings and the their directions can tell us quite a lot about Seok-ju, as they are inherent to his character. But with less of that, we were able to focus on more characters and the significant character developments. Like Sang-tae. I'm loving his humor, and now we know more about his connection to Seok-ju. He brings a lightness to the drama but not in a distracting way. I love that his whole life – his divorces and his slip-of-the-tongue interview – has always been driven by his light and humorous personality, and he's definitely consistent with that in his current interactions at the firm.
I'm still on the fence about Yeong-woo, though. I can't really tell if he's important enough in Seok-ju's life and whether or not he wants Seok-ju to recover his memories. Is he scared that his memories won't come back or will come back? I'm wondering if Seok-ju knows something he isn't supposed to, and Yeong-woo needs to confirm that he won't be a threat to his empire, the firm.
But back to our man Seok-ju, I'm enjoying the lengthened scenes that express Seok-ju's emotions and thoughts even without dialogue. You can see what he's feeling on his face, whether it's confusion, regret, wonder, or shock. No dialogue is necessary. One great use of this was with the father's house scene. The show takes its time to develop the scene and allows us to visually see what he's feeling without words. It's interesting to see the unfamiliarity he has with the house, and I wonder if he had that same feeling of unfamiliarity even before his memory loss.
I also found it interesting and ironic that the only place Seok-ju actually smiles is at the hospital. And I mean genuinely smile. It's kind of the place where he could have a sort of fresh start without baggage from the past. These people don't know what kind of person (or monster) he used to be, and he seems genuinely thankful that these people recognize him as a helpful amnesiac lawyer rather than a mechanical lawyer shark. It's heartwarming and tragic, but I like how the hospital and its people act as a sort of sanctuary for Seok-ju.
Oh man, and this show is being so stingy with the Ji-won scenes right now. We need more of him. I mean, every time he makes an appearance, all I remember is his impressive and sexy low voice. I know this show likes to take its time, but I need more than a voice.
And last, I know purplecow mentioned this in the last recap, but where is the dog? This is like the unintentional but intentional cliffhanger that's making me want the next episode. Seriously dog, where art thou?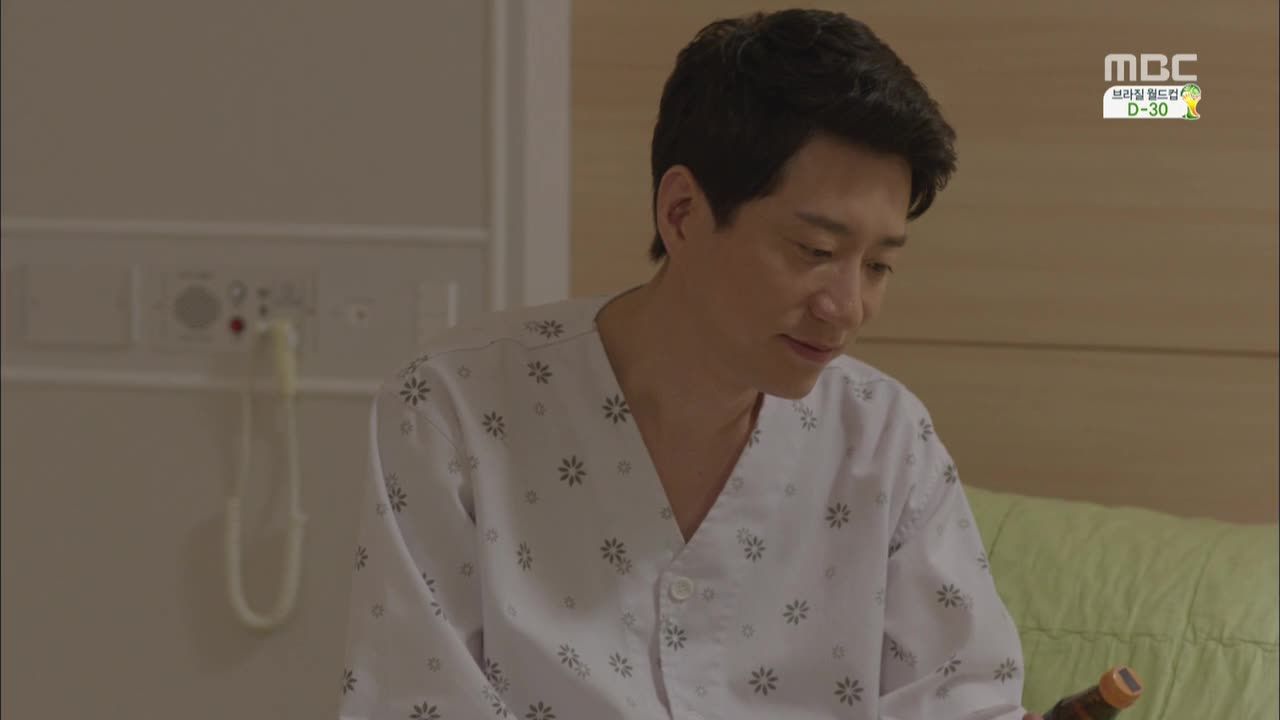 RELATED POSTS
Tags: A New Leaf, featured, Kim Myung-min, Kim Sang-joong, Park Min-young