Doctor Stranger: Episode 7
Huzzah! It's the return of dark Hoon in one fantastic hero-driven hour as he battles both demons and diseases that depend more on his guts than his genius. Even with a surgical competition over who gets to operate on the corrupt politician looming over everyone's heads, our doctors still have time to mull over questions of love and destiny. And although we learn the events surrounding how Dad and Hoon were sent up North in the first place, an interesting twist throws a wrench in the puzzle.
Numbers pulled back up for Doctor Stranger as this episode hit 13.1% in ratings. Big Man reached double digits with 10.3%, and Triangle trailed behind with 6.7%.
SONG OF THE DAY
VIXX – "기적 (ETERNITY)" [ Download ]
Audio clip: Adobe Flash Player (version 9 or above) is required to play this audio clip. Download the latest version here. You also need to have JavaScript enabled in your browser.

EPISODE 7 RECAP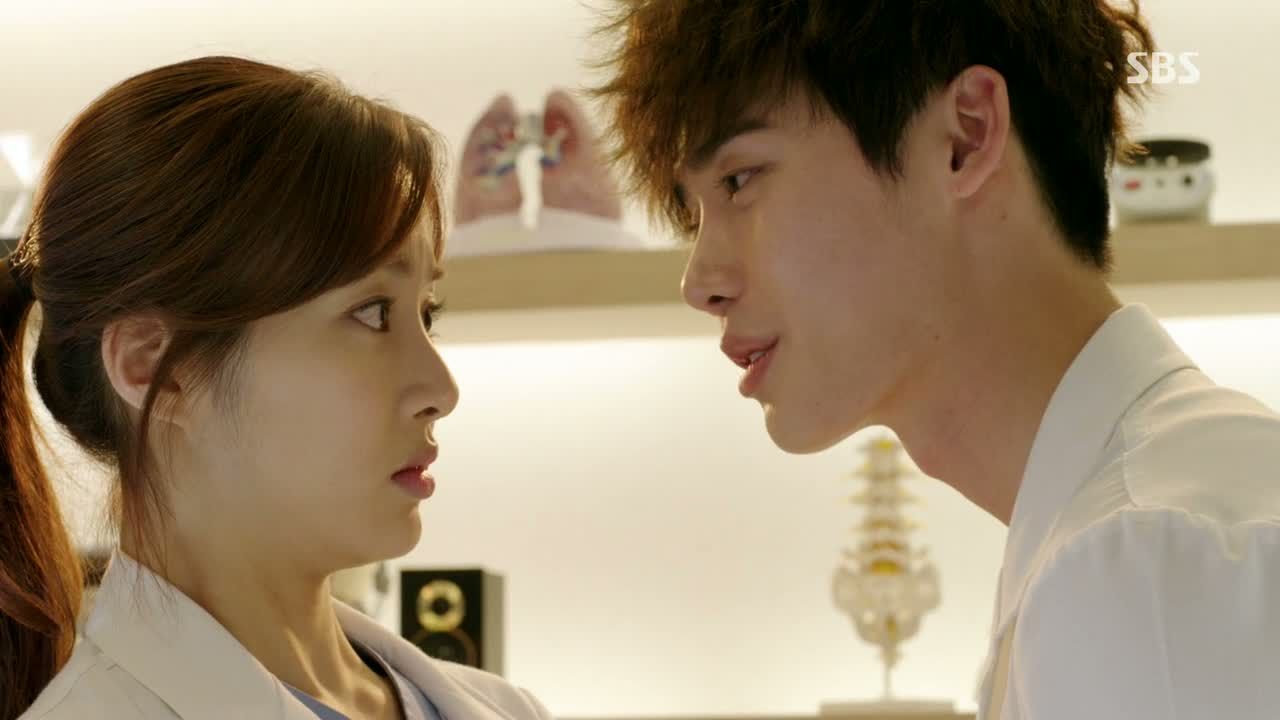 Enveloping Seung-hee in his arms, Hoon listens to their heartbeats in hopes that they're synchronous. His eyes fly open just as Seung-hee pushes him away and stalks off. He's definitely realized something; we just don't know what yet.
Called out on his brash act, Hoon explains how there's only one other person in the world whose heart perfectly beats in sync with yours—your soulmate. Soo-hyun momentarily buys into the idea, thinking of Jae-joon… and then Hoon laughs, saying that he was just pulling her leg. Even if destiny exists, it wouldn't be with Seung-hee. I can't tell whether you're lying or not.
Soo-hyun freezes when Hoon draws near, asking teasingly whether she might be his soulmate then. He pulls her into a hug to check, only to be pushed away and get slapped in response. Ow.
He runs ahead of her to offer Seung-hee a deep apology, telling her that he mistook her for someone else. He's told to behave accordingly before all of them are called into the ER.
Meanwhile, Doctor Moon tapes up the medical records as good as but not really new. He figures they've already proven that Seung-hee isn't a spy, only to be reminded of his own naivety because the CT scans could have easily been fabricated.
Things aren't looking good for the pregnant patient, whom Hoon identifies (thanks to his genius) has a pulmonary laceration. The patient is losing blood quickly, and they have to move quickly to prevent further harm to both the mother and fetus.
As Hoon operates, Doctor Moon says it's a pity that Seung-hee's a spy since her remarkable celerity would make her a great addition to his surgical team. Doctor Yang asks what that means. Once he's filled in, he's happy to offer his suggestions in exchange for a raise, and then says all they need to do is have her take another CT scan. Doctor Moon is all, D'oh!
We jump back to the operating theater where Hoon gives Seung-hee a hard time when the patient's blood pressure suddenly drops. He doesn't buy her excuses, and Soo-hyun has to tell him to back off—it's unfair of him to get angry at Seung-hee just because she isn't who he was looking for.
But Hoon tells her to focus and decides that they may as well and perform a cesarean now. The remainder of the operation is a success, even delivering a pair of gummi babies. Double Mazel tov! Also, I guess everyone who performs a successful operation in that theater gets a round of applause.
As the patient is taken away, she softly reaches for Soo-hyun's hand in gratitude. Jae-joon finds Soo-hyun smiling over how wonderful it feels to do something good for their patients in their line of work. His devil advocate perspective doesn't wipe the smile off of her face as she says how great it is to work with Hoon.
She smiles proudly at Hoon when he saunters over, and Jae-joon grabs her before she leaves to remind her that she's his first mate on his surgical team. The boys even exchange a smile, though Jae-joon's tiny smirk disappears once Hoon is gone.
Hoon is stopped in the hallway by Doctor Moon, who'd like to add Seung-hee to their surgical team, but he's still absorbed by his "she could be a spy" theory. It would be great for Hoon if Seung-hee actually is Jae-hee, but then that would make them both North Korean spies. "Or are you not one?" Doctor Moon asks.
Hoon says they've already confirmed Seung-hee's medical charts which state otherwise, but Doctor Moon is convinced that those could be faked, so today's the day to be positively sure. Hoon shrugs in response.
Turns out Doctor Moon had pulled strings beforehand, having ordered that Seung-hee's results be handed to him directly. She isn't happy about getting checked out again, but undergoes the battery of tests anyway. Hoon asks if they won't be arrested for this, too, but Doctor Moon just grumbles that he won't be going down alone.
Seung-hee calls to inform Agent Cha about this turn of events, to which she's told that those would reveal her personal information. We also see Agent Cha is talking to her while standing in a spacious apartment.
She gets called away to see Doctor Moon and Hoon, and is further perplexed to hear that they want to confirm how many kidneys she has. If Seung-hee has only one working kidney like Song Jae-hee does, that means they're the one and the same. (About the whole one vs. two kidney thing: Recall that both of Jae-hee's kidneys were failing, hence the need for an organ transplant. Medically speaking, that would bring the total kidney count to three [since the docs would leave the other ones in], but would still result in one functioning kidney. If Seung-hee has two working kidneys, it'd prove she's someone else entirely.)
Seung-hee is alarmed to see her own medical results in their hands, calling the breach of privacy a serious offense. She tries to get it back, but Hoon takes her by the shoulders. Telling her to stay still, he shakes his head.
They stare at each other for a few seconds as Doctor Moon inserts the CD. Just then Director Choi bursts in, demanding the CD. But Hoon ignores the order and brings up the results on the screen. Is Director Choi looking at Seung-hee with sympathy? None of them know that Doctor Yang has seen them look through the records, and he puts in a call.
The results surprise them, and Doctor Moon sinks into his chair: "There are two [kidneys]." Seung-hee storms off, and Director Choi follows after her, offering to apologize on their behalf. She doesn't intend to let this incident go that easily, questioning how private information can be passed that easily. Among the myriad of hospital security questions we have, hon.
He urges her to reconsider, and his request is quickly followed by both Doctor Moon and Hoon. She walks away without an answer.
We get a short break to check on Chang-yi, who freely strips in front of Hoon, much to his alarm. Turns out she's wearing all of her part-time uniforms in layers and teases him with her jjimjilbang t-shirt: "Want me to show you what's under this one?" Snerk.
Hoon heads back to the clinic and places the nicked CD containing Seung-hee's test results in the drawer when Director Choi suddenly shows up. Director Choi plans to travel to China (and then North Korea) in a few days, to which Hoon tells him not to because he'll find Jae-hee on his own.
Hoon couldn't care less about what Director Choi has to say anymore, but the director is here to explain why Dad was sent to the DPRK. He hands Hoon an envelope whose contents Hoon recognizes as the malpractice suit made against Myungwoo Hospital in 1994—the one he saw lying on the dining room table all those years ago.
A lengthy series of flashbacks fills us in surrounding the events leading up to Dad's departure. As the plaintiff, Dad had told Director Choi about the lawsuit beforehand, reminding him that a patient died on the table. When Director Choi had replied anyone could make a mistake, Dad had chuckled, "Do you know why people call us doctors? Because people don't accept any errors from a doctor. A doctor handles a life."
Realizing that Director Choi still wouldn't say who held the scalpel, Dad had given that surgeon a word of warning: to feel the great burden of wearing a doctor's coat. Then Director Choi had sought to claim full responsibility because it was during his surgery. Ohhh damn.
However, Chairman Oh had been more concerned about Myungwoo Hospital's future—admitting to malpractice would dash their hopes to be approved as a university hospital. Director Choi's insistence to stick to his morals only angered Chairman Oh.
And who else should be involved in these events but then Assemblyman Jang, who had taken both men out to dinner. There he had offered a plan to make everyone happy: North Korea is in need of a surgeon, preferably a free agent who isn't affiliated with Myungwoo Hospital. That's where Park Chul (Dad)'s participation comes in because Myungwoo would avoid a malpractice suit if the plaintiff is mysteriously gone.
We replay the events of Episode 1 as Dad is told about Leader Kim's heart, and after Mom refused to look after Hoon, Dad had called Director Choi for a favor. Then Director Choi had turned to the then-Assemblyman Jang, while lying on his hospital bed, had assured the man that he'd take responsibility for both Dad and Hoon.
Hoon calls bullshit on that promise. "Responsibility for what?" He also counter-argues Director Choi's claims of working with the politician to retrieve him and Dad to no avail by pointing out that he and Dad were sent to die. That's news to Director Choi, who supposes Hoon was fed lies in the North. Says the far too naive hospital director.
But Hoon roars that he heard it with his own ears. Director Choi says Hoon can be his own judge, but they had to stop an imminent war. Hoon replies frankly that it was just a doctor who went to save a patient. "And you people just used my father."
"Because of your greed, my father and I were sent to the North… and were abandoned like garbage." Hoon says haltingly, barely containing his anger. "Do you have any idea what it was like for us to live in that strange world?"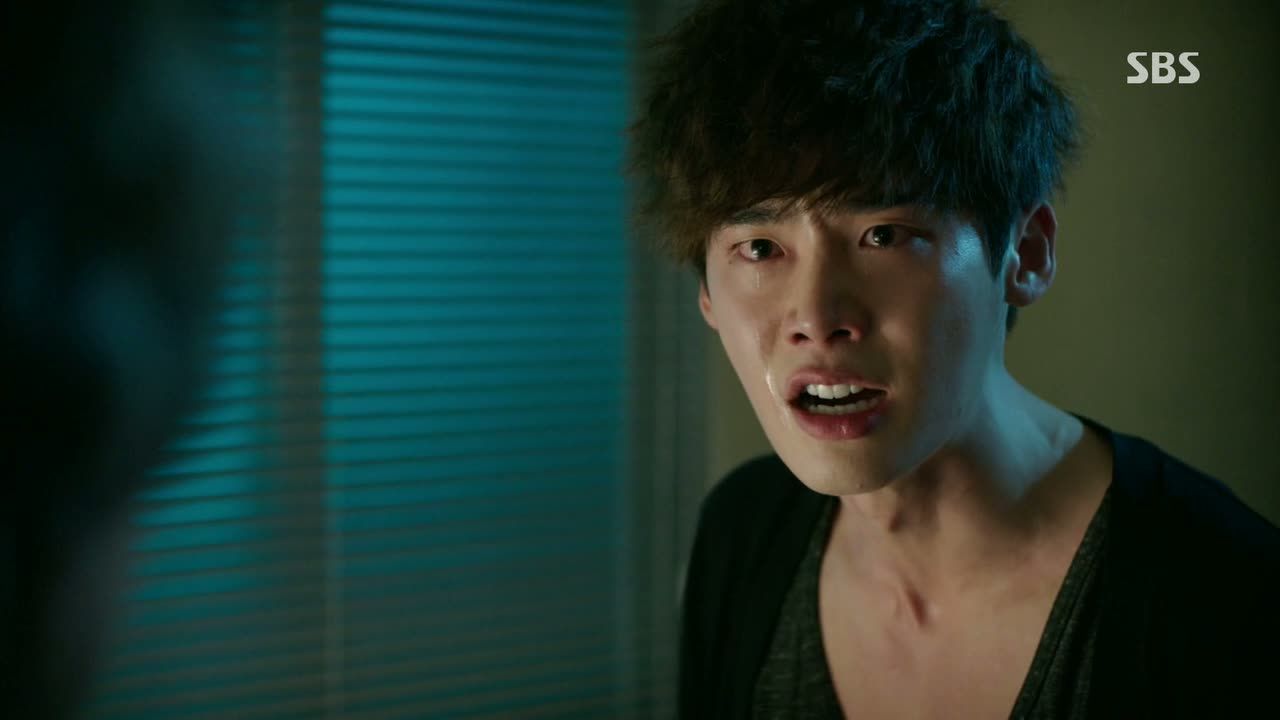 When Director Choi points out that Dad raised Hoon to be a doctor anyway, Hoon asks, offended: "A doctor? Do I look like a doctor to you?" That final statement is what finally breaks Hoon, because he was taught that a doctor doesn't kill people. But Hoon had seen and experienced the exact opposite: "There… there… doctors kill people."
Angry tears stream down his cheeks as he hollers and recounts how he murdered countless people by his own hands. That's not a doctor, Hoon argues, but some crazed dog who cuts into people. The horror in his voice is absolutely chilling, and Director Choi's understanding tone is too much of a disproportionate response to my ears.
Director Choi tells Hoon to think of Dad who raised him, but Hoon has had enough: "How do you know how my father felt?" Dad had sacrificed his life so that his own son could remain as a doctor. "And what do you know of a son who feels like a worthless dog for abandoning his father?"
Putting down the parcel he'd been carrying, Director Choi says they still haven't recovered Dad's body. He leaves Hoon to open the box to find Dad's glasses and bag. The memories with Dad becomes too much for Hoon to bear, and he falls to his knees clutching his father's belongings.
Director Choi waits patiently outside until Hoon emerges to hand back the lawsuit documents. He asked what happened to the patient's family. The man died along with his wife soon after, leaving the boy an orphan, and Director Choi intends to find the child in America after he brings Jae-hee over.
But Hoon says he'll find Jae-hee himself, so he asks that Director Choi go to America and admit his wrongs.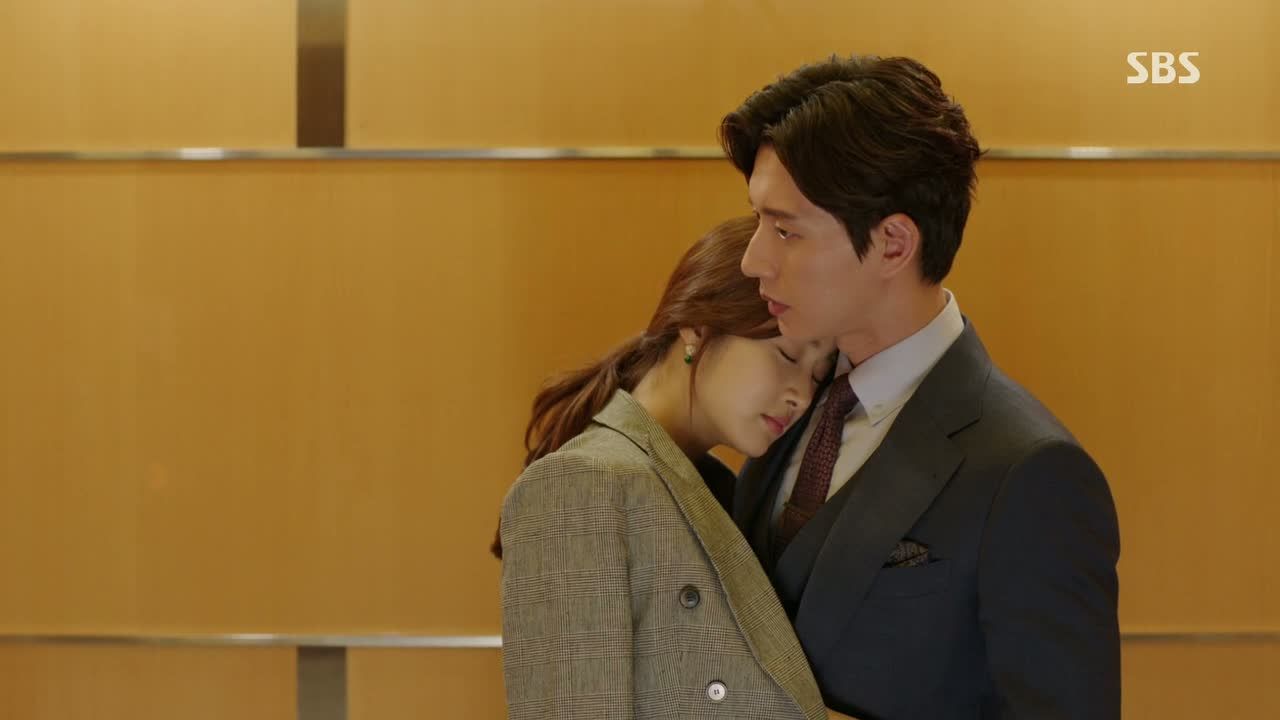 Jae-joon lingers outside of a high-rise before running into Soo-hyun outside, both been called to see Chairman Oh. As they take the elevator, Soo-hyun suddenly wraps her arms around him and rests her head to his chest. Are you listening to his heartbeat? But… you know that his heart is on the other side, right?
Once they arrive, she asks if he believes in destiny. He laughs, asking if she believes in things like that and she brushes it aside.
As they eat, Chairman Oh declares that he believes it's time the couple should consider marriage. Soo-hyun asks if her father believes in destiny, recalling how he felt towards her mother.
Jae-joon politely replies that he believes marriage is something he and Soo-hyun should decide for themselves, and the two assure Chairman Oh that their relationship is fine. Jae-joon wears an unsettled expression when Soo-hyun excuses herself after a call.
He follows after her and takes her hand to answer her earlier question: He doesn't think destiny is a concept to believe in; rather he thinks people make their own destiny. She smiles, saying that answer that befits him.
As the elevator descends, her thoughts linger back to her embrace with Jae-joon. Something about it leaves her disappointed, but recalling Hoon's hug makes her smile. She has to snap herself out of it.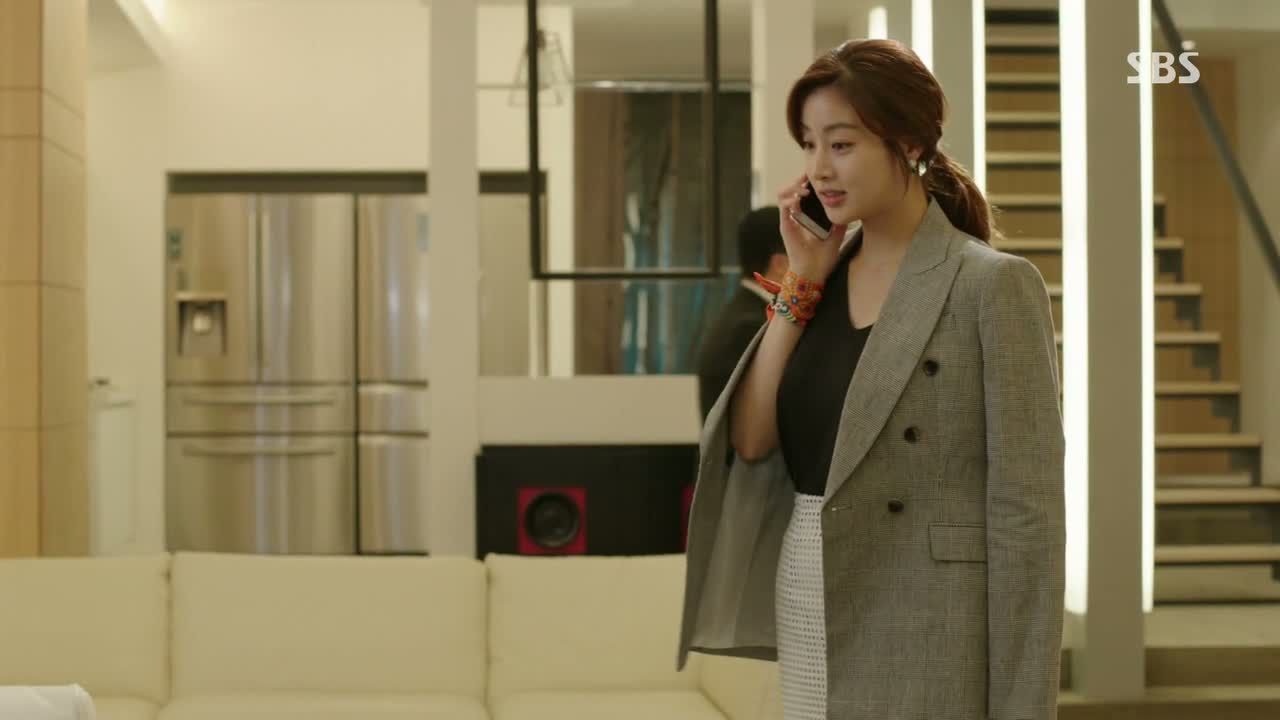 Back at the table, Chairman Oh checks if Jae-joon will take responsibility (read: intends to marry) for Soo-hyun, which Jae-joon promises. Then he declares that Jae-joon will eventually take charge of everything, including Myungwoo Hospital.
It turns out Soo-hyun was called away to check a potential apartment… the same one we saw Agent Cha in earlier. Not a coincidence, methinks. That's why she isn't at the hospital like she said she'd be, but Jae-joon is.
As he lords over his wooden collection, he breathes, "Father, Mother… I'm almost there. Wait just a little longer." Oh. My. God. Are YOU the orphan who lost his parents because of Director Choi?!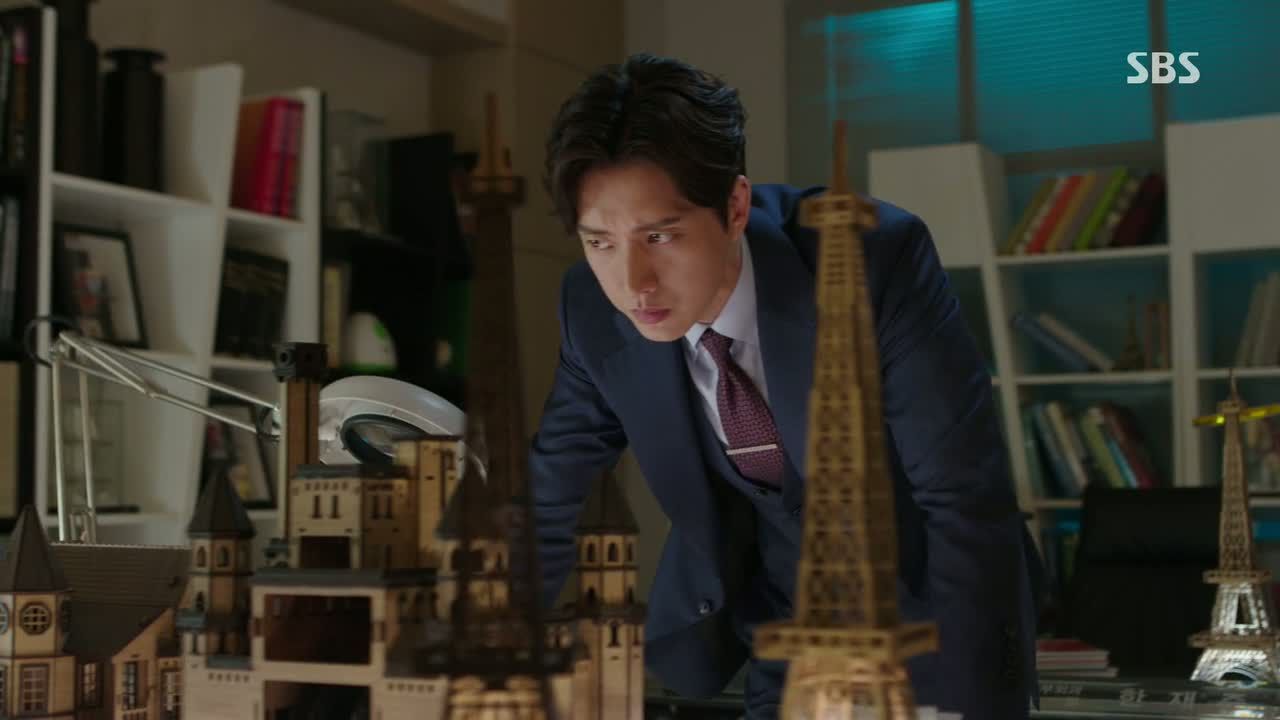 Doctor Moon makes more of a fool out of himself than usual, seeking forgiveness on one knee from Seung-hee while bearing flowers. She acknowledges that they might work alongside together on occasion, but rejects the offer to join their surgical team.
The hilarious thing is that Doctor Moon reacts like he's been rejected to his own romantic confession, and when Chi-gyu tells him to give it up now because it's been a week already, Doctor Moon tells him to worry about his own love life.
Hoon and Doctor Moon overhear the new mother of twins apologize about her rising medical costs. He tells her that being sick is nothing to be sorry about and leads her away. As he treats her, he promises to check on the twins. When Doctor Moon says that choosing their team is more urgent, Hoon counters, "What's more urgent to a doctor than treating a patient?"
Back in Doctor Moon's office, he explains that he wants to compose his own team that's better than Jae-joon's dream team since he could take back his chief of surgery position. It's his dream because his blue-collar father lived his life feeling ashamed in a doctor's presence.
His father's dying wish was that Doctor Moon rise to a prestigious position, and when Hoon jokes that mustn't be the only reason why, he blubbers that the pay's good, too. Pfft. He's determined to have the best anesthesiologist out there on their team, and that's Seung-hee.
Hoon asks why he's so hell-bent on finding the best, and Doctor Moon whispers that it's because the patient is Prime Minister Jang. Director Choi affirms it in their presence moments later, and Hoon scoffs in disbelief.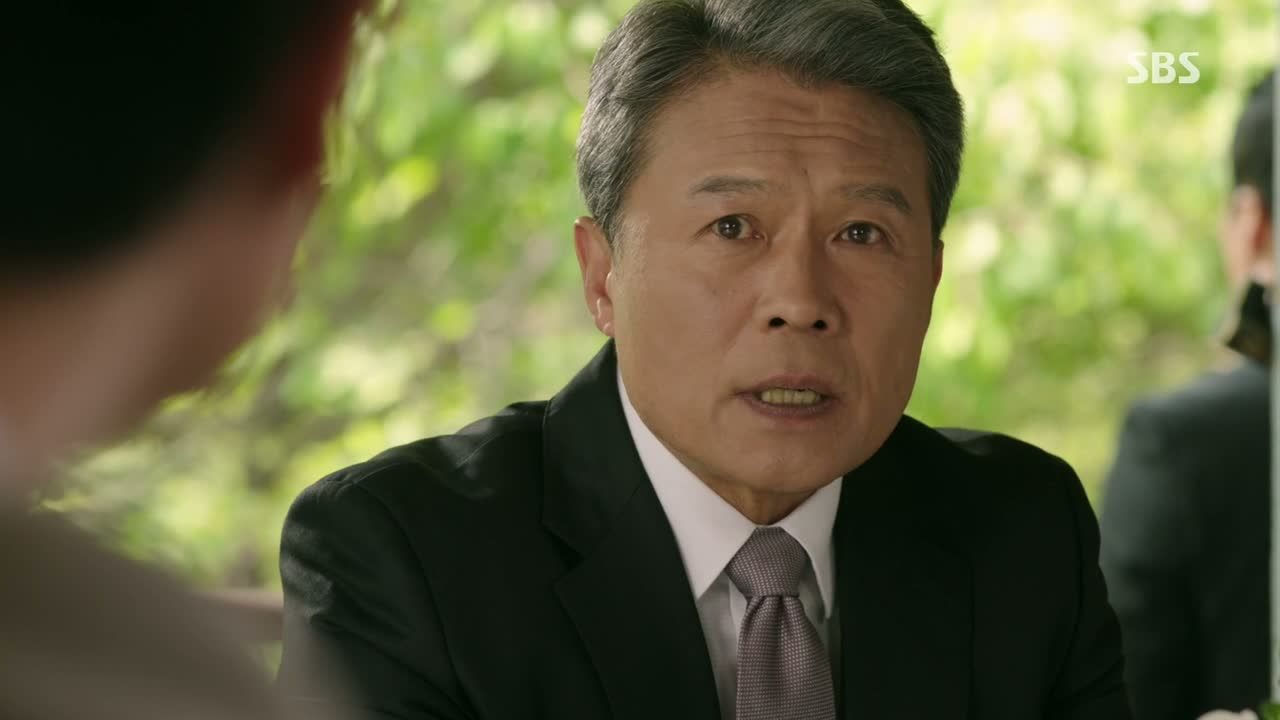 Despite Nightshade's protests that it's too dangerous, Prime Minister Jang believes it's time he meets "them" in person. Wait, those are Chang-yi's mother's charts he burned.
Then Prime Minister Jang shares a morbid joke to emphasize the need for more cardiothoracic surgeons. Nightshade announces the hospital candidates for the prime minister's upcoming surgery to their reporter guests, a list that includes Myungwoo Hospital.
Chairman Oh shares the same news to the rest of the board directors. Being selected (and a successful surgery) equals money and advertisement for the hospital, and two different teams will compete for the chance to operate on the prime minister.
Jae-joon and his dream team is a given, but the room gasps to hear that Hoon is leading the other surgical team. He's willing to give those teams a fair shot to represent Myungwoo Hospital.
Hoon doesn't buy Director Choi's reasoning that saving the prime minister could mean national recognition for him, and simply asks what truth he's trying to hide this time. "Why else would you ask me to operate on him?!" Director Choi points out that Dad saved Kim Il-sung, but Hoon snarls, "I'm not my father!"
He storms out and runs into Seung-hee. Still looking at her face, he states his refusal. He marches into Jae-joon's office and literally throws in his white coat in defeat. Jae-joon acknowledges that a competition among doctors is ridiculous, though he had greatly anticipated a match against Hoon.
Hoon is met with an alarming situation outside, as an injured nurse is led away. He follows the sound of babies crying to see the mother wielding a scalpel, threatening anyone who draws close. Doctor Yang tends to the nurse outside, warning her to be careful because they have to think of their own child. Oh, so she is pregnant?
Both twins have a congenital heart defect, which Hoon believes the mother was too poor to get checked out properly. Although surgery is risky, Hoon is willing do it. Not if Sang-jin has something to say about it though.
Sang-jin barks back numbers, but Hoon doesn't consider any of it more important than a patient's life. It isn't kicking a patient out if they leave by police escort, Sang-jin remarks. Soo-hyun joins the party at that moment, and then another scream.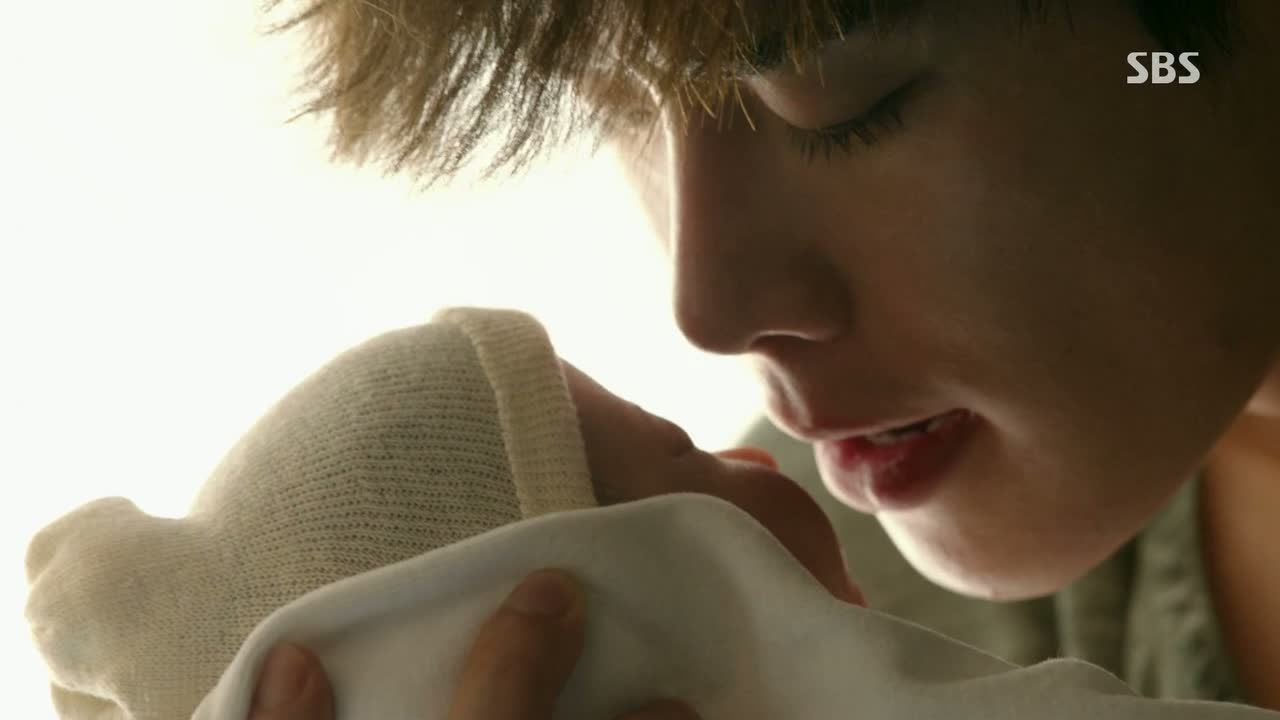 One of the twins have stopped moving, and the mother tosses aside her threats for her child's safety. Soo-hyun is sent to stop Sang-jin, and when he continues to be a douche, she grabs his tie and warns him not to mess with her.
Inside, Seung-hee says that they've lost a pulse, so Hoon starts to gently administer CPR on the infant. And then he breathes a relieved sigh when the baby's heart beats once more. He places the baby into his mother's arms and looks on as she breaks down in tears. Seung-hee puts out a friendly hand, acknowledging that Hoon's acting like a doctor.
Sang-jin pushes Soo-hyun aside to barge in, only to see the situation completely contained. Somehow, that's oddly satisfying.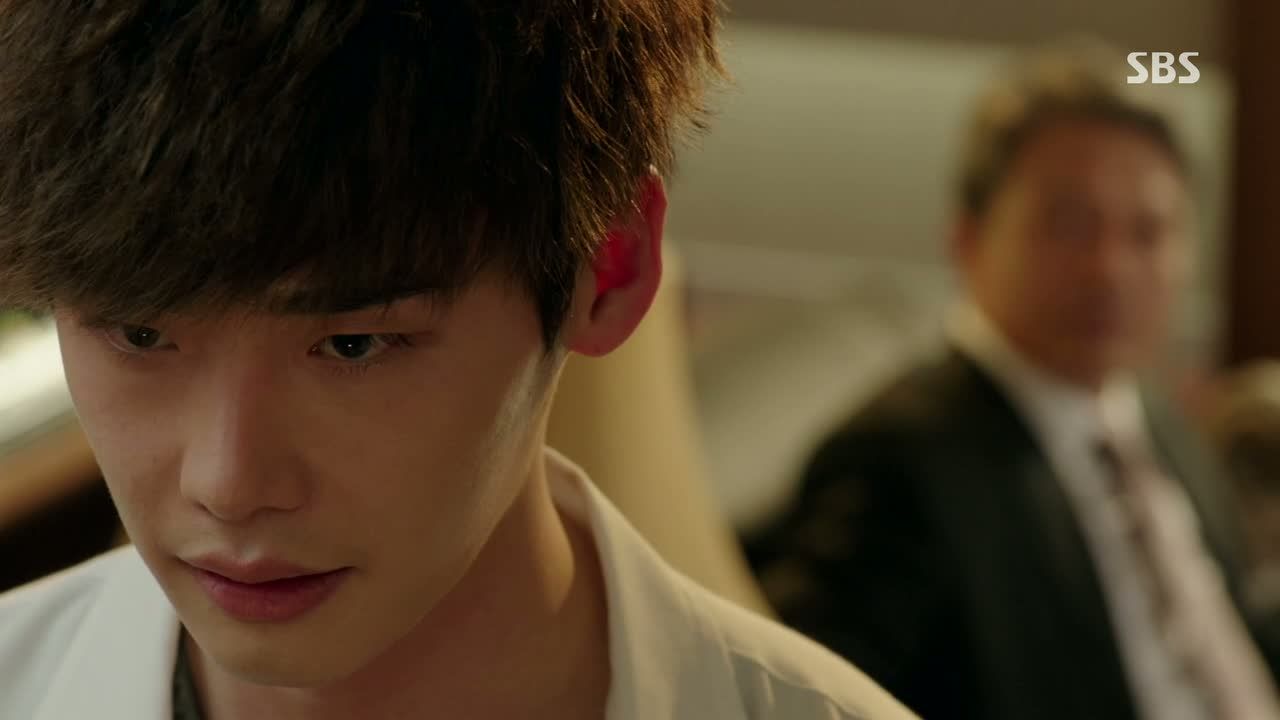 Prime Minister Jang visits Myungwoo Hospital and can't hide his disappointment to hear that Hoon has withdrawn. That's when Hoon walks in himself, here to collect his coat.
He's also here to agree to that surgical competition, on one condition: that the hospital pays for the competition's costs. In other words, cover the medical bills for the patients involved.
Hoon interprets the room's response to mean that they accept. He turns away, but stops when Prime Minister Jang speaks up. Then Hoon turns his head to smirk at the already smiling man.

COMMENTS
Even though I'm not a fan of a medical competition that gambles with people's lives for the sake of prestige and to save one corrupt politician, I am relieved that it'll provide a means for Hoon to treat his patients without them having to worry about the costs involved 'cause medical treatment ain't cheap, and surgical fees cost upwards of 500 won. Okay, that's just pocket change.
This was a fantastic episode for Hoon, especially now that we've digressed from Operation: Finding Jae-hee (temporarily). If that whole synchronous heartbeat theory is true, Hoon is the only person who knows for sure. In that sense, we can only go off of what he tells Soo-hyun (and us), and for now he's saying Seung-hee isn't Jae-hee. But more importantly, we were witness to the dark side of Hoon, whose inner turmoil was set off by what it means to be a doctor. The devil-may-care attitude he'd adopted upon living in the South had me worried, but the confrontation with Director Choi reveals what lies beneath: his tortured self for being called a doctor for murdering lives instead of saving them; to continue in this line of work for his father who laid down his life.
It's Lee Jong-seok's chilling performance that brings Hoon's rage and betrayed feelings to life—seeing the hurt plainly written on his face, hearing the anguish in his voice. Hoon's dark and rich inner character conflict is what continues to pull me in; I find it far more interesting to see these outbursts or his struggle between his reality in the DPRK versus what he sees in South Korea than any other time he taps into his genius (though, admittedly, there are times the accompanied visual effects look pretty cool. And expensive).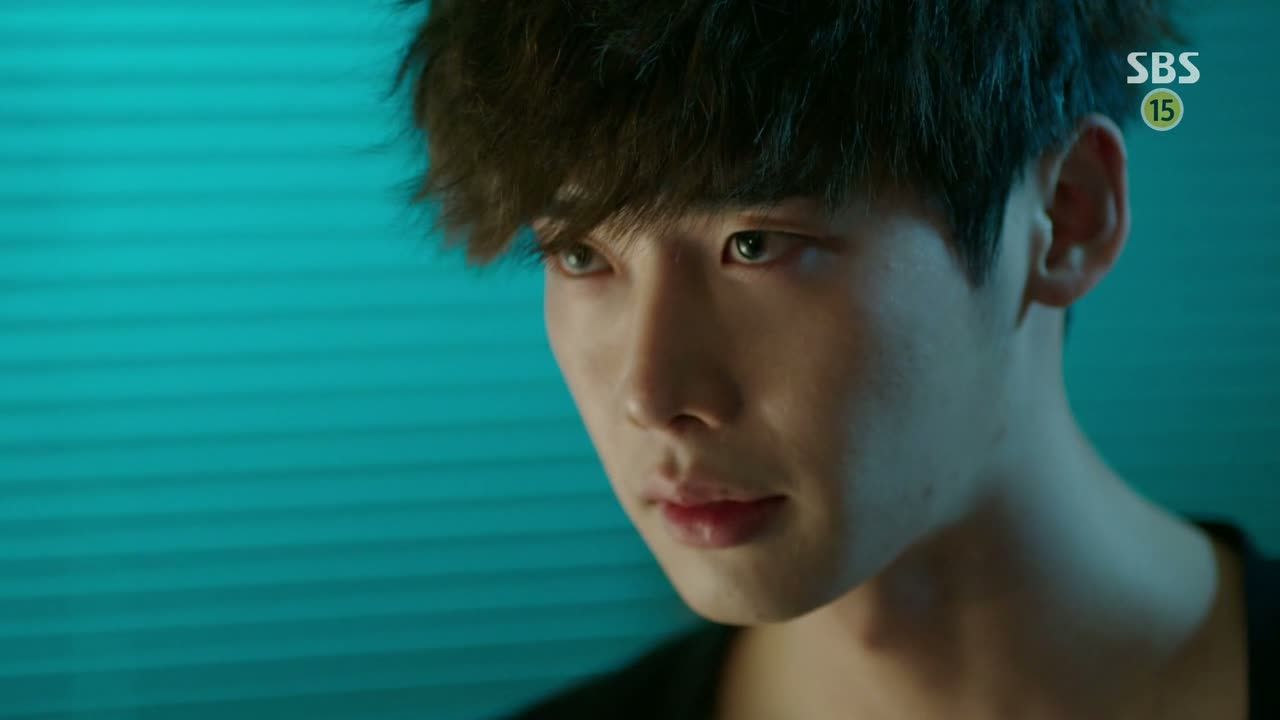 Bringing it back up to the Big Conspiracy, the show once again provides answers a few episodes too late. We saw how Prime Minister maneuvered the play to use everyone from Chairman Oh to Director Choi to Dad, and yet we still don't know how the North is involved and whatever their Top Secret Mission is. Given how the show continues to juggle a variety of things that run the gamut from conspiracy-love-story-espionage-medical-ethics and more, I'm worried that we're going to lose one of these elements because it's way too much for the show to handle. That, and you could jump to five random points in the hour and end up watching five very different genres.
Coming back to Director Choi, however, I did find his calm and too understanding response to Hoon pretty aggravating. Ultimately it was his surgical error that led to a malpractice suit that endangered the hospital's future and also countless lives, including Dad and Hoon. Okay, that sounds rather fatalistic, and to his credit, he is trying to atone for his sins in his present actions. Perhaps I'm more irritated because his character's response seemed disproportionate to Hoon's outburst, and I'd be more understanding if only Director Choi didn't have such a remarkably naive outlook on what happened in the past and present.
Then neither he nor Hoon nor anyone knows what happened to that young orphan boy affected by that malpractice suit… unless all roads lead to Jae-joon. There are enough hints that suggest that Jae-joon might be the boy from America (e.g., his past employment at Harvard), but who really knows at this point. If it's true, though, it'd be a great character turn for the ambitious Jae-joon. What a marvelous twist that would be for the already dark knight.
RELATED POSTS
Tags: Doctor Stranger, featured, Jin Se-yeon, Lee Jong-seok