Gap-dong: Episode 11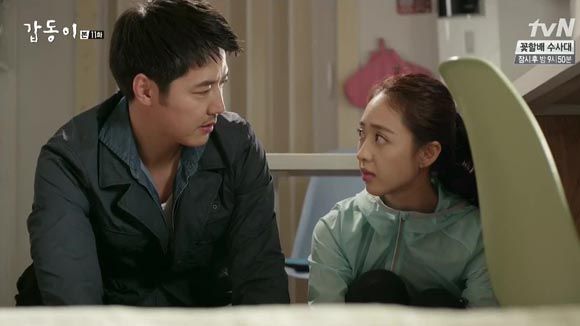 Some aspects of this latest suspect of the day play out in the expected way, but this episode introduces a big twist that could potentially be a game-changer. While I can't say that Gap-dong is full of surprises, where it keeps me guessing is in the psychology of its characters, and that ever-present cloud of suspicion that hovers over everybody's heads, much in the way that Mu-yeom views everyone in his world through a lens of suspicion bordering on paranoia. Is he just being thorough, or is he in danger of losing perspective? Or has the perspective ship long sailed for him? Even so, he may still be our best bet of getting to the bottom of this Gap-dong wheel of mystery, since as he says, you need a little crazy to follow the crazy.
SONG OF THE DAY
Bily Acoustie – "너 떠난 오후" (The day I left you) [ Download ]
Audio clip: Adobe Flash Player (version 9 or above) is required to play this audio clip. Download the latest version here. You also need to have JavaScript enabled in your browser.

EPISODE 11 RECAP
In the nightclub, Tae-oh shoves Maria down to the couch and hovers over her, warning that he hopes she won't be the woman who dies tonight. It's almost like he's treating his killing impulse as a thing apart from himself, saying that he doesn't know himself when he might strangle her to death. With that, he stalks off angrily, leaving Maria deeply shaken.
Out in the field, Park Ho-seok (aka Poopy) readies to use a hammer on Ji-wool's mother, but doesn't get to use it because Mu-yeom comes flying at him, knocking him aside. They engage in a brief scuffle, but it doesn't take much for Mu-yeom to subdue and handcuff Park Ho-seok, who is taken to the station for interrogation.
Mu-yeom orders him to explain, not swayed by Park Ho-seok's nervous trembling or flinching in fear. He looks so unlike the part of the vicious serial killer that the cops wonder about him not being the guy, and Chul-gon interrupts to order Mu-yeom out. He states that Park isn't Gap-dong, and that if Mu-yeom looks past his excitement over capturing a suspect, he'll see that he doesn't believe it either.
Mu-yeom returns to the interrogation room and locks the door from the inside, then frees Park from his handcuffs. But he looms menacingly and reminds him of his Crazy Monk reputation and slams that hammer into the table. Mu-yeom asks how Park committed his murders, then slams him to the table and wraps his wrists in a scarf—is this what he did to his victims? Did it make him feel powerful to be begged for mercy? Did it give him a rush?
This pushes Park past his fear, and something finally snaps in him. Wild-eyed, he breaks free of Mu-yeom's hold and shoves him to the wall, demonstrating that fishing knot with the scarf. "Yeah," he shouts, "I am Gap-dong!"
Park grabs the hammer from the tabletop and starts to swing it at Mu-yeom. But he stops himself, turning his attention to the observation window instead, knowing that there are people watching from the other side. Going cross-eyed with rage, he asks if the cops are having fun and smashes his hammer into the glass.
Maria's mother drops by her trailer that night, saying that she's disappointed to find Maria alone—she was rather hoping to catch her with a friend (ahem). Mom asks if Maria will move back home, but Maria answers that she knows now that avoiding things only makes things harder on her. She adds that she's not entirely alone here, and Mom perks up, asking if she means Mu-yeom.
She does, but not quite the way Mom means. She says, "Knowing that I'm not the only person who has devoted everything to Gap-dong helps me breathe."
In the interrogation room, Park Ho-seok glares into that one-way glass and says, almost as though in a trance, "This is all your fault. You began it. I lost everything because of you. At one word from you, my entire life went down the drain." He can't see Chul-gon on the other side, but he seems to be speaking directly to him.
"Before you showed up, my life wasn't this pathetic," Park Ho-seok continues, his eyes starting to well up with tears. Chul-gon replies, "Other Gap-dong suspects don't all live like you do."
Park says, "You're even worse than Gap-dong. At the very least, Gap-dong knows who he killed. But you don't even know who you killed, or how many." He accuses Chul-gon of ruining hundreds of lives by turning people into murder suspects.
Chul-gon replies, "If you need an apology, I'll do it. But what will change—in your life, or mine?" Park breaks down into sobs.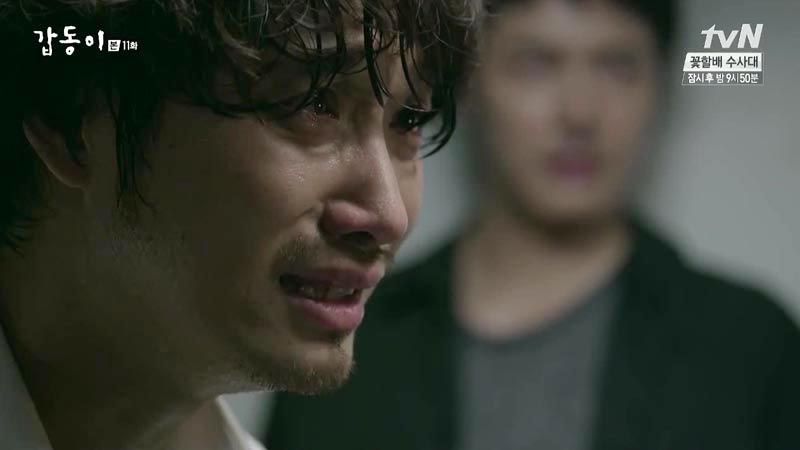 Profiler Han reviews Park Ho-seok's file, and something about it makes him take notice. He finds an old magazine featuring a profile on himself… and the young assistant at his side is a young Park Ho-seok.
Mu-yeom finds Chul-gon in the records room, brooding. Chul-gon explains that Park had been a strong suspect in the original case, and had been seen by a witness near the murder site. But Park was impotent and therefore physically incapable of raping women, and dropped as a suspect. Still, he was fired after being suspected of being the culprit, and news of his impotence had leaked as well. So when he heard that Chul-gon was coming back to Iltan to work this case, he wrote the graffiti in the prison hospital.
Chul-gon sighs, "I was the problem. Ultimately it was me who called Gap-dong back."
So now they understand that Park isn't the culprit, but Mu-yeom asks how he knew about Gap-dong's signature fishing knot. Profiler Han has the answer to that—Park learned all about Gap-dong from him.
He explains to an astonished Chul-gon and Mu-yeom about how he'd been approached by Park, who had wanted to catch Gap-dong after having been mistaken for him. Profiler Han, feeling sorry for him, and taken him under his wing. He's fully contrite now for having done damage with his good intentions, and Chul-gon growls that Profiler Han has been a key factor in several big problem spots, adding to complications rather than unraveling them.
Profiler Han says hotly that yes, he has caused problems for several people, including Mu-yeom and Chul-gon: "Anybody could become Gap-dong—like you."
The two cops tense. Did Profiler Han just make an accusation? Chul-gon presses him to explain what he means, but Profiler Han backpedals and excuses himself. Mu-yeom's curiosity has been piqued, but Chul-gon cuts him off and orders him back to work.
In the wake of Park Ho-seok's capture, Section Chief Cha calls Maria in to ask whether she can confirm his resemblance to Gap-dong. She still can't really remember what Gap-dong looked like but she doesn't think Park is the culprit. He'd began by pretending he was Gap-dong, but now sometimes slips into delusions of actually believing himself to be Gap-dong.
Chul-gon's accusations of creating problems weigh heavily on Profiler Han's mind. He broods in his office, and while he looks at the criminal psychology books on his shelves, it's the box tucked behind them that the camera lingers on.
Maria is surprised by the arrival of a moving truck outside her trailer, accompanied by one big monk and four little ones. He's surprised that she hasn't heard of Mu-yeom's moving idea, while she's surprised at Mu-yeom's moving idea.
Mu-yeom is, at the moment, taking a PPL break with wifey to buy himself and Hyung-nyun matching windbreakers, because no contemporary series in dramaland is complete without the requisite outdoorwear commercial dropped into it. Mu-yeom has put Hyung-nyun on the task of looking into Chul-gon's background quietly, but is told that there's nothing suggesting that Chul-gon could be Gap-dong.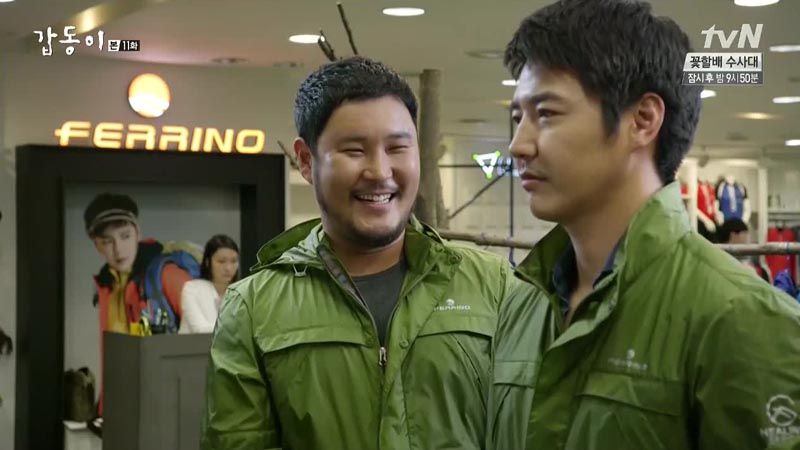 That same comment brings Chul-gon to Profiler Han to ask what he meant by saying anybody could become Gap-dong. He also asks what Profiler Han knows about the seventh murder that he hasn't told him. Profiler Han dismisses the topic, though not convincingly.
Chul-gon leaves that meeting thinking on that seventh murder, flashing back to the day it was discovered, twenty years ago. It's a rainy night and Chul-gon huddles in a spot in the woods, perhaps staking out the area as he listens to the radio to pass the time. He tenses to see a figure walking by, unrecognizable because of all the dark, heavy raingear worn—just a plodding shadow in the rain.
Ji-wool visits her mother at the hospital, and Mom is back to her cheerful spirits, looking pretty healthy aside from some bruises. Mom's had a change of heart, too, and now decides that the once-hated Mu-yeom is now "Son-in-Law" and "our savior." Her turnaround takes Ji-wool completely by surprise, but she's not about to complain when Mom urges her to go and bring Mu-yeom by, and that he's a good man after all. That's cute.
Mu-yeom arrives at Maria's trailer, and she's uncomfortable with this sudden arrangement (of the temple family using her empty building space—the quarters next to the trailer that she moved out of) and tries to pull him aside to talk it over. He turns on the charm and says that they have to move out of the temple, and says they can do all sorts of work around the place to earn their keep, like fixing things up and protecting Maria.
The little monks in training break Maria's clay bust, and Mu-yeom scolds the boys, although she tells them it's okay. He helps pick up the pieces and tells her sincerely that he's sorry, but that he felt too worried leaving her on her own. He asks her not to kick them out, because at least this way he can stay nearby.
Ji-wool calls Mu-yeom from the hospital, practically giddy that her mother finally "consented" (to their marriage, she means), talking like all that's left is for them to say their vows. Just then she catches sight of a visitor and nearly drops her phone—it's Tae-oh, here with flowers and a smile.
He says he's probably heading to Switzerland, perhaps for good, since his face has been revealed in the media and living here may be too difficult from now on. He asks her to come with him, which she initially takes as a joke, then realizes that he means seriously. She can't understand why he'd want her with him, and asks if he likes her. Tae-oh merely replies that he might need her—she could be the Sonya to his Raskolnikov. He's the killer and protagonist of Crime and Punishment, while Sonya is the young woman forced into prostitution for her family, who falls in love with him.
Ji-wool says uneasily that she's in no position to think of moving away with him, and asks why he's doing this. He says, "It's just… I think you could be a brake for me."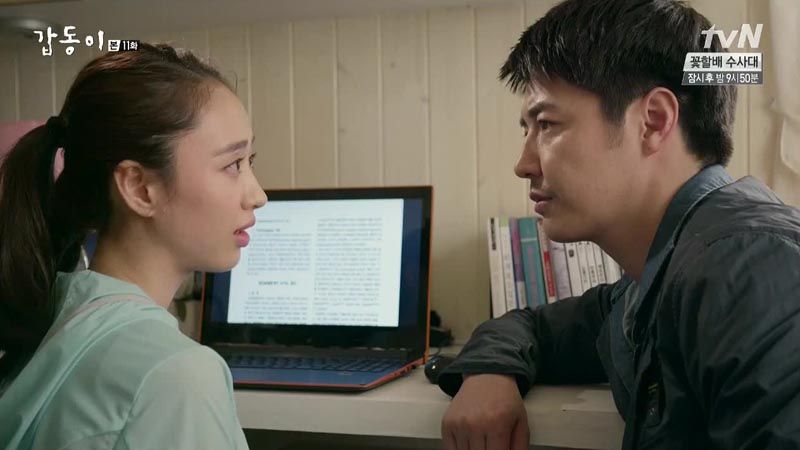 Mu-yeom settles back in Maria's trailer and asks for a therapy session, explaining that he's got this woman hanging around that he'd like to get away from. When she says (with some disappointment), "So you saw Ji-wool as a woman," Mu-yeom scoffs that he didn't mean Ji-wool—he meant several women, ha.
He refers to the woman he imagined seeing reaching out to grasp his hand, but while she looks up information on her computer, Mu-yeom is mostly just content to stare at Maria. He asks why she mentioned Ji-wool. Could she have been feeling jealousy, perhaps?
She ignores that question and suggests he get his brain checked out just in case. He says that he likes seeing the visions, because it feels like he's more effective with them spurring him on. Maria attributes that to the visions giving him more motivation.
Getting a bit more serious, Mu-yeom confides that he saw his father in Park Ho-seok, which made him feel terrible. She realizes that his trauma is being suspicious of those he loves, to which he replies, "The problem is what happens afterward—trying to cover it up. Thinking that he could have done it because he wasn't all there. But this time, I won't do that."
Maria guesses that he might be referring to the profiler as the source of suspicion, and encourages him to find out the truth. He calls her cool-headed, given that the profiler is her stepfather, but she answers that it's because she's confident of his innocence.
Just then, Ji-wool's angry voice cuts in from the yard. She'd known that the temple family had to move, but has only just found out where they've relocated, and this does not make her happy. She asks Mu-yeom accusingly, "Do you know what I gave up because of you?" and stomps off in tears.
Mu-yeom chases her down and tells her not to cry, saying that he moved here because he couldn't let Maria be on her own. That's no consolation to Ji-wool, but he explains that Maria is actually Jae-hee, aka eyewitness to Gap-dong's ninth murder. And that mollifies her, because Ji-wool can see why he'd be concerned in that case: "If it's not because you like her, I can understand." For now at least, Mu-yeom doesn't say otherwise.
That night, Mu-yeom joins Profiler Han on another fishing outing, where he asks about that "anybody could be Gap-dong" comment, and whether he thinks Chul-gon could be as well. Profiler Han alludes to several well-known killer-next-door cases, and how those culprits seemed like ordinary folk while hiding their true natures from the world. And the impulses that make Gap-dong a murderer can be found in normal people, he says. It's a convenient way to explain away his comment, but Mu-yeom presses, not buying that he was only talking in a philosophical sense.
While the monk presides over a meditation session at the prison hospital, the gossipy inmates whisper back and forth about the news that Poopy was Gap-dong. Interestingly, the stocky inmate says he's a police spy, and heard all about it when he was called to the station yesterday and all the cops were talking about it. He has his own guess about who Gap-dong really is, but the monk interrupts the gossip session so we don't get to hear it.
Ji-wool immerses herself in Crime and Punishment, and finds herself near tears by the time she gets to the end of it. (Spoiler alert: It's not exactly a happy story. It's not a typical tragic ending, but the whole thing is rather bleak, though I suppose you could say there are glimmers of hope at the end of the suffering-filled tunnel.)
She calls as Tae-oh is on his way out with packed suitcase, saying that she wanted to give him her answer: "I don't think I can be your Sonya." That means she can't be the woman who stands by his side and brings him back to redemption, but she can (as Sonya did) encourage him to confess. Ji-wool urges, "Go out in the street and shout, 'I am a murderer.' I wanted to tell you that. You can't do that, can you? And if I'm going to be brakes, I want to be stepped on by Ha Mu-yeom."
Tae-oh took her refusal gracefully, but when she mentions Mu-yeom his face hardens, temper seemingly provoked.
Despite knowing that Tae-oh is a flight risk, the authorities run into trouble getting him on the no-fly list, because he hasn't officially been charged with a crime. Mu-yeom has a fit at the station and then discusses it with Maria, only to have Tae-oh drop by to see her before he leaves.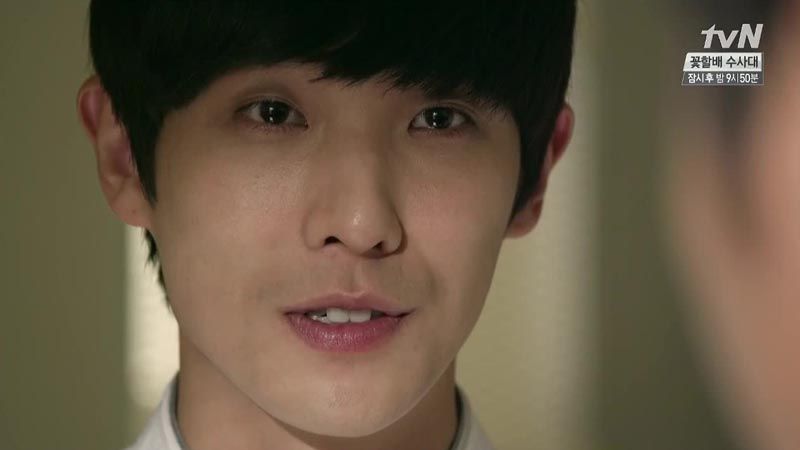 Mu-yeom asks whether Tae-oh wants to find the real Gap-dong and not a mere phony, and warns that he'd follow him to hell to catch him. Tae-oh just laughs, repeating something that Poopy always used to say—that with all those officers on the case, he couldn't understand how Gap-dong wasn't caught. Now he understand how he felt.
Mu-yeom prods, saying that Tae-oh must feel upset at leaving the fake to deal with such a heavy price, which seems to strike a chord within Tae-oh. But he retains his outward display of nonchalance, saying he's no longer all that interested in Gap-dong. He just dropped by to say goodbye to Maria and wish her well.
Mu-yeom points out that Tae-oh won't find it easy to stop his murderous urges, saying that he'll be on hand to come after him. Tae-oh says that won't happen, adding, "You saw yourself how I wanted to stop myself. See? I can stop."
Mu-yeom wonders if that's true, looking not at all convinced.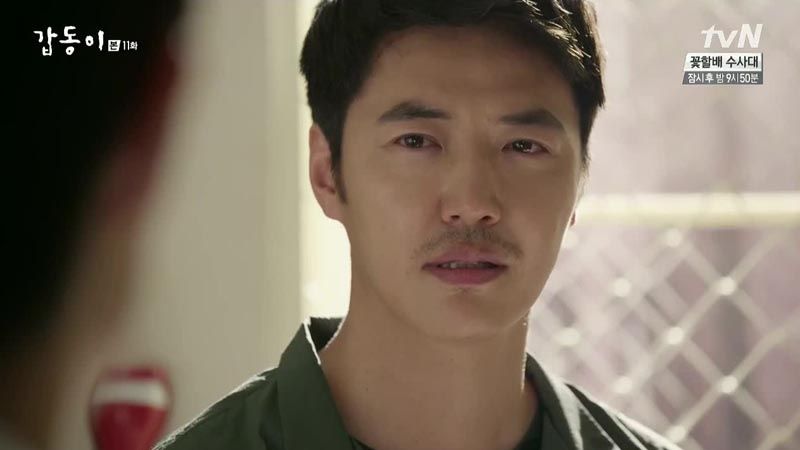 Ji-wool gets a job acting as guide at the police station and takes to it with alacrity, all enthusiasm and cheeriness. It's not lost on Officer Young-ae that she's here to keep an eye on Mu-yeom, and Ji-wool doesn't even hide it.
Mu-yeom, meanwhile, asks to look into Profiler Han's old file. He's told there isn't going to be much since he's been out of the department for a while, but Mu-yeom is keen to find any kind of information that might be helpful.
Tae-oh boards his plane, where he runs into two people of interest: One is a flight attendant who recognizes him, whom Tae-oh overhears talking on a phone call about how she's sure he's the infamous killer and how it was terrible to see him. The second is a middle-aged passenger who watches him closely, then looks away quickly when Tae-oh sees him. None of this is lost on Tae-oh.
Mu-yeom gets a file on Profiler Han dating back to 1996… which includes an accusation by a child victim's parent of inappropriate contact while he was taking her statement. The victim stated that he'd held her in his lap, and initially she thought it was just friendly contact but later realized it wasn't. There's a note suspecting him of having a sexual interest in children, potential symptoms of Lolita syndrome.
He shares this with Chul-gon, who doesn't believe it for a second and says it's a false accusation to extort money from the accused. He also notes that Mu-yeom's suspicions are getting extreme, which Mu-yeom acknowledges freely—his growing desire to nab the criminal is making him extra-suspicious of everyone. He doesn't even give that report serious consideration, but still believes he should be digging into Profiler Han and those around him, to find out what he meant about anybody becoming Gap-dong.
Mu-yeom points out that the statement is strictly true—but was Profiler Han's reason for saying that so simple? Or did he have deeper suspicions? It's his duty to find out.
During his flight, Tae-oh thinks of recent encounters—of Poopy not being the real Gap-dong, and Maria taunting him for having such a pathetic hero. Uh-oh, looks like he's not so in control of his impulses after all, from the way he struggles to keep his composure and breaks out into a sweat. Finally he can't contain it anymore and bolts up in the middle of the flight. Most of the passengers are asleep, and sweeps aside the curtain to corner that gossipy flight attendant. Fade to black.
The next thing we know, she's crumpled in a heap on the floor.
Despite his initial reaction to hearing of Profiler Han's old case, Chul-gon can't ignore it and convenes the police brass to confirm it. They listen to a recording of the child's testimony, and the other officers bark that this is not something Profiler Han would ever do. But it's still a problem, that they put the case into the hands of a potential child molester, and merits further inquiry.
Tae-oh is back in his airplane seat when the woman's body is discovered, but he doesn't look much calmer for it. His hand trembles and he slams his fist down in frustration.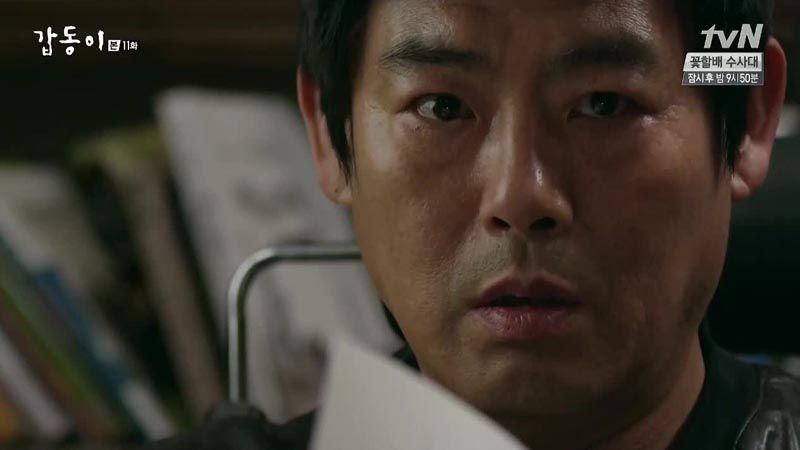 Chul-gon leads a team of detectives in searching Profiler Han's office. Mu-yeom argues that he wouldn't have kept anything important in his office, but then he spots that box tucked into the bookcase and pulls it out. Inside is a bloodstained police badge, which makes his eyes widen in alarm. Slowly, Mu-yeom tucks it into his pocket unseen and exits. Chul-gon is distracted by another discovery—a file on himself.
Mu-yeom calls into the station to check into the badge, running the numbers in the database to find who it belonged to. He heads home to find Maria fixing up the children's new room, and forces a light tone when she sees him. He steps aside to take a call from Young-ae regarding the badge number, and asks if it was Profiler Han's.
As Mu-yeom waits expectantly to hear the answer, Chul-gon walks by as Young-ae is talking to him and listens in. She confirms that it wasn't Profiler Han's badge, but Chul-gon's.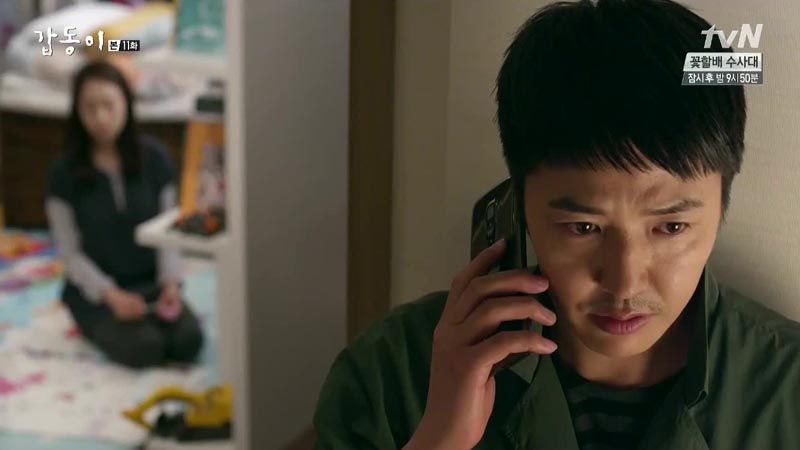 COMMENTS
Wait, WHAT. Why would Profiler Han have Chul-gon's badge, and why is it bloodstained, and why wouldn't Chul-gon know about it? And even if there's a reasonable explanation for having a badge that doesn't belong to him, why would he hang onto it instead of report it or return it?
The thing about Gap-dong is that the questions it raises are often much more twisted and dark than the answers the show actually provides, so I'm pretty sure my knee-jerk reactions are pretty much over the top and unwarranted. (Like, say, the possibility of Chul-gon having died, and the one we know not really being Chul-gon. If this were a twistier show, I'd be itching for that to be the direction we take, but it seems a little convoluted for a show that has been, till now, rather straightforward with its crimes.) And admittedly some of the theories I've read in all your comments are much more intriguing than what I think will actually happen. So I expect that the true explanation will be logical and maybe less interesting, but nevertheless I'm curious to see where they take this.
Considering that the identity of the present-day murderer hasn't been much of a question mark, I appreciate that the show is at least weaving a mystery out of the original Gap-dong's whereabouts and why he's lain dormant for so long. Furthermore, it's raised the interesting conundrum of a hunt for a criminal actually provoking more criminal activity, like your worst example of creating your own problems through the process of trying to prevent them. It's positively Oedipal, which I find a nice narrative twist—this idea that their dogged pursuit of the criminal is just provoking the copycats.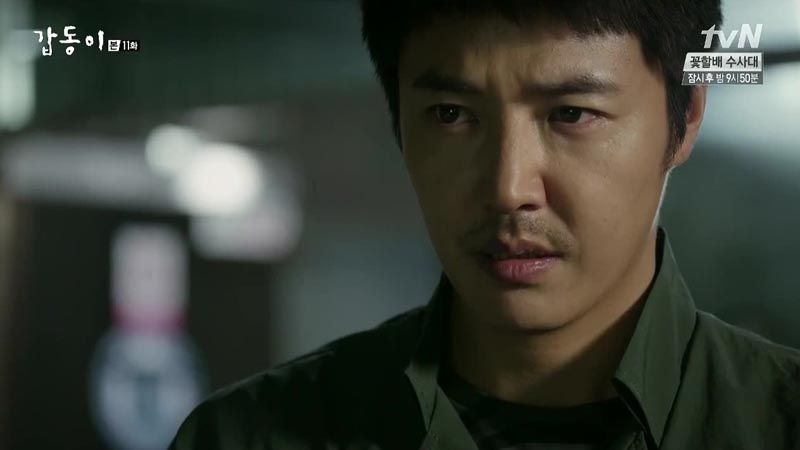 I'm not sure if I find Tae-oh's trajectory more or less interesting with this latest turn, because Crime and Punishment seems like a flawed symbolic comparison to draw to a copycat killer. Perhaps you'll disagree, but I think there's a world of difference between the morality of a man who kills multiple people out of boredom/curiosity/hero worship and feels no remorse over his actions, and the man who (however misguidedly) believes himself to be ridding the world of a terrible human being who preys upon people (thereby making himself a vigilante hero of sorts).
Granted, Raskolnikov suffered from delusions of grandeur, in the sense that he believed himself to be so above the rest of humanity that he was exempt from the laws governing the ignorant masses. And yeah, he did murder a person, and I do think we're meant to hope for him to find some kind of remorse and rehabilitation by the end of the novel. But the circumstances are so different between the two killers that I find it totally off-putting to put Tae-oh in that weird romantic light leading to potential redemption. It's apples and oranges, if apples and oranges murdered people.
But literary references aside, I find it interesting how Tae-oh keeps fishing for reasons to attribute his villainy to others. He tells Maria not to provoke him, speaking as though he has no control over the murderous part of himself. I'm not sure if that's something that has changed about him because I'm pretty sure that's NOT how he was portrayed at the outset—he was certainly in full control of himself when he killed the straw artist, and the hairstylist, and the cake-carrying woman. Is his contact with Maria (and perhaps also Ji-wool) changing his impulses so that he feels less in touch with that murderous side, or is the show trying to paint him in a different light now? In any case, he does the same thing with Ji-wool, putting the hope of his salvation into the hands of other people. It's their responsibility to stop him, not his to stop himself.
Then again, he boasts to Mu-yeom that he can totally stop killing whenever he wants to, so maybe he's just confused and putting up a front. Maybe he doesn't know he's out of control yet. Maybe he really does need brakes from the outside, because he's realized he doesn't have any of his own.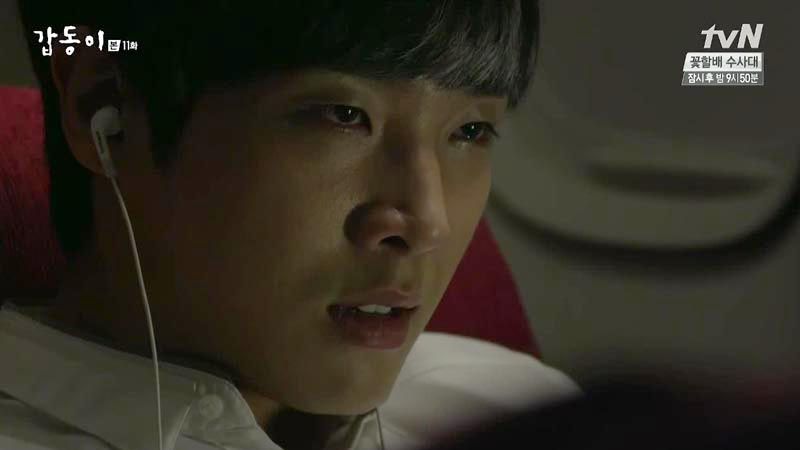 RELATED POSTS
Tags: featured, Gap-dong, Kim Ji-won, Kim Min-jung, Lee Joon, Sung Dong-il, Yoon Sang-hyun