Gap-dong: Episode 9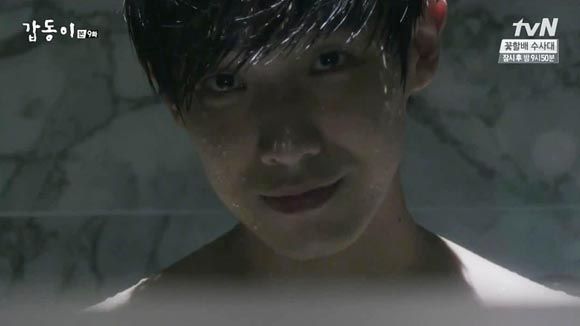 Well this show took a turn in a direction I wasn't expecting. Is that actually sympathy I'm feeling for our villain? It can't be, right? Because he's a terrible person, if you can even call him a person. And yet…
Despite being a crime-murder thriller, Gap-dong is turning out to be more of a psychological study of a criminal (and the damaged people out to capture the criminal). The lack of actual mystery means that it's the show's challenge to keep us on our toes, and while it doesn't always succeed, I do think they're working some nice character twists into these proceedings.
SONG OF THE DAY
Thornapple – "오렌지의 시간" (Orange time) [ Download ]
Audio clip: Adobe Flash Player (version 9 or above) is required to play this audio clip. Download the latest version here. You also need to have JavaScript enabled in your browser.

EPISODE 9 RECAP
Mu-yeom arrives in the greenhouse to see that while he was saving Ji-wool, Tae-oh killed Victim No. 5, who is now buried in rose petals. Practically spitting in hatred, he growls that either he'll wind up dead, or he'll kill Tae-oh.
Maria's misgivings prompt her to check on Gentleman Choi's cell that night—where she finds him hanging from the noose he knotted of bedsheets. She and the guard rush to take him down, and we see that Poopy is his cellmate.
Tae-oh returns home that night and heads into his huge closet, which is stocked with essentially the same outfit thirty times. He pulls down a leather motorcycle jacket that looks just like the one he's wearing.
Gentleman Choi isn't dead from his attempted hanging, but he suffered severe oxygen deficiency to the brain and isn't expected to make it. Maria hears this, and then shows up at Tae-oh's door wearing a stern face. So while he keeps up his friendly act, she warns, "This is your last chance. Surrender yourself, if you don't want to regret it."
Tae-oh replies blankly, "I'm sorry, but I've never felt regret. I don't know what that emotion feels like. Is it like self-pity felt by pathetic losers?" He sounds curious, not mocking, and Maria concedes that regret is for those with human hearts. She asks, "If I called it a threat, would you understand that?" She reminds him that she's his assigned doctor, and if he doesn't stop, she will act. Furthermore, when he gets tried in court, she'll be the one to testify of his mental illness and psychopathy.
Maria orders him to explain how he killed the latest victim and also Choi, as well as the identity of the Gap-dong inside the prison hospital. Tae-oh laughs that he didn't even talk when a gun was put to his head, and asks if she's mistaken, perhaps thinking he likes her. "People like me aren't able to like anyone or carry anyone in our hearts," he says. Tae-oh briefly wonders whether that's something to consider fortunate or unfortunate, but no matter: "I can't feel the excitement in any of those trivial feelings."
Well, that does explain why he kills, if he's doing it to provoke feeling within himself. Not that we can be sure of that since it's also possible he doesn't care about emotion at all.
Tae-oh mulls over her words after she leaves, and looks increasingly bothered by them. So he goes after Maria and stops her in the street to ask her something: Is she the original witness, Kim Jae-hee? Why would she stick around, instead of fleeing like other witnesses do?
Maria is startled at the question but holds it together to retort, "You've met him—why don't you ask Gap-dong himself?"
Tae-oh grabs hold of her arm threateningly, but that's when Mu-yeom shows up to order him to back off. Brimming with rage, he storms up and socks Tae-oh in the face, knocking him down. He cuffs his hands together, but doesn't stop there, squeezing the cuffs tighter and tighter like he's trying to break Tae-oh's wrists. Tae-oh's face contorts in pain and Mu-yeom growls that this is the agony his victims felt before he killed them.
The cops find no evidence of the killer at the crime scene. Chul-gon is frustrated, to say the least, convinced of Tae-oh's guilt but without the evidence to link him to it. And although Ji-wool confirms that Tae-oh's clothing matches what he was wearing when he'd kidnapped her, there's not even a grain of sand to be found on it. Ah, well now we know why he changed.
Tae-oh puts on the scared act in the interrogation room, denying all of Mu-yeom's accusations and saying that he's scared Mu-yeom will hit him again. He's hooked up to a lie detector that monitors his vitals, and the readings indicate that he's not lying, even as we see that he's lying through his teeth. Profiler Han notes that if the subject doesn't feel nervousness or fear, the lie detector isn't effective. They don't believe he's actually innocent, but the failure of the machine to catch him in a lie creates problems for the police.
Ji-wool isn't convinced Tae-oh's all that bad a guy, telling Section Chief Cha that she doesn't think he really meant to kill her. It isn't until Chul-gon shows her the photos of the latest victim that it starts to sink in.
Tae-oh's interrogation goes nowhere, so Mu-yeom switches things around and asks, "Aren't you getting bored? Don't you feel like quitting this game of playing with people's lives?" Tae-oh's expression changes a bit, and Mu-yeom adds, "You want to stop, don't you?"
Tae-oh doesn't give a straight answer, and Mu-yeom barks at him to answer the question, yes or no. Tae-oh yells back, "I want to stop!" A moment of silence as that hangs in the air, and then he finishes, "…is not what I want."
But finally, the lie detector records movement, spiking to contradict what he just said. Mu-yeom smiles, "I learned something important today."
That night, Chul-gon and Mu-yeom go out for a weary drink, both filled with regrets—Mu-yeom regrets leaving the greenhouse instead of staying behind to catch Tae-oh, and Chul-gon regrets trusting Mu-yeom and working with him. Mu-yeom wonders why they've failed to catch Gap-dong despite all their resources and efforts, and starts to say that if there's absolutely no (legal) way to nab him, he might kill Tae-oh with his bare hands. Chul-gon calls him insane, and Mu-yeom freely acknowledges it, and goads Chul-gon to step it up and prove why he's earned his fearsome reputation.
Tae-oh's mother returns to Korea (she lives in the States with Tae-oh's brother), and there's clearly no love lost here. She's either still afraid of him or disgusted by him (or both) and says he's gotten himself tangled up in a dangerous mess, to which Tae-oh says their fancy lawyer should be able to handle it.
She says she's tired of this and gets Tae-oh to agree that he went too far this time. Mom says she wants to put an end to it at long last, handing him a container containing two pills. Tae-oh registers them with surprise: "Are you telling me to die?" She doesn't answer.
In the wake of the fifth murder, the Gap-dong investigation is taken from Chul-gon's leadership and given to Section Chief Cha. It's a blow, but hardly a surprise.
Chul-gon calls his daughter Seon-joo to tell her of the latest change, and promises to catch Gap-dong soon so he can return to her side. Seon-joo looks worse than usual and nearly nods off mid-call, and her nurse asks Chul-gon to come see her soon.
Maria receives news that has her bolting out of her office, not noticing that she dropped her whistle. The nurse holds it out, and it gets noticed by the inmates nearby.
Gentleman Choi regains consciousness, but only for a fleeting moment. Maria knows her time is running out and begs him to hang on, asking if Gap-dong is one of the patients of the hospital. But he flatlines, leaving her screaming desperately, "Who is it? WHO?"
(In her panic, she drops a file and we finally get to learn Poopy's name: Park Ho-seok. I'm willing to bet that the fact that we see his name must be a tip-off that he's about to become more important.)
After picking up Chul-gon at the station, Mu-yeom heads over to the hospital, and they arrive in the wake of Choi's death. Maria is beating herself up for missing her last chance to find out the criminal, muttering, "I could have known.."
Chul-gon fills Mu-yeom in, saying that Choi had been his spy and left a clue before his death. Mu-yeom is incredulous that Chul-gon would keep this vital information to himself, but Chul-gon says he trusted nobody—he didn't know if there would be a leak somewhere.
And then, Chul-gon receives a devastating call.
In Maria's office, Mu-yeom blames himself for messing up the investigation despite his best efforts, having been so determined to prevent every murder that ended up happening anyway. Maria says there's something she messed up too, and explains about the note Choi had asked her to pass along. She despairs of being unable to beat the criminal, but he vows that they have to.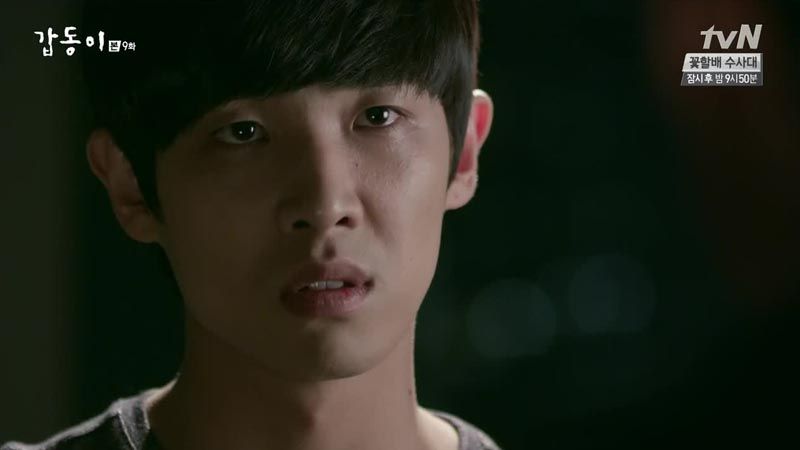 Tae-oh's fancy lawyer assures him that he's in good shape now—he passed the lie detector test, and the police won't be able to lay a finger on him without a warrant, as long has he wasn't caught on camera near the scene, which Tae-oh confirms is true. All that's left is for Tae-oh to go through the remaining steps, which he calls a wise decision made by Tae-oh's mother.
Tae-oh is less convinced, asking if he really has to go through with it.
Maria looks over old photographs of herself and her childhood best friend—oh, so her BFF was Gap-dong's victim? That explains a little more about her survivor's guilt (not that it would have been unwarranted even if the girls had been strangers). The memory seems to trigger a pain in her chest, and Maria gulps down a pill.
Ji-wool's calls to Mu-yeom go unanswered, so she decides to go to Maria to ask some lingering questions about whether "Tae-oh oppa" is really a psychopath. Maria notes the use of "oppa" and asks incredulously whether Ji-wool is still confused about Tae-oh's nature, and Ji-wool bristles at her censure, retorting that Maria should have known sooner if she was his doctor.
Ji-wool is stung by Maria's sudden coldness and asks if it has to do with Mu-yeom, assuming that Maria is being mean because she likes him now. She storms off in a huff, muttering that she'll figure it out herself.
Ack, so is that why she goes to Tae-oh's cafe next? Her desire to know the truth is understandable, but I do wish she'd have more care for the fact that she's dealing with a potential serial murderer here.
Tae-oh gets lost in thought over Maria's warning to stop, but smiles to see Ji-wool at the cafe entrance. She bolts the minute she's spotted, but he texts her to tell her that she was right: "Liking somebody is a difficult thing. And trusting a person is even harder. Right?" Ji-wool turns to look back at Tae-oh, who's watching from a distance.
Mu-yeom hears that Chul-gon has been out of the office and incommunicado for the past couple of days. Turns out Chul-gon's bad news was about his daughter, who has died, and he sits at her funeral altar alone—apparently his wife (ex?) refuses to come, and the funeral is a pitifully sparse affair.
Mu-yeom shows up and pays his respects, and the two men sit down for a somber drink.
As Chul-gon watches, we flash back once again to that fateful day his daughter fell, when he sees Mu-yeom's father hurrying away. Later that night he catches up to him and demands an explanation. Mu-yeom's father says he didn't push her—she ran because she was scared of him—but Chul-gon's more interested in why Dad was near his house in the first place. That's when young Mu-yeom arrives to warn his father not to say a word, because if he incriminates himself he'll die. Chul-gon threatens that either he or his son will die tonight—and so, at the sound of the approaching train, Dad dashes into its path.
In the present, Chul-gon speculates about the numerical clue Choi left before he died. What if it was a phone number? After all, Choi's previous job had been maintaining pay phones.
Mu-yeom marvels that in this situation Chul-gon would think of the case first. It's only now that Chul-gon fills him in on the backstory, about how he'd blamed Mu-yeom's father for his daughter's condition, even though he knew he hadn't been directly responsible for her fall. And now that his daughter is dead, Chul-gon says he has only one job to do.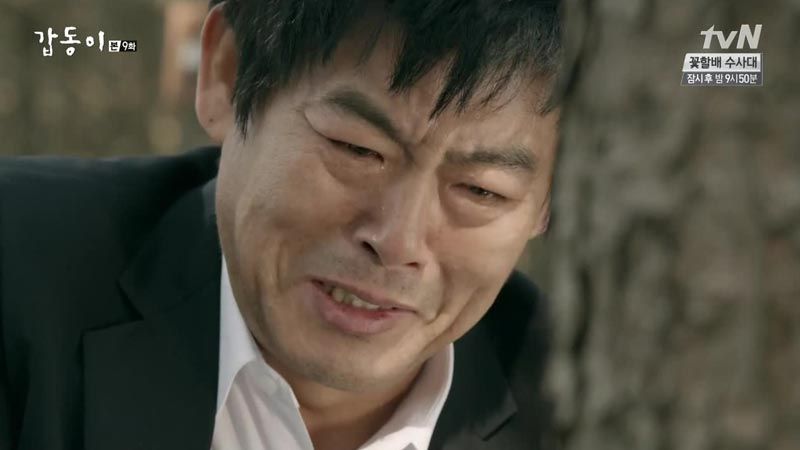 Chul-gon buries her remains in the woods, breaking down into regretful sobs.
Tae-oh returns to that pay phone to await his next call from Gap-dong. When he answers, the whistle lets him know he's got the right call.
On the other end of the line, Gap-dong tells him the latest news that Gentleman Choi isn't dead yet. That's the latest tidbit the inmates overheard so they're not quite up to date, but they do know Choi is probably on his way out soon. Meanwhile, Tae-oh tells Gap-dong he's taken care of how to handle his prison discharge.
Hm, the next thing we know, the monk is arriving at the prison to oversee a craft session as the inmates work on assembling lanterns. The inmates gossip about Choi, having heard that he wasn't suicidal but rather offed after trying to reveal something to Dr. Maria. They ask Poopy if he knows anything from sharing a cell, and he screws up his face like a dimwit and says that Choi used to say he wanted to die a lot.
The higher-ups hear the gossip that Choi left a clue behind, and call in Chul-gon to ask him about it. Chul-gon states that divulging that information would have caused it to spread, interfering with its usefulness.
Mu-yeom goes to the prison to check on the phone that allows inmates to call outside the prison, requesting to see the logs. He pulls over on the way out as Maria is walking home, and offers her a lift (kicking Hyung-nyun to the backseat to give her shotgun, to wifey's displeasure. Seriously, he gets adorably pissy).
Maria has been trying to recall the numbers in Choi's note, but can't offer much more than a guess at a couple of the digits. Mu-yeom calls it progress, though, and then returns her whistle to her, which she'd thought was damaged when she'd dropped it. He has had it fixed, though, and tells her, "Broken things can be fixed, and smashed things can be put back together. Let me know if you've got a problem, since fixing things is my specialty." He fastens the chain around her neck, telling her he'd replaced it with a nicer one.
At that point, Hyung-nyun butts in to remind them that he's here, too. Keke. Then he slumps back and sulks that it's sad being single.
Sitting in a chicken restaurant, Tae-oh attracts the admiration of the ajumma manager—who happens to be Ji-wool's mother. Mom approaches to first check that he's not a cop, and then grins at him approvingly. Ji-wool's eyes widen as she enters and sees Tae-oh, but Mom grabs her before she can leave and scolds her for crushing on Mu-yeom when she could be with nice boys like this pretty one. Oh, if only you knew, Mom.
Tae-oh apologizes for the events of that day, and Ji-wool admits to being confused about him—she'll think he's guilty, and then think he's not. Tae-oh says that the cops just want to arrest somebody, even if it's not Gap-dong, and he made an easy target as an ex-con. His voice wavers and he looks thoroughly pathetic, which sways Ji-wool's sympathies.
Mu-yeom surveys a map of all the pay phones in the area and narrows it down to a likely possibility. Not long afterward, Maria receives a call from a number, and seeing it there in front of her triggers her memory—this is it.
It's Mu-yeom on the line, and she confirms that this was the number. Now it's up to them to keep watch to see what happens. As Mu-yeom talks from the booth, Tae-oh zooms by on his motorcycle. It's not clear whether he's seen Mu-yeom, but he does call Maria that night to ask if they can meet.
Maria refuses to meet him anymore unless he's going to turn himself in or reveal Gap-dong's identity. Tae-oh says she's won: "I'll show you personally what I've chosen."
Maria deliberates and ultimately decides to head out, although she reaches for her Vixen Maria getup this time, exchanging the whistle for her alter ego's makeup and false bravado.
When she comes over, he shows her the pills given him by his mother and tells Maria it's her turn to decide: "Whether you'll save me or kill me."
Tae-oh swallows a pill and tells her she'll have ten minutes to think it over.
Mu-yeom stands watch over the pay phone for hours, ready to call it a day. But as he starts walking away, it finally rings.
Tae-oh slumps on the ground, feeling the effects of the pill. Maria struggles with herself, but finally picks up the phone to call for help, which makes Tae-oh smirk even amidst his pain.
Maria dials emergency, but pauses with her finger hovering over the send button… and now it's her turn to smirk.
"You calculated wrong," she says. His smile disappears.
"Die," she orders coldly. "Go ahead and die. This is my choice."
Maria walks off, tossing the phone aside, leaving Tae-oh writhing in his death throes.

COMMENTS
Is it possible to feel sorry for a killer?
Wait, let me rephrase that: Is it possible to feel sorry for a vicious, remorseless, emotionally vacant psychopathic serial killer?
Here's the thing: I don't think Tae-oh is a poor misunderstood soul who just needed the love of a parent, or a nurturing spirit, or a sweetheart to show him how to love. I don't think he is able to be rehabilitated—at best, his killing can be stopped by incarcerating him, but he lacks the fundamental ability to feel any emotion and shows no inclination of stopping his murderous rampage.
He enjoys getting away with murder, but I don't even know if he enjoys the act of murdering, which makes him even more of a cipher to me. If we're talking about a sick mind that derives pleasure out of pain, at least I can see pathology of that. But that's not Tae-oh, who is a complete emotional vacuum, which is especially dangerous when coupled with his hero worship of a criminal and his high intelligence and curiosity. Tae-oh seems to lack the wiring to rehabilitate, and that's not something you can change about him. Of course, lacking emotional wiring on its own doesn't make him irredeemable, but there's also the little detail of him murdering a bunch of people in violent ways. And after that, I just don't see any sort of way to humanize him or mitigate the atrocity of his actions.
Still, I can identify a bit with Ji-wool's confusion, even as her indecision over his evil nature has me exasperated. Because there's a part of me that wonders, too, if there's another way to read Tae-oh's character that I'm missing at the moment. Mostly, I have to attribute that (or blame) the actor for that, because I want to see that glimpse of humanity and am stretching to get it in the performance, when everything about the character indicates that he's a lost cause. Worse than a lost cause, he's an active menace to society who must be stopped. In that last scene, I feel a moment of triumph when Maria thwarts the evil genius by defying his expectation, and it's damned gratifying to see the smirk wiped from his face… but then he just looks so sad, and that makes me feel sad, and then THAT really makes me sad.
So, kudos to Lee Joon for making the murderer a compelling persona, but also, dammit. I don't think I ought to be feeling torn (it's only a teeeeeny bit torn, but a little torn is more than wholly untorn), but there you have it. And now I feel dirty. Great. Well, I guess I shouldn't have expected anything more wholesome out of a serial murder crime cable drama.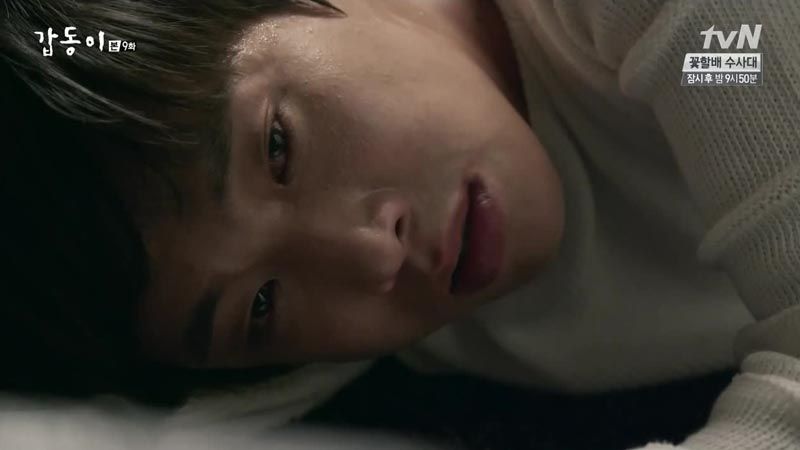 RELATED POSTS
Tags: featured, Gap-dong, Kim Ji-won, Kim Min-jung, Lee Joon, Sung Dong-il, Yoon Sang-hyun