Han Groo stars opposite Yeon Woo-jin in tvN rom-com
Ah, I like this pairing better. The new tvN romantic comedy Marriage Not Dating has secured its leading cast, and Yeon Woo-jin (When a Man Loves, Arang and the Magistrate) will be starring, as expected. An early round of casting initially had him paired with Honey Lee, but in the end it was up-and-comer Han Groo (Warm Words, Can We Get Married) who signed on to play his leading lady. I've liked her since the cable short Girl K; she's been steadily paying her dues in dailies and supporting roles for a few years, and this will be her first headlining role in a prime-time miniseries.
Marriage Not Dating will be a 16-episode rom-com from the writer of the two-episode drama Anticipate Love and the PD of Brain and Haeundae Lovers. It's being prepped to follow tvN's current weekend drama Gap-dong late next month. Yeon Woo-jin stars as a successful plastic surgeon with his own clinic who rebels against his wealthy family in one way: he refuses to get married. So in an effort to get his family off his back, he decides to bring home a girl they'll never approve of. It's not the most sophisticated or rational plan, but perhaps he's seen a lot of dramas.
So while he's the man who won't marry, Han Groo will play the heroine who can't marry. She's the small-town university graduate who works in a luxury department store and has no prospects. She's described as an analogue girl, who prefers polaroids to digital pictures and refuses to give up on her 2G cell phone. She believes in going to see someone in person if you miss them, and naturally believes in true love. She's been alone her whole life and idealizes marriage because she wants to be with someone all the time, but every man she dates finds her earnestness too overwhelming and ends up leaving her.
The hero is an introvert who always prefers to be alone, and is so abrasive on every single blind date that his family sends him on that he always ends up with water splashed on his face for saying something rude. His initial connection to the heroine is an unpleasant one but he somehow convinces her to play his girlfriend in front of his family. Of course the fun is that a contract relationship is never just an act.
Idol Jung Jin-woon (Dream High 2) has been cast to play a rich playboy who never stays in one place too long and doesn't believe in love. He gets everything he wants with money or charm, but then one day he falls for the heroine and does a complete 180 in the name of love. Han Sun-hwa (God's Gift-14 Days), also an idol, plays a plastic surgeon who went to med school with the hero. She's ambitious and bold, and described as a woman who loves herself more than anyone else. And finally Yoon So-hee (Let's Eat) has been cast as the heroine's co-worker and friend.
Marriage Not Dating will air on Friday and Saturday nights beginning in June.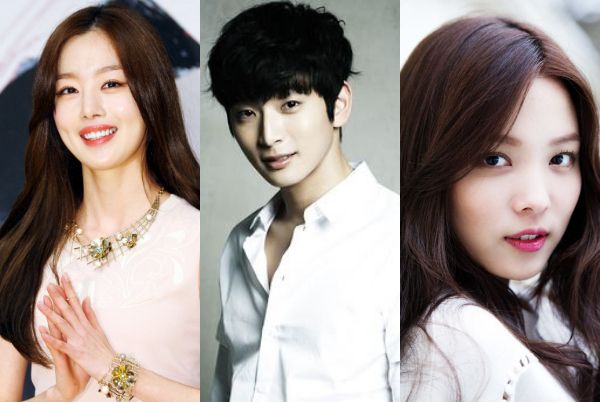 Han Sun-hwa, Jung Jin-woon, Yoon So-hee
Via Herald Biz
RELATED POSTS
Tags: Han Groo, Jung Jin-woon, Marriage Not Dating, Yeon Woo-jin