Honey Lee and Yeon Woo-jin as potential rom-com pairing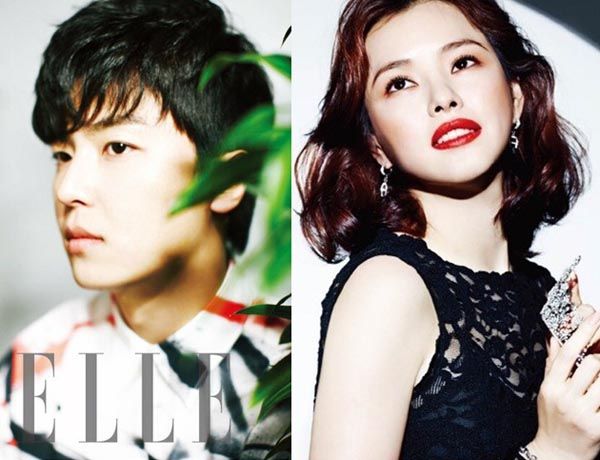 More casting movement is underway for Marriage Not Dating (formerly called Anticipate Marriage), the upcoming tvN drama which has set Yeon Woo-jin (When a Man Loves, Arang and the Magistrate) to headline: Honey Lee (Shark, Pasta) is now in the running to play his co-star, and her reps confirmed that she is considering the drama positively.
Marriage Not Dating is the drama about a happily single man whose family is badgering him to marry, and to get them to give up on their efforts, he decides to introduce them to a girlfriend they wouldn't approve of. I'm gonna say there's no way he could outdo Choi Han-gyul on that score, aka Gong Yoo in Coffee Prince, but I suppose he'll give it a solid try. (Which is funny that Honey Lee should be the candidate, because as a Seoul National University graduate, traditional gugak musician, and Miss Korea, her image is pretty much set as the perfect bring-home-to-mother girlfriend.)
In the drama, the character she would play is a graduate of a rural university (so, a lower-tier school) who works at a luxury boutique. I guess that's not good enough as wife material for our highly educated plastic surgeon hero, or so his family would believe; he presents her as the unsuitable girlfriend, and over the course of their bickering (faux?) courtship, they'll fall in love for real.
It's definitely an interesting pairing, maybe even a little odd—I think she's got lots of charisma and presence, but acting-wise I never respond to her characters as much as I want to. Then again, her characters haven't been that interesting in the dramas I've seen her in; I want to see her take on a sunnier role and see what she can do with a lovable type. (I have no qualms about him; Yeon Woo-jin was wonderful in Arang and the Magistrate and made an annoying character more palatable in Ojakkyo Brothers, and acts with a lot of heart.)
Marriage Not Dating will be written by the scriptwriter of last year's two-episode Anticipate Love, and directing will be the PD of Brain and Haeundae Lovers. It's being prepped to follow Gap-dong on Friday and Saturday nights.
RELATED POSTS
Tags: Honey Lee, Marriage Not Dating, Yeon Woo-jin