Idols headline Twilight-esque vampire web drama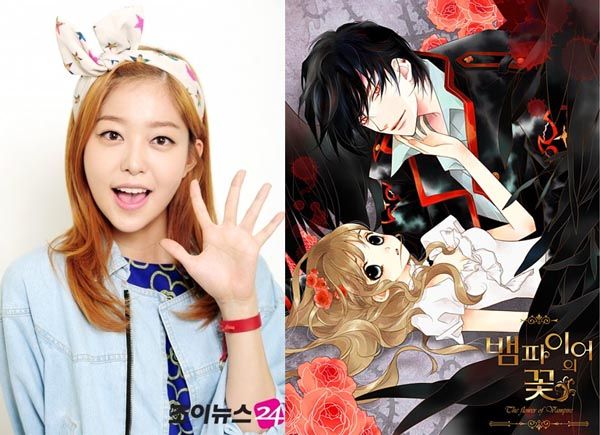 What is it about vampire stories that are so compelling? I wouldn't consider myself a particular fan of vampire lore, but all the dramas to come by about vampires have been pretty entertaining by my count, looking at sitcom series Hello Franceska and Vampire Idol, as well as crime procedural Vampire Prosecutor. Not to mention the fantasy sageuk in the works, Scholar Who Walks the Night. Now we've got Vampire Flower (I am studiously ignoring the title on the cover above, The Flower of Vampire, because eek Engrish), an upcoming web drama that is based on a popular Naver web novel.
Vampire Flower is calling itself the "Korean Twilight" and has cast Kim Ga-eun (Miss Korea, I Hear Your Voice) as the female lead after casting a whole slew of idols from the boy group A-JAX: Jaehyung, Hyeongkon, Seungyub, and Hyojun. The main hero is vampire Rui (played by Jaehyung), who goes in search of a vampire flower that'll enable him to become a vampire lord. Kim Ga-eun plays the ordinary schoolgirl with a bright personality who helps him on his search and enters his world. That embroils her in danger, but in the process the two also fall in love. Of course.
The other A-JAX boys will play vampire friends, with Hyeongkon set to be the main rival and friend, Reka. Seungyub and Hyojun, meanwhile, are cast as stalwart bodyguards Baekhan and Akan. I don't know about you but I'm having major Vampire Idol flashes, which are probably totally off the mark since that was a goofy take on vampire lore with slapstick comedy (and really cute vampire-human romances). This story sounds like it's going more for the paranormal/dark romance stuff, though I'm hoping that it won't be constrained by budget or production limits given that it's going to be a web drama. It'll be released "around May or June."
Tags: Kim Ga-eun, web drama