Movie Review: Whispering Corridors (1998)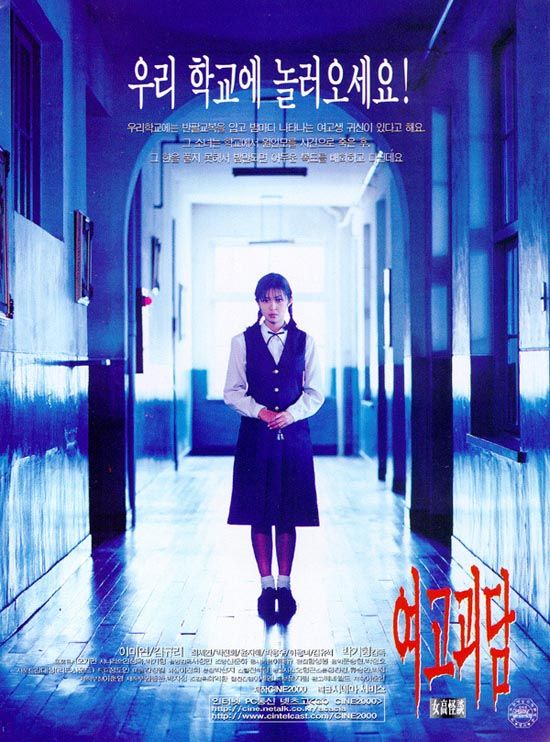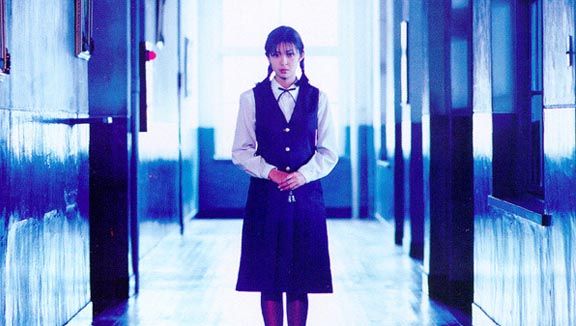 "School is hell." That was the premise of Buffy: The Vampire Slayer, and it's one that resonates throughout contemporary fiction, including in Korea. And given the pressures and violence that Korean students may face in school, it's no surprise that Korean cinema set in high school is littered with stories of bullies, stress, and sometimes horrifying acts of abuse. Some films, like the recent successes Thread of Lies and Silenced, explore these issues directly. And others, like Buffy, turn to the supernatural to act as a metaphor or allegory for the harm that students receive in school. Whispering Corridors (1998) is one of the most successful examples of this kind of Korean high school horror film.
Spawning four sequels, Whispering Corridors is also one of Korea's most successful film franchises next to Marrying the Mafia and the first installment was especially so. It was the second most successful Korean film released in 1998, after the melodrama A Promise, breaking well over half a million admissions and being one of the two Korean films to go toe-to-toe with Hollywood heavyweights.
Perhaps its success can be attributed to the resonance of its themes with the public, the vast majority having gone through the Korean school system and having been at the mercy of its abuses. It is some of those abuses that Whispering Corridors brings into relief, presenting a scorching condemnation of abuse by teachers in particular, both in abuse by corporal punishment as well as social manipulation to benefit some students over others. And though the film does suffer a little from roughness in directing and editing, the story and characters manage to mostly make up for those weaknesses.
The film opens on the legs of a student outside a girl's high school at night. Inside, teacher Park Ki-sook (Lee Yong-nyeo) is trying to piece together a mystery before calling fellow teacher and former student Heo Eun-young (Lee Mi-yeon). Shaken, Park tells Heo that Heo's childhood friend Jin-ju, though dead, still seems to be at the school. Then the phone line suddenly dies and very soon so does Park, at the hands of the ghostly schoolgirl.
The next day, Im Ji-oh (Kim Gyu-ri) runs into Yoon Jae-yi (Choi Kang-hee), who will be acting as class steward with her, but as they begin their duties, they encounter Park's body, hung off of a second floor walkway of the school. In the wake of Park's death, the disciplinarian Teacher Oh (Park Yong-su) takes over the classroom, much to the chagrin of Ji-oh. The two have a standing grudge with each other, but at least Ji-oh and Jae-yi begin developing a friendship as they learn that they both love painting.
Meanwhile, Teacher Heo, who alongside her friend Jin-ju was also once an art-loving student, begins investigating Park's death and discovers that Ji-oh bears many similarities to her late friend Jin-ju.
The film pulls no punches its in depiction of its teachers. Although not all the teachers are depicted as abusive and manipulative, Oh in particular lays into Ji-oh with a heavy slap and then destroys her painting in a rage. Meanwhile, we also remember with the once promising student Heo how Teacher Park insisted that Heo disassociate herself from Jin-ju, who was the class outcast, lest the class turn on the brightest student too. And when Heo wouldn't end her friendship, Park threatened to have Jin-ju expelled.
In addition to admonishing these brutal practices of individual teachers, there's an interesting admonition of the systemic violence built into the competitive school structure. Both Park and Oh discipline their students for their grades if they can't compete with the other classes on average, even though present-day Oh has one of the school's top students in So-young (Park Jin-hee), whom he shows a disturbing affection for. Similarly, another student, Jung-sook (Yoon Ji-hye), who spends most of her time studying, is constantly compared to So-young and called out for not being as good, despite having the second-best grades in class.
Whispering Corridors shows through these characters that the fixation on performance and competitiveness between students, amplified by their teachers—while with the intent of pushing them all to get better grades to get into better universities—still drives social wedges between them, dehumanizing them by turning students into nothing more than numbers to be compared. Which is a pretty nuanced criticism to make for a horror film, especially since it's pointing at the broader system of test-score-based education and not just high school.
In fact, it seems that the ghostly haunting of Jin-ju is actually secondary to the psychological horror that the girls go through in school. And that ghost story is smartly wrapped up in a mystery, the unraveling of which gives more detail into the wounds that Heo carries from her time as a student, representing the harms that other students in the system might face.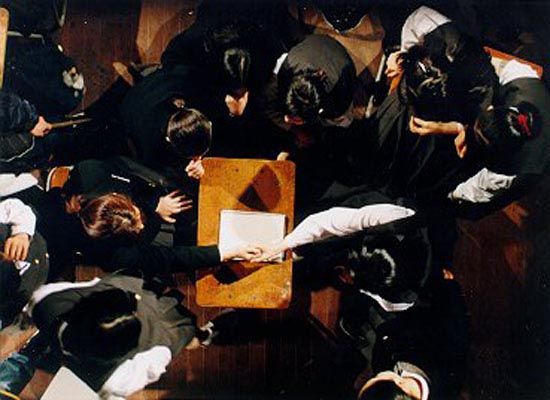 Whispering Corridors actually ties its story up pretty neatly, which I suppose is good for a film that seems more keen on its message than your typical summer scarefest.
Of course, Whispering Corridors also happens to be an early example of contemporary Korean horror and so its genre dressing is a little rough at times. It's director Park Ki-hyung's first feature, and that shows most on the way that the spooky scenes are shot, with some of the angle and shot choices being heavy-handed and the blocking in some of the action a little cumbersome. Some of this might also be the fault of the editing, which tends towards being a bit chunky and slow-paced in the horror scenes.
While the body count is low, the film does present the few death scenes with some gruesome detail. It might not satisfy modern-day gore-lovers, but it is pretty effective imagery and the ways the teachers are killed is imaginative, although they could be better tied to the story.
Technically, Whispering Corridors was born at the cusp of the Korean film renaissance and at a fairly lower budget as well, so it doesn't look great, especially compared to horror films released just a few years later, with cheaper film stock and overall production values. However, the film does manage to put some thought into its foley and soundtrack. Like the direction, the sound design is a little heavy-handed at times, but the use of strong atmospheric foley does do a solid job of capturing attention and setting a mood when things get spooky.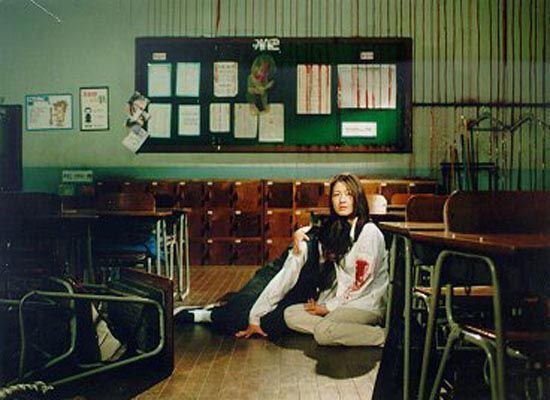 And it's good that the few scares in the film manage to be effective, as crude as they are, as they serve a contrast to the degree of psychological horror that the students face in the oppressive school environment. And it's the depiction of the latter that makes Whispering Corridors a standout film, relevant even to this day as students continue to struggle through the highly competitive test-based system of education and social conflict with their peers and their teachers.
At the end of the film, Teacher Heo insists to the ghost of Jin-ju that she can do better than teachers past, but Jin-ju isn't having it. It's only when Ji-oh steps in alongside Heo that Jin-ju relents. It's a surprisingly hopeful moment as it demonstrates that carrying the wounds of the past and visiting them upon the students and teachers of the present will only hurt everyone. But perhaps by joining together and creating a new kind of classroom for both student and teacher, based on camaraderie and not on competition, will schools be able to relieve themselves of some of their sins and move on.
So while Whispering Corridors might be a bit dated in terms of its production, its story remains surprisingly resonant thanks to its focus on the horrors of school more than ghostly visions. And that examination of those horrors remains applicable to today's students and teachers. 8/10.
Note: Whispering Corridors received pretty broad distribution in North America and Europe thanks to the Asian horror craze of the early 2000s and DVDs remain in print for those looking to watch it.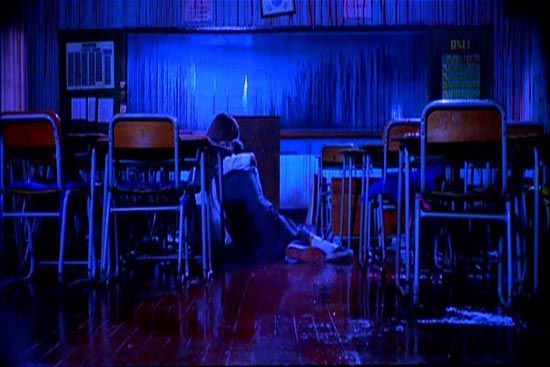 Tags: Choi Kang-hee, featured, Lee Mi-yeon, Park Jin-hee, Yoon Ji-hye