Running Man: Episode 194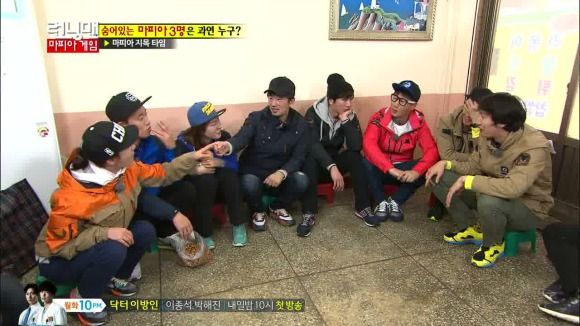 Running Man is back after spending two weeks off-air with the final chapter of an epic game of Mafia. Make sure that suspicion arrow doesn't misfire in the midst of the chaos, with accusations flying from all directions. It's fool or be fooled in this game, but be careful of where you tread 'cause this type of psychological warfare can lead to ruined relationships or a distrust of all mankind.
EPISODE 194. Broadcast on May 4, 2014.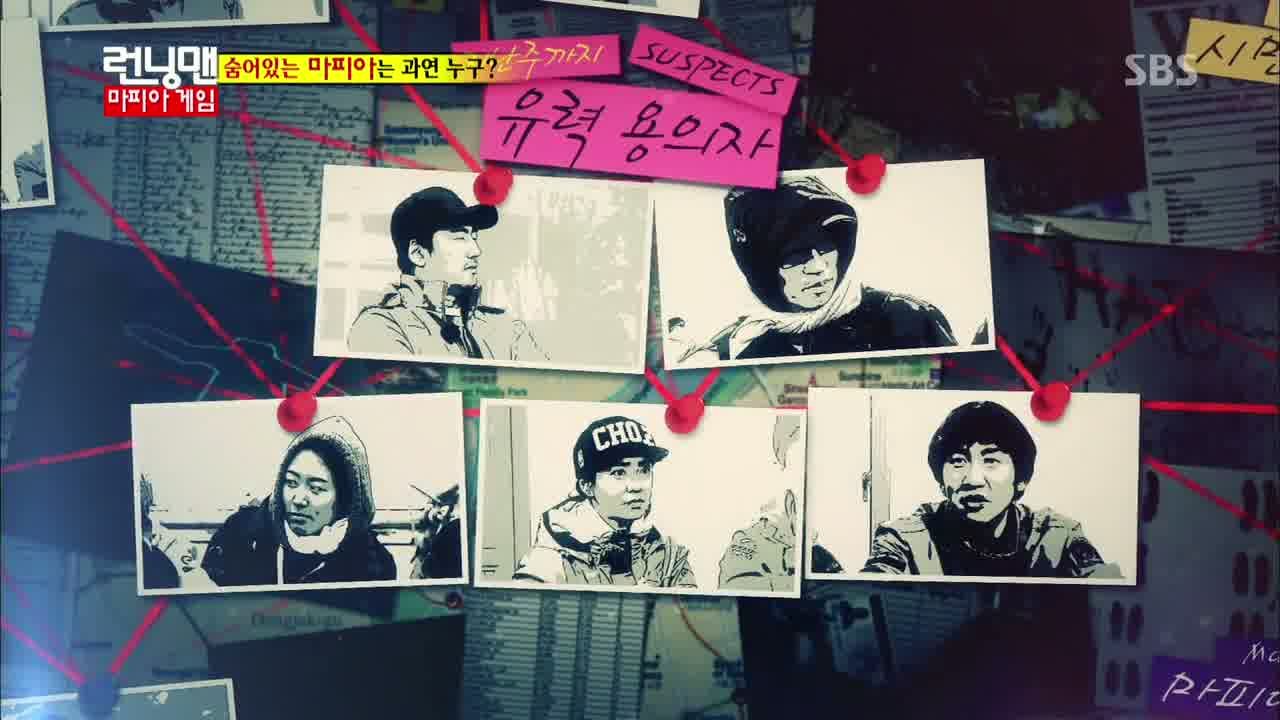 In order to bring us back up to speed, the show gives us a lengthy recap of the past two episodes, highlighting five suspects otherwise named "Most Likely To Be Mafia."
Suspect #1: Ryu Seung-soo. Oh man, that water bottle trick seemed like ages ago, but watching it again still makes me laugh. Suspect #2: Yoo Jae-suk, otherwise known as Yoomes Bond, is a known master of psychological warfare. Then the two female Suspects #3 and #4 (Lee Sang-hwa and Song Ji-hyo) are under fire for their feistiness.
Last but not least is Suspect #5, our resident betrayal icon: Lee Kwang-soo. Before we resume the game, we review how Min-jong tricked the entire cast thus far to throw suspicion off of himself.
So when we last left off, both Dong-joon and Jae-suk were up for elimination. After discovering that Dong-joon was innocent, everyone waits to see if they were right to accuse Jae-suk. Off comes his nametag… he's innocent. Ohhhh snap.
No one can believe it, but now no one is safe from suspicion, either. They send off the eliminated with belated apologies. Jo PD announces that three mafia members are still alive (versus seven civilians), and only four chances to correctly identify them remain.
Back at basecamp, Man-seok expresses his disappointment, saying that his fellow mafia members are only out to save themselves. Haha shares that today's lunch menu (curry) is especially gourmet, thanks to all the healthy (and expensive) ingredients they threw in. Ginger, beef, and abalone? Herbal Surf and Turf, it is.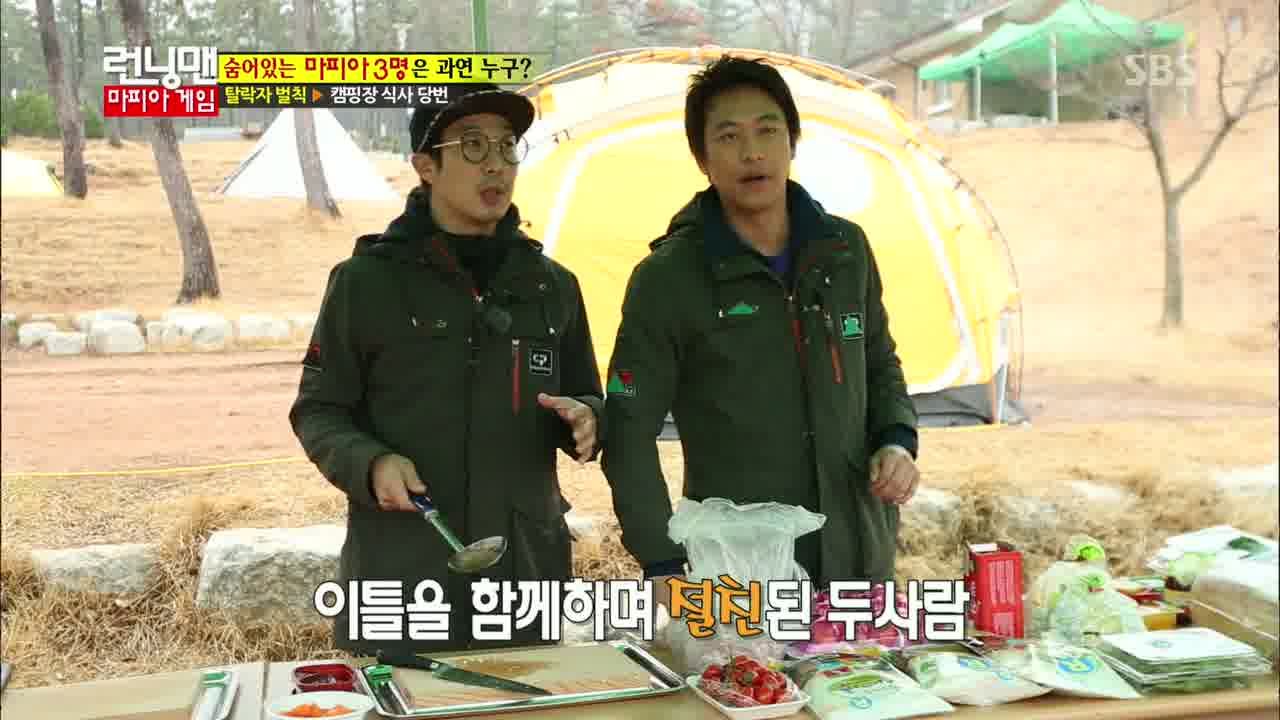 Haha and Man-seok really have become fast-friends on this trip, and Haha even says that working with him has been farrr different than his time with Jung Woo-sung. Different in that it's like he found his perfect match, he means.
Likening Man-seok's features to the hero in Slumdog Millionaire, Haha then decides to call his teammate "Hassan hyung," and constructs a makeshift paper towel chef's hat/turban(?) for the cook.
On the bus, suspicion still falls on a sleepy Seung-soo, who says that he's starting to buy into other people's suspicion of him. Just as the conversation turns toward Min-jong, he accuses someone else, but his serious tone just makes them all laugh instead. That is, mostly everyone because Joo-hwan seems to cast a suspicious glance. Hm, has he caught on to something?
Their third game takes place at a market where they'll need to buy an item that matches those characters (e.g. "r p" or "red potato") as quickly as possible. Only the first two people who succeed will be safe from elimination, so it's every man or woman for themselves. Additionally, the mafia will be able to find out who their teammates are afterwards.
Seung-soo brings more suspicion on himself by saying that they shouldn't say what they're going to buy beforehand, to which everyone is all, Isn't that a given?
With that, everyone heads out and Sang-hwa is quicker than Jong-kook to pick up potatoes (two people can't have the same item). Min-jong sticks with his sickie act, and we see Joo-hwan pick up a potato, too.
Joo-hwan races back first, which means Sang-hwa has to double back for something else. So does Jong-kook (who picked up the same item as Min-jong), and Seung-soo gets lost before finally staggering inside… only to be sent back outside. Twice. HA.
Jong-kook: "There are already two bottles of soy sauce on the table!" Hahahaha. And then Gary grabs the final spot to pass the first round just ahead of Ji-hyo.
The others are sent out for another round (while the eliminated snack on food, hee), and the boys zip ahead of Jung-nan and Suk-jin, who pass with their respective items. It's kind of funny how Joo-hwan takes one look at the table, then runs back out again to return with an actual clock. Ha, did you actually buy that from the 7-Eleven?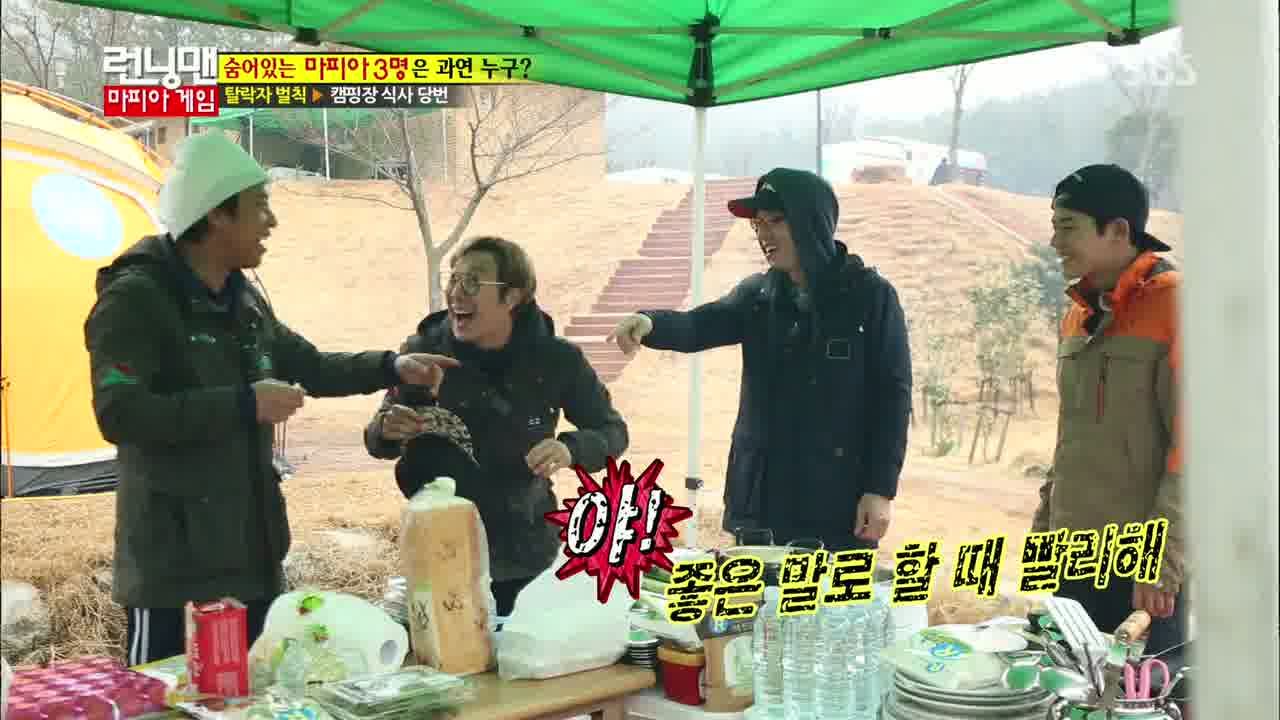 Jae-suk and Dong-joon finally arrive at basecamp, where the grasshopper starts barking orders despite Haha's protests that he's been here since morning. When Haha tries to establish the pecking order, Jae-suk drags Dong-joon away, joking that they'll go out to eat and come back.
Haha finds himself slowly being pulled into his sous chefs' words—the others won't stand to wait for food because they're irritated enough as it is. Haha: "Are they really mad?"
So Haha and Man-seok continue working on their Gargamel Curry, and I have to ask: how long were they waiting for the others that they were still boiling veggies? Haha gripes over having to do all the work (versus delegating it to their sous chefs), to which his teammate agrees.
But even with all their talk about preserving their pride, they're timid too: "Should we make them anyway?" "Let's try."
What the devious duo does instead is call naive Dong-joon over to shunt the work to Jae-suk, with the reminder that he's higher up on the pecking order. And aw, Dong-joon actually believes it.
But Dong-joon blabs the truth right away, so Jae-suk returns the favor in kind and tells Haha that he can clean those veggies. Lol.
Back at the market, Jung-nan and Jong-kook place first and second, essentially taking them out of the mafia suspicion running. In the ten minutes of deliberation, Joo-hwan points out that despite Min-jong claims that he's prone to motion-sickness (as evidenced on the boat), he seemed to do just fine on the bumpy bus ride here. Oho.
That deduction is so precise that even Min-jong can't really deny it, leaving him flustered. He's quick enough to redirect the suspicion arrow to Seung-soo. Then the conversation turns towards Ji-hyo on the grounds that at least one cast member and/or one female would be mafia.
Ji-hyo in turn points out how Gary keeps protecting his teammate, which leaves Gary to counter that Ji-hyo knows him best in the entire world: "She knows me better than my own mother!"
The boys point out how upset Ji-hyo's getting right now, which she cites is just her growing frustration. Kwang-soo: "Now I get why girls used to end up crying in this game. There are some people whom I haven't met ever since we played Mafia!"
The group decides to eliminate Ji-hyo and Min-jong, and then Seung-soo says that he has a hypothesis but he can't bring himself to say it. Caption: But… we're filming…
Then Seung-soo does the elementary (but likely pointless) thing of asking "Are YOU the mafia?" to everyone in turn. The group still continues to throw out "Is it you?" "Nope!" exchanges until the final few seconds of deliberation.
They're still without a fixed pair of suspects at the end of it, but the votes fall upon Ji-hyo and Min-jong anyway. Now's the moment of truth, and they rip Ji-hyo's nametag off to reveal… that she's a civilian after all.
We've known that Min-jong was a mafia member, but the group is both shocked and satisfied by this result, impressed by both Min-jong's acting and Joo-hwan's deduction skills. The current ratio? 2 Mafia, 6 Civilians.
Back at basecamp, Man-seok adds something to their curry. Is that… instant coffee mix? Then to hide the evidence, he adds strawberry jam. Oh no, this is going to end very badly, isn't it?
Now the remaining mafia members have learned of their teammates' identities, Seung-soo comments that he's so mistrustful of everyone that he won't be able to carry on personal relationships with them.
Another minute passes and then Seung-soo announces that he's figured it out (his wording makes it extra hilarious). He claims that Jung-nan's acting was too natural to cause suspicion whereas Suk-jin's eyes wavered. Then Gary proclaims that he won't meet up with people if Seung-soo actually turns out to be the mafia: "I'll live alone up in the mountains."
Their final game takes place at a cabbage field, and the task here is simple: be the first two to carry cabbages in a wheelbarrow past the finish line. Gary points out that Sang-hwa and Suk-jin are walking close together whereas Sang-hwa names Jong-kook and Joo-hwan for exchanging knowing glances.
In any case, they all agree that working too hard (or playing around) is cause for suspicion, so Seung-soo leads all the civilians in a cheer. They all do. HA.
And then Sang-hwa turns to Kwang-soo and says that she'll win first. Did you just give yourself away? She's legitimately flustered, and cries, "What will you do [without me]?"
After everyone picks their cabbages, that's when the real race begins. It looks like it's neck-and-neck between Sang-hwa and Jong-kook when all of a sudden, Joo-hwan runs ahead of them both. It gives him the win.
Joo-hwan's victorious smile confuses everyone—his sudden last spurt is both unexpected and unexplainable. Could he be the mafia? His behavior is certainly suspicious, but he stands aside for now.
Exhausted, Jung-nan gives up on trying to win anymore—not that anyone was suspecting her anyway. Jong-kook wins the second round, though he quickly takes issue with how Kwang-soo deliberately crashed into Sang-hwa's wheelbarrow.
The others tell him to apologize to the gold medalist, and then Jo PD announces that Kwang-soo can do that on the way to the final mission station.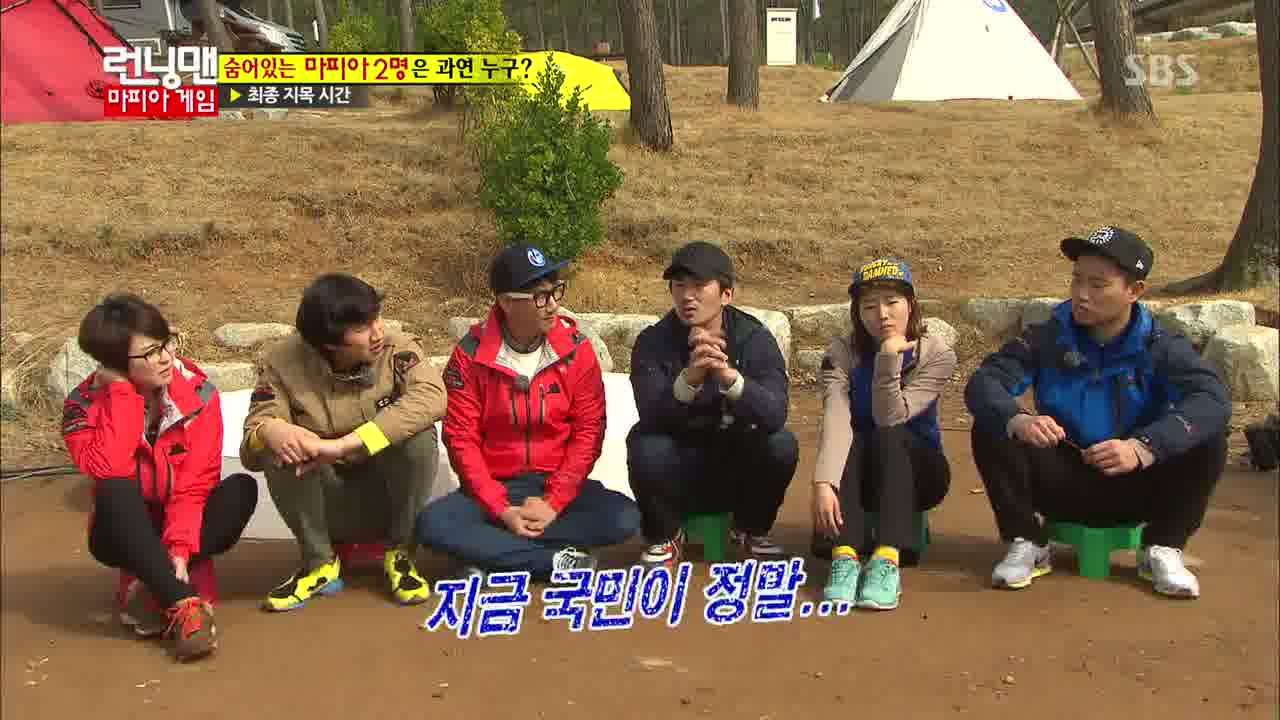 It's the final round of deliberation at the basecamp as Jo PD reminds the group that the mafia team will win unless they catch both remaining members. Moreover, there's gold on the line.
The group puts forth initial speculations, and most of the opinions think both Jung-nan and Sang-hwa are the mafia members. Everyone definitely has their game face on for these final accusations that it hard to discern between the truth and bluff.
And then Seung-soo mentions that the entire nation would be SO upset if they charged him to be mafia. LOL.
As they continue to argue, Man-seok provides commentary from the sidelines, saying that it's like watching a Running Man episode up close. Then Haha chimes in that the curry is going to go cold, and Man-seok adds, "We've been making it for six hours already!" You mean that abalone-strawberry-jelly-instant-coffee concoction?
When Sherlock Joo-hwan is asked to tap into his deduction skills, he guesses that a mafia member must either sacrifice or teammate or attack a civilian because their team will win just as long as one of them survives. And if he were the mafia, his teammate could sit back and relax because they've already won.
Jung-nan claims that the present situation would be too dangerous if both ladies were mafia members, but Suk-jin is sure that at least one of the ladies is a mafia member.
With a minute left to go, the group hurries to come to a conclusion, and when the eliminated have a chance to speak up, they all point to Suk-jin. As his longtime friend, Jae-suk knows when Suk-jin is legitimately flustered and that definitely happened earlier.
Everyone still tries to get a word in even after time is up. When it's time to vote, Sang-hwa is up for elimination with Jung-nan. The ladies step up, and Sang-hwa says that the civilians have lost (she thinks it's Jong-kook and Joo-hwan), which Jong-kook spins those words around, claiming that she's won (as mafia) and the civilians have lost.
They start off with Jung-nan… who is a mafia member. The others reel in shock and let out cries of surprise. The clips show us how hard both women worked today, and now it's Sang-hwa's turn…
…and she's a civilian. That begs the question of who the last mafia member is, and the group pushes Seung-soo forward. He orders the group to keep their eyes trained on him ("Look! Look!") and then raises his arms into the air… but he too, is a civilian.
They check Suk-jin next, and sure enough he is the last mafia member. He and his teammates cheer victoriously, and the playback shows us how Suk-jin acted like he would any other day. But once he learned of Jung-nan's identity, he basically told her that she can leave it up to him.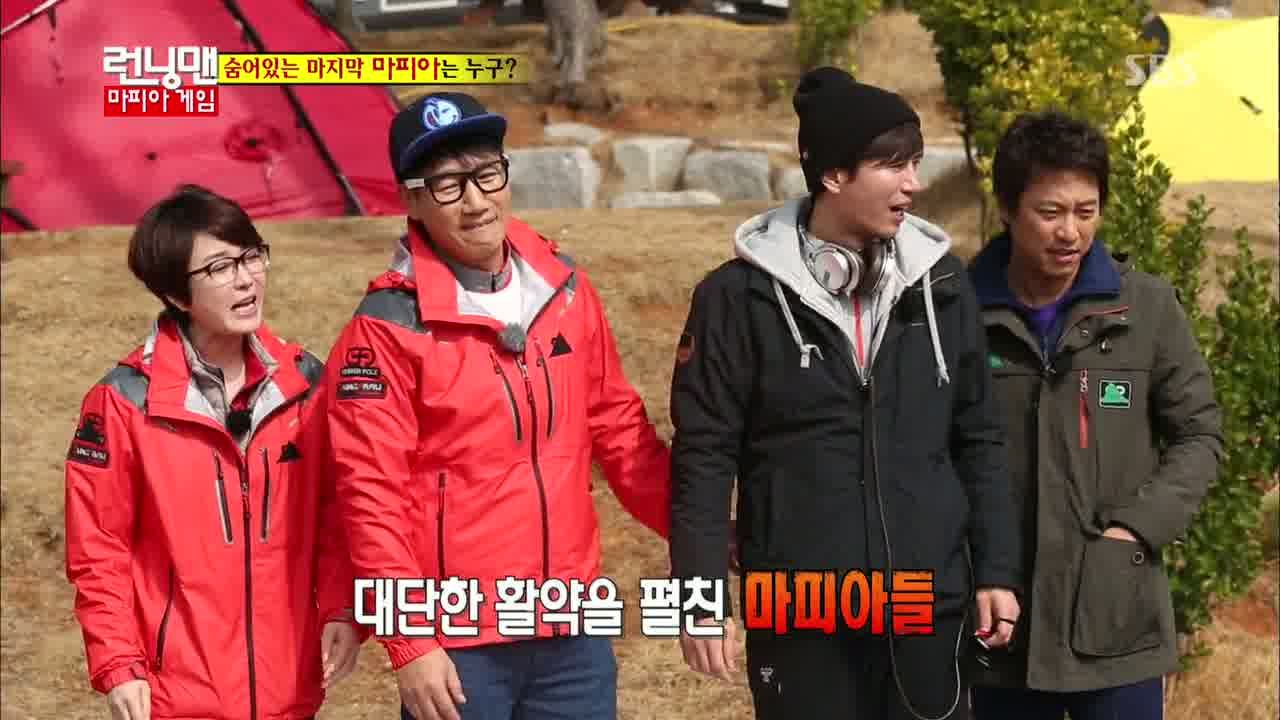 So the winning Mafia Team (Min-jong, Man-seok, Jung-nan, and Suk-jin) collect their gold prize. Man-seok wonders if he deserves such a prize for participating so little in the games ("I made curry for five hours and won gold!"), and then it's time to eat the something-like-but-slightly-off curry.
Maybe the added ingredients did help the flavor or all of those odd add-ins have been cooked off in the five hours over the grill, but everyone digs in happily anyway.
Hm, maybe I should consider adding instant coffee mix into my curry next time. I'll hold off on the jam, though.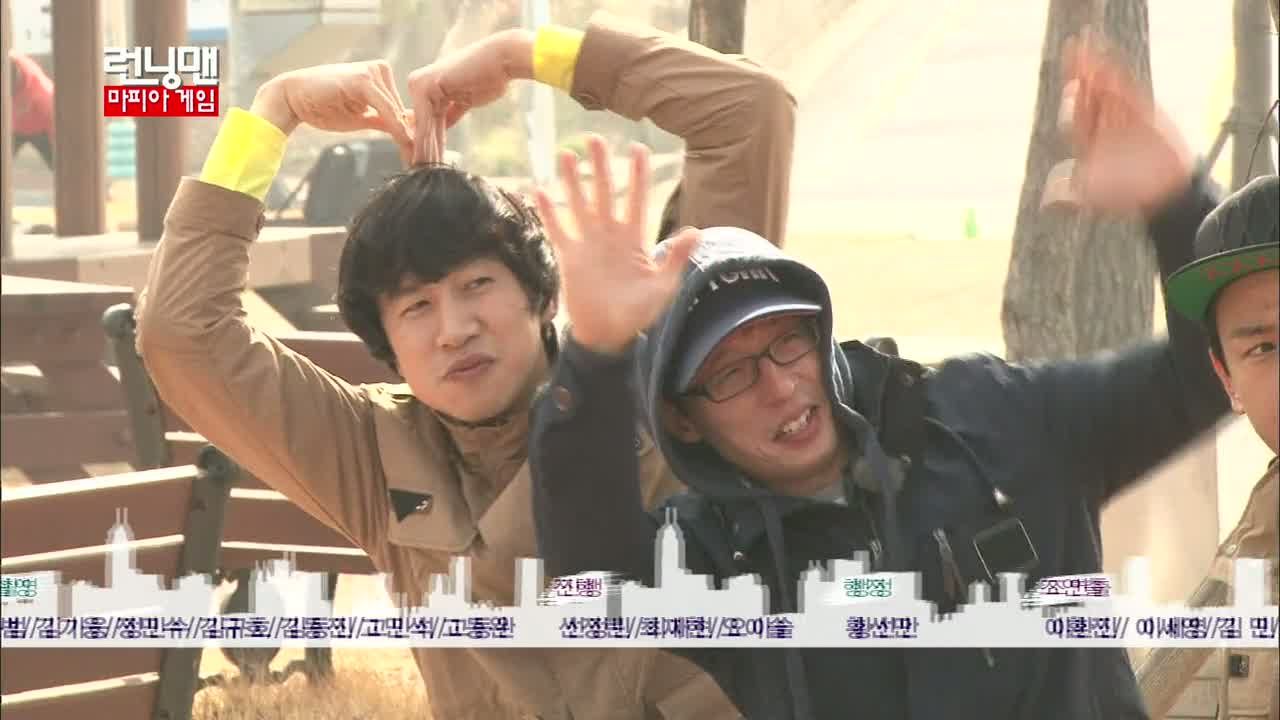 RELATED POSTS
Tags: featured, Haha, Ji Suk-jin, Kang Gary, Kim Jong-kook, Lee Kwang-soo, Running Man, Song Ji-hyo, Yoo Jae-suk