Running Man: Episode 195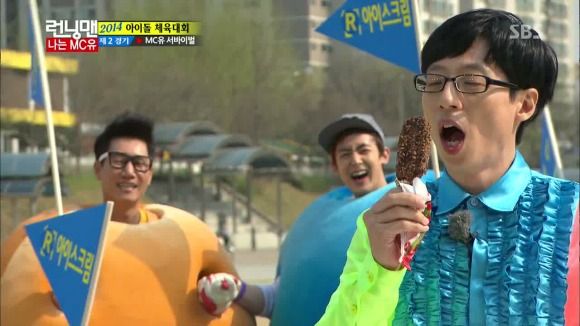 Just when you thought you saw every variation of nametag ripping under the sun, Running Man takes that preconception and turns it on a dime, adding a whole new element for your entertainment pleasure: up- to-the-minute commentary. Sometimes it's good know what's going on, but then again, you could turn around to find the MC announce to the world your precise location.
It's time to bring back old memories and cement them with new ones because this is one game you don't want to miss.
EPISODE 195. Broadcast on May 11, 2014.
We've seen Running Man take their own inventive spin on the classic nametag ripping game to varying levels over its nearly four-year history, but today the show is taking it one step further: live commentary. And if the preview clips are any indication, it'll be both disruptive and hilarious.
Here to host this year's Idol Athletic Championships is none other than Jae-suk, who's dressed in his amazing technicolor dream shirt. He cottons on to the idea that he'll be a spectator to today's events, but still asks, "But… why am I dressed like this?"
Nevertheless, Jae-suk assumes his role with professional ease, and I have to say it never fails to impress me how the nation's MC can just turn it on like that. Time to introduce our first idol group: 2PM (Jun.K, Nichkhun, Wooyoung, Lee Junho, and Chansung). (For the curious, Taecyeon was busy on set for Wonderful Season.)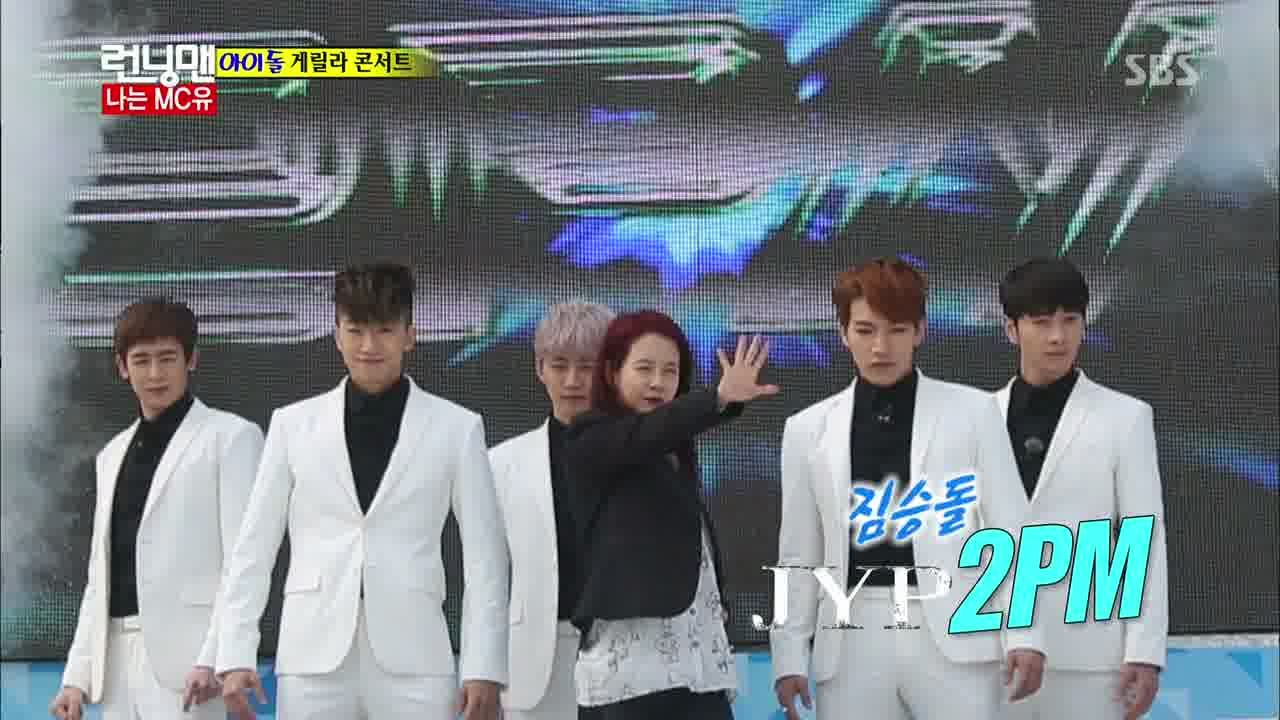 They're joined onstage by our lovely Ji-hyo, who holds her own during their group performance. She might even get to enjoy her dreamy moment more if only it weren't for Jae-suk's sideline commentary, like how she's old enough to be the boys' "auntie" instead of "noona."
Jae-suk remarks that he's most surprised to see Nichkhun today, which has the latter flustered from the start. Eek. I'll be honest—for a second there, I thought Jae-suk might have been referencing the idol star's DUI incident a couple of years back (which led to a hiatus of little to no television appearances), but thankfully he's talking about more cheery news… like a certain relationship with SNSD's Tiffany.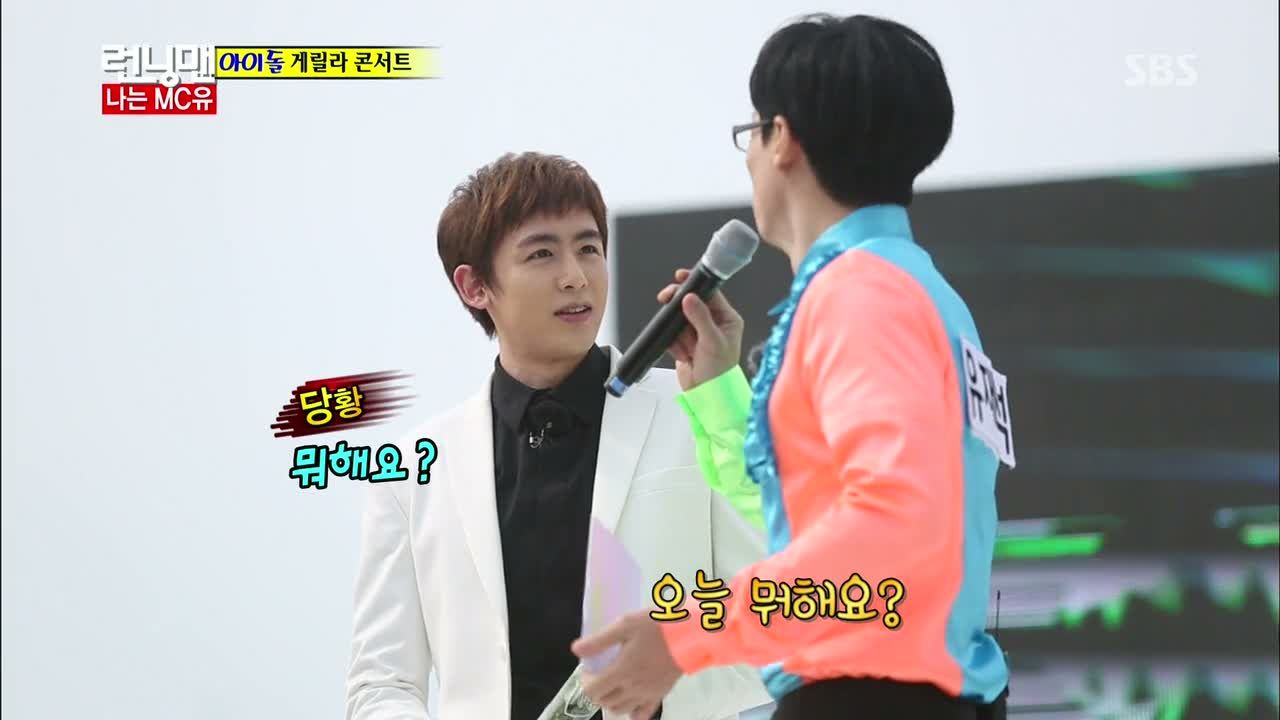 Nichkhun sidesteps the topic like a champ, announcing that he's happy as a clam. Aw. When Jae-suk asks what "that person" is up to, Nichkhun answers (talking about Taec): "Shooting a weekend drama."
But Jae-suk plainly states that he meant Tiffany, so the idol star directly answers that she's resting today, to which Jae-suk tosses back, "So you did talk to her this morning." Lol.
Then our next guests burst on stage—2NE1: CL, Park Bom, Sandara Park, and Minzy. Rather than Gary and Jong-kook dancing with the girls, what makes this particular intro memorable is the throwback to Jong-kook's hip-hop move and the lesson in voiceover. And yes, it's still one of my favorite moments in Running Man EVER.
Never to let an opportunity to make fun of Jong-kook pass him, Jae-suk promptly points out how Jong-kook's El Tigre sweater confuses him because now he can't tell who's appearing on this show today.
There's a third "idol" group joining us today, though Jae-suk shakes his head worriedly over these personalities. Meet the labelmates from MYSTIC89: Yoon Jong-shin, Muzie, and Jo Jung-chi, who are carefully escorted to the stage.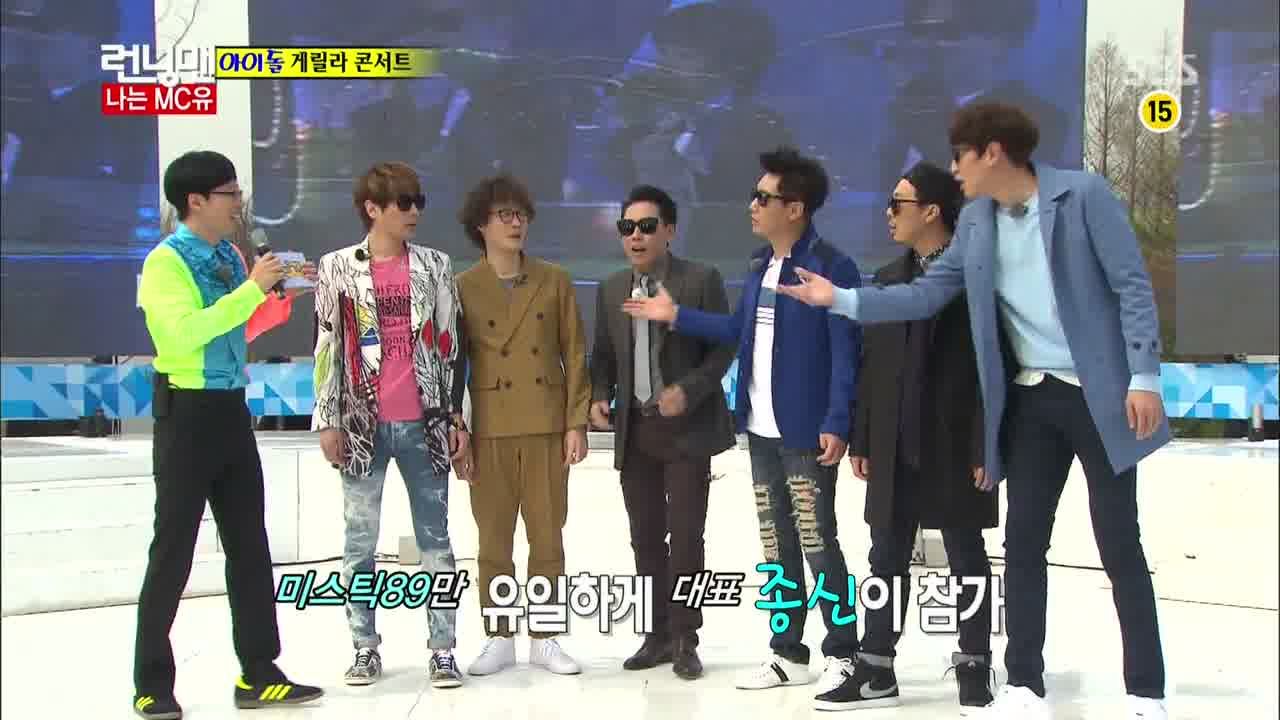 Our ajusshi-dols' (A-dols) spirit fingers performance quickly dissolves into playing Ring Around the Rosie until Jae-suk finally puts them out of their misery. Feeling lonely as the only CEO, Jong-shin jokingly wonders where the other founders from JYP (2PM) and YG (2NE1) are.
Turns out Jae-suk's tri-colored shirt is representative for today's three teams: Green (2NE1, Gary, and Jong-kook), Blue (2PM and Ji-hyo), and Orange (MYSTIC89, Suk-jin, Haha, and Kwang-soo). As MC, Jae-suk will be traveling alone, and kickin' it alone already sounds like boring times.
Aw cute—Ji-hyo reveals herself to be a 2PM fan in the van, as evidenced by her lyrical knowledge of "Don't Go," one of Jun.K's songs. Cut to: the Orange Team, sitting in awkward silence. HA.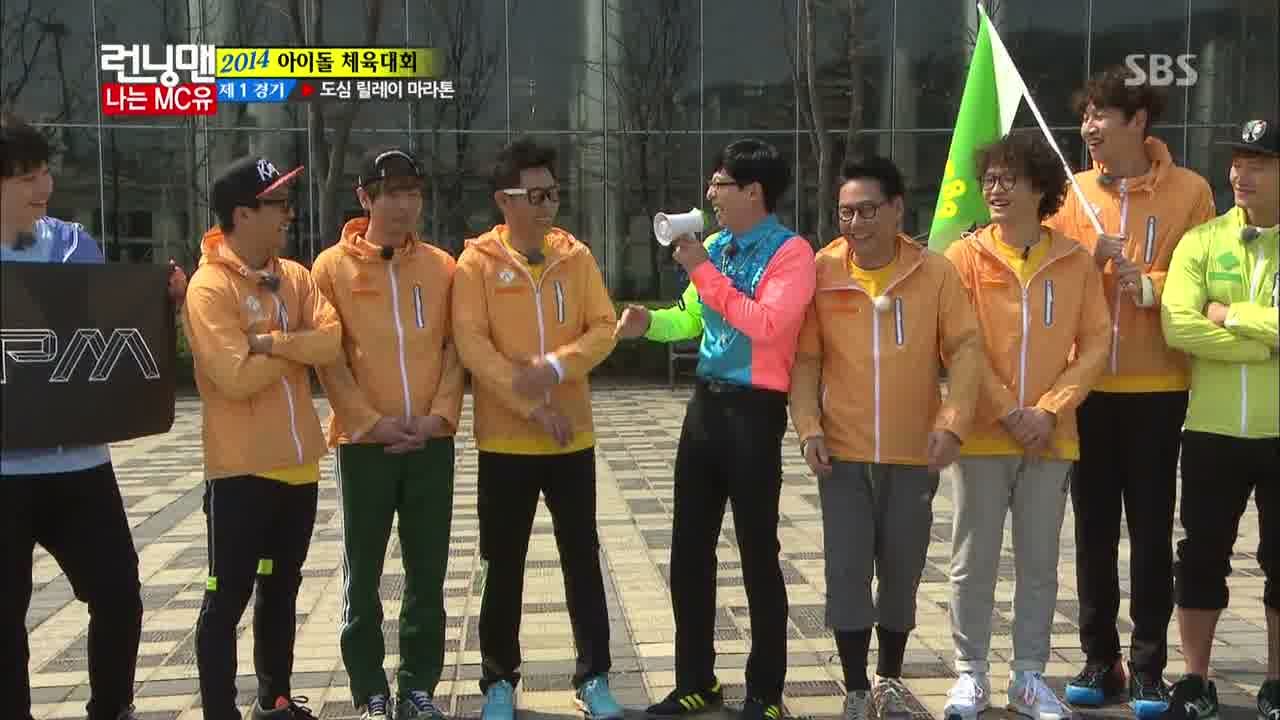 As expected, Jae-suk arrives first to learn about the first mission—a relay marathon race—where the MC will follow from start to finish. Oof.
Once everyone arrives, he explains that there are various mini-mission checkpoints, and when asked how long the race is, Jae-suk snaps in annoyance, "How am I supposed to know?" The prize: the winning group's music video will be played on a big screen all day. That's actually a great PR move.
Already annoyed at the idea of biking alongside the course, Jae-suk adopts the "figure-it-out-yourselves" approach with his participants: "Just go this way and you'll find [your checkpoints]."
After skimming through all the odd checkpoints, the last group is told that whoever delivers the tape to the video room first, wins. The race begins, and despite Park Bom's head start, the boys run past her into the coffeeshop.
It's Jung-chi who pulls ahead with the lead, but here's the catch: he's got to drink it all. Jae-suk keeps in pace with Park Bom, whom CL notes is particularly sensitive to caffeine. In an act of chivalry, poor VJ Kwon-ryul (and Jo PD, ha!) swoops in to down the drink for the ladies.
Then the teams attempt to toss their empty cups in a trash can. It's Junho who succeeds first and takes one of the dogs for a walk. But the 2NE1 ladies aren't far behind, and Sandara fights her fear of dogs to take the nicest one.
Too bad the huge and curious dog ends up walking the petite woman instead. Lol.
Suk-jin ends up with a classy-lookin' pooch he ends up scaring at the last minute. She hilariously retreats. Soon all the teams are past the third checkpoint as Jong-kook closes the gap while piggybacking CL, who apologizes for possibly being a heavy burden.
She feels extra bad when they're stuck waiting for the light to turn, but Jong-kook doesn't seem to mind at all, giving her an extra boost. The same can't be said for Kwang-soo, who asks Jong-shin if he can't lean on something. Kwang-soo briefly rests his teammate down on a traffic sign, but Jong-shin hollers, "That's where I got surgery!" Ouchhh.
The teams must answer a trivia question before they can move on, but the Blue Team doesn't know it and must double back. So do the Green Team when they arrive (and CL hilariously shrills, "I'm SO SORRY!" to Jong-kook when he lets her down).
Jong-kook and CL spit back various answers until they stumble upon the right one. That's good! But then Gary races off without the tape. That's bad.
Gary has to be piggybacked back to the start, where he runs at a much slower pace this time around. Pretty soon he's got young blood hot on his tail, and Chansung overtakes him in his flippers.
Back at the fourth checkpoint, Kwang-soo trudges in with Jong-shin barely holding onto him. It gives us a hilarious sight gag, though the team gapes when they're given a trivia question.
Meanwhile, the Blue Team is in the lead as Nichkhun sets off. But he gets held up when the light turns, giving Minzy the opportunity to catch up to him. They both run off into the building once they're safe and the question is: who will get there first?
Everyone waits with bated breath outside as the screen goes black… and a 2PM video appears. The Blue Team collects a coupon (to be used in their final mission).
Our second mission takes place at a field with musician Eddy Kim filling in for Jung-chi (the latter had a radio appearance). Here the teams will play a series of rounds wearing potato suits, and whichever team has the most team members left wins.
First up is to guess Jae-suk's current food preferences, which Jong-kook takes issue with: "Why do we have to worry about that? Just eat it!" And then Jong-shin says that Jong-kook's cries really do sound like whining. Jae-suk advises everyone NOT to choose what Jong-kook takes—ha, because you won't eat it?
I love how the potato suits automatically add that cutesy entertaining element to the game as everyone bumps and rolls to each other. I especially love how Kwang-soo looks like an adorable orange.
They sit in groups after making their choices, and which one does Jae-suk choose first? Ramyun. I remember Jae-suk mentioned that he REALLY liked ramyun on a few Happy Together episodes, but it's funny that he picks it first anyway. His reasoning? "The noodles will get soggy!"
Jae-suk lets logic rule his decisions ("The ice cream will melt"), ignoring everyone's protests. He opens one and brings it close… and closer to his mouth… and doesn't take a bite. He keeps teasing them, and Jong-kook yells: "That's so dirty! Hurry up and eat it!"
He does. Jae-suk does the same thing with the fried chicken, letting it dangle in his mouth before chomping down. And then Jong-kook is SO EXCITED that he runs around happily in his potato suit. It's ADORABLE.
Now it's down to two choices (bbang = bread, tangsooyuk = sweet and sour beef), which Jae-suk turns into a whole theatrical performance: "Bbang bbang orrrrr Tang Tang." It's Jae-suk's Choice and he chomps down on the bread.
In their second round, the remaining participants will choose a number (1-14) and Jae-suk will play the Pop-Up Pirate game. It's a luck-of-the draw and the unfortunate person to choose the number when the pirate goes flying is eliminated.
Jong-kook stands at the front, and he clears. So does Sandara, and the others can't help but grow increasingly nervous. But then the pirate goes flying and we skip ahead to find out that Chansung and Haha are out of the game.
Then it's time for the third and final round, and the Green Team still have five members remaining. They bring out a pull-up bar, and the choice is simple: Jae-suk will call out a number of pull-up he can do, and it's up to the teams to judge whether he can succeed or fail.
Jae-suk calls out 18 pull-ups, which sounds like a lot considering both Chansung and Eddy Kim (who demonstrated earlier) only got up to fourteen. He answers a few questions to help with their decision: it's been about a year since this exercise and weighs about 67 kg.
He even lets them check his muscles (ha, Wooyoung goes straight for the pecs) and it's a few more minutes before everyone is divided. Is it just me or does that determined look on Jae-suk's face suggests that he might actually succeed?
Jae-suk starts off strong, and though he starts shaking by nine, his chin still clears the bar. Damn. He hits fifteen before slowing down and the motivating captions can really get someone going: "To never try is to fail."
So Jae-suk gathers his strength for one, two… and three more times. Wow, that's impressive. With three members left, 2NE1 wins the second mission.
Then it's time for a little 1:1:1 nametag rippin' game between our three teams. Haven't we played this same game in this building before? Their orders pre-determined, it's a tag-team elimination style game and the last member to remain standing wins it for their teams.
Jong-shin tries to boost morale by telling his teammates that 2NE1 aren't ladies (and hence go easy on them): "They're just part of a successful music label!" As for Jung-chi, he decides to go for the pitiful approach by not wearing his glasses.
Now we learn what those special coupons were for, as the Green Team learns they can use it to deprive one opposing team member from participating. It's used against the Blue Team, who are wary to lose Ji-hyo. But wait, what about the Blue Team? They won one, too.
Just their luck, she has to sit out. They collectively groan to lose the Ace, which aww, they know how valuable an asset she is (to take on 2NE1, presumably) and good she is. She offers to coach them instead.
With that, off go Sandara, Wooyoung, and Muzie to start off the game. Now we get to see Jae-suk's live commentary in action as he broadcasts Muzie's every move over the speakers. "He's moving to the second floor!" "He's laughing out loud! Now to the third floor!"
Like the impartial host he is, Jae-suk keeps a close eye on current events. Realizing that the Green Team has yet to show up, he deduces that the first participant must be female, and Sandara cringes in her hiding place.
Jae-suk gives up-to-the-minute details of the happenings as Wooyoung and Muzie face off in the hallway. We see the two roll onto the ground, grabbing each others' shirts as the others can only rely on Jae-suk's audio commentary.
And then Jae-suk announces Wooyoung's elimination, to many cheers and tears. Jae-suk immediately grabs Wooyoung aside for a word before letting him go. Oddly, Wooyoung doesn't seem too broken up about the elimination: "I've got another chance?" OH. Is that what your special coupon is for?
A flashback teaches us that opportunity had gone to Wooyoung, and Ji-hyo had replied, disheartened, "It should have been Nichkhun…" Aw.
As for Jae-suk, he cheerily announces Chansung's entrance, and then heads off to find the missing Green Team member. He drops by Green Team's HQ to deduce (into the speakers) that it must be Sandara. Lol, already so disruptive.
Unfortunately, Jae-suk runs into her a minute later to find that she'd been eliminated. It really makes you wonder if Jae-suk loves to be the pot stirrer as he runs to wherever the source of noise is.
He alerts everyone of Gary's presence upstairs, and now all three competitors are outside the Blue Team's room. As the three try to come to some sort of understanding, Jae-suk continues to provide commentary, to their annoyance.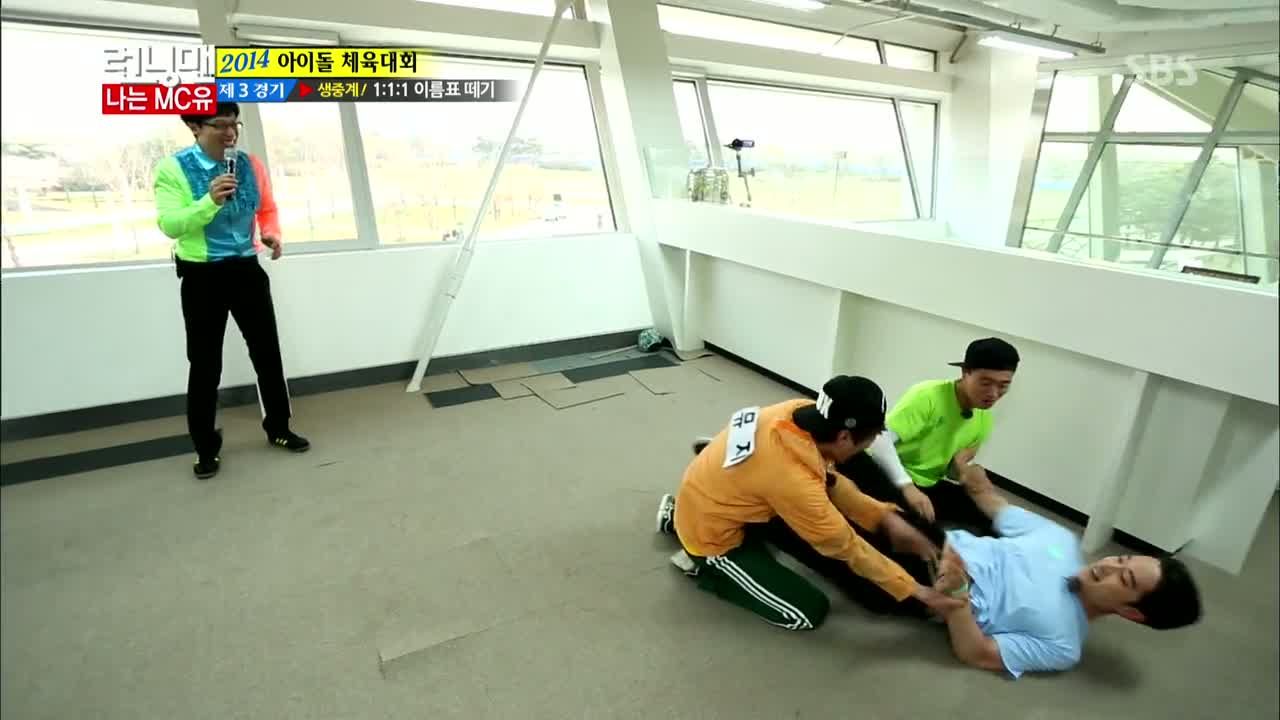 But Jae-suk keeps talking with gusto, especially when Chansung is cornered and pinned to the ground. With great effort, Gary and Muzie manage to eliminate the idol star, to the Blue Team's disappointment.
We fast-forward to after Junho's elimination, and Jae-suk remarks that Gary and Muzie's alliance has gone on long enough now. Using the proverb "A thing is cherished so long as it's useful," Jae-suk cites that Gary could fall prey to this move. (Furthermore the actual saying refers to a dog [gae], which is also the first character of Gary's name.)
Just then, the two face off and Jae-suk announces that Gary's in danger. But then it's Gary who comes out victorious with Muzie's nametag in hand. Feeling particularly sensitive about his exposed stomach, Gary pleads with the staff to censor it out. They do.
But Gary barely has time to catch his breath before Nichkhun shows up, ready to play. He pins Gary to the ground (giving us a flash of Gary's soft tummy, too) but then gets up when Jong-shin saunters into the room calm as you please.
Jong-shin and Nichkhun agree to an alliance, but Jong-shin seems to have second thoughts when he realizes how strong Gary is. Jong-shin sticks with his original choice but continues to struggle, and in a flash, Gary reaches up and eliminates him. Whoa.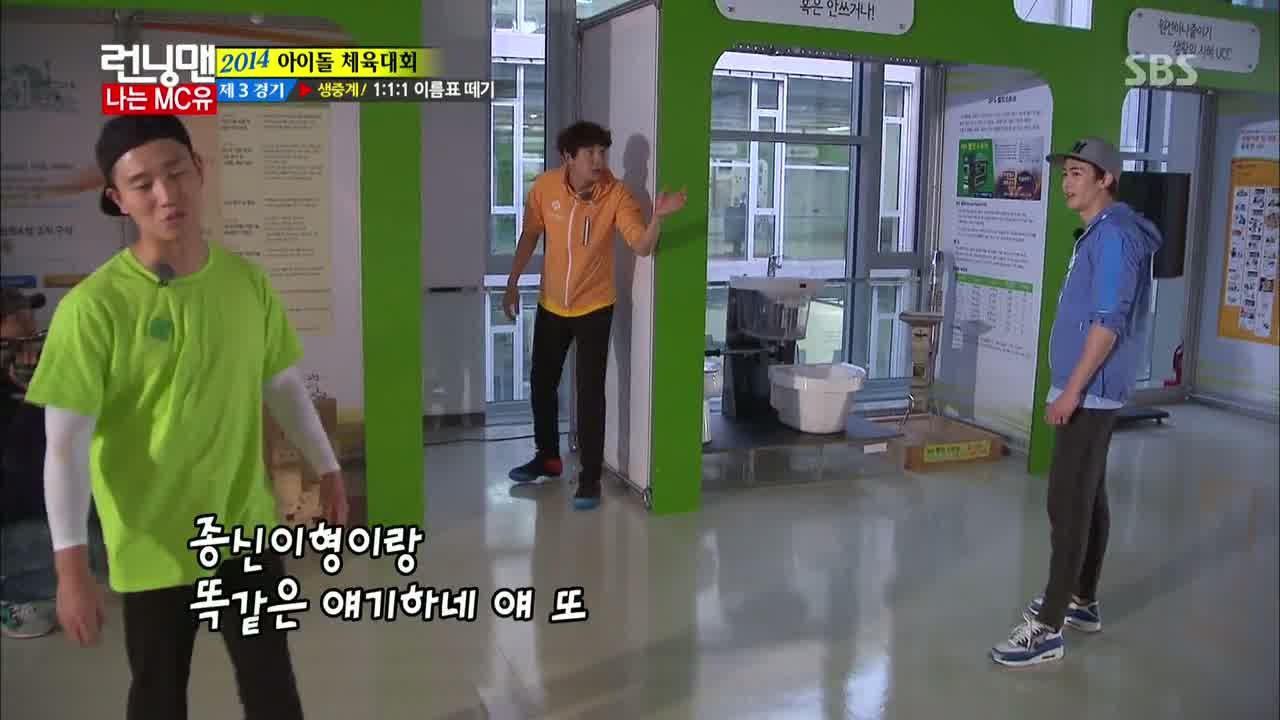 Jae-suk makes sure to cement Jong-shin's unfortunate elimination for the record, but then lingers outside the Orange Team's room to announce their next competitor: Kwang-soo, who helplessly tries to wring the mic out of his hands. HA.
Kwang-soo argues that Jong-kook still hasn't shown up yet, and he's the only real chance that Nichkhun has to stop Spartakooks. Gary: "You're spouting the same nonsense Jong-shin did!" It's up to Nichkhun to choose: El Tigre or La Jirafa?
In the end, Nichkhun chooses Kwang-soo and they both walk towards Gary, who has no choice but to retreat. Kwang-soo encourages Nichkhun to attack while he has Gary occupied, but then Nickhun goes for the giraffe's nametag instead. Oho, look who picked up a thing or two about betrayal.
It looks like his teammates warned each other against joining hands with the Betrayal Icon. Suffice to say, Kwang-soo is bewildered by the unexpected move, and so is everyone else.
A little later, Jae-suk runs over to the second floor where the action is. Currently, Gary is pinned to the ground yet again, suffering from an armbar move. Ow, now that's got to hurt.
Gary's replacement, Minzy, is short-lived, though Haha makes it a point to cry out that she's stronger than she looks. All the while, Jong-kook sits with an solemn expression on his face, irritated that the other teams would gang up on his female teammates.
So when it's Jong-kook's turn to enter the arena, his eyes are fiery with determination. El Tigre's entrance is announced soon afterwards, and Nichkhun can only let out a sigh. And then in the shadows, Jong-kook calls out, "C'mere."
Despite Jong-kook's burning rage, the others take him on anyway. Then Jong-kook reaches across Haha's back and rips off his nametag with a fluid motion. Oh snap.
Suk-jin shows up to provide backup, but then Jong-kook eliminates Nichkhun moments later. He doesn't hold anything back for the impala and rips off his nametag, too. Jae-suk musters up the courage to interview Jong-kook in his enraged state. Jong-kook grabs at his microphone instead.
There's this tiny moment when Jae-suk taunts Jong-kook with some water, but Jong-kook charges after his targets and takes both Jung-chi and Jun.K down in swift succession.
Now the chance for Wooyoung to redeem himself as he re-enters the arena. The two take their time to attack and then both grab each other's backs simultaneously…
They keep swinging around like that again and again until Jong-kook overtakes Wooyoung, giving 2NE1 the win. Exhausted, Jong-kook asks Yang Hyun-seok on TV to tream them all to a meal in his own special way: hip-hop.
RELATED POSTS
Tags: featured, Haha, Ji Suk-jin, Kang Gary, Kim Jong-kook, Lee Kwang-soo, Running Man, Song Ji-hyo, Yoo Jae-suk