Witch's Romance: Episode 11
The cute is back! Well mostly back, as we get an episode that reminds us of the fun, silly, lighthearted Witch's Romance we fell in love with at the beginning. Our leads still have a lot of issues to work out, which isn't helped by the fact that they aren't having their trademark honest talks like they used to have. But some steps are taken that could lead them back together, if only they can begin to trust each other again like they used to do.
EPISODE 11 RECAP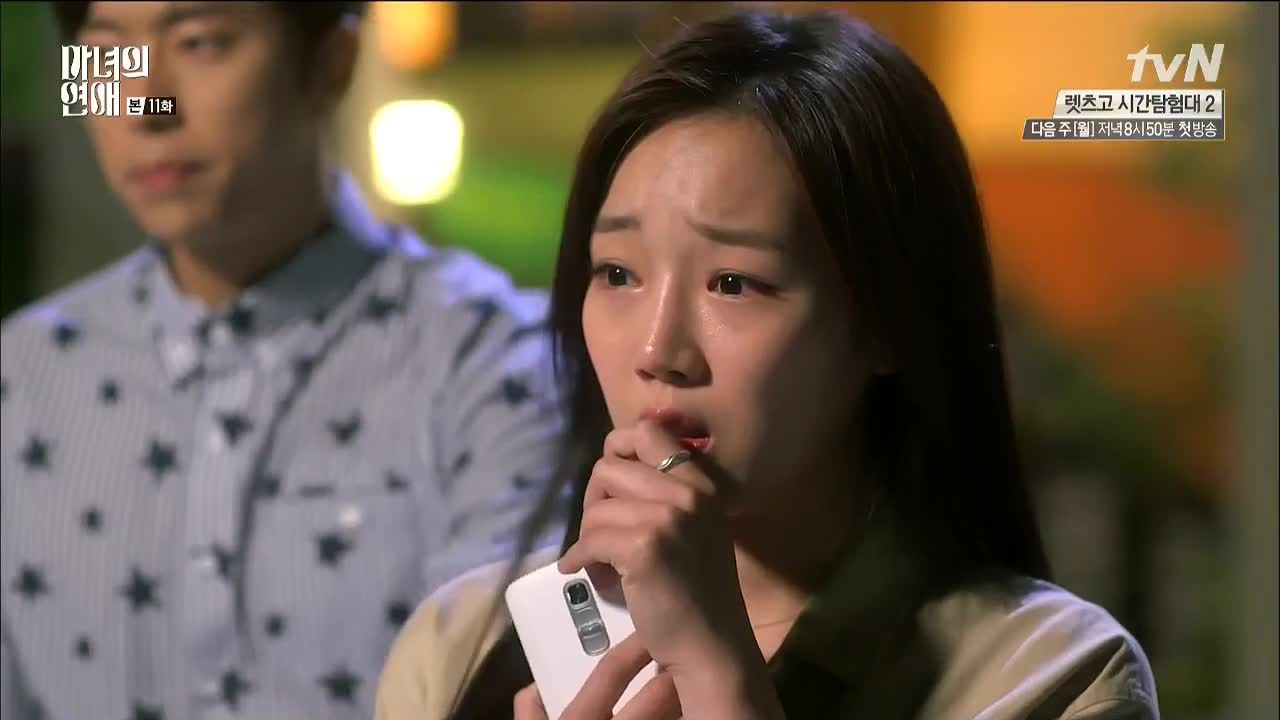 Ji-yeon sits on the bench with Dong-ha's head in her lap as he sleeps off his night of drinking. She quietly wonders to herself if things would have been different between them had they met sooner. She finally is able to rouse him but when she tries to stand, he stops her, and leans in for a kiss.
Soo-chul drives Eun-chae back to Ji-yeon's place to return her phone, but when she gets to the courtyard she sees Ji-yeon and Dong-ha mid-kiss, and freezes. Soo-chul finds her and pulls her away silently and they drive off.
In the car, Soo-chul reminds Eun-chae that he warned her before that she can't have feelings for Dong-ha, being his first love's younger sister. She says that she understands but she can't help how she feels.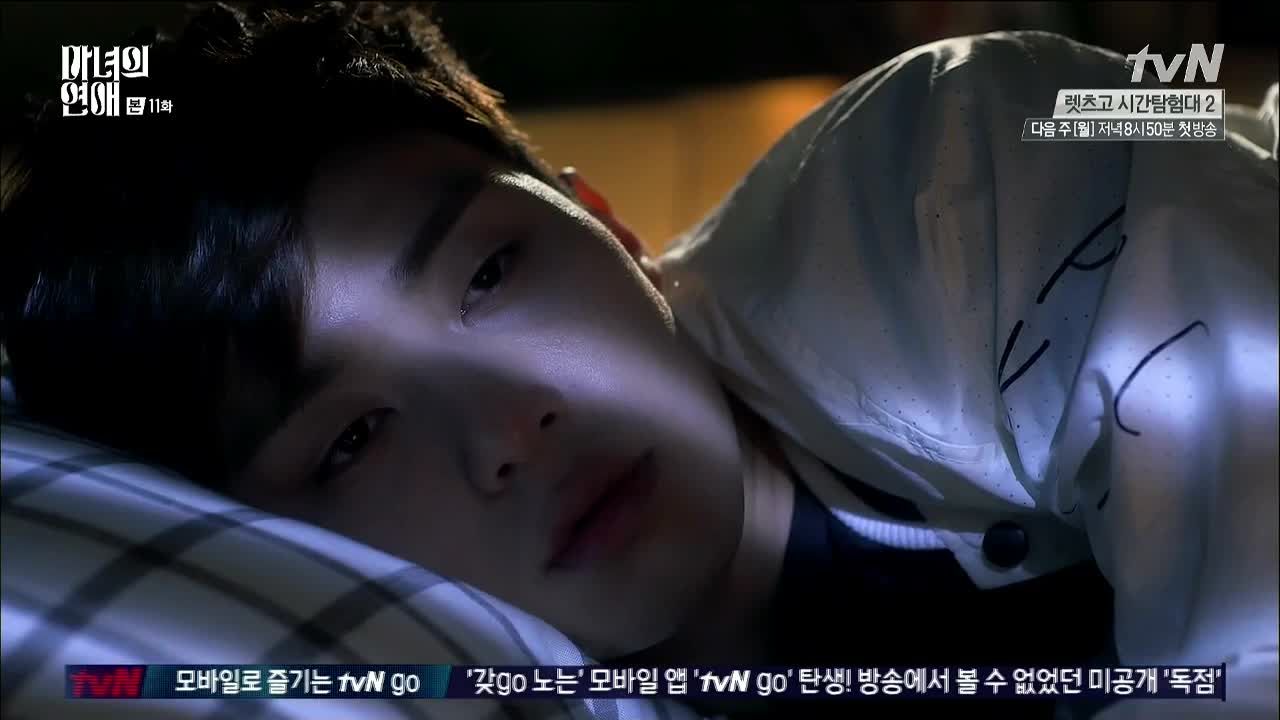 At the same time, Shi-hoon arrives to visit Ji-yeon, and sees her supporting a very drunk Dong-ha up to his place. She gets him to his door and he nods that he can get himself inside, but just crumples to the ground as soon as she lets go of him. Poor brokenhearted puppy.
Ji-yeon guides him the rest of the way inside and tucks him into bed. After she leaves Dong-ha opens his eyes, revealing that he wasn't as incoherent as he was pretending to be.
Soo-chul shuffles over to Ji-yeon's place to give her phone back and, judging by his face and entire-body language, it's obvious she's on his Hit List right now. She asks why he's looking at her funny and he snaps that it's because she kissed Dong-ha. He stomps out, kicking his slippers off and into the wall, HA.
Ji-yeon checks her messages to see five missed calls from Shi-hoon. It's awfully telling that instead of calling him back, she sits and thinks about Dong-ha's kiss instead.
In the morning Soo-chul is still in a snit, and gives the stink-eye to Dong-ha when he wakes up. He's mad that Dong-ha doesn't remember what happened last night, and refuses to tell him when he asks if he made a mistake at the party.
Meanwhile, Shi-hoon visits a jewelry store to pick up an engagement ring that he designed. Though after what he saw the previous night, he doesn't look very happy either.
Ji-yeon heads out to work and stops to wistfully stare at Dong-ha's door. She jumps like a startled cat and runs down the steps when the door suddenly opens, but it's Soo-chul. He stops her with a loud "Noonim!" but just snubs her with a huff and a snarl when she asks where he's going. I love him so much right now.
Ji-yeon steps out to find Shi-hoon waiting to take her on their date, only today his smile is gone and he can barely raise his eyes to hers. The car ride is quiet and awkward as they talk around the events of the previous night. Ji-yeon is honest about Dong-ha getting drunk and her losing her phone, though she leaves out the most interesting part of her night.
They see a musical performance of Bonnie and Clyde, and Shi-hoon relaxes to see Ji-yeon enjoying the show. In the lobby after the show, a man bumps into Shi-hoon hard, which sets off Ji-yeon as she yells at him to apologize.
Shi-hoon is inclined to let it go and is surprised at Ji-yeon's aggressiveness, saying that the Ji-yeon he knew would have hidden in fear rather than yell at a stranger. Ji-yeon says she was just trying to look good in front of him which again, is a big hint that she wasn't comfortable being herself around him in the past OR the present. Just sayin'.
Dong-ha runs into Ji-yeon's mother on her way out of her daughter's apartment, and she catches him with a bag of convenience store food for dinner. She takes the bag from him and leads him to Na-rae's restaurant for a real dinner. Aw, I love Mom.
Mom asks after Na-rae's pregnancy, and muses whether Ji-yeon will have "good news" soon when she gets married. Cue the crickets as Dong-ha's, Na-rae's, and Min-goo's smiles all freeze at the uncomfortable conversation topic.
Dong-ha hesitantly asks Ji-yeon's mom if Ji-yeon is really getting married, and she says that she is, and soon. She asks if Dong-ha has a girlfriend and says that if she had another daughter, she'd want him as a son-in-law. She admits that she really wanted him and Ji-yeon to get together and laughs, but the look on Dong-ha's face as she talks is crushing.
Dong-ha blurts out that he actually does like Ji-yeon, shocking Mom. He talks mostly to himself as they listen, and wonders how things would have been different had he confessed sooner or Shi-hoon hadn't come back. He says it's too late now, and Mom and Na-rae both look like they want to cry.
Mom asks why he had to fall for Ji-yeon, who is older and bad-tempered, when there are so many pretty young girls to date. She takes his hand and apologetically says that she can't think of anything to say, and he just sweetly smiles at her.
While that's happening at the fishcake restaurant, Shi-hoon and Ji-yeon have coffee at his place and look at photos of homes he's seen all over the world. She asks if his next art concept is architecture and he says yes, though I don't think he's talking about photography anymore.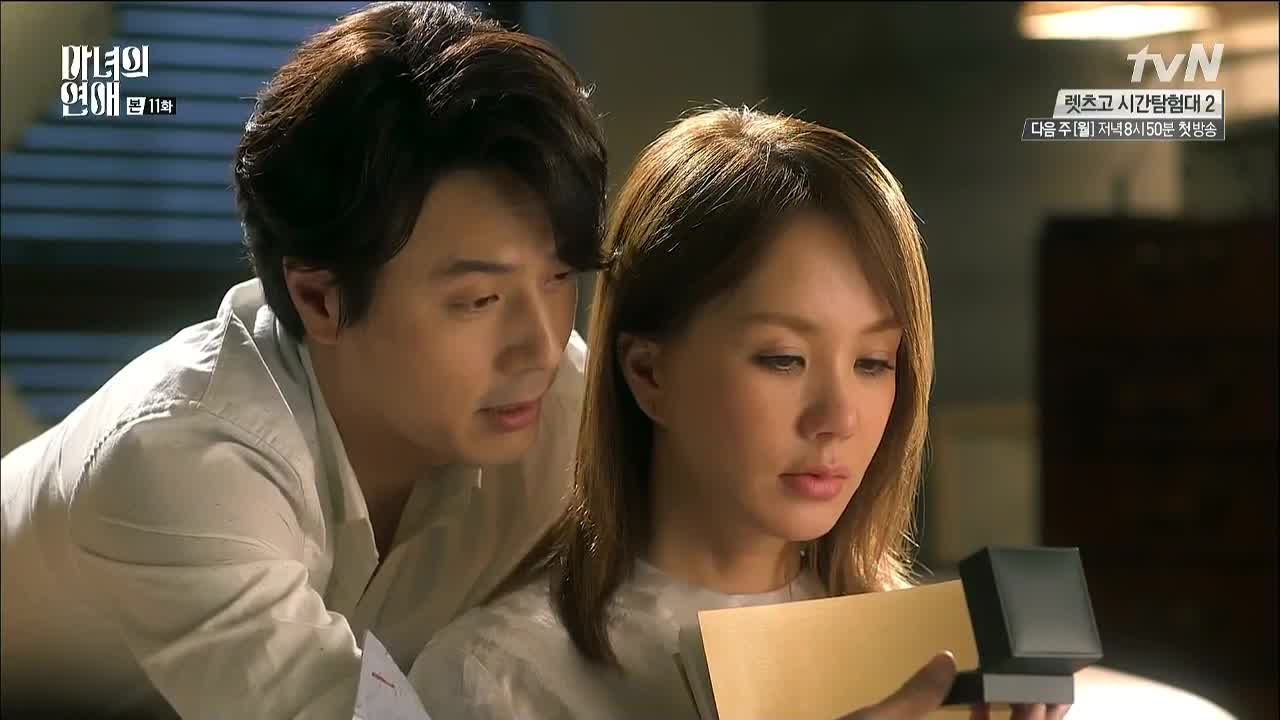 Later that evening, Shi-hoon brings Ji-yeon a book he's put together of all her favorite photos of homes and pets, to represent their future. He tells her that his dream is to make a life with her, and presents her with the ring he designed. (And again I notice that Ji-yeon's reaction is really more of a non-reaction. If a romantic proposal and a ring don't even make you smile and actually make you look kind of miserable, why are you here?!)
Dong-ha walks home alone, thinking of Ji-yeon's mother's words that he's young and will meet someone else and forget Ji-yeon. He had responded that it's possible that could never happen and he could never meet someone he cares about as much as he does Ji-yeon. He had asked Mom what he's supposed to do if he can't forget her.
There's a meeting at the Trouble Maker office, and Director Kwon announces that due to an article written by Ji-yeon, they've had their highest magazine sales ever. He gives her a bonus and, ever the freeloader, Team Leader Byun asks if she's going to use it to take them all out. I love how Ji-yeon is all, "Nope!"
Director Kwon also introduces Ji-yeon's new assistant, Jae-woong. Young-sik shows him around the office and they have a hilarious back-and-forth when Young-sik tells him Ji-yeon's coffee preferences and mispronounces "venti" to sound like "panty." Ji-yeon's eyeroll is priceless. She calls him simply Geoje Island (for his hometown) and snaps at him to follow her downstairs.
On his way out he talks to Ri-ji and Eun-chae, and Ri-ji sighs that he looks so boring after having Dong-ha around. Mention of Dong-ha makes Eun-chae look depressed, and Ri-ji asked if she confessed to him. Eun-chae denies it, and Ri-ji warns her not to go after Soo-chul just because she can't have Dong-ha.
Jae-woong catches up to Ji-yeon outside, who gives him the rundown of how it's going to be around here: She's to be called Team Leader, he's do to whatever she asks, he must be on standby at all times, and he has to ask before asking questions. Even Ji-yeon seems a bit surprised when he just agrees to everything.
Mom stands outside the Trouble Maker office calling Ji-yeon, who isn't answering her phone. She muses that if this were a drama (ha), the object of her affections would show up right about… now. Which is when Director Kwon calls her name and scares the life out of her.
Director Kwon invites Ji-yeon's mom to wait upstairs and sits with her in his office. She notices he still has the tomato plant that she gave him and he tells her a story he heard about how cherry tomatoes are also called the "fruit of love." He gives her his phone number and when she goes to take the card from him, he takes the opportunity to pull her in close. RAWR.
Ji-yeon finds the two of them in full-on flirt mode, and practically manhandles her mom out of there. She gives Director Kwon a "don't you dare date my mom" look, and he totally loses the stare-down.
Mom goes to the unisex bathroom and gets another fright when Team Leader Byun and Young-sik both walk in. Did one of them just fart? DYING.
Mom sits in a stall texting like a tween, and Ji-yeon yells at her to hurry up in there. Mom sends a text to Director Kwon so that he'll have her phone number, and asks him out for the next night. He thinks, while looking directly into the camera, "I got her." Why so cute, you two?
Dong-ha stops by his and Soo-chul's place to change clothes for a part-time job, and catches Soo-chul dressed for clubbing instead of work. Soo-chul denies it and tells Dong-ha to work on their website while he's gone. He leaves as Dong-ha wonders who he's trying to impress.
Ji-yeon takes some fresh fruit to Na-rae, and orders a beer. When Min-goo asks if she didn't quit drinking recently, she says she wants to celebrate and flashes the bling. She tries to look happy but admits that she mostly feels strange since Shi-hoon proposed.
Now we find out why Soo-chul got all gussied up as he walks Eun-chae home after work. She asks why he's so nice to her, and he deflects by saying it's because she's Young-chae's sister and he feels responsible.
Eun-chae's mom comes out, and says that Soo-chul looks familiar to her. He tells her he was a classmate of Young-chae's, and she asks how he knows Eun-chae. He says that he met her at his restaurant, and that it must be Fate that she's Young-chae's sister. After he leaves, Eun-chae's mom notes that he's cute and funny, and it doesn't look like she believes Eun-chae's denial that nothing is happening between them.
Ji-yeon tells Na-rae about Shi-hoon's wooing of her, and by the number of empty bottles on the table, she's got to be pretty drunk by now. I know I keep saying this but for a woman who is telling her best friend about the supposed love of her life returning to her, there's an awful lot of sighing and sad-face-making. Na-rae is a great friend though, and lists all of Shi-hoon's good qualities.
Ji-yeon half-passes-out on the table, and Na-rae shakes her awake. Na-rae asks Ji-yeon to take her home, but Ji-yeon just threatens him with bodily harm if he ever makes Na-rae cry. Na-rae offers to call Shi-hoon but Ji-yeon forbids it because she doesn't want him seeing her drunk. So Na-rae drags her out to get a taxi as Ji-yeon and Min-goo yell, "I hate you!" "I hate you too!" at each other in English. Drunk Ji-yeon is just my most favorite thing ever.
She barely manages to stagger up the stairs to her building, but can't get the door to unlock. She finally gets it to work and lets herself into… Dong-ha's apartment. Whoops. It's hilarious how she just talks to Dong-ha (who can only stand and stare) like she's been living there this whole time. She kicks off her shoes, shuffles down the hall, and climbs into Dong-ha's bed.
Dong-ha tucks her in and starts to brush her hair off her forehead, but stops just before he makes contact. You can feel how much he wants to touch her as his hand hovers, shaking, above her head. Instead he leaves her to sleep it off.
When Soo-chul gets home, he immediately notices the women's shoes in the hallway and thinks Dong-ha has a girl in the house. He congratulates Dong-ha on getting over his heartbreak, but Dong-ha just sighs that the shoes belong to Ji-yeon.
In the morning Ji-yeon wakes to see Dong-ha in bed with her, and she asks why he's there. He says she took his bed and that she should go to work. Instead, she just smiles and snuggles deeper into his arms.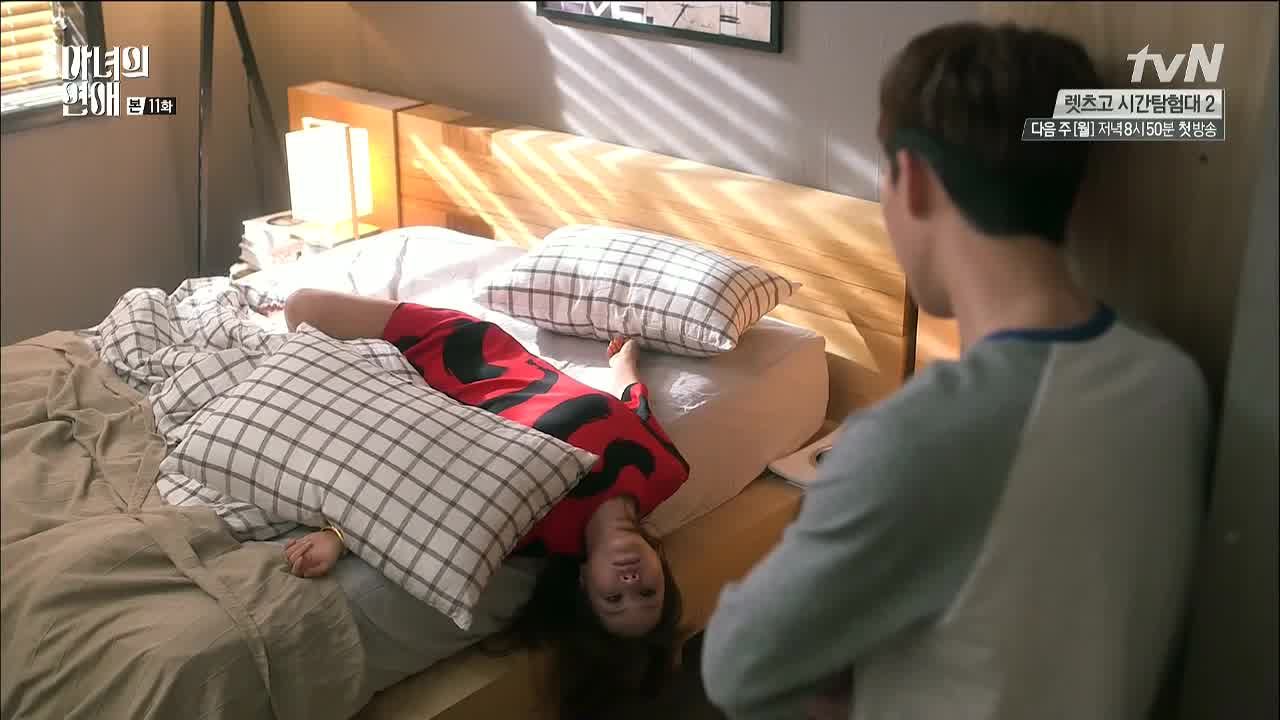 DAMMIT, I knew it was a dream. Ji-yeon wakes up for real this time as Dong-ha hollers from the doorway for her to wake up. My goodness, isn't she a pretty pretty princess when she's hungover? She's horrified to find herself in Dong-ha's bed and rushes out, forgetting her purse.
Ji-yeon runs out of the house and right smack into Shi-hoon coming up the stairs. Dong-ha follows her and screeches to a halt when he sees Shi-hoon, who only glares at them both. Awkward.
Shi-hoon does give Ji-yeon a chance to explain when they get to her place, to give him credit. She says that she lived with him and Soo-chul while her place was being repaired which explains why she's comfortable there. She tells him that she got drunk and was confused.
Dong-ha is in the middle of one of his self-pep-talks about what happened the night before, when Soo-chul runs up and flashes him point-blank. I guess to snap him out of it? Ah bromance, it's a beautiful thing.
In the car on the way to work, Shi-hoon wonders out loud why Ji-yeon felt like she needed to get so drunk that she crashed in the wrong apartment. Meanwhile I have my first flattering thought about Shi-hoon's ability to read a situation.
Ji-yeon gives Jae-woong some pointers as the new guy but slips into a memory of when Dong-ha was new at the Trouble Maker. She remembers how he used to nag her about putting herself in danger to get a story.
As the guys work out their part-time job schedule, Soo-chul worries that Dong-ha is taking on too much. He lends Dong-ha his car for a big job. On his way out, Dong-ha trues to walk past Shi-hoon on his way in, but Shi-hoon stops him.
Looking like he'd rather be anywhere but here, Dong-ha tells Shi-hoon to mind his own business, but Shi-hoon actually came to talk to him. He says that he understands that Ji-yeon got drunk and mistakenly went to his place since she was used to his helping her, just like Dong-ha got drunk a few days ago and she helped him.
He says that he's going to marry Ji-yeon, and he came to warn Dong-ha: Don't do anything else to make Ji-yeon worry about him. Dong-ha points out that Shi-hoon seems to be the one who's worrying, and Shi-hoon owns it since she's his to worry about now.
Ji-yeon and Na-rae have a girls' day out of shopping and end up at a spa. Ji-yeon mentions that she has a working date with Shi-hoon for his photography book and Na-rae points out how she sounds more professional than personal about having dinner with him. That's what I'm saying.
Dong-ha arrives to deliver some supplies to the spa, and runs into Ji-yeon in the hallway. Shi-hoon arrives to pick up Ji-yeon for dinner, and she grabs Dong-ha and shoves him into a storeroom. He protests that they didn't do anything wrong to hide, but Ji-yeon doesn't want two awkward confrontations in one day.
They hear Shi-hoon and Na-rae outside the door looking for Ji-yeon, and when they open the door, Ji-yeon yanks Dong-ha into a side-room this time. They end up nose-to-nose with Ji-yeon looking uncomfortable, and Dong-ha looking like he can't think of anything else but kissing her.
Ji-yeon backs away and Dong-ha asks "Why? Are you afraid I'll kiss you again?" She's surprised he remembers kissing her when he was drunk, but he asks what man would forget kissing the woman he loves. She starts to leave but he gently pushes her back against the wall.
Starting to sound desperate, he says it's not fair that he has to hide when he hasn't done anything wrong. He asks if she feels guilty being with him, and in a flash his lips are an inch from hers. They stay that way for a long moment, looking right into each other's eyes, then Dong-ha backs away. He tells her to stay for another minute, then leaves.
Na-rae sees Dong-ha leaving, and when she finds Ji-yeon she asks if she saw him. Ji-yeon tells her that she sees Dong-ha everywhere and hears his voice all the time. She fesses up that she hid with Dong-ha earlier and thinks she must be crazy, considering that Shi-hoon proposed to her.
Na-rae tells Ji-yeon that what's important isn't the proposal, but what's in her heart. She says that Ji-yeon needs to figure out which man is in her heart. She begs off her date with Shi-hoon and goes home instead.
Young-sik calls her and asks to borrow a book, and while she's looking for it she knocks the book that Dong-ha left her onto the floor. It doesn't look familiar so she leafs through and finds his inscription: "Would you stay with me?" She remembers that night and how he awkwardly kept talking about her books, then hugged her and asked her not to go to Shi-hoon.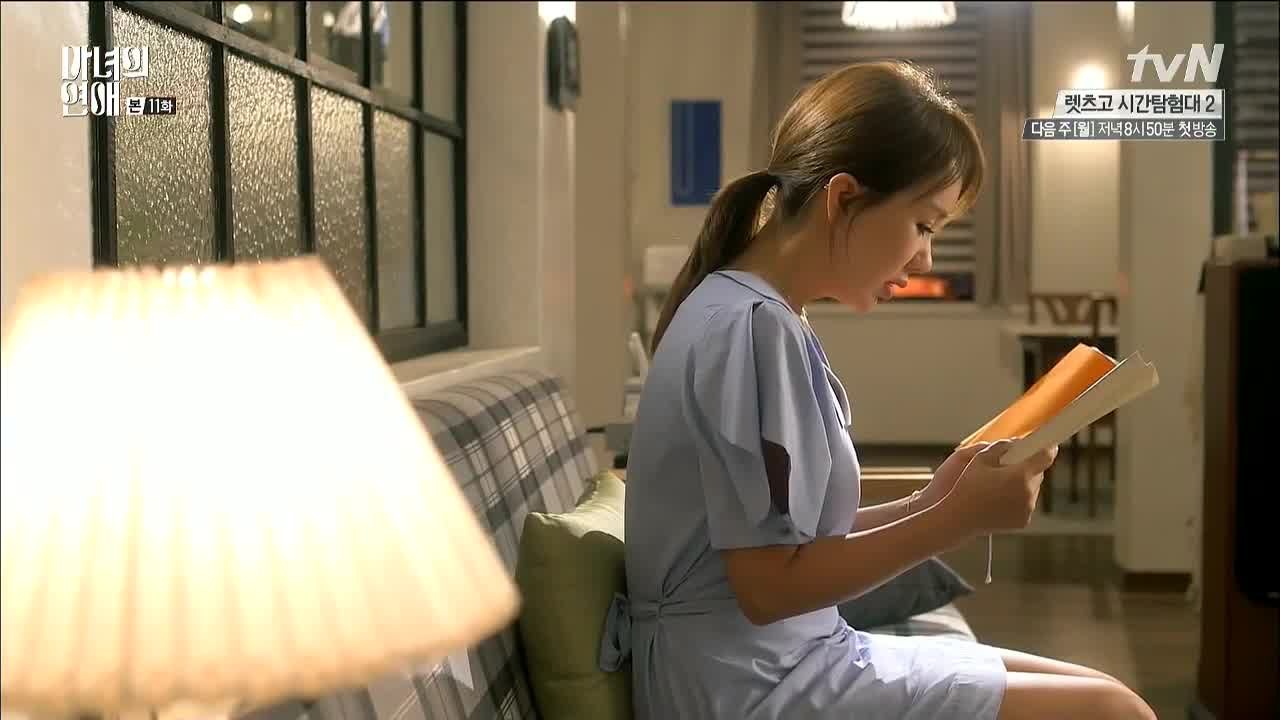 Meanwhile, Dong-ha comes home and sits outside, trying to get up the courage to talk to Ji-yeon.
Ji-yeon thinks over all the times that Dong-ha gave her support and encouragement, and how he said he would never abandon her. She turns to a page that's bookmarked, and on the page are these words: "Life is short. If there's something you're holding in your heart, know that this is your last chance. Do it today." Tears start to fall and she recalls Na-rae's words that she needs to figure out where her heart lies.
More happy memories of time spent with Dong-ha flood her mind, and Ji-yeon can't sit still anymore. She drops the book and runs to the door, hesitating only a moment before opening it… to see Dong-ha standing there.
COMMENTS
I HAVE SO MANY FEELINGS.
First off, I know it seems like every week I'm fussing at someone, and I apologize but this week is going to be no different. I have some bones to pick with Ji-yeon. I love her, but how can someone be so utterly clueless when it comes to their own feelings? I know, there was a lot that was left unresolved when Shi-hoon left, and when he came back it was a shock and having him ask you to marry him again has got to sound like the perfect happy ending. But I'm angry that she's just letting six years of nothing from him slide without even asking where the hell he's been and why he never tried to contact her? We've already talked about how lame it is that he hasn't even tried to explain why he never once tried to contact her, so today I'm focusing on Ji-yeon's obvious disconnect between what she says and what she obviously feels.
I mean we can all see it, the dead look in her eyes when Shi-hoon comes up in conversation and the lack of any emotion whatsoever in her voice when she talks about him. Everyone sees it! Her mom has noticed, her best friend, even Shi-hoon lets slip that he knows something is wrong when he wonders why she drank so much that she slept in another man's bed. She's not even ambivalent about him…when Shi-hoon is the topic of conversation, Ji-yeon looks downright depressed. I know she's having some sort of crisis over him returning and wanting her back, but the damage he caused by disappearing on her must be much deeper than I thought for her to agree to marry him when just talking about him looks like it makes her miserable.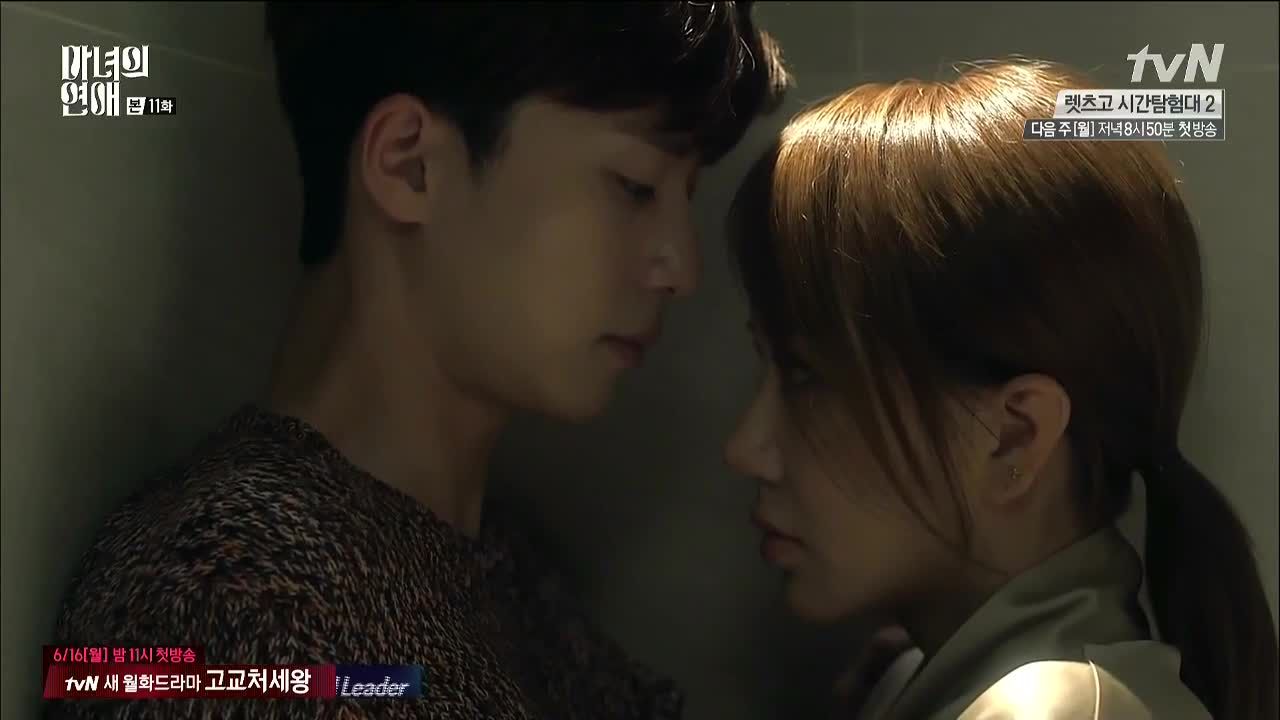 And on top of that, there's her obvious feelings for, and physical attraction to, Dong-ha. I don't think I've seen two drama leads with so much chemistry in a very long time – whenever Dong-ha and Ji-yeon get within 5 feet of each other, the air between them practically snaps with energy and my heart pounds. That scene in the spa when he challenged whether she feels guilty being with him was so intense, it leaves me wondering how this woman can possibly not realize that she doesn't want to be with Shi-hoon, and that everything in her is screaming to be with Dong-ha? I could understand it if her conflict was Dong-ha's age and/or societal pressures, but that's not really a point of contention anymore. Nearly everyone in Ji-yeon's life has made it clear that they would support a relationship between Ji-yeon and Dong-ha. She just plain doesn't seem to realize what they have between them, and I'm finding it hard to keep believing that, week after week, considering that she's otherwise a very smart and self-aware woman. All I can say is, her responses to the two men are at such opposite extremes, it's getting a bit difficult to suspend disbelief as a viewer that she doesn't realize which man she really wants to be with.
That said, I'm so happy the cuteness is coming back! I've missed the light silly moments of the first few weeks of the drama, and there were a lot of times in this episode that I laughed out loud like I did in the beginning. Soo-chul flashing Dong-ha for no apparent reason, Mom and Director Kwon's text-flirtation, Ji-yeon getting drunk and belligerent…give me more of that! If I could make some requests, I'd love to see Soo-chul stop pretending to be an Oppa to Eun-chae and start sweeping her off her feet. I know he can do it! I want some Mom/Director Kwon dating shenanigans. Most of all, I want Dong-ha and Ji-yeon laughing together as they bet who can eat the most, or play along with radio contests, or drink beer together and forget everything but loving each other. Can I have some of that soon, Show? Please?
RELATED POSTS
Tags: featured, Park Seo-joon, Uhm Jung-hwa, Witch's Romance