Witch's Romance: Episode 4
Hi everyone, it's LollyPip, back for more recapping fun with Witch's Romance. I'm loving this show so much and I'm very excited to get a chance to recap it with odilettante. I hope you have as much fun with this show as I know we will!
A lot happens in this episode, on the career front as well as in our leading couple's relationship. Dong-ha's feelings seem to be shifting from responsibility towards Ji-yeon to actual caring, and while her feelings are still a bit more hidden, she's not immune to his insightful and caring nature. But most importantly their friendship is growing stronger, and I could watch them just drink wine and talk together for hours.
EPISODE 4 RECAP
We revisit Ji-yeon's memories of her ex-fiance's proposal. She wakes up in the hospital and thinks she sees Shi-hoon standing over her, but it's Dong-ha looking adorably worried. When she wakes up enough to recognize him, he's relieved enough to fuss at her for going off without him and not answering his calls.
Dong-ha tells Ji-yeon that she has a slight concussion from the knock to her head, and she goes unconscious again, making him panic a bit. A nurse tells him it's just the sedatives they gave her and that they'll give her a CT scan when she wakes, and then Ji-yeon can go home.
The Trouble Maker Trio plus Young-sik come running into the ER, but they freak out because the blanket is pulled up to look like the person in the bed has died. They wail and cry and shake the "body" until it sits up, and it's the shaman, HAHA.
The shaman spits and curses at them (which I'm starting to think is just her way of saying hello), and explains that a light bulb fell on her head. She threatens to do damage to the part-timer who let this happen, then throws the blanket back over her head and lays there hissing to herself. I love her.
Dong-ha returns after getting his arm looked at and the Trouble Maker Trio accost him with questions about Ji-yeon's condition. Considering that they were just loudly mourning her supposed "passing," they seem awfully disappointed that she's fine and can go home (and back to work) soon.
They tell Dong-ha that Ji-yeon isn't in the ER anymore, and he runs all the way back to her house to find her. Poor boy, the age gap won't matter for long because he's going to prematurely age with all this running around after Ji-yeon!
Dong-ha finds her sitting on the floor in the middle of her destroyed apartment, and starts to fuss again. She doesn't answer, and just sits there holding the photo of the polar bear while her fingers bleed from the broken glass. She finally looks up at him with tears in her eyes, which immediately deflates his anger.
Dong-ha notices a black jacket in the middle of the mess and remembers tearing it off the intruder during their scuffle. He picks it up and finds a business card in the pocket for an employee of Blue Eye Entertainment, Kim Jeong-do's management company.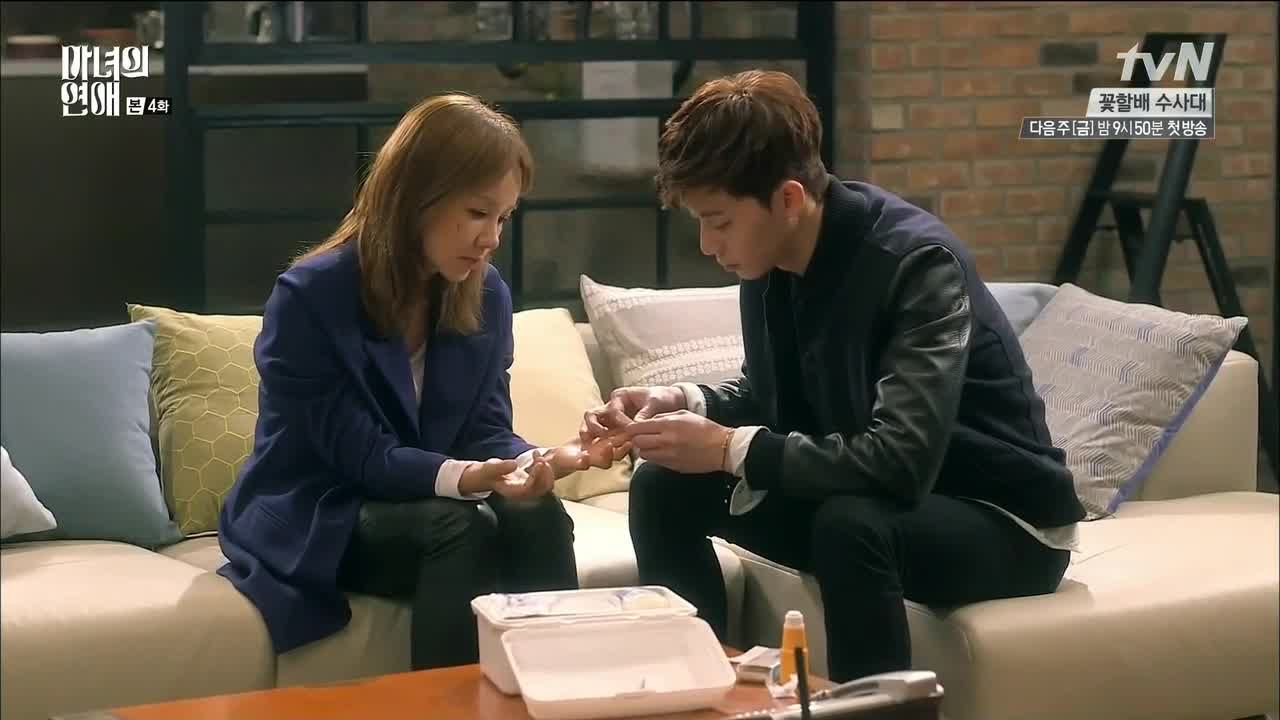 He takes Ji-yeon to his place and bandages her cut fingers while chiding her for touching broken glass, clucking like a mother hen. She quips that she chose a good assistant and they bicker over whether she actually chose him, and that she'll just fire him if he keeps sassing her.
Dong-ha asks where she went earlier when she wasn't answering her phone, and she admits she went to see Kim Jeong-do. She tells Dong-ha that Jeong-do promised to drop the lawsuit if she stops the article. Dong-ha asks what Ji-yeon plans to do, and her face sets in resolve as she says she'll take this to the end.
Dong-ha tells her that he's taking her back to the hospital for the CT scan she still needs. He goes into the bathroom to doctor his own wound, and when he returns Ji-yeon has fallen asleep on the couch, still holding the polar bear picture. He takes it from her and reads the message "would you marry me" written on the back, only now realizing that the story she told him about the woman who was left at the altar was Ji-yeon herself.
In the morning, Ji-yeon wakes up still on Dong-ha's couch, though she's alone. She finds a note from him to stay where she is until he comes back, along with breakfast.
Dong-ha has gone to confront the man whose business card he found in the intruder's jacket. He denies everything but Dong-ha isn't buying it, listing all the terrible things the man has done to Ji-yeon. The Blue Eye employee shoots back a question: Is Ji-yeon making up lies about Kim Jeong-do? After all, writing lies is what she does for a living.
Dong-ha lunges across the table and grabs the man by his shirt, so furious he can barely speak. He tells the man that he'd better not come near Ji-yeon again or else, but the man doesn't look too intimidated as Dong-ha storms out.
Na-rae helps Ji-yeon clean her apartment and invites her to stay with her and her husband for a while, but Ji-yeon declines. Dong-ha barges in, upset that Ji-yeon has again gone off without telling him, after he instructed her to stay at his place.
Ji-yeon asks why he's so upset (maybe because he liiikes you) but Na-rae interrupts before he can formulate an answer. She immediately susses out that this is the "hoobae" that Ji-yeon told her she stayed with last night, and tells him that she invited Ji-yeon to her house but she insists on staying with him. Na-rae makes a fantastic wingman.
Dong-ha insists on taking her back to his place, since he's tired of her getting into trouble on her own. She follows him while accusing him of mutiny against his superior, but he's not intimidated. He gives her back her polar bear picture, shyly explaining that he took it from her so she wouldn't crumple it in her sleep, since it seemed important to her.
Ji-yeon asks if he saw the proposal on the back and he admits that he did. She sighs that the picture isn't important, but Dong-ha knows that it's the reason she left the hospital. Ji-yeon tells him that it was a long time ago and she should get rid of it, but he says that remembering a precious person isn't a bad thing.
He changes the subject and brightly says that it's his first day at his new job, and he shouldn't be late. At the office, Eun Chae brings Ji-yeon some flowers and words of encouragement, but Ji-yeon just tells her that if she has time for this, she should be working instead.
Eun-chae dejectedly takes her flowers away, but Dong-ha stops her and asks for the flowers loudly and pointedly while shooting eye-daggers at Ji-yeon. He keeps glaring while making loud comments about how pretty the flowers are, obviously trying to teach Ji-yeon a lesson about being a nice person, but she just ignores him.
There's a meeting of the minds between Ji-yeon, Dong-ha, and Young-sik to discuss the business card that Dong-ha found and his conversation with the card owner. Unfortunately a business card doesn't prove anything, but there's a fundraiser in a few days and Ji-yeon thinks that Jeong-do may announce his political candidacy then.
Ji-yeon decides that the fundraiser is their D-Day, but Dong-ha wants to find some evidence before then. The Trouble Maker Trio wanders in to dump some negativity on their theories, but Ji-yeon isn't deterred.
The two teams face off, and Team Leader Byul declares that if she gets any breaking news on Kim Jeong-do, he'll wear Superman tights to work. But if she doesn't, Ji-yeon has to cosplay a girl's idol group. Dong-ha points out that it will be fun for her even if she loses, since she dances in her apartment every night anyway. PFFT.
Soo-chul is home from his trip, and has brought a ladyfriend with him. But when she turns on his bedroom light she sees Ji-yeon's suitcase, jumps to the wrong conclusion, and dumps him. He calls Dong-ha to crow that he's finally rid of that girl thanks to the lingerie. Dong-ha tells him that the lingerie belongs to a friend, but Soo-chul just congratulates Dong-ha on his choice of women given the size of the bra. Can I slap him? Please?
Dong-ha nervously confesses who the things belong to, and Soo-chul isn't so happy anymore. He immediately asks if something is going on between them, and Dong-ha's denial is just a little too shrill to be believable.
Ji-yeon, Dong-ha, and Young-sik sit at Soo-chul's place and watch an interview given by Kim Jeong-do and his wife about the recent scandal. Soo-chul tries to sneak past them but Dong-ha stops him, remembering that his family owns the venue where Kim Jeong-do's fundraiser will be held, and Ji-yeon only has to crook a finger to terrify Soo-chul into helping them.
The team obtains Kim Jeong-do's DNA by having Soo-chul impersonate a crew member on his drama set and getting him to drink from a water bottle. He also secures an invitation to the fundraiser at his family's resort. But a wrench is thrown into their plans when they hear that Kim Jeong-do's mistress and daughter are leaving the country.
We see Soo-jung and her daughter get into a van and drive away, while Kim Jeong-do's lackey (the one Dong-ha met with) reports that they've left. But Soo-jung notices that they're not going towards the airport, and we see in the rear-view mirror that the driver is Soo-chul. He tells the pair that they'll just be making a quick detour first. When the car stops, Ji-yeon is there, waiting to talk to her sunbae.
And so, Dong-ha visits with daughter Yoon-ji while Ji-yeon and Soo-jung have their talk. He gives Yoon-ji a book, and tells her that she can have her mom read it to her on the plane. He offers to throw away her drink trash, and now they have the daughter's DNA too. Smart! Ji-yeon gives Soo-jung plane tickets for the next night, and asks her for just one day to give Ji-yeon a chance to reveal the truth.
Ji-yeon and her boys brainstorm over how to get the DNA test, since labs won't do it unless you're a parent. But it turns out that Dong-ha was a medical student, and can run the test himself.
Dong-ha and Soo-chul take Ji-yeon to get a dress for the fundraising event, and their dumbstruck faces when the pretty is revealed are priceless. Dong-ha ain't too shabby himself in his all-black suit, which Ji-yeon definitely notices.
At the fundraiser, there's an announcement about a "special presentation," and there's Dong-ha onstage. He gives a small speech, drawing a comparison between magicians and actors. Dong-ha plays the magician as Ji-yeon comes onstage, and she gets into a box and he covers her with a curtain. He calls Jeong-do onstage to assist, and it's obvious Jeong-do knows this is a Very Bad Idea but he can't refuse in front of an audience.
The two men pull back the curtain to reveal an empty box. Dong-ha invites Jeong-do to get in next. He does, and asks Dong-ha under his breath what's happening, but Dong-ha just tells him not to be nervous because his wife is watching.
Dong-ha puts the curtain down, and next invites Jeong-do's wife onstage. They each take a corner of the curtain and pull it back, and the box is empty again. Jeong-do is now in a room with Ji-yeon, who cuts right to the chase and tells him that she knows it was him who's been threatening her. Isn't he ashamed in front of his daughter? He denies having any daughter, but adds that it's a good thing they've left the country so nobody can prove it. Sleazebag.
But Ji-yeon has the upper hand because she has the DNA test results proving that Yoon-ji is Jeong-do's daughter. Jeong-do starts to lose his cool veneer and says that he'll never be brought down by a woman.
But just then there's a voice behind him, and it's Soo-jung. She's heard everything. She tells Ji-yeon that she'll do the interview, which makes Jeong-do panic so badly that he promises to get a divorce for her.
Which is just the moment when his wife enters the room. This is so satisfying. Soo-jung tells Jeong-do that if her daughter ever sees him again, even in a movie or on TV, she'll tell the world everything. His wife declares that he had better never let that woman be revealed. His career is over.
Dong-ha calmly tells Jeong-do that it's time to go back to the party. Soo-jung congratulates Ji-yeon on getting over her ex-fiance, and that Dong-ha seems like a good man (Dong-ha pretends not to hear but puffs up a bit, so cute).
Back at the party, Jeong-do takes the podium and announces that he has some health problems, and that he'll be halting his career to focus on treatment from now on.
After Yoon-ji and her mom leave, Dong-ha tells Ji-yeon that she did well today, and invites her out for a drink… Oops, but she stopped drinking because of her "fits," he teases.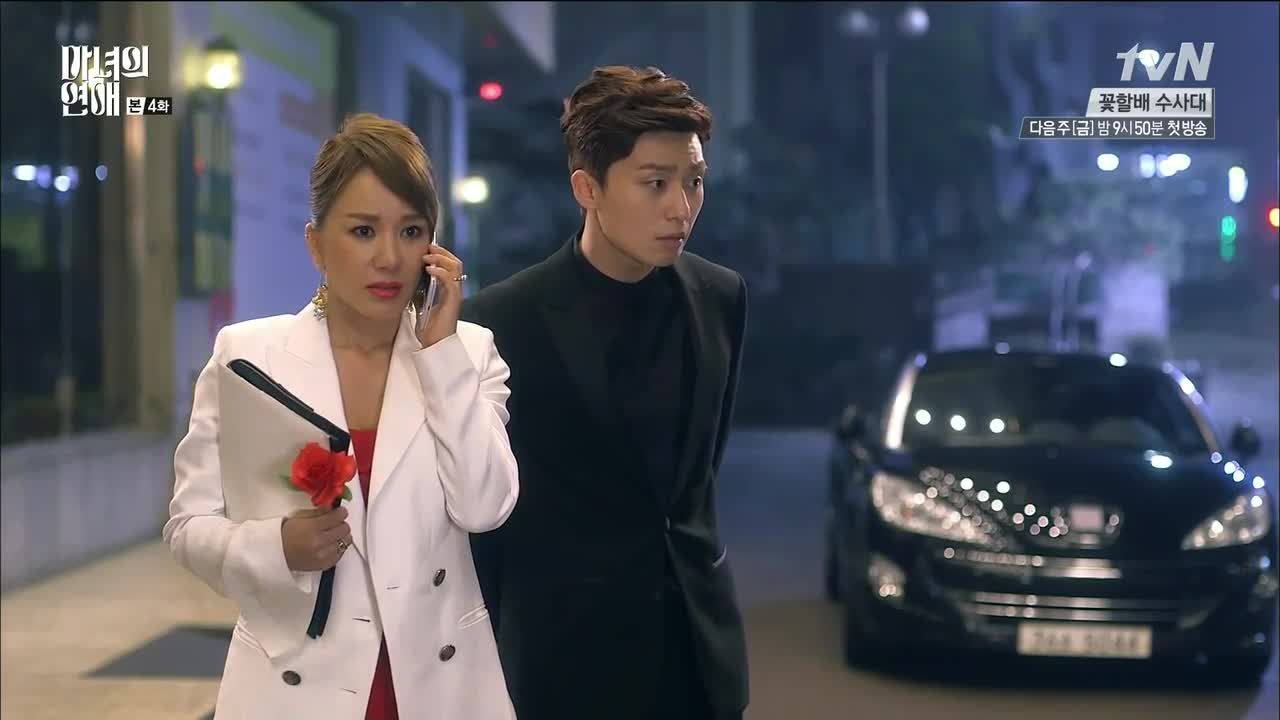 Ji-yeon's mother calls to tell her that the dating service that she signed up Ji-yeon for has arranged a date for tonight. Dong-ha overhears and creeps closer to eavesdrop. Ji-yeon reminds her mother that she has a (fake) boyfriend, and Mom says that he's okay but he seems poor and dresses shabbily. Dong-ha's miffed reactions to all this are hilarious.
Ji-yeon's mom threatens to move in right this minute and nag her until she gets a husband if she doesn't go on this date tonight, so Ji-yeon agrees. She hangs up, and snaps at Dong-ha that he should have worn better shoes, ha.
Dong-ha says she's dressed way too nice for a blind date since it will probably just be some fat ajusshi, but he agrees to drive her. He drops her off but stays to watch her greet her date (cameo by Lee Jae-yoon), grumbling to himself that the guy probably stutters or something. Her date seems nice, and asks her out again, but she doesn't look very enthused.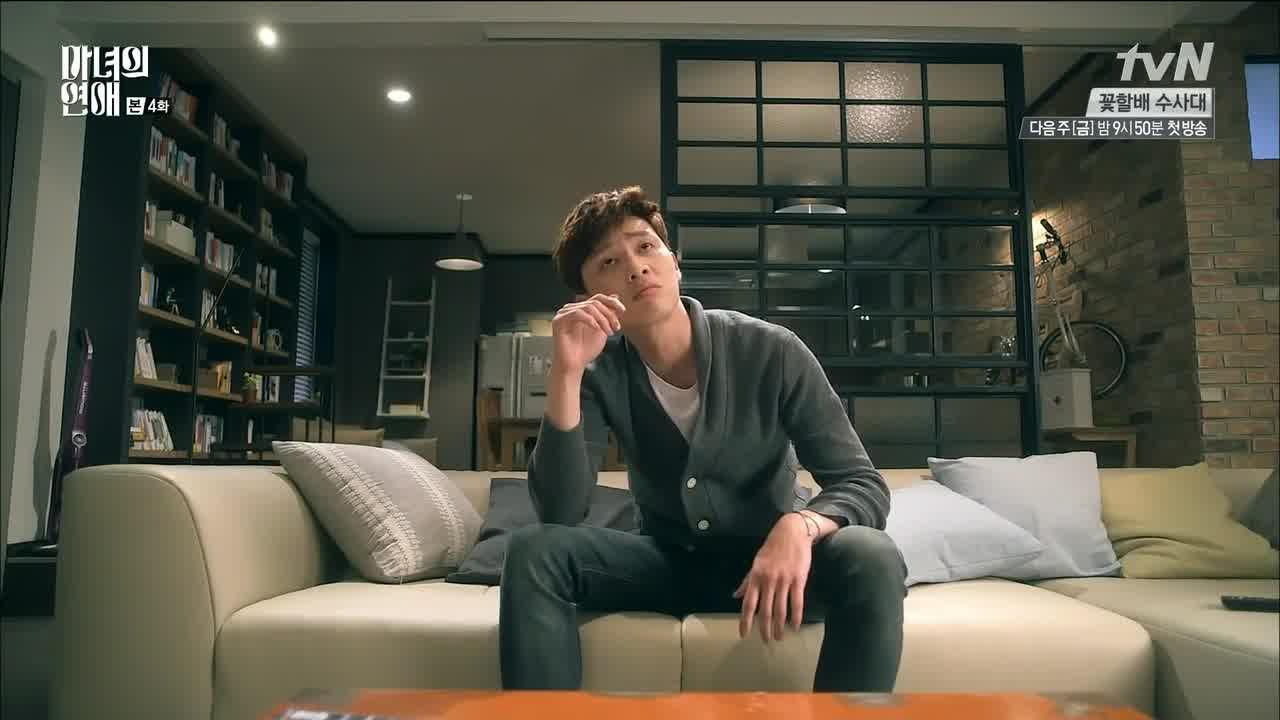 Dong-ha pouts around the house waiting for Ji-yeon to get home, getting more and more antsy at how late she's staying out. She's actually at Na-rae's restaurant complaining about how awful her evening turned out.
Her date had answered a call from his grandmother during dinner, speaking to her in this awful aegyo baby voice. He even pout-wiggled and told Grandmother not to go to sleep until he gets home because he wants to sleep touching her boobies. WHAT. Ji-yeon's face says it all.
Na-rae asks what Dong-ha thought about her date, but Ji-yeon insists it's not like that. Na-rae doesn't believe her, but she reels when Ji-yeon reveals Dong-ha's age. Except she's reeling with happiness; Ji-yeon is so lucky!
By now Dong-ha has relocated his pacing to the street; but he spots Eun-chae first who's come to bring something to Ji-yeon, and they sit on a bench to wait. Ji-yeon arrives home and is annoyed to see Dong-ha and Eun-chae laughing together. Dong-ha starts right in with the nagging, noticing that her date didn't even walk her home. Eun-chae hands off whatever she brought, and stands there grinning.
Dong-ha and Ji-yeon's combined awkward silent glares aren't very welcoming though, so she bids them goodnight, and Dong-ha offers to walk her to the corner since it's not safe for a woman to walk alone at night, hint hint. She declines but he's making a point to Ji-yeon now, saying that Eun-chae's waaaay too pretty to walk alone.
When he gets back to Ji-yeon, he nags her again for staying out so late. He oh-so-not-at-all-casually asks if she's going to see that man again, but she tells him never to mention that weirdo. She softens him up by offering to share a drink to celebrate their victory over Jeong-do, and he mutters about her drinking again but it works.
Ji-yeon asks how he knows magic, and he says that he did it to get closer to the children during his pediatric rotation in medical school. She asks why he quit medical school, and he says it was because he discovered that doctors can't really save lives. Ji-yeon tells him that she thinks he would have made a good doctor.
Dong-ha pulls out his phone to play some music, and it's one of the old-school singers that Ji-yeon mentioned she liked (how sweet is he to download music for her?). He points out his favorite line about wanting a woman who's never been on a blind date, HAHA. Ji-yeon asks if he means her, but he's all big innocent eyes as he says no, because the song is about meetings (casual blind dates) and she went on a mat-seon (marriage-minded blind date). Ji-yeon turns it around on him, singing along to the woman's line that all she needs is a man who looks good with a great woman.
Dong-ha invites her inside, and takes off his shoes to offer to her since he noticed she was limping on her high heels (swoon). She accepts and takes his arm as they turn to go in, but he winces and cries out in pain. She didn't know he'd been injured in the break-in, and doctors up his arm for him.
As she's putting away the first-aid kit, Ji-yeon picks up his dead plant and asks about it. Dong-ha's mood switches in a flash, and he grabs the plant from her and yells at her not to touch it. She apologizes, but he's not in the mood to accept.
At the office the next day, the Trouble Maker Trio are celebrating their victory over Ji-yeon, gloating that she was no match for Kim Jeong-do. Young-sik almost spills the beans about what really happened, but Ji-yeon stops him as she walks in, dressed like a Girl's Generation nightmare.
Eun-chae enters, dressed exactly like Ji-yeon (to support her) and Dong-ha again points out how very pretty she is, earning a glare from Ji-yeon. Eun-chae passes out snacks, but Ji-yeon leaves and orders Dong-ha to follow her (and he looks pretty happy to obey).
They go to the airport to nab an interview with a gambling comedian, and Dong-ha whines that it's not fair that she got demoted. He goes to get Ji-yeon a snack, which is when the comedian shows up and the reporters go crazy. Ji-yeon tries to at least get a picture with her camera, but Dong-ha comes back with news that what's happening here is a decoy: He overheard someone saying that the comedian will be in the parking garage in ten minutes.
They head that way, but Dong-ha has left his lens behind. He runs back to get it, and Ji-yeon sits to wait for him. He calls to her from a few feet away, but when she looks over she sees not Dong-ha but the man sitting on a bench near him… It's Shi-hoon, her ex-fiance.
COMMENTS
I cannot sing this show's praises enough. It has heart, it has humor, and it has characters that make me care so much about them even though it's still early in the show's run. A lot of that is the casting: this show is about as perfectly-cast as a rom-com can be, with all of the actors playing their roles so thoroughly that I find myself watching scenes more than once, just to watch each character's reactions and expressions to whatever the main focus is doing or saying. Park Seo-joon is especially brilliant at this: he is never not "on," and there's not a moment when Dong-ha isn't reacting and responding to what's going on around him. This is my first time seeing him in a drama, but it certainly won't be my last.
Uhm Jung-hwa is also playing Ji-yeon fantastically, giving her a depth and sincerity that I rarely notice in a heroine of this kind of rom-com. You can almost tell what she's thinking without her having to say a word, just by looking at her eyes. A good example is the scene where Dong-ha gives Ji-yeon her polar bear picture and she says she will throw it out, but he tells her not to. You can see sadness, surprise at Dong-ha's sensitivity, and then gratefulness all cross her face without her even needing to speak. Again, this is my first experience with Uhm Jung-hwa (other than Running Man, where I also found her endearing and hilarious) but I will definitely make a point to watch some more of her work.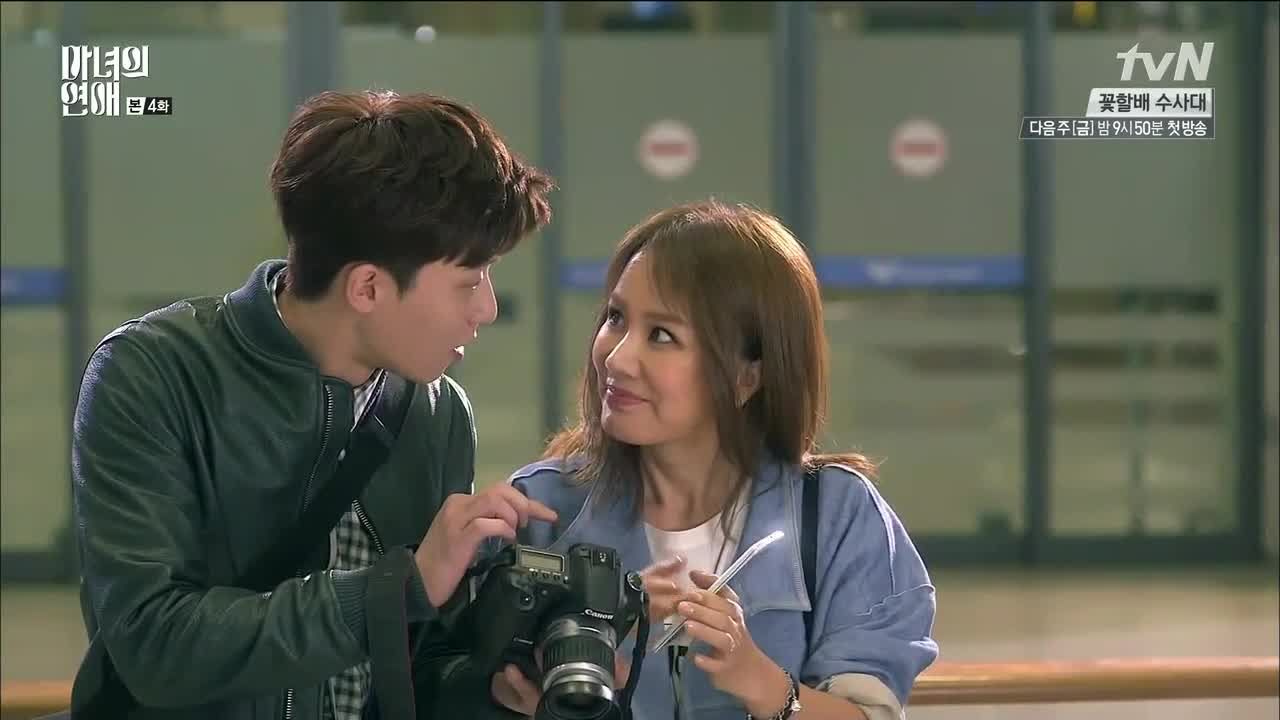 I love how the show seems to zip along, introducing characters and conflicts with speed but also throughness, making it feel like we've seen much more than only 4 episodes but never feeling rushed. Emotions are already coming into play; I'm pretty certain Dong-ha is well on his way to being head-over-heels in love, if his mothering and worrying and jealousy are any indication, but it doesn't feel too soon. Ji-yeon is a bit behind in that regard, but she's definitely attracted if not actually starting to fall for him yet (though a solid case could be made). I like that they have a good solid friendship already, and seem to genuinely enjoy each other's company, so that when they do fall for each other it will feel natural.
But first we have to have some conflict, and how better than to introduce an old flame? Especially one with whom you never had closure and whom you still aren't over. Ji-yeon's ex-fiance showing up is going to throw a wrench into her growing feelings for Dong-ha, though I'm pretty sure they'll only accelerate his growing emotions. If he can get that twisted up over one blind date, how will he act out when faced with a real love rival? I'm not so much looking forward to the conflict, but I'm definitely anticipating some (more) cute antics on Dong-ha's part.
And he'll have his own admirer to deal with, though I wasn't very excited about it at first glance. On her own, Eun-chae seems to be a sweet girl, but rather bland and boring as second leads go. Then some clues in Episode 3 led me to agree that she's quite probably the younger sister of Dong-ha's old girlfriend. She was talking with her mother of her unni as if she's gone (or probably dead), and a woman at the orphanage mentioned someone named Young-chae to Dong-ha, who seemed to know Eun-chae's mother. Not to mention that comment that "Young-chae's mother" has a daughter recently returned from the US, which we know is true about Eun-chae. It's probably, since the drama world is tiny, that Young-chae is Dong-ha's old girlfriend who has passed away (and his talk of not being able to save lives could be another clue) and that he'll find out that the new intern is in fact her younger sister.
This would certainly add a layer of complexity and angst to Dong-ha and Eun-chae's relationship. While at first I thought we didn't really need a female second lead because there was already enough going on to make a full story, I do think that encountering his old flame's sister could be an interesting way to have Dong-ha work through any lingering baggage he's carrying. And I do suspect that baggage is going to be mighty heavy.
I'm a little concerned about the entrance of the love rivals and backstories of our leads, because I love the light and breezy tone of the show as it is, and bringing in dead-ex-drama could potentially turn things dark. I could honestly watch 12 more episodes of cute and funny and just forego the exes and second leads altogether, but I have a feeling that this honeymoon period is soon coming to an end. Let's hope that the show can maintain it's well-balanced structure, and give us plenty more chemistry and friendship between Dong-ha and Ji-yeon (and the rest of the hilarious gang) , in between the angst and conflict on the horizon.
RELATED POSTS
Tags: featured, Park Seo-joon, Uhm Jung-hwa, Witch's Romance