Witch's Romance: Episode 5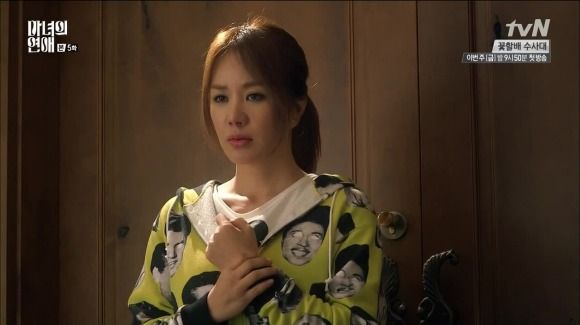 Dong-ha and Ji-yeon continue to struggle with their growing attraction to each other as shenanigans ensue on a work-related getaway. Eun-chae finally learns how to stand up for herself, Soo-chul surprises everyone by settling into his role as the Voice of Reason, and Dong-ha is forced to decide which is more important to him — a dead plant given to him by his first love, or a living-and-breathing Ji-yeon.
EPISODE 5 RECAP
Soo-chul discovers Dong-ha putting Ji-yeon's polar bear proposal photo in a new frame, and suspiciously asks if he likes "that noonim," complaining that he never sees Dong-ha anymore because he's always with her. He teases Dong-ha about spending the weekend with Ji-yeon (and oh I hope there will be some passionate goings-on), but Dong-ha grabs his buddy in a headlock as he insists that it's just a work retreat.
A phone call saves Soo-chul, and Dong-ha worries over the news that Dong-joo (who is in junior high, so a younger brother, perhaps?) is going to have surgery, and frets about the expenses associated with such a medical procedure. Ji-yeon has been eavesdropping from the hallway, but bustles out into the living room with her suitcase, ready to go as though she hadn't heard a thing.
The Trouble Maker staff are in high spirits as they leave for their workshop retreat (except for perhaps Eun-chae, whose coughing fits catch Dong-ha's attention). Director Kwon pulls up in a snazzy charter bus and starts the workshop off with an announcement of how Trouble Maker has been on a roller coaster ride, what with one week being more popular than they ever have been with the Kim Jeong-do scandal, and the next week hitting rock bottom in sales due to Team Leader Byun's lackluster article. Ha.
So this retreat is important for everyone to rally together and, of course, prepare for a "sexy" second half of the year (oh, Director Kwon and your obsession with the adjective "sexy"). As an incentive, he's prepared his usual cash bonus for the team that wins the sports tournament this year. Dong-ha discreetly asks Young-sik how much the bonus is, and Young-sik cheerily says it doesn't matter, because thanks to Ji-yeon, they've never won any of the games before.
Dong-ha is the last to get on the bus, and he's faced with an array of seat choices as Rin-ji tries to flirt her way into getting him to set next to her, and Eun-chae silently looks up at him with hopeful eyes. But of course he sits next to Ji-yeon, who ignores him.
Most of the staff are asleep on the bus when Dong-ha gets another phone call about Dong-joo, and this time Ji-yeon ventures to ask if someone is sick — but Dong-ha smiles and says it's nothing.
Once they get to the hotel, Ji-yeon notes that Eun-chae is still coughing and offers her some medicine, advising her to rest and opt out of the sports competition if she feels sick.
Then when Rin-ji tries to claim one of the single rooms for herself, Ji-yeon snatches the keys from her hand, saying that Rin-ji will have to share since Eun-chae has a cold and needs a room to herself. Aw, she may act tough, but she still cares. (Of course, that other single room goes Ji-yeon.)
As Dong-ha is helping Eun-chae with her luggage, a mysterious handsome guy sees them walk across the lobby. He murmurs to himself: "Cindy?"
Game on! The tournament is set to start, and it's best two out of three between Ji-yeon's team (consisting of Young-sik, Dong-ha, and Eun-chae), and the rest of the Trouble Maker staff, led by Team Leader Byun.
Young-sik is bewildered by Ji-yeon's enthusiasm and determination to win, but she tells him that they need to so that Dong-ha can get the money for Dong-joo's surgery. She makes him promise to keep it a secret that they're doing this for him.
It turns out Young-sik isn't the only one perplexed by Ji-yeon's fierce determination to win, because past experience shows a very different Ji-yeon: one who's more concerned about breaking a nail, who purposefully steps on the jump rope (with her heels, pffft), making her team lose just so she doesn't have to exert herself.
But today she's a fierce competitor. Even so, the other team wins the first game ("protect the queen" dodgeball) when she gets momentarily distracted by the sight of Dong-ha literally throwing himself on top of Eun-chae to protect her. While they prep for the next game (group jump rope), Ji-yeon reminds Eun-chae that if she's not feeling well enough to play the next game, she should just sit it out — but Eun-chae is determined to do her best, and the team ends up winning the final game (ladies' arm wrestling), taking home the cash prize.
Dong-ha has been concerned about Eun-chae's energy level throughout the tournament, and when Young-sik and Ji-yeon happily bounce over to where she's resting so they can share the prize, he chides Ji-yeon for being more concerned about winning than the health of their teammate.
Young-sik is about to intervene to tell him why she was so determined to win, but she interrupts to coolly point out that she's just naturally more competitive than others. What's the point of playing a game if you don't win? Dong-ha says that winning is all fine and dandy, but she should be more focused on the welfare of her teammates, and he helps poor sick Eun-chae back to her room.
Later that night, Ji-yeon is on her way to dinner when the mysterious pretty boy from earlier stops her, asking if she came with "Cindy," which he clarifies is Eun-chae's English name. He says that he went to school with her in America, and that they used to date, but lost contact, and he needs to apologize about a misunderstanding they had right before she left for Korea.
Ji-yeon is won over by his sincere puppy-dog eyes and says she'll try to see if Eun-chae will meet with him. The rest of the Trouble Maker staff are happily giving toasts, and before Ji-yeon has a chance to mention Eun-chae's "friend," he looms up at their table. His demure attitude is replaced with a cocky swagger and Eun-chae's eyes widen in fright when she sees him.
The pretty boy reveals his true colors as he bullies Eun-chae, blaming her flirtatious ways for turning him into a stalker and ruining his chance to get into the college of his choice. Oh, you ass.
Eun-chae flees, and before he goes after her, Dong-ha angrily asks Ji-yeon if she really thought this jerk was her friend. Smirking, the pretty boy asshat thanks Ji-yeon for letting him meet with Eun-chae, and saunters off.
The Trouble Maker staff gossip about Eun-chae/Cindy, assuming she's some sort of brazen hussy. Ji-yeon hustles after Pretty Boy Asshat to confront him, saying that he lied to her about wanting to apologize to Eun-chae. He thanks her for her gullibility in believing his earlier story, and then calls her "ahjumma" as he warns her to stay out of his life. Oh no he didn't.
Pretty Boy Asshat leans menacingly in as he tells her that she shouldn't mess with him, and to "go ask Cindy" if she wants to know what kinds of terrible things he's capable of. Ugh. Can we just punch him in the face now, please?
Ji-yeon runs into Dong-ha, who's been frantically searching for Eun-chae, but she's nowhere to be found. He's still angry that Ji-yeon let the asshat see Eun-chae, and she asks if he's now Eun-chae's guardian angel, having changed his life goal from being a doctor to becoming Superman. (Oh, hey, I already called him that last week!)
She yells that his "rescue mentality" confuses people, and he yells back that she's the one who's confusing to people. In a tone of total disappointment, he adds that even though Ji-yeon acts mean, he thought she at least knew how to be considerate to others. As he leaves to find Eun-chae, Ji-yeon sighs in frustration: "Yeah, that's right: I'm the bitch."
Dong-ha finally finds Eun-chae out in the woods, where she sought some solitude while she cried. He joins her on her rock outcrop, and she explains that Pretty Boy Asshat was actually the one who ruined her life — when she rejected him after he hit on her, he bullied her and spread so many vicious rumors that she was forced to leave school.
The next time she meets him, Dong-ha advises that instead of running away, she should stand up and fight him. He even recommends using English curse words, because Korean swears aren't strong enough for him.
Meanwhile, Ji-yeon is also out in the woods looking for Eun-chae, but she loses her footing and rolls down an embankment, spraining her ankle. She sees Eun-chae and Dong-ha making their way back to the hotel (but doesn't call to them, for whatever reason). Her phone also has no service — she's stranded.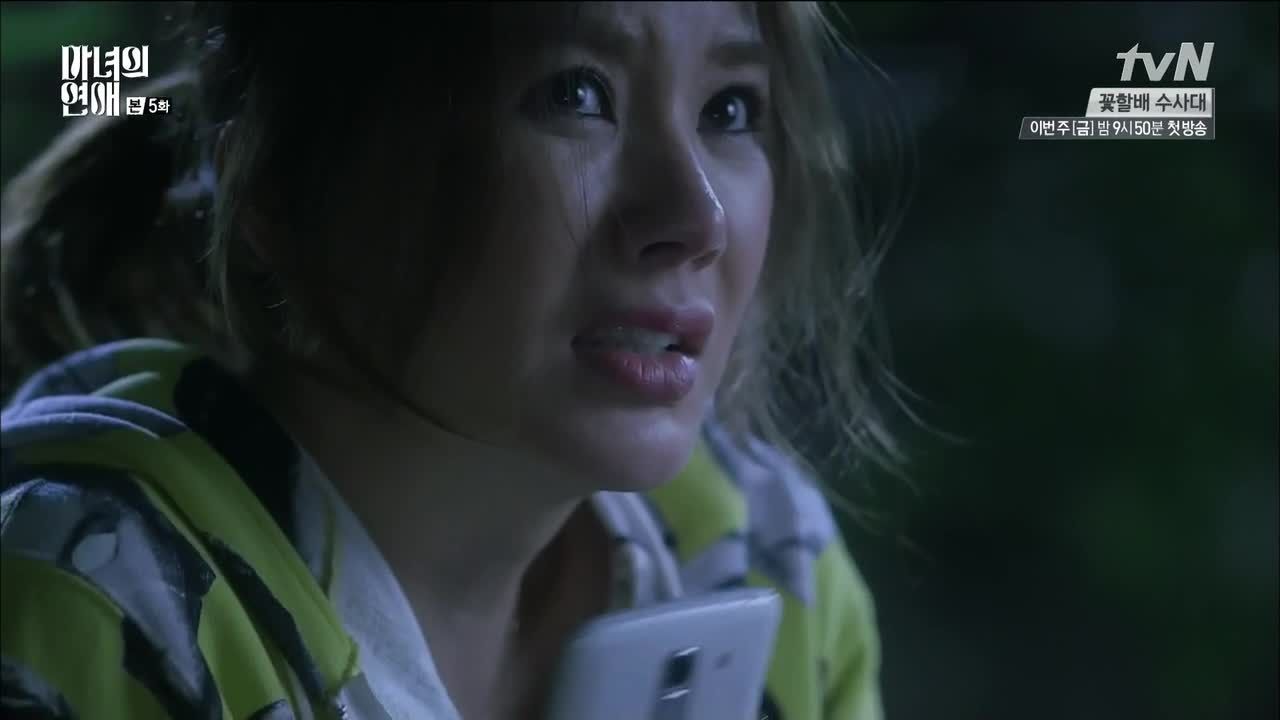 Once Dong-ha and Eun-chae return, the Trouble Maker crew apologize for their assumptions about Eun-chae, and escort her safely back to her room, all one big happy family. Young-sik is concerned because he hasn't heard from Ji-yeon, and tells Dong-ha that even if everyone else thinks that she brought Pretty Boy Asshat over to their table on purpose, Dong-ha of all people should know better. After all, Ji-yeon tried so hard to win the tournament so that she could give the prize money to him.
Properly chastened, Dong-ha goes off to search for Ji-yeon, who is currently near a breaking point by being stuck in the scary woods with no cell reception. She's annoyed that no one has come to look for her yet (grumbling that Dong-ha is too disloyal, considering they now live under the same roof). The thought of being attacked by a wild boar causes her to try and army crawl her way back to the hotel. When someone suddenly lifts her up, she shrieks in terror.
But it's only Dong-ha, who offers to carry her on his back. Ji-yeon continues to be stubbornly independent, insisting she'll walk on her own — but shrieks once more at a strange animal sound in the woods, burying her face in Dong-ha's chest. He chuckles that this is why he can't stop being worried about her, because instead of a witch, she's really just a big ol' scaredy cat.
As he stops to check on her ankle (good thing he was once in medical school), he tells her that Eun-chae is back, and Ji-yeon is relieved to know that the misunderstanding has been cleared up. She teasingly adds that he if tells anyone about finding her crawling on the ground, he's fired.
Dong-ha gets serious and asks why she has so many secrets, pointing out she's hiding the fact that they now live together, as well as the truth behind Kim Jeong-do's scandal — not to mention their sexy smooches (which causes her to promptly reach over and cover his mouth, reminding him if he brings it up one more time, he's fired). He then mentions another secret: her determination to win the tournament so he could have the prize money.
She's annoyed that Young-sik tattled on her, but Dong-ha thanks her, explaining that Dong-joo is an orphan who doesn't have much money, and every little bit helps. Ji-yeon calls Dong-ha a good boy as she reaches over to ruffle his hair, but he grabs her hand to make her stop. The sudden skinship makes them to freeze, and they are very aware of the short distance between them. Dong-ha: "Don't tempt me."
He ends up piggy-backing her to her room (aw), and after he deposits her at her door, he teases her that his body is totally numb from carrying her. They laughingly joke about how embarrassing it would have been for everyone to see her army crawl back to her room, and she ruffles his hair once more — only for him to grab her arms, pulling her in close.
The sexual tension makes it hard to breathe as they stare intently into each other's eyes. Dong-ha quietly reminds her that he warned her she shouldn't tempt him. They go their separate ways, but both are definitely affected by what could have easily been a kiss.
Ji-yeon stops by to see Eun-chae, who's resting in bed. She apologizes for what happened with Pretty Boy Asshat, and advises Eun-chae that the next time she sees him, she shouldn't run away (reminding us of her mantra that one should never pass up a chance for revenge).
Eun-chae says that Dong-ha encouraged her to do the same thing (and she clearly has stars in her eyes for him), but she's happy to reassure Ji-yeon that she's determined to be confident no matter the situation.
The next morning, everyone is eating breakfast (and aw, the Trouble Maker family is now so considerate of Eun-chae). Ji-yeon sits down across from Dong-ha, and as she reaches for her water glass, he leaps back like she's about to rip his shirt off. HA.
They notice that Pretty Boy Asshat is sitting on the other end of the dining room, and if looks could kill, he'd be dead six times over.
Revenge games are afoot as Director Kwon walks by and slaps Pretty Boy Asshat hard upside the head, and then fake-apologizes because he looks just like a jerk he knows. Then Director Kwon literally tag-teams in Rin-ji, who smashes ice cream all over the asshat's shirt, saying in a sweet voice that's she's "sorry for doing it on purpose." Pffft.
This time it's Ji-yeon's turn as she dumps her iced coffee all over him. But she tells him that she's not the one he should be fighting, and Eun-chae gets to deliver the final blow: If he dares to try and retaliate against her, her first article at Trouble Maker will be a revealing tell-all about how this chaebol does drugs and hires thugs to beat up people. Forget dodgeball — revenge is the best team building sport ever.
Now Eun-chae is the one with lots of seating choices on the bus back home, and she ignores the other guys to ask to sit next do Dong-ha. Even though it seems like he was saving that spot for Ji-yeon, because he's such a nice guy (sigh), he lets Eun-chae slide in next to him.
During the ride home, the small aisle between Ji-yeon and Dong-ha seems so much wider as they assiduously try to ignore each other. But once they return home, Dong-ha manages to break Ji-yeon's stubborn silence by carrying her bag for her, and they're soon back to their normal bickering cuteness.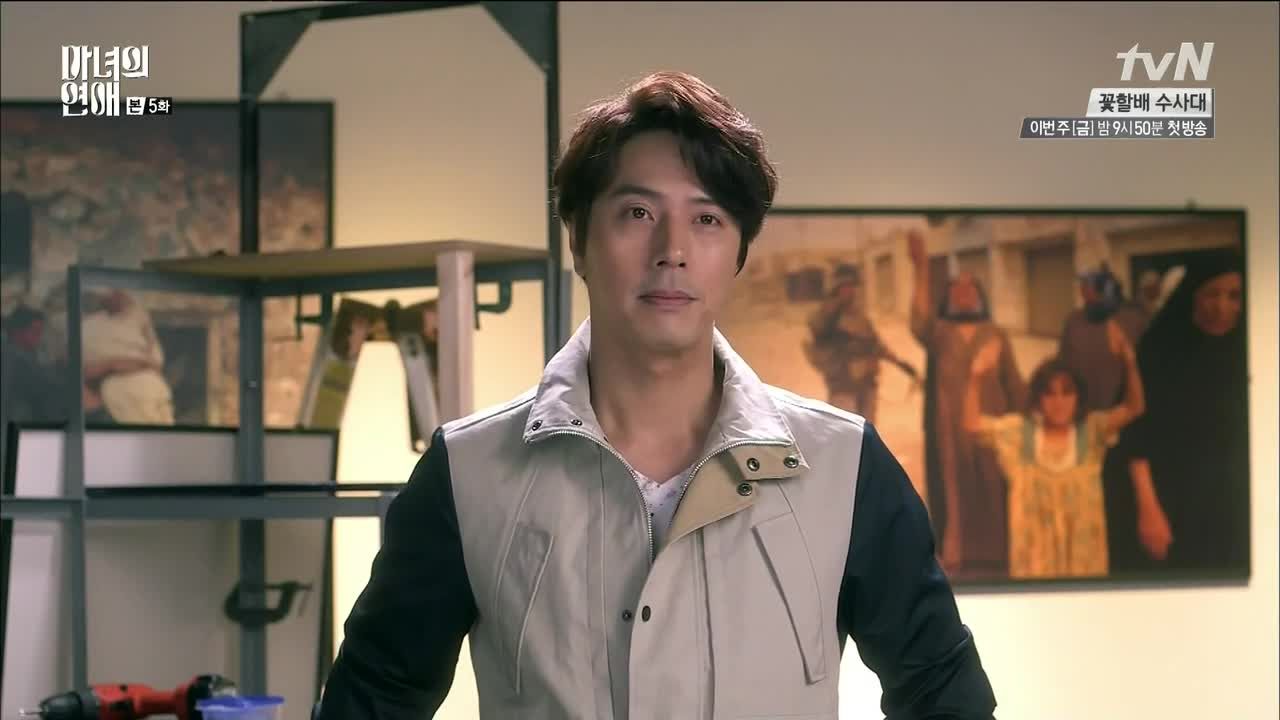 Shi-hoon is busy setting up his art gallery when his assistant reminds him that he has a press interview. The journalist knows him as the internationally renown photographer Phillip Noh, but when she asks why it's taken him so long to return to Korea, he admits he needed some time to prepare. He wanted to return to Korea not as Phillip Noh, but as Noh Shi-hoon.
Back at their apartment, Dong-ha presents Ji-yeon with her newly framed photo. She tries to shrug it off, saying she was just going to throw it out, but he says it seemed like an important photo for her and she should keep her memories. Still — she's not keeping it for revenge, is she?
Ji-yeon admits that, because Shi-hoon left without a word and never returned, she should take her revenge if he ever comes back. After all, she wasted six years because of him.
Dong-ha tells her that if he was "that polar bear" and he knew she waited six years for him, he would return: "Because you're worth more than that." He pensively adds he's envious that she might be able to get revenge, because there are some people who can never return.
At the hospital, Dong-ha hands over the money for the surgery fees, and Soo-chul pesters him with questions about how far he got with Ji-yeon. He tries to change the topic, but Soo-chul won't be deterred, and Dong-ha finally sputters out a lengthy and technical explanation that his constant need to rush out and make sure Ji-yeon is okay is just a biological reflex, nothing more.
Soo-chul refuses to be distracted and persists in pointing out that he knows Dong-ha is attracted to Ji-yeon. The big goofy grin on Dong-ha's face as he remembers those sexually charged moments (when he told her not to tempt him) seems to confirm this assessment. The boy is a total goner, and Soo-chul is happy to crow about the fact he's right, adding that Dong-ha should ask Young-chae about it tomorrow.
Dong-ha is floored to realize that, due to being so preoccupied with Ji-yeon, he forgot about Young-chae's memorial anniversary. The next morning, he sends a message to Ji-yeon telling her that he won't be in to work due to a personal matter.
So she calls up good ol' Spinach-mold since he knows what's going on with Dong-ha. But he sees his chance to get spoiled, and refuses to tell her anything until she gets him a drink and makes him ramyun. Finally her limit is reached, and she grabs his ear, telling him if he doesn't want to make this his last meal, he better tell her everything.
Soo-chul explains that today is Young-chae's memorial anniversary — she died of a heart complication three years ago. The last gift she gave Dong-ha was a potted hyacinth, and Ji-yeon realizes that's the dead plant Dong-ha is so protective of. Soo-chul tells her that after the first blossom died, Young-chae promised it would blossom again a second time — and when it did, Dong-ha would know why she gave it to him. But, of course, it hasn't bloomed since she died, and Dong-ha is still obsessed over figuring out the puzzle she left him.
As Ji-yeon decides to seek advice on how to revive a dead hyacinth, Dong-ha somberly places flowers at Young-chae's urn. He tells her that when her heart stopped, he thought his did too. But lately it keeps beating again — but not for Young-chae. Instead, it's starting to beat for someone else.
Eun-chae's mother is also there for her daughter's memorial, and she tells Dong-ha to stop coming. She no longer resents him for what happened to Young-chae, but she doesn't want to see him anymore because he constantly reminds her of what happened to her daughter. Dong-ha struggles with his heartbreak as he drives back home.
Using the knowledge gained from a wacky botanist she visited (who was more interested in telling Greek myths surrounding hyacinths instead of how to actually take care of one), Ji-yeon replants Dong-ha's dead hyacinth into a new pot with fresh soil, and then cuts off the old flower. She smiles at her handiwork as she thinks about the message Young-chae wanted to give to Dong-ha: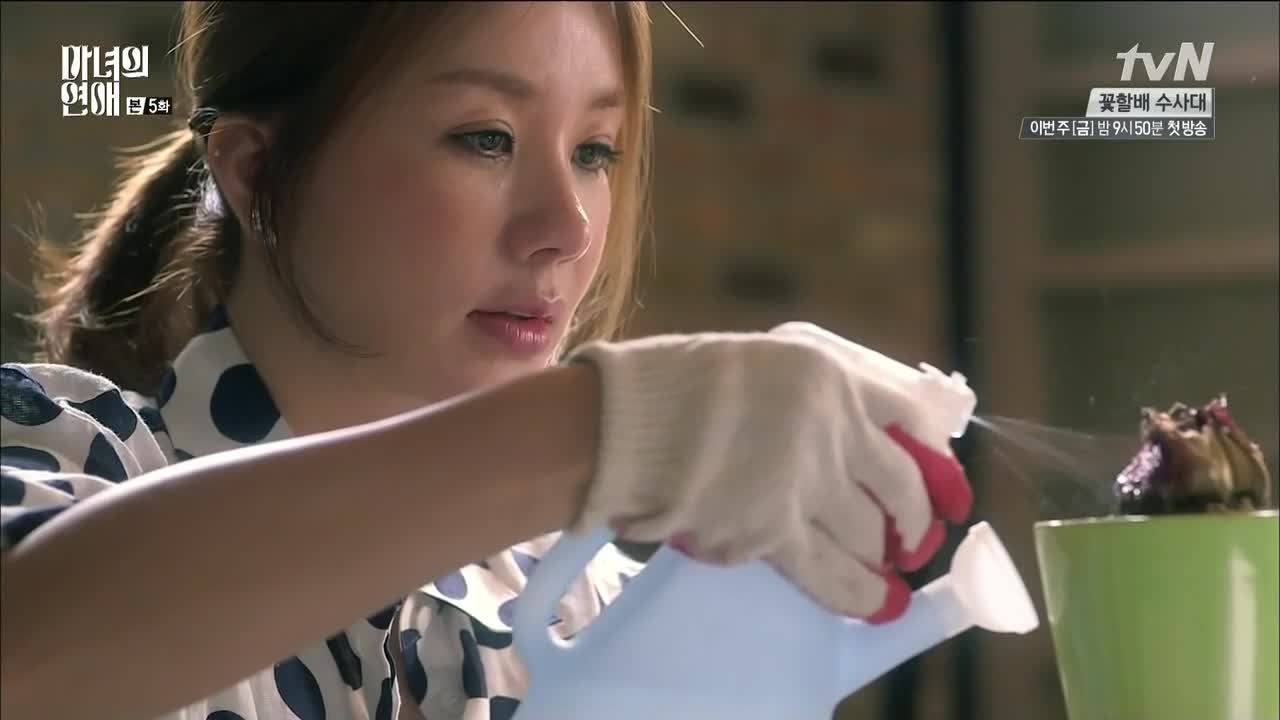 Forget about the first blossom. Cut out the scar and the flower will bloom again. Live a new life.
However, when Dong-ha arrives home, he sees that she's repotted his precious plant and cut it into two. He angrily reminds her that he told her never to touch it. Shouting, he asks why she did it, and she blurts that it's because he keeps weighing on her mind; she keeps thinking of him. Every time she's in danger, he comes to save her, so she's started to lean on him.
Dong-ha: "Do you think that I've fallen for you?" He admits that maybe he did feel something, but he can't forgive her for ruining his personal things. Furious, he smashes the newly potted hyacinth against the ground.
COMMENTS
Thanks a lot, show; you've made me cry.
I understand Dong-ha's anger and frustration. Not only is he struggling with the guilt because he almost forgot Young-chae's memorial day, he also was told that he's no longer wanted by her family. He's losing his grasp on the woman that he was so devoted to, and all he really has left to tie him to her is that plant. So when he sees that Ji-yeon has put it in a new pot and chopped off the old dead flower, it's just more proof that Young-chae is being cut out of his life.
I don't think it's too far-fetched to say that the hyacinth represents Dong-ha's heart (because that does seem to be the anvil of symbolism the show is beating into our heads). Which means he now has to face that his love for Young-chae has passed — that first-love has blossomed and died, and now it's time to wait for a new love to bloom. And of course that new blossom is Ji-yeon. But it's such a hard thing to face, even if he's been slowly realizing how much he cares for Ji-yeon.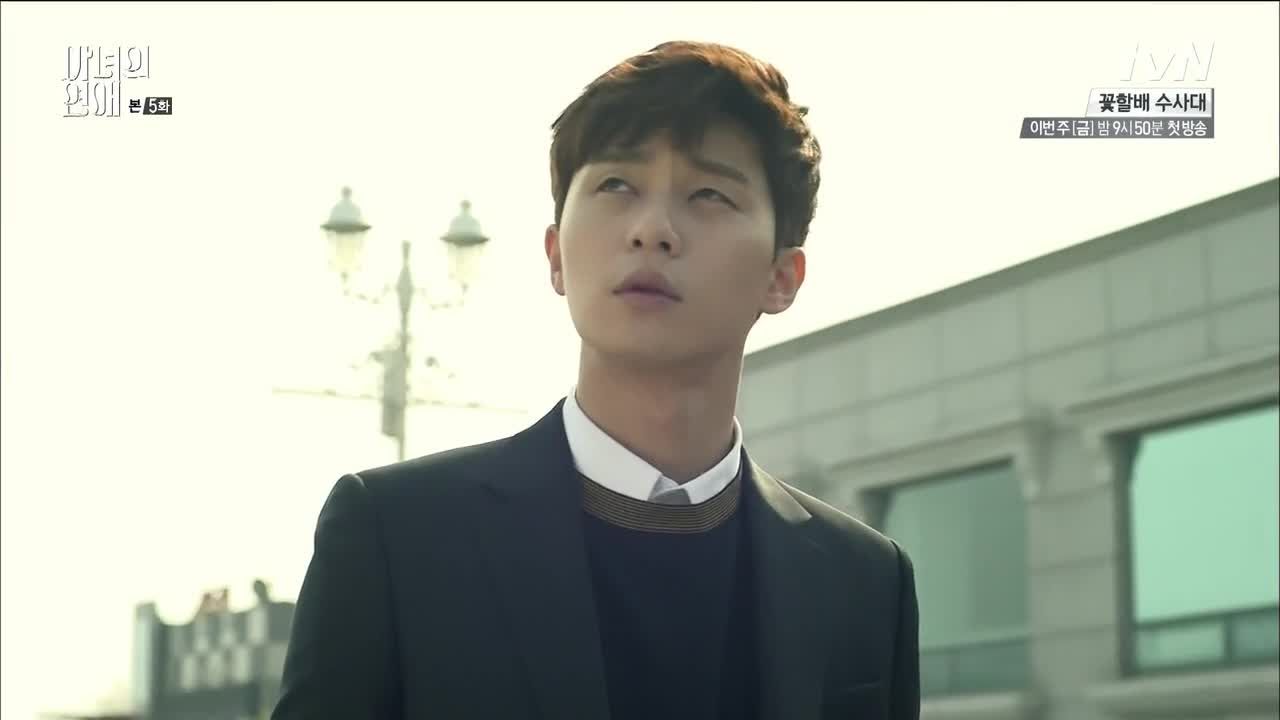 I also can't blame Ji-yeon for taking matters into her own hands and repotting the hyacinth without Dong-ha's permission. First, because that's just her take-charge personality; and second, she genuinely cares and wants to do something good for him. He's the one who's always managed to swoop in and save her (hello, Superman!), and now she finally sees a chance to give him back something meaningful — only to have him throw it away.
Ji-yeon is an incredibly caring person, but because she was rejected by Shi-hoon, she's built this cold, "bitchy" wall around her as protection from getting hurt again. However, she's allowed herself to be vulnerable with Dong-ha, even admitting that she's beginning to care about him, and wanting to find away to return all the favors he's given her. Now that he's rejected her gift by smashing it on the ground, I can only imagine is a slap in the face as she feels she personally is being rejected once more. I'll admit I have a slight fear she'll close herself off from Dong-ha, as a way to protect herself. And I'm not really looking forward to that.
As ridiculous and over-the-top so many elements in the show are (the supporting cast are essentially one-note caricatures; the over-saturated color palette; the delightfully comical sound effects), what brings me back over-and-over again is just how genuine and natural the interaction is between Dong-ha and Ji-yeon. Not only do I believe in them as a couple, I believe in them as people. Which is why I'm so invested in them and their future (and why the show made me tear up at the end, because oh my heart).
I'm clinging to the fact that this show has been excellent in not letting any misunderstanding linger very long (I mean, we got rid of the Pretty Boy Asshat misunderstanding within the same evening, which I think is a record for Dramaland). Still, this is Dramaland, which means I'm worried that we'll be forced to linger on a misunderstanding because it provides a handy venue for drama — and we are getting close to middway, which is when all the angst typically begins to take root.
But Dong-ha is too thoughtful and understanding to be mad at Ji-yeon for very long, right? Right?
Even so, I'm glad that we're addressing Young-chae now (and hopefully to leave her to rest in peace as a memory), because I can only handle one of our leads struggling over a past love at a time. When one struggles, I need the other one to support and comfort the other. And I'm assuming it will be Young-chae first, because apparently Ji-yeon doesn't know that Shi-hoon is back in Korea.
Apparently.
Because, wow, talk about some perplexing editing choices. Considering the cliffhanger from last week, where I was sure we were going to get a confrontation at the airport, I was genuinely bewildered when Episode 5 started and there was no mention of Shi-hoon. For a moment, I was convinced I had somehow skipped an episode because I couldn't believe the show would just ignore the fact Ji-yeon and Shi-hoon were sitting just feet from each other, looking in each other's direction, and didn't see each other.
Maybe it's just one of those "hands of fate" things — she didn't see him, he didn't see her, ships passing in night, etc. But it's so bizarre, because why bother to have them in the same spot at all? We could have easily been introduced to Shi-hoon returning to Korea without involving Ji-yeon (or Dong-ha). Then we would be anxious over how they would eventually run into each other, and Ji-yeon's wry little "maybe if he ever comes back, I'll get my revenge" would have more impact because we wouldn't be wondering in the back of our minds if she did or didn't see him at the airport.
Still, despite the confusing editing choice, I love this show to bits. It has everything I could possibly want in a drama — humor, characters with depth, leads who genuinely care about and respect each other (and other people!), friendships between the leads, the possibility that Ji-yeon will be a support and mentor to Eun-chae (the lead and second lead actually becoming friends is always my secret hope), the awesome friendships between just about everyone (who knew that moldy spinach Soo-chul would be such an awesome supporter of the Ji-yeon/Dong-ha OTP?), and, well, just about everything.
The only thing that's lacking right now are the kisses. I swear, if we don't get some resolution of the ridiculously strong sexual tension between Dong-ha and Ji-yeon soon, I will fly to Korea and smash ice cream all over the writer's shirts.
I'm warning you, show: don't tempt me.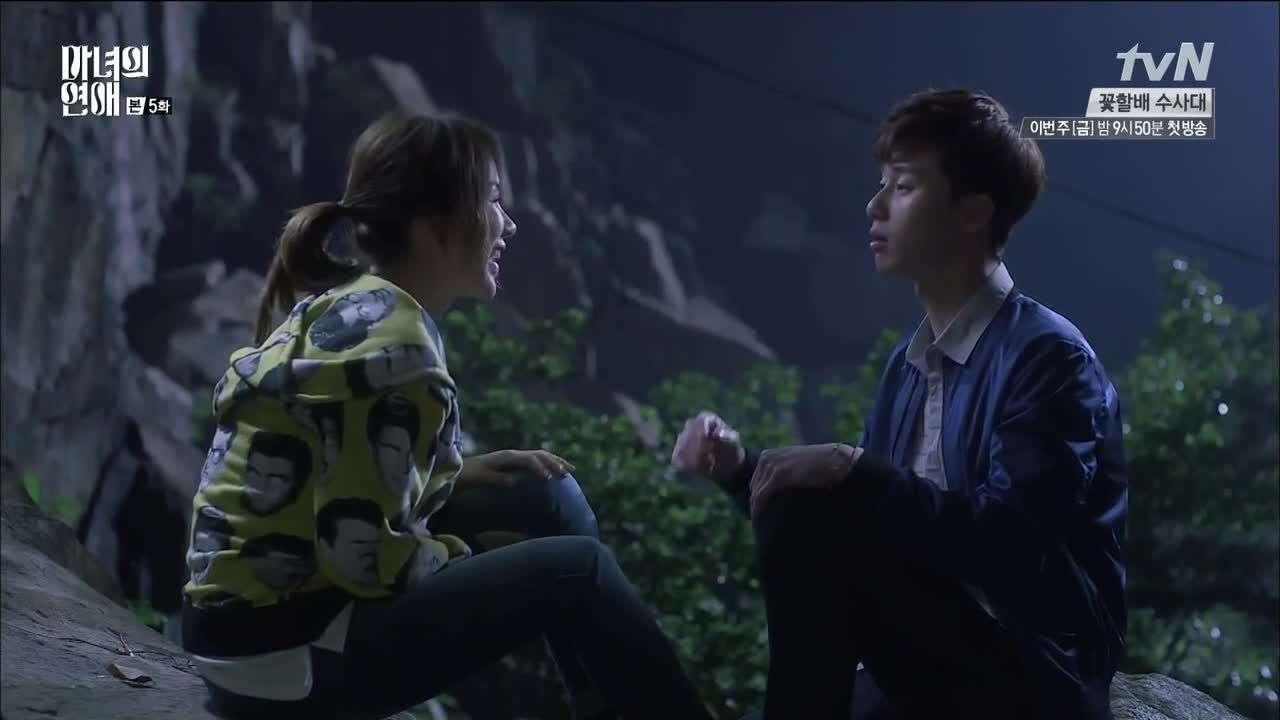 RELATED POSTS
Tags: featured, Park Seo-joon, Uhm Jung-hwa, Witch's Romance