Witch's Romance: Episode 6
Everyone hold onto your tissues, because this episode is a roller coaster. It seems like any other drama episode; sweet and cute and funny…and then the last fifteen minutes just go right for the gut, ruthlessly yanking at your emotions. Not that this is a bad thing, in fact it's a very good thing. I just hope you guys are ready, because I certainly wasn't.
EPISODE 6 RECAP
Dong-ha comes home to find Ji-yeon just finishing her re-potting and trimming of his hyacinth. Frantic, he yells at her for touching his possession, and she admits that she did it because the way he's treated her has made her care for him. He replies that his feelings towards her may have wavered for a moment, but he can't forgive this, and he smashes the pot and hyacinth on the floor.
Ji-yeon has had it up to here and she tells him that he's behaving like a child. She starts to tell him the secret of the hyacinth, but he only screams at her to stop talking about it. He then turns ice-cold, and says that he never wants to see her again. She needs to leave the house immediately.
Dong-ha goes on a ride on his moped, and ends up at a hiking point that he remembers visiting with Young-chae. It was their one-year anniversary, and Young-Chae had wanted to make a wish at the top of the mountain. They didn't make it to the top because of her weak heart, but Dong-ha told Young-chae to make her wish anyway and that he would do anything she wanted.
Young-chae said that her wish was for Dong-ha to become a great doctor and cure her heart problem. Dong-ha's wish was that she stay by his side until he becomes that great doctor. He gave her a bracelet shaped like an arrow, and he had even gotten one for himself, like couple-bracelets.
Back in the present, Eun-chae walks up the same mountain, remembering that her unni told her that she needed to visit that place when she was back from the U.S. When she arrives at the gazebo in the picture her sister sent, she finds Dong-ha there, still in mourning clothes.
We confirm what we already suspected: that Dong-ha's deceased girlfriend was Eun-chae's older sister. Eun-chae holds out her hand to show that she's wearing Young-chae's arrow bracelet because it helps her feel close to her unni, and Dong-ha shows that he still wears his. They leave the mountain and Eun-chae takes a bus home, saddened and confused now that she knows the man she likes was in love with her sister. She asks out loud, "Unni, what do I do?"
At Dong-ha's house, Ji-yeon packs her things to leave. We see that she's put the hyacinth back in Dong-ha's pot, with a note apologizing for ruining his precious possession and thanking him for everything.
Dong-ha comes home to find Ji-yeon gone and his plant back in its place with the note. Soo-chul comes home and immediately susses out that something is wrong. Dong-ha just says that Ji-yeon is gone and that he doesn't know where she went.
He tells Soo-chul that he kicked Ji-yeon out because she cut his hyacinth, and Soo-chul is all, "So?" He tells Dong-ha that he told Ji-yeon everything about him and Young-chae, and how she cried with worry for him. Dong-ha yells at him but Soo-chul, in a blaze of awesome-yet-uncharacteristic clarity, tells him that Young-chae won't come back just because Dong-ha mopes around forever, and that he was dumb to kick Ji-yeon out over a dead plant. Thank you, someone had to say it!
Dong-ha goes to the fishcake restaurant, but when Na-rae tells him that Ji-yeon isn't there he plays it off that he only came here because he missed the food. He drinks sake by himself and gets so drunk he starts to hallucinate, seeing Ji-yeon everywhere. By the time he turns around and sees yet another Ji-yeon walk into the restaurant, he's in a near-terror and the restaurant is full of imaginary Ji-yeons. PFFT.
The real Ji-yeon is busy checking into a hotel since her apartment is still being cleaned up. She somehow gets drawn into a misunderstanding between a cheater and his girlfriend who's caught him in the act, when the girlfriend mistakes Ji-yeon for the "other woman." The cheater doesn't help things by going along with it in order to protect the real other woman he's here to see. The girlfriend calls the police and stops Ji-yeon when she tries to leave.
At the restaurant, Na-rae gets a call that Ji-yeon has been arrested and is at the police station, and Dong-ha overhears. When they get to the station it looks like Ji-yeon gave as good as she got, since the cheater and his girlfriend are both as beat-up as she is, ha.
Na-rae rushes into the station and immediately starts insulting the girlfriend. The two of them have this hilarious non-fight — they're throwing punches and kicks but not actually hitting each other — and Dong-ha just calmly sits next to Ji-yeon as if they're all alone. It's a sweet little beat in the middle of all the chaos.
Na-rae, Min-goo, Ji-yeon, and Dong-ha all convene at the restaurant later that evening. It's funny how Min-goo is a little bit scared of Na-rae now that he knows she's a brawler. The two of them start to put clues together — Ji-yeon checking into a hotel, Dong-ha drinking alone — and conclude that the two had a fight. They vehemently deny it, in unison, but methinks they doth protest too much.
Dong-ha and Ji-yeon head back to the building, and Dong-ha pretends to be soooo tired and sits on a bench, throwing pointed looks at Ji-yeon until she sits with him. He apologizes for yelling and for kicking her out, but Ji-yeon counters that he was right. She shouldn't have cut his plant after he asked her not to touch it, and she apologizes too.
Dong-ha admits that he overreacted because he had forgotten it was Young-chae's memorial day today and he was angry at himself, not Ji-yeon. He says that he feels like he's forgotten Young-chae after only three years, but Ji-yeon stops him. She reminds him that he faithfully watered and cared for the hyacinth plant for three years, and thought of Young-chae every day.
Dong-ha sighs that the flower never did bloom, but Ji-yeon assures him that it will. She tells him that you have to cut the old flower for a new one to bloom (and I know this metaphor is heavy-handed but it's still sweet).
This revelation hits Dong-ha hard, and later he tells the hyacinth that he's found the answer. He understands now what Young-chae was trying to tell him. "That's right, dummy," says a vision of Young-chae from behind him. She gently scolds him for keeping a dead plant around for three years and not moving on.
Vision Young-chae takes Dong-ha's hand and tells him that she's the one who didn't keep her promise, not him. She assures him that now that he's figured out the hyacinth's secret, it will bloom again soon, and Dong-ha breaks down as he finds himself alone.
The next day, Ji-yeon's mother shows up at Trouble Maker but is stopped by an employee before she can go up to Ji-yeon's office. Apparently she lied to him about who she was last time, and he got in big trouble. Director Kwon shows up to handle the problem, and the Chimes of Troo Luv sound when Ji-yeon's mom hears his sexy voice. HAHA.
As Director Kwon is taking Ji-yeon's mom up in the elevator, there's a momentary loss of power and the lights go out. When they come back on, she's grabbed his arm and he's holding her hand, and the accidental skinship seems to affect them both. Director Kwon calls maintenance and yells at them for scaring the lady, and Ji-yeon's mom decides right then that she wants this man.
Everyone sits down to eat the lunch that Ji-yeon's mom brought, and Ji-yeon's coworkers tell her she's lucky to have a mom who is such a good cook. But she knows that Mom has an ulterior motive, and demands that she tell her why she's really here. Mom says that she has another blind date tonight, and Ji-yeon had better go or she'll just show up at work with more food tomorrow. Hey, that's blackmail!
Ji-yeon goes on the date, and complains to the waiter about pretty much everything on the table. She has another blind date and this time she goes on a tirade about his alma mater and everything wrong with it.
After the second date Ji-yeon, Na-rae, Min-goo and Dong-ha sit at the fishcake restaurant while Ji-yeon complains that none of these men are asking her on a second date. After all, she's a great catch! Dong-ha asks grumpily why she's going on so many dates, and she admits that it's her mom's blackmail. Na-rae tells her to bring one of those dates to their school reunion the next weekend.
Na-rae hands her phone to Ji-yeon to show her the invitation, and it's a video of Ji-yeon at the last reunion, drunkenly yelling at a statue for being disrespectful to a noona. Na-rae tries to stop her but it just causes Ji-yeon to flail and knock the um… manhood off the statue, HAHAHA.
Na-rae tries to put the broken piece back on the statue while Ji-yeon yells at it some more for being weak like all men. She drunk-hollers to her friends that she'll bring someone much better than Noh Shi-hoon to the next reunion. If she doesn't, she'll send them all on a European vacation!
Back in the present, Dong-ha asks if Ji-yeon has any more blind dates. She says she has one more, and she'll make sure it's a good date and bring him to the reunion. Na-rae says that she should just take Dong-ha, who doesn't seem unwilling but Ji-yeon says she'd be too embarrassed by the large age gap.
Back at Dong-ha's place, he offers to go to the reunion again. He's adorably shy about it, but plays it off by explaining that he's pretended to be her boyfriend before in front of her mother. She says that her friends are too smart to fall for it which makes Dong-ha pout that he's a good actor. He asks if it's because he's too young, and something in his face makes me think he's not talking about pretending to be her boyfriend anymore. But Ji-yeon misses his subtext, and says that he can't keep helping her or she'll get dependent on him.
Later, Dong-ha bounces this situation off Soo-chul, who says that he can't blame Ji-yeon for creating some distance since Dong-ha did kick her out (when did Spinach Mold become the voice of reason?). Dong-ha admits that that was a mistake and starts to kick Soo-chul, who blocks it and says to be nice to him since he's about to be a business owner again soon.
Ji-yeon and Na-re get their nails done and have the exact same conversation as the guys. Ji-yeon says that Dong-ha is too young, but Na-rae points out that since she and Dong-ha have feelings for each other, age isn't a good reason to reject him. She asks if Ji-yeon sees Dong-ha as a man, which causes Ji-yeon to become suspiciously quiet. Na-rae can tell that she does, because it's written all over her face.
Meanwhile Dong-ha and Soo-chul list all the reasons that Ji-yeon should take Dong-ha to the reunion. Dong-ha asks again if he's too young, and Soo-chul pounces on his fixation on his age as evidence that he must really like Ji-yeon. Soo-chul changes the subject to his store's grand opening, but Dong-ha just asks again if he's too young. His worry is so cute.
Later that night, Dong-ha arrives home and Ji-yeon tells him she's ordered chicken and beer. Lots of it. He says he's not hungry but that's okay with her, she'll just eat it all herself. Cut to: Dong-ha stuffing his face with chicken. Pfft.
He asks if she's prepared for her next blind date, and reminds her not to just pick apart her dates. She retorts that it's not like she was wrong, and talking about true things is better than talking about superficial things. Dong-ha sighs that she needs a man's advice to succeed on her date, and decides to help. He demands three extra days off if she succeeds based on his advice, and offers three days as part-time labor if she fails. It's a bet!
Rule #1 for a successful date is to be positive and flattering, instead of critical and harsh. This backfires hilariously when Ji-yeon practices complimenting Young-sik at work and accidentally hurts his feelings.
Rule #2 is to be approachable and feminine. Dong-ha uses her purse as an example, since everything she carries is something she uses for work. It outs her as a woman who focuses on work more than relationships.
They take a break to buy snacks, and on the way back home Dong-ha grabs Ji-yeon's hand and explains that when on a date, she can't just run ahead. She needs to remember that she's with someone. By the way he's smiling, I call shenanigans — he just wanted an excuse for skinship.
Back to work with Rule #3: eye contact. They face each other on the couch and try to maintain eye contact, but Ji-yeon's eyes keep wandering off. The third time it happens, Dong-ha hisses and holds her face still… Did it just get hot in here? Dong-ha says softly that making eye contact is how you feel a person's sincerity, and he starts to lean in ever-so-slowly as he adds breathlessly that this is how to make someone fall for you.
His eyes fall to her lips, and he forgets this is a lesson and goes in for a real kiss, but she breaks contact and says that she understands the rule. He stammers that she should do well on her date if she remembers the three rules.
Ji-yeon hurriedly wishes Dong-ha good night and flees to her room, holding her chest and gasping for air (you and me both, girlfriend). Dong-ha knocks and tells her through the door that if she does fail on her date, he'll go to the reunion with her. GAH, just tell her you really want to be her date and that it's not pretend!
Ji-yeon shows up for the date and whaddya know, it's the botanist who taught her how to revive the hyacinth. Dong-ha sits at the bar, ready to direct Ji-yeon if she needs help, though he's doing quite a lot of glaring in the meantime.
He motions to her to start with compliments, and she says to the botanist (his name is Bong-soo) that he has a baby face and looks young. Bong-soo points out that Ji-yeon is older than him and at a gesture from Dong-ha, rather than blast him as is her instinct, she smiles and asks him about his work. Another signal from Dong-ha reminds her not to talk work on a date, so she just cutely says that she likes flowers.
This gets Bong-soo waxing poetic about flowers and Ji-yeon starts nodding off out of boredom. Dong-ha gives her the signal to hold eye contact. She goes ahead and asks if Bong-soo would like to go to her reunion with her, and he accepts.
We cut to a(n oddly placed) scene of Shi-hoon taking pictures in the park. He remembers a day years ago when he and Ji-yeon camping out in a tent, pretending to be in Alaska to see the polar bears to prepare for their honeymoon. Ji-yeon crows about how jealous her friends are going to be when she sees them at the reunion, after making fun of her for dating Shi-hoon for ten years and never getting married.
Jiyeon and her date show up at the present-time reunion, which is at the same restaurant as the last one (and HAHAHA, the previously violated statue is now sporting a leafy codpiece, and a waiter jumps to stand in front of it when Ji-yeon shows up). She introduces Bong-soo to the group, and Na-rae shows off her wingman skills again by pointing out, in front of their school friends, that she heard he's a botanist.
One of the women asks if Ji-yeon and Bong-soo will be getting married, and he confidently says that they will, soon. He says that Ji-yeon would be lucky to marry him, with his professorship and his young face and with her being older and all. When her friend asks if he will make much money as a professor, he says it's of no matter because Ji-yeon can support him. It's the least she can do for such a great catch! Ji-yeon's face is like, what in the WHAT now?!
She starts to lose her temper, and Na-rae tries to calm her down but fails. Next thing you know, Na-rae's calling Min-goo (as Ji-yeon chases the botanist with a broom in the background) to tell Dong-ha that Ji-yeon is out of control, and to come down and help.
The waiters escort Bong-soo out of the restaurant and into a cab as he loudly threatens to sue them all. Ji-yeon is calmer now, but her "friends" nastily point out that she was so hot in college, so why can't she find a man now? Na-rae tells them all to stop it (best friend ever) but they keep picking at her.
Finally Ji-yeon whirls to them and yells they're right, she doesn't have a man. She has a bad personality and she's old, so of course no man likes her! Then we hear a voice from behind her: "I'm so disappointed." It's Dong-ha coming to the rescue and let me tell you, he looks gorgeous.
One of Ji-yeon's friends snarks that this must be another fake boyfriend, and Dong-ha tells her that he's not Ji-yeon's boyfriend, but only because he hasn't confessed to her yet. Oh swoon. Are you going to confess now, in front of everyone?
He is. Right there in front of all her friends, he says to Ji-yeon that he doesn't own anything, and he's taking a break from school, and he only has part-time jobs. So when she goes on these blind dates he can't even tell her that he hates it. He says that he likes her, and the fourteen-year age difference doesn't matter to him.
He tells her not to push him away just because of his age. Even if she does push him away, he won't go anywhere. He takes both of her hands, looks in her eyes, and tells her that even though he likes her more than she likes him now, he'll make sure she falls for him too.
He asks if Ji-yeon accepts his confession and, speechless and teary-eyed, she nods. They hug as her friends applaud and Na-rae squees to herself with happiness.
At lunch, the ladies all pepper Dong-ha and Ji-yeon with questions that Dong-ha answers smoothly, but Ji-yeon is in this sort of half-daze and doesn't speak or eat. All she can do is think to herself, "This is a dream. I forgot how to start loving someone." She can't believe she could get so excited over a man again. Dong-ha urges her to eat, but Ji-yeon is way too nervous and excited. He finally offers her a bite of cake, but she hesitates.
"The Ji-yeon I know doesn't like cinnamon powder," says a voice, and Ji-yeon freezes. The women all look over to see Shi-hoon walk up to the table and greet Ji-yeon. She stands to face him, her face a stony mask, betraying no emotion whatsoever.
COMMENTS
This show is going to kill me. Just kill me dead. How does it know how to yank my emotional chain so well? The last 15 minutes were so intense that I'm still reeling, hours after having watched it. The emotional setup with that insanely hot almost-kiss, then the one-two punch of Dong-ha's wonderfully sincere public love confession and Ji-yeon's tearful acceptance. Then right when I think all is puffy hearts and rose petals, it goes in for the TKO with Shi-hoon's showing up at the reunion. I can't handle my feelings being jerked around like this, Show! Why do you want to hurt the one who loves you so much? My poor shipper heart can't take much more of this.
Now that that's out of the way — how great is it that our leads are so honest and open with each other? I love that Dong-ha and Ji-yeon were able to talk about what happened with the plant, and I love that Dong-ha is mature enough to listen and realize when he's wrong. That's a good quality that anyone who wants to be with Ji-yeon should have, as she's so honest and forthright and her sense of right and wrong are so defined.
It's one of my favorite things about Witch's Romance, that misunderstandings are handled swiftly and maturely by the characters. Nobody mopes for days, or refuses to listen when the other wants to explain or worse, refuses to do the explaining when they have a good reason for their misunderstood actions. I felt like cheering when Dong-ha and Ji-yeon sat on that bench and hashed out the hyacinth issue, because it takes a lot to admit you're wrong, especially when it's to the person for whom you're developing feelings. I wanted to hug Dong-ha when he actually got it, that in order to move on and grow a new "flower" he must let the old dead flower go. It's not the most subtle of metaphors, but I like it. I can't wait to see their new "flower" grow and bloom.
Now I have to address the elephant in the room…where has Shi-hoon been for two whole episodes? Are we supposed to pretend that Ji-yeon's seeing him in the airport at the end of Episode 4 didn't happen? Because Ji-yeon certainly looked in this last scene like she was seeing him for the first time since before their wedding day. Not that I'm sorry that we got two more episodes without second-lead drama to deal with, but I think we can all agree that it's very strange. I know I'm not the only one who started watching Episode 5 and thought I was watching the wrong episode. I'm still hoping for some sort of explanation, but for now I'm just mightily confused.
Regardless, it looks like we're going to have to deal with him now. I have a sinking feeling (based on not much more than a hunch from having seen way too many dramas) that his explanation for six years' worth of silence is going to be some sort of illness. He's probably been off in the States getting his Obligatory Drama Cancer cured or something, which is going to make it difficult for Ji-yeon to tell him to take a hike. Nothing short of something truly life-threatening could get our stubborn heroine to forgive such a sin as deserting her on the eve of their wedding and not contacting her for six years. Ji-yeon is not the most forgiving of women, and I think she would have no problem showing Shi-hoon the door if his excuse were anything trivial.
So I close with this message to Dong-ha: be strong. It looks like you have quite the fight ahead of you, but I believe you can live up to your promise to Ji-yeon not to go anywhere even if she pushes you away. Your flower just started blooming again, don't let it wilt and die a second time!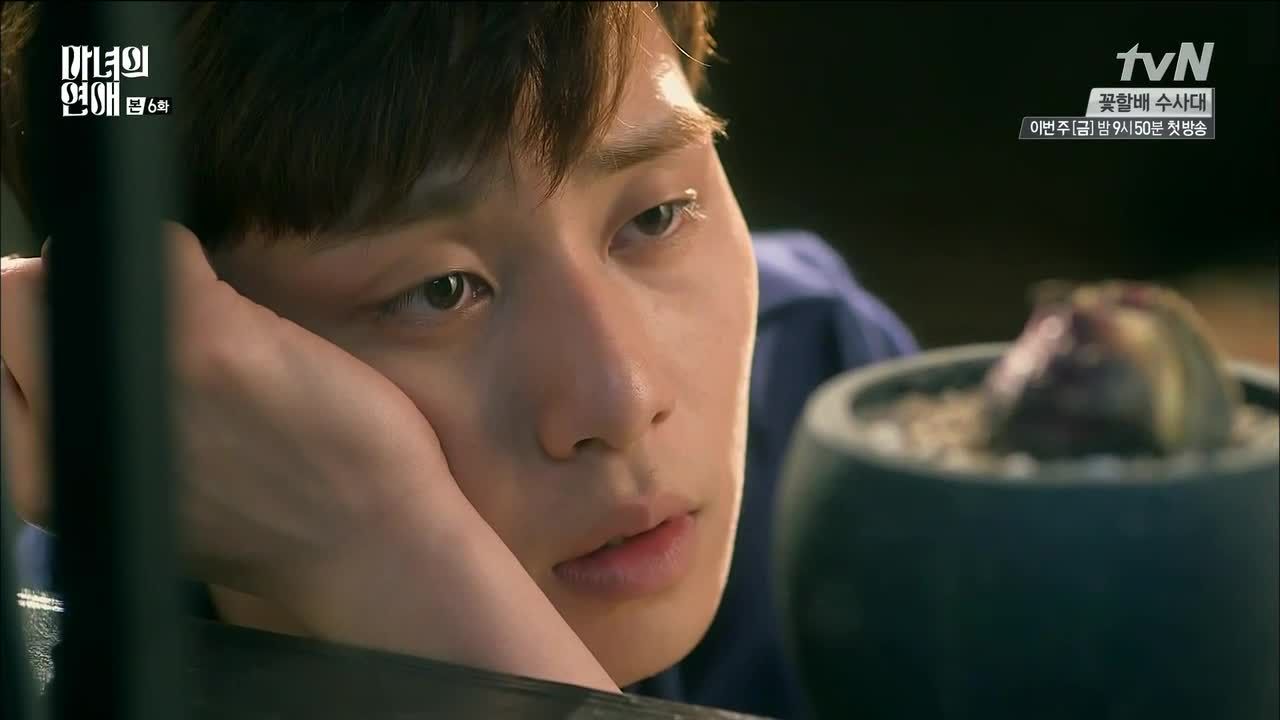 RELATED POSTS
Tags: featured, Park Seo-joon, Uhm Jung-hwa, Witch's Romance