Witch's Romance: Episode 7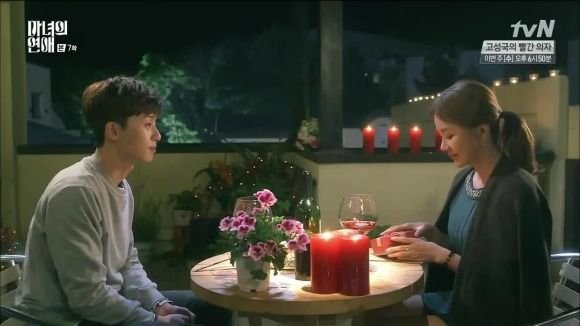 Having to deal with fallout is never fun, especially when it means facing your long-buried feelings of heartbreak and abandonment. Ji-yeon spends this episode coming to grips with the fact that the man who disappeared six years ago has returned, while the man who wants to love her now struggles between respecting her choice, and his desire to fight for her.
EPISODE 7 RECAP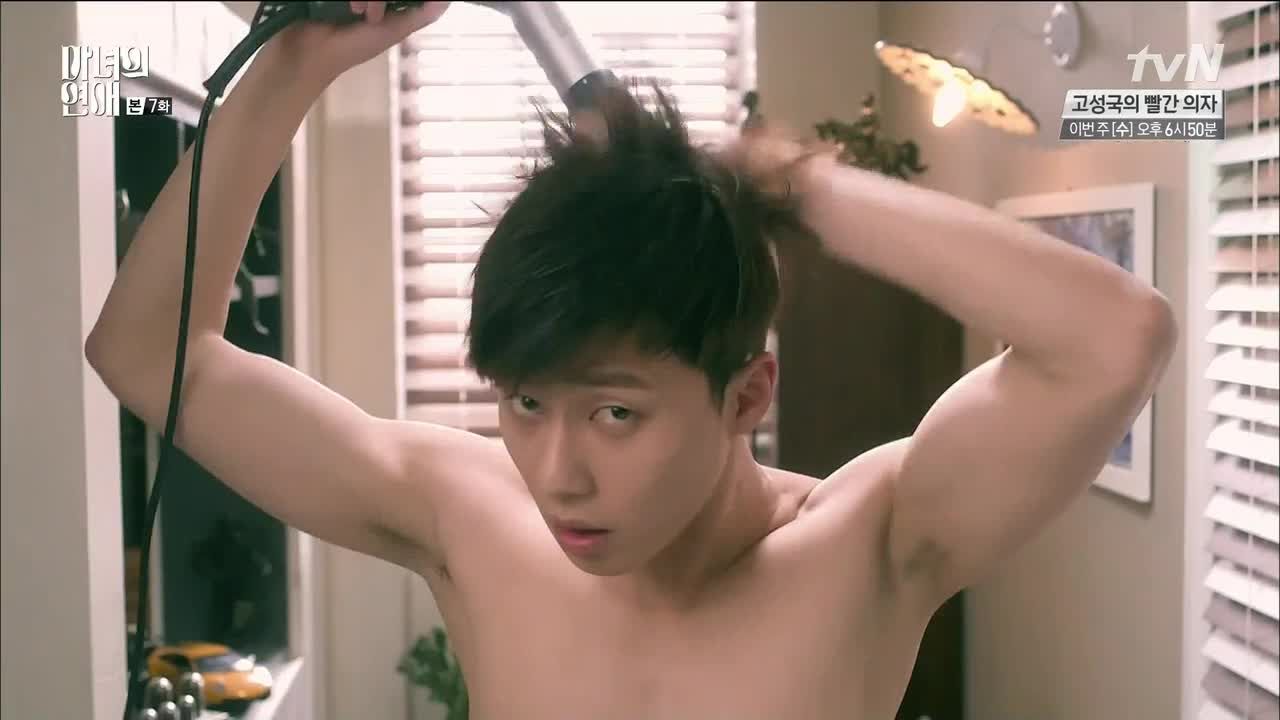 The episode starts with Dong-ha snazzing himself up to meet Ji-yeon at her reunion, adorably shirtless nervous as he practices his confession in the mirror. After the confession, everyone eats while the ladies ask questions, which Dong-ha fields with charm and tact. He starts to feed Ji-yeon a bite of cake, when a voice is heard from across the restaurant: "The Ji-yeon I know doesn't like cinnamon powder."
Shi-hoon approaches the table and asks if the women have been well, as if he hasn't been gone for six years. The women seem to have selective memories because they flock to him and coo over how good he looks, but Ji-yeon is frozen in shock. Only Na-rae demands to know what the heck happened and why he hasn't contacted Ji-yeon in all this time (seriously, best friend ever).
Shi-hoon approaches Ji-yeon and greets her, but she's still as a statue while Dong-ha holds her hand and quietly reassures her that he's here. Ji-yeon stands to face Shi-hoon, but it's Dong-ha who walks over to him and introduces himself as her boyfriend. Dong-ha, you are so awesome.
Na-rae invites everyone to sit and talk and Ji-yeon finally speaks, but only to say that she has nothing whatsoever to say. She walks out, and Shi-hoon starts to follow her but Dong-ha stops him. He tells him that this is none of his business, and follows Ji-yeon out of the dining room.
Ji-yeon has found a secluded spot outside and is saying all the things she wanted to say to Shi-hoon while in the restaurant, getting angrier and angrier. As she speaks, she starts to grow hysterical and begins to sob. She gets herself together and gives a pep talk to herself next, declaring that it's all in the past.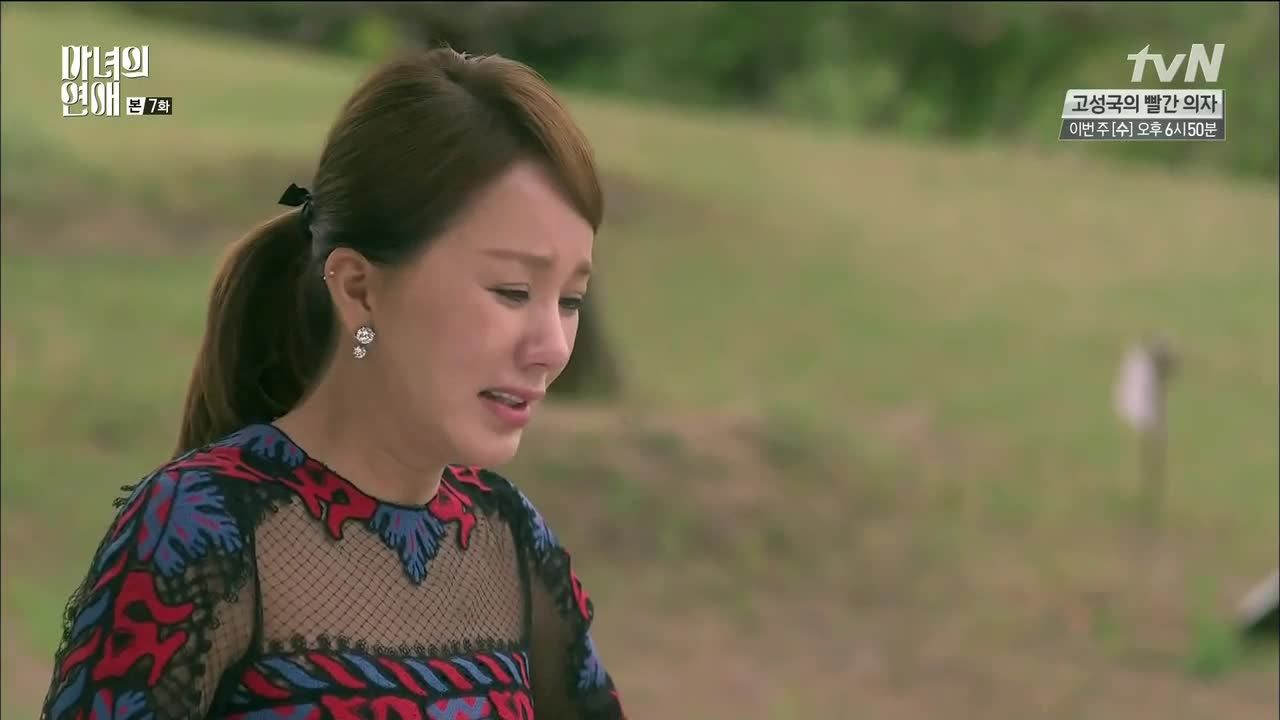 Shi-hoon finds her and says that she hasn't changed, that she still looks for a place to be alone and breathe when she's upset. He asks if Dong-ha really is her boyfriend, noting how young he looks. Ji-yeon defiantly says that yes, he is her boyfriend. Regardless of his age, he's a person she can depend on. Hint hint.
Ji-yeon starts to leave but Shi-hoon stops her again, asking if she's been well. She whirls around and cries that she waited for him back then, even after being hospitalized multiple times from collapsing. Of course she wasn't well! Six years ago her dreams disappeared and she was left with nothing to live for but her work.
Shi-hoon says that he'd like to clear up the misunderstanding between them, but Ji-yeon scoffs that there's no misunderstanding. He didn't show up to their wedding and never contacted her in six years — that's simple truth, and there's nothing to misunderstand.
In answer, Shi-hoon invites her to his exhibition in a few days because there's a picture he would like her to see. Ji-yeon tears up the invitation and says that she's doing fine now, and will be fine in the future. Dong-ha finds them and adds that he's taking care of Ji-yeon now, so Shi-hoon can just stop being interested in what happens to her. He takes Ji-yeon's hand and leads her away.
When they're out of sight of Shi-hoon, Ji-yeon drops Dong-ha's hand. She thanks him for all his help today and insists on getting herself home. She starts to walk home, looking from behind as if everything is fine, but Dong-ha runs after her and when he turns her around, she's sobbing again.
She again insists on being alone and grabs a taxi before he can protest, and as she drives off Dong-ha thinks to himself that he wasn't helping her — he was telling her his sincere truth.
Ji-yeon has found another place to be alone, and she remembers back to a month before her wedding to Shi-yoon. He left on a trip to Europe for business, but had promised to be back a week before the wedding. Back in the present, she takes a call from her mom, who can tell something is up by her shaky voice.
Ji-yeon asks tearfully if her fate really is that bad, and Mom understandably assumes all of this is work-related and goes on the offensive, saying they'll hire a lawyer and sue whoever is upsetting her baby. This makes Ji-yeon laugh, and Mom tells her that no matter what, her mother is on her side and always thinks she's the best. Aw, Mom. ~sniffle~
At his office, Shi-hoon sets out to get drunk but his assistant stops him. She asks if he met the person he was looking for, and if he told her why he didn't come back six years ago. He admits that she didn't give him a chance to explain. The assistant insists that he had a good reason for not showing up to the wedding, but Shi-yoon just sighs that he can't blame Ji-yeon for how she feels.
At the office the next day, Ji-yeon is uncharacteristically quiet and wears her sunglasses all day. The next item on the Trouble Maker''s agenda is the Hannam Gallery exhibit, which just happens to be where Shi-yoon's photography will be displayed. The reporters talk about the fact that Phillip Noh (Shi-hoon's professional name) is notoriously hard to interview, and Ji-yeon just sits stone-faced while Dong-ha shoots worried glances her way.
Director Kwon puts his very best reporter on the case, which of course means that Ji-yeon is expected to get the elusive interview. She tries to decline but Hannam Gallery is the Trouble Maker's biggest advertiser, and only their best reporter will do.
Soo-chul brings lunch to the office to promote his new restaurant and hilariously fails when he tries compliment Ji-yeon on her new "style." Eun-chae comes into the room and with one casual flip of her hair, Soo-chul is instantly besotted.
Ji-yeon takes Young-sik with her to interview Shi-hoon, and Young-sik can't stop fangirling over how awesome Phillip Noh is, and how he wants to be just like him when he grows up. Ji-yeon tells him to stop worrying about what the artist will think of him, but gives herself away by asking if her own eyes are swollen.
Ji-yeon is cool as a cucumber when finally faced with Shi-hoon, and he has the gall to call her out for being rude, as if he's doing her a huge favor by consenting to this interview. Really dude? She retorts in a voice like ice that she'll just stop wasting his precious time then, and walks out.
Young-sik is on the verge of insulting his sunbae as he yells at Ji-yeon for leaving and crushing his dream of meeting the great Phillip Noh, haha. He asks if she isn't even curious why he would have an exhibit in Korea after all this time.
Ji-yeon goes back in and starts the interview, but keeps up the cold demeanor. Shi-hoon refuses to answer her questions because he's answered them in other interviews, so she just asks what he had for breakfast, scandalizing Young-sik again.
Shi-hoon tells a story about how he was almost killed by a lion, and his guide had to shoot the lion to save his life, but he got the photo so it was worth it. He tells another story about an alligator who swallowed him whole but spit him back up again, but admits that one is a joke when Young-sik falls for it.
On Young-sik's urging, Shi-hoon then talks about how he got shot once, and Ji-yeon is clearly moved by how much danger he's been in. She pulls herself together to ask one final question: Is there anything he will never photograph? He says that there is something but it's personal, and Ji-yeon ends the interview.
Later, Ji-yeon gets a call from Na-rae that has her rushing to the fishcake restaurant. Her mother is there, peppering Na-rae and Min-goo with questions about Ji-yeon. She drags her mom out of there with excuses about needing help fixing up her place.
Mom starts asking questions about Director Kwon like whether he wears a toupee, and Ji-yeon says that he's a total fashionista but it's too bad he's so ugly. HA. Mom just says a man's face isn't that important, and Ji-yeon looks worried at her mom's interest.
Eun-chae's mom makes her a feast to welcome her back to Korea with some homemade food, and accidentally makes Young-chae's favorite dish. Eun-chae gently reminds her that she can't eat it because she's allergic to shellfish. Eun-chae asks her mom if she ever met Young-chae's boyfriend, which causes her mom to become nervous and change the subject.
Meanwhile Dong-ha fills in Soo-chul on the fact that Eun-chae is Young-chae's sister, back in Korea from studying in the US. Soo-chul wails that the first goddess he's met in his life had to be Young-chae's sister, and Dong-ha just makes a face at his exaggeration. He teases him for calling Eun-chae a goddess, since in the past he's apparently met a fairy, an elf, an angel and so on.
Soo-chul grabs him in a headlock and points out that Dong-ha is in love with Ji-yeon, and Dong-ha concedes and taps out. I love these guys. Dong-ha admits that he thinks he's the only one with feelings, but valiantly defends Ji-yeon when Soo-chul asks if she rejected him for having no money.
Ji-yeon sends her mom home in a cab and sits on a bench to process her day. Dong-ha joins her and asks how her interview went, and she tells him that Phillip Noh is Shi-hoon. Like the supportive friend he is, Dong-ha starts saying all kinds of bad things about him, but Ji-yeon just quietly starts to cry.
She tells Dong-ha that Shi-hoon had promised to be back a week before their wedding, but he never showed and didn't even contact her for over a month after their wedding date. Then she had gotten a call from his assistant saying that he regretted proposing to her, and that she was in the way of his professional dreams. Oh you complete ass.
Ji-yeon says that she sent the wedding ring to the assistant to return to Shi-hoon so that he would know she was fine. She says that it was news to her that he wanted to be a war correspondent –- she had always thought that they shared the same dream.
Dong-ha gets on his knee in front of Ji-yeon, and softly tells her that not all men are the same. He promises that he will never reject her. She thanks him for making it possible for her to walk away from Shi-hoon yesterday with her pride intact. He seems about to tell her that his confession was genuine, but Soo-chul calls them back in and breaks the mood. As they walk back in, Ji-yeon quips that Shi-hoon's big dream was getting attacked by lions and eaten by alligators. Dong-ha says he wouldn't trade her for all the wildlife on the Serengeti. Sweet boy.
That sweet boy was so confident in front of Ji-yeon, but alone in bed his insecurities get to him. If that "polar bear" is over 40, then shouldn't he be fat and bald? And it's annoying how he smiles with his eyes. Surely he must have some negative attributes!
Soo-chul is just closing up his restaurant when Eun-chae stops by after having worked late, and he invites her in for dinner. He's so over-the-top attentive that it makes her uncomfortable. He says that he knows she's Young-chae's sister, and claims that he and Young-chae were super-close and invites Eun-chae to call him Oppa.
Back at the Trouble Maker office, Director Kwon tells Ji-yeon that her article isn't good enough, as it's only about the Hannam Gallery exhibit and not the artist. He reminds her that the paper's vision is making trouble, which is her specialty. She says the artist's story isn't really very interesting, but he doesn't buy it since the title of the exhibit is "One's Beloved."
They all speculate over who Phillip Noh's beloved could be, and Young-sik says that he heard even famous models were after him when he was abroad because he's so handsome (which earns a snarl from Dong-ha). The Trouble Maker Trio start scheming possible ways to find out the juicy story, but Ji-yeon cuts in to say she'll do it.
Young-sik asks for Dong-ha's help retrieving some files that he left behind at the interview the day before. Dong-ha resists, but eventually Young-sik wears him down.
Ji-yeon's mom shows up at the office, and Director Kwon tells her she just missed her daughter. She admits she's not really here to see Ji-yeon and gives him a little tomato plant (because he appreciated her home-grown tomatoes once before). He declares it a "sexy" gift, explaining that he uses the word sexy when he's excited about something. Well, that explains a lot. Ji-yeon's mom thinks to herself that this man is sexy.
Dong-ha arrives at the studio to retrieve Young-sik's files, just in time to catch Shi-hoon before he leaves to pick up a special picture he had printed. Shi-hoon says that even though Dong-ha said he was Ji-yeon's boyfriend, he can see that they just work together, but Dong-ha insists they're an office couple.
Shi-hoon leaves, and the assistant asks Dong-ha if he would mind waiting for a moment while she talks to the curator, then she'll help him find the files. He wanders around, noticing that Shi-hoon has a copy of the same framed polar bear photo that Ji-yeon keeps. He also finds a prescription for codeine and morphine, both strong narcotic painkillers. Only someone in terrible pain would need both of those medications.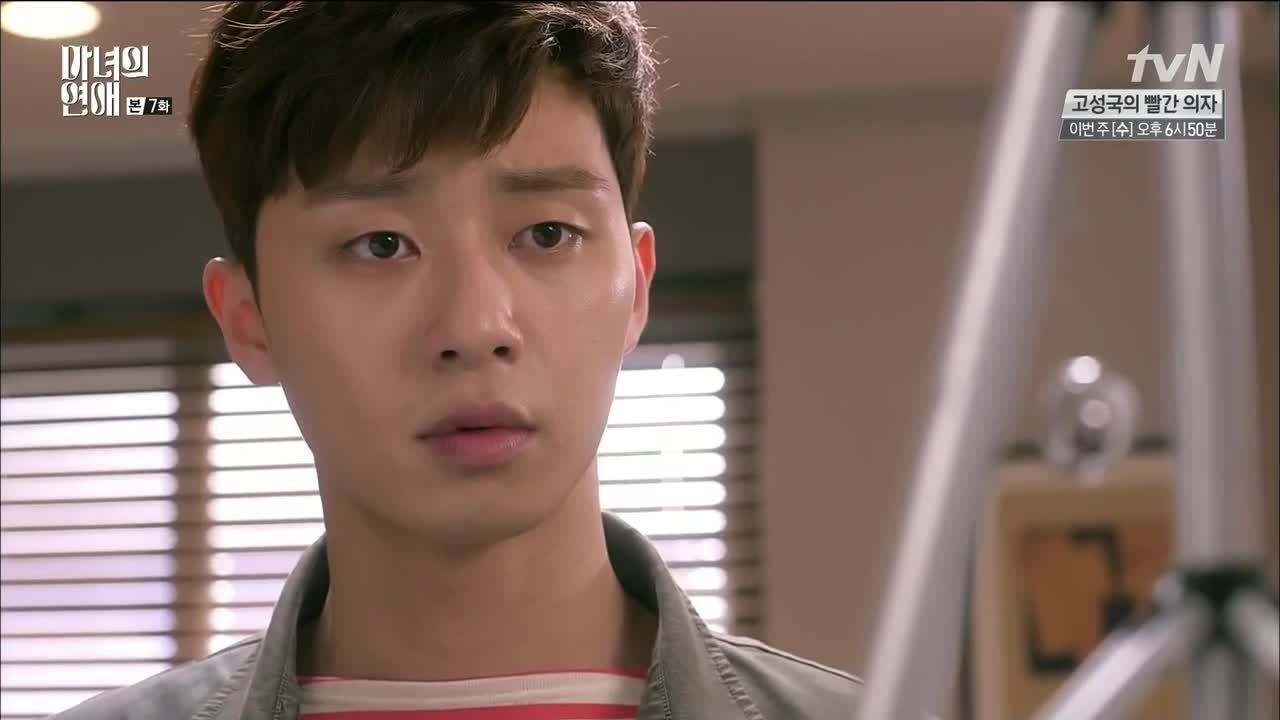 Dong-ha looks up and sees a pair of wedding rings hanging from a chain. He remembers Ji-yeon telling him that she sent the rings back to Shi-hoon after she heard from his assistant why he didn't show up for their wedding.
Ji-yeon comes home later to find that Dong-ha has painstakingly lined the entire walkway and staircase with tiny colored votive candles, and is waiting on the patio with food and wine. Every time I think he can't get more perfect… Anyway, she asks if it's a special occasion and he says it's a farewell party, which has Ji-yeon looking concerned and asking if Dong-ha is going somewhere. He says the party is for her since she's moving away soon. Aaaalll the way over there, next door. PFFT.
He gives her a gift in a nice jewelry box, but it's a safety alarm in the shape of a pink heart. That way if she needs help, she can just activate it and he will hear and come running. He reminds her of his promise not to go anywhere, even if she pushes him away.
Ji-yeon says that that was all just an act though, to help her out in front of her friends. Dong-ha tells her that it was not an act for him, that he meant what he said. He says that he was going to wait longer to say so, but the "polar bear" is more threatening than he thought he would be, and tells her that she doesn't have to give him an answer now. He's so nervous, it's just precious. Then he makes a joke about the wine and pig's feet going together even though they seem not to fit (and he can't resist slipping in a "just like us!") and breaks the ice, and they enjoy a nice relaxing meal together.
On the day of Shi-hoon's exhibit, Ji-yeon hesitates outside the Hannam Gallery, too nervous to go in. Suddenly Dong-ha shows up and takes her hand, there to support her today just as he always is. It's sweet that she lets him be there for her, even ducking behind him when Shi-hoon is introduced to give a small press conference.
One reporter asks about the name of the exhibit, "One's Beloved," and asks if it refers to love of mankind. He says that on the contrary, it's a love message to one person, and Ji-yeon tries to bolt but Dong-ha wants to stay and hear what Shi-hoon has to say.
The reporter asks if the person the message is for is still his lover, and Shi-hoon has the nerve to say that to him, she is. Ji-yeon really starts to leave this time, but Shi-hoon stands and calls out, asking if they have any questions (as reporters). Dong-ha has a question: Did he consider that his past lover might feel uncomfortable about this? Did it occur to him that someone else might be in her life now?
Shi-hoon admits that may be possible but he believes some things never change, and he thinks that his heart and hers are two of those things. Dong-ha has had enough, and he takes Ji-yeon's hand without a word and they leave.
Outside the gate, Ji-yeon stops but Dong-ha says there's nothing for them to see here. Ji-yeon says that all this time she wondered why Shi-hoon left her, and the answer may be back inside the gallery. She lets go of Dong-ha's hand and goes back in.
Inside the exhibit, there is a large picture at the far end of the room attracting all the reporters' attention. As Ji-yeon approaches, she sees that it's a picture of her, made of hundreds of tiny photos that Shi-hoon has taken over the years. Shi-hoon asks Ji-yeon, just as Dong-ha comes back in the room: "Ji-yeon-ah. Let's start over."
COMMENTS
Where do I start? Let's start with the big fat NOPE I'm feeling over that confession of Shi-hoon's. And it's not just because I love Dong-ha -– I have real issues with the way Shi-hoon is going about… well, everything. He is my least favorite kind of second lead. You know the type: They make all sorts of fancy promises, up to and including marriage promises, then just disappear without a word for years on end. Then one day they decide to come back and think they have the right to just pick up where they left off, as if they didn't leave confusion and heartbreak and years of emotional damage in their wake. What is that about? Do people in Dramaland not realize that when you disappear off the face of the earth for years without even a word, that that not only makes you an EX-boyfriend or -girlfriend, it also makes you a gigantic jerk?
And I don't buy illness as an excuse, because my hunch was correct and Shi-hoon is clearly sick. Nobody needs that many painkillers without something being seriously wrong (well, at least not in dramas). But it's still no excuse to disappear, and even less excuse to reappear and expect Ji-yeon to take him back. Why didn't he call? Or write her a letter? Nobody is THAT busy for six solid years, even if they are busy being eaten and regurgitated by alligators for some of that time.
I will make this one small concession… I strongly suspect that the phone call Ji-yeon got from the secretary a month after the wedding date, telling her that she was holding him back professionally, was not initiated by Shi-hoon. I would not be the slightest bit surprised if the secretary acted on her own there, because she seems a bit more concerned in him than is necessary for her job. She was also mighty nervous during their interview, and when she saw Ji-yeon at the press conference, which could be interpreted as her being afraid they would say something that might get her in trouble. From what small flashbacks we've seen of Ji-yeon and Shi-hoon before things went south, he did care about her and I don't think he would have his secretary call and say hurtful things. It's just another hunch of mine, but I suppose we'll find out soon enough if I'm right.
Regardless, a photo compilation of yourself does not six years' worth of grief erase. Being abandoned that way creates a bone-deep hurt that can't be fixed with a press conference and a huge picture. I don't think for a second that Shi-hoon has a chance of getting back together with Ji-yeon, but she's going to need to forgive him so she can move on. If that's going to happen, he's going to need to drastically alter his approach.
Speaking of moving on, I'm so proud of Dong-ha in this episode. He has his flashes of insecurity and what-do-I-do moments, but when it comes down to it he's keeping his promise to Ji-yeon to be there for her no matter what happens. I love how he's just there when she needs him, quietly strong, being her friend and support system. I think on her part she is getting used to that – you can see that when he's around, she's more relaxed and not so prickly and independent, and that's a very good sign.
I continue to be impressed with Witch's Romance when taken as a whole, despite a few weaknesses such as odd editing choices and one-dimensional supporting characters. Events happen at a quick and satisfying pace, without feeling rushed or glossed-over. It feels like we're much further into the story because of this, instead of less than halfway through, which is great because it means there's lots more interesting story to look forward to.
I'm really starting to see some nice character growth at this point, too. Most notable of course is Dong-ha, who took his revelation that he must let go of his first love in order to let another love in with maturity and grace. He didn't pout and flounce around whining about it like so many drama characters have been known to do…he listened to Ji-yeon, he cried a bit in the letting go, and then he manned up and moved on. He immediately committed to starting a new relationship with Ji-yeon with his whole self, and is following through. He's a good man.
Even Soo-chul (AKA Spinach-mold) is showing some interesting development. He's gone from a sleazy womanizer who was willing to take money to publicly humiliate someone, to a guy I'd want to go to for advice. He's surprisingly insightful when it comes to other people's relationships; he was the one who noticed Dong-ha's growing attachment to "Noonim" before Dong-ha even admitted it to himself, and he's the one who consistently calls out Dong-ha when he's fooling himself about his feelings. We'll see if he can maintain that insight when it comes to his own relationship, if he and Eun-chae start something.
But I feel that Ji-yeon has shown the most growth as a character, in that she's allowing Dong-ha to become essential and letting herself lean on him. It's telling that she only lets herself cry in front of him, when she doesn't even let her own mother know when she's crying…it shows that she's willing to let him see her when she's weak and in need of comforting, which is a hard thing to do for a strong woman like Ji-yeon. She's used to taking care of herself and not needing anyone, much less a man, to take care of her. She hasn't admitted to herself yet how attached she's becoming to Dong-ha, and I'm looking forward very much to that moment when she realizes not only that she loves him but more importantly, that she needs him.
Keep up the good work, Show.
RELATED POSTS
Tags: featured, Park Seo-joon, Uhm Jung-hwa, Witch's Romance