Witch's Romance: Episode 9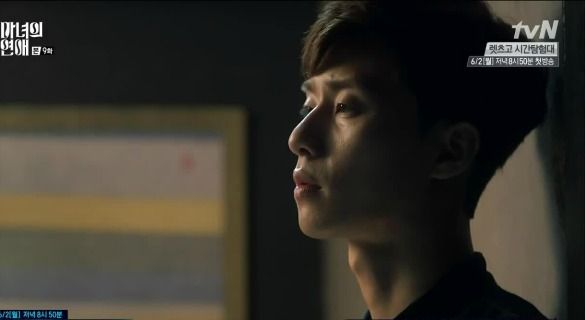 Such a sad, tear-filled episode. Ji-yeon makes a decision and the consequences are heartbreaking for all concerned. Dong-ha does his best to handle the situation with maturity, but even a man with the patience of a saint has a line you can't cross without doing permanent damage. I'm concerned that Ji-yeon is pushing Dong-ha awfully close to his line – I only hope that they can recover their ability to be honest and open with each other in time to repair the heart that's been broken.
EPISODE 9 RECAP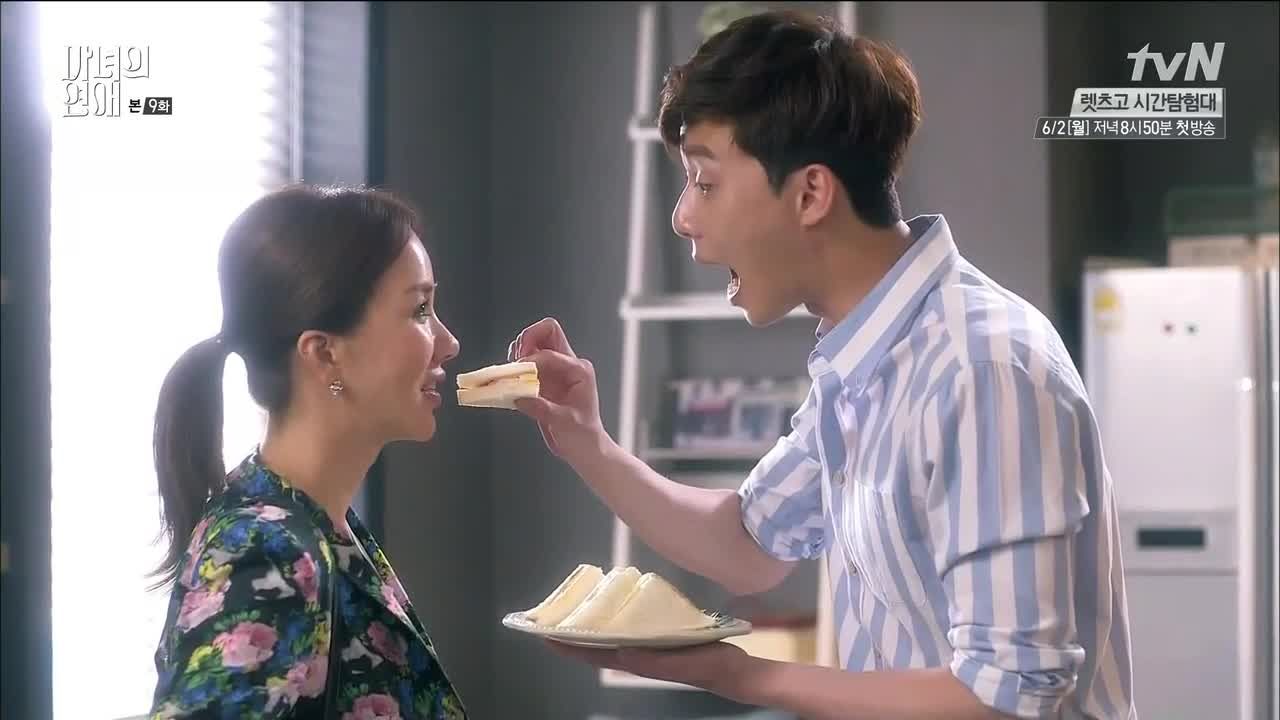 Ji-yeon and Dong-ha each get ready for work in their separate apartments for the first time in a long while, both of them remembering how comfortable and fun it was when they were living together. We don't see how things ended when Dong-ha backhugged Ji-yeon and asked her not to go back to Shi-hoon, but things at work are definitely awkward.
Young-sik is worried that Ji-yeon is angry with him for taking pictures of her and Shi-hoon together, and she assures him that she definitely IS angry with him for betraying his sunbae. She punished him by giving all his week's assignments to Dong-ha. Aw, is that your grumpy way of making sure you get to work with him all week?
Young-sik, being oblivious to everything around him, shows Dong-ha the photos he took of Ji-yeon with Shi-hoon. He says that in the five years since he's worked with her, he's never seen her laugh like that. This makes Dong-ha understandably cranky and he barks at Young-sik to just give him the material he needs to do his work.
Shi-hoon's assistant (okay she has a name, even though she doesn't deserve one, it's HONG CHAE-HEE) talks on the phone with someone — she tells them that she sent them the materials she promised, that she's leaving the country this weekend, and to please release the "report" as soon as possible. Shi-hoon finds her and reminds her that he's fired her, though she leaves him some information on a children's relief fund in Africa.
Shi-hoon tells Chae-hee again that she should stop worrying about what he's doing, but she says that after six years thinking of nothing but him, it's not that easy. She starts to get upset, saying that nobody will take care of him like she does, and certainly not Ji-yeon who didn't even accept him back after knowing that his assistant lied about him wanting to break off their engagement.
Ji-yeon's mom tries to let herself into Ji-yeon's apartment, but the code has been changed. She calls Ji-yeon for the passcode so she can go in and make dinner, swearing that noooo, she didn't buy much food at all. Don't try to look innocent Mom, we see those two huge bags you have there.
At the Trouble Maker office, Eun-chae has been given her first interview assignment and comes to Ji-yeon for advice. To her credit, Ji-yeon gives her a thorough course in How To Conduct an Interview. As Eun-chae bounces off in excitement, Ji-yeon smiles to remember how she used to be that way when she was new to reporting.
Team Leader Byun takes his pictures of Ji-yeon's meeting with Shi-hoon to Director Kwon, trying to convince him that this is the best scandal ever and that they should write an article about it, but Director Kwon smacks that idea down fast.
Byun even uses the buzzword "sexy," but Director Kwon says it's not sexy — it's perverted to betray your colleague. Byun decides that it's all Ji-yeon's fault that he's in trouble, and that she's used her witchy powers to sway Directer Kwon to her side.
Ji-yeon arrives home to find that Mom has cooked enough for an army and then some. She wonders who's going to eat all that food, when Dong-ha and Soo-chul show up bearing housewarming gifts and goofy grins. They all sit to eat, and it's cute how the boys shamelessly kiss up to Mom, Soo-chul even going so far as to "accidentally" call her Noonim a few times, HA.
Like good boys, Dong-ha and Soo-chul offer to clean up while Ji-yeon and her mom rest. Mom starts to talk up Dong-ha and everything she likes about him, even comparing Shi-hoon to him (apparently Shi-hoon doesn't measure up –- tell us something we didn't know). Suddenly Mom gets up to leave Ji-yeon with the guys, because Mom is no fool. Soo-chul also decides he's got something else to do -– Na-rae isn't the only great wingman in this drama.
Director Kwon wanders into the fishcake restaurant and tells Na-rae that Ji-yeon recommended it. After he sits and orders, Ji-yeon's mom comes in to drop off some food for Na-rae and Min-goo. As she turns to leave, she hears a familiar voice call her name, and she freezes. Director Kwon asks her to join him and he orders the most expensive item on the menu. Na-rae and Min-goo can barely control their giggles watching the two older cuties share a drink.
After finishing cleanup, Dong-ha peruses Ji-yeon's bookshelves for the book he left there. He asks if she's read all the books and she says that she has, so he tells her she should dust them occasionally (as he keeps touching the book he left, hoping she'll notice it's new). They make small talk about being tired — Dong-ha even makes a joke about Ji-yeon's age, brave man — and she walks him to the door, but he nearly collides with her in an uncomfortable reminder of the backhug. After he leaves, Ji-yeon notices he left his sweater behind.
The next day, Ji-yeon gets a call from Chae-hee telling her that Shi-hoon is leaving for Africa in a few days. She asks Ji-yeon to let him go so that he can come to her. Ji-yeon says that after what she did to them six years ago, she has no interest in anything Chae-hee has to say and hangs up on her.
Young-sik runs in with the news that Phillip Noh is leaving for Africa, and everyone in the office hears him. Team Leader Byun can't help but gloat that Ji-yeon's being jilted again, but Dong-ha looks concerned for her. Director Kwon shows her a news article stating that Shi-hoon is leaving, and tells her to alter her article to reflect this latest news.
After the crowd disperses, Young-sik pouts to Dong-ha that he was hoping for Ji-yeon's happiness, but Dong-ha doesn't like that thought –- who says she'd be happy with Shi-hoon? Young-sik says that when she was with Shi-hoon she didn't look like a witch, she looked like a woman. Dong-ha protests that someone who comes and goes as he pleases could never make her happy.
But it looks like the article about his leaving is news to Shi-hoon too, because he yells at Chae-hee for releasing information to the press when he hadn't agreed to cover the children's relief fund. Chae-hee tells him that Ji-yeon isn't going to come back to him anyway, though he obviously doesn't believe her. She tells him that she knows he doesn't care for her, but she still wants the best for him, and leaves him a plane ticket and asks him one last time to get free of Ji-yeon.
Ji-yeon visits Na-rae to talk about this latest development. She feels bad that she hated and blamed Shi-hoon for six years, but Na-rae rightly reminds her that she didn't know what had really happened to him. Ji-yeon just wonders if she can go back to living without him now that she knows the truth.
She goes to see Shi-hoon and when she sees his ticket, she asks him flat-out if he's going to Africa. When he doesn't deny it, she launches into a lecture, calling him selfish for doing what he wants no matter who might worry about him. She cries that he hasn't changed –- he says he cares about her but really only does what he wants.
He says that he was going to talk to her, but she asks when. In three years? Five years? She turns to go but he grabs her wrist and says that if she tells him not to go, he won't go. She yells that she won't believe him, and he asks if not, then why is she here screaming at him? Obviously she does it because she worries about him.
Ji-yeon's anger deflates and she can only repeat through tears, "Don't go. Don't go." Shi-hoon holds her while she cries it out.
Later Ji-yeon walks home and sits on the bench outside her apartment, thinking. Dong-ha comes out to check on her and she says she wants to talk to him. I don't like the look on her face.
She tells him that she wants to answer his question, and you can see his face change as he realizes the answer before she says a word. He tells her not to say anything, but says that she can tell him her answer after Shi-hoon leaves for Africa. He says she's confused now and they can talk later.
Dong-ha gets up to go back inside so she says to his back, "He's not going to Africa." She tells him that she asked Shi-hoon not to leave, and GAH, the look on Dong-ha's face is heartbreaking.
He puts on his happy mask (though you can see exactly how difficult it is) and turns back to her. He says that it's good that they worked out their misunderstanding. He even manages a smile when he repeats that it's a good thing, but the smile doesn't reach his eyes. Ji-yeon says that she's sorry, but Dong-ha brushes that aside — he knew he was confessing on his own.
They each go inside and think about the other, remembering words they said to each other. Dong-ha valiantly manages to keep in the tears but if you ask me, for a woman who should be elated that she just got her long-lost love back, Ji-yeon looks awfully sad as she spends her evening thinking of another man.
Ji-yeon shows up to work the next morning to find Shi-hoon there and the whole staff congratulating her. She's mystified until Director Kwon explains that Shi-hoon is publishing a photography book through Trouble Maker and Ji-yeon will be writing the article about it. They all excitedly discuss logistics, and Ji-yeon is the only one who notices when Dong-ha slips quietly out of the room.
Director Kwon suggests that Ji-yeon take the day off and go on a date with Shi-hoon, who leads her out of there before she can object. She tells him that she knows he only thought of doing the photo book with Trouble Maker in order to work with her, but he remembers that his photos and her writing was always their dream together.
Rin-ji sidles up to Eun-chae to casually ask about Soo-chul, and is excited to hear that Eun-chae sorta kinda is friends with him. She peppers Eun-chae with questions about him like whether he has a car and what kind of women he likes, but Eun-chae gets out of there before she can be drawn into too much girl talk. Rin-ji doesn't even notice she's left talking to herself, ha.
Shi-hoon walks Ji-yeon home that night, and she invites him in since he's never been here before. She goes to make coffee, and Shi-hoon finds the heart-shaped alarm that Dong-ha gave her, accidentally setting it off and losing the pin. The alarm screams as they search for it, and of course Dong-ha hears it from next door and comes running, bringing him face-to-face with Shi-hoon in Ji-yeon's apartment.
Ji-yeon awkwardly explains that the alarm was a gift from Dong-ha which is why it brought him here, and he turns to go. He sees his sweater that he left behind and takes it with him, while Shi-hoon seems to be taking all this in and processing that Dong-ha and Ji-yeon were closer than he thought.
As they drink coffee, Shi-hoon asks about Dong-ha and why he gave Ji-yeon an alarm. She explains about the break-in and that Dong-ha gave it to her to feel safe. She tells Shi-hoon the story about how she and Dong-ha stopped Kim Jung-do with a magic show, and she looks happy for the first time all day.
When he leaves, Shi-hoon finds Dong-ha in the courtyard and thanks him for all the help he gave to Ji-yeon. Dong-ha counters that he didn't do it for Shi-hoon, he did it because he wanted to. He rebuffs Shi-hoon's outstretched hand and turns to leave.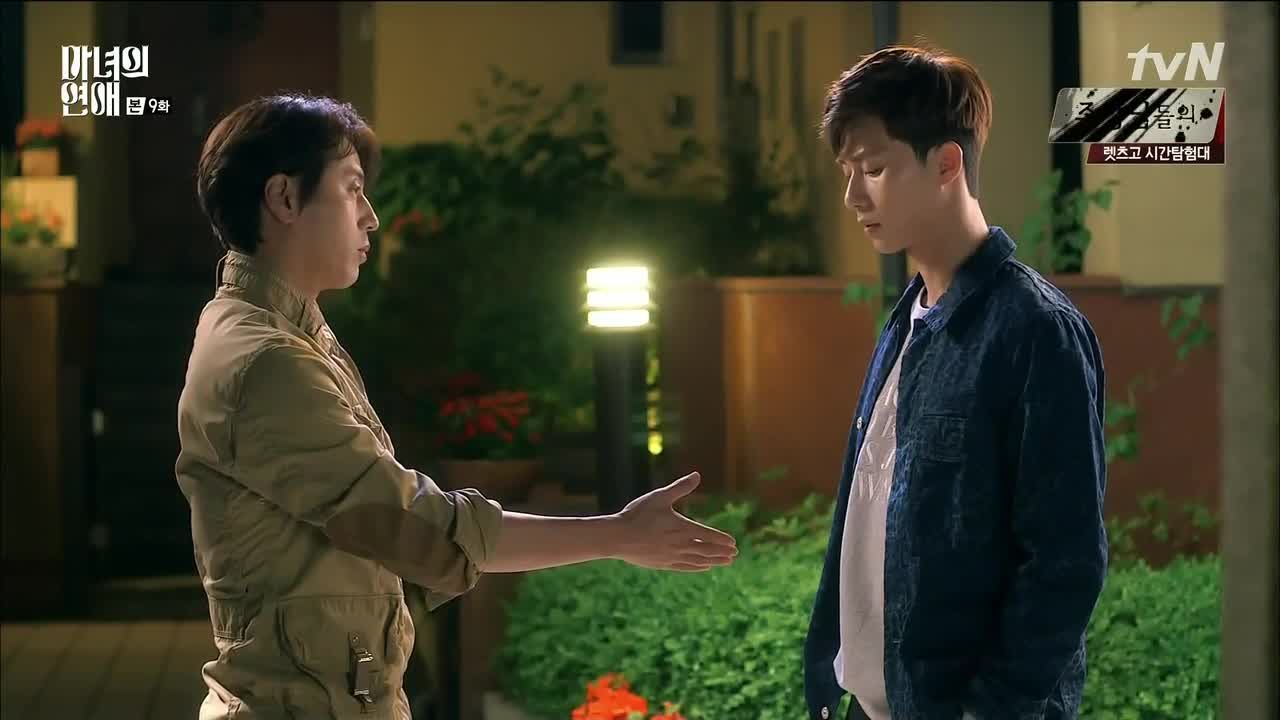 Dong-ha goes to the fishcake restaurant, which is packed with customers. He jumps in to help wait tables, and Na-rae says it hurts to watch him pretend to be okay (tell me about it, sister). The next night Ji-yeon shows up, but leaves when it's too crowded for her to get a table. Na-rae and Min-goo note that she looks sad, which is strange since she's the one who dumped Dong-ha.
Jiyeon carries a large box to her apartment, and Dong-ha finds her and offers to carry it for her but she doesn't let him, and walks to her apartment alone. This is the rejection that seems to hit home with Dong-ha as he stands alone in his dark apartment.
The next day Dong-ha hands in his resignation, even though there's still a month left on his work agreement with Director Kwon. He assures the Director that there's no problem with the job, it's strictly personal, and that he won't reconsider.
Dong-ha hands off his work in progress to Ji-yeon, and oof, it's so hard to see how he looks anywhere but at her. He announces that he's quitting and Ji-yeon pulls him aside to talk privately. She tries to talk him out of it, but he says that he can't keep pretending nothing has happened.
When he goes back inside, the whole Trouble Maker staff rallies around Dong-ha, assuming he's quitting early because Ji-yeon made him miserable. He assures them that he has personal reasons, and Young-sik backs him up that Ji-yeon treated him well. Surprisingly, it's Rin-ji who is the one who figures out that Dong-ha is leaving because Ji-yeon and Shi-hoon got back together.
Soo-chul and Dong-ha meet up at a bar and again Soo-chul proves that he's not as dumb as he'd like people to think. He points out that this is all Dong-ha's fault really, because he's the one who let this happen by playing fair and telling Ji-yeon what he knew about Shi-hoon's assistant. His selflessness worked against him this time. He's sure Dong-ha must regret it, but Dong-ha just sighs that he can't because Ji-yeon deserved to know the truth.
Now that Dong-ha isn't working, Soo-chul proposes that they start working their part-timer business again. He even promotes Dong-ha to CEO, ha.
Ji-yeon works late, and Shi-hoon picks her up to take her to their favorite restaurant. When she starts to walk in ahead of him, he grabs her hand and reminds her that she's not alone anymore, that he's beside her now. But Ji-yeon doesn't look like hearing this makes her happy -– instead she remembers when Dong-ha was giving her dating lessons, and he walked beside her holding her hand and told her that there was someone beside her now. Her smile when she was with Dong-ha looked a lot less forced than the one she gives Shi-hoon now, is all I'm saying.
In the restaurant, Ji-yeon and Shi-hoon remember when they used to come here and joke about how much it's changed. When the talk turns to wine, Ji-yeon again checks out as she remembers when Dong-ha played music in the courtyard for her and they shared a bottle of wine, and when he made her a meal of wine and pig's feet to celebrate her moving back to her apartment.
Soo-chul takes Dong-ha to a club, saying that this is the best way to get over a woman, and literally drags Dong-ha inside. Soo-chul quickly finds some women to talk up but Dong-ha is more interested in drinking, and when Soo-chul looks for him again Dong-ha has gone.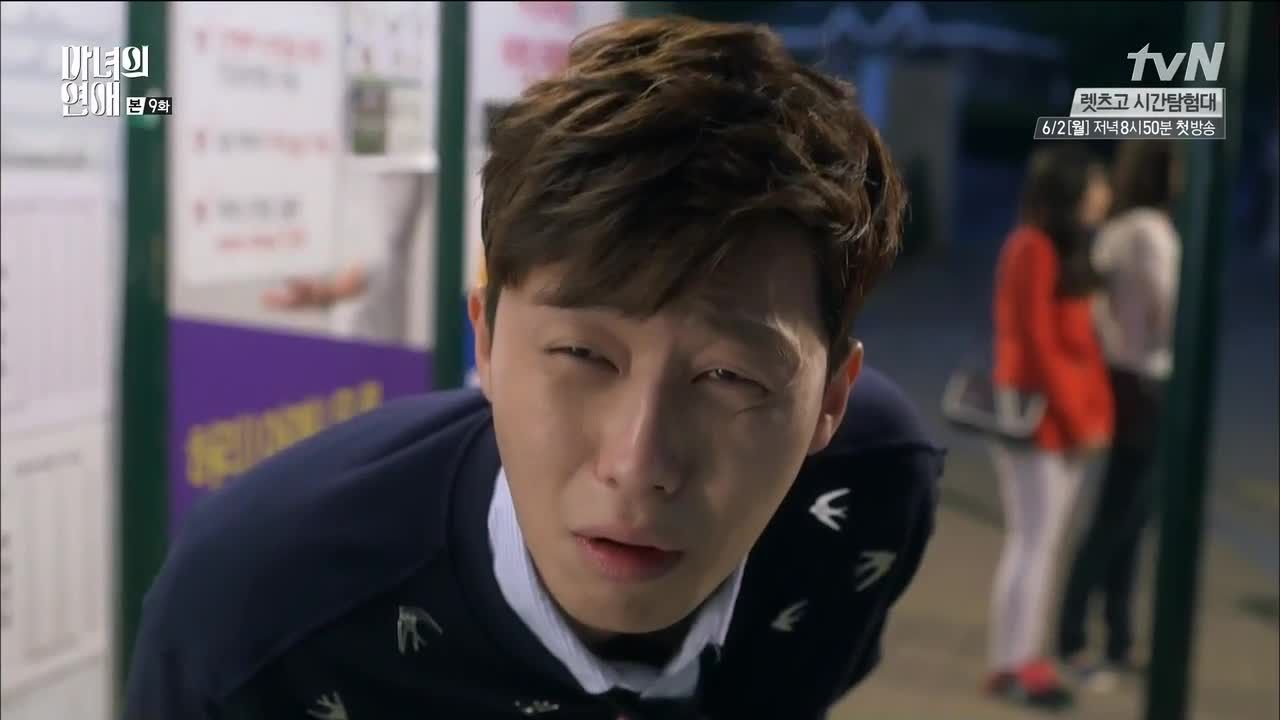 Dong-ha has wandered alone to the bus stop and drunkenly takes offense at the way a poster of Shi-hoon is looking at him. HAHAHA. He tells Poster Shi-hoon that he's a much better man than it is because he's never made Ji-yeon cry and only made her laugh sooooo much. Kind of like he's doing to me right now.
He sits and giggles to himself about how pretty Ji-yeon is when she smiles, then goes right back to being angry at Poster Shi-hoon for thanking him for taking care of "his" Ji-yeon. He tries to fight the poster, knocks his head pretty hard and calls a Time Out.
Soo-chul calls Ji-yeon when he can't find Dong-ha, and tells her that he's worried that Dong-ha is wandering drunk and alone. He's not above laying on the guilt when she asks how much Dong-ha drank, telling her he drank as much as his heart is broken. Next she gets a call from Dong-ha's phone, but it's the police because they've found him passed out on the bus stop bench. By the time they manage to wake him up, Ji-yeon has arrived to take him home.
On the way home he walks behind her like a chastised child, but gets snippy when she reminds him of his assertion that he doesn't get drunk and act out. She asks if he's hungry but he says he just wants to go home, and they keep walking like that. Ji-yeon remembers another time he reminded her to walk slowly and took her hand as they walked home, being completely silly together.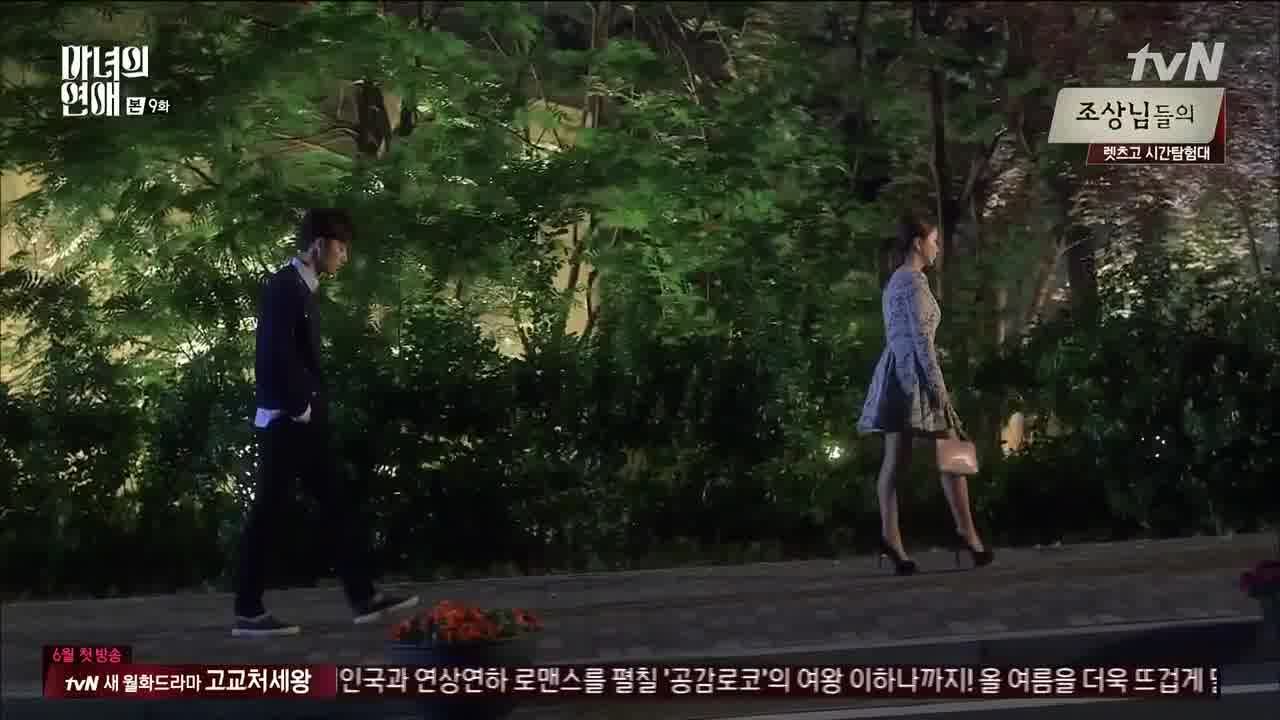 As they reach the courtyard Ji-yeon takes a call from Shi-hoon, and Dong-ha passes her and heads to his place. She asks why he drank so much, and he says that drinking is all he can do. He can't blame anyone for Ji-yeon and Shi-hoon getting back together. Should he blame God for not letting him meet her sooner?
He turns to go again but she asks if he really means to quit his job at Trouble Maker. He says that she doesn't need him anymore now that the polar bear can protect her. Ji-yeon tries again to talk Dong-ha out of quitting but he can't take it anymore, and his voice tightens as he asks what he means to her. Is he just a part-timer? A brother? A plaything? He yells that he can't keep seeing her every day as if everything is fine.
Ji-yeon tells him that he's still young but he can't accept that it comes down to something as trivial as age. She asks what's wrong with him and Dong-ha says that he's upset because he never even got his chance to start with her before Shi-hoon came back. He admits that he's been pretending to be okay, but he's not.
He tries to go again but Ji-yeon takes him by the arm and stops him. She asks him to stay and talk but he just yells that she has to stop, because if he turns around right now, he doesn't know what he'll do. He's barely holding in the tears as he begs her not to call him anymore.
Slowly, Ji-yeon lets go of Dong-ha's arm, and he leaves her standing outside alone.

COMMENTS
This show is going to kill me. That last scene is one of the rawest moments I've ever had to watch in a drama. Dong-ha's anguish was so palpable, it was all I could do not to burst into tears myself watching him struggle to hold onto his dignity. I think we've all been there, in that moment in time when you're losing something precious and all you want to do is forget you have pride and beg someone, anyone, to make the pain stop. I could feel every bit of that feeling in Dong-ha's valiant attempt to hold himself together and not just lose control.
Okay I've said this before but I'll say it again for a different reason…I do not like Shi-hoon. This time though, it's not so much because of him, but because I don't like who Ji-yeon has become when she's around him. He's very assertive, almost controlling with her (and I don't mean that in the abusive way, more in the I'm-used-to-always-getting-my-way way), and she just seems to shrink into this meek little mouse the moment he shows up. So now I dislike Shi-hoon for new reasons; not only has he ruined what was shaping up to be a wonderful friendship and perfect romance between Ji-yeon and Dong-ha, but because of what he's taken away, both from Dong-ha and from Ji-yeon herself.
I miss the Ji-yeon from the first few episodes, the Ji-yeon who was brash and ballsy and danced in her apartment with no inhibitions. I liked the Ji-yeon who kissed strangers in crowded bars and got drunk and seduced handsome young men. I liked the Ji-yeon who terrified her coworkers and did whatever it took to get the story and also justice if it came to that. The Ji-yeon we're seeing these days is an empty shell of a person, a person who doesn't speak up for herself and what she wants anymore, who is so stuck in the past that she can't see what's happening in the present.
I'm no psychiatrist but I'm guessing that Ji-yeon's extreme personality change comes from an abject fear of being abandoned by the same man twice. Now that she's gotten him back, she's so terrified of having chosen wrong that she's practically frozen emotionally. She's so afraid of losing something that reminds her of love, that she's about to lose a man who loves her enough to let her go at the cost of his own heart, in favor of a man who never even bothered to contact her once in six years and say "Hey, maybe we should talk about what happened." I'm so afraid that she could lose the real love of her life because she's so busy holding onto a shadow of a love from the past.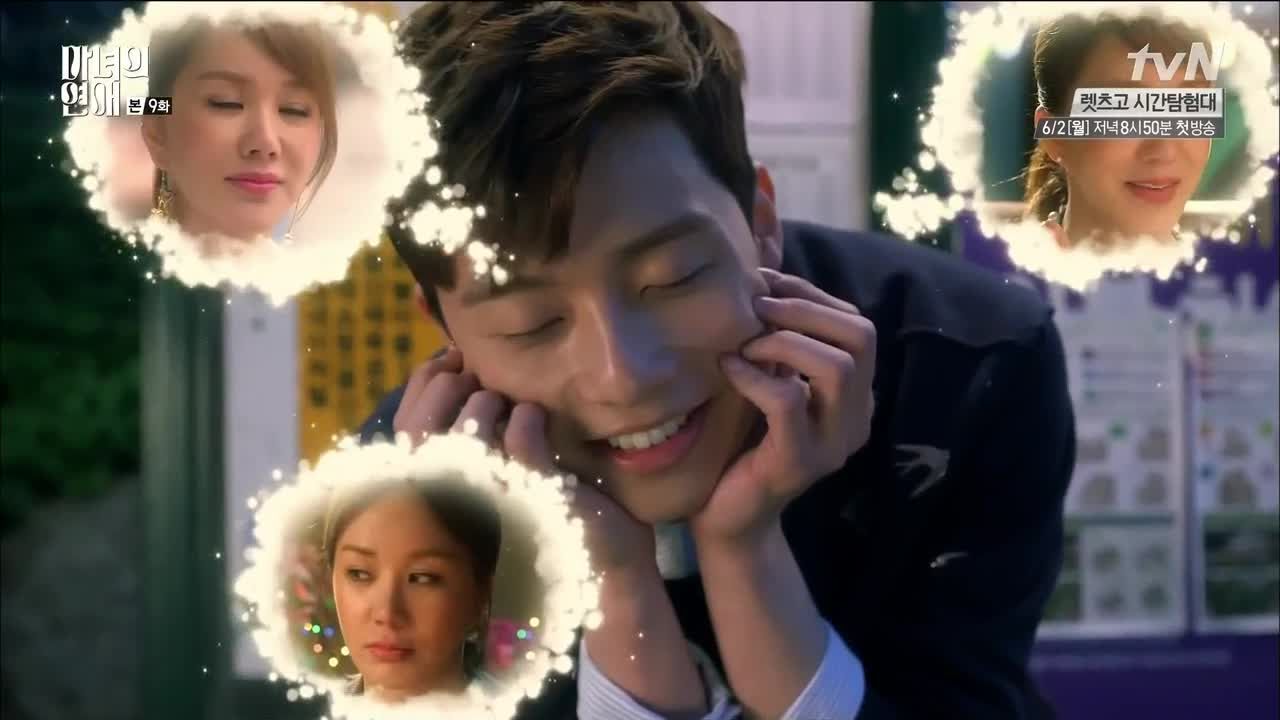 Now, I know that this is Dramaland and we're only halfway through our story. And I know that this is a remake and the endgame isn't really a surprise, unless the writers decide to really throw us for a loop. But it's a testament to the quality of the writing and the excellence of the characters that, even though we know where this is almost certainly going to end up, we are so invested in their journey that we feel in our guts the heartbreak that our leads are feeling right now. Knowing how this will most likely end up doesn't temper the distress that we as viewers feel when Dong-ha puts on a brave face and tells Ji-yeon that he's glad she and Shi-hoon are back together. We still feel the full impact of what it means for Dong-ha to beg Ji-yeon to let him go because he no longer has the strength to do it himself. The way this show makes us feel about it's characters is something special that doesn't happen very often given the mostly-predictable way that dramas work. I'm really appreciating how much this show is able to draw me in and make me care, even though I know this is just temporary.
But it's not all drama and angst, and there was plenty of cuteness in this episode too. I think we all needed that scene of Dong-ha drunk at the bus station to make us smile and remember what we love about him, namely his youthful sense of silliness and how he sees all the good things about Ji-yeon that most people miss because of her witchy persona. I loved the parallel between that scene and the scene in Episode 1, when Ji-yeon got (literally) staggering drunk and had a while conversation with her reflection in a mirror. It's scenes like this that remind us that despite all their differences, Ji-yeon and Dong-ha are really the same on a deep-down level. They are both people who feel and love very deeply, and who are loyal and honest to a fault. Now if we could just get them on the same page about how they feel about each other, I could rest easy knowing that their future is filled with fun and laughter and love.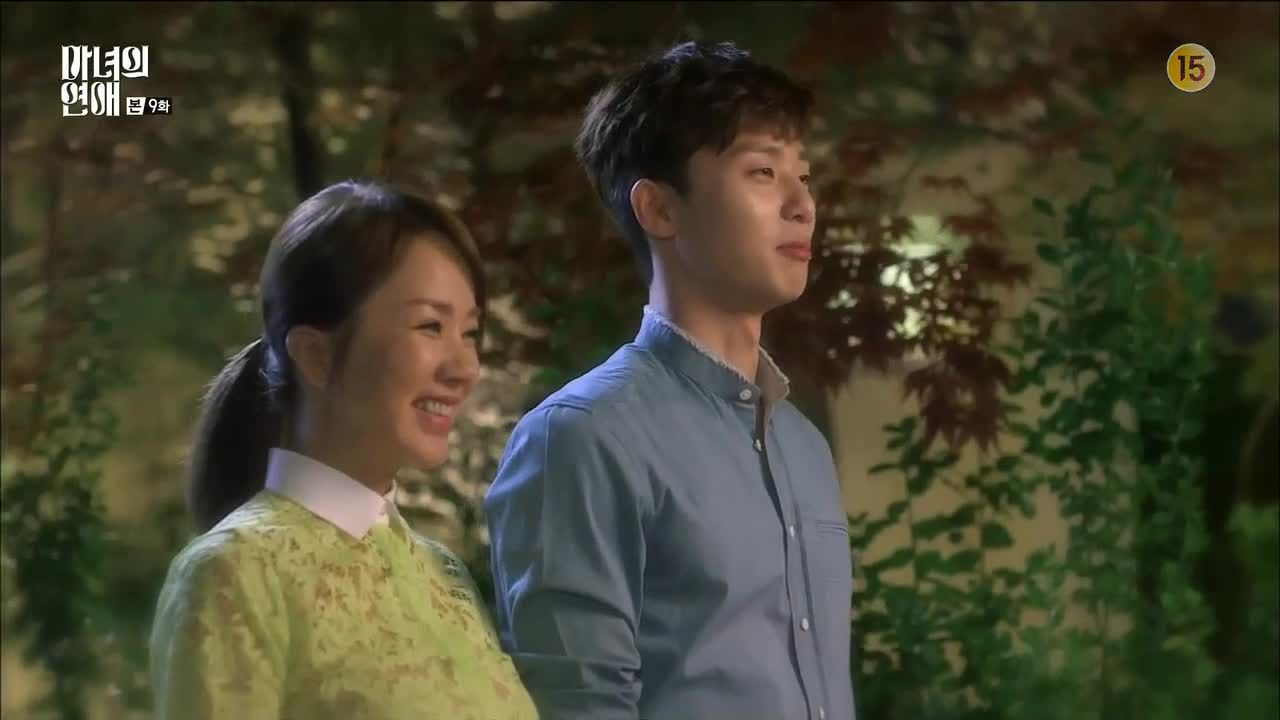 RELATED POSTS
Tags: featured, Park Seo-joon, Uhm Jung-hwa, Witch's Romance