A New Leaf: Episode 12
You can try to get out… but they just keep pulling you back in! That's the problem that confronts Seok-ju this episode, as he gets his fiancée out on bail and finally walks away from CEO Cha's poisonous clutches, only to realize that living comfortably isn't easy once you've opened your eyes to the injustice around you. Ji-won picks up exactly where Seok-ju left off at the firm, and CEO Cha's plans begin to fall into place. There's only one factor he can't control for, however, and that is Seok-ju. It's time to pick sides, as our amnesiac lawyer realizes that there are some fights you can't simply avoid.

EPISODE 12 RECAP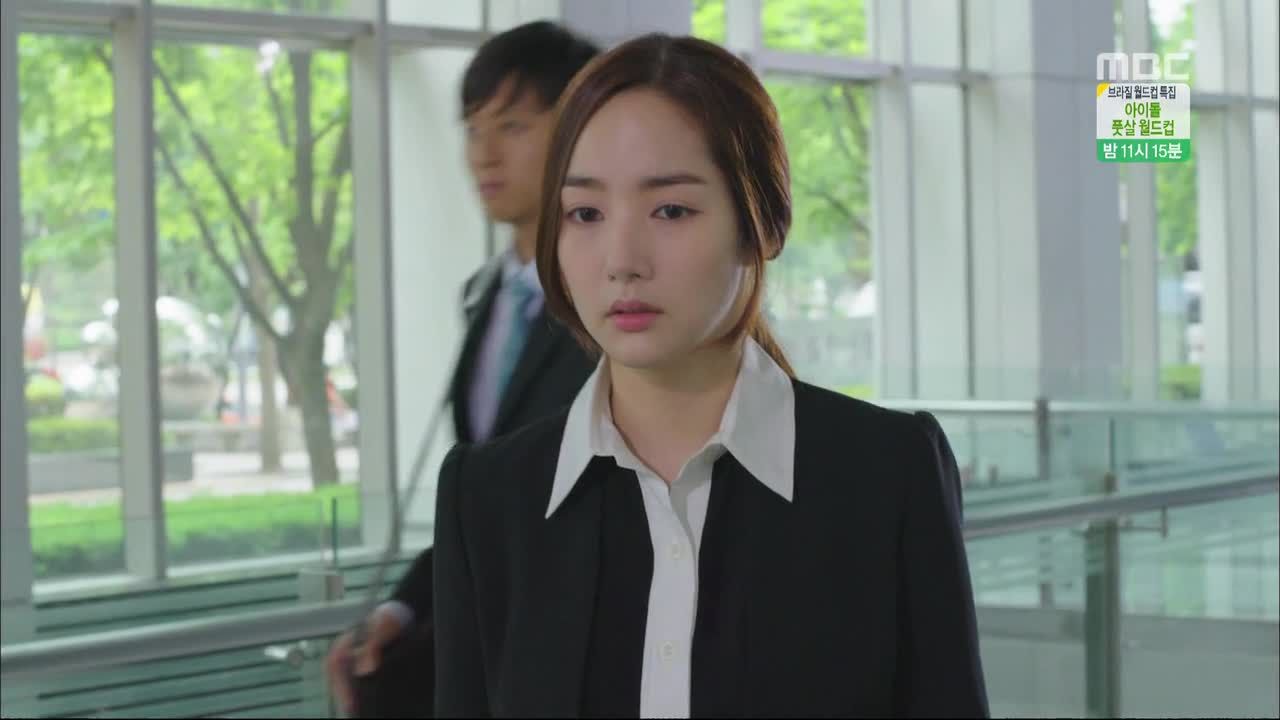 While Seok-ju's decision to quit comes as a relief for him, for Ji-yoon it is not so joyous. She trudges back to work with a long face, as her neighbor and mentor leaves the Cha Young Woo firm behind.
CEO Cha moves on quickly, it seems, as he tells his right-hand man that when people are going down different paths, it is best not to drag things out. When a representative from the Association of Banks calls hoping to hear about Seok-ju's decision to take their case, the CEO bluntly states that Seok-ju has resigned.
Meanwhile, the elevator delivers Ji-won to the CEO's floor. Jaunty music plays as he walks through the hallway and takes in the sights. I'd say there's a new sheriff in town, but I don't think Ji-won is going to be a force for justice.
When Ji-won enters, the staff is still reeling from Seok-ju's abrupt departure. His secretary tells Sang-tae sadly that Seok-ju never said a word to her, and they didn't even get to throw a farewell party. Ji-won's arrival is a welcome distraction, and Sang-tae wonders what brings a judge to a law firm "in broad daylight." Ji-won is called in to the CEO's office before he can explain, and when one of the interns says that the firm has been courting a judge lately, Sang-tae scoffs that it can't be him.
CEO Cha welcomes Ji-won, who doesn't want to receive any special treatment now that he's left his old position behind. He also mentions that he saw Seok-ju leaving with his belongings, and is informed that the former ace left the firm more quickly than expected. The CEO calls in Sang-tae, who went to the same high school as Ji-won, to show him around and help him get acquainted with the partners.
After Ji-won and Sang-tae leave, CEO Cha's second-in-command observes that Ji-won is adapting quickly. The CEO agrees, saying that the former judge is eager to prove himself by taking on a big case.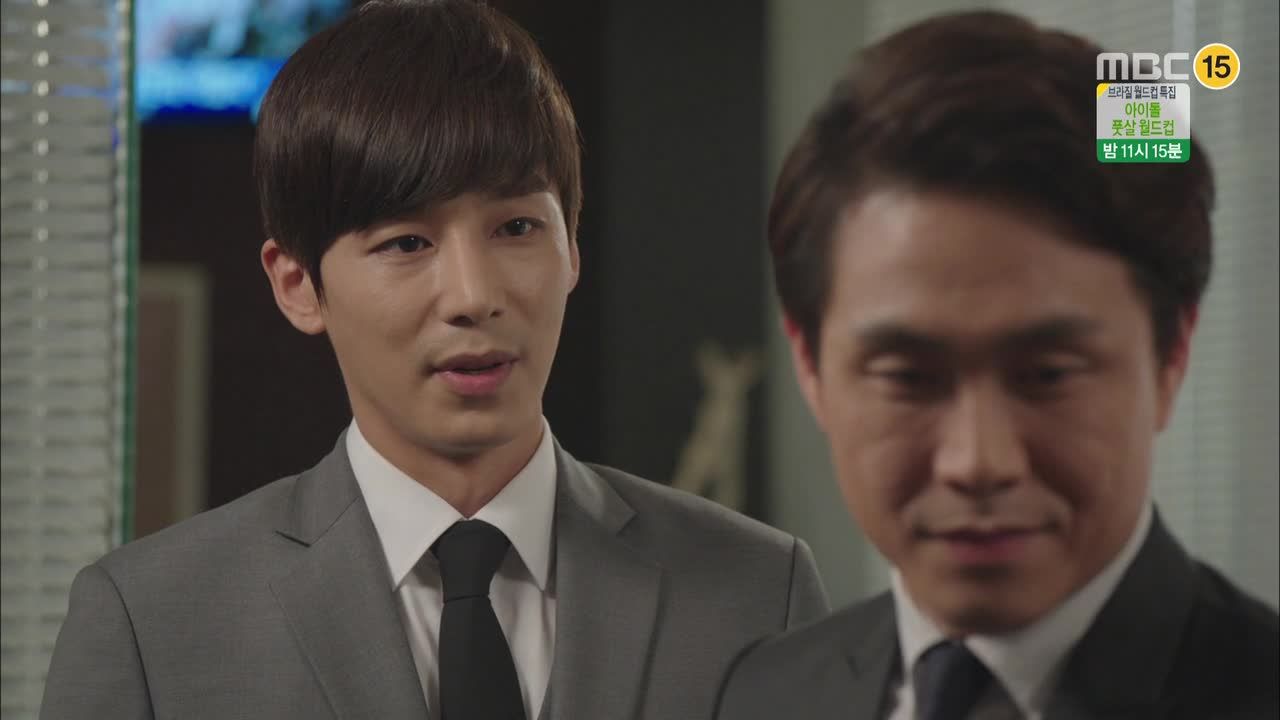 Sang-tae gives Ji-won the basic rundown of the firm, though he falls silent for a moment when he sees the employees packing up Seok-ju's belongings. Ji-won recognizes that they were close friends. Sang-tae gives Ji-won a choice of offices, but the former judge says he'll adapt to whatever he's given.
Ji-yoon sees a box of Seok-ju's belongings that includes his hard drive – the one she hid from the prosecution when they were searching for evidence of insider trading. She acts quickly by volunteering to deliver the box to Seok-ju personally.
Ji-won recognizes Ji-yoon and says that they'll be running into each other often. Sang-tae didn't know they were acquainted, and says that since Ji-won knows so many people here, he's perfect to join them on the 36th floor. Ji-yoon goes back to her desk, while the other interns wonder about her identity. First Seok-ju and now Ji-won… is she perhaps the daughter of a high-ranking judge or lawyer?
Sang-tae takes Ji-won through a catalogue of interior decorating choices for his office. Ji-won only flips through a few before deciding, impressing Sang-tae with how easygoing he is for an ex-judge.
CEO Cha gets a call from yet another bank president who has heard that Seok-ju has left the firm. Undeterred by the news, the bank president says that they'll simply have to "work jointly with another firm," assuming that Seok-ju is going to work somewhere else. CEO Cha asks for a meeting with the heads of all the banks involved, so that he can explain the situation to them.
Finally free of the insidious clutches of the Cha Yeong Woo firm, Seok-ju drives around Seoul with the window open and the wind through his hair. He looks happy and carefree… until one of his stress-triggered headaches strikes, causing him to pull the car to the side of the road.
Chairman Gwon has a brief Meeting of the Malicious Minds with his sons, who now oppose Jung-seon's marriage with Seok-ju. They say they can't trust him after he stabbed them in the back.
"How can we give Jung-seon to a man we can't trust?" one uncle demands. I hope someone will point out to him that he was willing to give Jung-seon to a penitentiary for 10-15 years, which ought to negate his ability to "give" Jung-seon to anybody. The other uncle worries that Jung-seon will betray the family for love, just like her mother, while Chairman Gwon says that Jung-seon may break off the marriage by herself.
In his apartment, Seok-ju relaxes on the couch with Khan at his feet and a fishing rod in hand. It's a beautiful moment, as it expresses his desire for a simpler life while showing the difficulties still between him and that desire. Quitting may have brought him momentary relief, but he is still misplaced, incomplete – like a fishing pole without any place to fish.
The next day at Jung-seon's trial, she admits that she made a false confession to protect her ailing grandfather. In light of her obvious remorse and the efforts made by the company to partially repay the victims, the judge has decided to set bail, which means Jung-seon can go free.
Her grandfather gets to his feet, and Seok-ju breathes a sigh of relief. He's even sporting a new hairdo for the occasion! The only people who don't look happy are the victims present in court, among whom is Ji-yoon's aunt.
Jung-seon changes out of her inmate's uniform and heads into the hallway. Her family is waiting for her, with Seok-ju a few paces behind them. Jung-seon greets her grandfather and sends the family ahead, so she can have a few words in private with Seok-ju. With poker face intact, Jung-seon thanks Seok-ju and says that it couldn't have been an easy decision for him. He apologizes for dragging her into something that he was partially responsible for, and tells her to go home and rest. She leaves, with no other words to give us any insight into what she's feeling after her ordeal.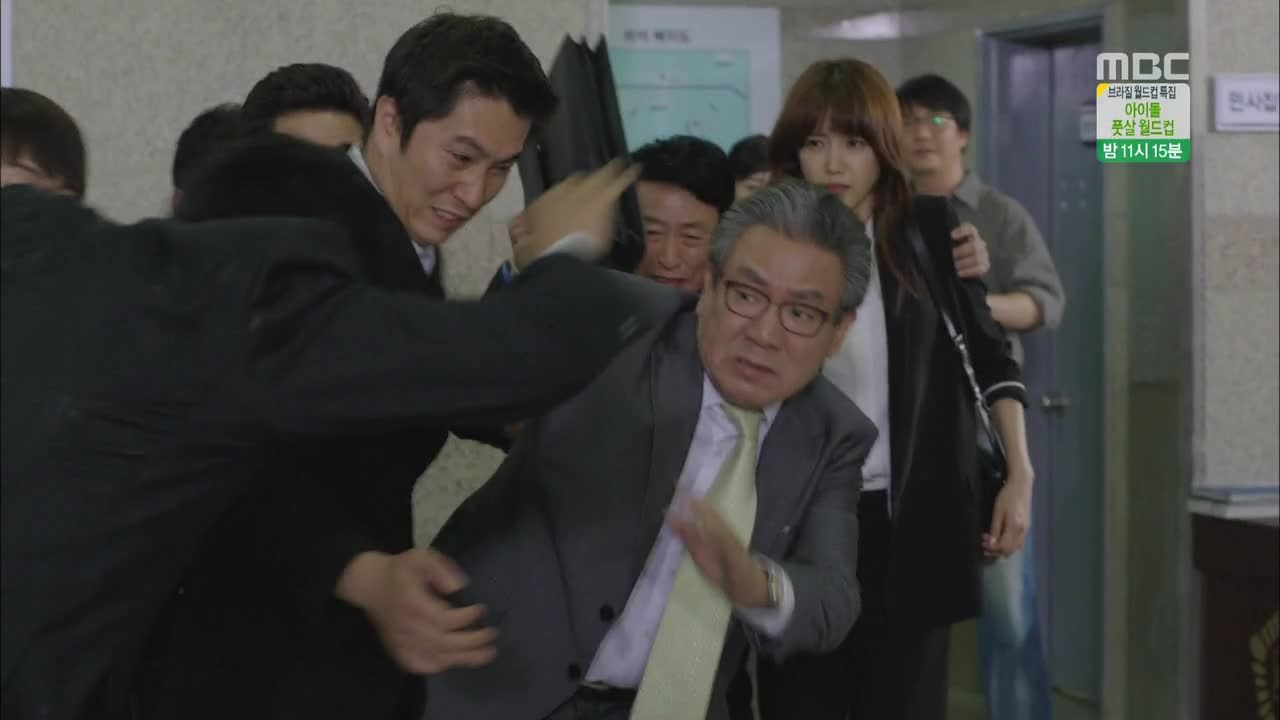 Not everyone is happy that Jung-seon has been allowed out on bail. The victims of the CP scam throw eggs at Chairman Gwon's family on their way out, demanding they go to jail. As Seok-ju watches from afar, he overhears a couple reflecting that it must be nice to have enough money to pay a 500 million won bail (about $500,000) so easily.
At the Cha Yeong Woo law firm, it becomes clear that the looming bank case is the next gigantic hurdle, and also the battleground where Ji-won aims to prove his mettle. He presents the details of the case to the CEO and his second-in-command. Essentially, over a hundred businesses are facing bankruptcy and hundreds more are suffering thanks to loans that went bad. The banks are trying to keep the victims from coordinating together, but in spite of their efforts a civil lawsuit worth 3 trillion won (about 3 billion dollars) is on the horizon. It will be the biggest civil lawsuit in history, which translates to big bucks for whichever law firm represents the banks.
Ji-won outlines the main objectives at this point: 1) Make sure that the Cha Yeong Woo firm has sole responsibility for the case; 2) Get the judge to dismiss the claims out of court, or failing that; 3) Reduce the amount of compensation that the banks have to pay by as much as possible. He says humbly that he shouldn't be the one in charge of such a huge case, to which CEO Cha replies that the only requirement from the banks was that Seok-ju be in charge. Now that he's gone, the risk and the reward are both up for grabs.
Seok-ju visits his father, who is showing more and more signs of his Alzheimer's. He is surprised to hear that Seok-ju quit, having forgotten that Seok-ju told him that he intended to. He's preparing to visit someone at the hospital, but he's done up the buttons on his shirt wrong. Seok-ju helps straighten him out, and leaves with him for the hospital.
The patient turns out to be one of the business owners harmed by the banks, and Seok-ju's father is sorry to say that he can't help with the lawsuit. The scale of the case is too big, requiring multiple researchers and financial experts. They are joined by more small business owners, who are all facing ruinous losses because of an option they bought.
Outside in the waiting room, Seok-ju reviews the details for the business owners. With the exchange rate soaring, the amount of money they lose paying off loans skyrockets as well, so that the losses are on the scale of millions to billions of dollars collectively. Seok-ju asks why they all bought this particular option, when none of the larger companies did.
A series of flashbacks shows what happened, as representatives from the companies' main banks hustle the victims like snake-oil salesmen. They pressure them into buying three-year options on exchange rates, assuring them that the exchange rate will never go up. Some of the shrewder business owners tried to cancel, but they were then told that the fee to cancel is about $200,000. At this point, Seok-ju informs them, it would have been cheaper to pay the cancellation fee.
It seems that these business owners, along with all the rest, were caught in a Catch-22. They should have banded together to rouse public sentiment in their favor when they found out they were being taken advantage of, but it's not that easy. They were all scammed by their main banks, and antagonizing them would have meant jeopardizing the loans they needed to stay in business. But now the victims have lost ground instead of coming together as a cohesive force, and it's possible that the courts will be biased against them.
Seok-ju promises his father that he'll continue to help, but it won't be an easy task. As his father said earlier, a case this large requires a large firm, and Seok-ju is only one man.
Unaware that Seok-ju is slowly getting involved with the opposition, CEO Cha briefs the assembled CEOs of influential banks on the upcoming Civil Lawsuit to Rule Them All. His strategy, should the banks choose to hire his firm, is to sway public opinion through the media and present a unified argument to the judges. There is so much information on so many companies that no judge can keep track of it all, so a well-coordinated defense can present information so as to lead the judge in the direction they want.
The CEO's next task is to sell ex-judge Ji-won instead of Seok-ju. He makes a strong argument, however, explaining that the civil lawsuit will certainly go the Supreme Court. If the candidate that CEO Cha is rooting for actually does become Chief Justice, then Ji-won is the lawyer most likely to persuade him. In spite of the loss of Seok-ju, it seems that CEO Cha has the bank leaders right where he wants them.
The final item of discussion is the opposition, and finally we see a friendly face: it's Prosecutor Lee, who has been switched to the finance division! We learn that she has a degree in accounting, and is so smart that she's been sent abroad twice to study. "She won't be an easy opponent," CEO Cha warns his soon-to-be clients.
Speak of the devilishly stylish prosecutor, and she appears. Prosecutor Lee grills one of the bank representatives, determined to find out why all of the major banks sold these high-risk options. She wants to know if the sales clerks at the banks even understood the terms of the options they were selling, and if they properly warned the small-to-midsize businesses of the risks.
When she reports to her boss, she's certain that what the banks did constitutes fraud. Only small-to-midsize businesses were targeted, and as she points out, who would have bought the options if the risks had been properly explained?
In the hospital, Seok-ju recommends that the business owners band together and hire a large law firm, so that the battlefield can be as even as possible. But the camera cuts directly to CEO Cha in the boardroom, as he explains that he's made arrangements to hire the next five largest law firms to work on small portions of the case. By hiring them to do insignificant work, he makes it impossible for them to represent the victims without being liable for dual representation. Curse you, you evil genius!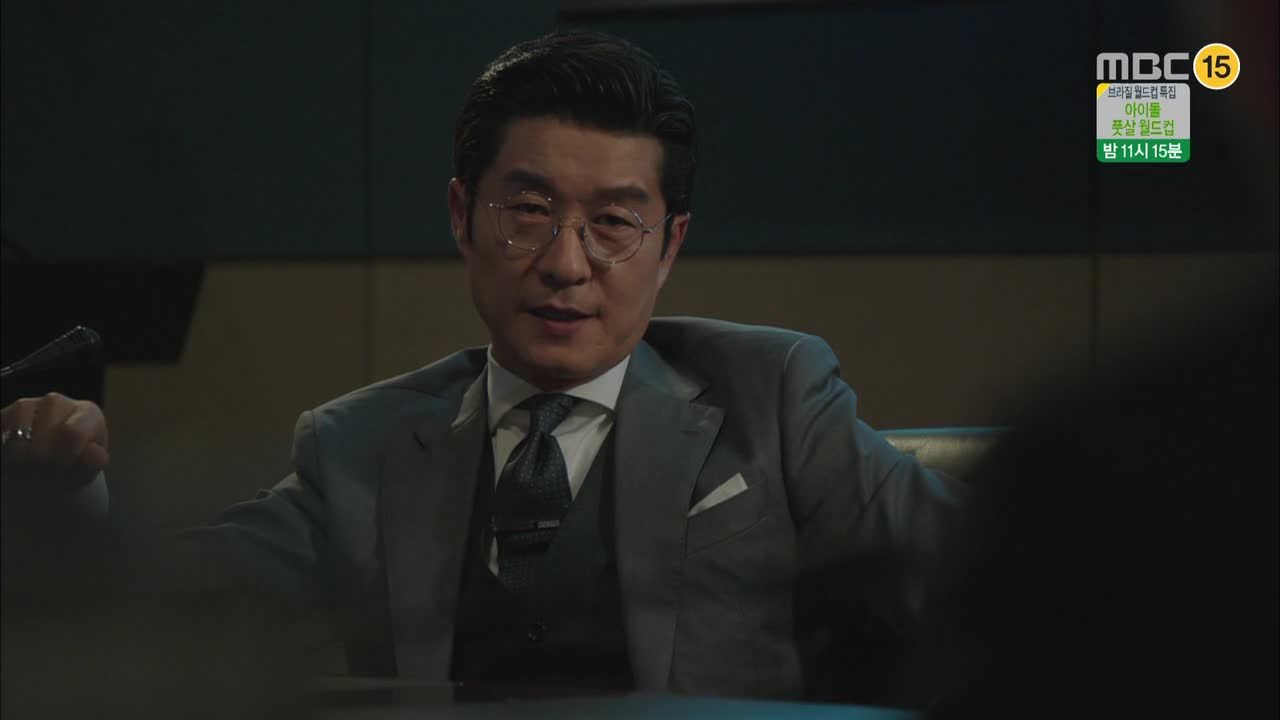 Seok-ju takes the business owners through their somewhat limited options. They can take their businesses into court receivership, but that's exactly what they want to avoid. They need someone to represent them, but when they ask Seok-ju why he can't do it, he says that he's just a sole practitioner who hasn't even set up his practice yet.
Seok-ju drops his father off at home, and Dad muses after he leaves that something must have happened to his son.
In the park with Khan, Seok-ju stops for a moment to sit down. He wonders why there are so many naïve people in the world, clearly still preoccupied by the plight of the business owners.
Ji-yoon's friend Mi-ri drops by the apartment, and when Seok-ju returns with Khan, the two meet in the hall. Mi-ri doesn't recognize Seok-ju at first, but when she does, she cowers against the door and hilariously tries to hide her face.
Seok-ju thinks that she must be frightened of dogs, and ushers Khan inside his apartment. Mi-ri remembers that Ji-yoon told her she lived next to a lawyer with memory loss, and recovers her composure as she puts the pieces together.
Ji-yoon arrives just in time, and delivers Seok-ju the last box with his belongings. She lets him know that his hard drive is there too, and he heads inside. Now that they are alone, Mi-ri exclaims to Ji-yoon that it's amazing that Seok-ju is the lawyer she was talking about.
No sooner does Seok-ju get inside his apartment than he gets a call from his father. Lawyer Seo In-ho, the current best choice to represent the scam victims, is visiting shortly, and Seok-ju is the best person to explain the details. Seok-ju promises to come right over. After he hangs up, he asks Khan whether all unemployed people are this busy.
One apartment over, Mi-ri and Ji-yoon relax with a few beers. Mi-ri laughs about Seok-ju being the lawyer with amnesia, and evades Ji-yoon once again when she asks what their relationship is. She brings up Ji-yoon's intention of quitting, and asks if she intends to follow Seok-ju. "Do it!" I yell, but Ji-yoon ignores me and points out that Seok-ju doesn't even have a firm.
The conversation turns to judges leaving for law firms, which is when Ji-yoon shares the news about Ji-won coming to work at her firm. Mi-ri urges her to "get something going," but Ji-yoon reflects that she doesn't know when she's going to leave, either.
Seok-ju greets Lawyer Seo at his father's house, and learns that he has often gone up against lawyers from his firm in the past. Seok-ju turns down an offer of employment, saying that he intends to rest for a while.
The two lawyers talk about the details of the case for a while. Seok-ju intends to do more research, to find out exactly how much the odds favored the large banks when they sold high-risk options to the small businesses. It's clear that he has a good grasp on what's going on, and Lawyer Seo asks the obvious question of why Seok-ju doesn't take the lead on this case. Seok-ju says that he's only helping as a favor to his father, and that his condition isn't that good.
After Lawyer Seo leaves, Seok-ju has another of his headaches. His father asks what's wrong, and learns that the doctor says the attacks are due to overwork and stress. The conversation turns to Seok-ju's postponed marriage, and from there to what Seok-ju's own mother was like. His father says that she was the kind of person who hated injustice, and wanted her husband to stand up for their principles even if it meant living a difficult life.
CEO Cha gets the word that Lawyer Seo has been hired, and his reaction shows that this is a bold counterstroke from the business owners. Because of Lawyer Seo's past position as Head Prosecutor of the Central Investigations Unit, his taking the case guarantees that there will be a lot of scrutiny attached to it. CEO Cha calls together an emergency meeting with his team and his clients.
Ji-won reveals recorded proof that the bank employees knew they were scamming the business owners. Many high-ranking employees made a lot of money from the scheme, and hiding that proof will be of the utmost importance if the prosecution issues search and seizure warrants. It's depressing, but probably very realistic, how quickly new scumbag lawyers have filled the Scumbag Throne left vacant by Seok-ju.
We have a strange interlude with a new face I shall refer to as Angry Chairman until he becomes remotely relevant. He reams out his employees, who are tasked with figuring out where the money went in the bank case. He scolds them for not being as smart as the thieves who made off with the money in the first place. He also seems very interested to hear that Seok-ju has left his old firm, saying that it serves him right to come down from his lofty perch.
Sang-tae arrives at Seok-ju's apartment for a bromantic steak dinner. It's not all fun and games, however, as Sang-tae has offered to help Seok-ju find a bank employee they can trust to calculate how much the banks stood to gain from selling their foreign currency options.
There aren't many banks left over after subtracting the ones that engaged in the scheme, but they manage to find one with an employee that Seok-ju trusts to run the calculations. He informs the employee of his intentions to help the wronged business owners, and promises to keep his name out of the matter.
The two lawyer buddies sprawl on the couch for some therapeutic gaming, and Sang-tae asks if Seok-ju remembers Jeon Ji-won. Seok-ju does, but only because of that one run-in when Ji-won dissed the length of his court statements. Sang-tae lets him know that Ji-won joined the firm just as he left, and that he took the case that Seok-ju turned down. Seok-ju had thought that the firm would have trouble without him, but it seems to be trucking along just fine. Sang-tae agrees, saying that he realized that truth a long time ago, which is why he always made sure to live happily, eat well, and not kill himself with work. It's a nice philosophy in the abstract, although he admits he also paid alimony twice. Finally the call comes in from their bank informant, who says that the hidden benefits of the deal were humongous and that the banks certainly committed fraud.
Ji-yoon goes to see CEO Cha, to let him know that she wishes to move out of the apartment. She feels awkward staying there now that the original reason for the upgrade — Seok-ju — has resigned. He tells her she can stay there until the lease is up, but she promises to report to the CEO when she has moved out.
Ji-won meets with CEO Cha and his team for the bank case, running them through the various moves and countermoves that will likely happen once the case goes to trial. He impresses the boss with his meticulous attention to detail, and warns him about briefing the representatives from the bank about being deposed. CEO Cha also brings up the issue of search and seizure warrants that may be brought by the prosecution.
That's exactly what Prosecutor Lee is up to, as she meets with her superior to request search warrants at any one of the banks suspected of fraud. She hopes to find enough evidence to reveal the scope of their crime to the public. Her boss reminds her of the need to be especially careful, now that the former Head Prosecutor of the Central Investigations Unit is involved in the case.
Ji-won talks privately with CEO Cha, warning him that the biggest problem facing them currently is the threat of search warrants. The evidence that they turn up could finish them in court. With that in mind, he offers to use his connections with different judges to make sure the request for a warrant is denied. CEO Cha says that blocking the warrant may be very difficult, but Ji-won is confident he can do it.
Prosecutor Lee takes the requests for search warrants to the judge's office, even as Ji-won begins making calls. He knows the judge who will be receiving the requests, and asks him to examine the warrants "very carefully." The judge observes that he's only recently left the courthouse, and already he's acting like a pro lawyer.
The papers go on a circuitous route to the judge and back again, through many pairs of hands until they end up with Prosecutor Lee. Every single request has been denied, with lack of evidence cited as the reason. Prosecutor Lee and her boss are dismayed and astounded, but there's nothing they can do except reinforce the evidence and request a warrant later.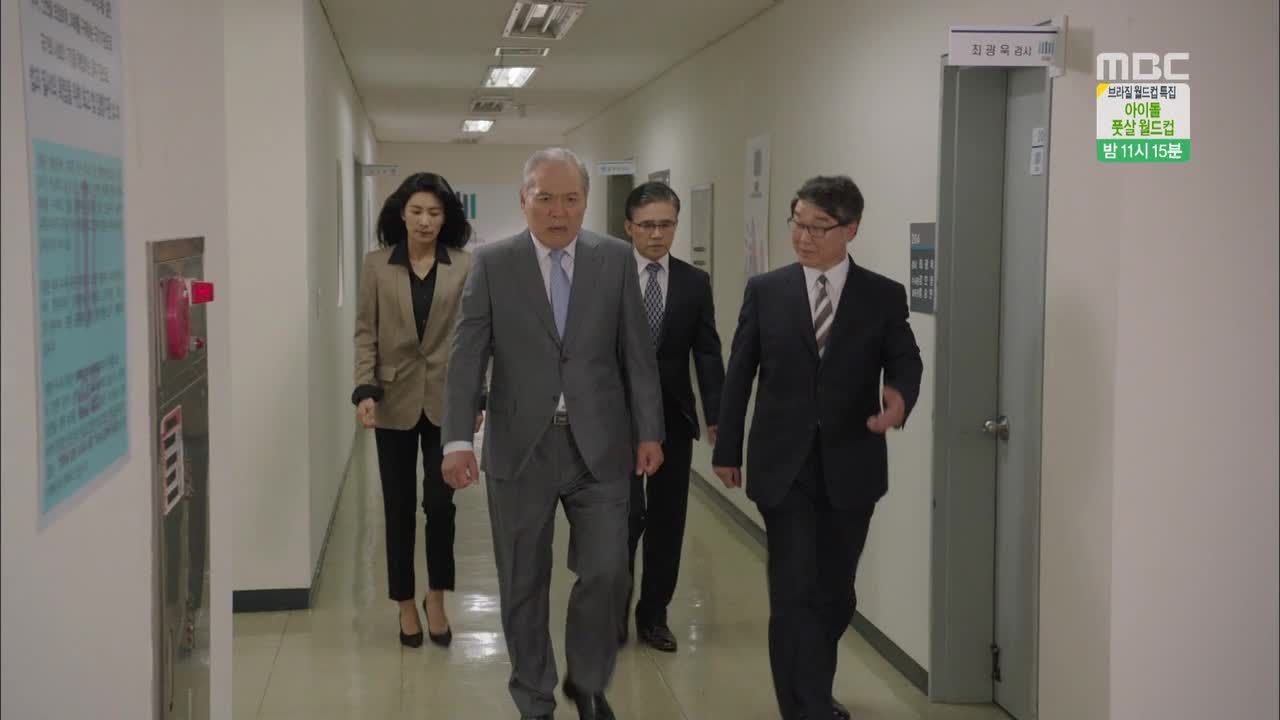 Unfortunately for the prosecution, the Attorney General visits to explicitly forbid them from trying to get another search warrant. He asks if they haven't been humiliated enough already, but his involvement smells fishy. Prosecutor Lee and her boss know that something must be going on behind the scenes, and they remain determined to find a way to get those warrants.
A call comes in from Seok-ju, and Prosecutor Lee is understandably pissed off. The warrant requests were denied within two hours, which is hard to explain unless the Cha Yeong Woo firm had a hand in it. Seok-ju is unsurprised to hear it, as there are only two judges in charge of warrant applications, which makes back-door deals hard to block. Provoked, Prosecutor Lee demands to know why he's calling the opposition.
"I left the firm," Seok-ju says. Since her warrant application was denied and he has a few things he wants to confirm, he suggests that they help each other. He asks when they should meet, to which Prosecutor Lee replies: "Right now."
COMMENTS
Avengers… Assemble! That's the vibe I'm getting lately. Prosecutor Lee and Seok-ju will make one hell of a team, like Wonder Woman and Superman (DC? Marvel? Ah, whatever). Or possibly Wonder Woman and Lex Luthor, except Lex has lost his memory and now wants to use his intellect to uphold justice and defend the weak. And maybe Ji-yoon and Sang-tae will join our growing team of civil superheroes, giving them enough intellectual firepower to fight the Cha Yeong Woo Law Firm and the Seven Dark Banks of Evil in the Biggest Civil Lawsuit Ever. Now the forces of Mordor are mobilizing, and Seok-ju doesn't even have a magic ring.
Enough of that. This episode, like many of the recent episodes, was impressive in terms of its careful construction. Everything fit together nicely, from Ji-won entering just as Seok-ju leaves to Ji-won's call to the judge just as Prosecutor Lee submits her warrant applications. The building conflict was crafted with a satisfying amount of detail, and I loved the way that Seok-ju was gradually drawn into the case because of his simple desire to help his father.
All he wanted when he finally quit was to rest, but it was barely a day before he got sucked into the case he wanted to avoid in the first place, only on the opposite side. The story about his mother was very nicely placed, as it highlighted how much Seok-ju has changed. He used to resent his father for choosing a path that made his mother suffer. Now Seok-ju himself is choosing that same path out of love for his father and his newly discovered moral principles, even though he suffers for it in the form of his stress headaches. With such powerful, institutionalized enemies out there, the choice to live by one's principles almost certainly becomes a losing proposition. But for Seok-ju, there's no other choice he can make and still live with himself.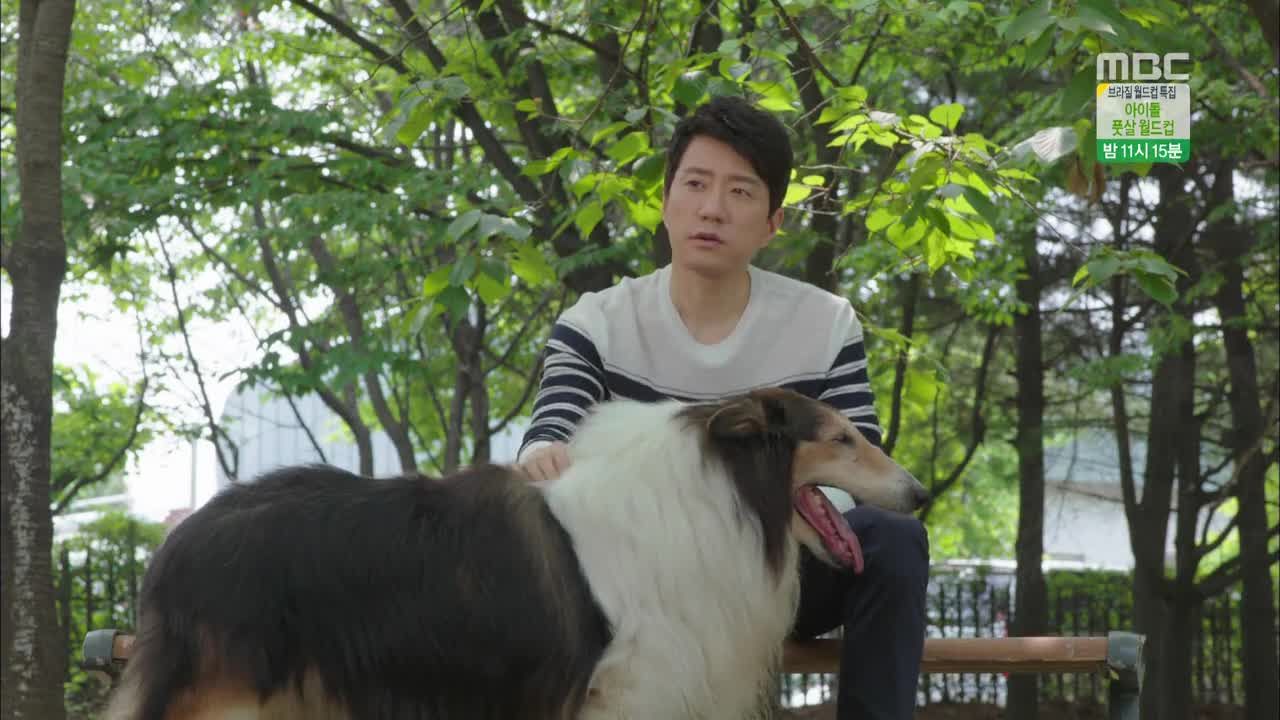 So that's what I liked this time around. What I didn't like was the continuing (relative) absence of Ji-yoon and Jung-seon. Jung-seon said maybe four lines, for instance. I get that she's keeping her cards close to her chest at this point, but with only four episodes left I wonder how much development her relationships (with Seok-ju and her family) can possibly get, especially since they'll have to compete with the Lawsuit to Rule Them All for airtime.
I have a similar problem with Ji-won. His character seems so interesting, with motivations that are hinted at but never revealed outright. I've been waiting for almost the entire show to see him and Seok-ju butt heads, but I always thought that it would be within the context of the firm before they actually clashed in the courtroom. CEO Cha told us several episodes ago that Ji-won was hired specifically for this case — I'm actually beginning to think that Ji-won's character was only created for this case, too.
He finally gets some screentime, but 90% of that was explaining case details in a way that was really thinly disguised exposition to help us financially illiterate audience members follow along. There is still zero development between him and Ji-yoon, no further information about his motivation, and no actual interaction between him and Seok-ju.
There's a thin line, I think, between a slow buildup and a failure to deliver meaningful character growth. I fear that A New Leaf is drifting closer and closer to the far side of that line, and as the final weeks approach and the magnitude of the cases only increases, it will be harder and harder to avoid that risk.
RELATED POSTS
Tags: A New Leaf, featured, Kim Myung-min, Kim Sang-joong, Park Min-young