A New Leaf: Episode 16 (Final)
We've reached the end of Seok-ju's journey, even if that end came earlier than we might have hoped. Seok-ju continues to fight the good fight even after losing the big case, maturing along the way and strengthening his ties to friends and family. Seok-ju's memory may yet return, but whether that happens or not, he's reforged himself into the person he wants to be. It's a satisfying and assured ending, although many promising plotlines that were so gripping halfway through the show had to be sacrificed to satisfy the time constraints. A New Leaf could have been amazing, if there had been time enough to bring the same amount of depth to the other characters as was given to Seok-ju. But it's useless to grieve over what can never be, so I'll try my best to remember what was good about Leaf, rather than what I hoped it would be. And looking back, there are more than enough bright memories. A New Leaf, you'll be missed!

FINAL EPISODE RECAP
Seok-ju does his best to help Baekdu Soju, but Chairman Jin is not making it easy. The pictures were only the beginning, as Seok-ju finds out that he's also initiated a lawsuit against Goldrich and the Cha Yeong Woo firm. This is very bad news for our side, because Chairman Jin has no hard evidence of wrongdoing.
We cut back and forth between Seok-ju's team and CEO Cha's, getting a sense of the furious legal struggle through snippets of alternating strategy sessions. The Cha Yeong Woo firm is going to go on the offensive, filing an injunction in Japanese court and planning to approach Chairman Jin's stepbrother, who might be persuaded to testify against the chairman in court regarding personal use of embezzled funds.
Chairman Jin is exposed because of his efforts to gain the respect he wanted for his Top 10 company. Seok-ju scrambles to mitigate the damages, recommending that he sell Baekdu Japan. Then word comes in about the firm's actions against them in the Japanese courts.
Chairman Jin and Seok-ju meet with a Japanese chairman to discuss the sale of Baekdu Japan. The chairman received an e-mail from Goldrich letting him know about Baekdu Hong Kong's shares in Baekdu Japan, and the pending seizure application. Seok-ju counters that they own the stocks, so the sale can still go through. The chairman says that he will return to Japan to consider the sale.
As they leave their meeting, Seok-ju tells Chairman Jin that he may have to part with Baekdu Japan for less than he wants. Speed is the most important thing for this sale, which means he has to prepare himself for possibly even selling at half price.
CEO Cha arrives with his legal team just as Seok-ju and Baekdu's chairman are leaving, and the former partners square off in the courtyard. Chairman Jin seems to be enjoying the tension, and thanks CEO Cha for doing such good work for the public by letting Seok-ju go. They leave, and CEO Cha's vice president points out that Seok-ju once represented Goldrich. CEO Cha orders him to dig through Seok-ju's computer history, hoping to find some evidence that can trap Seok-ju in legal snags.
Ji-yoon comes across former Baekdu Soju employees protesting Goldrich's actions. They were all fired after the company underwent management restructuring, thanks to the deal that was brokered on the golf course and caught on film by Chairman Jin's people. The ex-employee Ji-yoon talks to says that Chairman Jin isn't perfect, but he wouldn't have fired his employees so ruthlessly when the company itself was healthy.
At his office, Seok-ju complains to Sang-tae about Chairman Jin's irresponsibility. His unprofessional actions are making everything more difficult for Seok-ju. Sang-tae tells him that starting a new life isn't easy: The old Seok-ju wouldn't even have listened to the small companies that bought the exchange rate options, let alone Chairman Jin.
Ji-yoon joins them, and Sang-tae asks if Prosecutor Lee has been around lately. She hasn't, and Ji-yoon says she must be busy. She then thanks Seok-ju for taking this case, as what has happened to the workers is grossly unfair. It reminds her of her father's situation, where his company was also at risk of restructuring that could lead to mass layoffs.
It's time for the court session to determine whether the seizure application for Baekdu Soju will be granted. The opposition defends the management restructuring, while Seok-ju says that the company only had a temporary cash flow problem that will be resolved after the sale of Baekdu Japan. But Seok-ju's adversary is prepared for this with a last-minute document from the buyer stating that they have ceased all negotiations with Baekdu until the seizure issue is settled. There will be no sale for Chairman Jin unless he can win in court.
The next stumbling block is whether or not Chairman Jin should be allowed to retain management rights. He's under investigation for embezzlement, which would invalidate his claim that he can revive the company if only given the chance. Seok-ju counters this with his own accusation, that Goldrich abused the trust placed in them as consultants. There is no formal contract showing their involvement, however.
Last but certainly not least for that session, the leader of the protesting former employees takes the stand. He delivers an impassioned argument that Goldrich was only after profits and laid off over a thousand employees through text message. He says that these workers can keep their jobs if only the sale of Baekdu Soju is completed, and asks the judge to make a wise decision.
After the trial, the defense team leaves the courtroom. Seok-ju is worried about Chairman Jin being arrested, and asks if he knows who could have tipped off the other side that the chairman supposedly used funds for personal reasons.
CEO Cha has followed up on Seok-ju's past involvement with Goldrich. He did not represent them in anything immediately relevant to the Baekdu case, but the CEO isn't willing to give up this lead yet. He asks who has Seok-ju's company hard drive, and is informed that Ji-yoon took it.
In his office with Ji-yoon, Seok-ju puzzles over Goldrich's stock purchases in Baekdu Hong Kong. That particular subsidiary wasn't doing well, so it makes no sense for a prosperous bank like Goldrich to buy them. They bought similar stocks in Korea as well, and Seok-ju says that this pattern seems familiar.
Seok-ju finally prepares to look through the contents of his hard drive. However, just as he is about to turn on the computer, he gets a call from his father. One of the small business owners has committed suicide.
Seok-ju leaves to meet his father. The men who brought the news apologize, hoping that their bad news won't aggravate Seok-ju's father's condition. Father and son grieve together, and Seok-ju admits he didn't think an issue that was primarily about money would end like this. "What is only hope for some people," Dad replies gravely, "can be a matter of life and death for others."
Back in his apartment, Seok-ju opens up his computer after contemplating it in silence. He finds a list of files relating to Goldrich stock purchases, and begins looking through them. Whatever he finds is clearly of great interest to him.
Seok-ju calls an employee of Goldrich Hong Kong to ask about the shares they bought. The man remembers him, saying that the person who accompanied him when they met before recommended the purchases. Seok-ju's curiosity alerts him, however, and after hanging up he calls someone to report the phone call. He says he answered general questions, but did not give Seok-ju any specifics.
CEO Cha soon hears of the phone call, which was surprisingly obvious for someone like Seok-ju. His second-in-command thinks that Seok-ju must not have anything more concrete than an intuition, or else he wouldn't have called. CEO Cha says that Seok-ju has caught on, though, and that they need to push for Chairman Jin's arrest as quickly as possible.
Seok-ju receives a follow-up call from his contact at Goldrich Hong Kong. The man explains that the shares in Baekdu Hong Kong were part of a long-term investment strategy aimed at expanding into the Chinese markets. Seok-ju scoffs after hanging up the phone, saying sarcastically that it was "very nice" of the man to give him that information. Chairman Jin also weighs in, saying that the market for soju in China isn't worth the cost.
Ji-yoon comes in and shows Seok-ju a video on her phone: the arrest warrant has been issued for Chairman Jin. Not knowing the bad news, the chairman laughs that the two of them look like a couple. Ji-yoon shares the truth with him, and it's shortly corroborated by a call from a prosecutor. Chairman Jin expresses faith in Seok-ju, but Seok-ju doesn't look all that confident.
At the trial to decide Chairman Jin's guilt, CEO Cha's master plan works as intended. Chairman Jin's half-brother arrives, startling the chairman out of his seat, and testifies about Chairman Jin's unethical use of company funds.
Chairman Jin talks with Seok-ju after the trial, and Seok-ju tells him flatly that he should be prepared to go to jail. The good news is that there is a chance he can get out after six months with an appeal. Seok-ju has plans in place, and he tells Chairman Jin that he can't falter now. They have to keep fighting, and remember that the plan to sell Baekdu Soju isn't destroyed, only delayed.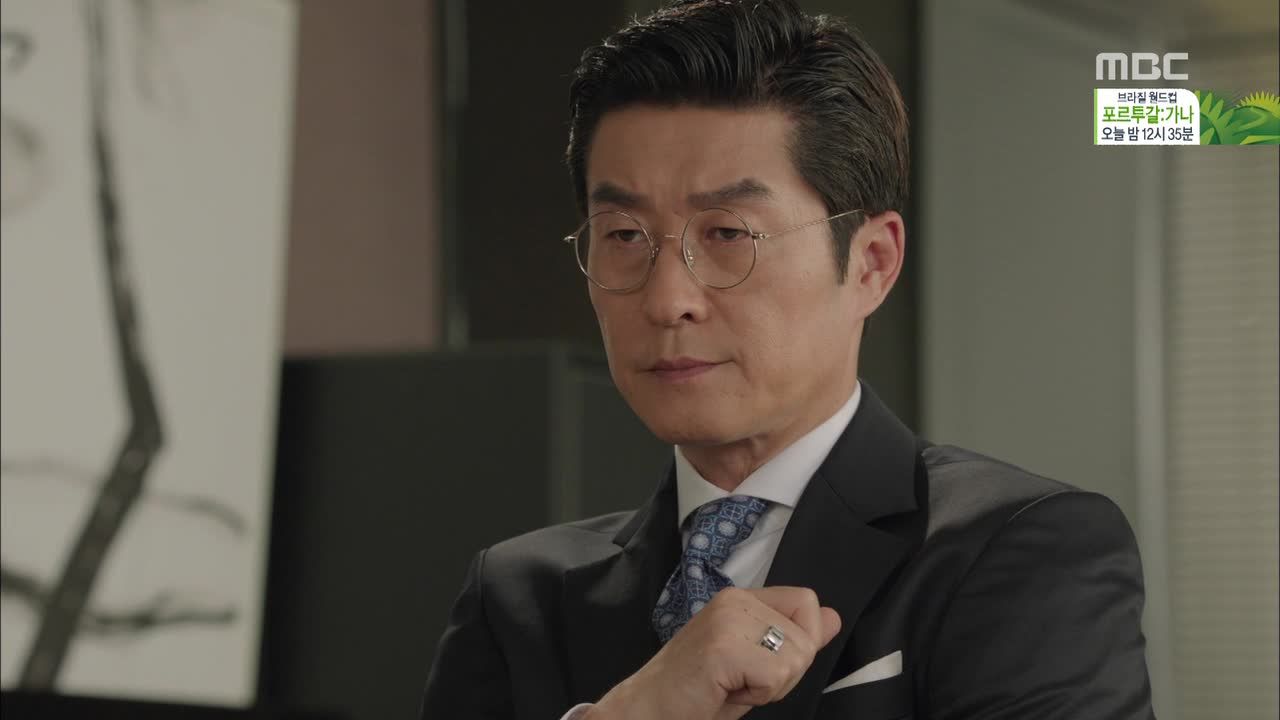 CEO Cha's vice president reports to him about the successful implementation of their plan. Chairman Jin will be arrested, the sale has been delayed, and Goldrich will likely assume management of Baekdu Soju for good. CEO Cha says darkly that there's one thing left to do, and they have to pull the plant up by the roots.
Seok-ju counsels Chairman Jin on what he should do to keep Baekdu Soju out of Goldrich's control. He needs to choose a team he can trust to continue managing the company while he's in jail. He's wary of letting control leave his hands, but Seok-ju convinces him it's the only way. Chairman Jin promises Seok-ju 20% of Baekdu's shares if he can keep the temporary management team from taking control permanently. Seok-ju agrees to the amount, but stipulates that Chairman Jin must give the shares to the labor union, not him.
With his course of action set, Chairman Jin is taken into custody. Before leaving for good, he tells Seok-ju that he trusts him.
Ji-yoon sets up a meeting between the labor union representatives and the men taking over for Chairman Jin while he's in jail. They have a proposition that could possibly save the company, if the labor union agrees. The company needs the workers to agree to a 30% pay cut for a while, long enough to pay back their loans and keep the company from undergoing legal management. The eventual sale of Baekdu Japan would then generate enough revenue to pay them back. The labor union is also offered three positions in upper management.
The labor union rep doesn't seem all that enthused, and Ji-yoon calls her father to find out if he knows anything. He says he can help her, and the representatives also seem a bit more open once they learn of her connection to labor workers facing the same challenges they are. They don't make any promises except to consider the offer carefully.
When Ji-yoon meets with Seok-ju, she shares the challenges faced by the labor unions. Their opponents use dirty tactics like texting the families of the laid-off workers, saying that striking will only make things worse. The workers then have to face opposition from their own families, in addition to the concentrated power of the big companies.
CEO Cha watches the protestors in front of his building from on high, while receiving a report from his vice president. They've sent the text messages to the families as deterrents, but that may not break the spirit of the protesters. The next step is to arrest some of them, and see if the rest fall in line.
Seok-ju visits Chairman Jin in jail, asking whether he would rather give up his claim to his company and go free, or endure for a while for the sake of the company. Chairman Jin is not quite broken, as he says that he can stick it out for a few months. He begs Seok-ju to save his company.
At his apartment, Seok-ju continues to search for hidden files on his hard drive. Finally, he finds a voice recording of various calls made from CEO Cha's office, including one where he and Seok-ju agree to have Goldrich purchase shares in Baekdu Hong Kong. Evil Pre-Amnesia Seok-ju strikes again!
Seok-ju immediately calls Sang-tae, and asks him to get this recording secretly to CEO Cha. Sang-tae cautions him, saying that this kind of information will immediately put a target on his back. The Goldrich employee who initially dug into Baekdu's finances was found dead in Hong Kong, so the threat Seok-ju faces is very real. Sang-tae doesn't think that Seok-ju should put himself in the crosshairs, but Seok-ju is resolved.
In spite of the late hour, Seok-ju calls Jung-seon and tells her he missed her. She comes to his office after he asks if she's eaten, and she can tell that something is bothering him. He doesn't share his recent discovery, but instead asks if he only called her out in the past if there was a problem. She says that was indeed the case, and that he probably agreed to marry her only because she was never demanding of his time and never gave him any problems. He promises to try harder as a fiancé, if he has the chance.
Sang-tae fulfills his end of the bargain by delivering the recording. The vice president takes it immediately to CEO Cha, who surmises that Seok-ju got Sang-tae involved as a safety measure. Now if anything happens to Seok-ju, suspicion will be leveled at the firm. "Does that mean we now have to protect Kim Seok-ju?" the vice president asks bluntly. CEO Cha does not respond.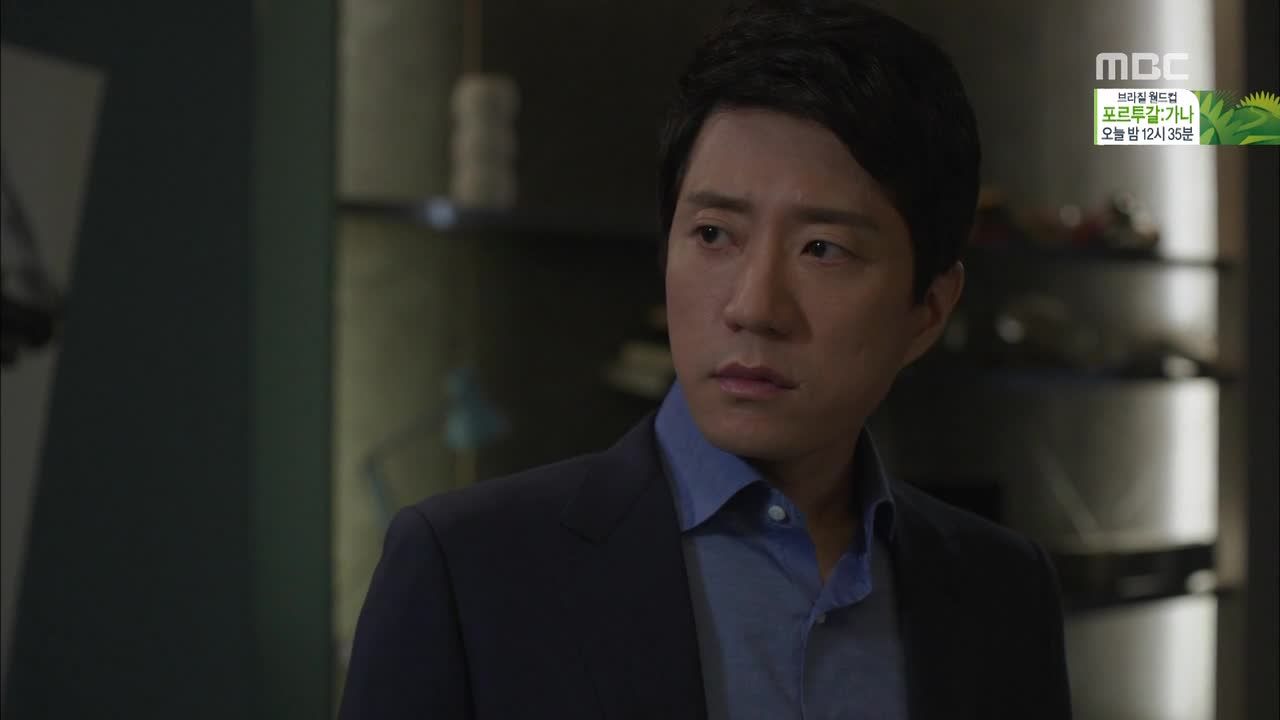 When Seok-ju returns home with dramatic music in the background, he finds that his apartment has been ransacked. He says mysteriously that they were desperate enough to search two places.
CEO Cha discusses the turn of events with the vice president, deciding to change his approach to negotiation. He aims to drive a wedge between Chairman Jin and Seok-ju, relying on the fact that Seok-ju has a deep-seated hatred for weak, hypocritical people. It all goes back to when his mother was injured by a mentally challenged laborer, and his father was out fishing when it happened. This event ruined Seok-ju's relationship with his father, and it set the framework for his eventual lack of sympathy for those wronged by the rich and powerful.
CEO Cha's plan is to negotiate with Chairman Jin secretly, offering to get him out of jail in exchange for betraying Seok-ju. Unaware of the CEO's machinations, Seok-ju continues to defend the chairman. After yet another appeal, he leaves the courthouse with Ji-yoon and asks about the recording. It comes out that he gave the original to her, and even though her apartment was ransacked it's all right, because she gave the recording to her aunt for safekeeping.
Seok-ju meets with Chairman Jin, who tells him to stop coming to visit. It seems like he's going to do what CEO Cha wants him to do… until Seok-ju reveals a list of the secret accounts that he got from the labor union. The representatives warned him that they didn't trust Chairman Jin, and got together with the office workers to amass a list of financial transactions.
They put their trust in Seok-ju, so he is prepared, although disappointed, by Chairman Jin's predictable selfishness. CEO Cha's voice plays in voiceover as Seok-ju regards the incarcerated chairman: "He'll see how little his sacrifice was worth. It will be a good lesson for him."
At Seok-ju's office, he, Ji-yoon, and Sang-tae celebrate the labor union throwing in with the new management team to save Baekdu Soju. Ji-yoon and Sang-tae are also disappointed by Chairman Jin, but Seok-ju seems to have weathered it well. Sang-tae says that he's truly matured.
Seok-ju talks with his father, now that he knows the reason why his father no longer enjoys fishing. Dad is worried that he has set his son on a difficult road, but Seok-ju protests that this is how he needed to grow and learn.
He wants to live up to his name now, and tells his father to come with him, fishing poles at the ready. "You don't really hate fishing, do you?" he asks, as their car heads down the road.
CEO Cha looks out from his office at the union workers protesting in the street down below, and his second-in-command comments that he looks sad. He says that it was actually Pre-Amnesia Kim Seok-ju who originated these terms with the labor unions, back when he was on the mergers and acquisitions team and companies needed a solution to the constant battle with unions. The CEO of Evil looks out from his Tower of Corruption and sighs: "That's why life is interesting…"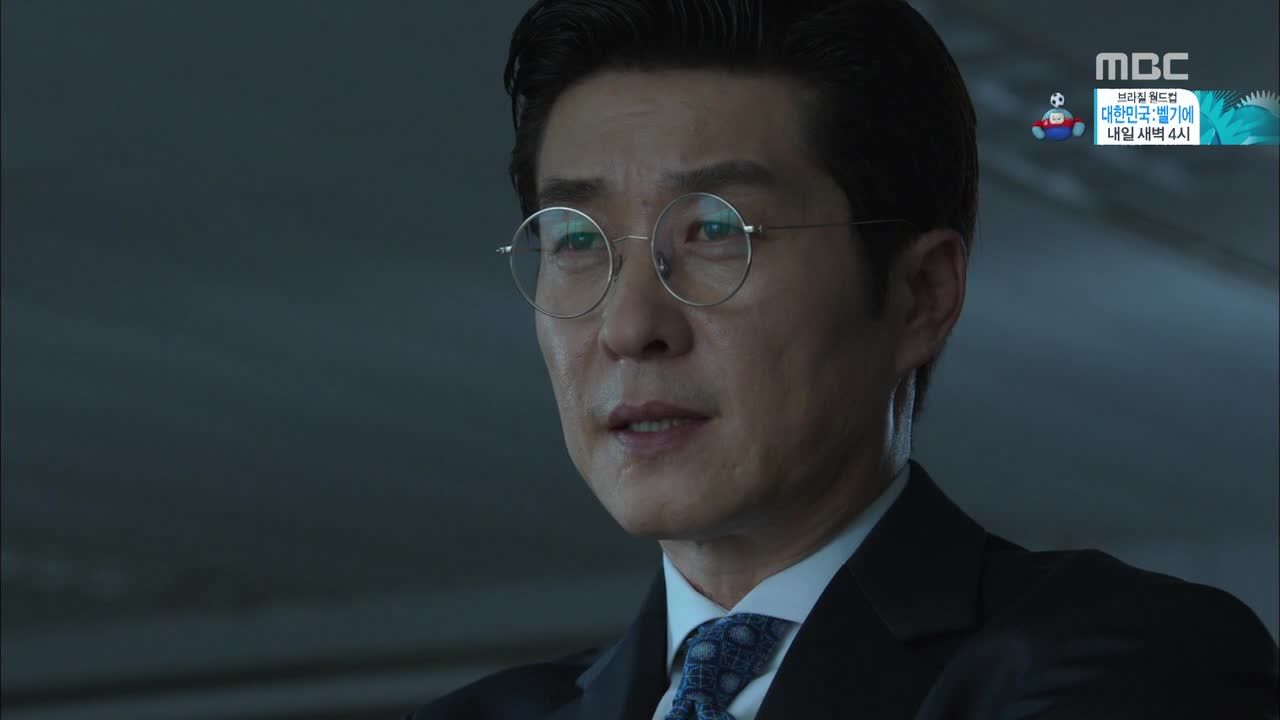 COMMENTS
I don't think it's any secret by now that I was hoping for more from A New Leaf. Part of that was beyond the show's control, with the pruning of two episodes that could have gone a long way towards diluting the concentration of fast-and-furious court battles while giving us some more satisfying closure. But even though the writer did a great job under pressure, I think that the show ended with a fizzle. The final court case did not have the same power as the ones from the middle episodes, nor did it tie in as crucially to Seok-ju's inner struggle or growth.
The murder trial, for example, was all kinds of satisfying. Seok-ju was trying to save someone he was responsible for victimizing in the first place, and fighting the trial made him battle his inner demons as well as the opposition. The same holds for the fishermen he wronged; in particular, I remember that one oil-soaked fish that seemed to condemn Seok-ju while flapping helplessly on the pavement. Those court cases, and Ji-yoon's defense of the boy who may have actually been a murderer, perfectly blended the legal action with individual growth. As we went on, we seemed to lose that connection, because Seok-ju had already discovered pretty much everything he needed to know about himself before he lost his memory: He was a bad guy.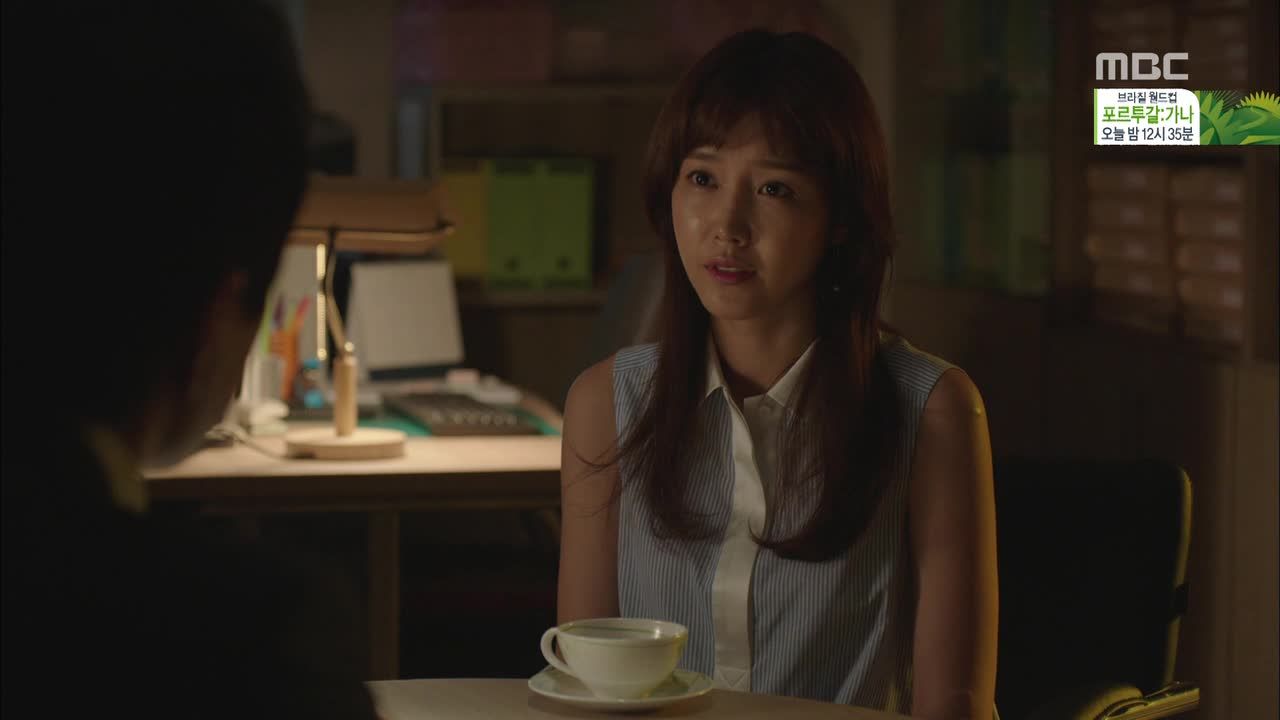 What should come next is the new Seok-ju forging new relationships with the people around him. To some extent I thought I saw that happening, as Seok-ju gathered his underdog legal team and began to clash with Ji-won. But in this final episode, we lose every bit of interpersonal traction we managed to gain. Jung-seon appears long enough to say two lines, Ji-won and Prosecutor Lee are basically sidelined, and a ridiculous amount of screen time is devoted to Chairman Jin, a character you couldn't pay me to care about this late in the game. What's worse is that by this time, Seok-ju has already learned the lessons that the trial is supposed to teach him!
I know that I'm probably being too harsh and, to give the show its due, when it was good it was damn good. Seok-ju's gradual process of recovery and discovery was extremely compelling, and his reconciliation with his father makes up for a lot in my book. Still, I can't help feeling that a lot of potential went untapped, sacrificed for legal skirmishes that were sometimes fascinating, but also sometimes smacked of heavy exposition and lacked human warmth.
Even the twists in this episode, including the explanation about Seok-ju's mother and the reveal at the very end from CEO Cha, seemed rushed. Trying to cast doubt on Pre-Amnesia Seok-ju's true nature doesn't really justify all of the horrible things that can be laid at his doorstep. It took the new Seok-ju to actually begin fighting for his principles for anything substantial to happen, so the final moment fell very flat to me.
In my opinion, and it's only my opinion, a strong ensemble cast beats a one-man show any day. I thought we had a strong ensemble cast from about Episode 2 through Episode 10, with strong and complex female characters in Ji-yoon, Jung-seon, and Prosecutor Lee. But they were gradually written out or made less interesting, and what did we get instead? Chairman Jin and his soju shares.
My ranting is only due to disappointed hopes, and not meant to be a condemnation of the writer or the team. On the contrary, I look forward to their next drama very much — I only hope they have the time to do it justice.
RELATED POSTS
Tags: A New Leaf, featured, Kim Myung-min, Kim Sang-joong, Park Min-young