Doctor Stranger: Episode 13
Our doctors put their day jobs on the backburner while they sort out their own feelings and ask intake questions about each other's lives. The revenge-seeking, metaphor-loving doc remains mostly docile in this hour, opting to spend his time building a potential bromance with his former rival and learning things like what his favorite food is (it's curry). We get even more snippets of the past that tie in with the conspiracy that still somehow involves Hoon. But at this rate, I'd trust a Magic 8-Ball for better answers than the ones this show is doling out.
If there's anything we can trust, then, it's the ratings—Stranger held onto the lead with 11.6% while Big Man followed with 10.6% and Triangle fell to 5.7%.
SONG OF THE DAY
Park Jung-ah – "Because Of You" from the OST. [ Download ]
Audio clip: Adobe Flash Player (version 9 or above) is required to play this audio clip. Download the latest version here. You also need to have JavaScript enabled in your browser.

EPISODE 13 RECAP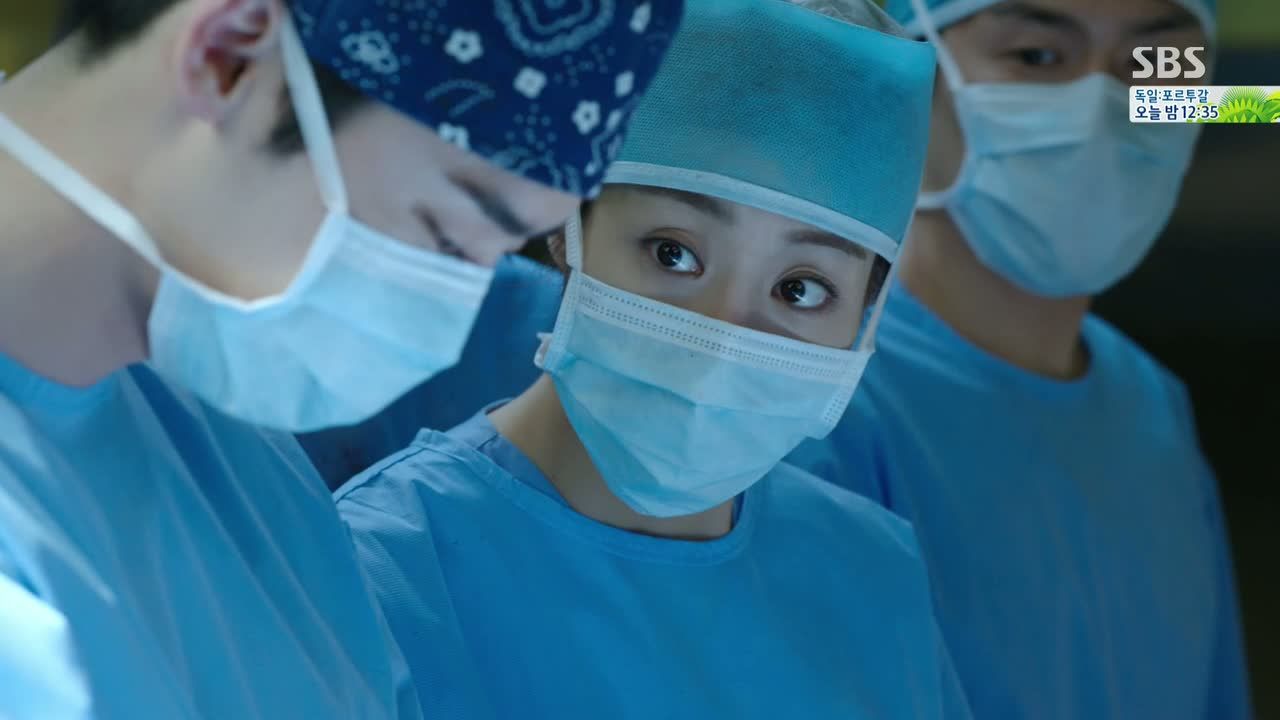 After telling the team that they're the only real docs in the house, Hoon steps in to locate the bleeding using his genius, and thus saves the day. Unfortunately, that result doesn't prevent Chairman Oh from preparing for a possible medical malpractice suit.
Jae-joon informs the patient's family on a successful surgery, then apologizes on behalf of the hospital. He asks if they'll seek a lawsuit and is understanding of the answer that they aren't sure.
The rest of the surgical team knows that they're all on the chopping block, save for possibly one—Soo-hyun. Doctor Geum beats himself up for messing up in surgery again, and gets upset being consoled like a child by Min-se. In an attempt to be taken more like an adult, he grabs her face and awkwardly presses his lips against hers. She slaps him out of shock, and then agrees, pushing him into the next room 'cause it's business time.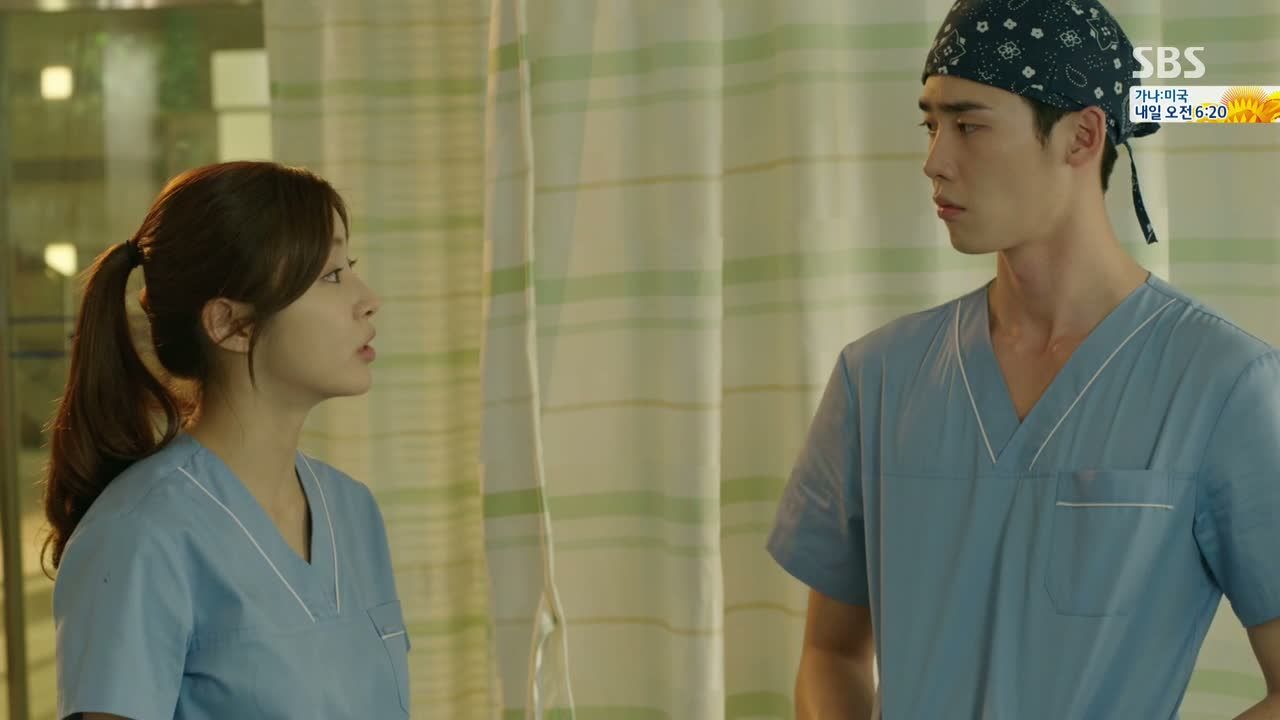 As the patient is wheeled out, Hoon gives due credit to Soo-hyun, notably referring to her as "Doctor Oh" and not the usual nickname "Quack." His acknowledgement puts her in good spirits, though Hoon figures the words just spilled out, claiming that he couldn't tell who anyone was in their masks.
Calling her "Quack" again spurs on another round of childish bickering between them, Hoon wondering why it's so important to her, and Soo-hyun telling him to do something about that crazy perm. He puts an end to it by telling her to put in a good word with Chairman Oh about having Jae-joon keep working here.
Jae-joon softly apologizes to his father and tucks his father's medical malpractice case documents in his drawer when Soo-hyun comes knocking, and accepts her praises wearily. Concerning his future, he informs her of his plans to return to the States, but he doesn't want to go alone. "Let's go together," he says, taking her hand.
But Soo-hyun pulls back and tells him thanks, but no thanks—she'll persuade her father to let Jae-joon keep his job here. She slaps on a smile to hide her awkwardness and seems confused by her own behavior, leaving Jae-joon looking even more dejected than ever.
Ha, Hoon actually took Soo-hyun's words to heart and arrives home in newly shorn hair. He's too tired to deal with Seung-hee tonight, but she insists on knowing why he got involved instead of putting an end to this competition by letting his competitor lose. "So you want me to ignore a dying patient?" Hoon asks, frustrated.
At her words that there were other doctors around, Hoon whips around to say that he couldn't just sit back and watch. Looking back at the ragged Jae-hee on the monitor, Hoon entreats in a breaking voice, "Don't be like that. I get really confused when you're like this."
The camera pans from the screen to the mirror beside it, showing Seung-hee's reflection as Hoon continues, "Truthfully, I felt so ashamed when I first saw you. I did a lot of terrible things during the time that I lost you. But I stayed strong. Now that I found you again, now that my dream has returned, I really thought we could go back to that day I put that red bracelet on your wrist. But… that Jae-hee… how could she do this to me? How could she… tell me to ignore a dying patient?"
Emotions welling up inside of him, Hoon blinks away his tears. As for Seung-hee, she steps outside where Agent Cha drives up 'cause he's never more than fifty feet away from either her or Hoon at any time in this show. Since he also knows about the hospital happenings faster than the docs themselves, he's armed and ready to take Hoon's life.
He tells Seung-hee to step aside, but she disarms him and hurls him to the ground. She then empties the gun, shooting into the ground and air. And Agent Cha just laughs like a lunatic at her desperate screams for him to stop and that they can wait a little longer. "Don't judge for yourself whether I made the right decision or not," she seethes.
Soo-hyun sits down with her father and asks whether he'd forgive everyone if the patient's family doesn't file a lawsuit. She uses her affection for Jae-joon to bolster her argument, which eventually gets Chairman Oh to agree, though he's sure that they'll have a suit on their hands.
Even if he is a messed up medical professional, he at least is a nice-ish father to Soo-hyun now. Soo-hyun finds Hoon eating breakfast alone at his clinic and asks for his help to prevent the lawsuit. He isn't at all concerned about his career since he'll find some way or another to earn money, though she points out that everyone else's jobs are on the line, too.
He asks why it has to be him, which leads to another bout of bickering, but eventually he agrees to it. He doesn't think that persuading the patient's family to back down should be the first matter of business, but he sighs to do things her way when she puts her foot down.
However, Patient Lee's husband (and Jae-chul's father) sticks to his morals, believing that he should receive a sincere apology from the wrongdoers in person. Getting the cardiologists to admit their mistake works out as well as you might expect as the senior cardiologist acts all haughty, not at all scared by the threat of a lawsuit.
If the supervisors won't fess up, they'll need to find the third-year resident who performed the procedure. Soo-hyun says it won't be easy since he's told to be on leave, but Hoon is convinced that there's a way. He asks if she's got some money and makes a call.
Next thing they know, the mobsters from Episode 2 deliver the resident to Hoon's clinic. While the boss is behind bars, the once-underling is now the head honcho, who extorts every dollar out of Hoon (via Soo-hyun's wallet) for allllllll the trouble his boys went through to deliver. Ha, he even collects an extra 500 won coin, just like Hoon did.
Back at the hospital, Jae-chul approaches the senior cardiologist, who checks the boy's body to make sure that he isn't recording their conversation first. Not. Cool. The doc insists that their team did nothing wrong and is instantly pacified when Jae-chul says he doesn't think it's necessary to pursue a legal suit.
Unfortunately for him, though, his fellow cardiologists have seen the exchange and one white coat voices his disappointment. The cardiologists all want a piece of the third-year resident when he arrives with Hoon and Soo-hyun, but that's when Jae-chul approaches with the second-in-command.
Meanwhile, douchey Sang-jin is busy trying to convince Jae-chul's father that filing a lawsuit will be pointless, not believing that the family just wants a sincere apology from the responsible party. Hoon & Co. burst through the doors just then, and at Sang-jin's protests, Hoon sits him back down and kicks him away, telling him to pipe down and watch.
Then the cardiology team (sans the senior attending) bow their heads deeply in apology, admitting the error made by an inexperienced surgeon as well as not apologizing to the patient and her family sooner. Moved and upset, Jae-chul's father cries, "Was it that hard? 'I'm sorry, I was wrong,' was it that hard to say?!"
Overwrought, he threatens to sue them all, which is when Jae-chul begs his father not to because these doctors will make them all better today and in the future. Those words effectively convince him not to sue after all, and Soo-hyun thanks Hoon for his help.
A bear doll left behind in the hallway catches Hoon's attention, one that looks exactly like the ones stocked in Mom's room. Sure enough, Mom approaches moments later and reaches for the bear, calling it "son." Neither Mom nor Hoon recognize each other, however, and Mom is quickly led away, though she looks back to smile at him. It stirs something within him, but he doesn't know why.
Prime Minister Jang announces the hospital that will perform his surgery. As expected, it's not Myungwoo, to Chairman Oh's fury. Does this mean that the stupid surgical competition is officially over? At this point, I'm just happy to see it over with.
Chairman Oh keeps his promise to let everyone on the surgical team keep their jobs, save for one—Hoon. He seems have anticipated that decision as he says his goodbyes to an emotional Doctor Moon. Soo-hyun is there to apologize in person as Hoon packs his things and gives her his old stethoscope.
Hoon hands over his white coat, too, assuring her that she'll become a decent doctor one day. Soo-hyun offers to try to persuade her father again, but Hoon shakes his head—Chairman Oh won't ever accept him again, not when he knows whose son he is. Soo-hyun doesn't understand, and Hoon tells her to take care.
Hoon ends up taking the same elevator with Seung-hee, and has just enough time to tell her to instruct him on what he should do next. She says she will.
Soo-hyun catches up to Hoon in the lobby and tells him to take his doctor's coat with him, which Hoon promptly throws away. She keeps it beside her as she studies and turns around when she thinks she hears Hoon's voice, only to find no one there.
Memories with Hoon come flooding back to her that night, like their imaginary surgical training or hearing another doc call someone a "quack." She's lost in her own world as she recalls all the good, bad, and heart-stopping moments shared with Hoon, and doesn't even notice that she's crying until someone points out her tears.
But she's soon unable to hold them back any longer and runs into Jae-joon's arms, asking him to stay like this just for a moment.
Chairman Oh confronts Prime Minister Jang about his change of heart to seek surgery somewhere other than Myungwoo Hospital over dinner. Prime Minister Jang gives this long-winded explanation that basically boils down to saying that it was the president's decision and hands the chairman a file (and CD) that will "help our task move forward." Or something.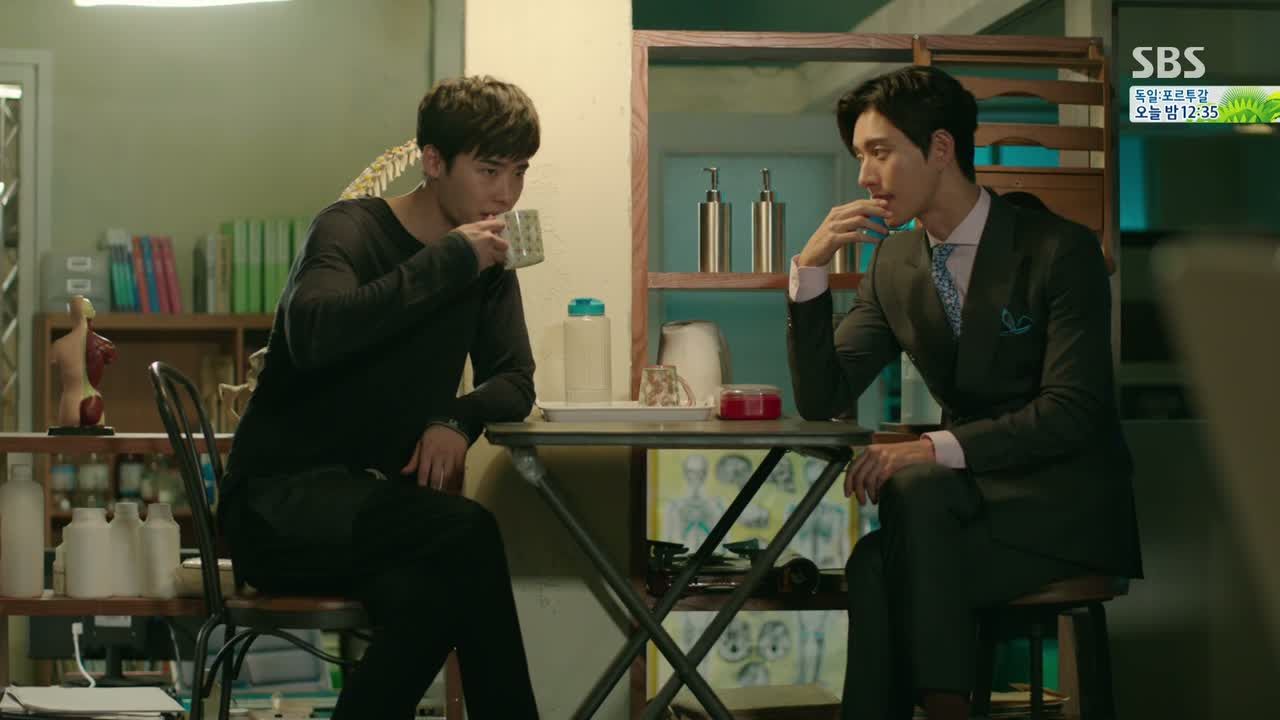 Jae-joon pays an unexpected visit to Hoon's clinic that evening; he doesn't mind the chipped mug as long as the coffee tastes good. He takes a sip, and then remarks, "That's the worst coffee I ever had." Ha. Hoon takes offense and tries it himself… and spits it out. Ha, figures.
But Jae-joon isn't here just to shoot the breeze—he's here to ask two things. He starts off asking why Hoon picked up his scalpel in Patient Lee's surgery, and Hoon tosses the question back at him. Jae-joon answers that it was for the patient, and then Hoon apologizes, saying that Jae-joon would have gone through so much trouble if he'd done the surgery instead.
Jae-joon thanks Hoon for preventing the medical malpractice suit, having heard the news from Soo-hyun. That leads to his following question: Did Hoon do that for his sake? "A little," Hoon concedes.
Both men seem marveled by Hoon's unexpected concern towards Jae-joon, who asks after the reason why. Hoon tries to play off the bromantic question with his usual cavalier attitude, all, You know why, but Jae-joon insists on hearing the words from Hoon himself.
So Hoon takes a moment before saying with all seriousness: "Because I thought you're a decent doctor." Jae-joon smirks, satisfied. His reaction makes Hoon uncomfortable, but then Jae-joon invites him out for a drink.
Soo-hyun fights a losing battle with her cutting board at home, so roomie Seung-hee steps in to whip up a batch of homemade curry. Soo-hyun wonders if they should invite Hoon over 'cause he er, seems to like curry, and uh, there's a lot left over. Ha, she's adorable.
Seung-hee asks if that's why they made such a huge batch, and her expression falters when Soo-hyun says it seems like Hoon's diet consists of instant curry. She sighs as Soo-hyun calls him up, looking as nervous as a teenage girl calling her crush for the very first time.
Hoon and Jae-joon share a laugh over soju about how they fought tooth and nail over who gets to operate on the prime minister when ultimately they were both eliminated anyway. Well, I'm glad someone gets to laugh about it while I was pulling my hair for who-knows-how-many-episodes.
Hoon points out that Jae-joon is speaking to him in banmal, and shrugs it off when Jae-joon apologizes for it, muttering, "Well you're old, anyway."
Jae-joon asks how Hoon acquired such superb medical skills while growing up in the DPRK and learns that Hoon's late father was a doctor himself. Hoon puts an end to the parent talk when he asks about his mother, and then runs off to relieve himself.
So it's Jae-joon who sees the incoming call from Soo-hyun on Hoon's phone. He picks up and listens as Soo-hyun invites Hoon over and says she has something to tell him. It's at that moment Jae-joon finally speaks up and Soo-hyun quickly searches for an explanation.
Seung-hee picks up on Soo-hyun's flustered mood and says they should invite both men over if they're already together. When Hoon returns, Jae-joon asks what he thinks of Soo-hyun. Hoon replies that he initially thought she was a quack doc, but she works hard and is becoming more and more like a real doctor. "So she's cute," he chuckles.
Hoon adds that he sometimes thinks of Jae-hee when he's looking at her, too. It isn't because the two women look alike, but more because Hoon wishes that his Jae-hee would act more like Soo-hyun in the professional sense sometimes.
"What about as a woman?" Jae-joon asks. That question gets a big laugh out of Hoon, who asks if Jae-joon is worried that Soo-hyun might have feelings for him. Err, so you didn't know? I know that you're dense sometimes, Hoon, but c'mon. Then again, what do I know about the inner workings of Hoon's mind?
Hoon shares that story openly later with the ladies at their apartment while he chows down on curry. He comes right out with it and cheerily asks Soo-hyun if she does like him, which she quickly denies. And since Hoon is dense to all things whenever he sees curry or Jae-hee, he goes on to elaborate why Soo-hyun isn't his type at all.
His words about how he hates shrewlike women who are vain and use violence are plain upsetting, and Soo-hyun raises her voice at him. It's Jae-joon who points out that Soo-hyun doth protest too much, and she storms out.
Once alone, Seung-hee tells Hoon that he was being too harsh, but he says it's fine. Oh, so you deliberately made Soo-hyun angry, then? He wonders how Seung-hee knew that he liked curry; however his question isn't name-specific, so Seung-hee's jealousy flares as she wonders how Soo-hyun knew that tidbit.
Jae-joon follows Soo-hyun upstairs and asks outright if she likes Hoon, noting that her reaction seems defensive. He gives Soo-hyun some space, and she takes her frustration and hurt out on a pillow while holding back tears. Aw.
Downstairs, Jae-joon admires Seung-hee's family portrait, which has her ask if his parents are currently in the States. "You could say that," he answers vaguely. He starts to mention Hoon's father before he catches himself and stops mid-sentence.
With that, the conversation turns back to Hoon's parents, and Hoon notes that Jae-joon's asking a lot of strange questions today. Since there aren't that many skilled cardiothoracic surgeons out there, Jae-joon asks after Dad's name since he might have heard it before.
Hoon gives it: "Park Chul." That name has Jae-joon stammer in shock, but before he can question Hoon further, Hoon takes his leave.
At the same time, Nightshade keeps watch over Mom in her hospital room. Hm, I wonder why they moved her from the mental hospital to the psych ward, but at this rate it's easier to wait for the answer that will come sometime-maybe-never later.
Interestingly, Seung-hee appears next to him and learns that Nightshade intends to reunite mother and son soon. Apparently it's on Prime Minister Jang's orders, which means we'll never learn anything, ever.
In the truck, Hoon wonders why people are taking so much interest in his family history. To answer that, Jae-joon calls up Male Siri Mr. Chang and has him look into whether Park Chul went to North Korea. As far as they know, the man was reported missing (but we know that he died).
Jae-joon thinks back to how he had waited with his mother for Hoon's father to appear at court, only to be told that the medical malpractice case was dismissed because Hoon's father never showed up.
We know that's because Park Chul was sent to the North, which means he wasn't at home to hear young Jae-joon's desperate cries outside his door. Jae-joon tenses to remember how his mother had collapsed from a heart attack due to the stress and no one was there to help.
Lying on his own cot, Hoon's thoughts wander back to when he left Myungwoo Hospital for the last time. He'd seen Mom standing outside holding the bear doll in her arms and had engaged her in conversation.
He had asked who she was waiting for, and she'd answered, "My son." Then he had kindly offered to escort her back to her room, holding her hand. Remembering that has him travel in the middle of the night to his old house, where the gates are unlocked and all the furniture are just as they were years ago, even down to the notebook where he'd once jotted down Mom's phone number in the States.
So he tries that number now, and someone picks up. Hoon can't bring himself to speak, and that's when the voice on the other end of the line asks, "Are you… Hoon, by any chance?" Hoon: "Yes… I am."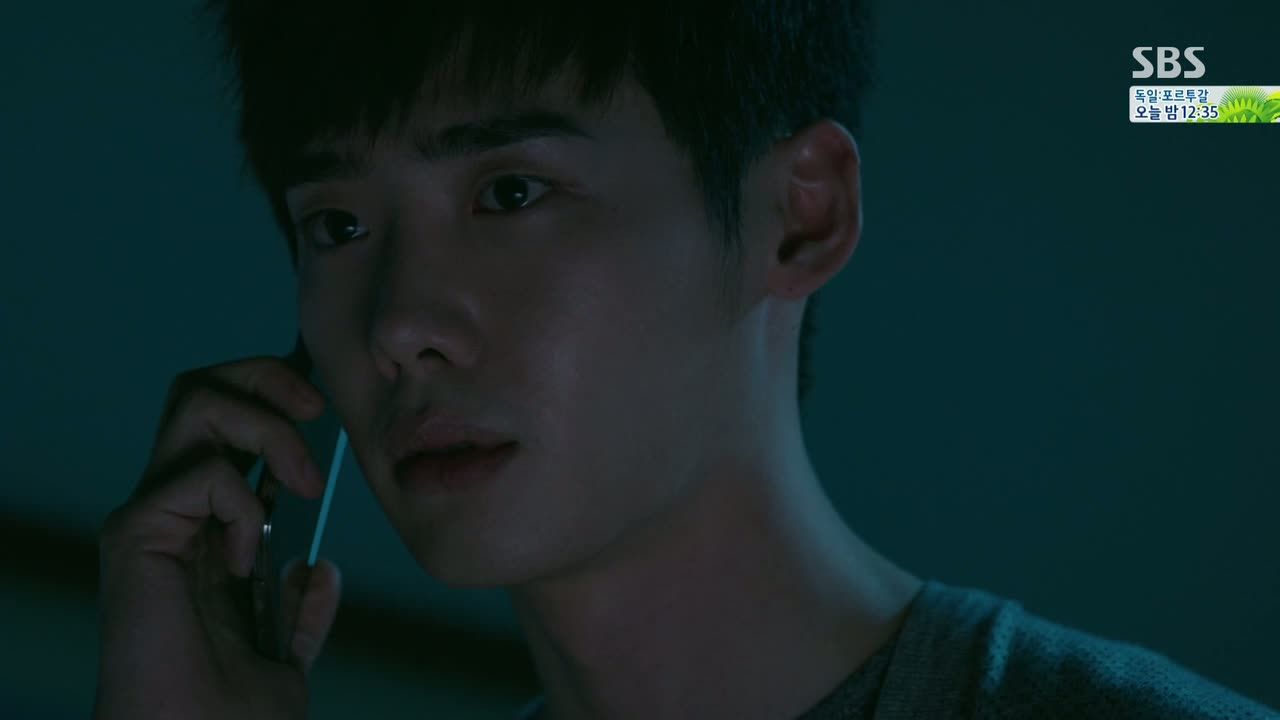 COMMENTS
What. This show has left me so confused about the larger tangled conspiracy web (still allegedly spun by Prime Minister Jang, I think) that I'm highly wary when it comes to making any solid theory every week unless the show spells out the answers for us. And let's face it—nine times out of ten, they don't even do that for us, especially now that we have what feels like a different drama on our hands.
It's unnerving to approach the beginning of each week with uncertainty, not knowing whether Stranger will try to appease its audience or seek to confuse even further in the hour. For these past three episodes, it's evident that the story has attempted to straighten itself out, and while some things have changed for the better but perhaps too late (like doctors who now suddenly care), other things still make my head scratch (like doctors who now suddenly care). Hm, I suppose it isn't good when both the good and the bad are the same thing, eh? At least the world's stupidest surgical competition is behind us? Y…ay?
Speaking of which, I found myself resonating with our characters' general annoyance and irritation for placing so much emphasis on a competition that didn't even matter to Prime Minister Jang who operated on him, and how the entire battle we were told to care about (but didn't care about because it involved gambling with people's lives and exposing the corrupted ethics within this hospital) was essentially brushed under the rug and was instead another reason to kick Hoon out of the hospital. Even if we didn't know why the prime minister arbitrarily changed his mind countless times, we were told that it still somehow involved Hoon and that his life depended on it. And now that Hoon is free not to operate on him, there's no sense of urgency on his part to hunt down the prime minister for answers, either.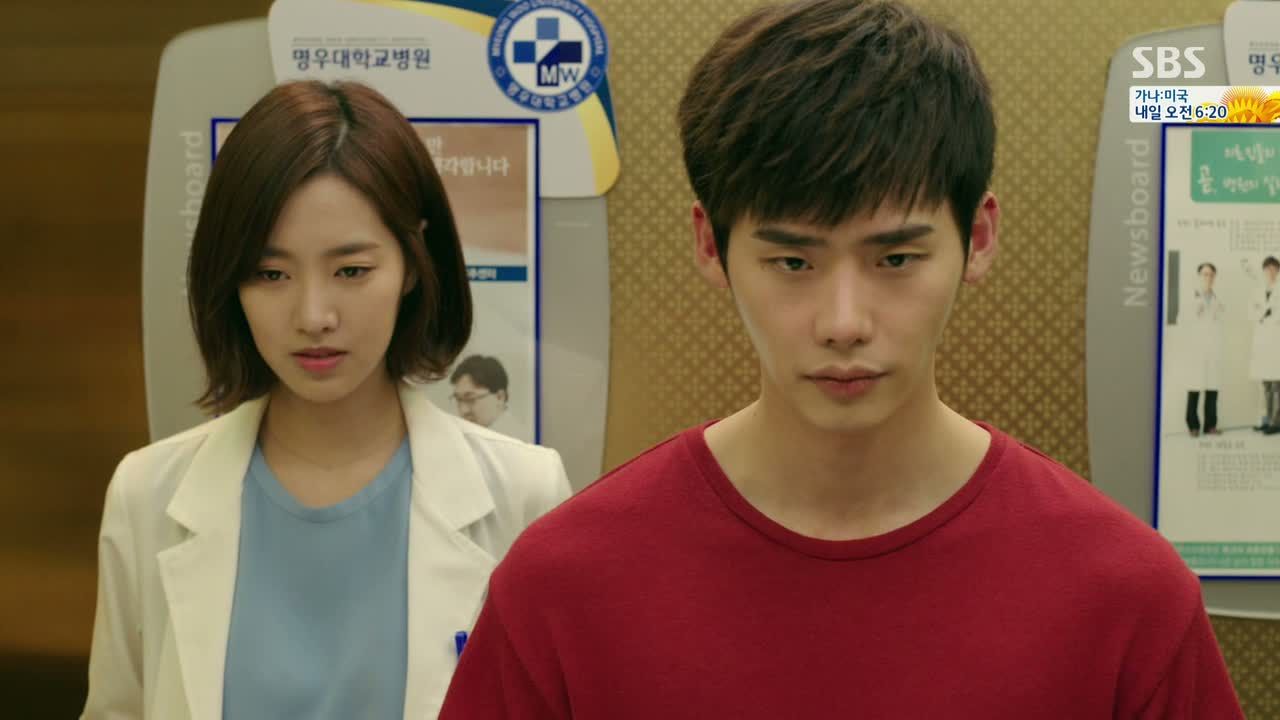 The weird thing, though, is that even though we still haven't the faintest idea of how Hoon is presently involved in the grand scheme of things, his participation is still somehow important. Now we're told that it's Prime Minister Jang's idea to reunite Hoon with his mother, which suggests that at some point, whether it was from the beginning or sometime later, he knew that Mom was alive. And while I think it's horrible that she was hidden away and trapped for years, I think it'd be giving Jang too much villainous credit that he dangled this competition carrot to later use Mom's existence against Hoon. Still, it doesn't change how I feel about what he's playing at.
I seriously thought that something or someone would attack Hoon when he returned to his old house that was miraculously untouched for nearly two decades. Regarding the voice over the phone, I honestly have no idea who it is, though I have a couple of speculations that include Mom's pre-recorded voice or an actress. I throw those suspicions out there based upon Mom's deteriorating mental health, though who knows—that number could redirect back to a Korean number and she's waiting for Hoon to call. If anything, because Hoon was separated from his mother at an early age, it's understandable that he wouldn't readily recognize his mother. (Also, wouldn't her new family in the States be worried about her whereabouts?)
I wish, then, that we at least had the direction to help us piece together this disorganized puzzle, but it's long been apparent that we can't trust that, either, not when the story can shift around so easily. So while we saw some stylized metaphorical shots (e.g., Jae-hee's face on the laptop and Seung-hee's reflection), I still feel like I'm at square one when it comes to trying to figure anything out. Maybe I need to call Agent/Wizard Cha over since he seems to magically know everything without being explicitly told anything.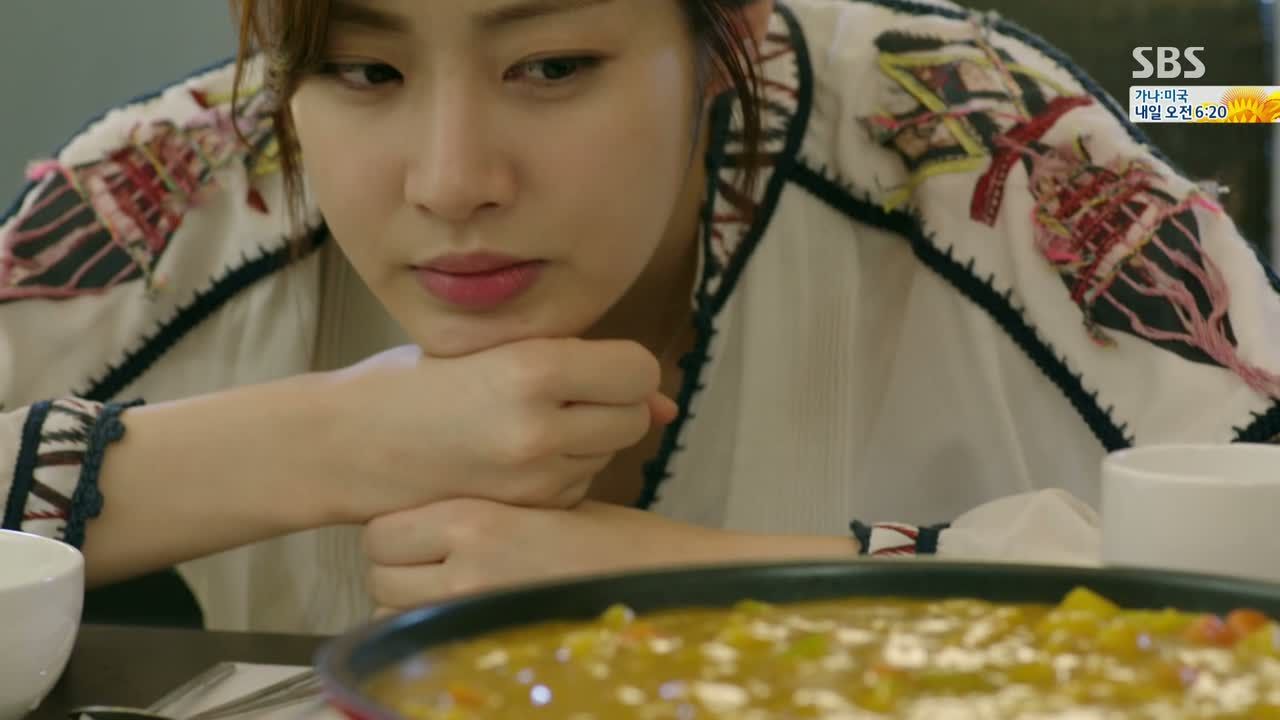 RELATED POSTS
Tags: Doctor Stranger, featured, Jin Se-yeon, Lee Jong-seok