Gap-dong: Episode 16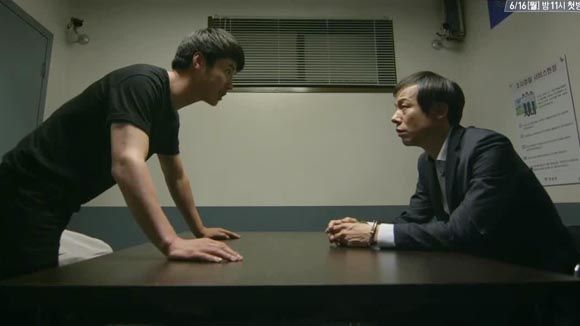 This show is taking the complete opposite approach of how I'd tell a serial killer story, but I suppose that doesn't have to be a bad thing. It's just that it's kind of amazing how everybody and their mother (and father, even) knows who the culprit is at this point, and yet nobody can nail him to the wall. You'd think that identifying the slippery, long-dormant murderer would be the hard part, but as it turns out, that's child's play compared to the hard work of actually doing anything about it. So becomes less about crime and more about the process of prosecution, and all the ways that can go awry—certainly interesting stuff, just not what you were thinking you'd get. In that way it almost feels like you're expecting a show about singing—you know, lots of Glee-style musical numbers—and instead get a show explaining music theory. On the upside, I continue to be impressed at finding the show engaging despite showing all its cards on the table before it even needs to.
SONG OF THE DAY
Joy o'clock – "잊혀지다" [ Download ]
Audio clip: Adobe Flash Player (version 9 or above) is required to play this audio clip. Download the latest version here. You also need to have JavaScript enabled in your browser.

EPISODE 16 RECAP
Mu-yeom hands over Chief Cha's old copy of Crime and Punishment, and Cha looks blankly at it and says he has no need for it. Mu-yeom asks whether Chief Cha didn't find his burden heavy, and Chief Cha agrees that it was. "Then let go of it," Mu-yeom urges.
But Cha just says, "That's why I threw it away."
Tae-oh stares at the results of his mental evaluation, almost shaking in shock: He registers as perfectly regular. Was there ever anybody more devastated to read that he's not abnormal? Tae-oh wonders if Maria wrote this evaluation to ensure he got the death penalty and says in a wild-eyed frenzy, "Who says I'm normal?! What about this is normal?!"
Mu-yeom's sidekicks arrive to arrest Chief Cha, who protests that they're mistaken and also without ground, given the expiration of the statute of limitations. But Mu-yeom states that there's cause to act when someone is a menace to the public, and so Chief Cha gets slapped with cuffs and escorted to the station.
Now the higher-ups are left to hash out the legalities. The statute of limitations on capital crimes was extended from 15 years to 25, but those changes don't apply retroactively, and so far they haven't found grounds for suspending the statute in Chief Cha's case. The prosecutor had proceeded anyway in hopes that an investigation would yield what they need, but now the clock is ticking. Chief Cha volunteered to remain in custody for 48 hours, and his easy compliance suggests that he knows how to evade the charges.
A DNA sample is taken to be matched with any unsolved cases in the database, and the police chief encourages his team to do everything they can to get the evidence they need. They have circumstantial evidence aplenty, but no hard link.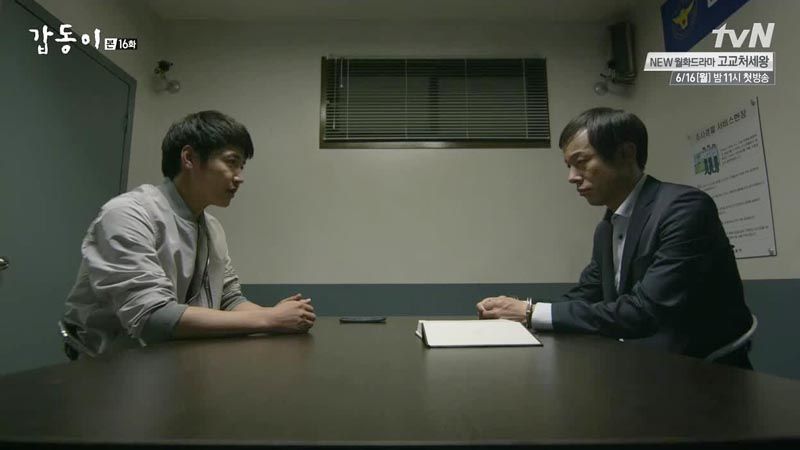 Mu-yeom has put together a theory about Cha's motivation and refers to the note in his book wondering about the feasibility of a perfect crime. Cha argues that there's nothing suspicious about that since it's his job to prevent crimes, and asks why he would've donated that book if he'd been the killer.
Mu-yeom surprises him by knowing that Cha hadn't donated the book directly; it had been turned in by cleaning staff. So Cha left the book behind in his departure from Iltan but didn't think anything of it, since he hadn't known of the letter inside.
Slapping down the photo of Gap-dong's first victim, Mu-yeom asks what sparked the killing. Chief Cha had been the victim's close friend in childhood, and even lived in the same house for a time. We see a teenage Cha in flashback, coming home to find the girl shaking in fear as they glimpse a horrific scene: her father holding a bloody hammer, with his mother collapsed on the floor, her hands tied together with a knotted cloth.
Mu-yeom asks what happened to that man, "because he would have been your first murder." Chief Cha calls that man human garbage, but denies killing him: "I became an officer who catches trash like him." Mu-yeom speculates that Cha killed the daughter because of her father's deeds.
The cops get a potential break in the case—they were unable to get Cha on suspicion of fleeing the country because that stipulation requires a minimum number of days that he had to have been abroad. They hadn't found records proving that minimum time had been met, but now they discover that he has a second passport issued by Malta under the name Steve Chan. If they can rack up more flights under the second name, they have hope. They get to work digging through records.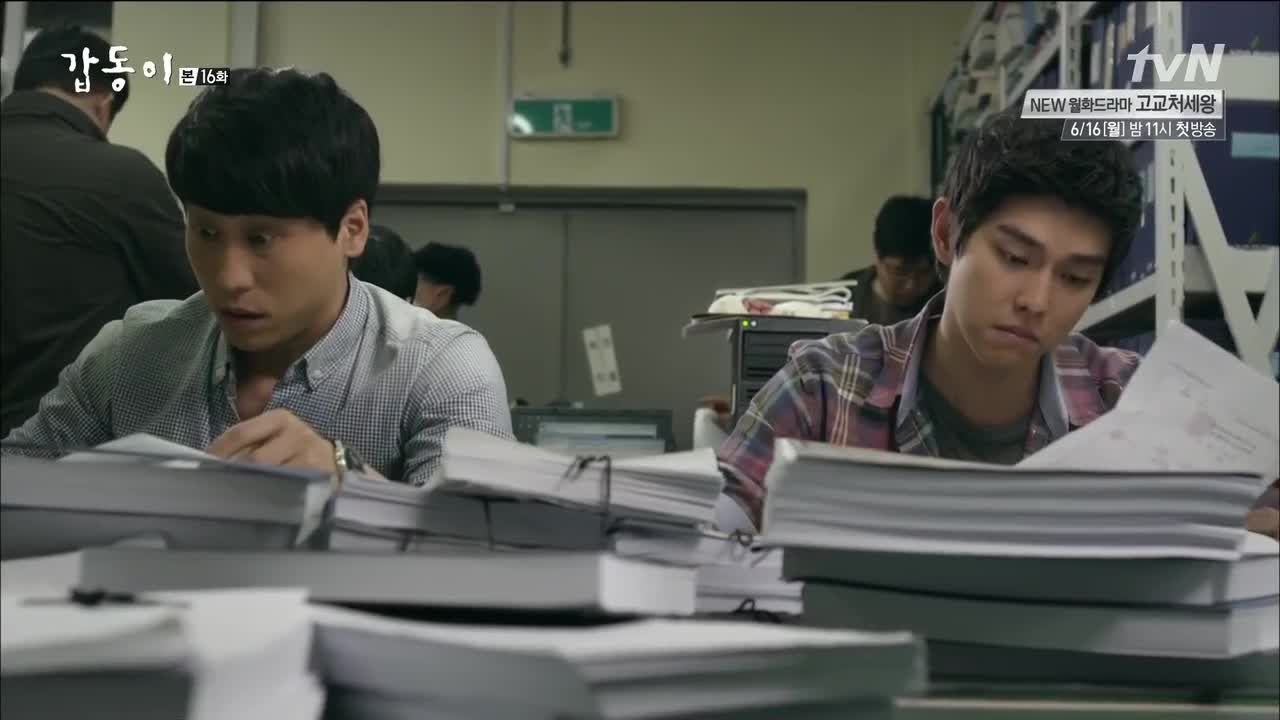 In interrogation, Chief Cha maintains calm and counters Mu-yeom's claims with logical-sounding explanations: He had wanted to move abroad because the Gap-dong cases had shaken his beliefs, but decided against it. Mu-yeom asks why he used a signature mark on his victims, then, and Cha's face turns pensive.
Mu-yeom discusses the case with Chul-gon, who recalls how he had gone to the first victim's old house days before the second murder arose. Once it became clear they were dealing with a serial killer, however, he'd turned his attention to that. In retrospect Chief Cha must have known from their reaction to the second murder that he'd evaded suspicion on the first.
The persistent reporter returns to the station to join Ki-ri in the records room, and he half-jokingly accuses her of having ulterior motives for coming by so often, by which he means a crush on him. She admits to having motives and he lights up, pointing to himself hopefully, only to deflate at her reply that she's related to one of the victims—her mother was Gap-dong's sixth victim.
In light of the psych evaluation, Tae-oh dully tells Maria that he can't trust her judgment anymore, looking like all the life has been sapped out of him. He says that he really doesn't think Chief Cha is Gap-dong, because like recognizes like. She asks, "Do you really not know, or are pretending not to know?"
Tae-oh raises his complaint with her decreeing him normal, telling her that her own psychiatric condition is suspicious. Who is she to treat others when she should be getting treated herself? He rips up the form, calling her results invalid, and Maria seems affected by his words.
In his cell, Tae-oh thinks over his two choices: to take Chief Cha's offer for freedom, or Maria's proposal to work for them in catching Gap-dong.
Time's ticking down and their first day is almost over. The team finds more flight records that put additional days on their total, but they're still eight days short of the necessary number. Meanwhile, Chief Cha is giving nothing away, and argues that he's not the culprit—why would he commit murder? Mu-yeom says he couldn't believe it at first, because it seemed ridiculous to class him alongside Jack the Ripper and the like. But when he realized that the first victim and the letter-writer were acquainted, things started to come into focus.
Chief Cha goads him to share his theory, ready to laugh in his face. But the smile drops off his face when Mu-yeom supposes that he used the signature to avoid capture. Thus he killed the following victims to throw the scent off himself, giving the impression that the criminal was a psychopath serial killer. Well, he did become a serial killer in that he killed multiple times, but by framing it as more of an uncontrollable, crazed impulse, he could use one murder to cover up another.
Mu-yeom deduces that Cha's real psychopathic urges were stirred as a result, with the populace in a frenzy and the media all over the story, even assigning him the Gap-dong name. Thus Cha was in search of the perfect way to commit a crime and evade the punishment, and had almost succeeded. "But you're here, caught," Mu-yeom says. "You're going to lose everything. How about killing one more and going to prison?"
He hands over a set of nunchaku and encourages Chief Cha to use it on him, just goading him to let loose. Cha clenches them in his hand for a second, but shoves them away and says that the joke has gone too far.
Chul-gon vents his frustration at the limited time they have left, and Profiler Han decides, "I'll take him with me. I'll drag him to prison."
Tae-oh requests a visit from Ji-wool, who goes to prison to see him but only has scorn to heap on his head. She's also in no mood to humor his whims and gets up to leave right away, only today Tae-oh pleads a bit desperately with her: "Teach me—teach me how to feel like you do. If you teach me, I might be able to change."
Ji-wool tells him to ask Maria to do that, but he entreats, "But you wanted to believe in me. You might be the one person—not even my mother believes in me." He asks for this act of noblesse oblige, although in this scenario she's the rich one (in compassion) who would dole out charity to the poor.
Ji-wool isn't unmoved, but she fights her urge to give in and tells him to leave her alone. She leaves the prison, though gets called back to see Maria, who tells her of their Gap-dong discovery. Ji-wool can't believe her friendly neighbor could be the culprit, but Maria's seriousness makes her think twice, and she recalls telling Chief Cha of her webtoon. Maria urges her to be careful and is informing her because Cha may be released soon, putting her in danger.
Ji-wool starts to tear up, asking why everyone is shaking her up when she just wants to believe in people. She explains meeting Tae-oh earlier and being asked for her help. Maria reacts angrily, especially when she hears that Tae-oh has requested a re-evaluation, and confronts him about being up to something. Is he intending to use Ji-wool in his defense case?
Maria orders him to stay away from Ji-wool, but he just teases her for acting jealous: "You can have Detective Ha, and I'll take Ji-wool, okay?" Maria spits fire at him, saying that the moment he messes with her, "That's when you die by my hand."
Tae-oh wonders at her vehemence, considering that she didn't seem to be close friends with Ji-wool, and then puts the pieces together—is she seeing her dead friend in Ji-wool? An interesting discovery, and he smiles.
Maria gets her turn in the interrogation room with mere hours remaining on the clock. She talks to him in derisive banmal, addressing him as Gap-dong and asking why he bothered with rock-scissors-paper when its results were pointless. And why did he repeat Gap-dong's words to her, asking "Did it feel good to win?" Chief Cha feigns ignorance throughout, acting like the befuddled innocent man and telling her she's overreacting. When she points out that it's odd for an innocent man to take these accusations so peacefully, he just says that he understands that she and Mu-yeom are victims of Gap-dong and he's trying his hardest to be understanding.
Maria grows increasingly upset as she asks why he let her live, knowing who she was, screaming, "Why?!"
He turns that around on her, saying that yes, if he were really Gap-dong, he would have been able to track her down and get rid of her. He would have had the opportunity, so why did he not do anything? He offers his hands for her to feel, since she'd stated how soft they'd been, and Maria hesitantly reaches out to place her hands in his.
Maria puts her shaking hands into his and feels, and as she looks into his eyes, he looks back at her with an eerie grin. He whispers, "How did you win that game of rock-scissors-paper?" Maria drops his hands and lunges for his throat, and at that Mu-yeom bursts into the room to drag her away.
Maria is completely devastated and sobbing as Mu-yeom leads her out of the room, and she wails, "Why didn't you fake the case and catch him that way? Look at him, he's a beast with no heart." She cries at the injustice of this arbitrarily designated time, and how they have to give up at the end of it.
Mu-yeom tells her he's just begun, assuring her that they have plenty of time. Calling her Jae-he, he urges her to think of "our time" instead of the one designated by the law.
The team gathers for a briefing with one hour left on the clock. They came up short on the flights abroad, and Cha's DNA didn't match any other crimes in the database. Ki-ri growls that Cha had it all planned from the start, knowing he would walk away free.
Meanwhile, Chief Cha flashes back to the night of that very first murder, on Christmas Eve. He'd met the victim in a cafe for the first time in a long while, and she'd looked at him with a face that is far from friendly. Angry? Upset?
Reviewing the tape of Cha waiting out the clock in the interrogation room, something strikes Mu-yeom as particularly infuriating, and he barges in to demand how Cha could not once look at the clock. Normal people would look at the clock, worrying that something will turn up. Cha replies that he can gauge the time by Mu-yeom's expression, and then Mu-yeom is called for an emergency meeting called by Profiler Han.
That's when Profiler Han cops to being the fourth case's Gap-dong. Again we're using the terminology pretty loosely, as he explains that two sources of DNA were found in that case, and one of them came from him—the saliva on the milk carton found at the scene. The other officers protest but he asks the reporter to make this news public.
Mu-yeom understands that he's trying to buy more time for them to find the necessary evidence to suspend the statute of limitations (and it's something he understands, having done it himself in an earlier episode). Profiler Han says that for justice he can make this kind of sacrifice, though he perks up when Mu-yeom says it's unnecessary because he has his own plan in motion.
He thinks back to a conversation with Maria when she'd worried over his health report, and we see that the prognosis is dire indeed—the hallucinations will increase in frequency and he will be unable to continue working. But he doesn't say any of this to Profiler Han, just telling him to trust him. Profiler Han asks whether he means to sacrifice himself, and Mu-yeom scoffs that he'd never do that, which I'm pretty sure means that's exactly what he intends. Noooo.
Chul-gon and Ki-ri drop by the district attorney's office as he and the prosecutor are lamenting their legal conundrum. They're here to inform them of Profiler Han's plan to sacrifice himself (even though there's proof that the sexual molestation charge was falsified).
And so, the news goes out that Profiler Han has admitted to an accomplice, which extends the timeframe for investigation. It's devastating to his family, who worry that he may get accused for good. The monk assures them that the truth will come out and the situation will right itself, but the women aren't consoled.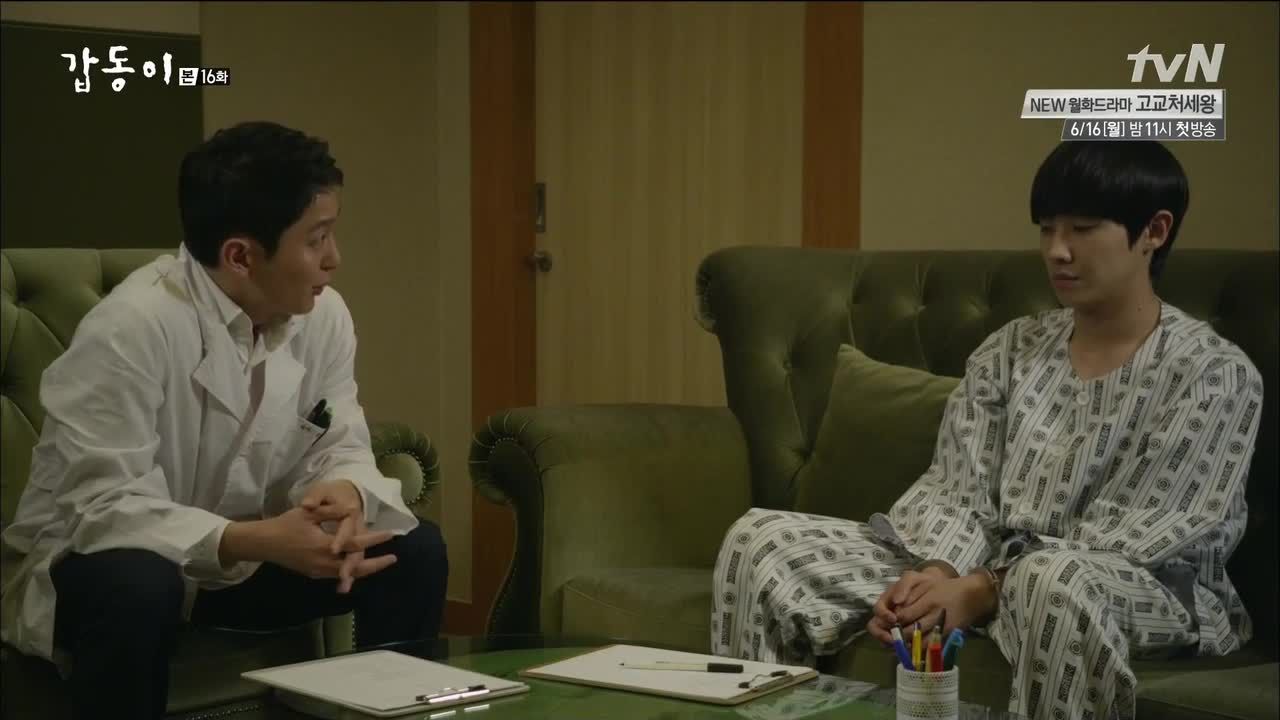 Tae-oh undergoes evaluations and breezes through the easy tasks of drawing simple diagrams and repeating phrases. The first aberration occurs when he's asked to repeat three words, and he misses one, saying the word "person" instead of "dog." Then as he's writing down a sentence dictated to him ("The weather today is quite nice"), his mind flashes to his reaction in the chicken race and he scribbles "bullshit" at the end of it. Angry all of a sudden, he throws a container of pens and goes for the coffee table next, though he's stopped by guards.
The psychiatrist running the tests asks Maria for her opinion, and she says that Tae-oh is quite skilled at putting on a show.
The clock winds down to zero. The 48 hours are up, and Maria sends Mu-yeom a text apologizing for losing her composure. Chief Cha says he's disappointed in Mu-yeom, who returns those words to him. Cha adds that he found Mu-yeom's theory quite impressive about the signature being used to evade capture. Is that an admission? A taunt?
Maria visits Tae-oh's cell that night, having heard his new diagnosis: affective disorder. She tells him that if he was going to put on a show, he should have gone all out and convinced her as well. Then she reaches through the bars and yanks his head close to whisper in his ear, "Shall I tell you how to evade the death penalty? Rip out your hero's throat."
She asks if he's going to be a mere copycat forever, saying that to become a hero, he's gotta get rid of his hero first. Not a bad way to get into the mind of a psychopath, and Tae-oh's face widens into a sly grin. "What will you do for me then?" he asks.
"I could have you released, or sent to the scaffold," she says. "Give it a proper start, hunting dog."
Chief Cha is allowed out, although by now his entire team looks at him with angry, distrustful eyes. Mu-yeom tells them not to be too disappointed, vowing to get Cha soon enough.
But just as the detectives are choking down their disappointment, the district attorney and prosecutor arrive with last-minute news: The statute of limitations has been suspended. They've succeeded. The station rejoices, and Mu-yeom makes sure Cha understands: "You should have done a better job wrapping things up," he says. "In both the statute and the ninth incident, you've failed."

COMMENTS
It wasn't until I was done with the episode and looking over the photos from this hour that I realized how much of it was conducted in a simple interrogation room between two characters just talking. I'm taking it as a good sign that I didn't notice at the moment how static the action was in this episode, with our bad guy literally just sitting in the same chair for most of it, being enigmatic and smirky as usual.
I do like the mini-twist of explaining the serial nature of the murders as a deflection tactic, as Gap-dong's way of escaping suspicion. Given that we aren't arguing culpability at this point—Chief Cha is Gap-dong, no question about it—the only way for them to surprise us is to introduce the unexpected in his motivation and circumstances, and it's an interesting angle to argue that he isn't that wild-eyed psychopath. That also supports the reasoning for how he was able to go underground for so long, if he wasn't battling some kind of innate desire to kill.
I do think that logic starts to unravel when you look at it too closely, because it's completely backward to commit eight murders as a way to escape committing one. I mean, what kind of stupid reasoning is that? I don't even see how that's so-convoluted-it's-genius; it's just dumb. I could be persuaded to find a second or even third murder to be an attempt to distract from the real motive, but eight murders, come on.
But let's say I accepted that reasoning for whatever reason. You also have the added complication of Chief Cha then becoming the bloodlusty psychopath because he … realized he liked killing, I guess? That's convenient. So now I'm confused as to how these motivations fit together. Maybe the show will smooth out those wrinkles in the coming episodes; I can hope.
More than Chief Cha, though, I find myself more interested in Tae-oh's continuing existential crisis, because it's always more interesting to watch somebody struggle with himself rather than smugly know all the answers. I like that the idea of working with Mu-yeom seemed to intrigue him, but that he wasn't ready to jump onboard and was equally persuadable to the dark side when Chief Cha offered him a tantalizing taste of freedom. And for somebody who's such an expert in manipulating others to his will, Tae-oh finds himself being equally manipulated by both sides.
That's why I enjoyed Maria's proposition at the end, because now she's finally talking his language. You can't appeal to his better side because he doesn't have one, and you can't ask him to do anything selflessly, because that doesn't compute for him. So she has to give him a twisted rationale to appeal to that part of him that is simultaneously dark and intensely curious. His curiosity strikes me as almost childlike in instances, in the way that he's not so concerned with what society thinks of a scenario but with why things happen the way they do. Why is the sky blue? Why does gravity make things fall to the ground? Why is killing a person bad? Okay, so he isn't the most innocent child in the world—maybe like a baby devil, before he figures out what he's gonna do with his evil powers, just poking at the world around him to test its reactions. Poke, poke.
RELATED POSTS
Tags: featured, Gap-dong, Kim Ji-won, Kim Min-jung, Lee Joon, Sung Dong-il, Yoon Sang-hyun