Han Seok-kyu, Lee Je-hoon up for reunion in sageuk drama Secret Door
Way to bundle up good news in a threefer: SBS is planning a new sageuk drama about the Crown Prince Sado (juicy historical intrigue), starring Han Seok-kyu (Tree With Deep Roots) to play King Yeongjo, and courting Lee Je-hoon (Fortune Tellers) to play Sado in his army comeback. Yesssssss.
The drama is titled Secret Door and is being planned as a 24-episode Monday-Tuesday drama, and deals with the slice of history during Yeongjo's long reign (the longest in Joseon history, at 52 years) involving the controversial death of his son, Crown Prince Sado. The drama's plot will deal with uncovering the secret shrouding Sado's death, which has been a matter of interest throughout the years and depicted in numerous dramas and films.
Sado was believed to be mentally unstable, violently attacking and sexually assaulting others in the palace. Yeongjo attempted to teach and reform his son, but eventually gave up hope and ordered Sado to kill himself. When Sado refused, Yeongjo ordered him to climb inside a rice chest, where he died eight days later of suffocation. (To preserve the honor of royalty, methods of execution were limited to those that didn't physically mar the body.)
How amazing would these two actors be in these roles? We've already seen them acting together in the movie Paparotti, where Lee Je-hoon played a gangster student with dreams of classical singing, and Han Seok-kyu was the hardened teacher who eventually guided the wayward youngster toward his dream. On their own they're both amazing powerhouse actors, and we already know they're great together. SBS, make it happen!
On the producers' side, the writer gives me more hope than the PD, which is probably better than the reverse scenario. PD Kim Hyung-shik directed crime-thrillers Sign and Ghost as well as the family-healing-drama-with-a-mysterious-twist Suspicious Housekeeper. Writer Yoon Sun-joo's prior works include The Great King Sejong, Hwang Jini, and The Immortal Lee Soon-shin, which are very solid sageuks.
Lee Je-hoon will be released from military service in July, and he's been fielding a number of offers for his comeback project. Those include Detective Hong Gil-dong and the sci-fi fantasy blockbuster Fist Fighting, but I really hope he turns the latter down, if only because of the crappy way the producers treated Yeo Jin-gu. And what better excuse than starring with Han Seok-kyu again?
Secret Door is preparing for a September premiere.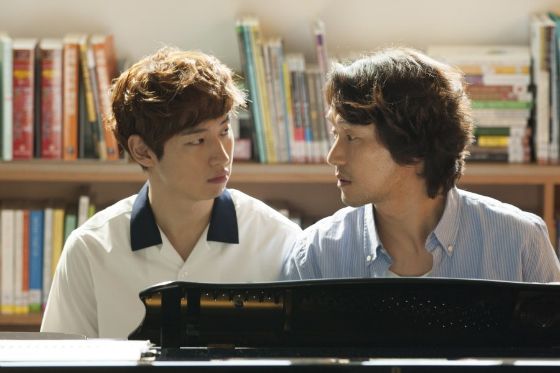 Here they are in Paparotti together.
Or better yet, here's a clip from the movie (spoilery, in that it's a climactic scene, but pretty great):
RELATED POSTS
Tags: Han Seok-kyu, Lee Je-hoon, Secret Door