High School King of Savvy: Episode 1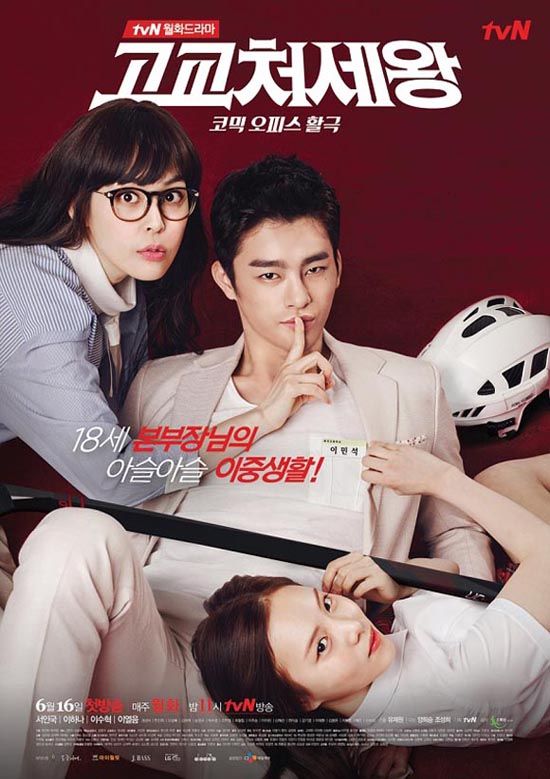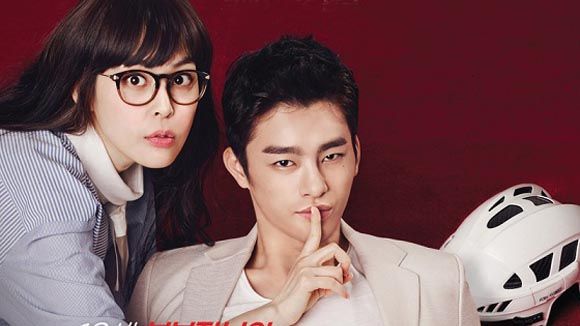 Score another one for tvN. No, I haven't been a fan of every single show they've produced, but they certainly do have a high track record of producing well-crafted dramas, particularly in this Monday-Tuesday rom-com slot. High School King of Savvy managed a deft intro to its slick double-identity comedy plot, but it also managed to sneak in a dose of poignancy that I wasn't expecting, which I really enjoyed. For just being one episode, it's pretty impressive that the show managed to make me like every single one of its characters, too. I have good feelings about the show, so I'm hoping it stays this solid. Fingers crossed!
SONG OF THE DAY
Trans Fixion – "One Way" from the High School King of Savvy OST [ Download ]
Audio clip: Adobe Flash Player (version 9 or above) is required to play this audio clip. Download the latest version here. You also need to have JavaScript enabled in your browser.

EPISODE 1 RECAP
After a cute opening that efficiently lays out the central conceit for this show (high schooler moonlighting as an executive, shenanigans!), we open on a helicopter that flies above Seoul and lands on a private helipad. The young professional who steps out is greeted by an entourage of suit-wearing professionals, alerting us to the fact that he is no mere businessman—here be a serious hotshot.
He's greeted by men much older than him and called Chief Director Lee—he's LEE HYUNG-SEOK, one of the two roles played by Seo In-gook. Hyung-seok accepts the praise for a job well done and takes a stretch limo to the company headquarters for Comfo Inc., where he is showered with more praise by Comfo's president.
At every step of the way, his secretary, JUNG SOO-YOUNG (Lee Hana), whispers reminders to keep him on the ball. Hyung-seok keeps his cool facade in place until they're alone, and then it's all run-hurry-scramble. He only has 25 minutes till his next appointment, and tugs at his clothing to change as they run.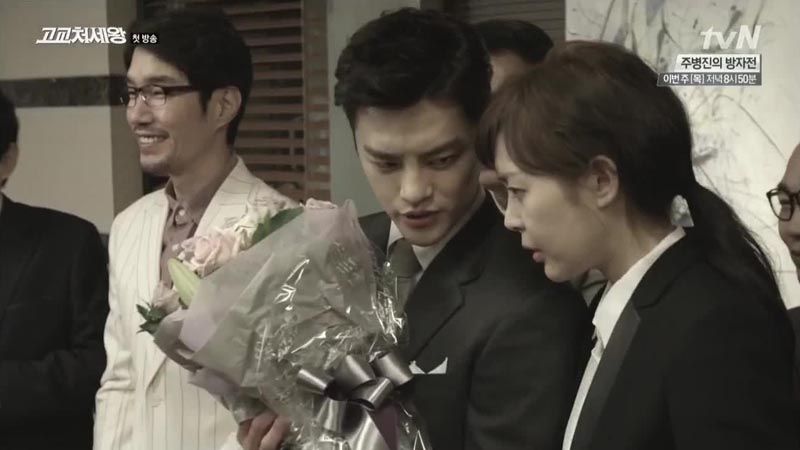 One Superman-esque twirl in the revolving doors later, and he's suddenly dressed in high school uniform—aha, so this was our hero, LEE MIN-SEOK, the younger brother.
Min-seok takes off in a sprint and secretary Soo-young shouts reminders and encouragement after him.
(Note: Here's where the cold open ends, and there's no indication of a time jump but based on later events, we can assume we've jumped back in time to see how this dual life came to be. I watched for the next fifteen minutes assuming we continued forward and encountered a serious moment of confusion, as you might imagine.)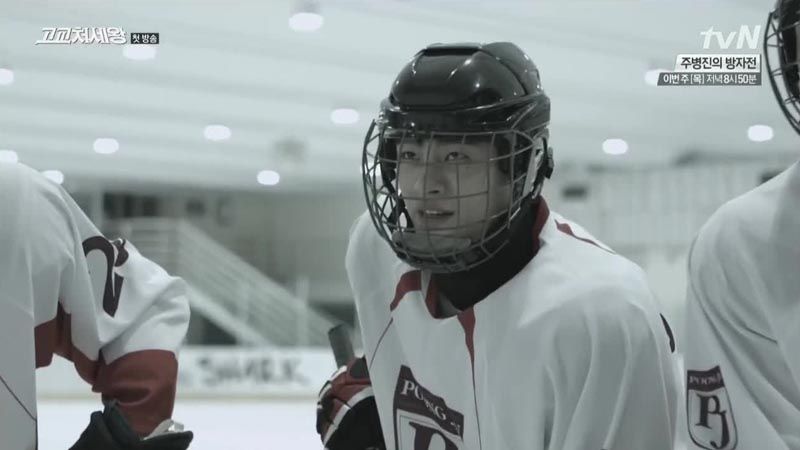 We reopen on the ice, with Min-seok dressed in hockey gear and squaring off against the rival team on the ice. He's the star of his team, intercepting passes and scoring goals. The coach warns the team to beware of fouls and for Min-seok in particular to keep his cool.
As predicted, the game gets more violent in the second half, and Min-seok is particularly harassed by the other team. Despite his assurance that he's no hotheaded kid anymore, Min-seok is screaming his head off in no time and has to be held back by referees.
One of his cheerleaders gets so worked up that she shoves her way rinkside and swears at the opponents ("You call yourself a man?!") and argues with the referee. The coach and other players don't interfere, but her older sister Soo-young steps in to pull her away from the game. So the younger sister is Min-seok's fangirl JUNG YOO-AH (Lee Yeol-eum), and the older sister is Min-seok's future accomplice and secretary Soo-young.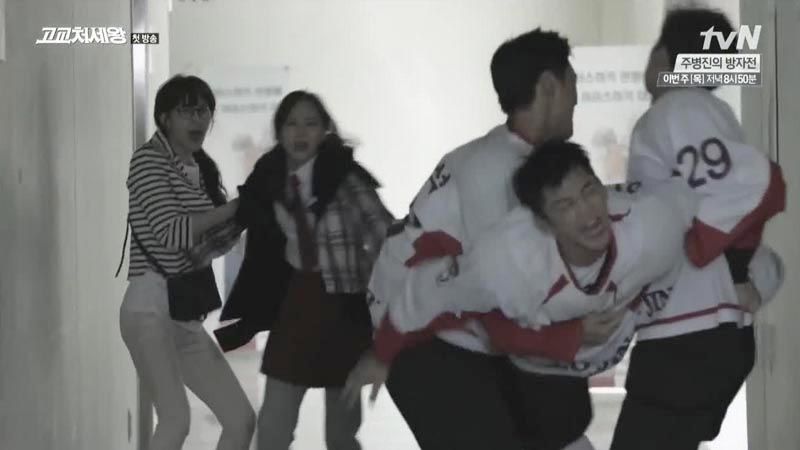 Min-seok's teammates have to tackle him to keep him from going after the other team, and Soo-young takes down her kid sister in a similar maneuver.
The coach punishes the unruly team for fighting, and he exasperatedly asks after Min-seok's violent girlfriend. Min-seok protests that Yoo-ah's not his girlfriend—she's more like a stalker.
Pretty much. At school, Yoo-ah basically arranges herself around Min-seok's whereabouts and inserts herself between him and a couple of younger girls with obvious crushes. She calls him Husband Lee and chastises him for flirting with other girls and not reporting his movements to her. She's pretty domineering (in a cute way), though Min-seok and his two buddies just take her presence with weary acceptance.
Yoo-ah pesters Min-seok to go to the movies with her, taking away his food and nagging until he tells her to hold out her fists together. She does, and he places the bowl of cup ramyun on top of them, effectively immobilizing her since it's still half-full of hot soup. (Ha! They totally stole that from Jealousy, the original trendy drama from the '90s.)
Min-seok's father calls to inform him that his older brother is finally coming back home tonight, after spending the last eight years in Germany. His friends wonder how it's possible for brothers aged ten years apart to look like twins, and Min-seok wonders how it's possible for brothers who look like twins to be so different in brains. As in, hyung Hyung-seok got all of them.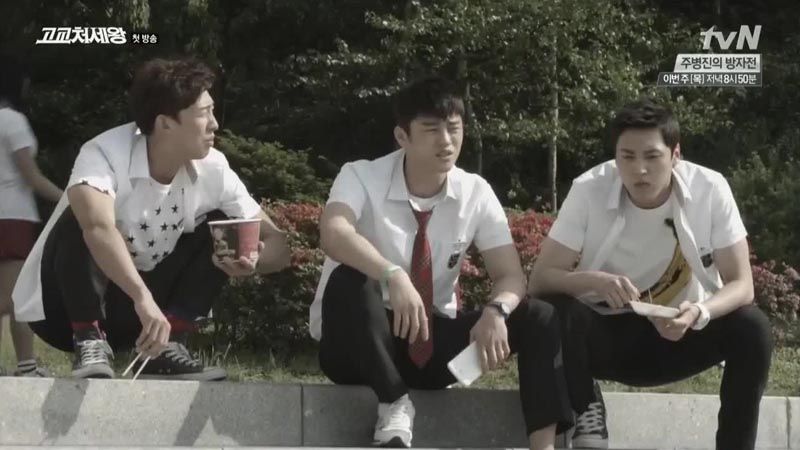 Future secretary Soo-young currently works with the Comfo retail team, and her colleagues gossip about the handsome young project director that they're all angling after. Soo-young is hardworking and bookish, and stays behind at the office to confirm a fax while her colleagues check out. So she's the only one around when said project team director, YOO JIN-WOO (Lee Soo-hyuk), calls with a request to see a contract.
Soo-young practically does a dance of joy to get the chance to see him face to face. However, in her hurry to bring the document to Jin-woo's office, she misses hearing that her fax didn't go through, uh-oh. She primps furiously on her way in, smearing the lipstick she'd haphazardly applied.
Jin-woo is in the middle of an angry business call, and he holds up a memo for her to read. She complies, pretending to be his secretary reporting on the latest development with a contract, and that gives Jin-woo the leverage to swear at his caller and apply pressure about the project.
Jin-woo praises Soo-young for thinking fast on her feet and takes note of her name. He reminds her of their interdepartmental dinner tomorrow, and she leaves in a happy daze.
At the airport, a Comfo employee waits to pick up big bro Hyung-seok at the gate, but wonders why he doesn't show up. Hyung-seok's luggage is the only one still on the carousel, awaiting its owner, but he's nowhere to be seen.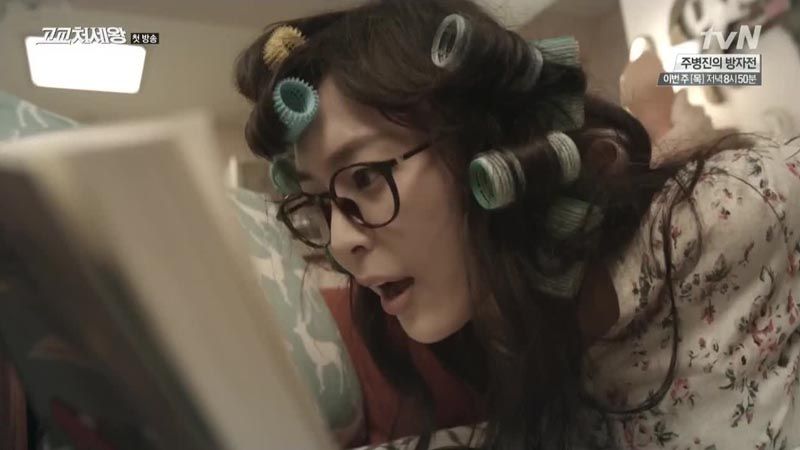 At home, Soo-young reads up on the effects of pheromones, going the extra mile trying to beautify, but since it's not her usual routine, she ends up with strange hair and some wrong ideas. Little Sis Yoo-ah tsk-tsks that her unni is abnormal.
Min-seok goes home to the modest living he shares with his warm-hearted dry-cleaner father, who turns out not to be his bio-dad but the driver who'd once attended to Min-seok's father. His father has since passed away, and it's this man, Choi Jang-ho, who acts as de facto dad now. Min-seok lives with Jang-ho and Jang-ho's senile father, but as Min-seok calls them Dad and Grandpa, so will I.
The feast Dad has prepared goes cold while they wait for Hyung-seok to arrive. Dad's clearly disappointed, and so is Min-seok, who calls hyung a rude punk. Min-seok tells Dad he's too soft-hearted and always getting taken advantage of, but Dad bickers that Min-seok is too rude.
Belatedly they realize that Grandpa has wandered off, and Min-seok scours the neighborhood till he finds him fighting with an ajumma over a chocolate bar. Min-seok takes Grandpa home, who says that he stepped out to get the candy for Hyung-seok, who likes chocolate. Aw.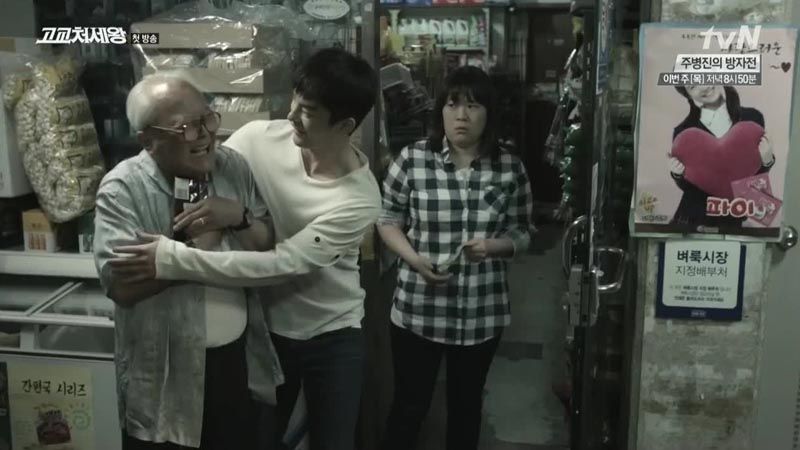 Min-seok looks up hopefully when a taxi pulls up to the neighborhood, then turns away in disappointment when it's just a random ajusshi. Still no hyung.
At the Comfo offices, our shark-like project director Jin-woo gets praised by the president's assistants for effectively getting an investment contract cancelled, probably via last night's phone shenanigans. It's clear that the president himself does not like Jin-woo, however, and he ignores Jin-woo and asks after Hyung-seok instead. Ah, so we've got two camps going here, and the president is on Hyung-seok's side.
Thus Hyung-seok's continued absence is a matter of increasing concern for the Comfo execs who'd scouted him. The retail department's Team Leader Kim is antsy to get a hold of him and bows out of the company dinner to deal with this problem.
Meanwhile, the ladies of the retail team all take extra time to primp before meeting the hottie director. Everyone perks up when Jin-woo shows up at the restaurant, and Soo-young gets super excited when he seats himself in front of her and greets her by name. It's a little embarrassing to watch her get so excited about the "signals" he's sending of his interest in her, but it's also really cute—who among us hasn't been there?
Positive that his solicitousness means he's declaring his interest in her, Soo-young plucks up her nerve and follows him into the men's room. Omg. He takes her oddness in stride, and when she slips on the tile, Jin-woo smoothly catches her.
He asks if she's okay, and Soo-young blurts, "I like you! I've liked you ever since I joined the company!" Aieeee, I take it back, it's not cute at all and entirely embarrassing, stop it stop iiiiiiit.
Unflappable Jin-woo merely says that it's not the case for him, and asks her politely to put those feelings behind her. Cruuuuush.
And so, Soo-young gets roaring drunk on juice boxes of liquor in a convenience store, which just gets me right there. *heart zap* Not that I've ever gotten ugly-drunk in a 7-Eleven, but I feel her pain. She whips out her phone to call Jin-woo (nooooo), apologizing for her behavior and blubbering on about pheromones.
While she's on the bus, Min-seok steps onboard and overhears her leaving a message (or twenty) apologizing in great length about those pheromones and courtship signals. She wears her phone battery down and thus requests the use of Min-seok's phone so she can continue, and he watches in amusement as she finally wraps up the long-winded message.
But Soo-young gets off at her stop with his phone in hand, and Min-seok has to toss himself out a window in his efforts to catch up with her. Luckily that's not too hard since she's doubled over in front of a building. He retrieves his phone but can't quite bring himself to leave her passed out in the street, and tries to wake her to no avail.
So Min-seok calls the number Soo-young had been calling, and explains to Jin-woo that she's drunk in a dodgy neighborhood. He leaves the address and tells "One-Sided Crush Man" to decide what to do, absolving himself of further responsibility.
I'm relieved that Jin-woo's not a total ass, because he changes course to deal with the Soo-young situation. She's completely zonked out and unresponsive so he has no luck finding out where she lives—and we see that around the corner, Min-seok hangs back, having stayed to make sure Crush Man would show up. Aw. I love these characters already.
Min-seok comes home to find a visitor there—Team Leader Kim, who leaps up and calls him Hyung-seok before realizing it's not the right brother. Now the family gets an inkling that something went wrong, because Hyung-seok confirmed with Team Leader Kim that he was on his way to the airport. Team Leader Kim leaves with the request to inform him the moment Hyung-seok contacts home. Still, while Dad worries and wants to call the police, Min-seok tells him to wait.
That night, Min-seok finally gets word from hyung, who calls from a restricted number and tells him to listen in an urgent tone. "You'll have to help me," he instructs. "Go to my office and act like me, just for a while. I'll explain later, but you have to go."
Min-seok protests, but hyung is insistent and reminds him that they're the only blood tie they've got. That works, and Min-seok thinks back to his childhood when his father had raged at him for cutting school, alluding to a dire family (read: financial) situation. He'd driven off in his car… and into a lake, killing himself.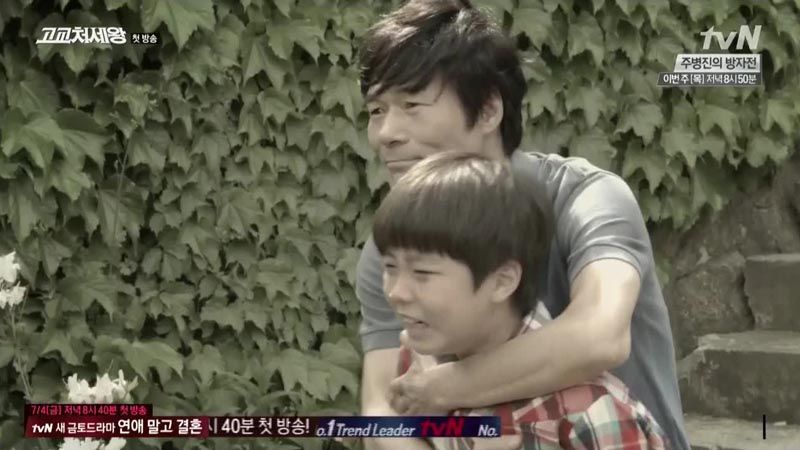 The company had gone bankrupt, and there was gossip that he tried to make his suicide look like an accident to give his family the insurance money. Mom had collapsed and died soon thereafter, and then hyung had left Min-seok in (Jang-ho) Dad's care to study abroad, while Min-seok had sobbed for him not to leave him. Ah, well that explains the combination of hero worship and resentment in Min-seok's attitude toward his brother.
Hyung-seok adds that he's in a "extremely difficult situation" and begs him to keep up the ruse for only a few days. "You're the only one I've got," Hyung-seok says. "I don't have much time. I have to go. I'm trusting in you."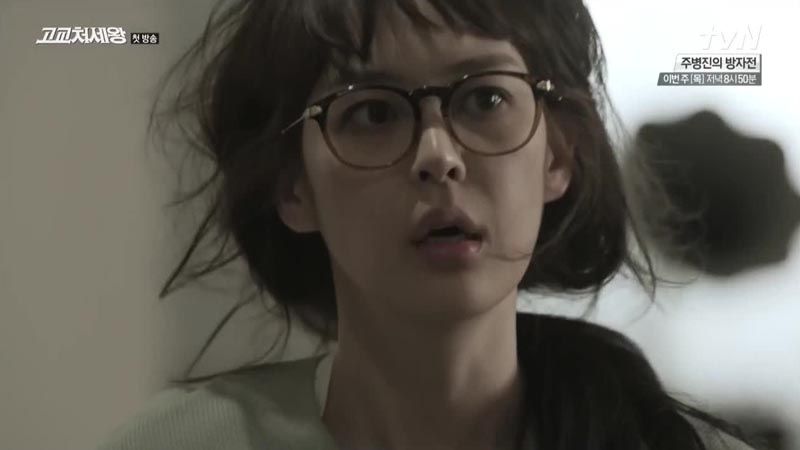 In the morning, Soo-young awakens to find herself in a strange luxurious apartment. The events of last night flash through her mind and she curses herself for calling Jin-woo after her embarrassing display. She reads the curt note he left her, asking her to take her leave while he's gone for his workout.
Unfortunately, before she can leave, someone arrives at the door. It's Comfo's President Yoo, who just… lets himself in? And then when Jin-woo arrives, he addresses the president as Father.
President Yoo barks at Jin-woo for having sent for his mother, who had been living abroad. In hiding, it seems, because Jin-woo assures his father that she can stay out of sight at the nursing home. President Yoo says that his mother will be recognized, and asks if Jin-woo means to stir things up for him and "get revenge."
Jin-woo hangs his head meekly and takes the diatribe, while Soo-young takes the opening to tiptoe toward the door. Jin-woo sees her but doesn't react, and his father informs him that he's hired a young new chief director for the retail team. "You'd better be on your guard!" he warns Jin-woo.
Jin-woo calls Soo-young into his office that morning, where she promises to keep his secret. He says he doesn't trust people easily and therefore can't trust her. She assures him that when you have a one-sided crush, you don't want that person hurt and have no reason to reveal their weaknesses, and therefore she won't whisper a word.
Yoo-ah accosts Min-seok on their way in to school, and gasps at his haggard-looking face. He humors her guess that he was up all night watching porn, since that's probably easier than the truth.
It's game day so he gets excused from classes with his team, but on his way onto the bus, he gets a call from that same number and thinks of his brother's pleas. It's that mention of blood ties that makes him pause, and Min-seok turns tail with a grimace, racing off with his coach in hot pursuit. He jumps the fence and makes a break for it.

COMMENTS
Despite the fact that we all knew the setup from the beginning—weeks in advance for many of us, or about twenty seconds in for those who hadn't been reading pre-show promo descriptions—High School King of Savvy handled its premiere episode quite well. In my view, the key was the way it combined the efficiently plotted narrative with a set of introductions that cut to the heart of each character. I keep using the word efficient but that's really an apt description, and a notable trait that many premieres don't value (or can't achieve). Not only do we get an understanding of who these characters are with a minimum of laboring or description, we also are brought to care, and I'm very pleased about that.
For instance, even the minor side characters are played with an understanding that these are people beyond the lines they're given. Like the sisterly relationship between Soo-young (the harried unni, a little off-kilter, the responsible one) and Yoo-ah (the immature one with all the street smarts). Independently they'd be in trouble—I see one sister getting conned by everyone and the other one conning everyone—but together you feel like they've got each other covered.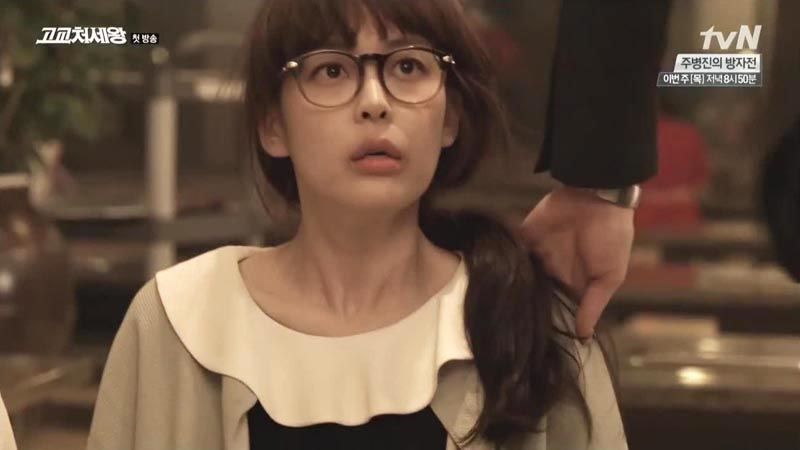 Then there's Jin-woo, a character type that's often rather flat. But I like Jin-woo's professional mien (okay, though you could argue that tricking your business associate into action isn't professional) and his treatment of Soo-young—he has a heart and a conscience, but he doesn't string her along for a second and also isn't any meaner than he has to be. His relationship with the president will probably put him into rival territory since it seems like his father is pushing him aside in favor of the new guy, and I suspect Jin-woo may be dealing with conflicted emotions over wanting his father's approval and being angry at him for the way he was raised. (The show hasn't told us yet but the description tells us that the father-son relationship is hidden, because he was born out of wedlock.)
Jin-woo's conversation with Soo-young toward the end was interesting to me, because she was approaching the situation (of keeping her silence) from a stance of trust being the default emotion, and he was approaching it with suspicion as his default. I'm actually very curious to see if/how he develops with Soo-young because she's his exact opposite—and frankly, in a drama where our hero is so much younger (only 18) I can't exactly root for that to be the main romance).
Especially when I find the little sister cute in her own right, even if it's in a steamrollery kind of way. And while Min-seok keeps Yoo-ah at arm's length, he doesn't actually actively shut her down, so maybe he'll come 'round? We'll have to see where that goes.
But by and large, my favorite aspect of the show is the family relationship between our four men. There's the strained brotherly relationship between Min-seok and Hyung-seok, which feels rich and layered on its own merits, and then there's also the surrogate father/grandfather relationship. Min-seok has an almost knee-jerk visceral reaction to hyung reminding them that they've only got each other as blood relatives, and that's the tie that he can never cut, even if he wanted to. (You get the sense he may have wanted to in the past whenever his resentment bubbled up, though he never would.) But the instant that a stranger makes the casual comment that Min-seok and Dad look nothing alike, he gets tense and hostile, even though no insult was intended.
So he's fiercely loyal and protective, and he's become the glue of his family. I love the dynamic here, and this kind of emotional grounding is what makes me able to put my faith in the show despite its very out-there premise. Who knows what Hyung-seok's real reason is for being out of commission, or whether the show can produce a rationale that feels realistic (I'm thinking of the whole botched plastic surgery excuse in You're Beautiful, although at least in that case the absurdity was played up for comic effect). Still, because the show has gotten me emotionally invested, I'm not so concerned with that—I'm just gonna sit back, relax, and go with the hijinks.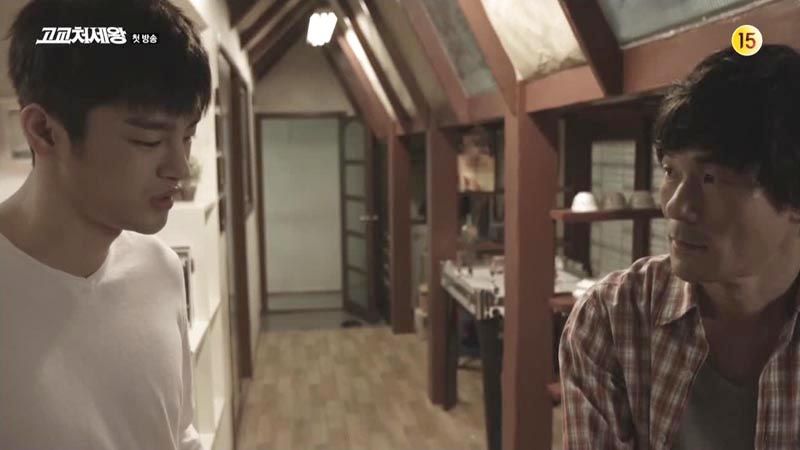 RELATED POSTS
Tags: featured, first episodes, High School King of Savvy, Lee Hana, Lee Soo-hyuk, Seo In-gook