Movie Review: Joint Security Area (2000)
When Joint Security Area (2000) came out in theaters, it quickly became the most successful Korean film until that point, surpassing Shiri's immense success the past year. And like Shiri, JSA is also a story about North-South relations and features an already successful cast (even sharing a major actor) that would go onto even greater — even international — success.
Joint Security Area features the talents of Lee Byung-heon, who has been in a number of hugely successful Korean films as well as Hollywood hits like G.I. Joe and RED 2. Playing across from him is Song Kang-ho, an equally successful actor who was recently in the international co-production, Snowpiercer. And between them is Lee Young-ae, who became a household name in China with the success of Jewel in the Palace, in which she played the title character.
And while his cast might have already garnered popularity through their previous film and television work, Joint Security Area would prove to be writer-director Park Chan-wook's career-making film. Now he is also no stranger to international fame, having since made a cult hit with Oldboy (remade by Spike Lee just last year) and recently getting his first Hollywood directorship with Stoker.
But inasmuch as the rising stars of the cast helped, Joint Security Area like became a hit for similar reasons as Shiri: the North-South story. Let me explain.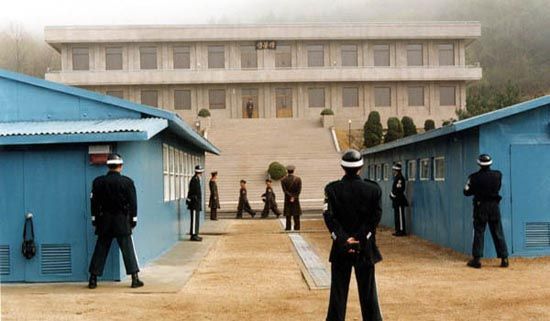 The Republic of Korea was in the throes of a socio-political shift during the turn of the millennium. After decades of military rule, the government was transitioning to democratically elected civilian rule. What's more, in 1998, for the first time in South Korean history, a liberal candidate, Kim Dae-jung, was elected to the office of the president in a stable government.
One of former president Kim Dae-jung's best known policies was a policy of engagement with the North, called the Sunshine Policy. And although not without many critics, this policy and the election of its creator reflected a shift in popular attitudes regarding reunification with the North. And that optimism towards establishing positive relations with the North could certainly have had a role in the success of Shiri in 1999, which contained a story of tragic love between a North Korean assassin and a South Korean intelligence agent.
While in Shiri, the North Korean agents are generally depicted as adversarial, even the conflicted female lead played by Kim Yun-jin, Joint Security Area reflects the increasing optimism of the South Korean populace by introducing fully sympathetic North Korean characters. And, while still tragic, then it goes a step further and explores the case of the development of an actual friendship between North and South Korean soldiers stationed at the Demilitarized Zone (DMZ) between the two Koreas. So JSA's success could be considered representative of the optimism of the Korean public for improved North-South relations at the time.
Unlike Park Chan-wook's later films, Joint Security Area was actually an adaptation of a novel: DMZ by Park Sang-yeon. We start the film version at a Demilitarized Zone guard house in North Korea. Two North Korean soldiers are killed and an injured South Korean sergeant, Lee Soo-hyeok (Lee Byung-heon), is rescued while fleeing back to the South. The North claims an unprovoked assault while the South believes that Lee was kidnapped by the North. This obviously causes a great deal of tension between the Koreas and when an impasse is reached, they decide to call upon the services of the Neutral Nations Supervisory Commission (NNSC) to investigate what happened and resolve the dispute.
As Swiss-Korean NNSC officer Sophie E. Jean (Lee Young-ae) investigates the conflicting stories of Sergeant Lee and the only surviving North Korean officer, Sergeant Oh Gyung-pil (Song Kang-ho), she discovers her witnesses are reluctant to talk. And then she pieces together a story of unexpected friendship between the guards stationed across each other, in countries still technically at war.
The framing of the story in Sophie's investigation and the eventual result, while not terribly clever as a mystery, does a bit to set up the overarching theme of brotherhood stifled by ideology, allegiance, and fear. The elder hyung, Oh Gyung-pil, is humane and kind-hearted, contrasted against his more ideologically rigid commanding officer, and sets into motion the possibility for Sergeant Lee to establish clandestine correspondence. This is striking contrast to many renderings of North Koreans up to this point as most North Koreans in cinema would never really subvert their country for the sake of brotherhood or love (Shiri and The Spy from 1999 being the only other films to do this).
Similarly, the younger soldiers, Lee, his junior Private Nam Seong-shik (Kim Tae-woo), and Oh's junior, Jeong Woo-jin (Shin Ha-gyun), all radiate a kind of optimism mixed with fear, representing a popular sentiment of the time.
Sophie stands for the investigation of this potential for rapprochement between the two Koreas, trying to discover what is keeping these nations apart, and discovers that the government institutions do not want truth or even the revelation that friendly relations could exist between them, although the film doesn't go so far as to explain why. But despite JSA's tragic end, it still seems to call for its audience to investigate what is truly hindering reunification, including our their the two Koreas' sins against each other.
And in that goal, I think Joint Security Area succeeds. While some of the scenes primarily involving Sophie and her NNSC peers fall a little flat, in part due to clumsy English language dialog and middling performances, it sets a tone of objectivity. Though the actual investigation itself neither succeeds as a mystery or as a thriller, by creating the theme of sober investigation, it encourages the audience to investigate what is truly dividing the Korean people, perhaps before a hypothetical tragedy can create more problems for reunification.
This story of reconciliation is, of course, further enhanced by a fantastic production. Director Park displays strong flashes of his capacity for visual composition here. From his use of 360 degree spinning point-of-view camera, to his spatial match cuts and dissolves, Park presents the story with a decidedly cinematic language. And the production values of the film match, with beautiful 35mm film stock (an advancement for the industry at the time) as well as a lot of care and detail placed into building a full replica of Panmunjom.
The cast is replete with solid actors, with perhaps the exception of Sophie's fellow NNSC members. The four soldiers central to the story in particular capture their distinct roles well and share excellent chemistry with each other. Song Kang-ho is especially notable in that he effectively steps away from his commonly comic roles (at the time) for an excellent dramatic turn. Lee Young-ae gets stuck with English dialog and her Korean accent results in a bit of an unconvincing performance when she has to speak English as, being Swiss, you would expect her to have a Swiss French or Swiss German accent instead. Also, you wouldn't expect Sophie to speak Korean so fluently, given her being raised by her Swiss mother, having acquired it as a second language in school, and never having been to Korea before.
But Lee Young-ae's language issues and the NNSC actors might be the only really weak spots in a film that otherwise manages to capture both an internal drama about a taboo brotherhood and a greater representation of the popular desire for reunification, or at least rapprochement, of the two Koreas. Even if the mystery and thriller aspects of Sophie's investigation are diminished, it still effectively acts as a narrative vehicle for the audience and a call to action without being propaganda.
In 2000, Joint Security Area tapped into the desire and optimism of the people of South Korea in regards to the North, combined it with excellent cinematic filmmaking, and became the most successful Korean release at the time. By itself, the film won over five million admissions and did double the business of its closest competitor, Mission Impossible 2. JSA might not have been the first to draw North Koreans in a sympathetic light nor make a huge blockbuster out of it, but in many ways it hit a cultural zeitgeist in a degree that its predecessor wasn't able to.
Since Shiri and JSA, sympathetic depictions of North Koreans have become common, as we can note from recent films like The Berlin File, The Commitment and Secretly, Greatly. But because of its reflection of South Korean sentiment at the time, Joint Security Area still remains one of the best examples of Koreans dealing with North-South relations through cinema to date. That, as well as the abundance of talent both in front of and behind the camera, makes JSA essential viewing for Korean film lovers. 9/10.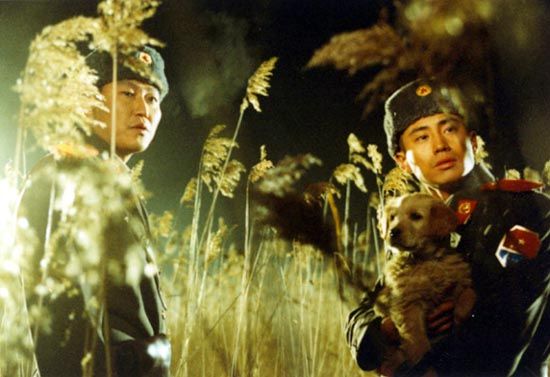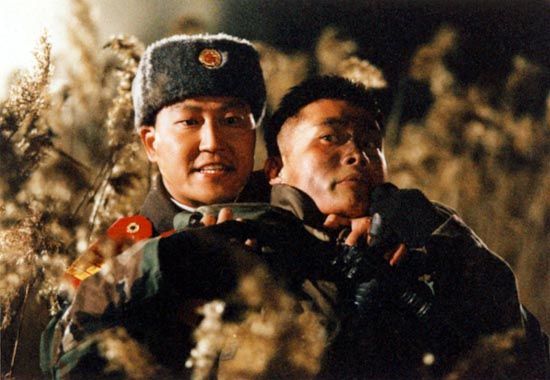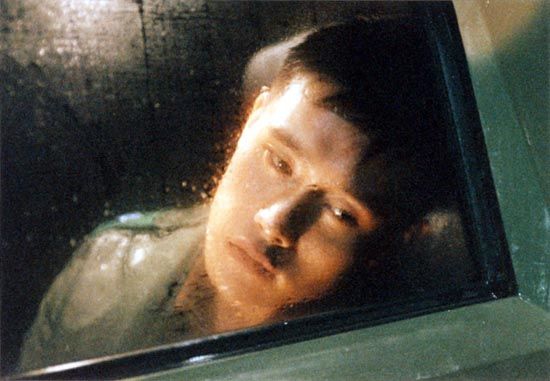 Tags: featured, Kim Tae-woo, Lee Byung-heon, Lee Young-ae, Park Chan-wook, Shin Ha-kyun, Song Kang-ho