My Sassy Girl aiming for double revival on big and small screens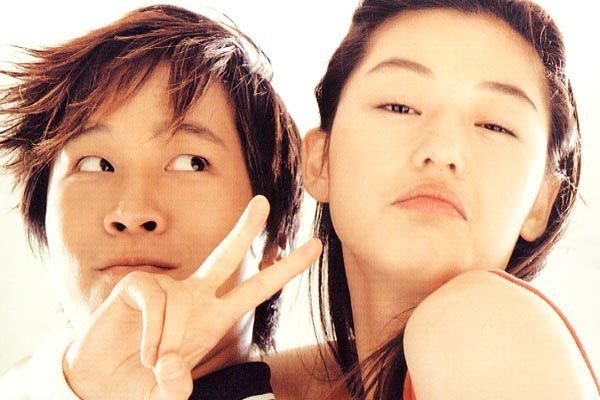 Rom-com classic My Sassy Girl wasn't merely a box-office hit, it propelled its two leads to stardom, bolstered (or maybe even kickstarted) the spread of Hallyu when it was still in its incipient stages, and set the bar for rom-coms to follow. So it's no surprise that there have been numerous attempts at spin-offs, remakes, and adaptations in the 13 years since it released in 2001 (there were U.S. and Japanese versions, neither of which made much of a dent).
Now we're looking at not one but two potential (and separate) projects: one a movie sequel, another a drama adaptation.
The movie sequel, My Sassy Girl 2, is a horrible idea that I hope dies a fiery death before production gets underway, because you cannot recast Cha Tae-hyun but leave out Jeon Ji-hyun, and paint the movie as a follow-up to the original movie wherein our hero falls in love with a second sassy girl (to be played, possibly, by idol starlet Victoria). This is a travesty in many, many ways and whoever thought it up should be fired. And slapped.
News of the movie production broke a couple months ago, but now we also have fresh reports of a second version that sounds more like the original movie reimagined in drama format. The announcement did not disclose details of the plot, merely stating that production house RaemongRaein (producers of Sungkyunkwan Scandal, Ad Genius Lee Tae-baek) has been planning this drama adaptation for a couple years; in 2012 the drama script earned runner-up status in an open scriptwriting competition. The producers had hoped to prepare the series for a late 2013 airing, but production stalled.
However, as none of us need to be told, the insane popularity of You From Another Star recently reignited interest in Jeon Ji-hyun and the movie, giving this drama project the push it needed. Now producers hope to get the drama ready for an early 2015 broadcast.
Aghhh, I don't know if I like this idea. I'm less averse to this drama idea than the movie (which should be shot and buried, stat), but we've seen hit movies mangled in drama remakes (ahem, Level 7 Civil Servant) and I'd rather they just leave My Sassy Girl to enjoy its place in Chungmuro history and our collective memories. Don't mess with a good thing!
Via Mk.co.kr
RELATED POSTS
Tags: Cha Tae-hyun, Jeon Ji-hyun, remakes