Odds and Ends: Imaginary money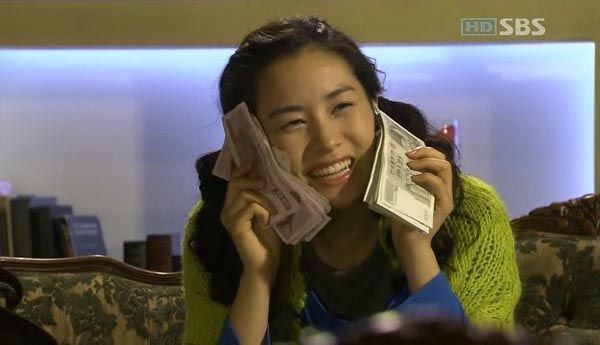 javabeans: These chats are fun, but sometimes I swear I'm at a loss about what new interesting thing to talk about.
girlfriday: Yeah we often sit here for long periods of time just making false starts at conversation. It'd be seriously awkward if we weren't better friends.
javabeans: Granted you and I could shoot the breeze for hours without end, but I mean interesting for other people. So we decided to do the lazy thing and ask you guys for questions you want us to answer or topics you'd like covered in future Odds and Ends posts. See how I made you do all the work there?
girlfriday: Way to pass the buck. I approve.
javabeans: But we still need something to talk about in this post, so I'm just going to sit here asking random questions I've never asked you before for whatever reason. Like how does it feel to tower over the rest of us peons all the time? She's tall AND she wears four-inch heels! There's no winning.
girlfriday: Well, you mostly don't let me win at other stuff, so I have to play to my strengths. My momma made me tall, and I like to flaunt it.
javabeans: My momma made me not-tall, sadly, though I'm not as tiny as she is, which is under 5 feet. True fact: When she was in school in Korea, she played basketball because she hoped it might make her taller. What, we're writers, not scientists.
girlfriday: That is the opposite of sense. My mom is actually pretty tall for her generation, though she's too frail for sports.
javabeans: Better than my excuse, which is too lazy for sports. Have you ever tripped in those heels of yours? Embarrassing story: I tripped hard in platforms not too long ago and the first thing out of my mouth was "Omona!"
girlfriday: How very ajumma-esque of you. Nah, I'm pretty stable in heels, though the real tragedy is probably how little I actually wear my pretty shoes, because that would require me to leave the house and not be chained to this desk.
javabeans: What's your desktop image RIGHT NOW? (What, this is random question hour!)
girlfriday: Jung Il-woo as the Scheduler. And my secondary monitor has Lee Min-ho as City Hunter. Why, what's yours?
javabeans: To absolutely nobody's surprise, both of mine are Lee Jun-ki as the Joseon Gunman. I make no apologies.
girlfriday: There are only like two images of him in that drama, total!
javabeans: Four! They're on rotate okay?
girlfriday: What's the last non-drama thing you watched?
javabeans: Brooklyn Nine-Nine. Andy Samberg both amuses and annoys me. It's his thing. What about you?
girlfriday: Um, Orphan Black maybe? It's this BBC series about clones. You know, I like my sci-fi.
javabeans: I would say you're the bigger genre/paranormal fan, and I'm more hard sci-fi. Maybe I should be watching this BBC show. You know, in the other life I have in that other universe with limitless time.
girlfriday: See, this is what clones are for.
javabeans: But don't you think you'd still not trust your clones to do things, and want to do everything yourself anyway?
girlfriday: Yes, but truthfully, not nearly as much as you would.
javabeans: I can't allow myself to enjoy nice things, basically.
girlfriday: If you had five thousand dollars that you HAD to spend on frivolous things in 24 hours or the money would disintegrate, what would you buy?
javabeans: Can I buy something worth five grand and keep the receipt?
girlfriday: This is why you can't enjoy nice things!!
javabeans: I knooooooow. My anxious responsible side would ruin all the fun, all the time. What would you buy?
girlfriday: I dunno, a scooter? It fits the frivolous bill to a tee, since I have a car and I couldn't even use the thing to go buy groceries, so mostly it would be for random drives around the neighborhood.
javabeans: Or you could sell it, then use the five grand to pay off your car.
girlfriday: Sometimes I wonder how I'm even friends with you.
javabeans: It's a mystery.

RELATED POSTS
Tags: conversation post, Odds and Ends