Running Man: Episode 201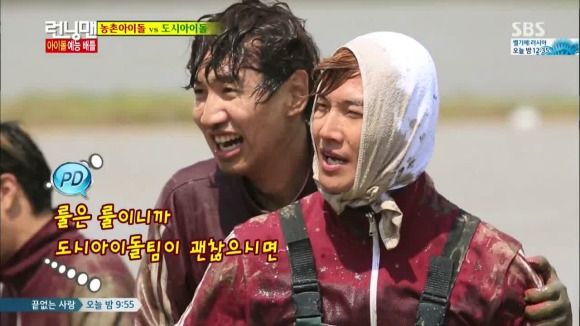 It's another Idol Special on Running Man this week as the cast gets down and dirty to work the field and sometimes get too close for comfort with the farm animals. Given how much they spend their time in the muddy fields, you could almost could call it that instead. So will the cast give a helping hand or be too busy trying to knock their opponents down?
EPISODE 201. Broadcast on June 22, 2014.
On this sunny summer day, our fieldhands cast drives into the opening location at a snail's pace. After taking a beat to tease one another on each other's fashion choices (though, notably, everyone's wearin' a bit of denim today), they wonder about the idol tie-in to today's theme.
I kinda love how they play along with Jo PD's pitch that they are the top idols in on this farm and will compete against the city idols. Cue the barrage of today's guests, introduced to the tune of Kim Gun-mo's "Wrongful Encounter": Minho (SHINee); Chansung (2PM); Kang Min-hyuk (CNBLUE); Sunggyu & Hoya (INFINITE); Jin-young (B1A4); and Bora (SISTAR). Phew, did I get everyone?
Oh how cute—the idols break into synchronized line dancing, but the cast can't stand to see the young'uns ruin a pop classic and show off the actual choreography. LOL, way to date yourselves, you guys.
The cast doesn't hesitate to tease some returning guests, like Minho's fiery competitiveness ("He looks innocent at the opening, but he's a force later!" "He cries when he loses!") or the insistence that Chansung's nose is even larger than Big Nose Hyung's.
Then they note how Min-hyuk is comedienne Song Eun-yi's favorite (both belong to FNC Entertainment; also, she and Jae-suk are longtime friends) as Jong-kook jokes, "She paid money to join that agency." Min-hyuk: "How did you know that?"
Sunggyu is determined to impress today, much to the staff's chucklings. B1A4's Jin-young has starred in the movie Miss Granny and his bubblegum pink hair has the cast wonder what it'd be like if Gary's hair was pink, too. As expected, Bora gets the warmest welcome as the only female guest today.
Our two "idol" teams settle for the names City Idols (Doshi Aheedol) vs. Rural Idols (Shigol Aheedol), and then Jae-suk names each cast member to each idol counterpart. Sunggyu gets offended at being the Haha of the group, to which Haha's all, I'm gonna take care of you, so pipe down!
When Jong-kook interjects to say that comparing Hoya to himself will only upset Minho, Jae-suk returns, "Minho's like me." No one believes it. Hahaha. And then Jae-suk's attempt to find a Kwang-soo counterpart ends with: "There isn't anyone." Aww.
Our two teams will face off in different farm games, where the winning team in each round will be given an advantage useful for their final mission. It sounds like today's battle is a fight for pride, as the victors will be known as the nation's idols.
Everyone is apprehensive when they arrive at the muddy field, though the RM cast is much more at home. Jae-suk: "We do this every year! Even a good kid like GD went through this!"
Thus the trash-talking begins, as Haha remarks that the muddied field newbies will be gargling muddy water today. Also, their prettified dyed hair will take a beating: "Remember how GD bleached his hair? This is how."
Minho is the only rarin' to go for this first game, and Sunggyu insists that he's been exercising lately. How long? "Two… no, one month."
Haha tries to salvage the moment by mentioning that Sunggyu's known as a fair ping-pong player, only to be met with Sunggyu's confused reaction. I'm confused, too—are you trying to set him up for a joke? Once Sunggyu realizes his variety hyung is trying to help him out, he quips, "You should have given me something good [to work with]!"
Back to our game: one player will hurdle over their teammates, grab the flag, and run back first to win it. Looks like long-legged Kwang-soo will go up against agile Minho, but I don't get why swimming in the field will help our giraffe any.
As expected, Minho flies through the air at the start whereas Kwang-soo struggles over his teammates—at one point, he dives and lands headfirst into the water. Twice. Wait, thrice. Hilarious for us watching, disastrous for his team, screaming.
Thus Minho wins easily, and immediately the cast asks to change it up into a relay race instead. The staff sounds like they're convinced, forcing Chansung to cry out: "But we WON!" Bora's the one to voice her agreement, joking that the Rural Idols' distressed state will give them an advantage.
So the teams line up again, and when Kwang-soo whips out his trademark vow to put his entire wealth on the line, Minho throws the words right back at him. Jae-suk: "Kwang-soo's only got debt." Kwang-soo: "Then I'll give you all my debt!"
All eyes fall on Gary when Taek PD reminds them not to run without the baton, to which Gary cries, "I won't! Am I that stupid?!"
Haha gets the lead at the start and Gary widens that gap while poor Jin-young falls and resorts to crawling behind. You're going to have to sacrifice that hair sooner or later today! But Chansung turns the tables and Jae-suk falls several times trying to catch up.
Feeling confident, Hoya trudges down the field (to Chansung's exasperation, ha) as Ji-hyo tries to close that gap. He finally picks up speed when Jong-kook comes marching, which means the last runners Minho and Kwang-soo run off simultaneously.
They both 'round the corner at about the same time and now it's down to the final spurt. And by mere inches, Minho runs past the finish line. What a close race!
Remember that advantage mentioned earlier? It's a biggie: deprive the opposing team of one member. We all know the idols are thinking of Jong-kook.
Jae-suk confronts the PDs about not informing everyone of that beforehand, but Taek PD stands firm, and so Jae-suk washes his face with muddied water in protest. Jong-kook gets dunked moments later.
At Jo PD's suggestion to request the idols remove Ji-hyo from the roster, Jae-suk asks, "Could you take Suk-jin off instead?" Ha, since Ji-hyo's a more formidable opponent. So true. Chansung's getting all the one-liners today, including this retort: "Suk-jin's our greatest fighting power."
Willing to meet any request thrown at them, the RM cast even dunks Jong-kook into the water again on demand. So Ji-hyo is taken off the roster and Jong-kook vows that their opponents will regret making him angry.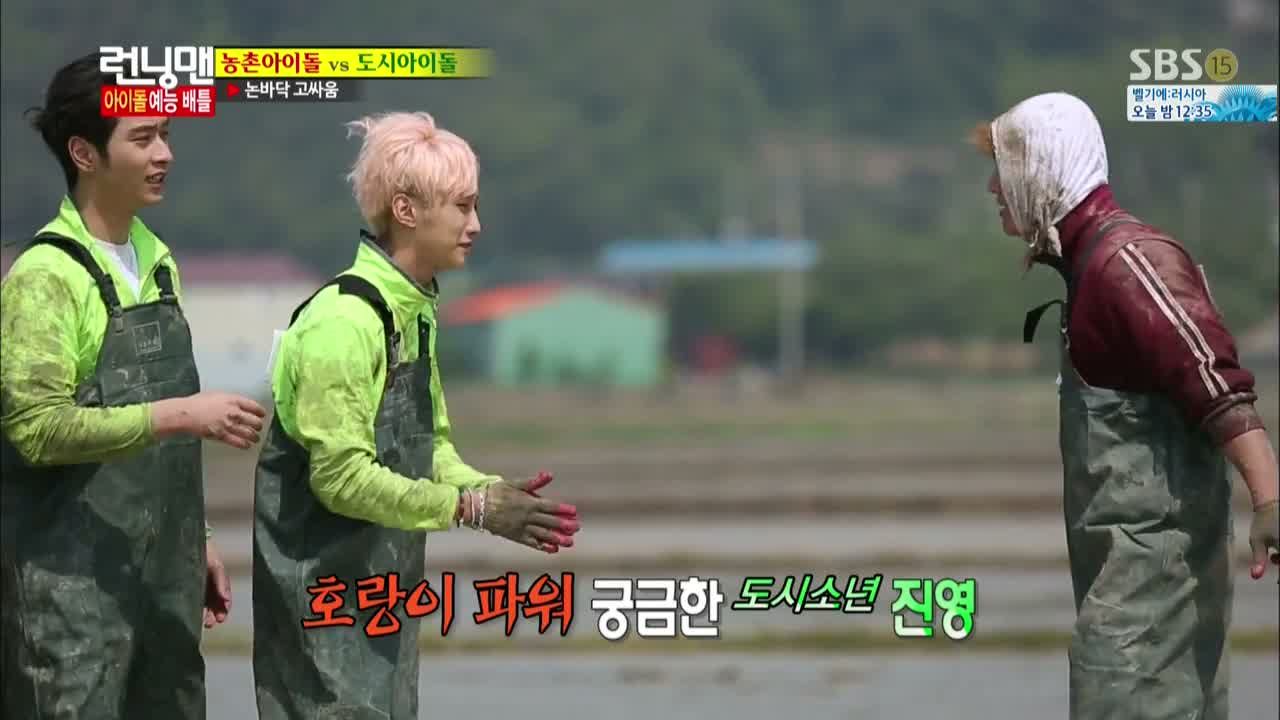 Before their next game of last team standing on the platform, Jae-suk vows that they'll get all the colored-hair idols into the water. For some reason, Sunggyu's bent over playing with the water, so Chansung does the honors and pushes him in. Letting out an empty laugh, Sunggyu chirps, "If you weren't my sunbae…" (They hug it out. Aw.)
Jin-young reluctantly accepts a 1:1 against Jong-kook, curious to see if the Tiger is truly strong in person. He slips before getting the chance to find out.
Suk-jin and Sunggyu show off their strengths before the mat-hyung makes the first move. Surprised, Sunggyu remarks, "You're still quite vigorous!" A word choice you'd probably say to an old man.
But then Suk-jin shows just how much he's still kickin' it and pushes Sunggyu off the platform. There's some more trash-talking between the teams, including the RM cast's insistence that Kwang-soo shouldn't be underestimated.
Our Kwang-soo may be strong, but he isn't always the brightest—he eliminates himself by momentarily stepping off the platform. After that comes the real battle—it's chaotic as both teams charge at one another, and Min-hyuk is the first casualty with Jin-young falling in after him.
Chansung is pinned to the platform, so when the other boys retreat, Bora's the one to step forward and grabs Jong-kook's hair. Owww.
Minho uses that distraction to his advantage to charge, only that results in two more eliminations. Only he and Bora are left to take on the five remaining RM cast members, and Bora latches onto Haha's hair with her other hand. Double owwwww.
It isn't long before she and Minho are both pushed out, however, and the Rural Idols win themselves a basket full of scrumptious goodies along with a chance coupon. Suk-jin is the only one unable to celebrate, since he's fighting his own battle with opening a bottle.
Afterward, our happily dry City Idols are busy applying sunscreen. When Sunggyu asks Bora to put some on for him, Minho obliges his request. Ha. But then Bora offers to help anyway, and she betrays a mischievous smirk before slapping some onto his neck. Muhaha.
For their second game, our teams must complete at least three out of five mini-missions first to win. They'll travel in groups of three and rou, and if one team succeeds at a particular station, the other must move on.
When asked how it felt to go up against Jong-kook, Jin-young answers that his informant claimed Spartakooks is much smaller in person. Kwang-soo: "That informant is definitely dead-meat if you let their name slip." Jong-kook smiles, but he tosses back, "I'm actually quite slim!"
At one of the stations, our teams of three are tasked to decipher a word hidden in dirty pots and pans. Restricted to using traditional farming equipment to scoop water, Haha quickly discovers that more water ends up on him than the pan.
Sopping wet, Haha cries, "It hasn't been that long since we were in the field! How many pairs of underwear did you want me to bring?!"
The City Idols are smarter about conserving water, and Haha is more spirited after finding the first couple of characters.
Meanwhile, the other City Idols foursome are tasked to name baby black goats and successfully hang nametags on them. Problem is, the goats are too shy and scamper off to hide.
Over at the field, the RM cast foursome are hard at work to collect 500g of ginseng. Jong-kook does a little math in his head, figuring that's about two chicken breasts. Ha, he even seems happy that they're all breaking a sweat right now.
Kwang-soo: "The world would be easier if there were servants like Jong-kook." Ji-hyo uses her brains to put Jong-kook's brawns to use, telling him to plow the field. Jong-kook: "Do you think of me as a cow?"
Back at the word-guessing station, the RM trio figure out their clue first (Kuala Lumpur), though Jin-young's guess of "Hungary Buffet" made me giggle (theirs is also a capital—Budapest). With the RM trio's success, the City Idols are forced to move on.
The City Idols foursome decide to move on as well, breathless from failing to catch up to any goats. They start digging in the ginseng field (seeing as they're alone, I suppose this also means the RM foursome moved elsewhere, too), and it's looking like just a grueling a task…
…until Sunggyu finds the first sprig. Oh yay! But it's only 50g. Oh boo. Sunggyu: "We have to find ten of these!"
As for our RM trio, they let out a dejected sigh at seeing even more water. This time they must collect a kilogram of loaches. Haha says full of sarcasm: "Wow this REALLY looks like fun!" Jae-suk: "We're the only ones here."
Elsewhere, the City Idols trio is tasked to move seven adorable piggies to another enclosure. Chansung initially takes two, but hands one off to a frightened Jin-young, and the poor things (the pigs, not the idols) squeal for dear life.
It's pretty hilarious how Hoya is more afraid of the piggies than they are of him. They're adorable, just like you!
At the same time, Minho wonders if he should let his hoes direct him to find more ginseng. Ha, it actually works. While Minho discovers sprig after sprig, Min-hyuk sighs at all the potatoes he's found. He's like a potato fairy!
Slowly but surely, the four idols plow the field digging for ginseng… and then finally, Min-hyuk finds his first sprig. And that's enough for them to get their first stamp.
So it turns out that the RM foursome are busy moving their own set of piggies, trying to beat the City Idols trio to the punch. Tied at five each, Chansung yells at the others to stop Kwang-soo while he tirelessly tries to scoop two more in his arms.
Unfortunately for the City Idols, however, the RM cast gets their second stamp. So the City Idols trio hurry over to the loach paddy, where Jae-suk teaches the city boys on how it's done. Then Jin-young shamelessly takes his basket of loaches away. Hahahaha.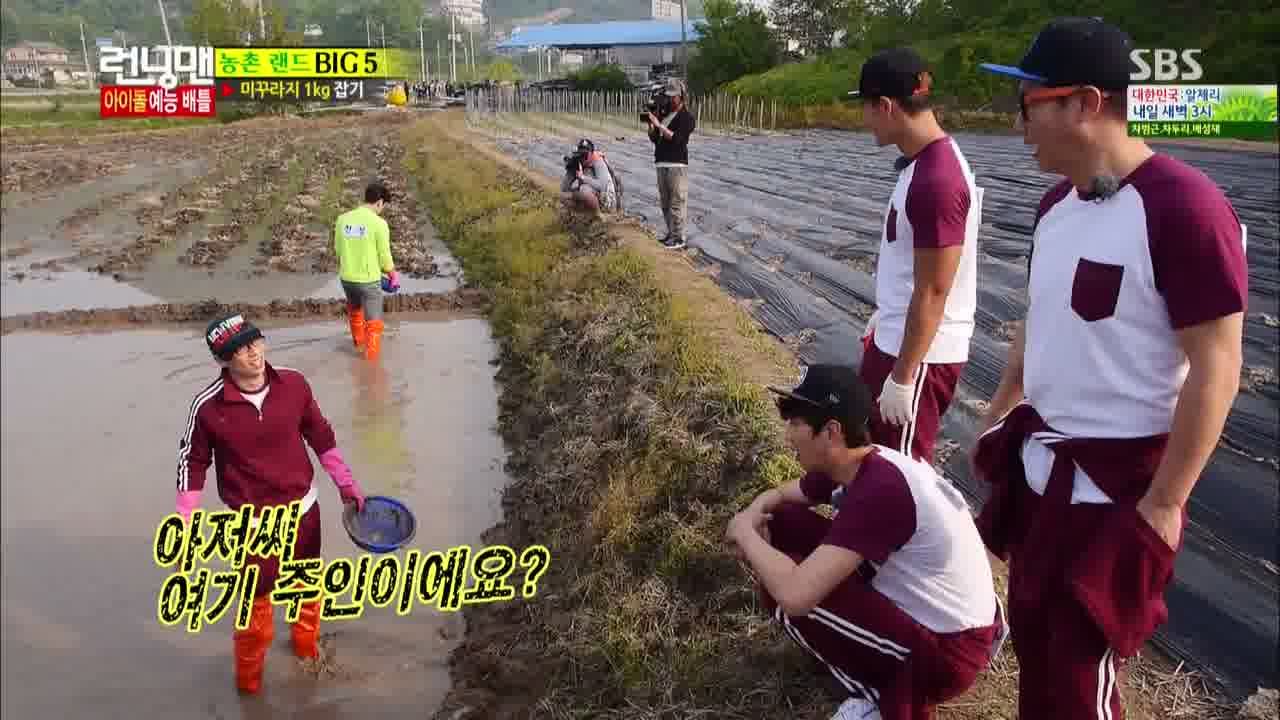 Even though Jae-suk brags about his loach-catching skills, he's been at it for a while so he tells Haha to buy some fish at the local mart. Lol. And though the others come by to supposedly cheer them on, the Easy Brothers ends up nagging about their loach-catching methods instead.
Pretty soon, Jong-kook's giving tips too, to Jae-suk's annoyance. Jong-kook and the Easy Brothers let them carry on for a few more grueling minutes before telling them to stop… because they already completed three tasks.
Evidently, the RM foursome succeeded naming the baby goats (aw, one of them's named "Mungji"). "It took us two minutes!" "Just use your brains."
Having had enough of Suk-jin's bragging, they ask how many goats the mat-hyung touched. "None." HA.
Jin-young argues that the Running Man cast has the home advantage, which ruffles their feathers. Jae-suk: "We haven't been here in years!" Jong-kook: "I live in an apartment!" Sure they were on Family Outing, but they live in the city too!
At Bora's counterargument that something like dancing skills would give the idols an advantage, Jong-kook is all, I used to be a backup dancer! and even Gary shows off his moves.
The RM cast are feeling not-that-sorry about another win, to which Chansung says they can fork over their chance coupon, then. Jae-suk: "That'd be against the rules!" Min-hyuk offers to exchange it for all their potatoes, and he's told to share them with Song Eun-yi.
I have to admit, the City Idols look pretty beat by the time they arrive at the schoolyard by sunset. Chansung swears that he's totally alert, and Taek PD remarks how the results thus far are the worst in the show's guest idol history.
Sunggyu says he believes that the process is more important than the results, and Jae-suk counters that neither of those aren't that great. Here, it's a Nametag Basketball game, where they must find basketball and make a basket in their opponent's designated hoops in order to eliminate them. They're also free to steal each other's basketballs.
Both teams take on different strategies, and then they're off! Jong-kook is busy guarding his own basketball hoop while the others struggle to find any balls. Both Chansung and Jin-young find some basketballs and zero in on Kwang-soo's hoop.
They shoot it in anyway, resulting in Kwang-soo's elimination. Needless to say, he ISN'T happy about it and sits alone in the elimination room, where he notes how the cameras aren't even set up yet… and then screams where Jong-kook's hoop is. Aww.
Chansung does a little dunk to eliminate Jae-suk. Meanwhile, Jin-young hides a basketball behind him and for a moment, it looks like Haha didn't notice, but he does a double-take and tries to take off after him. Minho's there to take it, however, and he runs to Jong-kook's hoop… where Spartakooks is waiting.
And then he dunks it in. Guess Minho wasn't kidding about being good at basketball. Soon enough, there's four RM boys sitting in elimination and they all liken themselves to famous athletes sitting on the bench. Tall Kwang-soo gets compared to former basketball star Han Ki-bum (who stands at 205cm).
Whaddaya know—Gary discovers a basketball hidden in the sand. But Minho has spotted him from afar and calls for backup. Gary doesn't stand a chance 3:1 and his basketball gets taken away.
Minho runs inside to eliminate Gary and Suk-jin isn't far behind. As the only one left on her team, Ji-hyo finds the idols trying to make baskets at her hoop and makes it just in time to see herself eliminated.
Their final mission will be a relay race, but before they proceed, the teams must choose between options that could(?) be advantageous. And this relay race is no joke, given its large scale and none of these look like easy tasks, even with whatever advantages the teams chose.
For instance, the RM cast is stuck with filling a jar with a smaller hole (vs. a large one) with water while carrying the lighter rice sack. The City Idols' choice turns out to be balancing a jar on top of a tray. Chansung's astonished expression is priceless.
And after all these numerous tasks, including starting a fire, the final sprinter will dash to the finish line.
As everyone settles into their stations, tensions and nerves run high all-around. At the start, Suk-jin pulls ahead of Jin-young as they carry their water pails, careful not to spill too much.
Then Haha and Sunggyu hurry to fill their jars, though both have holes in them. After Haha wraps up first, Jong-kook takes off into the field and he actually struggles climbing over that massive mountain of bales.
He gets over eventually, and as Kwang-soo struggles with his rice sack, Minho goes up and over the bales in a flash. That gives Chansung a chance to catch up, but Kwang-soo succeeds and passes the baton to Ji-hyo.
…Only that baton falls back into the water when Bora tries to hold her back. What luck—momentum is in Chansung's favor as his heavy sack rolls off and over on the first try. Bora has barely taken a step whereas Ji-hyo has reached her destination.
But Bora arrives while Jae-suk is still trying to create sparks. Both he and Min-hyuk try to get their fire going… and it's Min-hyuk's fire that alights first with the other not far behind. But the flames have to reach the rope above, and using some kindling, the RM cast gets there first (safely, as the captions remind us).
With that, Gary takes off and it looks like he has the clear advantage… and one of his shoes fall off. Hoya darts down as fast as he can to catch up while Gary takes off again… and then stops mere feet from the finish line to taunt Hoya, who asks that they start again together.
"Why should I?" Gary asks, as he glides past the finish line, giving the RM cast the win.
Everyone gathers together for the closing, where the victors take issue with the inference about how the young'uns don't know how to use a flint stone: "We didn't live in the primeval age either!"
At least the cast can boast about their prizes: gold rings and the title of National Idols.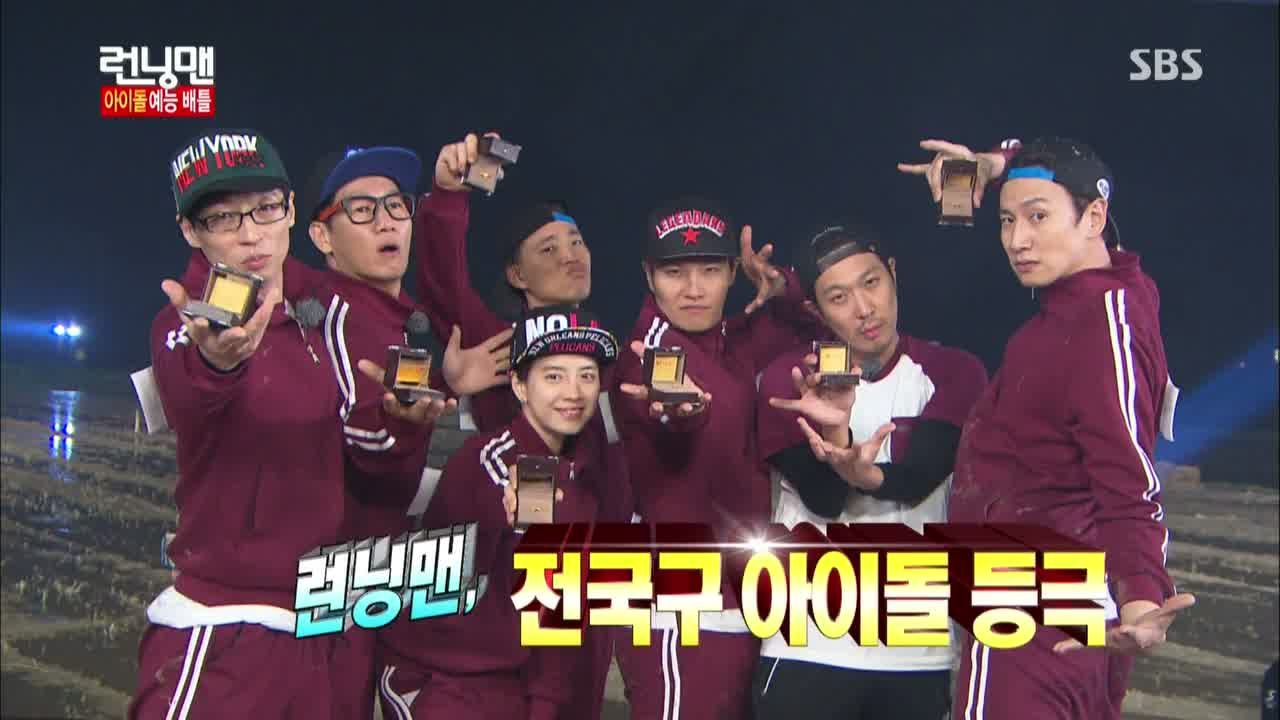 RELATED POSTS
Tags: featured, Haha, Ji Suk-jin, Kang Gary, Kim Jong-kook, Lee Kwang-soo, Running Man, Song Ji-hyo, Yoo Jae-suk