Trot Lovers: Episode 2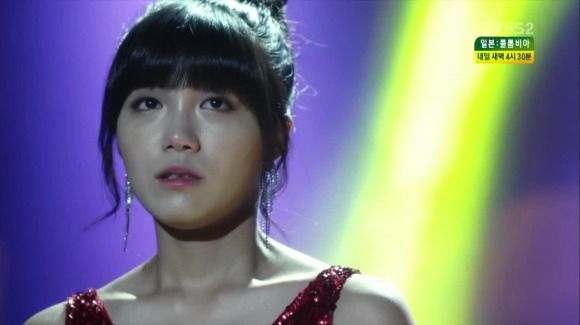 The show continues on its zippy pace as both Chun-hee and Joon-hyun reluctantly realize how vital it is they work together to make Chun-hee a singer. But while Joon-hyun is focused on his bank account, Chun-hee is focused on her family. Hilarious hijinks ensue when Geon-woo and Soo-in finally meet, or at least hilarious for him, mortifying for her. But at least they seem to have enough chemistry to make a second-lead pairing believable. As for our leads, well, of course they're going to end up together, because not matter how much they bicker, there's still the glimmer of affection between them. Or maybe I'm just blinded by all the sequins.
EPISODE 2 RECAP
After Joon-hyun's furious outburst at the "Medal Meddler" for ruining his reputation and career, all he's met with is a hilariously awkward crow sound and a confused Byul wanting to know this "ahjussi" is. He responds to by putting on his trademark sunglasses and flashing a beaming smile. Oh, the ego.
It's that ego that makes him storm off like the diva he is as he shouts that he can't, no, he won't train Chun-hee. She just watches him go, wondering what made him show up out of the blue.
Joon-hyun stands forlornly outside with his suitcase and guitar, wondering where he should go now that he's been kicked out his fancy apartment. He's startled by the sudden appearance of President Jo (sporting his own pair sunglasses and broad smile, ha), offering him a ride.
During the drive, Joon-hyun tries to explain that it simply isn't possible for him to train Chun-hee. President Jo wryly asks if that means Joon-hyun's talent only can go so far, and Joon-hyun quickly tries to explain that it isn't about talent, exactly — or at least, not about his talent. It's about the bad relationship between him and Chun-hee. There's just no way the two of them can work together.
President Jo seems to accept this, but orders his chauffeur to drag Joon-hyun and his luggage out of the car. Joon-hyun coddles his precious guitar, confused as to why they've stopped outside of a courthouse — until President Jo rattles off the amount of damages (billions of won, so millions of dollars) Shine Star has accrued since Joon-hyun's scandal. They're at the courthouse because President Jo is going to sue Joon-hyun for breach of contract.
Joon-hyun puts on his best pouty face as he begs on his knees for one last chance, but President Jo reminds him he already gave him another chance.
Which means Joon-hyun sadly drags his suitcase and guitar to Chun-hee's house, nearly doubling back as he tells himself there's no way he can do this. But he enters her house anyway, muttering to himself that this "evil fate" can't get any more evil.
Except maybe it could, since right now there are two loan sharks in her living room, demanding to know where her father is so he can repay his debt. Chun-hee is less than thrilled to see Joon-hyun, but the loan sharks are delighted at the chance to get their money back.
Since it looks like they're going to hang around for awhile, they might as well get proper names: Loan Shark #1 is LEE CHUL-MAN (Jang Won-young) and Loan Shark #2 is LEE YOO-SHIK (Yoon Bong-gil). To motivate him with a proper scare, they bury Joon-hyun in the ground up to his neck. Chun-hee frantically tries to get the loan sharks to stop, promising that she'll work a ton of part-time jobs and pay them back, bit by bit.
As he continues to get dirt shoveled at his face, Joon-hyun bursts out that she can actually make money quickly because she's about to sign a contract with Shine Star. The loan sharks are surprised that she can sing, and when she denies it (despite Joon-hyun shooting her desperate glances), they continue to bury him.
The phone rings, and from this end, it sounds like they've found Chun-hee's father. Yoo-shik orders whoever is on the other line to "plant" him, because someone needs to die unless the debt is paid back. In desperation, Joon-hyun says she can sing, and fights back years as she performs the now-familiar "With You."
Yoo-shik is charmed by Chun-hee's performance, and Chul-man is amused at Joon-hyun's supportive fan chants coming out from under the paper bag covering his head. Appeased, the men leave to check out Shine Star, and Chun-hee is left to dig out Joon-hyun.
Geon-woo is playing Go with his father, and President Jo is delighted when he wins the game. For his prize, he asks Geon-woo to take over the company for a year, and after that he'll hand it over to a professional manager.
He doesn't have very high expectations for his son, but asks that he at least do a small fraction of the training he's received as a chaebol's son. Geon-woo flops back in his chair with a sigh, far from pleased.
Chun-hee has managed to free Joon-hyun up to his shoulders. I don't know if I would be giving her grief about singing trot when she's the one who holds the instrument for your freedom (and the ability to keep those oh-so scary worms away), but it doesn't matter when she gets a call from the morgue saying they've identified her father. She drops the shovel and runs off.
Thankfully, the man turns out to not be her father. But Joon-hyun is totally forgotten, and as night descends, he freaks out about scary animal eyes and movement in the bushes. Which turn out to be… a cute little bunny. HA. But he manages to free an arm and grabs the shovel.
To ease her stress and anxiety, Chun-hee runs laps around the track field. Her old coach watches her for a moment before greeting her with a teasing "Have you finished warming up?"
Chun-hee explains how relieved she was to discover that it wasn't her dad in the morgue. But then she became suddenly angry once she knew he was still alive. Tears stream down her face as she wonders how her father could abandon her and her sister, leaving them without word.
Her old coach tells her about a time when Chun-hee's father visited the school after she fainted. Since Chun-hee is the stubborn type to run and never give up, he begged the the coach to rein in his daughter before she got hurt. The coach points out that Chun-hee's father loved his kids more than anything, so if he disappeared, it's probably for a good reason.
At home, Byul opens the door, expecting Chun-hee — and is surprised to see an exhausted and filthy Joon-hyun. Her sister told her to never open the door to suspicious people, but as Joon-hyun collapses on the floor, he wearily tells her he's not a suspicious person; he's a well-known celebrity.
She seems to accept his explanation (or at least takes pity on him). He whines that he's hungry, so Byul shows him the rows of prepackaged triangle kimbap in the fridge. He's delighted at the sight of food, but Byul stops him, warning him that he has to eat the ones on the bottom row first, because they're older. Once he realizes the expiration date of the newest kimbap was back in April, he drops it in horrified disgust.
As she leaves the Shine Star building, trainee Soo-in flags down what she thinks is a company car sent to take her to a sudden dinner with the new president of Shine Star. She's on the the phone with her mother, YANG HOO-JEE (Yoon Joo-sang) asking petulantly if she can just eat and run after putting on a pleasant face.
She also pretties herself up in the backseat, putting on hosiery and makeup. When she notices the driver watching her, she's creeped out — but the driver is none other than Geon-woo himself, amused as he listens in on her conversation.
When they arrive at the hotel restaurant, he leaves the car with valet and naturally follows her inside. Soo-in assumes he's following her because she forgot to tip him, so she hands him a few bills. At first he seems offended, but he takes the money anyway. And continues to follow her in.
She's about to call him out for his stalking when her mother greets the new president of Shine Star, curious as to why the two of them came together.
Soo-in is flabbergasted, but quickly recovers and tries to appear as demure as possible while her mother asks him if he'll be running the company just like his father did. Yang Hoo-jee is politely deferential to Geun-woo's wishes since he's her superior at work, but still manages to get him to agree to her terms of him judging the Shine Star auditions (and, of course, reminding him that her daughter is a trainee who will be auditioning, too).
Chun-hee finally arrives home, surprised to discover Joon-hyun there. She asks him why he keeps talking about President Jo and training to be a singer, and he admits he doesn't understand it either.
He reminds her that she has to repay her father's debt — does she have a better idea? Oh, and also a hair dryer? She kicks him out, and he grumbles as he huddles up on the platform outside their house.
Byul and Chun-hee snuggle up in their blankets, but Byul is too excited to sleep, as she chatters on about her sister becoming a singer and wearing a shiny sequin dress like their mother. She's thrilled that Chun-hee might appear on television, and that their father might see her and come home sooner. Chun-hee just smiles at her sister's enthusiasm, and as Byul falls asleep, Chun-hee clutches her mother's CD to her chest like a security blanket.
A sudden downpour disturbs Joon-hyun, who's uncomfortably trying to sleep on the outdoor platform. Lucky for him, Byul takes him in out of the rain. They tiptoe past a sleeping Chun-hee, and Byul lets him sleep in their father's room (where there's a towel and hairdryer left out, aw). But Chun-hee's eyes open — so I guess she's decided to let him stay.
The next morning, Yang Hoo-jee is busy making sure the audition judges will vote for her daughter, while Soo-in is trying to work her own wiles by finding out what Geon-woo's preferences are, particularly his taste in women. She could just ask him herself, since he arrives just in time to overhear the last question. Busted.
As they ride the elevator together, Soo-in apologizes for thinking he was just a driver. He shrugs it off, saying he never bothered to correct her. She tries to make light of the situation, asking if he'll buy her dinner if she wins the audition.
He coolly replies she should be the one to treat if she wins. Oh, and about the money she gave him as a "tip" — she holds out her hands, thinking he's going to return it — he says he'll spend it wisely. He smoothly exits the elevator, leaving her in stunned silence.
Chun-hee and Joon-hyun are waiting outside the president's office, but no one is there. Joon-hyun goes off to investigate, and Chun-hee puts in a call to the child care center, asking if they'll drop Byul off.
Geon-woo is trying to punch in the door code to the president's office, but is having issues entering the correct code (well, it is his first day of work). He hands over his sports drink for Chun-hee to hold, and she suddenly realizes where she's seen him before — he's that crazy guy from the sports club.
When his failed attempts to enter the president's office sets off the alarm, he reaches for his phone to call security — but realizes he's left his phone somewhere else. He reaches out for Chun-hee's phone, who then chases after him to get it back.
Yelling at him for being a kleptomaniac, she snatches her phone back and realizes too late that they're locked in the stairwell. Geon-woo merely marvels at the building's security features.
Joon-hyun is busy asking around for the president, but no one is taking him seriously. He stops in his tracks when he sees Soo-in, and takes the chance to give her back the song he wrote for her. It takes some convincing, but she finally accepts it. She points out his phone is ringing, and he reluctantly answers — it's Chun-hee.
As they wait in the stairwell, she goes full-throttle with her accusations, wondering what he does and what right had he to try to open the president's door, reminding him of his actions at the sports center. He's just pleasantly amazed at how fast she can talk.
Joon-hyun suddenly opens the door, chiding her for getting into trouble already — until he sees Geon-woo. He asks Chun-hee who "that guy" is as he sliiiiides on his trademark sunglasses. Hee.
They quickly discover that he's the new president, and Joon-hyun relaxes confidently in the office as he informs Geon-woo that President Jo actually wanted to bring them here to sign a contract. He hands over the documents, but Geon-woo hands them right back — Joon-hyun is astonished to discover that it isn't a contract, but an invitation to audition for Shine Star's talent search program. It'll be broadcast on television, and there's a prize of a hundred million won (about $100,000) prize.
Chun-hee and Joon-hyun are dejected at this discovery, and they find a quiet corner in the Shine Star offices to figure out what to do next. They have to decide soon, because the audition is tomorrow.
He's for going for it, but Chun-hee says she never wanted to be a singer. Since it's not a guaranteed contract like she originally thought, she doesn't want to do it. Her priority is finding a job, taking care of Byul, and repaying her father's debt. She apologizes that he got buried on her behalf, and says goodbye.
But Yoo-shik and Chul-man are waiting for her as she leaves the Shine Star building. She tries to convince them that she'll find a job to repay the money, but once they see the amount of the prize, they decide to take matters into their own hands.
In one of their nightclub dressing rooms are all the shiny sequined costumes a trot singer could desire. Chun-hee is horrified at the over-the-top options they present to her, but the two men are adorably excited as they focus on trying to pick out the perfect dress.
When his card is rejected at the ATM, Joon-hyun discovers the hard way that he's totally broke — he doesn't even have enough money for a cup of ramyun. President Jo finally returns his call, asking Joon-hyun how the training is going. After reminding him how the president is always watching (and ready to take him to court to sue him for billions of won), Joon-hyun blusters that they're preparing well for the audition tomorrow.
Joon-hyun's ex-manager Tae-song is trying to become a singer in his own right, and meets with a super shady entertainment agency executive who recommends some pretty drastic plastic surgery. (Is it really trendy to look like the Joker?) But the creepy, run-down surgery clinic is just too much for him, and he scurries away.
As he sighs in relief at his escape from what was surely going to be a cosmetic surgery disaster, his phone rings: It's Joon-hyun's rival SHIN HYO-YEOL (Lee Yi-kyung), and it turns out Tae-song is now his new manager.
Joon-hyun is home when Chun-hee arrives, and assumes she agreed to the audition when he sees the shiny red sequined dress in her arms. She wants to know why he's so invested with her doing the audition, but he sidesteps the question to focus on preparing for tomorrow. First, they need to decide on a song.
Chun-hee tries a variety of different styles, from cute ballad to hip-hop, but Joon-hyun diengs! her out each time, National Singing Contest style, as he grows more and more depressed at how terrible she is. Then she begins to sing her favorite trot song, and he admits defeat: She can only sing trot. They work through the night as he coaches her on pronunciation, rhythm, and posture.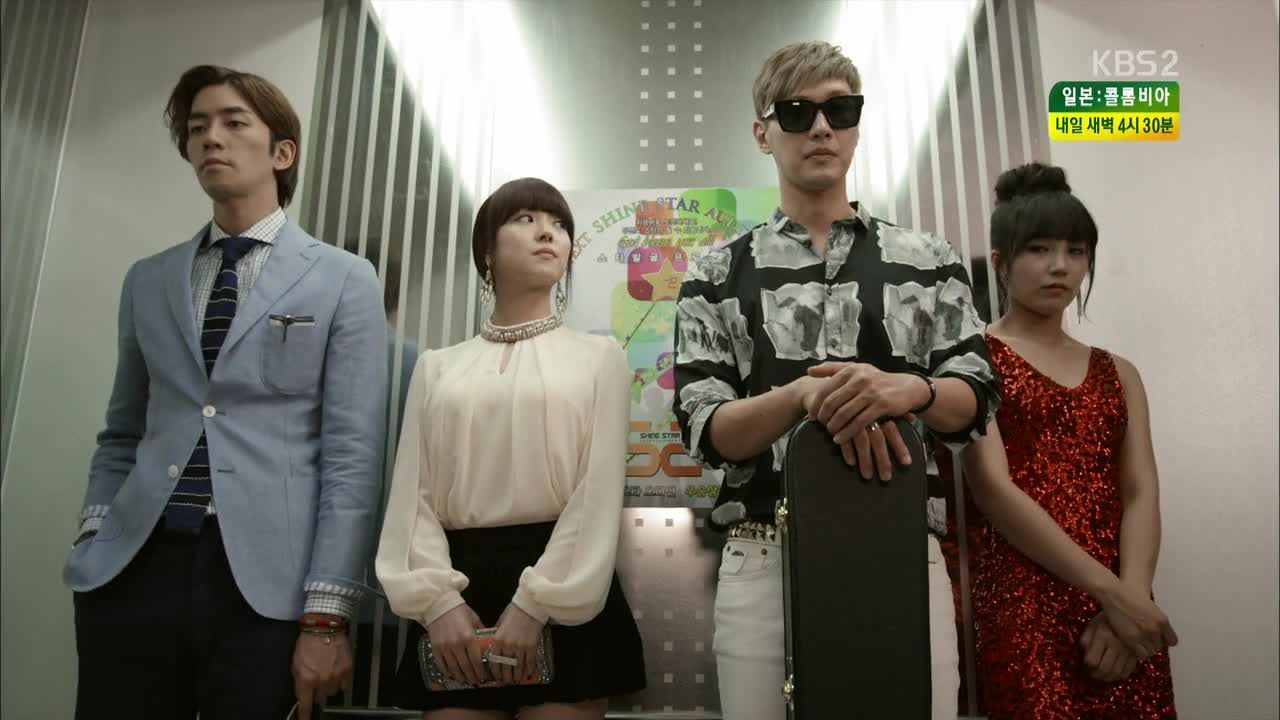 On the morning of the audition, Soo-in decides to conveniently wait to take the elevator with Geon-woo. But any hopes at private conversation are dashed when the elevator doors open on another floor, revealing Joon-hyun and Chun-hee — in all her red-sequined glory.
She's embarrassed by her flashy costume, and is even made more insecure when Geon-woo reminds Joon-hyun that only Chun-hee was invited to audition. He's forced to step out of the elevator, leaving Chun-hee behind.
The audition waiting room is filled with trainees practicing, and Chun-hee finds a corner to nervously go through her routine. But she's immediately spotted by NA PIL-NYEO (Gag Concert's Shin Bora), who uses her position as the most senior trainee to bully the new kid into refilling the water dispenser.
Soo-in steps in to help explain to Chun-hee how the hierarchy works in the trainee world, and the two girls have what seems to be a genuine moment of bonding as they laugh about Pil-nyeo's ego (and outfit). But Pil-nyeo's haughty demeanor only lasts so long, because even though she starts out well in her audition (singing 2NE1's "Lonely"), she quickly falters and forgets a few lines. Sobbing, she returns to the waiting room, having been cut.
Next up is Soo-in, who performs Ailee's "Tears Stole the Heart" (from the Secret OST). Her voice sweetly fits the gentle ballad, and everyone in the auditorium is enthralled — particularly a besotted Joon-hyun, and a very pleased mother watching from the television in her office.
By now Chun-hee is the last one left in the waiting room, and Joon-hyun sends off a bunch of texts reminding her to stand tall — this a battle between her and judges, no one else. She pictures him saying the words, and for just a brief moment her confidence is back as she stands up straight. But she's soon back to slumping in nervous anxiety.
Finally, it's Chun-hee's turn. She awkwardly greets the judges, and they're curious about her choice of a trot song. As she explains that her mother used to sing trot when she was growing up, President Jo slips into the back of the auditorium. The song she chose is actually a song that her mother performed as a remake.
One of the judges is surprised to discover that Chun-hee has no stage experience and has never sang in public before, and seems about to disqualify her right then and there, but Geon-woo overrides his concerns as he encourages Chun-hee to begin.
As the opening strains of "Hot Pepper" (originally by Yoo Ji-na) blare from the speakers, stage fright overcomes her and Chun-hee spins around, her back to the audience and judges. Her voice trembles as she sings, but she feels the small hands of Byul around her waist. Imagining the encouraging face of her sister, Chun-hee is able to turn back around.
But instead of the audience, she sees her parents and Byul, happily dancing and cheering her on. Breaking out into a wide smile, her nervousness is forgotten, and she throws herself, heart and soul, into her performance.
Soon she's got all the ahjummas and ahjussis clapping and dancing along, including the loan shark duo who are swiftly becoming her biggest fans. Joon-hyun looks around in amazement at the overwhelmingly positive response to her music (even tapping his fingers to the beat, ha!). Geon-woo and his father are also pleased at the reaction.
Most important, though, is the broad smile Chun-hee wears as she performs the song her mother once sang.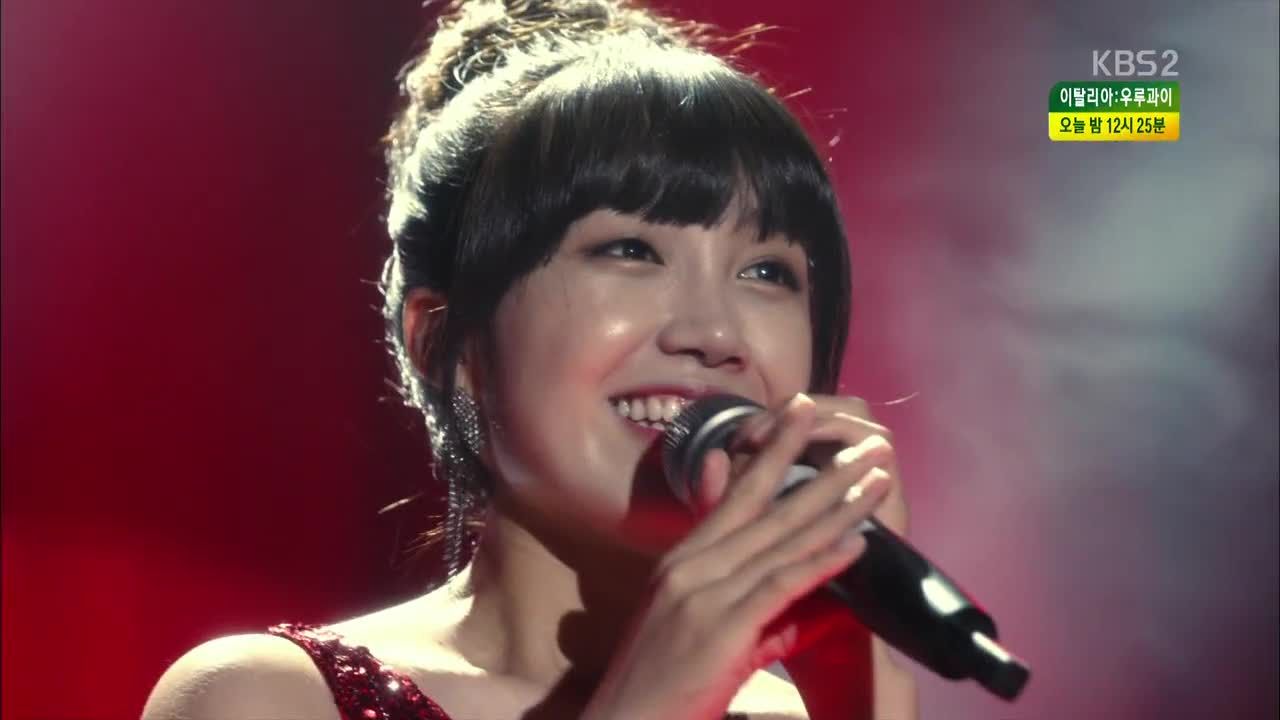 COMMENTS
What a fun ride! So far I am loving everything about this show. True; it isn't the most original of scripts, but the plot is very satisfying for what it's trying to do — be a sweet rom-com about an underdog who learns to pursue her passion. I'm mostly surprised at how quickly everything is moving. Normally for a story like this, I would expect everyone to still be figuring out there is a competition. If nothing else, I was expecting we'd get more than just a few minute montage of Chun-hee practicing and training for the audition.
This isn't a complaint, necessarily. I have no problems that we've pretty much jumped headlong into the story instead of waiting for a couple of episode of background build-up. But that does mean I'm slightly concern that this zippy pace won't be sustainable, and about halfway through everything will crash and burn, and it will be nothing but angst and more angst until the end. I am pleased, though, that we've managed to cram quite a few drama tropes together all at once, such as the forced cohabitation (which I adore). How adorably domestic they are, now that Joon-hyun's barged into Chun-hee's house and life!
Hopefully there won't be too much angst. I mean, how can there be, when we're surrounded by the shiny sequins of trot and it's peppy one-two beat. I'll admit I'm a secret fan of trot (er, not so secret any more!), so I'm pretty happy that we'll be spending another fourteen episodes dwelling on Chun-hee's unabashed love of trot. If she can make a convert out of Joon-hyun, I'm pretty sure she can convince nearly everyone that trot is barrels of fun (because it totally is!).
Thank goodness, though, we got another trot song other than Nam Jin's "With You." It's a fine song, but by the end of the first episode I was already a little tired of it. I'm hoping we'll get more and more of a classic trot line-up as the show goes on. (There's also a teeny part of me that hopes this will make trot a little trendy, but I'm not holding my breath.)
As much as I'm enjoying everyone on the show, I do admit I'm a little confused about the secondary characters. Geon-woo continues to baffle me — I get that he's an absent-minded kleptomaniac who doesn't want to run the company, but I also feel like there's got to be something more to him. I just haven't figured out what, yet. Maybe it's too early to complain that I haven't been able to pin down a character yet, but it's still a little annoying that I'm not sure what his motivations are, or even what he truly cares about. I mean, why does he care so much about Chun-hee going forward in the audition except that he seems vaguely amused by her (and because his father told him to)?
Also I think I like Soo-in, but her character confuses me, too. I don't mind that she's moved on from Joon-hyun to shift her attention to Geon-woo, because she cares less about romance than about furthering her career. Which is a bit of a welcome relief from the standard second-lead who is so often of the "how dare you try to steal my man" ilk. I also was pleasantly surprised at how nice she was to Chun-hee, but I'm not sure if that's just because she doesn't consider Chun-hee to be a threat. Yet.
But how delightful is Jung Eun-ji as Chun-hee? I love her. She truly manages to light up and convince me that trot touches her down deep in her soul, because it reminds her of her family. I was figuring the trot would be just a fun, slick thing to give the drama some purpose and differentiate it from the other gazillion rom-coms out there, but it actually has a deep-rooted purpose — the memory of her mother. And she gets to use this memory of her mother as her tool to save her family from being destroyed by her father's debt. I think that's beautiful.
I also think Ji Hyun-woo's face is pretty beautiful, especially when he gets to make those ridiculous expressions. I can't take his character too seriously right now, but I do appreciate that the show has managed to convince us there's the potential for him to be more than just the egotistical jerk who's desperate to return to his former glory. Also, I have huge respect for the fact that it looked like he really took some dirt to the face in those scenes when was buried.
But I would be remiss if I didn't give at least one squee-filled shout-out to Sohn Ho-joon, who gets to be an adorable sidekick (I'm assuming — I mean, he can't continue to work for Joon-hyun's rival, right?). I'm hoping that his dreams of becoming a singer means he'll get to be decked out in a shiny sequin tracksuit ala Secret Garden. I think I'm also having trouble differentiating Tae-song from his character in Answer Me 1994 since they seem so similar (especially since he gets to use his satoori) — but that isn't really complaint, either, because I was the self-declared captain of Team Haitai.
Overall, I'm really pleased and delighted with how this show has managed to delight and entertain me. There are a few minor quibbles, sure; but I have hope that this drama will remain secure in the time-honored plot of underdog-making-good (while getting the jerk-with-a-heart-of-gold to realize he loves her). And have a ridiculously fun soundtrack.
And lots and lots of sequins.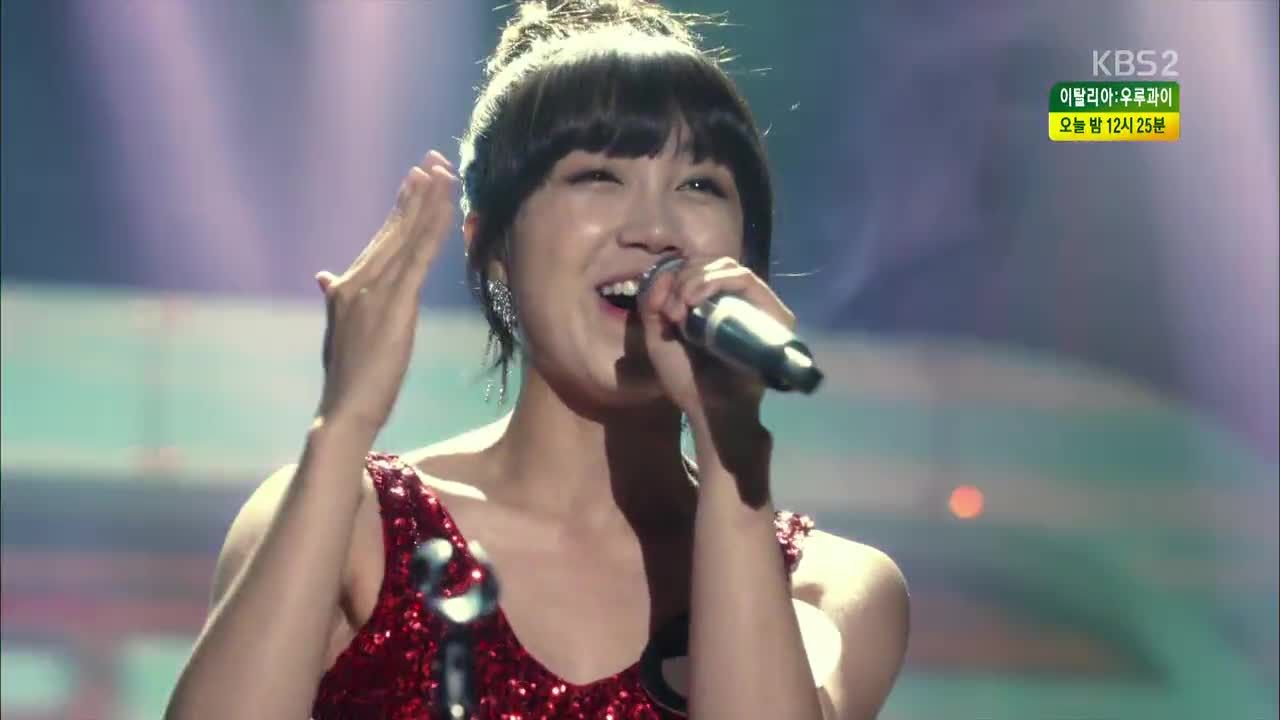 RELATED POSTS
Tags: featured, Ji Hyun-woo, Jung Eun-ji, Lee Se-young, Shin Sung-rok, Sohn Ho-joon, Trot Lovers