Witch's Romance: Episode 14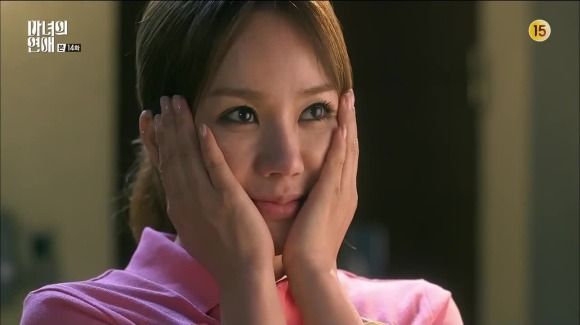 The cute is back with a vengeance! And not a moment too soon, as I was beginning to fear we'd never return to the fun, zippy episodes of yore. Dong-ha gets most of the attention this time as Ji-yeon tries to help him reconcile with his father. She also finally remembers that she's the ace Trouble Maker reporter as we turn our attention back to the workplace — but not too close attention, because Director Kwon is busy being adorable with Ji-yeon's mother as they vie to become the show's cutest couple.
Oh, and there may finally be some kissing. Finally.
EPISODE 14 RECAP
Dong-ha arrives at Ji-yeon's apartment the next morning to give her a ride to work on his motorbike. Wait, so we don't get to see what happened after the hug? There'd better be some flashbacks or I'm going to pout. Especially since he gets all googly-eyed at a couple in the car next to them who are sickeningly lovey-dovey (which makes him pull Ji-yeon's arms tighter around his waist, ha).
At work, Ji-yeon's got her witch-face on as the Trouble Maker staff bombard her with questions about why she never showed last night, and she tells them something came up. Thanking them for their efforts, she points out that they shouldn't waste their time and money on something like a surprise party again. Then, almost as an afterthought, she drops the bomb that she's not getting married, before spinning on her heel and marching confidently to her desk.
Everyone is appropriately stunned, but poor Young-sik is bewildered (and not a little broken-hearted) that the two people he idolizes have broken up. Ji-yeon cuts off his questions by reminding him she doesn't talk about her personal life at the office, and instead focuses her team on the work at hand: the scandal at Dong-ha's father's hospital.
Dong-ha sits in his apartment, thinking back to the previous night (and oh thank goodness, a flashback): After he pulled her into the hug, he then told her that he saw the book, asking if what Polar Bear told him (that Ji-yeon shouldn't be sorry, and that's it's not too late) is about them. Then we're back in the present, where pensive Dong-ha now is grinning like an idiot. Clearly that was not enough of a flashback, because I need to know what Ji-yeon's answer was. And if there was kissing.
Ji-yeon sends off her term to work on the hospital story when Team Leader Byun sashays up to her desk. He marvels at the fact she's focusing on interviewing the bereaved family instead of digging up "sexy" dirt, asking if she's lost her mojo since the wedding has been called off.
Ji-yeon coolly reminds him that a witch without blood or tears (which is what he called her earlier) wouldn't be affected by something so frivolous as that. He scoffs that of course she wouldn't feel anything about her wedding being called off — it's "Phillip Noh" who's the pitiful one. But Ji-yeon threatens that if he brings up that name in front of her again, she'll reveal his secret. We don't get to hear what she's got on Team Leader Byun (darn it!), but apparently it's enough to send him scurrying off, flustered that she remembers such a thing.
Just then her phone rings, and speak of the devil: It's Shi-hoon. He's on his way to the airport but stopped to give her a call because the twelve-hour flight seems intimidating (and I'm not sure I should be relieved or worried that he decided to call her from the Han river, since we know nothing good happens there). He gives her a bunch of advice that's supposed to show how much he cares about her, but all we really care about is that he's finally gone, and hopefully this will be the last time we see Ji-yeon cry.
After Ji-yeon fills her on about the phone call, Na-rae sighs as she says Shi-hoon came in like the spring breeze and went away like the wind again. I'd argue he came in like a typhoon and went away like a hurricane, but close enough, I guess. The point is he's gone, and Ji-yeon feels like it was all just a dream. Na-rae (and the rest of the viewing audience): "Wake up!"
She reveals how depressed and mopey Dong-ha was while Ji-yeon was trying to make things work with Shi-hoon, and how sad it was to see him declare to Ji-yeon's mother how much he still cared for Ji-yeon. Even Min-goo admits he thought he was going to die because Dong-ha was so pitiful. This only makes Ji-yeon sigh even more. Sigh.
Back at the apartment, Dong-ha's father rings the doorbell, and this time, he answers. Papa Yoon skips the pleasantries and immediately asks that Dong-ha return home — he's had three years to do whatever he wanted and now it's time to grow up.
His father says everything's prepared so that he can return to medical school next semester, but Dong-ha refuses to go back, either home or to school. He starts to ask if Dong-ha's like this because of "a dead woman," but Dong-ha angrily cuts him off, telling him not to bring up Young-chae. Calling him a "useless bastard," his father leaves, but not before one last shot as he tells Dong-ha he can't bear to see his sone living like a loser.
Ji-yeon arrived home just in time to catch all this, and Dong-ha greets her and tells her goodnight, clearly not in a good mood after the altercation with his father. With tentative hope, she asks if he's eaten yet.
She's so adorably happy to serve him dinner, but he grumbles that it's just ramyun — so she takes back his chopsticks and spoon, saying that he doesn't need to eat, then. Ha. He snatches his utensils back, and the two happily slurp down their noodles.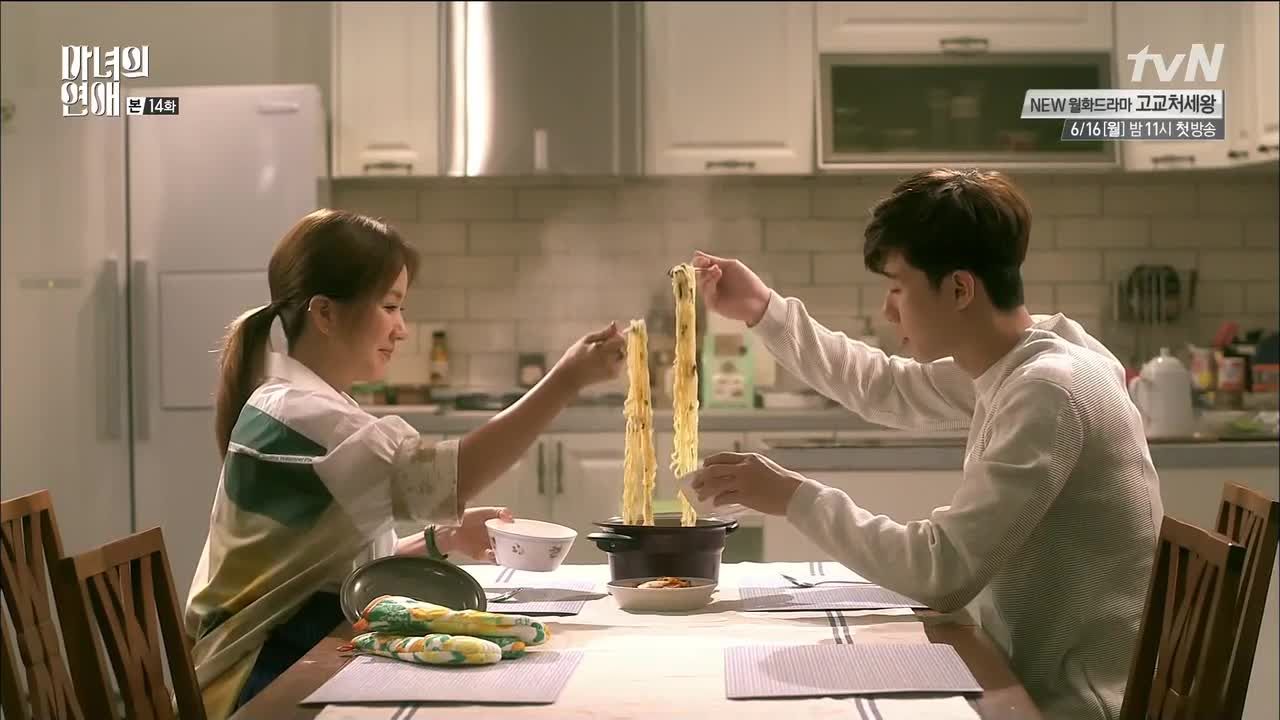 Over a blatant product-placement after-dinner coffee, Ji-yeon tries to get to the heart of the issue between Dong-ha and his father, asking why he left home. He doesn't want to talk about it, though. Dong-ha asks if he seems like a loser without a future to her, too.
Soo-chul waits for Eun-chae to get home, and when he sees that she has a lightbulb out, he offers to change it for her. After all, he is the Master of Part-time Jobs, and lightbulb-changing is his specialty, apparently. He charms her into offering a snack as repayment, except she only has kiwi — but that's ok, because he tells her he loves kiwi.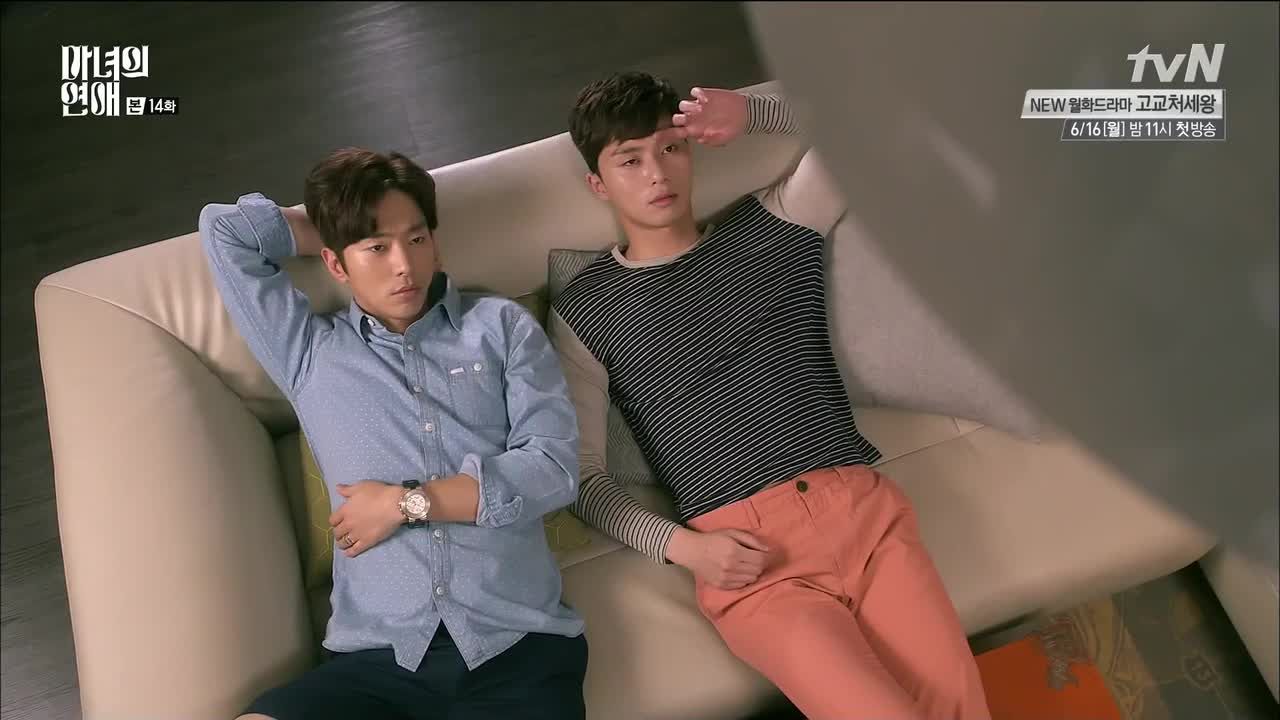 Dong-ha and Soo-chul listlessly lounge on their sofa, lost in their romantic woes. Soo-chul reveals that he's actually allergic to kiwi and now suffers from a swollen tongue, which totally serves him right after the way he charmed his way into Eun-chae's apartment. Dong-ha wonders what he'll be doing in ten years.
They talk past each other as they figure out how to handle the women in their lives: Soo-chul frets that Eun-chae hasn't called about a clogged toilet (since he stuffed it with tons of toilet paper, which doesn't seem the brightest way to woo a woman, but this is Moldy Spinach we're talking about). Dong-ha muses over how he could be a man worthy of Ji-yeon.
At the hospital, Ji-yeon is trying to get an interview, but to no avail. Until she brings up Young-chae — that gets Papa Yoon's attention.
He seems more curious about how she knows Dong-ha than giving her an interview, and she admits that she overheard their conversation from last night. She doesn't know what happened three years ago, but she does know that if he knew how Dong-ha has been living the past three years, he wouldn't think his son was a loser. She leaves him the contact information for Young-chae's mother.
At the Trouble Maker office, Director Kwon stealthily tries to sneak out, but Ji-yeon catches him, demanding to know where he's going. He says it's to meet with a vendor, but she's still suspicious. She immediately calls her mom, asking where she is — only to have Mom insist that she's meeting with her friends to dispel any rumors about Ji-yeon's broken engagement. But Ji-yeon's sure something's up. And she'd be right, because Mom and Director Kwon have a dinner date. Aw.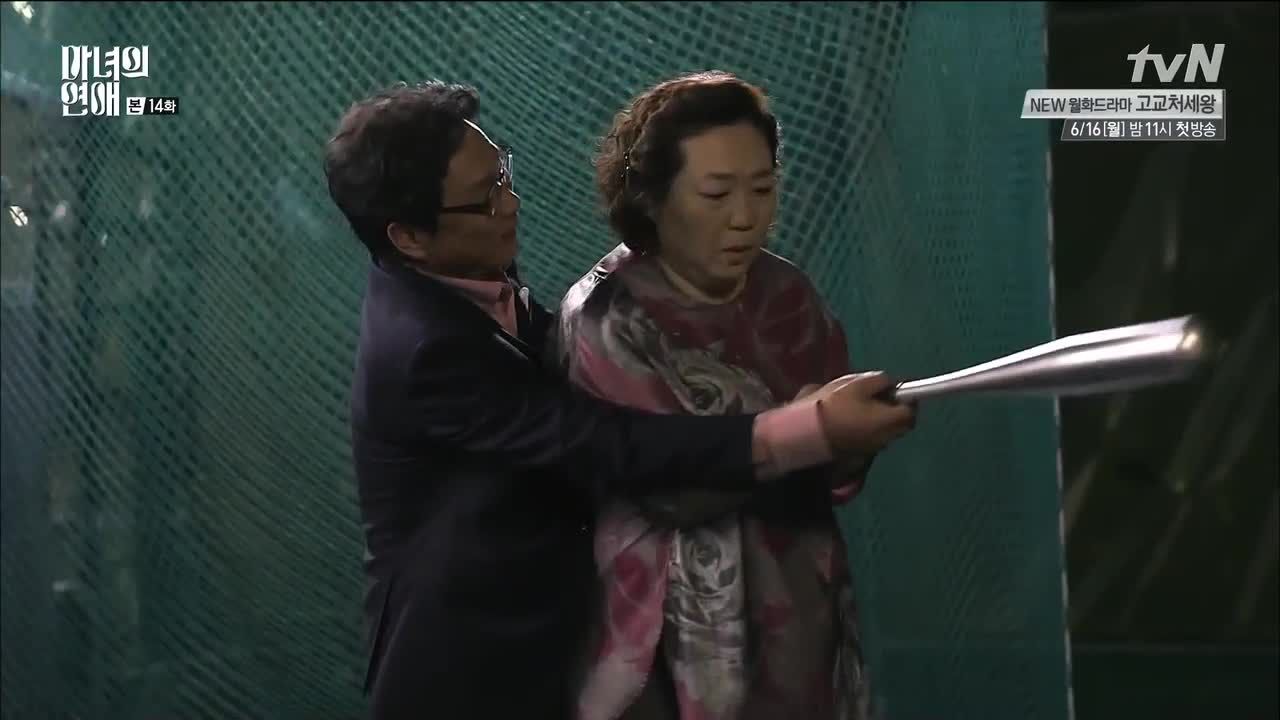 After dinner, Director Kwon and Mom continue their date by going to the batting cages. Mom is pretty much horrified at the balls that keep hurtling towards her, but Director Kwon is more than happy to show her a proper batting stance (and little excuse for skinship, I'm sure!). With his help, she manages to hit a "home run." As he celebrates her victory, he holds her hands and promises that he'll never let her go.
When Eun-chae realizes that Ji-yeon has been investigated the case from three years ago, she reveals that she's Young-chae's younger sister. Ji-yeon is stunned to discover this, and Eun-chae explains that her mother stays at the orphanage because her sister used to volunteer there, and so it feels like she can still be close to Young-chae.
Ji-yeon arrives at Na-rae's restaurant with a delivery of fruit juice "for the baby," and is surprised when Dong-ha shows up just then, too. But Na-rae and Min-goo have decided to play Cupid in order to get the two of them to confess to each other, knowing they're both too polite (Dong-ha) or stubborn (Ji-yeon) to do it on their own. Na-rae hands over her present: a set of the most ridiculous and delightful couple tees ever.
Just then, Mom and Director Kwon walk in, and they look like guilty teenagers caught out past curfew as Ji-yeon chides them for the lies they told her earlier. She demands to know where they've been all night and what sort of relationship they have, and Dong-ha leaps up to intervene, practically dragging Ji-yeon away.
Back at home, Dong-ha convinces Ji-yeon to wear the couple tees, and she steps outside, embarrassed at Na-rae's elaborate designs. Dong-ha wears his proudly, and has a camera all set up to take photographic evidence. He takes photo after photo, and the two of them are so adorably giggly and smiley I'm not sure I can handle it.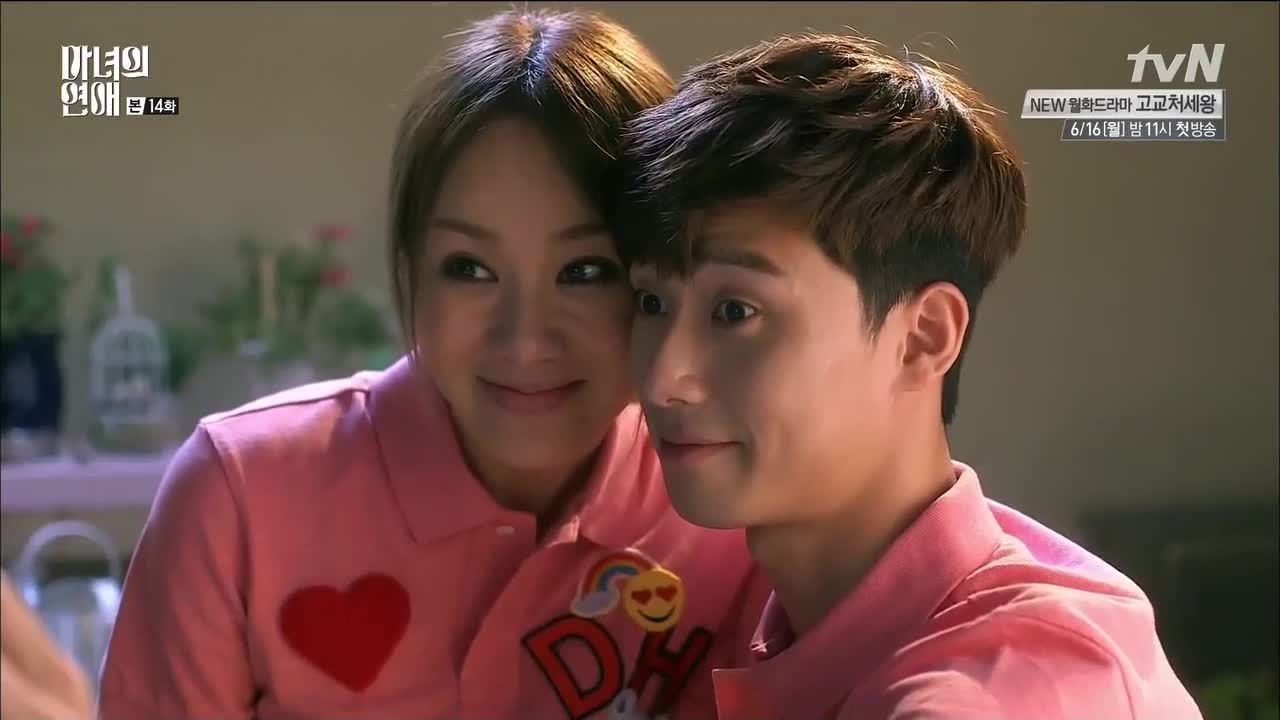 Getting serious, Dong-ha asks her if she thinks he's lacking as a man. He admits that he doesn't know what he wants to do with his life — he was so focused on staying in the past, he didn't have much desire to look to the future.
As he tells her to go inside and get some sleep, he suddenly grabs her and plants a kiss on her forehead, because apparently when you wear a couple tee, you have to say good-bye with a kiss (can we have them wear couple tees forever and ever, then?). Before he rushes back to his apartment, he kisses her on the forehead again, and she's totally smitten.
The next day, Ji-yeon chases down Director Kwon, demanding to know about his relationship with her mother. He deflects her by saying that he just promised to treat her to a meal, since she's so often brought lunch for the staff. Even though Ji-yeon puts on her best witchy glare to stare him down, he avoids her eyes and calmly holds his ground — and then laughs to himself after she leaves. I love that Ji-yeon and Mom make the men in their lives so giggly.
Dong-ha's father observes Dong-ha cheerfully go about his part-time jobs. It seems he's taken Ji-yeon's words to heart and is trying to see how his son has lived the past three years.
Dong-ha shows up at the Trouble Maker office to immediately whisk her away on a midday ice-cream date at the playground. When she teases him about going to the playground again, he tells her that he's just waiting for it to get darker and all the kids to go home, because then — he makes a kissing face in her direction, but she instead shoves ice cream in his mouth.
The fun and laughter subsides as Dong-ha admits that his father is a principled man who never liked that he had dated Young-chae, and after her death, Dong-ha could never forgive him. He goes into detail about what happened on that day with Young-chae, when he brought her to the hospital after the bus accident. He'd gotten down on his knees, desperately clinging to his father's legs as he begged him to save Young-chae, only to be brushed off as his father entered the surgery for another patient.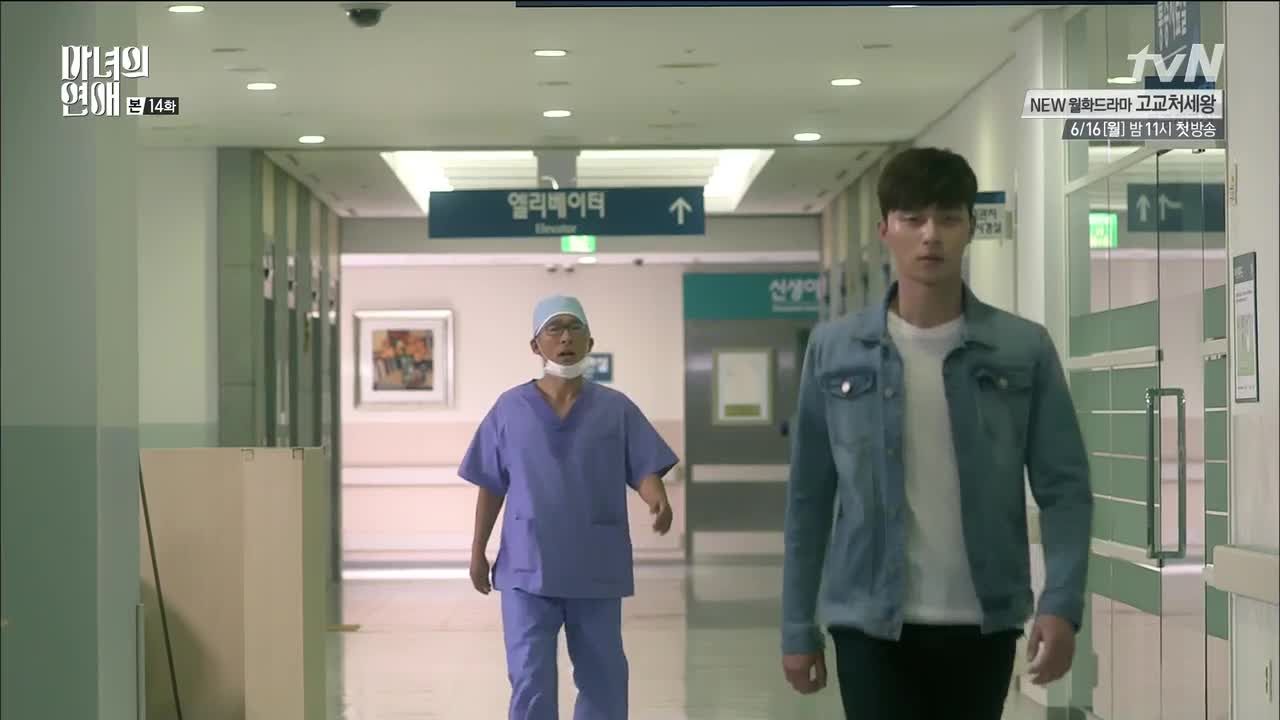 When one of the other surgeons emerged to inform him and Young-chae's mother that she didn't make it, the two of them collapsed into heart-breaking and gut-wrenching sobs of grief. Dong-ha says that if his father had worked on Young-chae instead of the other patient, she could have lived that day. So he walked away from the hospital and his father, never looking back.
Dong-ha still blames himself for Young-chae's death, because it was his fault they were on the bus in the first place. He especially feels guilty because Young-chae's mother now must daily live with the fact her daughter is no longer alive, which is why he couldn't in good faith return to medical school and the life he had before, pretending like nothing had happened.
He takes a deep breath as he tells Ji-yeon that, to his father, he's just a wimpy loser who dropped out of school and rebelled after leaving home. Ji-yeon tells him that if his father knew how he's been living all this time, he would be proud of his son.
She ruffles his hair, teasingly asking him if there's ever been such a "cool loser" before. He protests her touching his hair, and the two of them get all giggly and adorable again as they try to muss up each other's hair. I'm just disappointed we don't get more kissing, because I still remember Dong-ha's warning the last time she played with his hair. I mean, she's clearly provoking him.
Soo-chul paces in the apartment, wondering if he didn't put in enough toilet paper to clog up Eun-chae's toilet. He calls her up and they meet for a coffee date, where he nearly spits out his drink when she tells him she unclogged it herself. Yeah, because she's not totally helpless.
She asks him what Young-chae was like at school, and he lists off all of her attributes, saying she was the #1 ranked woman on campus. Everyone was surprised that she chose to be with Dong-ha. Then he says that he was the #1 ranked male, which, pffft. Returning home with stars in his eyes, Soo-chul joins Dong-ha on the sofa of love as the two of them continue their "talk past each other" conversation about the women they adore, until they they grab the sofa cushions to muffle their literal squees as they giggle at each other.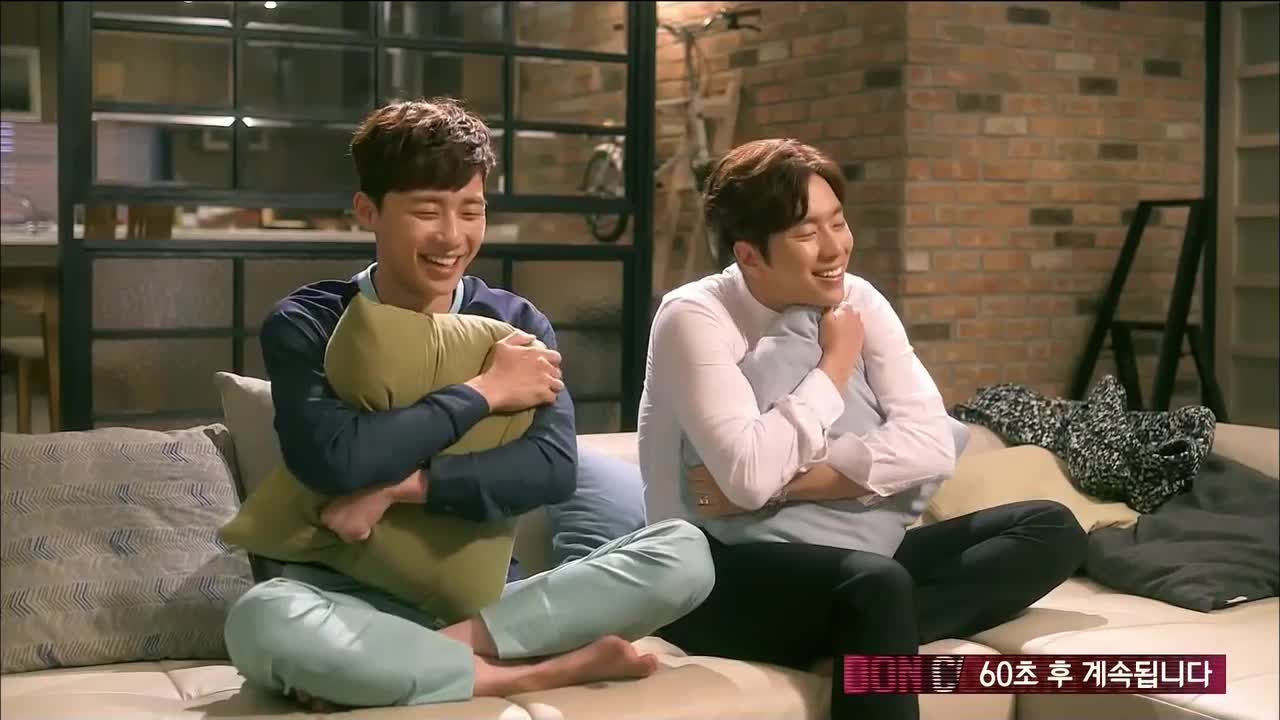 Dong-ha is on another part-time job — this time being a cute tiger as hosts a birthday party for one of the orphans. He spots his father meeting with Young-chae's mother, who tells him how devoted Dong-ha has been about volunteering at the orphanage and donating money whenever he could.
As Dong-ha's preparing to leave at the end of the day, she calls him over, letting him know that his father visited her. She tells him that his father was curious as to how he's been living these past three years, since he hasn't seen his son once in all that time.
That made her think of how she's been living without Young-chae all this time and how much it must hurt his father, not knowing what his son as been up to. She counsels him to return home and go back to studying, since it would break Young-chae's heart to know he gave it all up.
Director Kwon calls a staff meeting to let everyone know that he'll be deciding on the editor-in-chief position soon, and who it will be all depends on what kind of articles Ji-yeon and Team Leader Byun write over the next month.
The two practically have an Old West standoff as they challenge each other, until she brings up the fact she knows his secret, which gets him to blusteringly back-off. Except now the rest of the office is curious about this "secret," ha!
Dong-ha meets with his father, and while he's stiff and formal, Papa Yoon appears relieved and delighted to see him. He apologizes for not calling his father after all this time, and says that he knows his father isn't responsible for Young-chae's death. He says that he'll continue with the work he has right now, but he'll think about going back to school.
His father suggests that they should have a meal together sometime, and Dong-ha agrees. When his father asks him to pass along his thanks to Dong-ha's "magazine sunbae," Dong-ha is surprised to learn that Ji-yeon met with him.
Ji-yeon's apartment is an explosion of paper as she focuses on trying to track down the best article to beat out Team Leader Byun to become editor-in-chief. Dong-ha stops by to offer her chicken and beer, but since she's busy, he'll just eat it with Soo-chul. Not so fast — with her trademark "Stop!" and finger-gun, she gets him to stay, declaring that no chicken that entered her house has ever left with its meat intact (a sentiment I can totally get behind).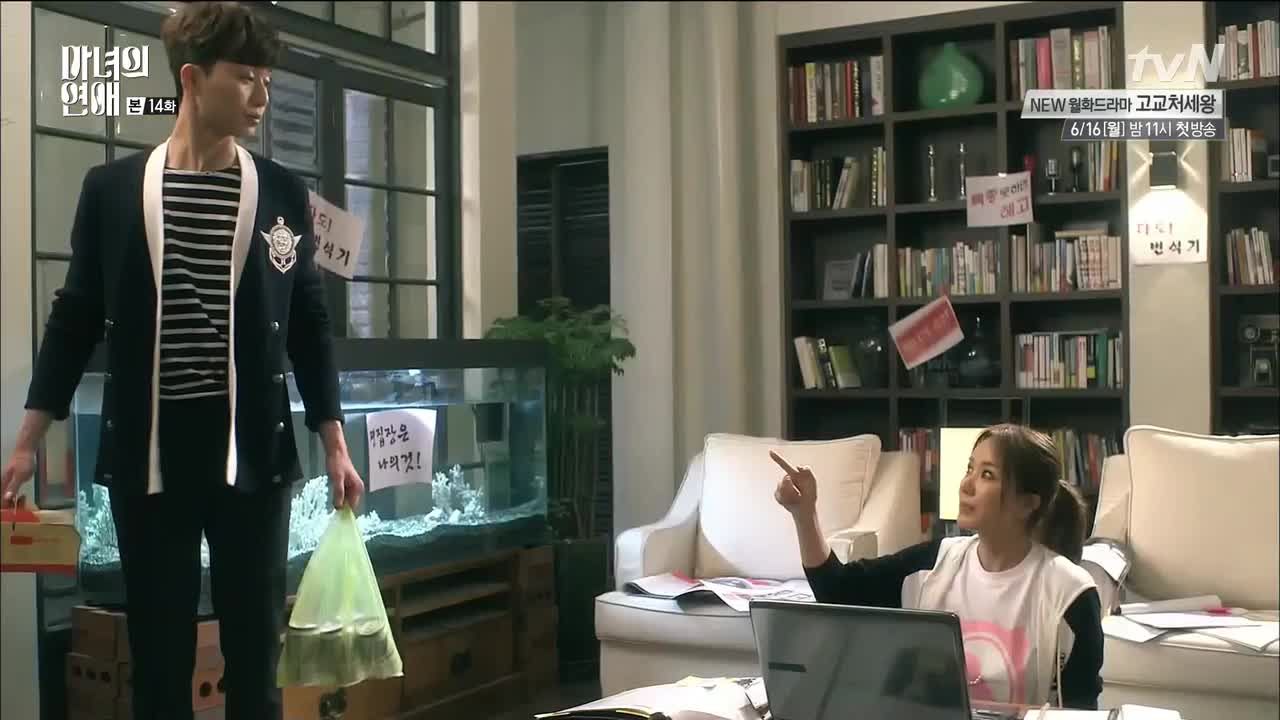 As she happily munches fried chicken, Dong-ha looks through all the research she's done so far. He's reminded of the work they did on the Kim Jeong-do article (that they never got to publish), and she suddenly gets the bright idea to see if Dong-ha is willing to become an exclusive part-timer for the next month. Ji-yeon's desperate to totally crush Team Leader Byun, and Geoje Island just won't cut it, assistant-wise.
She promises him double the pay if they make the front page, and a bonus if she gets the editor-in-chief position. He agrees on the condition of not only the double pay, but also a trip to Jeju Island for four days and three nights. She immediately agrees, and only then does he reveal the catch: She's to join him on that vacation. Which she totally agrees to, despite her laughing protests. (We better get some footage of that vacation by the end of the show, or else.)
Dong-ha then admits he actually came to see her for another reason. He passes along his father's thanks, saying that thanks to her, the father-son misunderstanding has been resolved. He adds his own personal thanks, and they toast with with their beers.
The next morning, Ji-yeon can't hide her giggly smiles as she remembers Dong-ha dressed in his couple-tee, waiting for her to leave her apartment just so he could give her his homemade breakfast sandwiches. The rest of the Trouble Maker staff is understandably alarmed at the suddenly cheerful and friendly attitude of the witch.
Dong-ha takes a long moment to stare thoughtfully at his medical school textbooks. He's totally going to re-enroll, isn't he?
Later that night, Ji-yeon and Dong-ha arrive at Na-rae's restaurant for their dinner date (where she's determined to continue their "who can eat the most" competition). She's a little confused why the restaurant is so dark and empty, until Soo-chul spins around from behind the counter, mic in hand, to announce a competition to find the most romantic couple. The prize is a "2014 vintage homemade fish cake stew," and Na-rae and Min-goo pop up with to cheer along while waving the prize certificate.
The call-back to the first episode (and the first time Dong-ha and Ji-yeon kissed) is pretty adorable, but not as adorable as their trio of friends who continue with the program as seriously as they can. Soo-chul asks if there's anyone here with the courage to confess (and Min-goo excitedly raises his hand, ha) until Dong-ha says that he would.
Turning to Ji-yeon, he looks her in the eyes, and says, "Starting today, let's date." He hands her a large bouquet of flowers and leans in to put a gold necklace around her neck. She's been silent throughout the whole event, and he asks why she won't answer his question: Will she agree to be in a relationship with him?
Ji-yeon: "Yes; even if you push me away, I won't go anywhere."
Soo-chul, Na-rae, Min-goo and the entire viewing audience cheer in delight, and then Dong-ha swoops in for a kiss.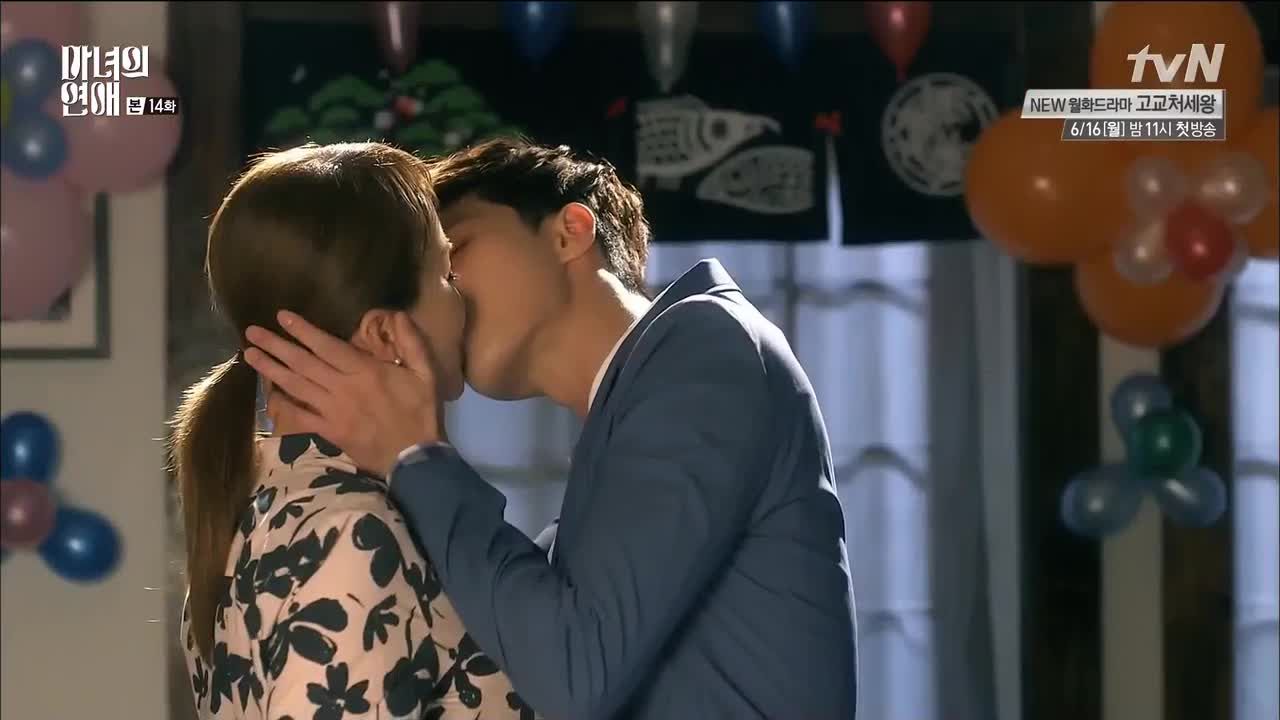 COMMENTS
Finally, a kiss! An honest-to-goodness kiss!
Not a forehead kiss. Not a dead-fish drunken kiss. But a passionate kiss on the lips that's made all the better because Ji-yeon kisses him back with no restraint.
The whole "event" Dong-ha set up was adorable, too — even though it made me shiver from the cheesiness of it all, I really do think Ji-yeon and Dong-ha needed something like that to cement their relationship. Something light and happy that also made it abundantly clear that he was serious about how he felt about her, and that he wanted to be in a relationship with her. No hiding behind words written in a book that might not be seen, or letting there be any confusion that it's just an act put on to impress her friends.
But Dong-ha also needs the clarity — he's known (and we've known) for some time that he likes her, but he hasn't heard it from her. Even though he can see past all her bluffs, he needs to know, with a clear "yes" or "no," that she wants to be with him.
Thank goodness she does!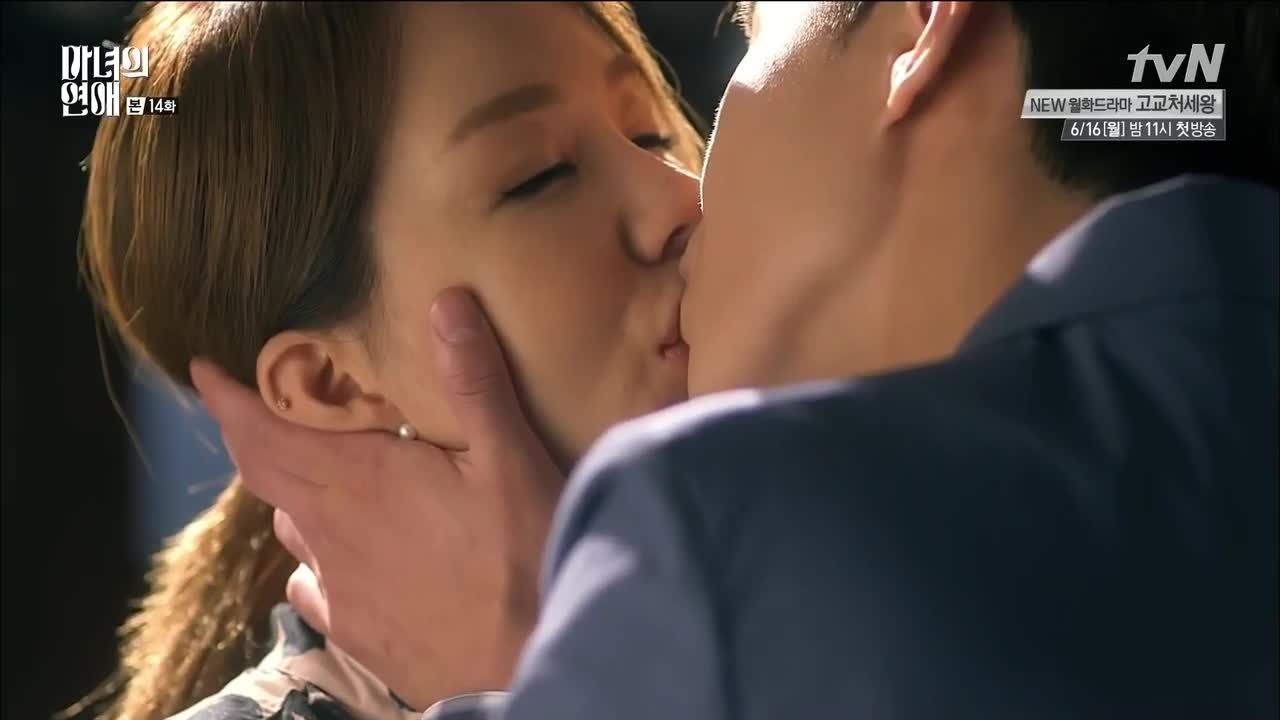 And thank goodness for awesome friends who will do anything and everything to support them. Which makes me think that no matter whatever hurdles the two will face as they figure out their relationship, they have such an amazing support group. Really, I'm happy for just about every relationship on this show (now that you-know-who is gone) — I think I squeed for Mom and Director Kwon as much as I flailed over Dong-ha and Ji-yeon. I'm still giving Soo-chul the side-eye over his attempts to insinuate himself in Eun-chae's life, but I have a feeling that she's a "witch-in-training" and will be able to sift through his nonsense. Or at least I'm hoping she can, because I actually really do like them together.
I also love all the non-romantic relationships, such as the mentoring Ji-yeon continues to give Eun-chae, and the fact that Young-chae's mother has finally forgiven Dong-ha, and the ever-adorable bromance between Dong-ha and Soo-chul, and — the kicker — Dong-ha and his father. Considering how much Shi-hoon practically ground this show down to standstill, I'm a little dazed that we suddenly got resolution with Dong-ha and his father in just one episode. I would have actually liked to have spent a little longer on it, at least enough for me to better appreciate the emotional beats. But I can't complain too much, because I did enjoy how everything has handled, despite feeling a little rushed.
Really, I can't complain about much of anything about this episode. Except for the lack of focus — I mean that literally. I don't know if it's just a result of live-shooting and the production crew is hurrying to put out episodes, but it was a little distracting to see some totally out-of-focus shots and some shots that looked like they were focused improperly (or focused on the wrong person).
But that's really my only quibble about the episode. I can't even do my weekly complaint about no kissing. Although I can always hope that the last week will be filled with nothing but adorable fluff as Ji-yeon and Dong-ha work together again on another investigative piece ("Lois Lane" Ji-yeon, I've missed you!).
With, y'know, lots more kissing.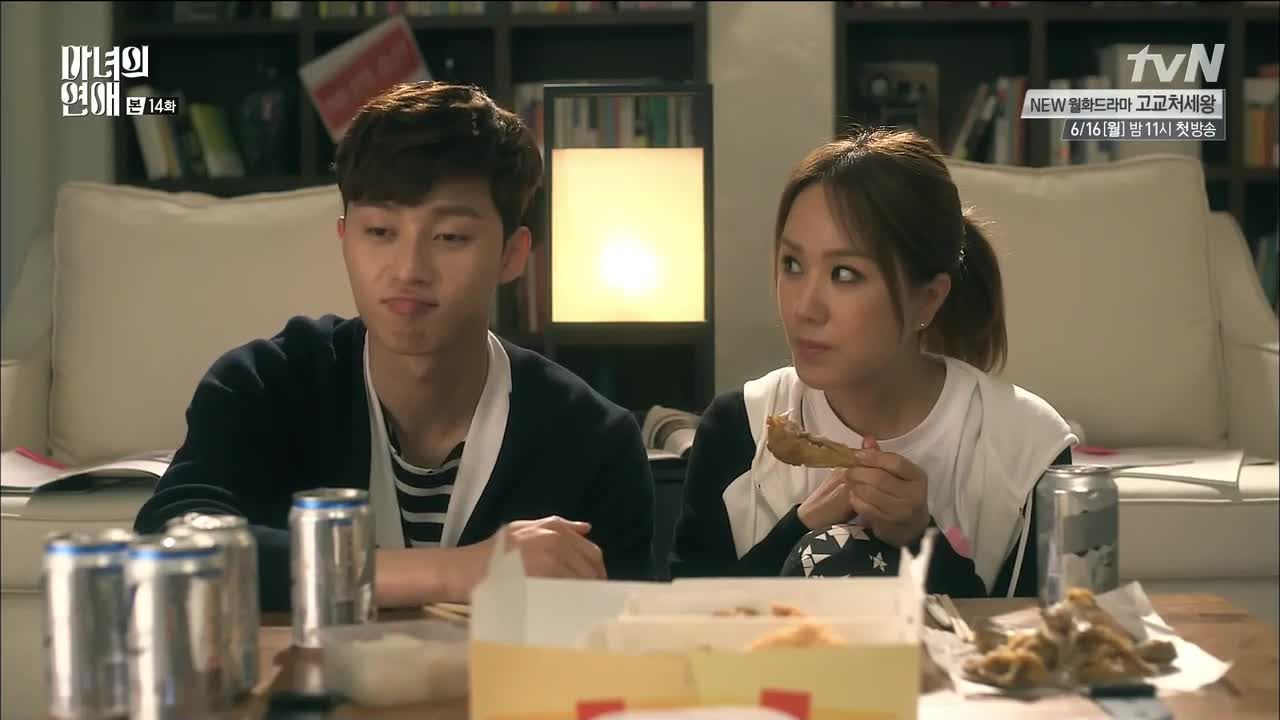 RELATED POSTS
Tags: featured, Park Seo-joon, Uhm Jung-hwa, Witch's Romance