Witch's Romance: Episode 15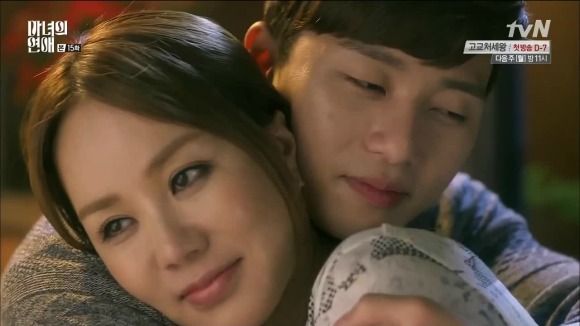 This episode really delivers on the kisses and cuddles, almost making it worth such a long wait! But although all the large obstacles in Dong-ha and Ji-yeon's path to couplehood have been laid to rest, there's still a lot of ground to cover when it comes to learning how to actually be a in a relationship on a day-to-day basis. It's easy to say age doesn't matter, but when life continually throws it in your face, we have to hope that their ability to communicate and be honest with each other is enough to overcome some new-relationship insecurity.
EPISODE 15 RECAP
We see again Dong-ha's confession and Ji-yeon's acceptance, and their friends cheer their happiness. Walking home together later, Ji-yeon asks Dong-ha to forget their agreement for him to help her with the competition for the editor-in-chief position at Trouble Maker, saying she feels bad for "Geoje Island."
Dong-ha is no fool, and he knows that she doesn't want their relationship known at the office. He doesn't take it personally though, and asks if she has confidence that she can get exclusive scoops with just Jae-woong and Young-sik to help.
The next morning while getting ready for work, Ji-yeon recalls Dong-ha's confession and smiles in the mirror. At the same time, Dong-ha's first thoughts on waking are of Ji-yeon's acceptance, and he squees to himself and hugs his pillow. Ji-yeon waits for Dong-ha to come out and see her off like usual, but he doesn't show.
She meets with her team and ouch, she's in a grouchy mood. She snaps at each of her team members for not bringing good story ideas, and gives them two hours to come up with five more story items each, and stomps off.
She hears Dong-ha's voice in the hallway and thinks she's hearing things, but he's there talking to Team Leader Byun. He brightly says that he's been explaining their relationship to Byun, which horrifies Ji-yeon and she yanks him aside to talk privately.
Dong-ha is all innocence as he says everyone in the office knows about it anyway, but Ji-yeon is upset. Of course she's happy that they're dating, but she only just broke off her engagement and she doesn't want everyone knowing her private life. Dong-ha says they'll talk later and impishly whispers that her necklace is pretty before going back to talk to Byun.
Of course, Dong-ha had meant that he was telling Byun they aren't connected anymore, since Byun left a part-time job request on his website for an assistant. And since Ji-yeon let him out of their agreement, he accepted the job. She storms back to her team fuming over Dong-ha's betrayal, taking her frustration out on poor Young-sik's head.
Na-rae and Min-goo prep for dinner service and figure Ji-yeon must be very happy today after such a cool confession by Dong-ha. They wonder to each other whether they'll get married, since Ji-yeon is older but Dong-ha is young yet for marriage.
Ji-yeon's mom visits them, and I love how she's always bringing food to the couple who owns a restaurant. She brings extra for them to pass along to Ji-yeon, saying that she's ashamed in front of her for dating someone when her daughter just broke an engagement. Min-goo slips up and says that Ji-yeon at least has Dong-ha now, which prompts Mom to loudly demand information.
Team Leader Byun holds a meeting with his team, and even Dong-ha facepalms over the badness of his story ideas. He takes a phone call and leaves the table, only to catch Ji-yeon skulking around wondering what he's telling Byun. She calls him a traitor, but Dong-ha just laughs at how cute she is.
Walking home that night, Ji-yeon talks to Na-rae on the phone, making her squeal over how sweetly Dong-ha is treating her. Ji-yeon laments that all she can think of all day long is Dong-ha (honey, not one of us blames you).
When she walks in her front door, she finds Mom, Dong-ha, and Soo-chul all sitting down to a huge home-cooked meal. Ji-yeon snarls at Dong-ha for leaving the office without saying goodbye, and he just explains that Mom was cooking and he couldn't refuse.
Mom barely tries to hide the reason for this meal, and launches right into questioning Dong-ha about his age, making him and Ji-yeon both stiffen when she assumes he's in his early 30s. Dong-ha, honest to a fault, reveals that he's 25, which brings dinner to a screeching halt as Mom does the math. Soo-chul can't get out of there fast enough.
Mom asks how they can date when he's so young and Ji-yeon will be 40 soon, since Ji-yeon should be looking for someone to marry, not just date. She works herself up to a lather, and Dong-ha starts to say that he's serious about this. Mom asks him straight out if he's thinking of marriage, but Ji-yeon assures her that she'll handle things herself.
Soo-chul takes Eun-chae out, but he's suspicious since she came so easily without protesting. She says she just wanted to, which flusters him (so cute) and she breaks the happy news that her mother agreed to come live with her. They're joined unexpectedly by a girl who knows Soo-chul from the clubs, and she asks if he's with his girlfriend. He says she's just a "younger sister," which gets a raised eyebrow from Eun-chae. Oh, might that have stung a bit?
The girl says he must be single then and asks him to call her, but he shoos her off quickly. Eun-chae inquires as to what style of women he likes, and he asks why she wants to know. Eun-chae plays it off like Rin-ji was curious, but she's just fidgety enough to betray the lie.
Dong-ha and Ji-yeon walk home together, and he tries for some skinship but she grumpily brushes him off. He knows it's because he's working for Team Leader Byun and moans that she doesn't understand his heart. She tells him he has no right to be upset, since he's the one who stabbed her in the back.
Dong-ha seriously informs her that he only took the job so he could work near her again, AWWW. Ji-yeon pouts that if he wants to be any closer to her he'll end up making Byun the editor-in-chief, so he assures her that she's the only person for the job and tries to aegyo her out of her bad mood, but she's not moved. She says that all her bravado and tough image and hard work is an act in order to be taken seriously and be the best reporter, but inside she still worries.
After all that, for Dong-ha to still go work for Team Leader Byun and claim she's his girlfriend, makes him a traitor. Dong-ha just leans in and plants a big kiss on her, saying that she talks too much. He admits he was wrong to take the job and promises to quit.
Ji-yeon and Na-rae have another phone call all about Dong-ha and how much of a "pro" he is, to use physical affection to get on Ji-yeon's good side. Na-rae rightly points out that Ji-yeon's pretty affectionate when she drinks so it's not just Dong-ha's age making him that way. Ji-yeon sighs again about how all she can think of all day is Dong-ha. I honestly don't see why this is a problem…
Dong-ha and Soo-chul have a beer and Soo-chul warns Dong-ha not to be manipulated by Ji-yeon's innocent act. Dong-ha says it's not an act, that what you see is what you get with her. Soo-chul whines that he's totally besotted by an innocent face himself these days but won't say who it is, which has Dong-ha suspicious. He tries to dramatically exit, and farts in Dong-ha's face when he stops him. Boys. Gotta love 'em.
The next day at the Trouble Maker, Director Kwon tells Ji-yeon that she's been nominated for the Global Change Reporter Exchange Program, but she takes it in stride as she's been nominated before and never won. Kwon says that this year her stories were stronger, and she just reminds him to remember that when choosing an editor-in-chief.
Director Kwon takes Mom out to dinner and a movie, and proposes that they do this often. He spills food on his shirt and tries to clean it off but the stain stays, and he's so bothered by it that he cancels the movie part of their date.
Dong-ha and Team Leader Byun work late, and Byun brags about how he'll totally crush the Witch. Dong-ha asks why Byun hates her so much, but Byun just says vaguely that she gave him a "scar that won't wash away." He says that Dong-ha must know about it, since it happened to him too: the Witch's Seduction and Curse.
Byun tells Dong-ha how he fell for Ji-yeon when she first started working at Trouble Maker. He claims that he was a hot reporter full of great ideas, but the flashback shows us that all of his ideas reminded Ji-yeon of being jilted, like stories about polar bears and women being jilted at the altar.
By the time he worked up the courage to confess during a drunken work outing, Ji-yeon hated his guts and let him know it in no uncertain terms. Her breakdown of how much he disgusts her is hilariously reminiscent of her doing the same thing to Soo-chul. She guessed that he'd never once had a girlfriend, which must be his embarrassing secret. She "cursed" him to remain alone forever, and he's been single ever since.
Dong-ha wanders up to Ji-yeon's work area, thinking about what Byun said about her "witch's temptation," and has the bad luck to walk in just as Young-sik brushes a stray hair off Ji-yeon's face. He looks over to see Jae-woong appearing to ogle her legs (and she does have great legs) in her high heels and short skirt. He freaks out and yanks her out of there, taking her to a clothing store and grouching about all the short skirts she wears.
Ji-yeon hilariously doesn't get angry, but takes him up on his offer to buy her some clothes and warns him not to regret it. He vetoes all her choices for being too sheer, too short, or too low-cut, but eventually they're both laughing at how ridiculous he's acting out of petty jealousy.
As Ji-yeon pays for the clothes they picked out, the cashier comments on what a handsome younger brother she has. She gets upset and takes her clothes to leave. When Dong-ha comes to the register the girl tells him his older sister left, but he says she's not his sister and yells loudly as he chases after her, calling her just about every nickname for a girlfriend there is, including "yobo" for a wife.
He catches up to her and she asks what else they should do as long and they're playing hooky. They go for ddukbokki and Dong-ha feeds Ji-yeon, even going in for a Lady and the Tramp kiss over a rice cake. Later he buys her about fifteen bracelets from a street vendor, declaring them the "handcuffs" binding her to him.
He takes a call from Soo-chul to find out that a high school friend got discharged from the army, and insists that Ji-yeon join them to catch up. Their old friend also brings a girl with him, who at 19 looks like an infant next to Ji-yeon, making her feel insecure.
Ji-yeon excuses herself to call Na-rae and complain that she feels out of place, and Dong-ha finds her and asks to leave since "the kids" are so immature. Sweet.
At home, they sit on their Bench of Honesty in the courtyard and Dong-ha gets quiet. He reminds Ji-yeon that she promised not to go anywhere even if he pushed her away. Ji-yeon asks if he's worried she'll go somewhere, and he says that when she left the store and the restaurant by herself today, it made him uneasy.
She says that she feels uneasy too, but Dong-ha assures her that his heart won't change. She says that she knows hearts do change, referring to her own change of heart regarding him. He promises that if she gives him time, he'll prove that his heart won't waver from her, and pulls her into a hug.
In the morning, Dong-ha waits outside staring at Ji-yeon's door, looking like the most lovestruck fool ever born. Soo-chul tells him to stop staring like that because it makes him jealous. They head out for the day and Soo-chul asks bluntly how far he and Ji-yeon have gone.
Dong-ha punishes him with two fingers up his nose (and I have flashbacks to my own father doing that exact thing to me, yuck) but admits that Ji-yeon is pretty busy lately so, well… they haven't done much. Soo-chul calls that out as a lame excuse, and I have to agree with The Spinach.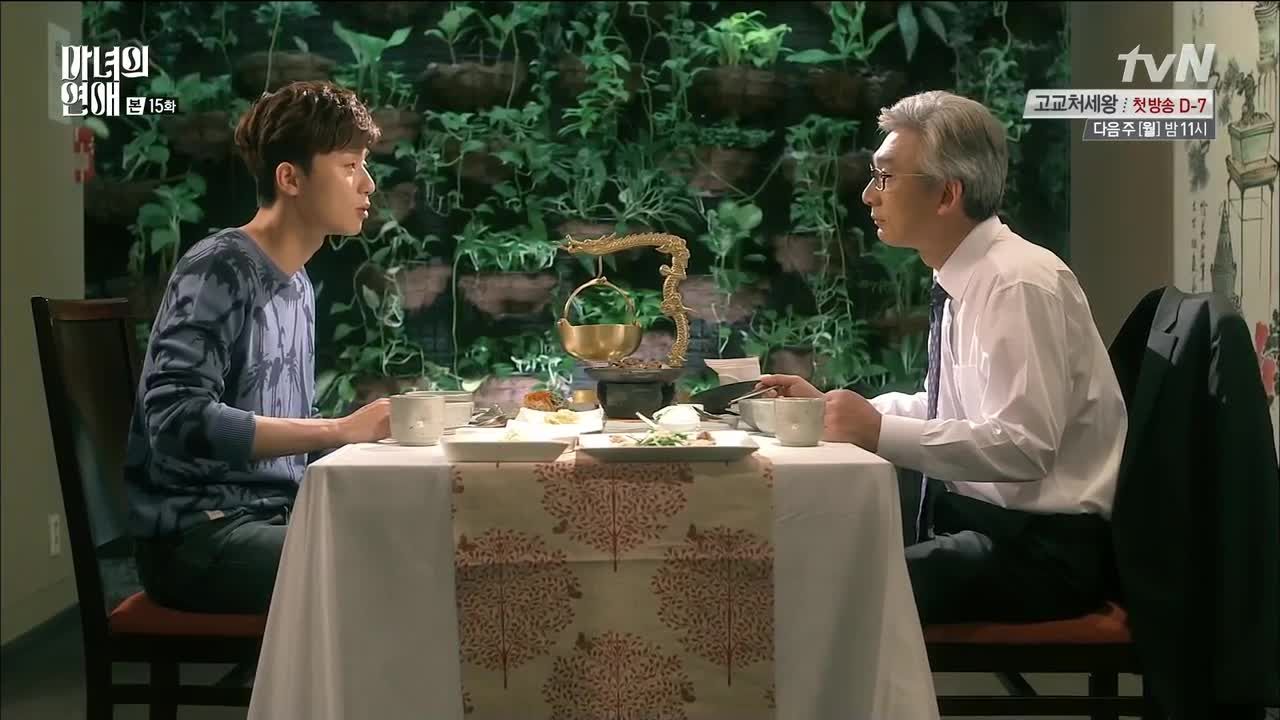 Dong-ha eats with his father for the first time in three years, and tells him that he's decided to go back to school. He also tells Dad that there's a woman he likes and that she encouraged him to go back to school, and that he wants to be a person who deserves someone like her. All of this makes Dad very happy, and he tells Dong-ha to bring the woman to dinner next time.
Soo-chul surprises Eun-chae by showing up to help her mother move in. His impression of her mentioning her mother's move is spot-on, haha. He charms the pants off her mom when they pick her up at the orphanage, and props to Eun-chae for not letting him do all the "man's work" and doing her part. She offers to buy him jjajangmyun to thank him for his help, making him swoon.
Na-rae downs a mountain of food waiting at a restaurant for Ji-yeon to join her, and orders two more meals just for herself, ha. She notices that Ji-yeon looks tired and listless, and wonders if Dong-ha hasn't "progressed" things any further than casual contact. Ji-yeon thinks it's just been too long since she dated and she's lost her dating mojo.
She admits that all she thinks of is Dong-ha and would text him all day like a stalker if she could, but Na-rae doesn't see the problem since he would probably like it. She advises Ji-yeon to just knock him over if she has to, but stop putting off the romance! Have I mentioned before that she's the best wingman ever?
Soo-chul still refuses to tell Dong-ha who his crush is, even as he's chirping that she bought him jjajangmyeon, and that he's thinking of hiring her to replace Dong-ha when he goes back to school. He changes the subject and literally shoves Dong-ha towards Ji-yeon's door, telling him that he'd better get things going romantically if he wants her to keep seeing him as a man.
Dong-ha goes home and takes a shower instead, while Ji-yeon reads a self-help book about dating younger men. She makes sexy poses in front of a mirror (in her raggedy pajamas, which is hysterical) until Dong-ha walks in and scares the life out of her. She offers him a drink and he not-at-all subtly asks for a beer. I see what you're doing there, sneaky boy.
He sits on the floor in exactly the same spot he was sitting for their first overflowing-beer kiss, and Ji-yeon carries in a whole twelve-pack. Someone's a little overeager, and even Dong-ha looks shocked.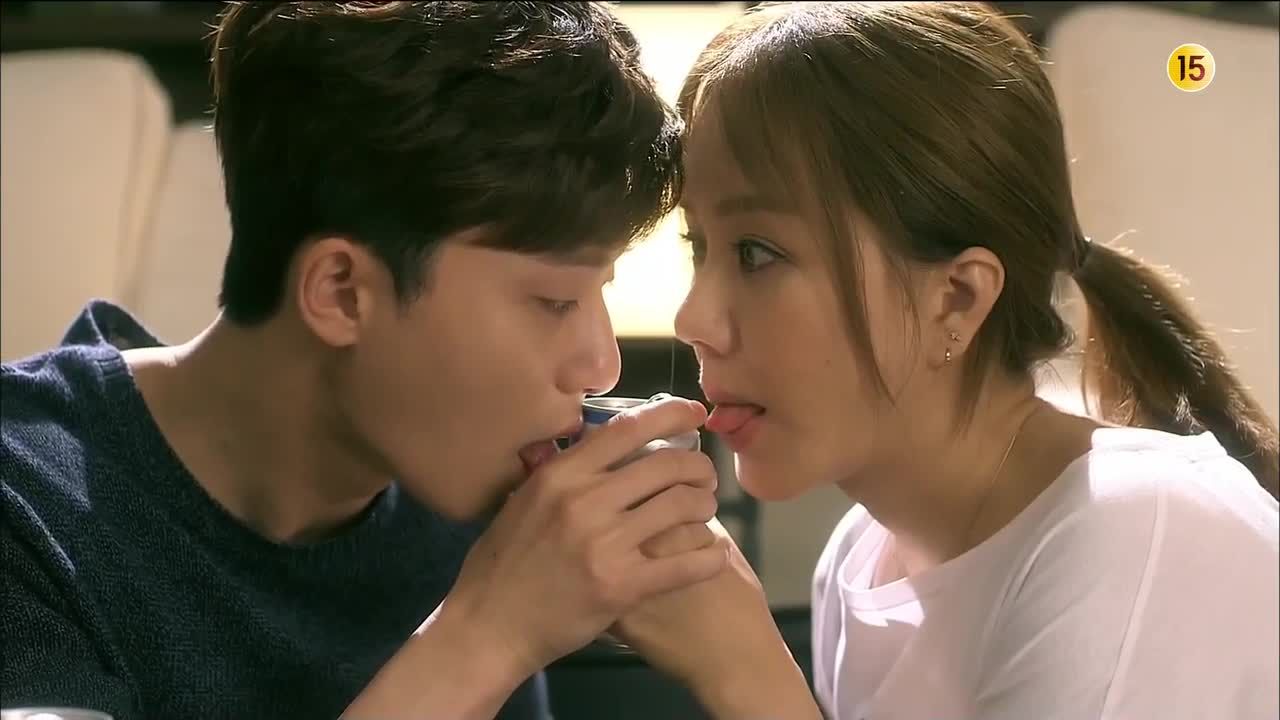 He asks her why she dislikes Team Leader Byun, and tells her again not to wear short skirts to work anymore. His jealousy is so cute. She tells him to just drink a beer and pops the top and wouldn't you know, it overflows and they find themselves in a very familiar pose.
This time when she licks beer off his finger, he licks hers right back. RAWR. After a long tension-filled moment Dong-ha literally tackles Ji-yeon to the floor where they kiss and smile at each other and laugh. But just when things start to get serious, Mom lets herself in the front door. DAMMIT MOM.
By the time Mom makes it to the living room, they're both vertical if a little disheveled, but Mom is too upset to notice. She plants herself on the floor between them and opens a beer which explodes in her face, and she asks who shook up the can, HAHAHA.
Mom starts ranting about younger men (as Ji-yeon fixes Dong-ha's hair behind Mom's head) and declares that her relationship with Director Kwon is finished because he's so immature. Dong-ha tries to leave but Mom yells at him to sit himself down, asking if he likes causing trouble then leaving Ji-yeon alone to handle it. Poor Dong-ha looks equally terrified and confused, though he can't resist sending Ji-yeon adorable grins over Mom's head.
Ji-yeon puts an exhausted Mom to bed later, and Dong-ha heads home. Ji-yeon offers to walk him to the door, admitting that she's disappointed. This clearly tickles him pink, and he makes silly kissyfaces at her. He gives her one last kiss and leaves, and Ji-yeon giddily collapses to the floor. So cute!
The next day, Ji-yeon frantically runs through the hospital looking for the EKG room. Mom is getting some test results from Dong-ha's father who says she's normal, but she asks why she's having heart palpitations and feels depressed and feverish. He says that those can be symptoms of stress, and they both admit that they have a child who causes them stress sometimes.
Dong-ha finds Ji-yeon waiting in the hall, and she says that her mom wasn't feeling well but she thinks it's just lovesickness. She notices how handsome he looks in his white lab coat, and he tells her that he's thinking of going back to school. He says he'll be a lot busier but she says that's okay, that he'll make a great doctor someday.
As they leave the hospital, Ji-yeon asks her mom what she likes about Director Kwon. She says she likes his voice and his manners, though he's too fussy. Mom asks her not to tell anyone at the office about her hospital visit.
Director Kwon calls Ji-yeon to the office to tell her that she was chosen as the Global Exchange Program Exchange Reporter, which means that she'll be spending a year in England working for US Weekly. He says that he'll appoint a temporary editor-in-chief until she gets back. She's excited and proud of herself, but then she hears Dong-ha's voice reminding her that she promised not to go anywhere.
She calls Na-rae as she's walking home and catches her up on things with Dong-ha, and tells her that she ordered a bunch of new sexy lingerie. When she gets home, Dong-ha has already found her package and offers to carry it in for her. She goes to change out of her work clothes and he slips a couple of matching angelfish into her fish tank, which has been empty since her last fish died. He even makes up names and a meet-cute backstory for the fish.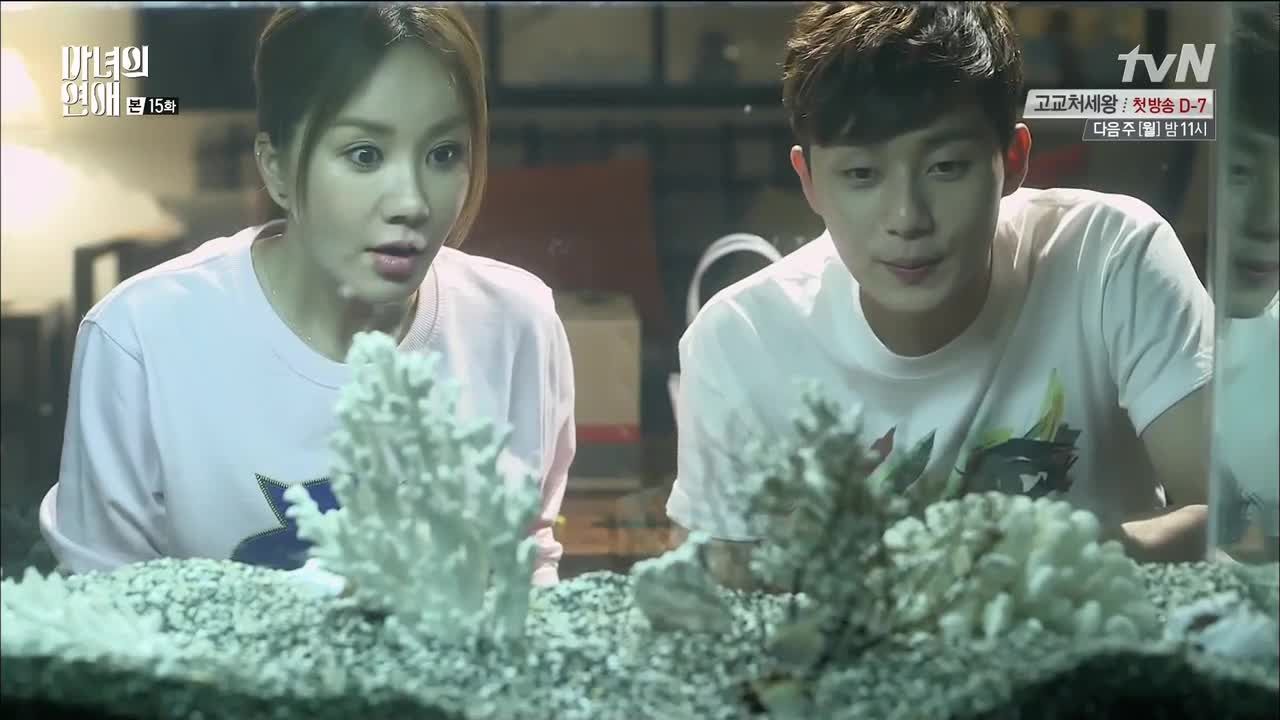 He says he's really curious about all these packages she gets and goes to peek in the box, but she grabs it and tells him it's none of his business. That makes him even more curious and he chases her around the house and into the bedroom, finally cornering her on the bed and getting the box away from her. He holds it over his head and the box comes open, spilling lingerie all over his head, HAHA. His face is priceless.
Ji-yeon shoves everything back in the box, and Dong-ha sidles up next to her and asks if she didn't buy all that to show him anyway. She denies it but he's not buying what she's selling, since there's no one else she'd show those things to. He chases her around the bed, pouncing on her and kissing her, and the lights go out one by one until it's completely dark.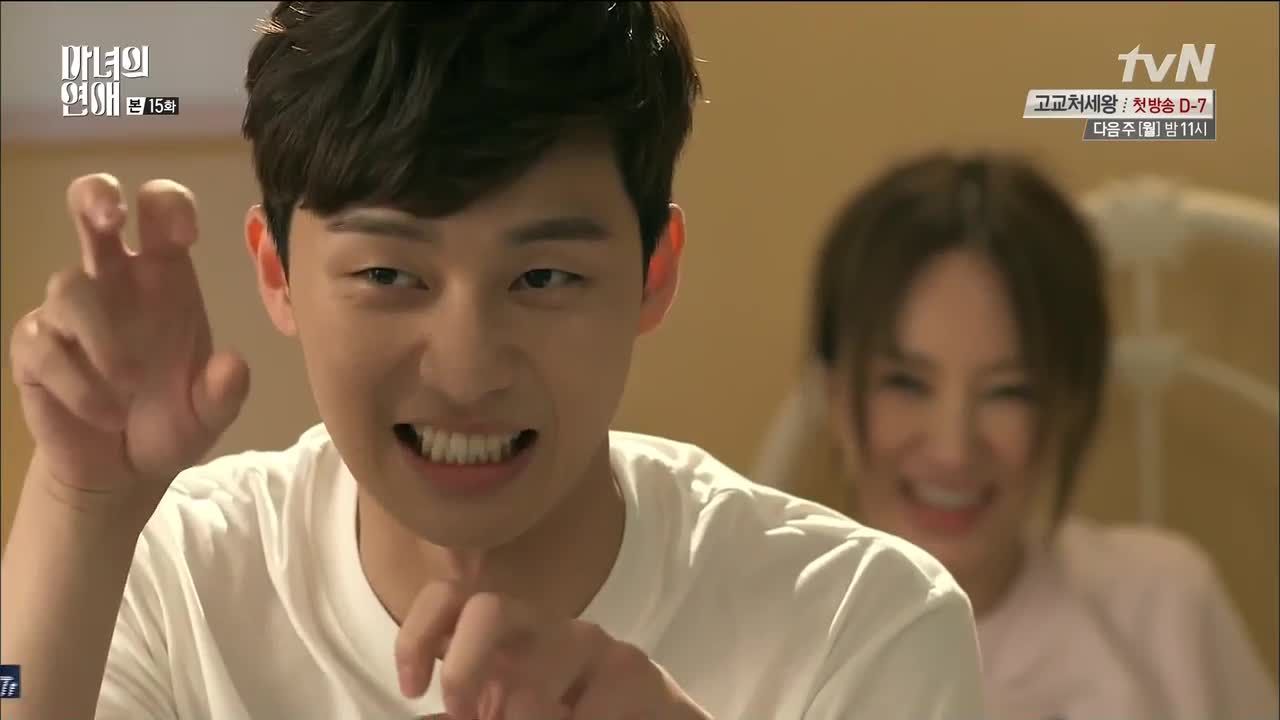 COMMENTS
Finally! The show feels like we've come full-circle back to the cute, fun, sexy, kissy Witch's Romance we all fell in love with at first sight (or at least I know I did)! I'm so happy, because the magic in this drama has always been the ridiculous amount of chemistry between Dong-ha and Ji-yeon, and I think it's gotten even stronger as the show progressed. You can practically see the energy pulling them towards each other when they're onscreen together.
I've appreciated, for a long while, that the age gap between Ji-yeon and Dong-ha was not a huge issue in the bulk of the story. I think not making that a primary focus of conflict let the characters feel out their emotions and relationships without age concerns getting in the way and cluttering up the storytelling with too much background noise. But it's interesting to see it start to creep back in now that the two are finally officially dating. Because let's be honest…14 years is quite a large age gap for two people in a romantic relationship. Especially when the woman is older and possibly is ready to settle down (as Ji-yeon's mom pointed out), and kids are something that need to happen sooner rather than later if they're to happen at all, but the man still hasn't even finished school yet. That's not holding people up to ridiculous societal "rules," that's just facts of life. Add in Ji-yeon's strong focus on her career, and we have a real conundrum. Can this relationship withstand the fact that it's players are in very different stages of their lives?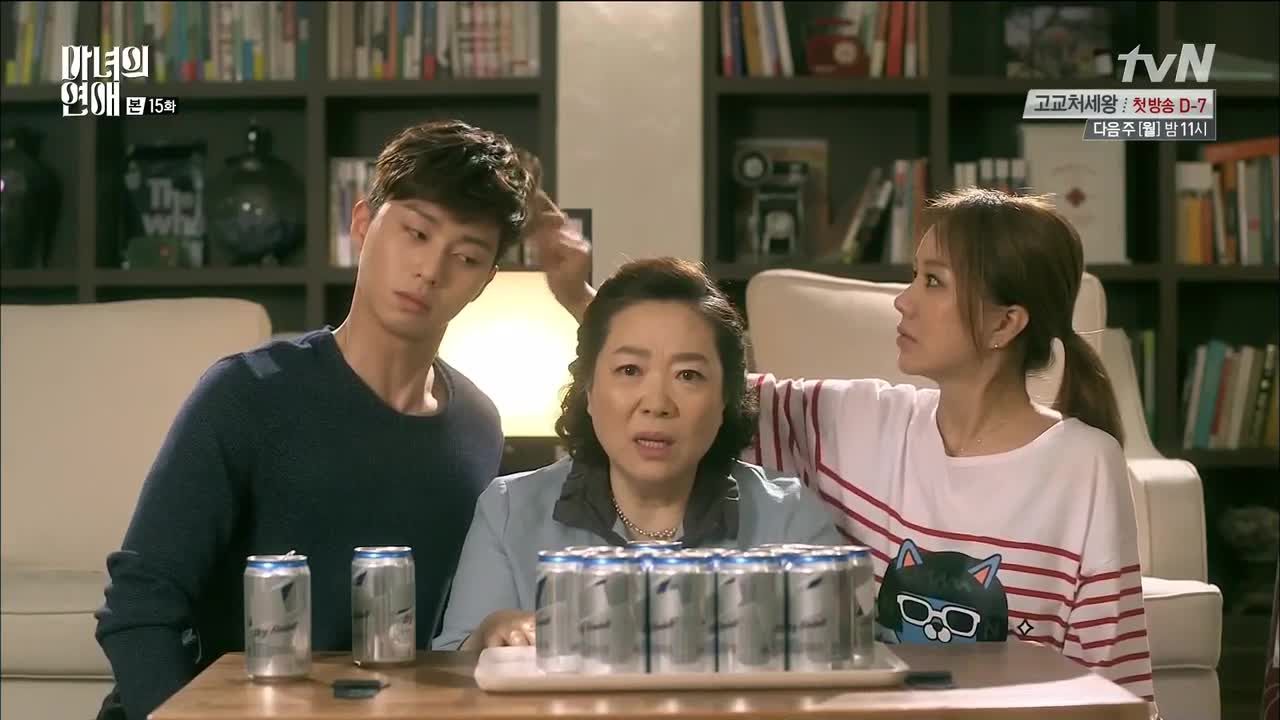 Truthfully, I think it can. The show has made such a strong case for Dong-ha and Ji-yeon truly belonging together, age and careers be damned, that I think they can handle the fact that the relationship may not be their main focus for a while. They may not see each other much for a time, they may even have to be apart for a year while Ji-yeon takes advantage of the fantastic career opportunity she's been offered, but I do think they can get through it and come out stronger. If that's where the finale takes us, and I do think it will, I'm not dreading it like I usually dread a forced separation (one of my most-hated drama tropes). I trust that Dong-ha and Ji-yeon love each other enough to make it, no matter what.
Speaking of things I've really appreciated about the show, I also want to mention how skillfully I think the show has been able to subvert the drama tropes we're all familiar with, which I'm guessing is a big reason we've all loved this show so much. Yes, it gave us a lot of the usual situations, but it also gave us characters who didn't react to those situations in ways we expect. The biggest example of this is how, every time there's been a misunderstanding or hurt feelings, Dong-ha and Ji-yeon sit down and talk it out. I think when you've seen enough dramas, you're so used to watching characters sulk around each other for episodes at a time over the smallest misunderstanding, and it's been such a breath of fresh air to see leads who just…talk! Wonder of wonders. Even situations in which you would normally brace yourself for a big fight, such as Dong-ha's jealous fit over Ji-yeon's clothes, instead become a source of fun for the couple as they laugh at how ridiculous they're acting.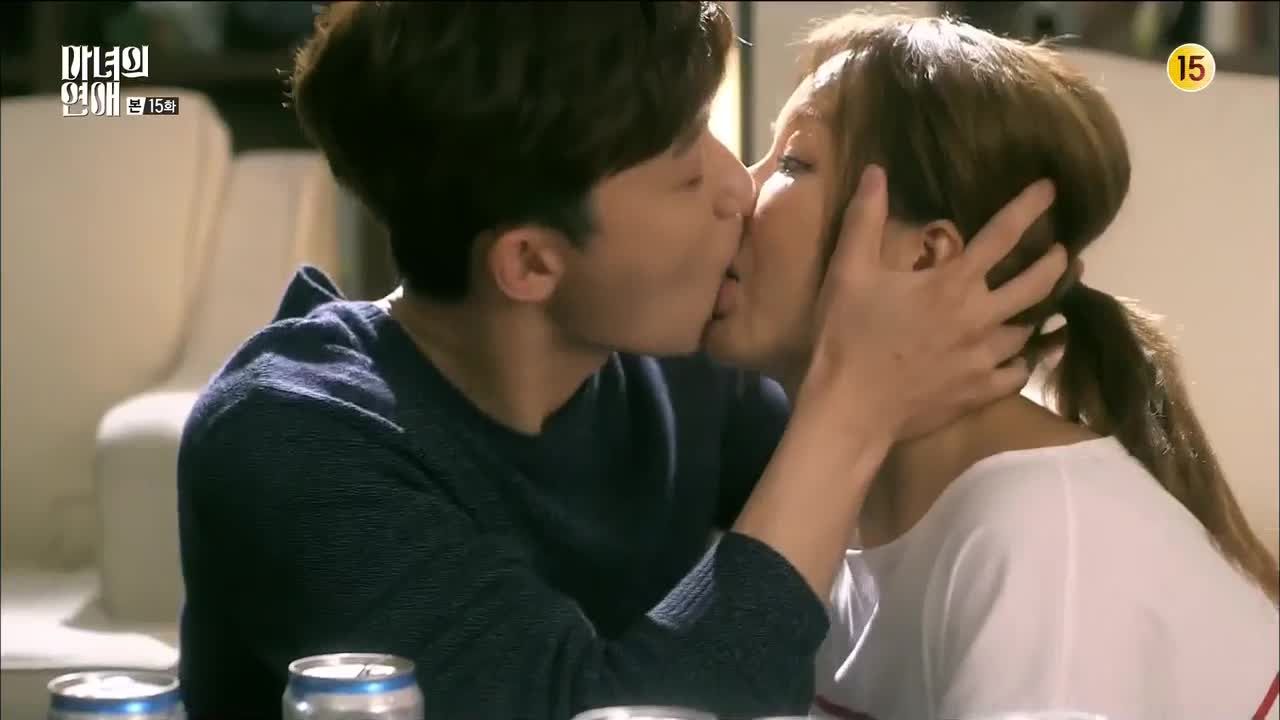 I've also enjoyed how, other than Polar Bear in a very vague sense, there really wasn't a "villain" in the story. Shi-hoon walked a fine line, the way he was a little too controlling and a little too unconcerned with what Ji-yeon was going through, and he most definitely handled breaking up with her in just about the most insensitive way possible. But mostly I think he was less of a "bad guy" and more of a clueless guy. I was worried for a while there that Eun-chae would turn into the typical bitter jilted second lead, but she really took Dong-ha's lack of attraction to her with grace and maturity. Soo-chul started out insensitive and mean, willing to publicly humiliate a stranger for money, but he's really turned out to be a rock-solid friend to Dong-ha who actually gives pretty darn good advice.
Mostly, what's made Witch's Romance so special for me has been it's characters. From the absolutely amazing leads, to the hilarious and wonderful best friends and parents, and even all of the Trouble Maker employees, there's not one character I didn't enjoy getting to know throughout the run of the show. I truly think that no matter what happened within the drama, and whatever story it chose to tell us, I would have watched these characters do just about anything and enjoyed it immensely. It's rare to see a drama with characters that make us love each and every one of them so much, and I for one am going to miss them a lot.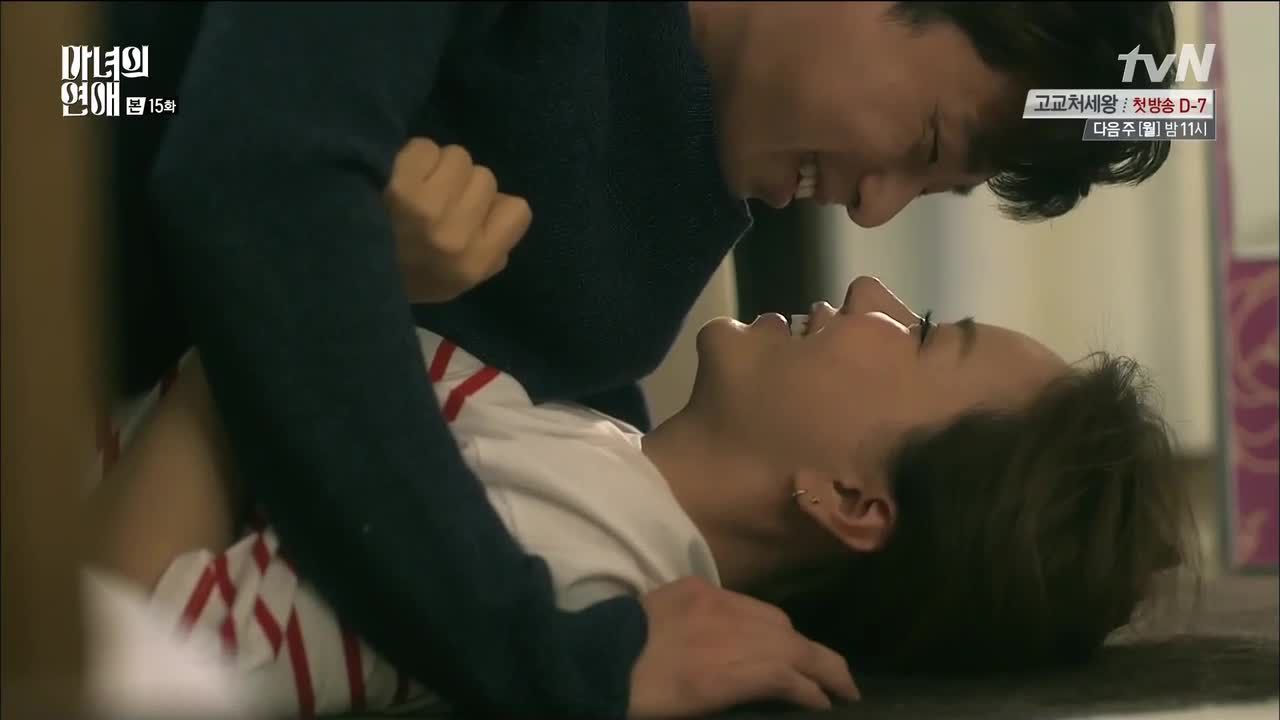 RELATED POSTS
Tags: featured, Park Seo-joon, Uhm Jung-hwa, Witch's Romance