Witch's Romance: Episode 16 (Final)
It's time to say good-bye to the adorable Dong-ha and the delightful Ji-yeon — but I'm not ready! Can't we keep them around just a little longer?
Thank goodness, then, the final episode is brimming with cute 'n' fluffy moments of our favorite couple getting to actually fully enjoy being a couple. Of course, there are a few more hurdles they need to cross — such as whether or not Ji-yeon will decide to stay with Dong-ha or go to England to fulfill her dreams as a reporter. But those are mere details in the grand scheme of things. What's most important is that everyone in the show gets to have their own moment of "happily ever after." (Which may or may not include a wedding. Okay, it totally does.)
FINAL EPISODE RECAP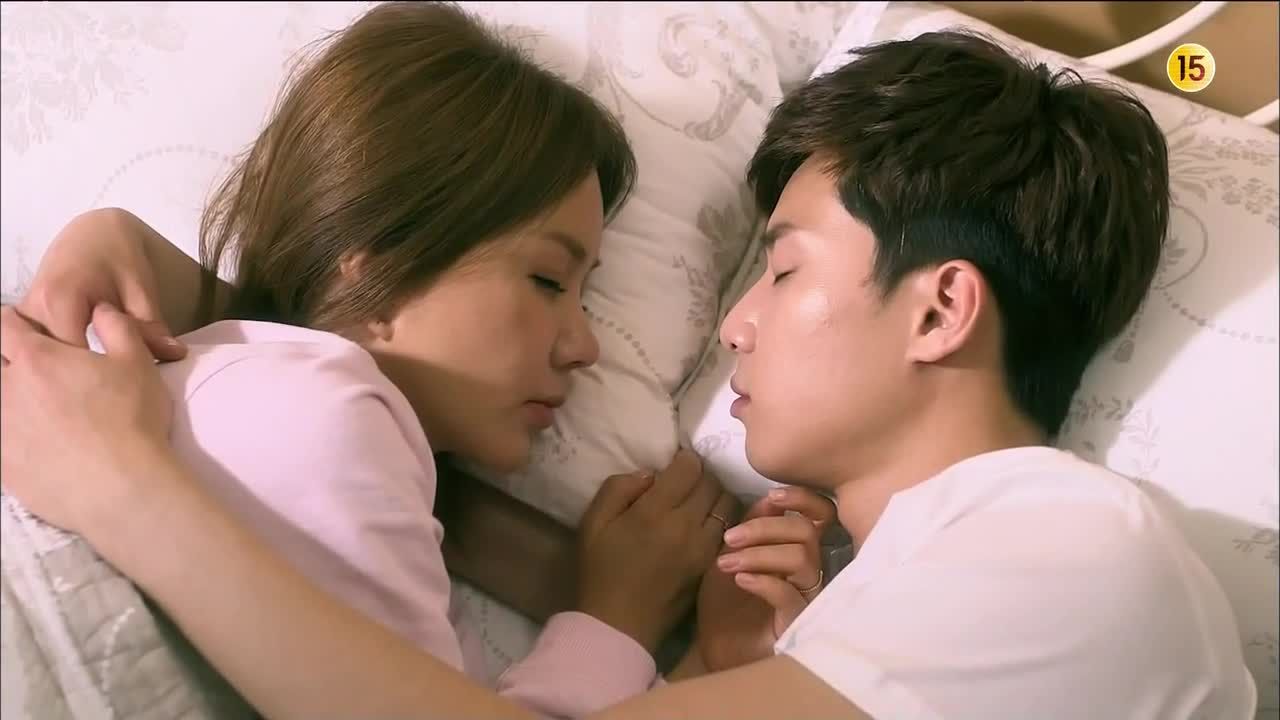 The next morning, a sleepy Ji-yeon wakes up to Dong-ha smiling at her as he holds her in arms. She's momentarily confused as to why he's there, but he's more than happy to remind her with a cute growl (and she's more than happy to be reminded, if you know what I mean).
Then, because he's the best boyfriend ever, he makes her breakfast in bed. But as he's balancing the tray, he accidentally knocks over her bag, spilling its contents all over the floor. He hurriedly tries to put everything back, but the Global Challenge Program acceptance letter catches his eye.
Instead of going straight to work, Ji-yeon stops to meet with Na-rae, who congratulates her: not for all the sexy-times she had last night (and apparently this morning), but for winning the exchange program competition. (I'm pretty sure the sexy-times deserve some congratulations, though.) She's surprised that Ji-yeon isn't as excited as she thought she would be, since she's apparently wanted to be a part of this program ever since she became a journalist.
Na-rae quickly realizes that Ji-yeon is instead thinking of Dong-ha, and what it would mean to be gone for a year (and return a year older). When she tells Ji-yeon to talk it over with Dong-ha, she says he's busy enough with his school and part-time job — she doesn't want to add another worry to his plate.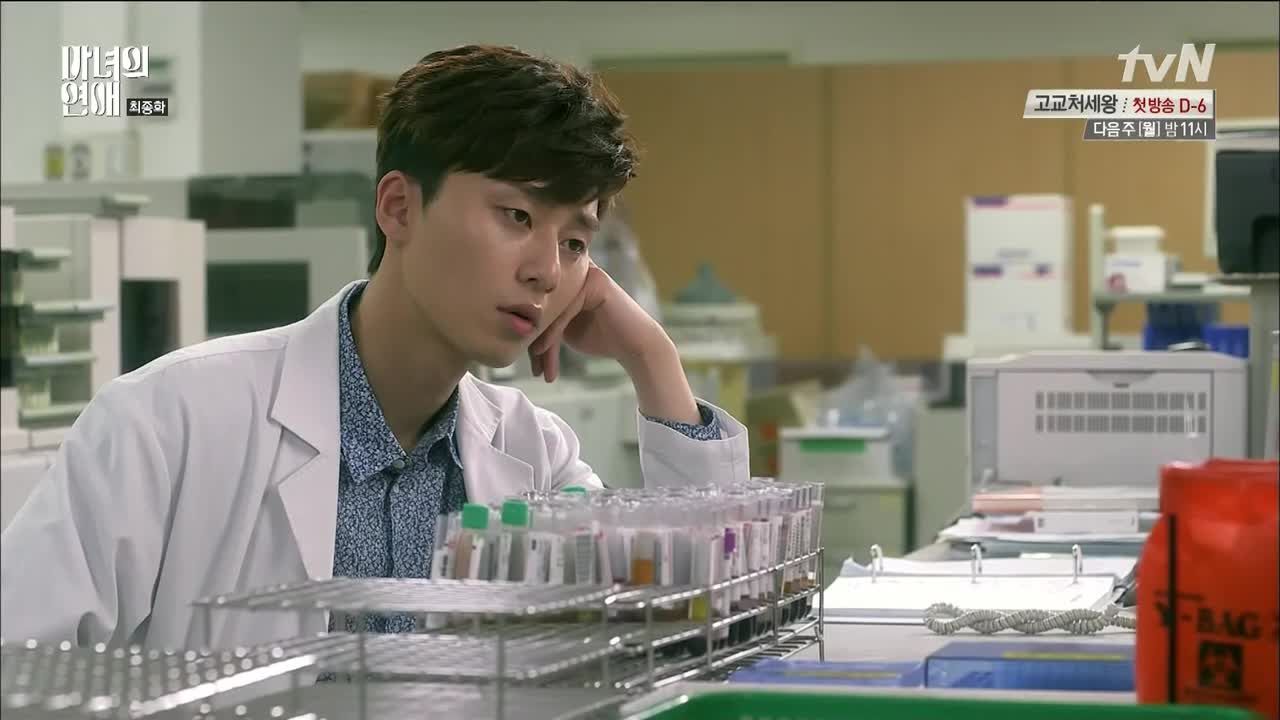 But too late, because he already knows, and he's lost in thought at his part-time job in the hospital laboratory. He makes a quick call to Young-sik, where he learns how competitive the Global Challenge Program really is, and how much Ji-yeon has been eager for years to win it. Dong-ha doesn't explain why he's interested, but Young-sik is mighty suspicious about his interest.
Ji-yeon meets with Director Kwon, informing him she won't do the exchange program. She tells him it's because she'd prefer the opportunity to become editor-in-chief, and didn't want to pass up a chance for promotion. Even though he seems doubtful that this is the right decision, he agrees to it.
While Dong-ha continues to ponder the Global Challenge Program and what it means to Ji-yeon, Soo-chul goes a-wooing at the Trouble Maker office. He delivers a juice order to Eun-chae — and even though she didn't actually order it, when Rin-ji hurries over to flirt with Soo-chul, Eun-chae immediately takes the drink with a sweet, "Thank you, oppa!"
She even gives a cute wink when she hands him the other drink, just so Rin-ji can't take it. Soo-chul floats from the office on cloud nine — leaving a stunned Rin-ji holding the now empty drink carrier. Ha.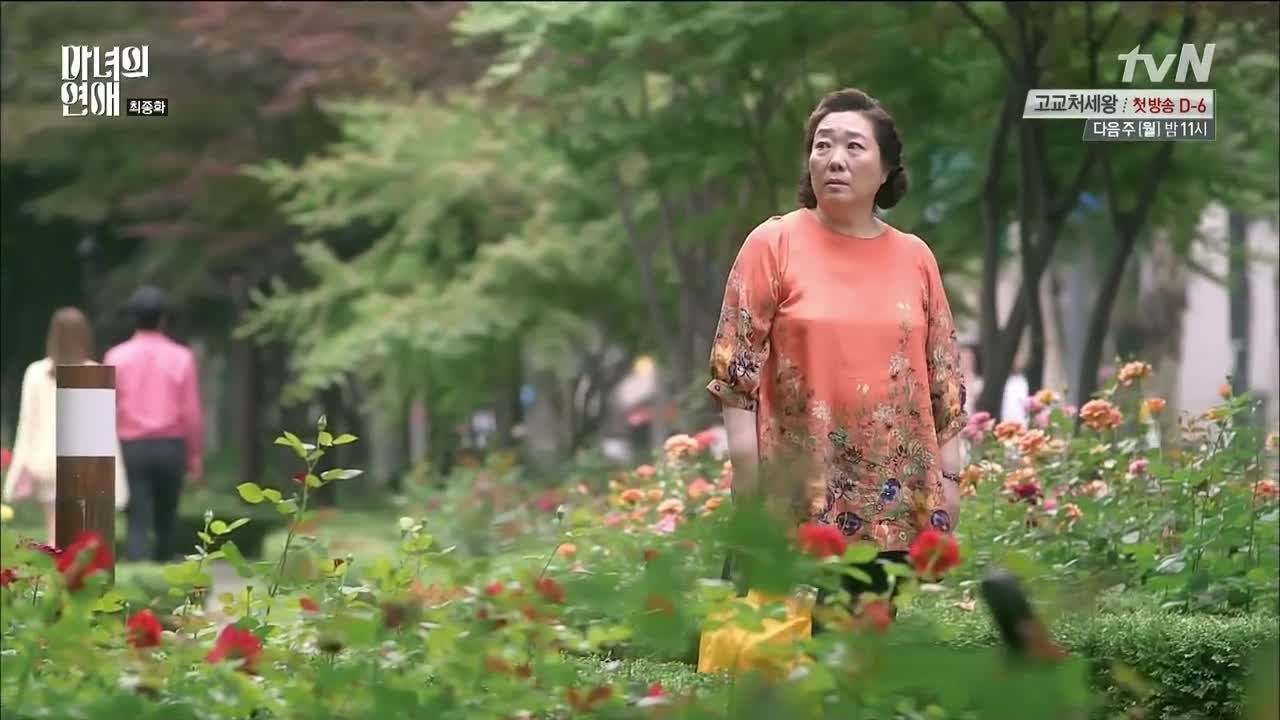 Ji-yeon's mother sadly wanders through a flower garden, sighing as she recites Han Yong-un's poem, "My Beloved's Silence":
My beloved has left
Ah, my beloved, whom I love, has left
I am deaf to my beloved's fragrant voice
Blind to my beloved's flower-like face
But Director Kwon suddenly appears, and continues the poem:
Just as we worry about leaving when we meet,
I believe that when we part, we will meet again
Then he busts out a passionate rendition of "You are so beautiful to me!" as he reveals the bouquet of flowers he'd been hiding behind his back.
But Mom isn't so quick to forgive him for being such a neat freak that he'd bail on a date, so he drops to his knee. Still proffering the bouquet, he tells her that she shouldn't be quick to forgive him, and should take all the time she needs, because that means they can continue to meet. Well played, Director Kwon; well played.
She begrudgingly snatches the bouquet from him, unable to resist his pleading puppy-dog eyes. The look of pure joy on his face is just too adorable.
Once Ji-yeon returns home after work, Dong-ha tells her he knows about the Global Exchange Program. He adds that he's a little hurt that she didn't tell him about it, since they're supposed to be honest about everything in a relationship (his tone may be lighthearted as he says it, but he's definitely serious).
She didn't tell him because she decided not to go. It was hard enough for them to get even this far in their relationship — what would happen between them if they were apart for so long? She admits the program is an important opportunity — but he's important to her, too. So she decided to stay. At a loss for words, Dong-ha pulls her into a tight hug.
As he walks her to her apartment, Dong-ha tells her that his father wants to have dinner with them. Ji-yeon's a little panicked at the thought of meeting with him since she knows how intense and intimidating his father can be, but Dong-ha reassures her that he'll love her (all his father knows right now is that Dong-ha has a girlfriend, but not exactly who it is).
But when Dong-ha says goodnight, his smile disappears after Ji-yeon enters her apartment.
At the office the next day, Ji-yeon and Young-sik overhear Team Leader Byun counseling Rin-ji over an error she made in one of the magazine's articles. Rin-ji's near tears as she worries about the subject of the article suing for defamation, but Team Leader Byun reminds her how they go about making corrections, and even gives an example from his past about an embarrassing error in print he once made.
Reassured and able to smile again, Rin-ji promises to make sure she won't make a similar mistake again. Ji-yeon looks on thoughtfully, no doubt as impressed as I am that this show manages to humanize the side characters even up to the last minute.
Dong-ha and a nervous Ji-yeon wait for his father to arrive at the restaurant. As he's shown into their private room, Dong-ha's father shows just a flicker of surprise to see Ji-yeon standing there — but he seems mostly surprised that such a successful reporter would want to stick with someone who's going to be in medical school for at least eight years.
But Ji-yeon surprises him when she says she won't wait for Dong-ha. Instead, she'll walk alongside of him. She has her own work and goals to focus on as she encourages him to complete his goals. Papa Yoon is charmed by her answer, teasingly asking if she'll be okay with such an immature kid. Even though Ji-yeon reassures him that Dong-ha is trustworthy and dependable, she jokingly admits he can be a little immature.
That seems to be all his father needed to hear, because with all the smiles and laughter, it seems he approves of Ji-yeon and her relationship with his son. And I approve of the show giving us a father who trusts his son's judgment when it comes to relationships, and is just delighted to be a part of his life.
But Dong-ha can't help but be a little annoyed at how quickly she agreed he was immature, and playfully fusses at her as they walk home. They find Eun-chae waiting in the courtyard, and at her surprise seeing the two of them together, Dong-ha takes the chance to tell (and show!) her that he and Ji-yeon are officially a couple. (Even asking her to spread rumors at the office, heh.)
Soo-chul tries to sneak by with Eun-chae, but Dong-ha pulls out the trademark "Stop!" and confronts his friend, suspicious at the clothes and cologne he's wearing. He asks if Eun-chae is the mysterious woman he's been seeing lately. Soo-chul silently answers with a nod and a kiss to Eun-chae's hand (plus an adorable kiss-by-proxy as he gently puts his hand to Eun-chae's lips and then his own. Oh, you charmer).
Double date! The two couples go out for a coffee, and Dong-ha reaches across the table to grab Soo-chul's shirt, demanding to know why he didn't tell him he he liked Eun-chae. In return, Soo-chul grabs Dong-ha's ears and says he couldn't tell him, because Dong-ha would tell Ji-yeon and then everyone would know. Eun-chae: "Know what? That you followed me around because you like me?"
Ji-yeon gets a call from Young-sik about an article they're working on, so she rushes off. When Soo-chul marvels at her passion as a reporter, Eun-chae says that Ji-yeon told her that her dream is to be a "brand" reporter: someone whose articles can be trusted just based on who wrote them. Once again, Dong-ha looks thoughtful at hearing how much Ji-yeon's career means to her.
Late that night, she finishes writing the article. She gives the Global Exchange Program award one last look before she shuts it away in a drawer, and readies to leave the office. As she walks down the stairs, she notices a slideshow playing the conference room — it's pictures of her as a little girl.
A recording of Dong-ha narrates over images of her as a reporter and copies of her articles, describing how from birth she's grown into someone who is considered the queen of breaking news stories as she attempts to bring justice to the world.
The slideshow ends, and Dong-ha steps around the corner. He tells her that he's really proud that Reporter Ban Ji-yeon is his girlfriend, and that she should continue to be a passionate reporter to expose all the bad people and release exclusive articles. Which means she should go to England.
Parroting her words from earlier, he says that he has the confidence to walk along side her, cheering her on. She gets a little choked up, but fighting back the emotion, she distracts by asking him how he put the slideshow together. She's surprised to discover that Team Leader Byun is such a wealth of information, since Dong-ha relied on his encyclopedic knowledge of every article that had been published to find her most influential ones.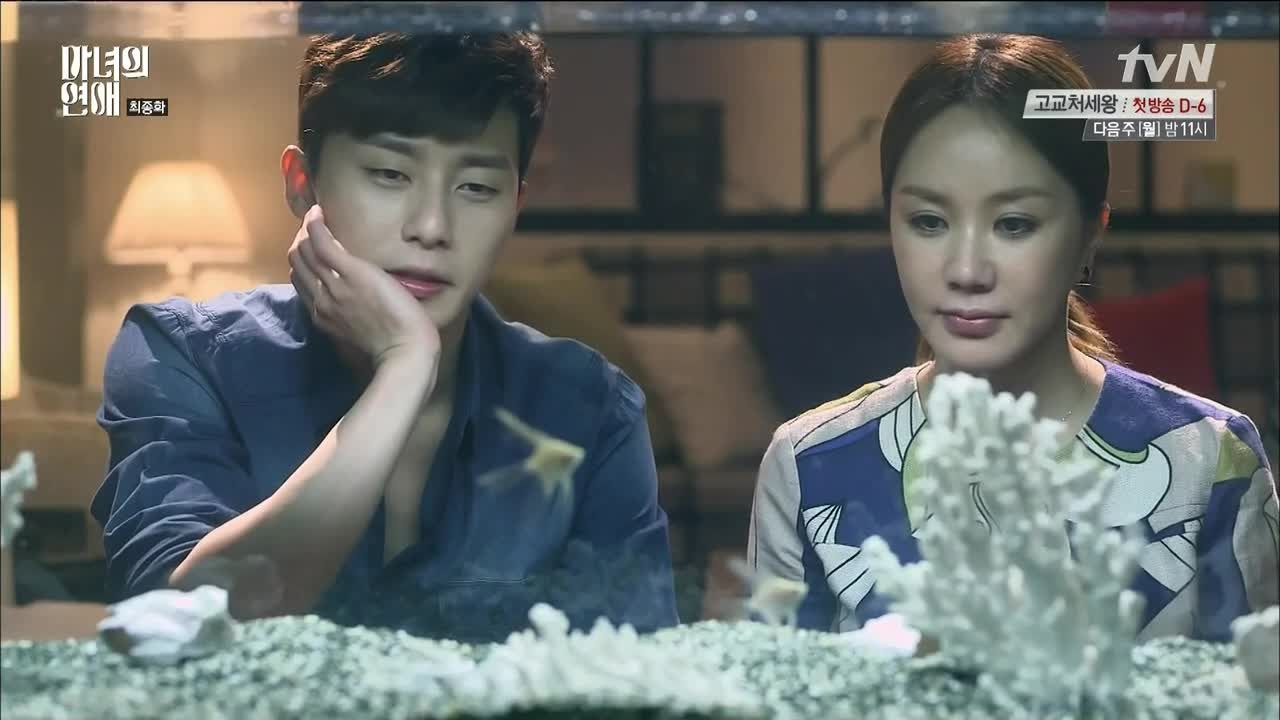 Dong-ha gets himself invited in "to check on the fish" (yeah, uh-huh, sure). He promises to look after them when Ji-yeon goes to England, and also to visit her mother once a week for dinner and a game of Go-Stop. Seriously. Best boyfriend ever.
He then "innocently" asks her if she's received a package lately, and if there's anything she wants to show him (he's referring to the box of lingerie from the previous episode, in case you're wondering). They end up chasing each other around the coffee table, and we are left to our imaginations as to what happens next. Darn it!
The next morning, Director Kwon announces the new editor-in-chief, based primarily on Ji-yeon's recommendation. Team Leader Byun throws a fit, saying it was supposed to be a fair competition between them — and then is stunned speechless when Director Kwon tells him he's got the job. Ji-yeon sincerely congratulates him, saying that it wasn't a recommendation out of pity since she'll be going to England. She truly believes will do well since he cares so much about all the details of Trouble Maker and his kind to his staff. Aw. She also recommends he get out and date, ha.
Mom is busy helping Ji-yeon pack by providing the important things, like roasted brown rice for tea and seaweed chips. She grumbles that Ji-yeon will be forty when she gets back (Ji-yeon: "Like I don't know that already!") and Dong-ha will have found someone younger to date in the meantime. But Ji-yeon assures her he's not that kind of guy, and convinces her mother to stay up all night talking on Ji-yeon's last night in Korea.
Dong-ha drives her to the airport the next morning, holding her hand as they make plans on how to keep in touch while she's overseas. And, ha! Soo-chul is happily wedged in the backseat, actively listening in. I feel like he's just a package deal with these two.
A year later…
The hyacinth blooms in its new pot.
Dong-ha has just completed his finals, and Soo-chul begs him to go on a weekend retreat with him and Eun-chae. Oh-ho, so things have progressed well in that relationship! Dong-ha reluctantly agrees, not thrilled to be the third wheel, especially since it has been ten days since he's heard from Ji-yeon. Which is unusual, because not a day would go by without some sort of contact.
Over dinner, Soo-chul and Eun-chae are sickeningly adorable in their couple-tees (and couple-shoes!), and as Dong-ha watches a besotted Soo-chul feed Eun-chae, he's reminded of when Ji-yeon did the same for him. He checks his phone — but still no call from Ji-yeon.
He's quickly abandoned by Eun-chae and Soo-chul, and is feeling sad and lonely when he returns to his room. But, surprise! Ji-yeon is there, with cake, candles, and wine — all the elements of a big romantic event.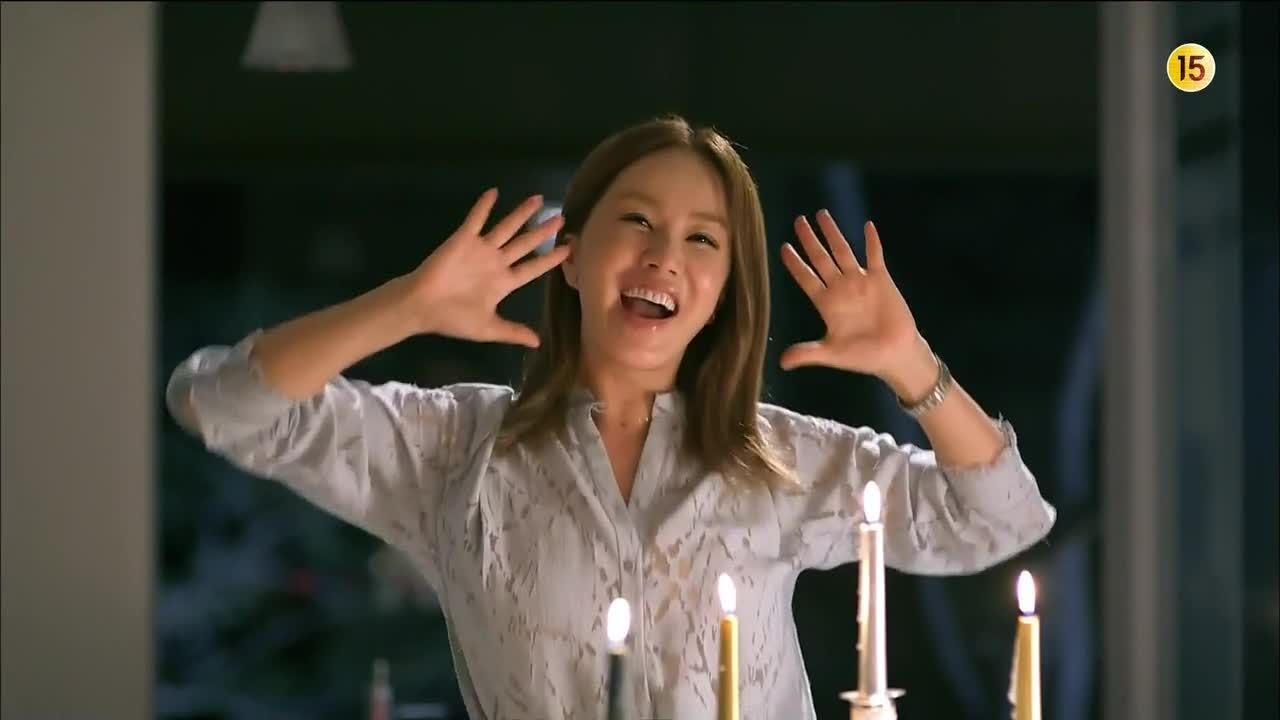 But Dong-ha is having none of it. Angrily, he asks her what she's doing there — why did she make him worry for ten days with no contact, and then show up without warning? Her face falls…
…and then he pulls her into a hug, all smiles that she's really there. Both of them are practically glowing in delight at being able to hold each other again, but before Dong-ha can say much more, Ji-yeon interrupts him. For a good reason: "I love you!" She explains that she's only ever responded to him when he's said those words — she wanted to be the first to say them, this time.
Later, they sleepily snuggle in bed as they get caught up on their lives. When he notices that Ji-yeon has fallen asleep, he murmurs that he wanted to be the one to say it first: "I love you." Aw.
Ji-yeon meets with Director Kwon, thinking it's about returning to Trouble Maker — but it's actually to meet with Director Kwon and Mom. She gives them the third degree about their relationship, and the two are so adorably bashful as they tell her that they've started seriously dating again.
When she later meets up with Na-rae (aw, and her cute li'l baby!), she's exasperated that her mother is dating her old boss. But Na-rae reminds her that she had to support Ji-yeon growing up — it's time that she got to pursue her own life. She's not just a mother, she's a woman, too. But Ji-yeon's just stuck on the fact it has to be Director Kwon.
At least he won't be her boss any longer, because she has no plans on returning to Trouble Maker. There are plenty of other magazines that are eagerly scouting her after her experience in England and the Global Exchange Program.
As she confidently leaves an interview with one of the other magazines, she narrates that for so long, she only sprinted ahead while looking forward. In order to be ahead of everyone else, she couldn't waste a single second. But now she's able to slow down and see the beauty of the world, and feel the happiness in life.
Over dinner with his father, Dong-ha is a little surprised to hear his father counsel him about marriage, reminding him that now that Ji-yeon's back, her family will probably start to push for a wedding. Dong-ha stutters that she's only just returned to Korea and is busy with her own life. But Papa Yoon points out that women like relationships that are stable.
In bed, Ji-yeon and Dong-ha try to out-aegyo each other — only to be interrupted by the furniture salesman who politely informs them they can't do that here. HA!
They continue to explore the department store, checking out the electronics (3D televisions!) and housewares. Dong-ha shows off a pot he's selected, and Ji-yeon pulls out a couple of mugs she considers to be too tacky, until she reaches for a cute little bride-and-groom wedding topper. In her best aegyo-voice, she asks how much it is.
Sometime later, Ji-yeon sits solemn before a vanity mirror, wearing a pretty pink lace dress. Mom enters the room, also lovely in a pink dress, and they both coo at how beautiful they look.
Then they share an emotionally charged moment as Ji-yeon tells her mother she needn't worry about her anymore, and to instead just focus on living out her life they way she wants, and to be happy. In return, Mom tells her that there wasn't a time since Ji-yeon was born that she wasn't happy — seeing Ji-yeon living well is her happiness.
The two women hug and cry. And then I cry, because this is the last mother-daughter moment we'll get in a show that had one of best mother-daughter relationships ever.
After Mom leaves, Dong-ha pops his head in the room, and then jokingly apologizes because he was sure he had the wrong place because the woman in it is too beautiful. Hey, you're not looking too shabby yourself in that spiffy tuxedo. He gives her his arm as they leave the room.
And it's a wedding! With everyone there! Min-goo, Na-rae, and baby; Soo-chul and Eun-chae; Rin-ji and Beggar Island; Team Leader Byun and the new lady in his life; and of course Young-sik, who rushes around taking pictures of everyone. Team Leader Byun is the MC for this wedding, and as the camera focuses on Ji-yeon and Dong-ha standing at the end of the aisle, he announces the arrival of the bride and groom.
But fake out! It's actually Mom and Director Kwon who are tying the knot today, with Dong-ha and and Ji-yeon as their attendants.
Soo-chul serenades the happy crowd as everyone applauds and throws rose petals. Director Kwon throws the bouquet, and Dong-ha catches it. Hee! Of course he would.
Ji-yeon and Dong-ha, still in their wedding finery, take a walk along the a pretty garden path (and he's still holding the bouquet, aw). He suggests they go on their four-day trip to Jeju Island while her mother is away on her honeymoon, but Ji-yeon just teases him that he's always talking about Jeju — until she finally promises that they can go.
He then asks when they're going to get married. She reminds him that he's still a student, and he protests that there's no law that says a student can't also be married. Besides, what kind of woman refuses a marriage proposal three times?
She corrects him — she didn't reject his proposals, she merely postponed them. Once he graduates, then they can get married. When he chides her (with a smile) that she's too mean, she asks: "Did you forget? I'm a witch!"
As the two walk along the path, side-by-side, their voice-overs intertwine:
Dong-ha: "I am going to protect this woman forever: a person who's not ashamed of her own dream. That person is the person that I love."

Ji-yeon: "Right now, I am dating this man. Now I am no longer afraid of love. Maybe our end won't be marriage, but I don't care. Right now, we are doing our best to love each other and are happy enough."
COMMENTS
What a delightful ending to a delightful show. And how awesome was that wedding fake-out?
I really appreciate the fact that Ji-yeon has grown from being a woman who was so bound up by the fact she was jilted at the altar she expected that anniversary date to be nothing but bad luck, so someone who is content and confident with not only who she is to be able to "postpone" Dong-ha's proposals until he graduates. She doesn't feel a pressing need to be married just to be married, either because of her age or that's just because of what society expects of her.
She's even totally fine admitting that she's not sure if it will ultimately end in marriage, but she's gone from a place of being afraid to love again to trusting that Dong-ha won't dump her just because she's determined to marry at a later date, if at all.
And he, the ever-perfect boyfriend, agrees to this. He loves her so much that he respects her decision, even if he still wants to remind her that he will continue to be here, and won't stop wanting to marry her. Unlike certain other people who shall not be named, he won't try to force her to marry him — he'll wait until she's ready.
Really, though, I love Ji-yeon's last line: "Right now, we are doing our best to love each other, and are happy enough." So much more fulfilling than "and they all lived happily after," because you get the sense that after the two of them spending years being broken and depressed over their lost loves, they are finally able to be happy.
Which means I have no complaints that we got to pretty much spend the last couple episodes just enjoying all the cuteness, fluff, and tying up of loose ends — mostly romantic loose ends, as it seems everyone is paired up now. (Except for poor, earnest Young-sik. Aw, I'm sure someone would snap him up, especially after he's spent so long working with Ji-yeon!)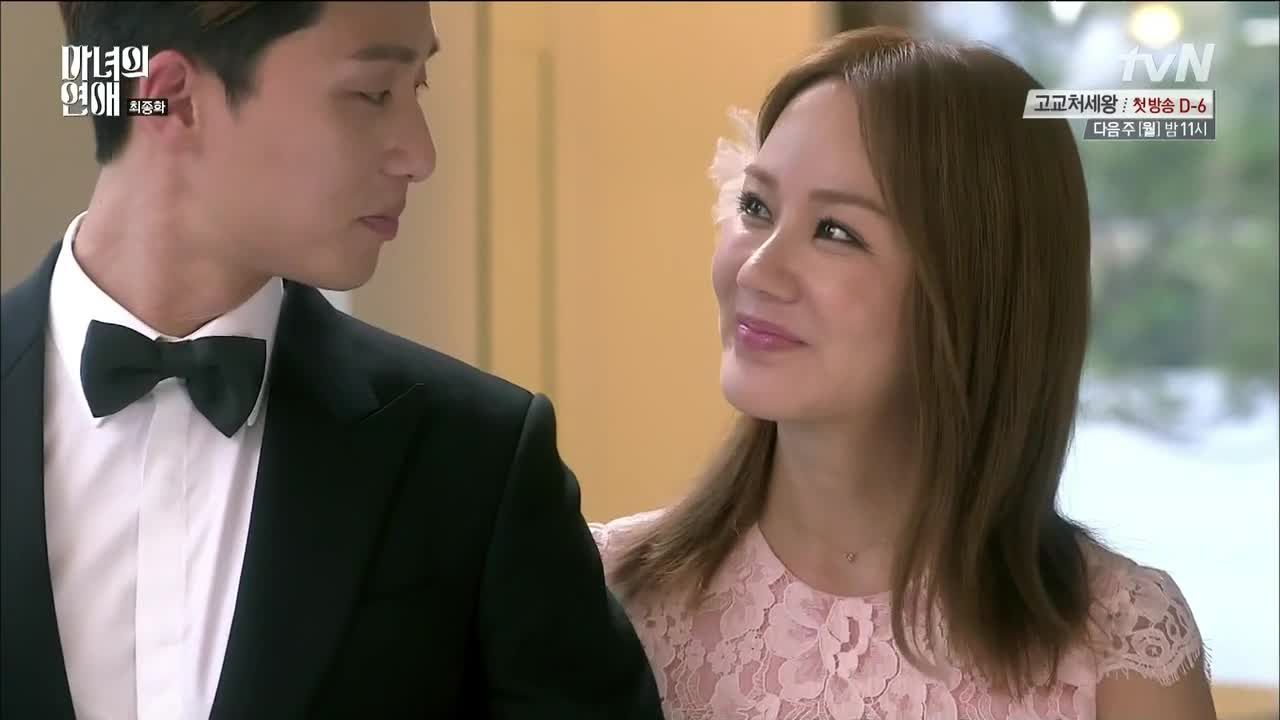 I don't even mind the time-jump (which normally makes me go "grrr"), because not only is it practically Drama Law, but it didn't actively hurt the relationship. They kept in constant contact, so none of that "we'll break up before you leave, and if we're meant to be when you come back, fate will bring us back together" nonsense. There was no fear that their affection for each other would decrease because Dong-ha and Ji-yeon are loyal to a fault. The only real complaint is that we had to muddle through an extra few minutes that didn't have their cuteness, but Soo-chul did his best to make up for it with his adoration of Eun-chae.
As secondary romances go, I'm rather pleased with how the show ultimately handled Eun-chae. She was all set to turn into the standard petty and conniving second lead, but the show either respected her (or realized there was no way she could compete with the insane chemistry between Uhm Jung-hwa and Park Seo-joon) enough to allow her to grow out of her crush on Dong-ha and be fully aware of what she was getting into with Soo-chul. I love that she's another "witch" in the making.
Really, I love that this show was able to take many of the standard rom-com tropes and just slightly subvert them. So many times I would be expecting a scene to go a specific way, just based on years of drama-watching experience, and be delighted when it defied expectation. Such as Dong-ha's father being awesome and supportive and not even blinking at discovering his son is dating a woman fourteen-years older. (Seriously, best Dramaland parents ever.)
There could have been so much focus on the hyacinth finally blooming (because how many shoes love their little symbolic trinkets?), but we just get a time-lapse glimpse of it growing during the "one year later." Which I was relieved to see the show actually remembered (and to be fair, it was perfectly symbolic of Dong-ha and Ji-yeon's relationship growing during that year, despite the fact they were on opposite sides of the world).
But that does bring me to the show's flaws: sometimes characterization seemed to be totally dropped for another story-line (as with Eun-chae), and it was hard to tell if it was on purpose or merely convenience. Sometimes the editing could be confusing, since I sometimes wasn't sure if something was a flashback, or how much later in the day it occurred, or, y'know, if she ever saw Shi-hoon at that damn airport. The pacing was a bit off, too — most notably with how everything suddenly dragged to an abrupt (and frustrating) halt with the appearance of Shi-hoon. And let's not even talk about the minor technical flaws, like the "Grobal" Exchange Program.
But all the faults are so easy to overlook because of the amazing cast and characters. Park Seo-joon definitely has made his name as a noona killer, and proved himself capable as a leading man. But for me, the true delight was Uhm Jung-hwa: she made the show for me. I can't imagine anyone else in this role — at least not someone who would be as effervescent, with the right balance of the comedic (hello, drunk Ji-yeon!) and serious emotion (those mother-daughter scenes are always like a punch to the gut). Not to mention she always had the best lighting, which made all her features that much more beautiful and expressive.
Of course, the chemistry between Park Seo-joon and Uhm Jung-hwa is what will be the most memorable. Because it was insane. Sometimes in dramas, you just have to accept on faith (or what the script tells you) that the two leads actually are attracted each other, but not here: I think you could live on the moon and still totally see that Dong-ha and Ji-yeon are meant to be together.
The sincerity in the relationships are what I'll remember most, long after I've forgotten the awkward editing. This is a show that sticks with you based on the power of its characters.
Because I would love to be plopped into Dong-ha and Ji-yeon's world, to be a friend or sister or daughter. I want to gossip with Na-rae and eat Min-goo's fishcakes; I want to cry my heart out as Ji-yeon's mother holds me; I want to hear all about Soo-chul's dates with Eun-chae and have him hmph when he stays up late to make sure I got home safe from my own date; I want Ji-yeon to mentor me in becoming an awesome witch like she is; and, if it isn't too much to ask, can I have a Dong-ha clone?
So not a perfect drama, no; but one so satisfying I wish I could still linger in it just a little bit longer.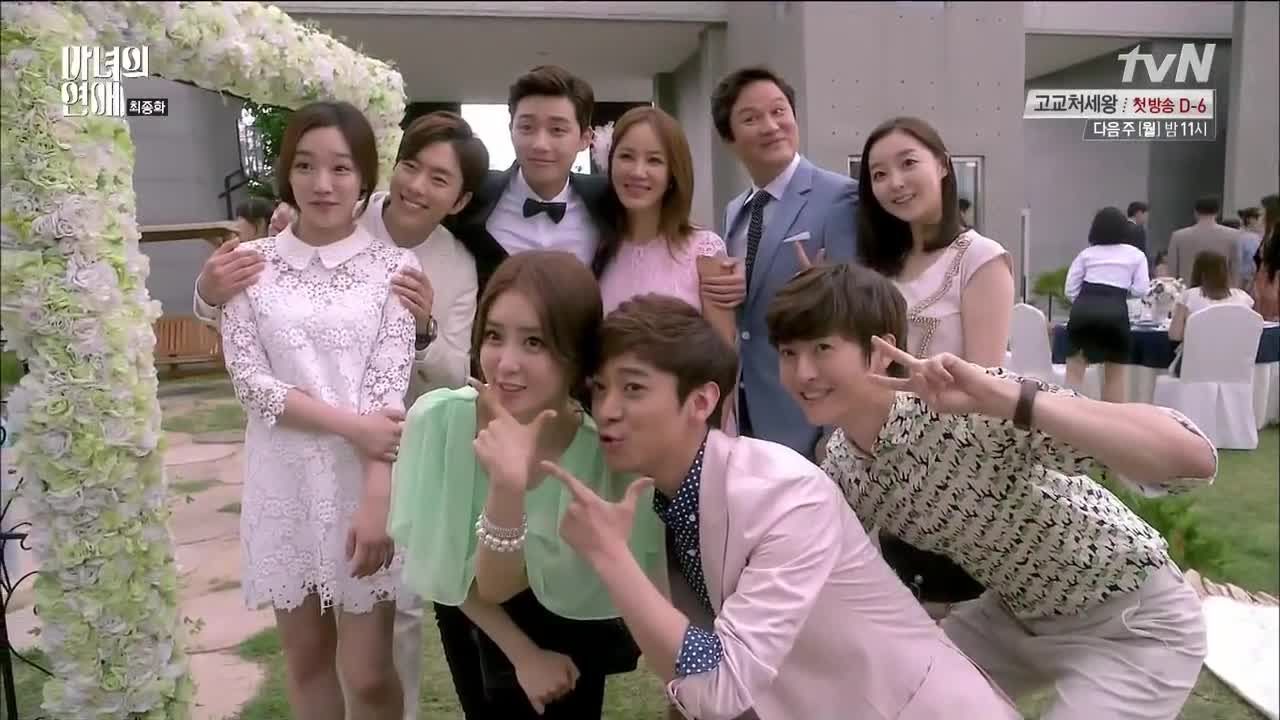 RELATED POSTS
Tags: featured, Park Seo-joon, Uhm Jung-hwa, Witch's Romance