You're All Surrounded: Episode 14
This isn't the most eventful episode, though what the show loses in plot development, it makes up for with relationship hijinks. Okay, very cute relationship hijinks—I'll give you that. Our rookies learn a tough lesson about power and the limits of their position as cops, but the thing about good guys is that the setback adds fuel to the fire, and just makes them more dogged in their pursuit of justice.

SONG OF THE DAY
Lee Seung-chul – "사랑하나 봐" (It Must Be Love) Ballad Version for the You're All Surrounded OST [ Download ]
Audio clip: Adobe Flash Player (version 9 or above) is required to play this audio clip. Download the latest version here. You also need to have JavaScript enabled in your browser.

EPISODE 14: "Crocodile tears"
Upon discovering the truth about Dae-gu's identity, Birkin Bitch immediately calls Daddy and asks if he knew that "that woman's son" was still alive. She guesses from his silence that he did.
Dae-gu tries to get her to come to the station one more time, but she ignores him and heads over to her father's office. Assemblyman Yoo seems worried that his daughter knows about Ji-yong, while Madam Yoo acts pissed off that Daddy didn't take care of things like he was supposed to.
Well that means she's likely in on the murder, and now I'm beginning to wonder if Assemblyman Yoo was just cleaning up his daughter's mess this whole time. It wouldn't surprise me in the least if she actually felt entitled to murder people.
Soo-sun struggles with Chief Kang's request to bury her mother's case for the good of the police force, wondering which choice is the right one. She finds Mom sitting outside, and listens in as she talks to a photo of Dad.
Mom sighs that she made a mistake and is only being a burden to their kids because of her foolishness, but then tells Dad proudly how Soo-sun leapt to her defense and said she'd take care of everything.
Mom says through tears that she's truly blessed, and though she may not have accomplished much in life, they've raised one really great daughter. "Thank you for giving me Soo-sun." From the hallway, Soo-sun stifles her cries as she hears Mom speak of her so proudly.
The next morning, she goes to see Chief Kang right away. As she's waiting, she remembers to call Dae-gu about a lead, but then puts the phone down when Chief Kang arrives. She doesn't realize that he's picked up on the other end, which means he's listening to the entire conversation.
Soo-sun says she can't honor Chief Kang's request—she knows that there must be a very good reason why she asked her to bury the case, but she has a promise of her own to honor. "I promised my dad that I'd protect my mom."
Chief Kang reiterates that this is for the good of the police force, but Soo-sun says that she believes that those who do wrong should be punished and seek forgiveness. "And abiding by those rules is also for the good of the police force." Good girl.
She admits that she's just a rookie and she has no idea of the responsibility that Chief Kang must shoulder. "But I do know that a police officer is supposed to protect innocent citizens, not assemblymen who want to cover up their crimes." She apologizes for not giving the answer Chief Kang wanted.
Dae-gu lowers the phone with a stricken expression, and goes straight to Chief Kang to ask her directly how she could ask Soo-sun to do such a thing. He says he believed Chief Kang to be more righteous and just than anyone, and she can read the disappointment on his face.
She admits that it was wrong to ask that of Soo-sun, and that she hates herself for it. She caved to political pressure in order to protect her police force, and asks Dae-gu to forgive her. He calms down and takes her contrite attitude at face value, though what she's really planning is anyone's guess.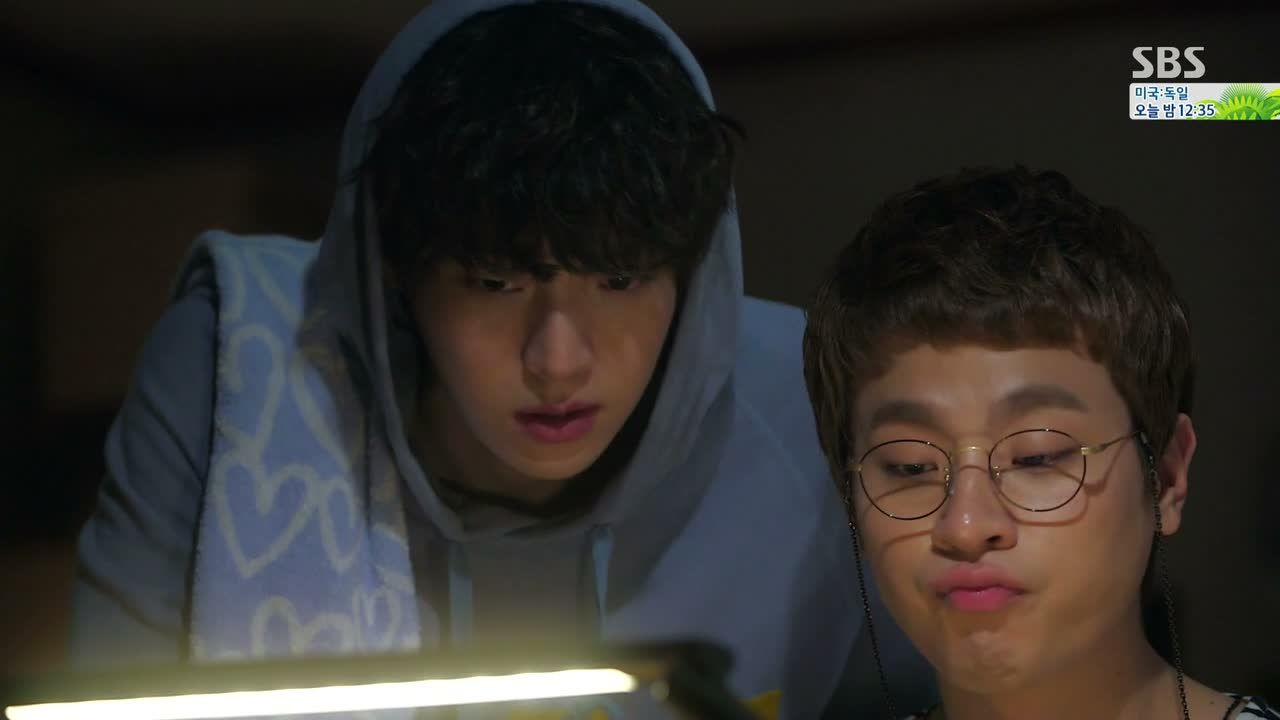 At the hospital, Soo-sun and Mom play tug-of-war with the phone, and Mom pitches a fit at not being able to check her messages just once. But Soo-sun refuses to let her, and gets Doctor Tae-il to back her up.
Later she erases all of Mom's texts, though she admits to Gook and Tae-il that her real concern is that Mom will eventually see that video of her incident online, and she can't stop it. Assemblyman Yoo has blocked all major news outlets from reporting the story, but personal blogs have been spreading the video far and wide.
That night Gook starts leaving comments on every single site that's spreading the video, asking sincerely for them to consider that the victim could be their mother, and to please take it down. Tae-il is impressed at his dedication and offers to help, and they stay up all night commenting.
Gook is still awake by the time Tae-il wakes up at his desk, and they shovel cereal into their mouths like zombies at the breakfast table. Dae-gu wonders what's wrong with them, but then when he hears what they were up to last night, he silently slides his precious banana milk over to Gook's side of the table. Aw.
Gook is a little loopy from being up all night, and asks Dae-gu if it's because he sees how cool and loyal his hyung is. He and Tae-il giggle in unison, and it's ridiculously cute.
But then to their utter surprise, Dae-gu actually answers his joke sincerely: "Yes. You're cool and loyal." Lol. Gook does a spit-take in shock, and Tae-il says their maknae must've been really impressed.
Pan-seok sidles up to the detective who took over Combat Boots' case, and is surprised to hear that they're going forward with a trial before even catching the second killer or determining whether someone else could be the real puppetmaster. He doesn't get very far, what with Chief Toad looking over his shoulder at every turn.
Meanwhile, the bag lady case takes a hit when their key witness, the employee who shot the video, suddenly disappears. They knew she was a flight risk so Gook has been watching her, but Birkin Bitch's people must've gotten to her. The team regroups and starts digging into every property owned by that family, where they might be hiding the witness.
As expected, Madam Yoo has the girl hidden away in one of her family's villas, and she gets her to hand over the phone with the original video on it. Her son finds them in the middle of the deal and takes it all like it's one big amusing joke, adding that she ought to ask for more money because his mom is loaded.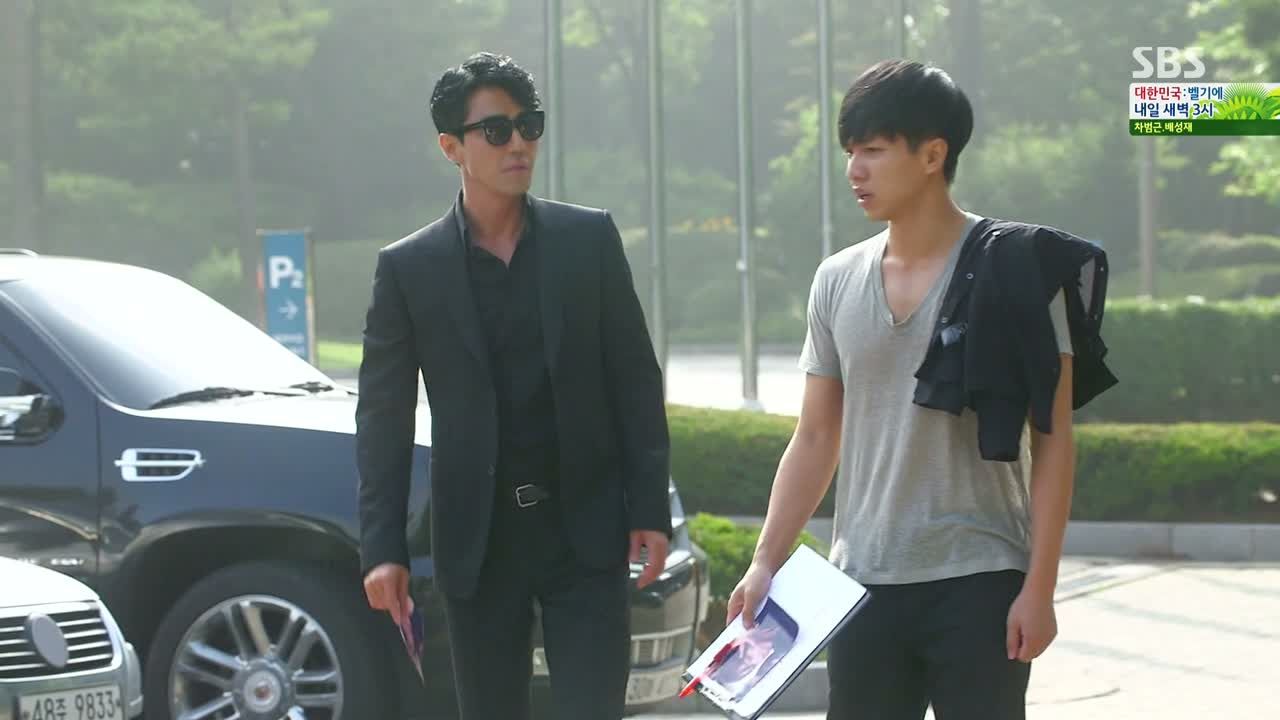 Pan-seok and Dae-gu hit the pavement, combing through every hotel owned by Chasung Group one painstaking search at a time. Dae-gu gets frustrated and asks if the Legendary Seo Pan-seok doesn't have some tricks up his sleeve, because this tedious version is stuff that anyone could do.
Pan-seok argues that a detective isn't a fortuneteller, and that he's a legend because he has long legs. You mean for covering more ground as you do the laborious searches like everyone else? Dae-gu just scowls as Pan-seok struts away with his long legs, thoroughly not amused.
They stop for lunch, and when Pan-seok spoons chives into Dae-gu's soup, he grouses so much that Pan-seok actually scoops them back out. Dae-gu asks what Boots said, and they finally share their very similar theories about the whole case not sitting right with them—Boots' story doesn't add up when it comes to the second killer, the boss, or the mystery Detective Seo.
Pan-seok shares that Boots told him not to dig any further, though he leaves the part out about it being best for the kid. Dae-gu tells Pan-seok he's not allowed to go see the Masan detective (the one who took Soo-sun's witness statement) without him, and Pan-seok points out that he sometimes gets confused as to who the boss is here.
Dae-gu shuts up very quickly at that. I just love how Pan-seok shoves all the side dishes over to Dae-gu's side of the table and takes the chives away so he doesn't even have to look at them, heh.
After turning up empty at the hotels, the boys make a list of all the private estates owned by Chasung, and sigh that it's just as long as the first list. They're lost as to where to begin, so Dae-gu scans his brain for clues he picked up inside Assemblyman Yoo's home.
He remembers seeing a picture of Madam Yoo by the water with a ferry crossing behind her. He looks up the name of the ferry, but the district it passes through isn't listed on the properties they found.
Strangely, Madam Yoo's son Ki-jae calls Dae-gu personally to ask if he's arrested his mom. Is this kid trying to help them while appearing dumb, or is he just bored? It's a little too convenient to be a coincidence, and when Dae-gu asks about the district in question, Ki-jae says that's where his villa is.
He seems to be a fan of Dae-gu, perhaps because he hates his mom enough to root for the officer who's trying to make her pay for her crimes? At any rate, he's impressed that Dae-gu got this far without help.
Soo-sun comes to work and says cheerily that it's a miracle—someone started an online movement to take down the bag lady videos, so she feels safe leaving Mom alone now. The boys just agree that it's a miracle and remain silent about who really worked tirelessly to make that happen.
She's eager to jump back into the case, so she and Dae-gu head to the villa to try and find their eyewitness. They arrive just as she's sneaking out of the house with a suitcase, and she runs back inside at the sight of Dae-gu. He apologizes for yelling at her the other day and pleads for a chance to talk to her, but she refuses to open the door.
Soo-sun takes over and says sincerely that she came here to thank her—the victim is her mother, and if it hadn't been for that video, she might never have known what horrible injustice her mom suffered. She knows it's asking a lot, and says that if the witness can work up the courage to help her, she won't forget it for the rest of her life.
Her earnest gratitude gets through, and she finally opens the door and asks them to take her to the airport. She hands a piece of paper to Soo-sun as payment for the ride, and explains that it's the site and password where the original video is uploaded.
The important part is that it includes footage of Birkin Bitch making Mom sign the contract before attacking her. The girl decided in the end to return the money she was bribed with, and doesn't want to be trapped here any longer.
At the precinct, the team gathers to watch the full video, and decide they have enough to proceed without an eyewitness.
Dae-gu goes to the house to get Madam Yoo in for questioning, and he runs into Assemblyman Yoo instead. He relays the message that tomorrow morning is the last chance she has to come to the station of her own accord, because after that a warrant for her arrest will be issued.
Dae-gu makes his point and starts to walk away, but then turns back to add that he'd appreciate it if the assemblyman didn't call Chief Kang about this matter. Eek, you're stepping into some dangerous waters there. Dae-gu says respectfully that Assemblyman Yoo is known as a venerated cop and is a living legend to rookies like him. And then he adds partly as a warning, and partly as a sincere plea, to not disappoint him any further.
He bows before walking away, and Assemblyman Yoo smirks to himself, "If the blood boils too hot, you'll burn."
The next morning the team stirs impatiently, waiting for Madam Yoo to show up for questioning. They're convinced she has to show, and even Assemblyman Yoo's two lawyers argue about whether to come clean now or dig their heels in.
Finally at the last minute, Assemblyman Yoo gets up. But it isn't the police station he's headed to; it's the hospital, where he bows repeatedly in front of Soo-sun's mom, acting the part of the contrite father who's paying for his daughter's wrongs. He takes all the blame for his career putting undue stress on his family, and says that his daughter has been suffering from depression the last few years.
Mom falls for it hook, line, and sinker, and though Soo-sun and the rest of the team rush over at the first word, they're too late and she's already agreed not to press charges. Dammit. Assemblyman Yoo doesn't even try to hide his big shit-eating grin, and leaves on his high horse.
Soo-sun can't believe Mom would let it go like this, but Mom has fallen for the virtuous civil servant act, and doesn't see how pursuing the case will do anyone any good.
Eung-do ushers the team outside and tells Soo-sun that it's unfair, but she has to respect her mother's wishes because she might be doing this to protect her daughter as well. It's cold comfort to Soo-sun.
Dae-gu can't accept it either, and goes straight to Madam Yoo to ask if she's so guilt-ridden that stepping foot in a police station is so frightening for her. He growls that he's giving her advance warning, just like she did to Soo-sun's mother: "Next time I will catch you by my own hand. Remember my face. I'm Gangnam Station's Violent Crimes Unit Team 3, Eun Dae-gu!"
She just laughs, "You really don't know anything, do you?" She cackles as she repeats his name in disbelief, and asks whom he resembles. She must really think she's untouchable if she's dropping hints like that. She says he really ought to look out for himself if he's experienced "such things," and leaves feeling smug.
Assemblyman Yoo calls Chief Kang to warn her that if Dae-gu shows up in his line of sight one more time, he'll take matters into his own hands. She apologizes and fumes on her own.
Pan-seok sneaks up to Sa-kyung at the station and whines that he couldn't sleep a wink the other night: "You don't know why I signed the divorce papers?! YOU asked ME for a divorce first!"
She tries not to smile, and says that's right—she doesn't know. He can't believe this is even a question, and swears up and down that he gave her a divorce because she asked him for a divorce, and that she left him.
She asks if he even knows why she handed him divorce papers in the first place, and he says it's because he was in the wrong. She says he's mistaken, but refuses to tell him the real reason, thinking it equally frustrating that he doesn't know.
She grins to herself as she walks away, while he gripes, utterly spun around. It's pretty adorable that he's just always confused when it comes to her, but I wish she'd help him out a little.
Tae-il overhears their conversation from the hallway, and joins Pan-seok for a chat. He's the last person Pan-seok wants to see right now, and he tries everything to kick him out, but Tae-il persists and asks him to just listen.
He says that he met Sa-kyung last year while on a trip to London, and though he fell for her at first sight, she never gave him the time of day, barely even treating him like a kid brother. He swears that the other night, he begged her for a sympathy hug.
Pan-seok gets worked up all over again at the mention of the hug, and literally plugs his ears like a little boy, not wanting to hear the rest. But Tae-il pries Pan-seok's hands apart by force, and declares that he hasn't yet done anything deserving of a beating. Ha, is that preemptive so that he doesn't beat you later?
Hilariously, Tae-il adds that he's not the type to try and play a game where he knows he won't win, and says, "I'm sorry, but I'm not sorry." Pfft, I think you might get hit NOW.
Pan-seok can barely believe the words coming out of this kid's mouth, and then Tae-il asks if he really doesn't know why Sa-kyung gave him divorce papers, and if he wants to know.
You just know Pan-seok is dying of curiosity, but he'd never admit it to Tae-il, and he kicks him out: "I don't want to know!" He grumbles to himself in disbelief at the state of his team—one awry with him, the other with his woman. Hey, it could've been worse; I was expecting Tae-il to be her London Lover.
The team sets off on a new case, and Pan-seok instructs the rookies that they'll be pairing up to go undercover at local gangster hangouts to try and identify the key members of a drug smuggling operation.
You'd think that meant seedy bars or nightclubs, but apparently gangsters also drink coffee, so Dae-gu and Soo-sun get sent to go hang out at a café posing as a couple. It's totally out of nowhere, but whatever, I'm not about to complain about the flimsiness of an excuse for romantic shenanigans.
Pan-seok comments on how nice Soo-sun looks, and Dae-gu fidgets while she preens at the compliment. They study the photos of the men they're looking for, and as they get out of the van, Dae-gu gets all googly-eyed at how pretty Soo-sun looks.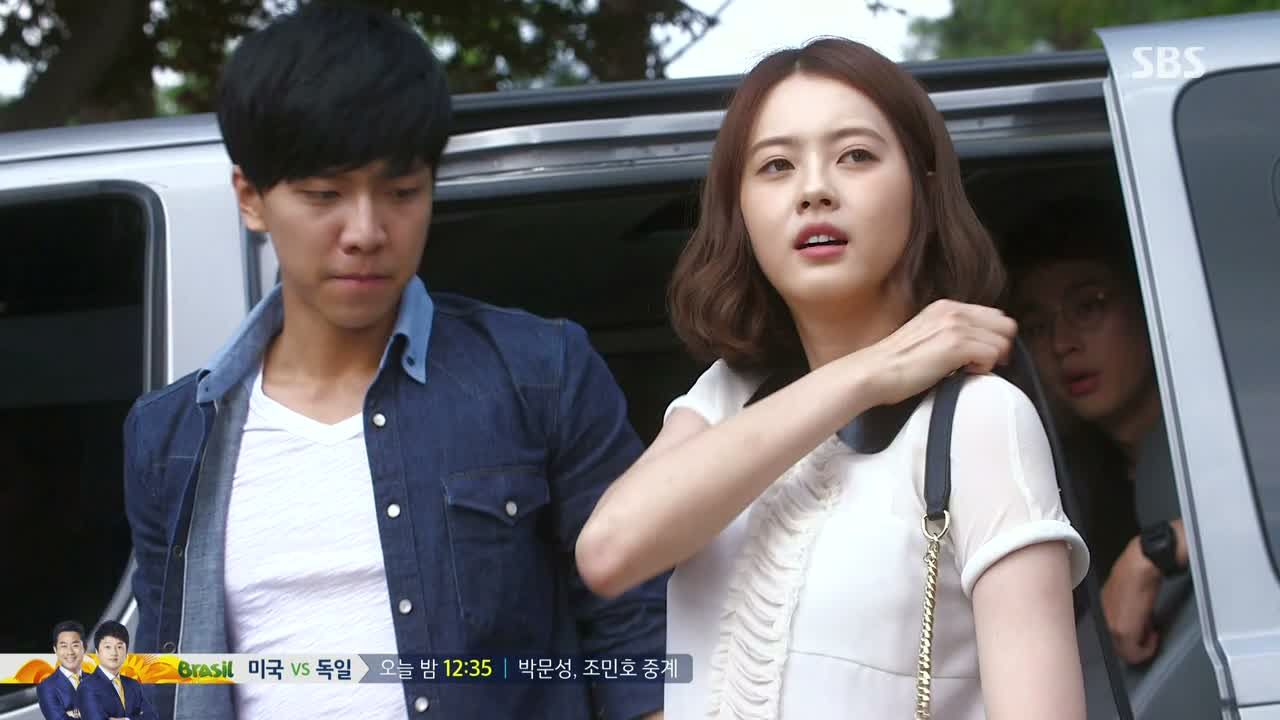 She links her arm in his, and they walk over to the outdoor café, which is indeed crawling with gangsters. Dae-gu scans the crowd but doesn't see the man they're looking for. Soo-sun very loudly calls out, "Jagi-ya~! Take my picture!"
His eyes bug out at being called honey, and he awkwardly picks up the camera. She poses adorably, while he gets pictures of the gangsters behind her. Their mission seems complete, but then suddenly the waiters come out with a cake and start singing to congratulate them on their 100th day.
They clap and blow out the candles as ordered, and then one of the scary thugs is all, "You should kiss!" And then he starts leading the crowd in a chant for a kiss, like they're at a wedding.
They stand there frozen as the crowd comes to their feet, and to Dae-gu's shock, Soo-sun says she'll kiss him. He can't even move, he's so flustered, and she just inches forward and then leans in for a kiss.
It's Dae-gu's turn to be wide-eyed from kiss-shock. And in the van, the boys all gasp.
The crowd cheers and she pulls away, but Dae-gu can't take his eyes off of her, and gets lost in the moment. He pulls her back in for a real kiss. Eeeeee!
Both Pan-seok and Gook let out audible noises of surprise, and the crowd goes wild with claps and cheers. This time, they both have their eyes closed.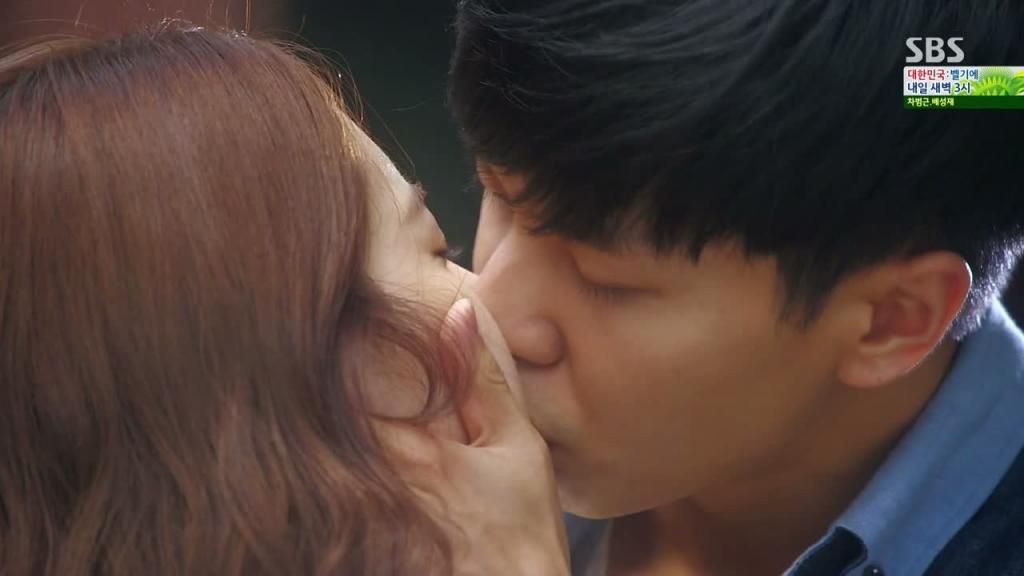 COMMENTS
It cracks me up that they're just making out in front of a crowd of gangsters at a café, as if that's all just perfectly normal. It's possibly the flimsiest plot excuse this drama has come up with yet. (If you can SEE the gangsters from the van, why not just take the pictures from the van? Why does anyone need to be a couple anyway?) Whatever, I suppose the machinations don't matter in the end, given that they're just excuses to get Fish Lips to pucker up. What really matters is the kiss they end on, since it's the first real one motivated by nothing other than smoochy cravings. And the timing feels right based on the emotional development in the last episode, when their relationship got me in the heart for the first time.
I do like that the awkward maneuvering did include the whole team witnessing the kiss, since it means they can't sweep it under the rug. Poor Gookie will probably have a good cry about it, and I feel bad for him since he's so sweet and means so well. I really hope this doesn't put his friendship with Dae-gu in jeopardy. They're as cute as two people on totally different wavelengths could be—they don't understand each other's jokes, but they bond over banana milk, and I want them to stay a happy little family. Mostly I can't wait to see Pan-seok give them a hard time about it, since he's caught them smooching before and now they seem like liars who can't keep their hands off each other.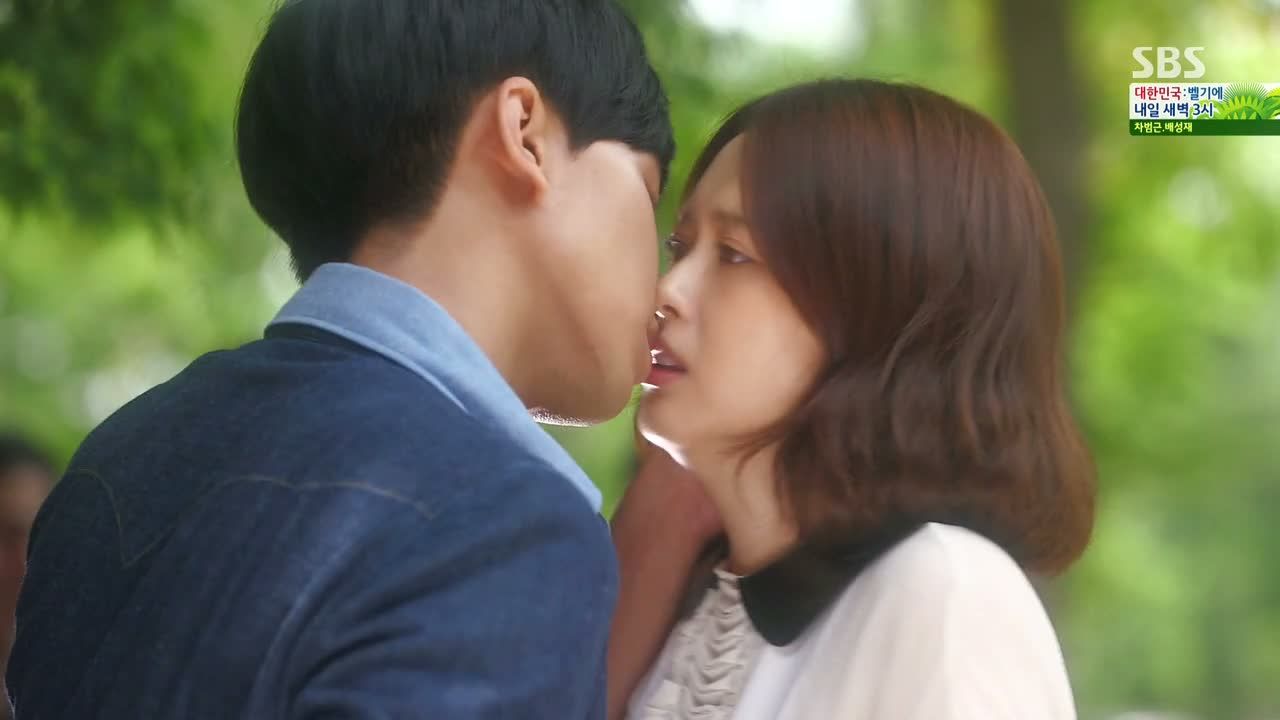 Outside of the relationship developments, it was a frustrating episode, since we had to watch the bad guys get the upper hand and get away with treating people like trash. I'm sure it's to set the stage for vindication in the final hour, because if the Yoo family is behind Mom's murder, it's hardly satisfying to take them down for assault. Still, it stings to watch Birkin Bitch's crime go unpunished, especially when it took all of Soo-sun's conviction and courage to stand up to her boss and pursue the case. Overall I just wanted a little more plot advancement in this episode, whether it was a deeper distrust of Chief Kang on Dae-gu's part, or a new clue in Mom's murder, because nobody learns anything new in this hour. If Mom's murder is really the central mystery of the show, it would be nice to get incremental development on the case as we go, because right now it feels like we're stalling until it's time to drop the clues. If Dae-gu's going to be innocent and idealistic, then I need Pan-seok to be more suspicious, or something.
I get the same feeling about Sa-kyung and Pan-seok's relationship too, which has stalled for no real reason other than we need to keep them on ice for a little longer, so she's going to play coy about their divorce. OR, you could just tell the poor guy what you're thinking, because he's clearly not going to have this epiphany on his own and he obviously wants to get back together. I just want more, whether it's fights or happy dates, because they feel a little neglected story-wise. And if fueling jealousy with Tae-il is the way to do it, I'm good with that too (I will never tire of Pan-seok's petty jealousy), but can we get more than two minutes of it at a time? I know, I'm being greedy. But really, is it so wrong to want kisses and cuteness and bromance, AND a murder mystery that moves faster than the speed of molasses? Surely with six episodes left, we'll be speeding up, won't we? I'll take the kisses as a good sign of things to come.

RELATED POSTS
Tags: Cha Seung-won, featured, Go Ara, Lee Seung-gi, You're All Surrounded