Fated To Love You: Episode 7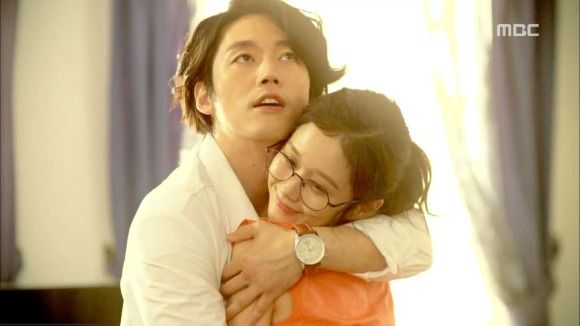 How do I love thee, Fated To Love You? Let me count the ways. If I couldn't love Gun more than I already do, this hour proves that yes, yes I can. How could one turn down a man who tries so hard to be chivalrous to the most precious woman he knows? But she does, bringing with it an hour of more hilarity and feel-good fun.
Little does Mi-young know that her very charm is just being her own wonderful self, and that more than one person in her life is genuinely drawn to that warm personality of hers, like moths to a flame.
The battle for ratings got even tighter today: Joseon Gunman led the pack with 11.6%, Fated To Love You followed with 9.7%, and new kid on the block It's Okay, It's Love premiered with 9.3%.
SONG OF THE DAY
Megan Lee – "Ready For Love" from the OST [ Download ]
Audio clip: Adobe Flash Player (version 9 or above) is required to play this audio clip. Download the latest version here. You also need to have JavaScript enabled in your browser.
EPISODE 7 RECAP
Needless to say, Gun is none too pleased to see his wife in another man's arms. He pulls Mi-young away from Daniel, asking if this is appropriate behavior coming from a priest. He doesn't notice Mi-young's tears until Daniel points them out to him, then immediately glares at Daniel to ask if someone is bullying her.
Daniel doesn't back down, though, and the air remains tense between the two men until Mi-young excuses herself.
Gun takes off and catches up to her. He asks what's wrong—he won't know if she doesn't say. He refuses to let her go without knowing, adding the reminder that they have to keep up appearances while they're married.
She asks if that means being nice to someone to their face, but then does whatever they want behind their back. Even though Mi-young is clearly upset, she's still soft-spoken, and gently inquires what kind of person she is to him. "What would I mean to you?"
He wonders if that's what this is all about, and answers, "You're the precious mother of my child." A very, very precious woman who needs to take care of herself inside and out until the baby's born, he emphasizes. Mi-young supposes that means she doesn't mean much to him if they take the baby out of the equation then.
Gun grows increasingly frustrated with her vague questions, trying to figure out where she's getting at. But Mi-young glosses over the subject and dashes off.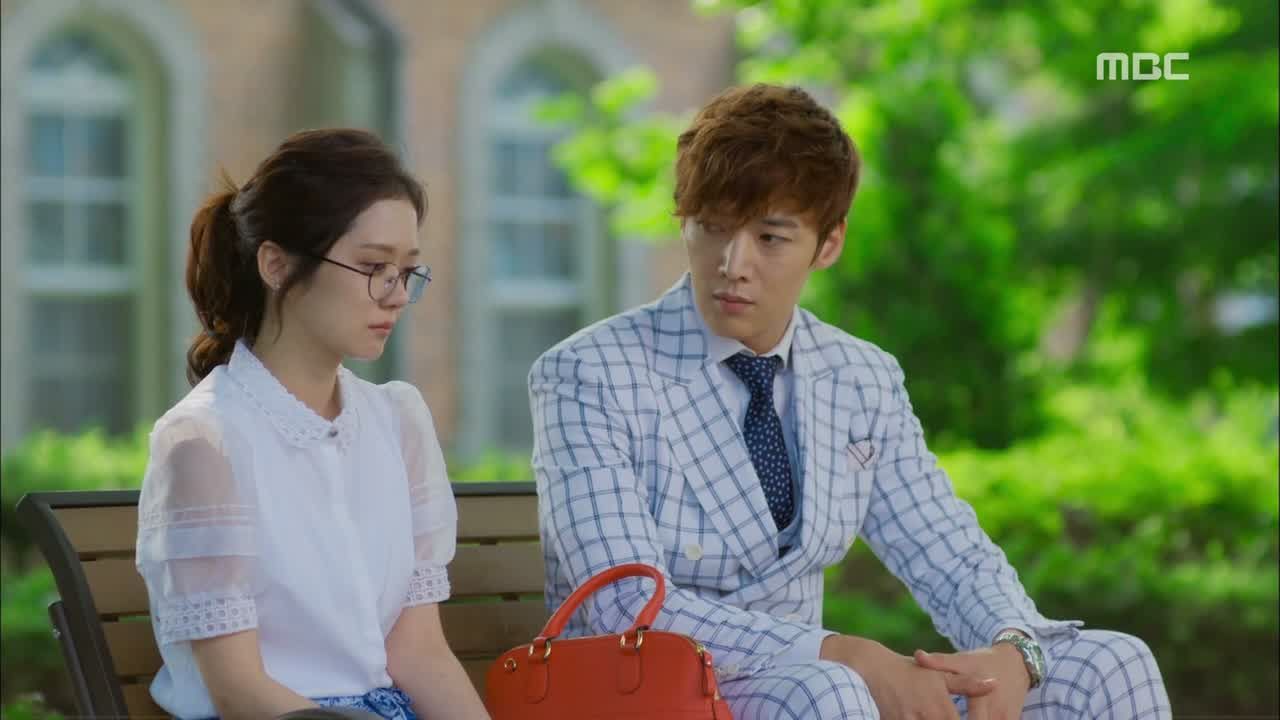 Mi-young confides in Daniel when he finds her outside the church, sniffling. She doesn't know why she's so upset when she already knew that she meant nothing to Gun, but her hometown is a place she holds most dear.
She beats herself up for resenting Gun and looks to Daniel for some priestly advice. Sighing deeply, Daniel finally comes clean about his not-a-priest status. He swears he didn't intend to deceive her and just wanted to be of help.
He apologizes, adding that he put off telling her the truth out of fear she'd be disappointed in him. But his confession just adds to Mi-young's list of today's painful truths, and she walks away without another word.
Gun is still troubled about Mi-young at the office when Manager Tak says something terrible has happened: the board is up in arms over the canceled sale for the Yeoul Island soap factory, and there's even talk of his dismissal with the recent slump in sales.
They'll be fine once their upcoming product is out on the market, Gun says dismissively, which prompts Manager Tak to ask if his meeting with Mr. Pitt went well today. Oh, you were planning to talk business with Daniel? That ought to go over well.
Gun didn't meet any such person today, and when he's asked why he went all the way over to the gallery, Gun answers half to himself: "That's what I'm saying, why did I—" and cuts himself off to go and feed his snail. Awww.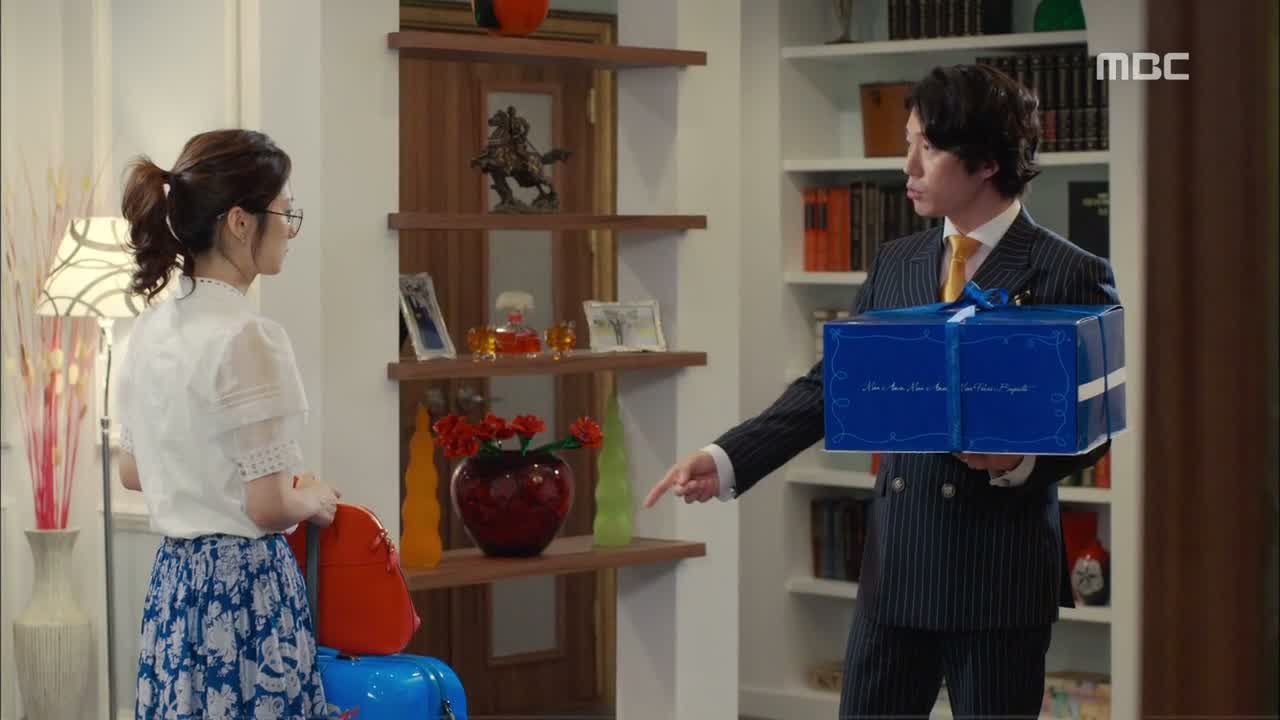 Speaking of whom, Mi-young packs up her things at home, including the pair of wooden ducks. And when Gun said he'd be feeding his snail, he wasn't kidding—he comes home with this gigantic cake box. HA. It's so cute how he's so proud of himself, repeating aloud, "Our snail needs to eat."
When Mi-young comes out with her suitcase and says she'll be going back home because she's worried about the island, Gun doesn't understand why. He reminds her that their contract clearly states that they're to stay married until the baby is born, but she counters that doesn't mean they have to spend all of that time together.
He's the one who told her to be like an invisible presence in this house, she notes. He says fine, but tells her to act properly so she doesn't bring shame to herself as the mother to the future littlest Lee.
When she says she's never lived like that, Gun makes this big show of taking off his wedding band, exclaiming that they may as well consider themselves two people who are together for the baby's sake.
Daniel is at the cafe when Mi-young walks by with her suitcase behind her. While he apologizes to her via a marquee sign (cute), Gun stuffs himself with cake at home, overcompensating his loneliness with happyish cries of freedom.
Noting her mood, Daniel wonders if Mi-young's still mad at him, but then instantly lights up when she thanks him for always listening to her. He offers to whip her up dinner if she hasn't eaten yet.
Back at home, Gun tries to keep busy through exercise in order to distract himself from checking his phone (in case Mi-young called or texted him) every five seconds. I love how the show plays Panic's "Snail" in the background whenever Gun is thinking about his snail aka Mi-young.
Gun is nearly breathless and exhausted by the time he checks his phone for the umpteenth time. Near tears, he breathes, "She… she didn't call."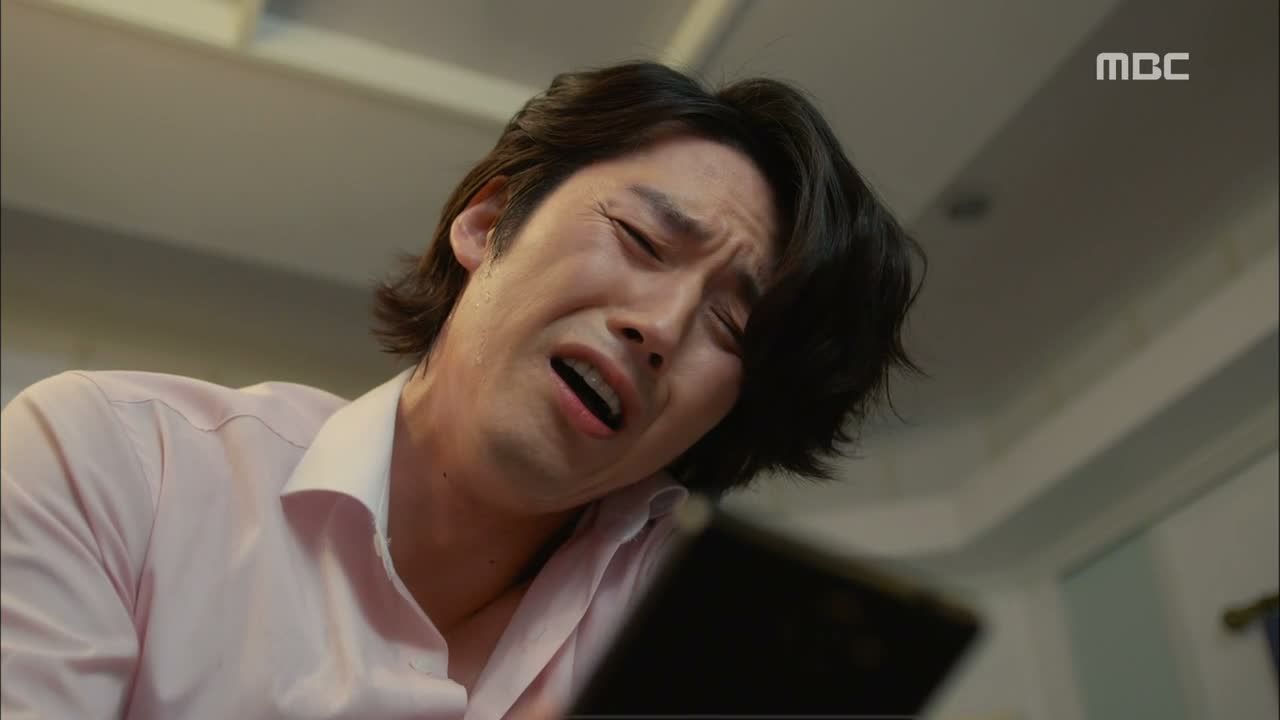 He sprawls out on the bed and contemplates whether to delete that selca of them together. He ultimately decides against it and zooms into Mi-young's face. Aw, you really miss her.
When Mi-young discovers some of Daniel's sketches, he says they're of "Kim Mi-young," his long-lost little sister who shares Mi-young's name. He's been looking for her ever since they were separated as kids, and remembers her as a kind person, just like Mi-young, but it scares him that she might be living unhappily somewhere.
Mi-young reassures him that if his sister is anything like herself, then she must be happy and loved by those who worry about her. Mi-young tells him to cheer up, words he echoes back to her. She left her house in order to avoid her husband, didn't she?
He offers to be like a real oppa to her, someone who helps her whenever she needs him. She nods. And as Daniel's first act as her honorary oppa, he tells her to go home tonight—no matter how awful her husband might be, he's probably waiting at home, worried sick about her.
That's exactly what Gun's doing right now, sitting alone in an empty, dark house. But then we see him walk up to Mi-young outside when she hesitates outside the house. Awww, you were waiting outside for her.
He asks if she likes making people worry about her, and when she says she felt bad about not saying goodbye to his family, he asks, "And what about me? Do you know how I worried I was?!"
Then he points to her stomach, claiming that he missed the fetus, but Mi-young knows better. So when he takes her suitcase, she surprises him by thanking him for his concern. She promises to never forget that Gun was the only one who told her to buck up whereas everyone else disregarded her.
It's just something she thought she needed to tell him, Mi-young finishes. She and Gun brood separately that night, as the latter looks over the unsigned divorce papers.
Manager Tak is happy as a clam when he informs his boss that he scored a meeting with that elusive Mr. Pitt. Gun tells him to cut it out with the enthusiasm, literally freezing and unfreezing him with the snap of his fingers.
Gun's own excitement dissipates the moment he discovers that Mr. Pitt is none other than Daniel, though he's satisfied to know there was reason for him to be suspicious about that so-called neighborhood oppa. Daniel suggests that they talk business today and talk about their beef with each other at another time.
It cracks me up that these two are sitting as far away from each other as possible, and Gun obliges and talks business, noting that Daniel has agreed to collaborate with Jangin Chemicals. But what's his real intention behind that agreement? Gun: "Is it because of my wife?"
"It's because of Mi-young," Daniel intentionally answers. Gun:"Did you just forget that I just called her my wife?" Daniel doesn't skip a beat and says he must've momentarily forgotten because Gun doesn't treat Mi-young like his wife. Ooh, them be fightin' words.
Gun tells him to mind his own business, but Daniel retorts that it won't be easy—he's particularly good at uncovering and polishing gemstones, and Mi-young's the best gem out there. That's sweet of you to liken Mi-young to rare jewels, Daniel, but I seriously don't get what you do for a living—are you a DJ? A cafe owner? An artist? A gemstone dealer? A kindred lover of orange-colored suits?
After telling Mi-young about her new gig of selling children's books and reading them to children to make ends meet, Ji-yeon suggests that Mi-young have her husband read to the baby, citing that the baby responds better to the father's voice in the womb.
Back at the Lee Manor, Mama Yong's pointed barbs about Mi-young are met with backlash at the dining table. When she opens the refrigerator, something totally awesome happens: Gun immediately gags. Oh. my. god. Do you have morning sickness?
And when Mi-young joins the table, she retches as if to vomit, too. HA, they're so in sync that they've got simultaneous morning sickness! Okay, that's a miserable time for them but it's a character and comedy gold mine for us. And while Grandma Wang is completely beside herself, Mama Yong gets her petty revenge by opening the fridge door over and over again.
Gun guffaws at the thought of having morning sickness as a man. Judging from how his expression falls when Mi-young matter-of-factly says he likely doesn't, it sounds like he was sorta happy to be sharing in that experience together, despite his complaints.
He asks haltingly if she really has morning sickness, then gives her more food when she says yes. I love that Gun just wants to keep feeding her. It's plain adorable.
Then he asks, "Are you… really… going to go [home]?" She says probably not now, but sometime in the future, and Gun smiles to hear that decision isn't set in stone yet.
Pregnant unni Mi-ja and her husband Mr. Choi pay a visit to Lee Manor and are eager to see the newlyweds' quarters, despite Gun and Mi-young's protests that it's a mess. Ha, turns out it really is a mess, and Gun and Mi-young hurriedly clean up the place, chucking boxes and stuffing things out of sight.
But unni Mi-ja's got a keen nose and picks up on that smell… of money. Ha. She and her husband take photos of the two lovebirds—who remain attached at the hip to show off how happy they are—and suggest that the four of them go on a double-date. Gun starts, "Of course…"
"…he can't go," Mi-young finishes, citing Gun's hectic schedule. Aw, Gun chimes in agreement, sighing disappointedly that he's supposedly too busy.
So Mi-young plays third-wheel to her sister and brother-in-law's cruise date, and wouldn't you know it, Gun shows up anyway. 'Cause work ended early or something. Heee. He tsks at how she's tagging along on another married couple's date, and Mi-young says they're only married on paper.
She adds that he needn't be so concerned for her, but Gun uses her words she told him once before—should he act nice to her face, but then do whatever he wants later? Does she think he's two-faced like that? So he tells her to stop with that nonsense and says that while she's with him, "Just depend on me."
Mi-young's gaze remains fixed on him and she asks, perplexed, "Who's the real you? Who's the real Gun?" Gun is all, What you see is what you get. And then Mi-young finally asks why he sold off the island soap factory.
"You knew that?" he asks. A muscle in his jaw tenses as Mi-young says that everyone in her family adores him, and while she understands that Gun could sell the factory since he technically owns it, it wasn't right for him to sell it so that it'd turn into a landfill.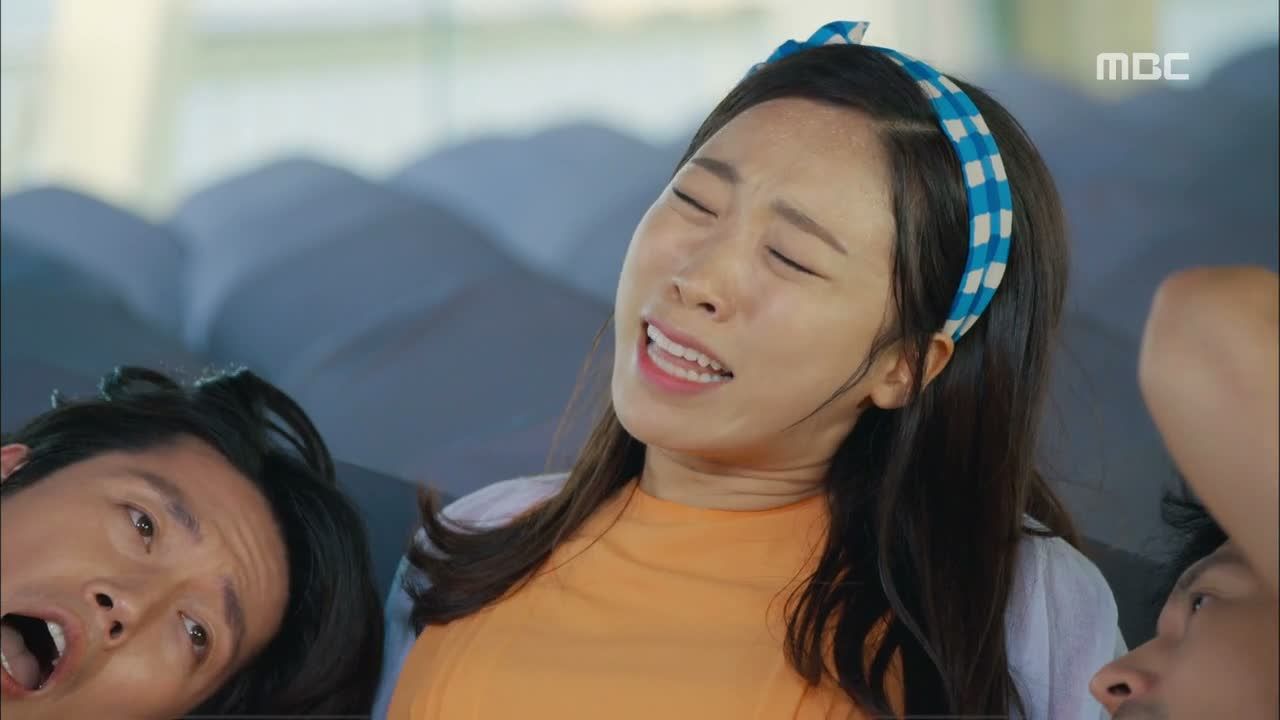 But Gun smiles, having finally realized just why Mi-young was so upset. He's just about to tell her the entire story when pregnant unni Mi-ja cries in disbelief at what she's overheard. He gets as far as confirming that he did sell it when Mi-ja and her husband grab his suit and hair.
And then Mi-ja freezes. Uh oh, contractions? The men lead her inside, but Mi-ja's got both hands on their scalps, and their yelps almost edge out her screams. Mi-ja cries out her distress as she lets go of Gun's head, which gives him the chance to finally say that he didn't sell the soap factory.
But before he can dive into his explanation, Mi-ja has another contraction and instinctively grabs his hair again. Haha.
I initially thought Mi-ja was just having early contractions, but she really must have gone into labor because we see Gun running around the boat looking for a doctor. After griping that this is so not what happens in movies, Gun decides that he'll have to step in.
As Midwife Gun takes the lead on this sudden delivery, Mi-ja says her farewells to her husband. I love how she's like, "You better not get remarried and die alone!" He barks instructions to a reluctant Mr. Choi (who promptly faints), and works with Mi-young to deliver the newborn in a blink of an eye.
The rest of Mi-young's family joins them once they're safely at the hospital, and Mi-ja starts bawling as soon as she sees Mom. Even Gun can't help but wipe a tear, moved, and Mom pulls him in for a hug.
This scene gets even more touching because we learn that Gun plans to build a community center where the soap factory used to be, complete with massage chairs and athletic equipment. Mi-young breaks into a wide smile, and Gun says proudly, "I did that."
Everyone is all smiles, and then Mi-ja offers to let Gun hold the baby. He oohs and awws over the littlest one, and says it looks like E.T. So Adorable.
Gun has trouble sleeping that night, so he deliberately wakes Mi-young up just so he can be chivalrous in telling her to sleep on the bed. He laughs when she refuses, and when she gets stubborn about it, he says, "You say you can't say no to people, but how come you always say no to me?"
She cracks a smile and heads to bed as told. It's only after she heads inside does Gun let out a sigh. He has trouble trying to get comfortable on the couch, too, though, and smiles when Mi-young texts him to say thanks.
He's about to respond back when she sends him another message: She'll do her best to stay out of his way. Not what he was expecting. And then another: She'll disappear from his life like a post-it once the terms of their contract are fulfilled, so he needn't worry.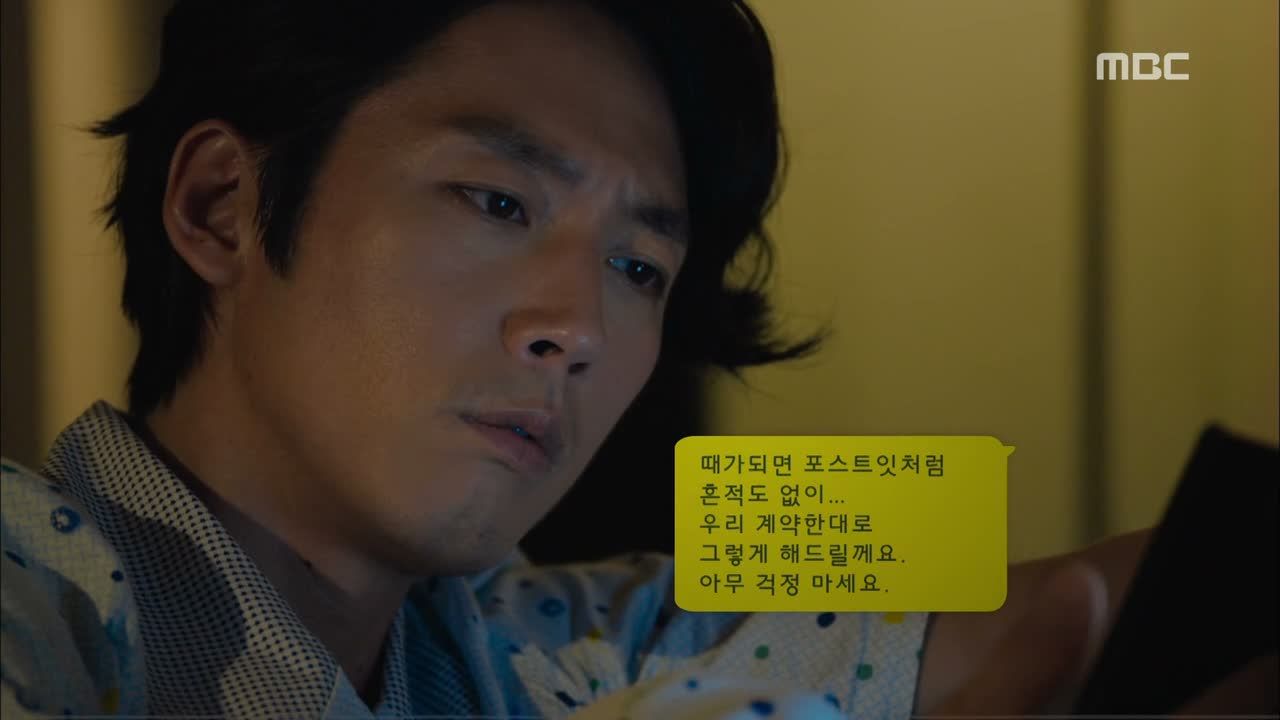 Her words weighs on Gun's mind, and so he has Manager Tak look into flights to New York for next week. He decides that he has to tell Se-ra the truth, because not to would be doing wrong by both her and Mi-young.
Gun is suddenly startled by an eerie noise while browsing through Daniel's portfolio in his man cave. He musters up the courage to find the source of the noise, brandishing an action figure as a weapon, and cautiously walks out…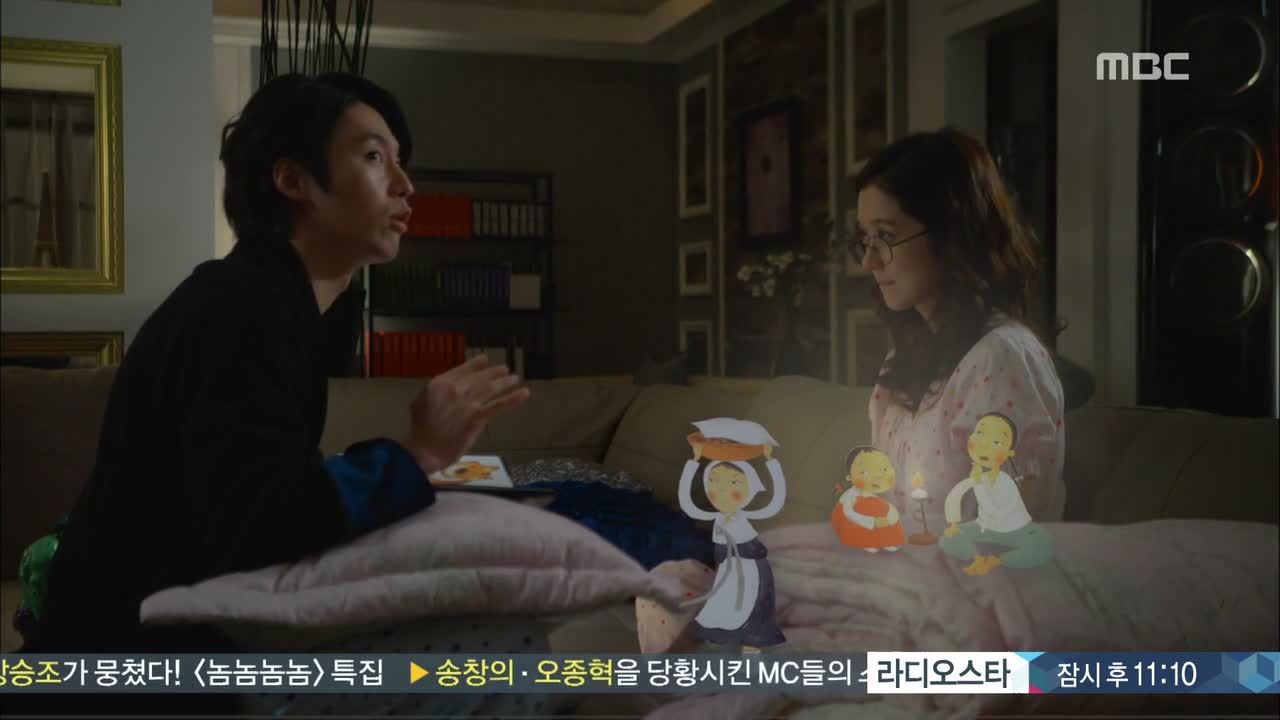 …to see and hear Mi-young practicing reading from a children's book in a deep voice. After snapping at her for giving him a fright, he picks up the book. Once Mi-young explains it's good for the baby, Gun immediately obliges and reads, complete with sound effects and voices. Good god, can you be more perfect right now?
Gun even adds his own ad-libs and flair to his storytelling, to Mi-young's amusement. Who am I kidding—I could listen to Jang Hyuk read from the phonebook and be thoroughly entertained.
Mi-young notices that Gun has read but hasn't responded to her texts yet, but he does one better by coming in to respond to them in person. He says he didn't mean for his words to come across as if she should live like a post-it girl or be insignificant and trivial around him. "You're superglue. Did you forget?"
With that, they softly bid each other goodnight, But when Gun gets up, his back cracks loudly and he crumples to the ground. Hahahaha. Mi-young tries to move him to the bed, but he's in too much pain.
So she offers to sleep on the couch, but when she motions to leave, Gun pulls her back and plops her on the bed. Pfffft, please tell me this is an act so you two would sleep in the same bed.
Since he can't have his pregnant wife sleep out there nor can he sleep on that uncomfortable couch again, Gun proposes that there's only one thing they can do: "We'll… sleep here together. Together. Sleeping."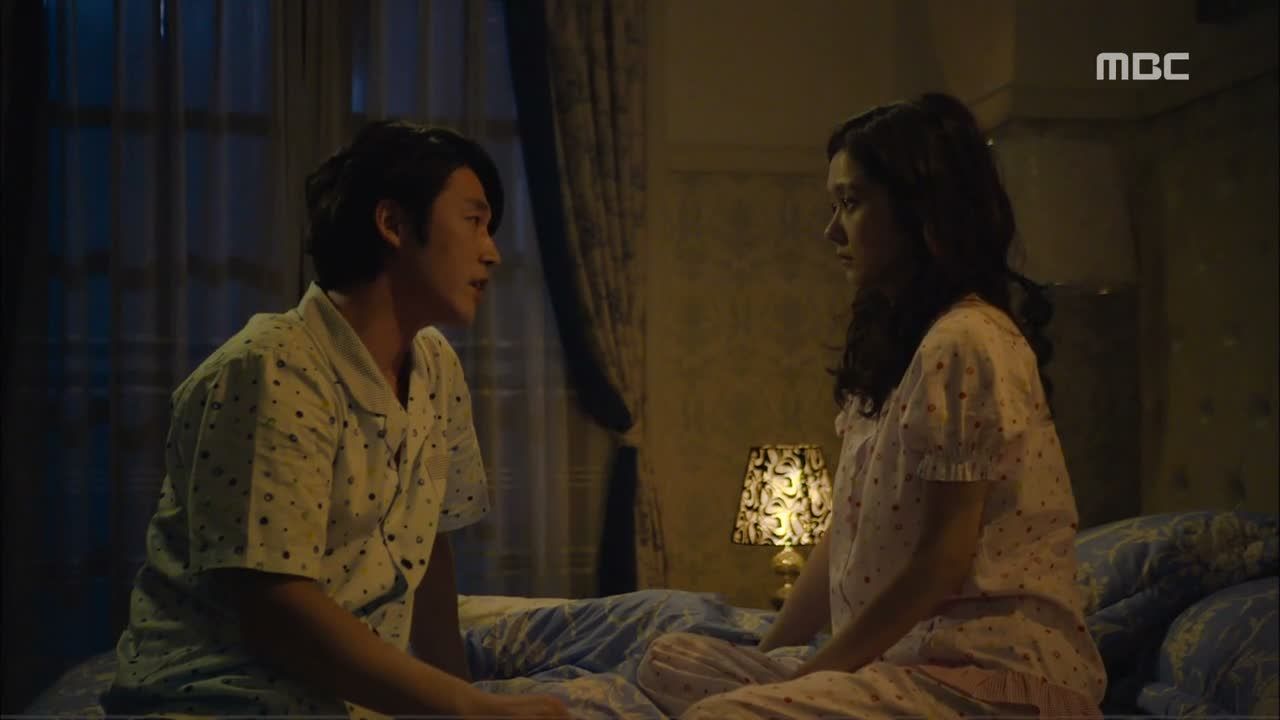 At Mi-young's genuinely astonished expression, Gun asks if she's entertaining dirty thoughts right now. He's like, "We'll have to live together until the baby's born anyway, so we may as well sleep comfortably together."
They just won't touch each other, unless she's having other kinds of thoughts, that is. Well someone should right now.
He laughs when she says no, adding that he has nooooooo thoughts of that either. So they'll just sleep next to each other like a pair of stones. Then Gun leans in to outline the rules of this game of bed-sharing chicken: first person who leaves the bed sleeps on the couch, or the first person who falls off the bed and sleeps on the floor means they have feelings for the other person.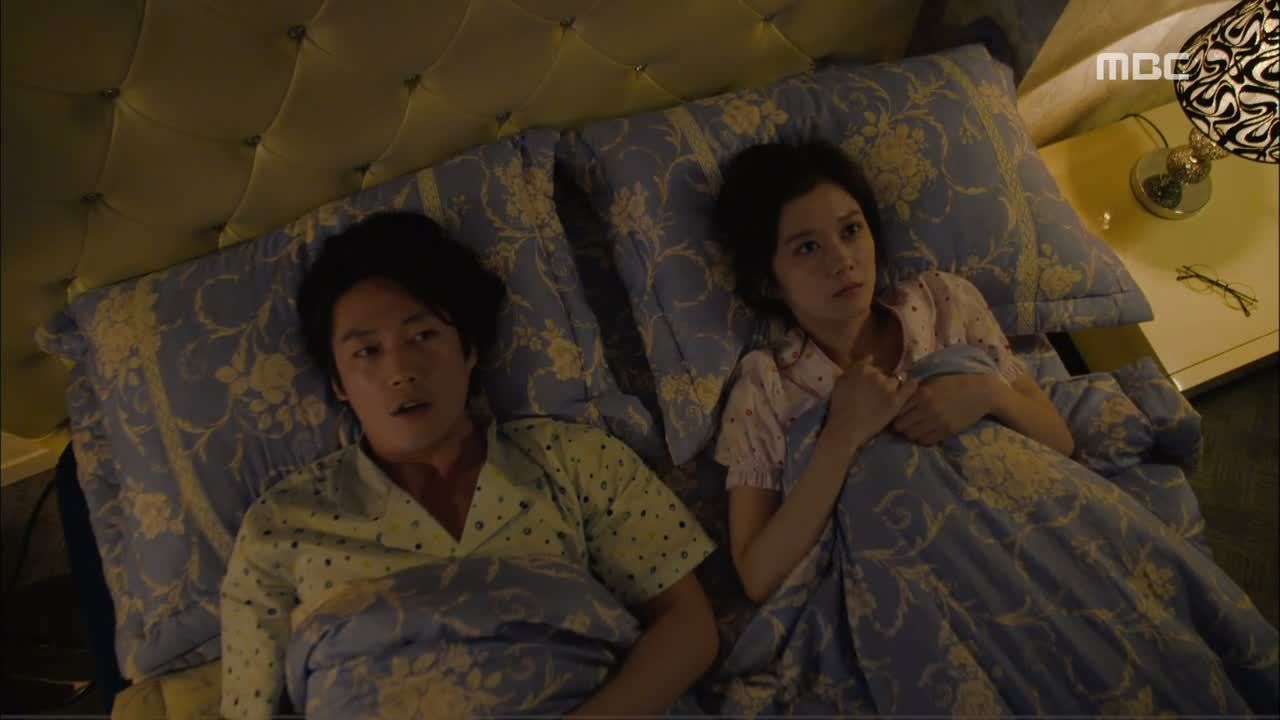 With that, they both climb into bed together, and Gun settles in while Mi-young is frozen stiff in place. They go back and forth saying that they're soooooooo comfortable right now, and when their hearts race, they turn away from each other.
At his own racing heart, Gun repeats, "I'm a stone, I'm a stone," while Mi-young tries to convince herself that her beating heart is because she's uncomfortable, not anything romantic.
But then Gun's words slowly change to "I'm not a stone," and he turns back around. Mi-young does too moments later, and they hold each other's charged gazes, both their hearts beating rapidly…
…and then Mi-young says she'll sleep on the couch. She bids him goodnight and gets up, only to be pulled back into Gun's arms again. He leans in as if to kiss her…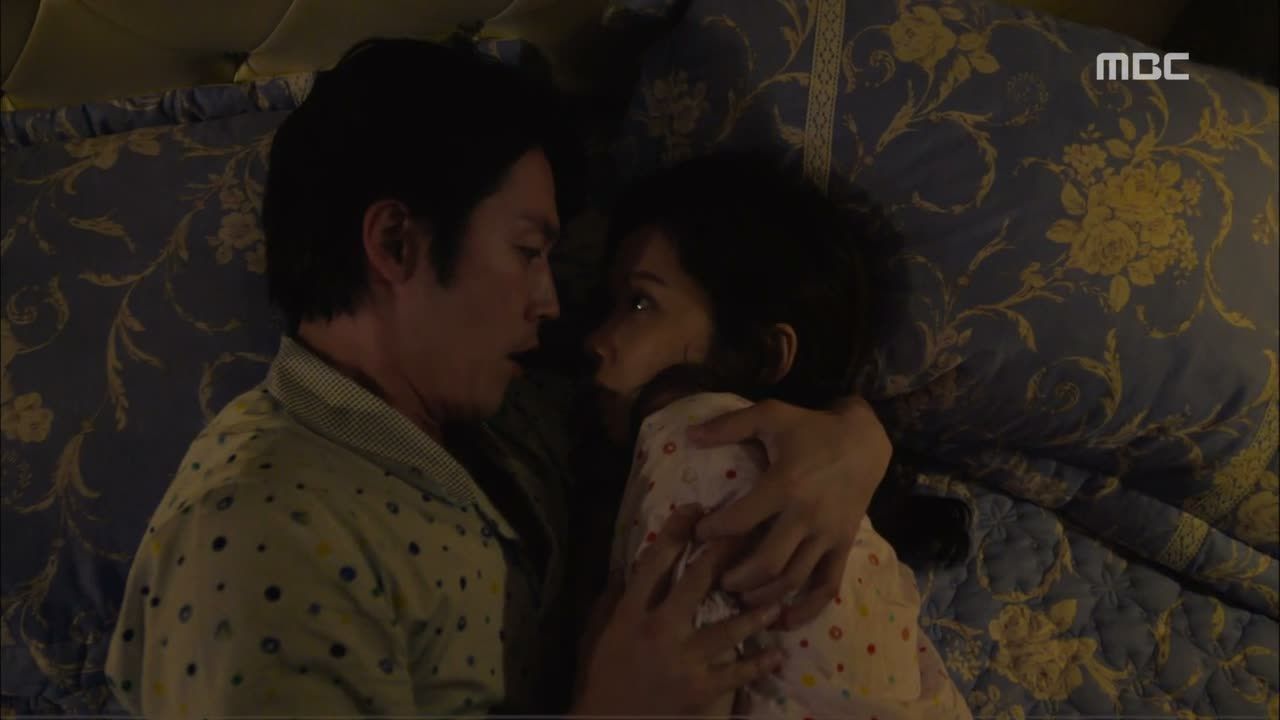 COMMENTS
AAAAHHHHHHHHH damn it, Fated!! That's a good cliffhanger. I'm gonna need to break into HeadsNo2's stash of smelling salts. I suppose it's a good thing when a show makes you long for just a few more seconds, but screw it—why couldn't we get a few more seconds?!
Ahem, back to the show. I like that we got to explore the other side of the misunderstanding coin this hour, with it being Mi-young's turn to question who Gun is and what they mean to each other. Her reaction of confusion and disappointment and withdrawal is so line with her character, and you can see her fight with herself about how to feel about it. Just like how Gun used language to put some distance between them, Mi-young did the same in her own way, calling Gun by his full name when she was upset with him. And once they got past the whole factory misunderstanding, she fell back onto calling him the usual "Gun-ee-sshi."
In fact, I love how characters make deliberate choices in words of address, especially in that conversation between Gun and Daniel. Gun pointedly refers to Mi-young as his wife (translation: Back off bucko) while Daniel deliberately chooses to refer to Mi-young by her name (translation: Make me). It makes these kinds of conversation carry more tension in a scene, and whether that's intentional on the writer's part or not, it's something I totally eat up anyway.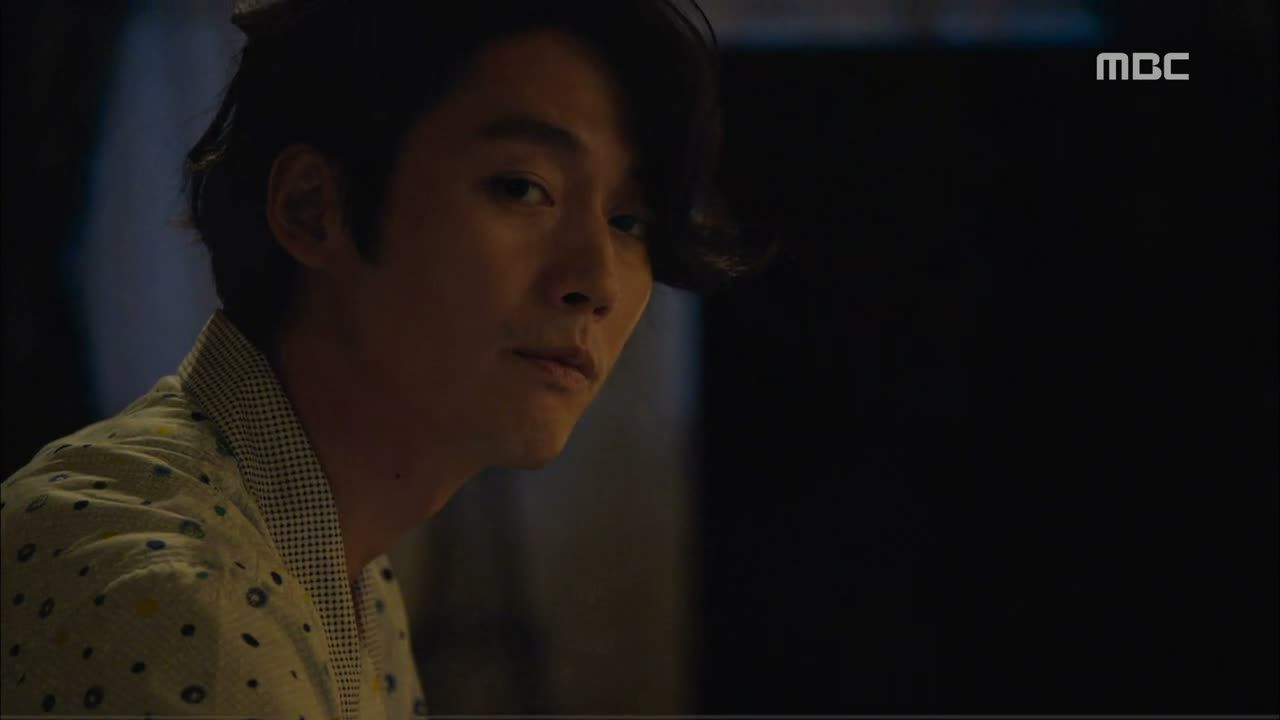 But getting back to Mi-young's misunderstanding, I love that Gun tries to break through that wall of her cipher-like statements, which make sense to us, but not him. And because he's so concerned about his snail, he spends time at work trying to think of ways to make her feel better (e.g., a gigantic cake) than working. But what am I saying—a chaebol never works in dramaland. Still, he makes the effort to try communicating with her, encouraging her to verbalize using her words instead of bottling her feelings up. Then the icing on the cake being that even when he found out why she was so upset, he was understanding to those feelings.
But what I love most about Gun in this hour was watching him actively choose to spend time with Mi-young and her family, despite being thwarted multiple times. He got to share in some pretty miraculous moments, and genuinely enjoys it. He truly does care for the future 23rd generation growing in Mi-young's stomach, and all he needs to hear is that it's good for the baby and poof! he's there.
If it can get even better from there, Gun just loves to dote on her, from food to smiles and hugs. I love that they're so in sync that they even have morning sickness together. We see him trying to find any excuse to be physically close to her and can almost see the D'oh! expression on his face when she doesn't catch on. And now that she's entangled in his arms, this bed-sharing game got a lot more interesting. Do they both lose? Or do we all win?

RELATED POSTS
Tags: Choi Jin-hyuk, Fated To Love You, featured, Jang Hyuk, Jang Nara