Joseon Gunman: Episode 8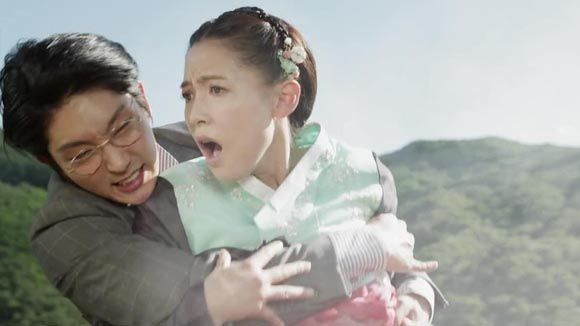 The identity game continues as our hero is tested to keep his cover and risk blowing it at every turn to save a loved one, determined to prove that he can protect both at the same time. Which of course he can, if I have anything to say about it. I know I know, I want to have my cake and eat it too, but surely that's not too much to ask for when your guy is a fast, fierce, and shrewd superhero, right? He's even got the secret lair and everything! And with the motley collection of loyal subordinates growing, he'll soon have a Scooby Gang to go with it.
SONG OF THE DAY
Human Race – "Love" [ Download ]
Audio clip: Adobe Flash Player (version 9 or above) is required to play this audio clip. Download the latest version here. You also need to have JavaScript enabled in your browser.

EPISODE 8 RECAP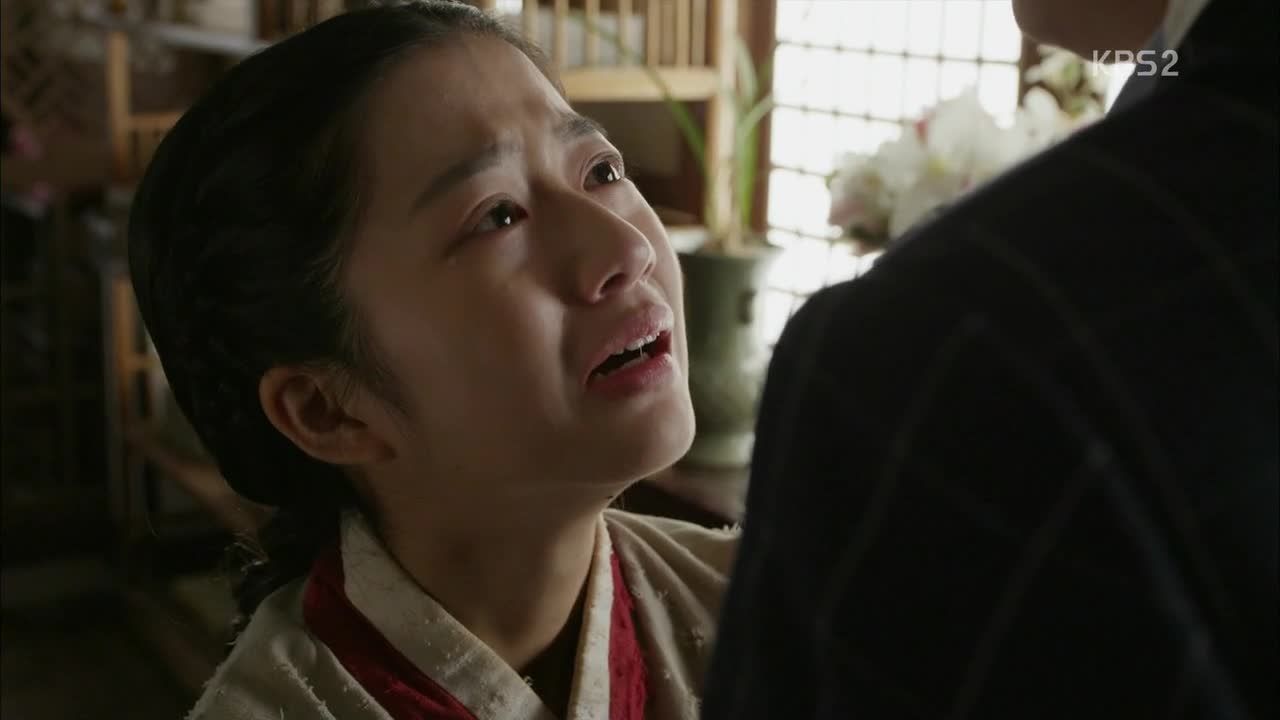 Yeon-ha dashes into her brother's arms, while Yoon-kang wrestles with his shock. But he sees Choi Won-shin through the cracked-open door and knows he's being watched, and therefore shoves Yeon-ha back angrily.
She doesn't understand why he's being so cold and reaches for his arm. Yoon-kang recoils and pushes past to leave the room, but Yeon-ha grabs him in a back-hug and asks pleadingly why he's acting this way. So he musters up the resolve, then whirls around and slaps her full in the face. Gasp.
She falls to the ground, stunned. Yoon-kang growls in Japanese, "Joseon is full of lunatics!"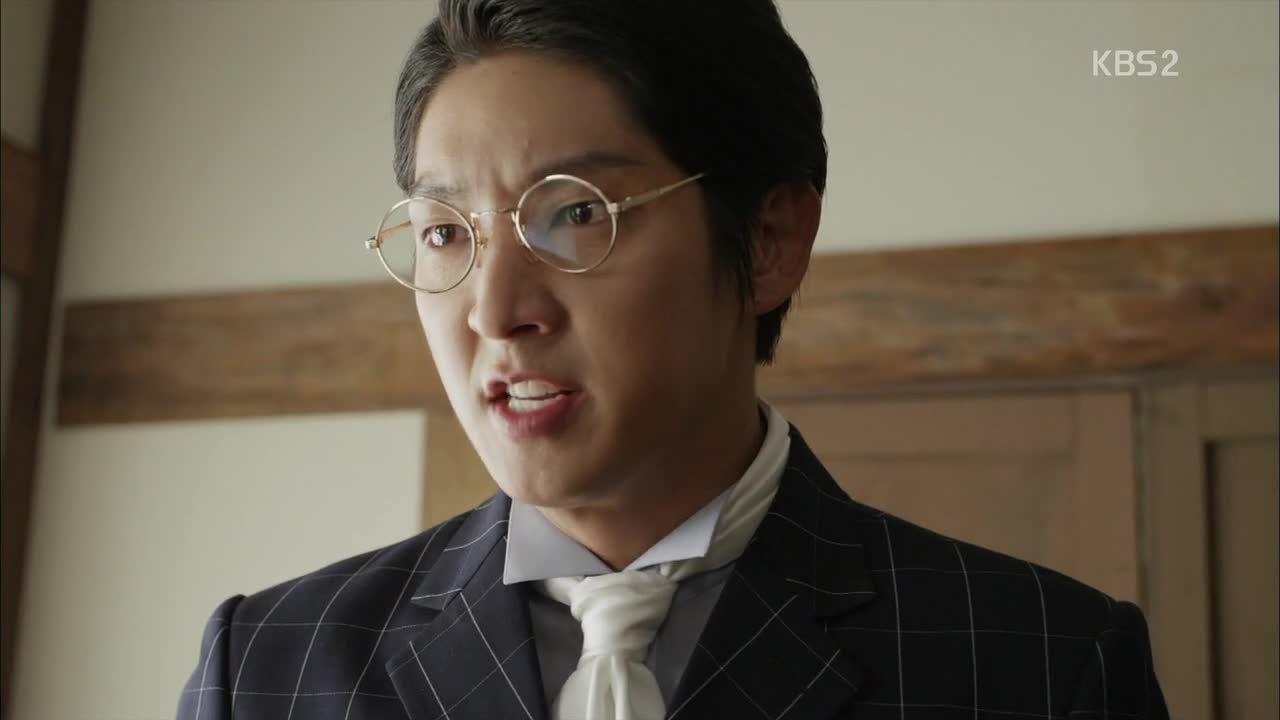 This isn't going the way Choi Won-shin expected, but he feigns ignorance when Yoon-kang turns his anger on him for allowing such behavior. Choi tries to smooth over the situation, but Yoon-kang is (or acts) livid and leaves the party.
Even with Yoon-kang's violent denial, Choi isn't convinced either way. He asks Yeon-ha if she's certain that was her brother, and tearfully, she nods. So the suspicion remains alive, though he muses that Yoon-kang would have to be very tough to turn away his sister like that. So either they truly are mistaken—or Yoon-kang returned a much stronger foe.
Yoon-kang makes it back home and physically reels. Wracked with tears, he sobs, "Yeon-ha, I'm sorry."
He has to pull it together, however, when he is called out to deal with a situation: Soo-in was caught red-handed trying to steal some of their explosives. She tries to make that sound less terrible but he's not having it. Yoon-kang decrees that as of today, he is no longer doing business with Choi. What's more, he orders Soo-in to tell that to Choi herself.
Choi Won-shin's party winds down, and that particularly lecherous guest leaves with a leer in Yeon-ha's direction. Ick ick ick. For now that's all he does, thank goodness, but this is far from over.
Hye-won had witnessed Yoon-kang storming out and pulls Yeon-ha aside to ask about it. Yeon-ha says that she mistook the visitor for her brother and begs not to be sent away. Hye-won assures her that she won't be punished over that, but stiffens when she hears Yeon-ha's name—a name she's heard many times from Soo-in. When Yeon-ha gives her brother's name, that confirms it.
Yoon-kang understands that Yeon-ha was a trap, which spurs his hatred of Choi even more. That means Yeon-ha is unsafe in that household, and he's determined to rescue her this very night, despite Sang-chu's urging not to act rashly and risk blowing his entire cover. Yoon-kang won't be deterred, and vows to save his sister and then punish Choi Won-shin.
Gojong receives an unexpected visit from Lord Kim, who expresses his concern over Gojong's recent move. The conversation is extremely polite but laced with barbs everywhere as Lord Kim emphasizes the need to transition into change slowly and gradually, and Gojong counters that failing to progress into the modern age will be disastrous for the nation.
Gojong makes his position clear, saying that in the past, a gunman acting on somebody's orders had killed someone loyal to him: "And I accused that loyalty of treason and killed him one more time. I determined back then that I would not become anybody's puppet again."
Lord Kim has his answer: Gojong will not back down. Furthermore, his words reveal that he suspects Lord Kim of ordering the Kaehwa assassinations. Lord Kim decides to observe just a bit longer to see whether Gojong is bluffing or serious, and instructs Choi Won-shin to lie low for the time being.
Ho-kyung finally admits the truth of his paternity to Interpreter Jung, who is stunned to realize that he's the son of one of the leaders of their opposition. But he is also a fair man who recognizes Ho-kyung's worth for what it is, and thanks him for trusting him with the truth. Ho-kyung requests to be the one to tell Soo-in the truth, and Interpreter Jung agrees not to say anything.
Soo-in can't abide the thought of ruining the mining deal for Hye-won and tries once more to beg Yoon-kang for leniency. He rejects her pleas at first, but her continued entreaties wear him down a bit, and ultimately he agrees to allow tomorrow's demonstration to proceed. He's skeptical that it'll succeed, but she walks away in relief to have another chance to try.
That night, Yoon-kang steps into his secret costume-changing batcave (it's got a swinging bookcase and everything!) and arms himself before heading out on his rescue mission. Choi Won-shin's house is heavily guarded, but he picks off guards one by one and makes his way toward the slaves' quarters.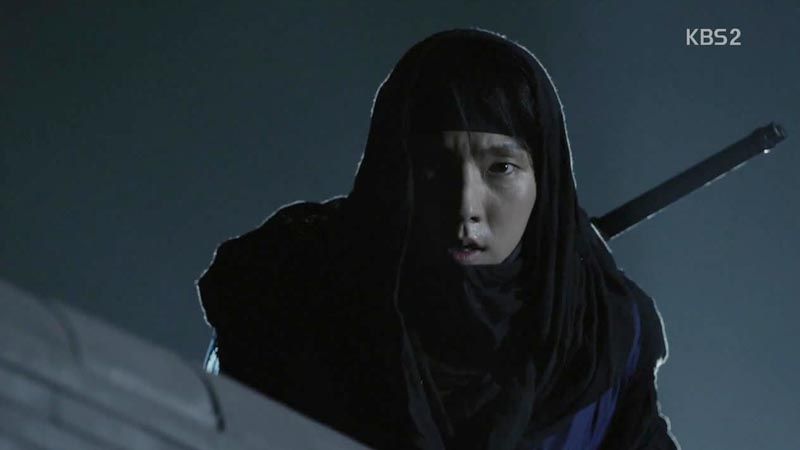 Yoon-kang fights his way to the inner courtyard, but there finds himself surrounded by swordsmen. He's got his gun, but it's only one rifle versus a dozen swords, and the fight isn't going in a good direction. Especially when assassin Sung-gil takes a sniping position on the rooftop, just seconds away from taking a clear shot at Yoon-kang.
Into this situation steps Hye-won, who freezes to see the fight underway. Sung-gil backs off from taking his shot, and Choi Won-shin arrives on the scene with more men. Quickly, Yoon-kang swivels his rifle around and aims it straight at Hye-won, which ratchets up the tension another notch.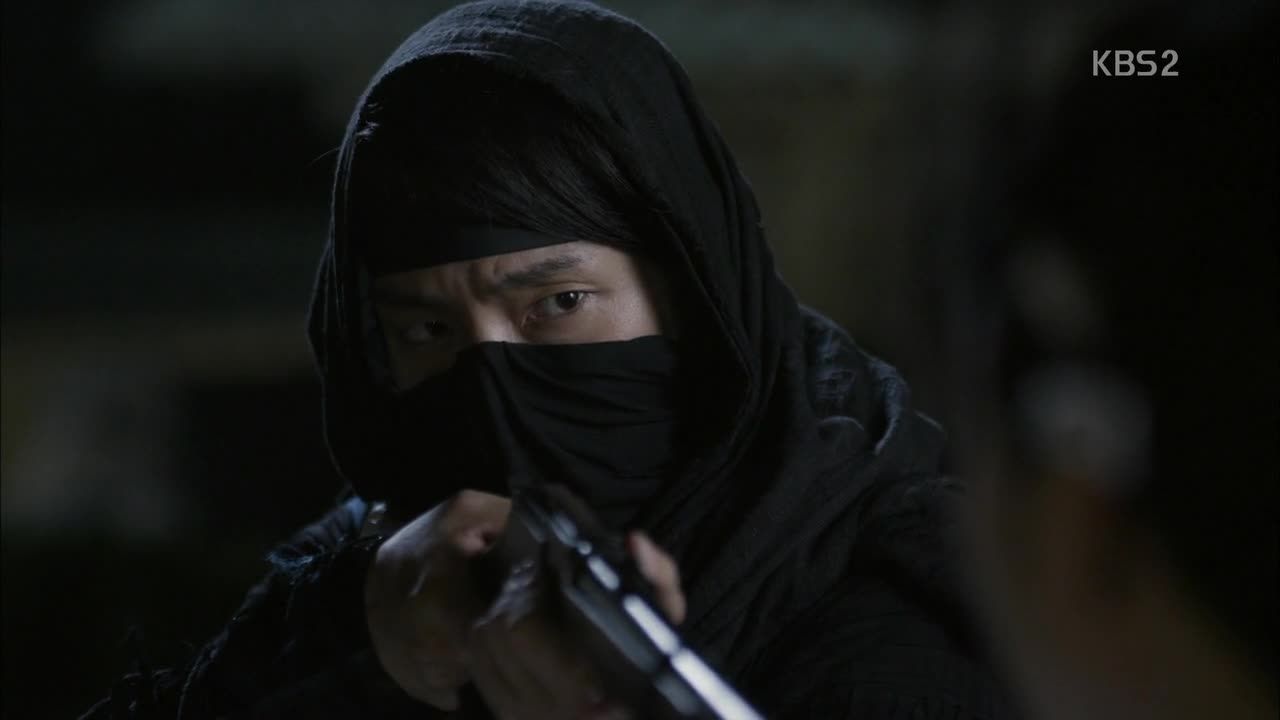 Alarmed, Choi Won-shin warns him not to hurt her, but Hye-won speaks up, saying that she doesn't think the gunman means to kill her. Taking charge, she offers to show the gunman to the door and leads the way with Yoon-kang's rifle trained at the back of her head, while dozens of swords are pointed at his back. It's a highly volatile situation, but she remains regal throughout.
Hye-won tells her men to stay back as she opens the gate and leads Yoon-kang outside, at which point she asks what business he has at her house. Yoon-kang merely lowers his gun and runs off—and then he turns back and offers her a silent bow of thanks.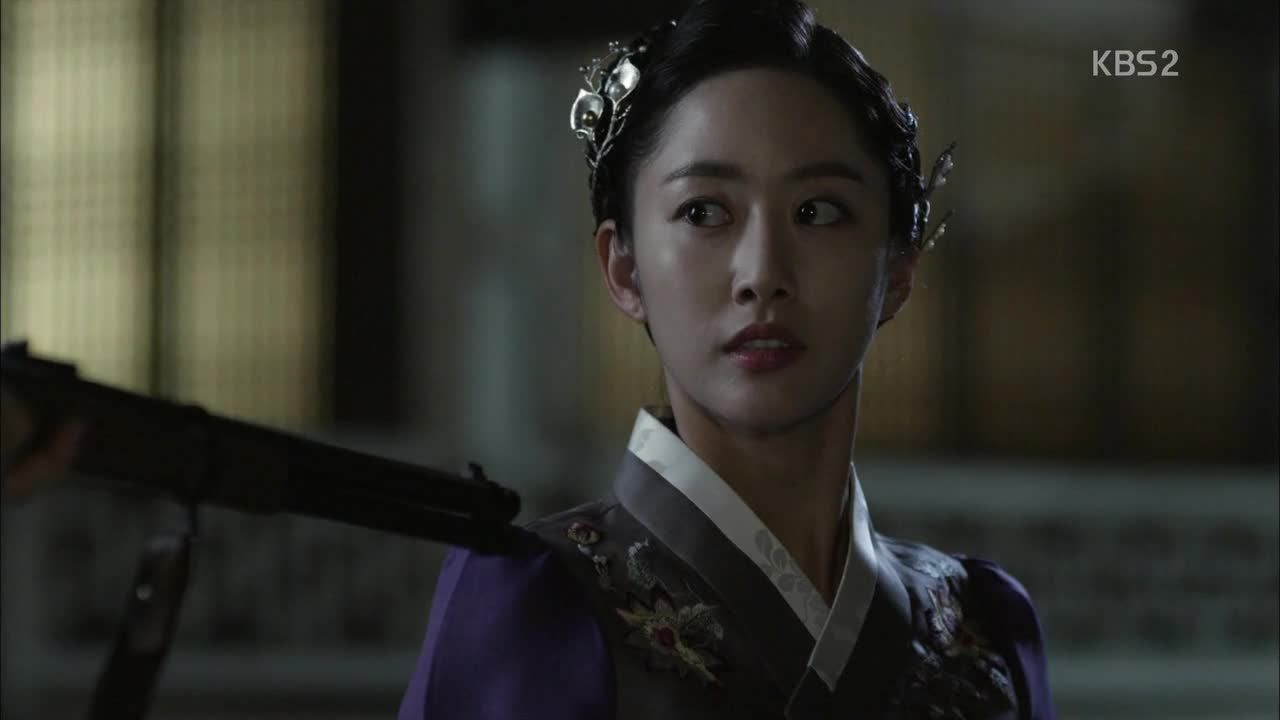 Hye-won asks her father what's going on, and he apologizes for putting her through the shock. She agrees that it's been a day full of shocks, mentioning Yeon-ha's arrival in their household. Choi Won-shin has a plausible-sounding explanation at the ready, saying that Soo-in's fixation with finding her led him to ask around as well, but that he hadn't told Soo-in yet because she's on edge about the demonstration.
Furthermore, there's a chance they may need to use the Yeon-ha card, in which case they can't reveal having found her. He explains that one of the guests today took a liking to Yeon-ha… and he happens to have an explosives specialist in his employ. Oh gee, isn't that narratively convenient. Thus if Soo-in's demonstration fails, they may have to trade Yeon-ha for that specialist.
Hye-won finds the idea repulsive and exclaims that they can't do that. Her father doesn't like the idea either, but is fully willing to carry it out.
The next day, everyone heads out to an open field to test the explosives. On the walk there, Choi Won-shin tells Yoon-kang of his midnight visit by the gunman, and Yoon-kang pretends that this is news to him and asks whether there's someone with a grudge against him.
Choi mentions Yoon-kang as a possibility, and says pointedly that even if the young man hadn't died, he wouldn't last a day in Joseon as the son of a traitor. "He couldn't live, even if he were to hide his identity. I am waiting for his return—and this time, he will not be able to survive and run away," Choi says.
Yoon-kang replies just as pointedly, "You should be careful yourself, lest you wind up hurt." He aims a finger-gun at Choi and says that guns can take you out in a second.
Soo-in prepares the bomb by placing it a shallow hole, then lights the fuse and then hopes for the best. She tenses in anticipation and covers her ears, and everyone watching holds their breaths in hope, waiting for the explosion. It doesn't come, and Yoon-kang smirks.
Soo-in steps closer to check on the bomb, just as a cloud of smoke starts billowing from it. Yoon-kang sees the imminent danger and lunges forward to grab her out of harm's way, and they tumble to the ground just as the bomb sends up a shower of sparks.
Ultimately the test is a failure without an actual explosion, and Yoon-kang declares the deal off. Soo-in apologizes, but Hye-won recognizes that they'd asked the impossible and thanks her for trying. She adds that Soo-in ought to thank Hanjo later for saving her just now.
Soo-in points out that the bomb didn't go off, but Hye-won replies, "It could have. He risked himself for you."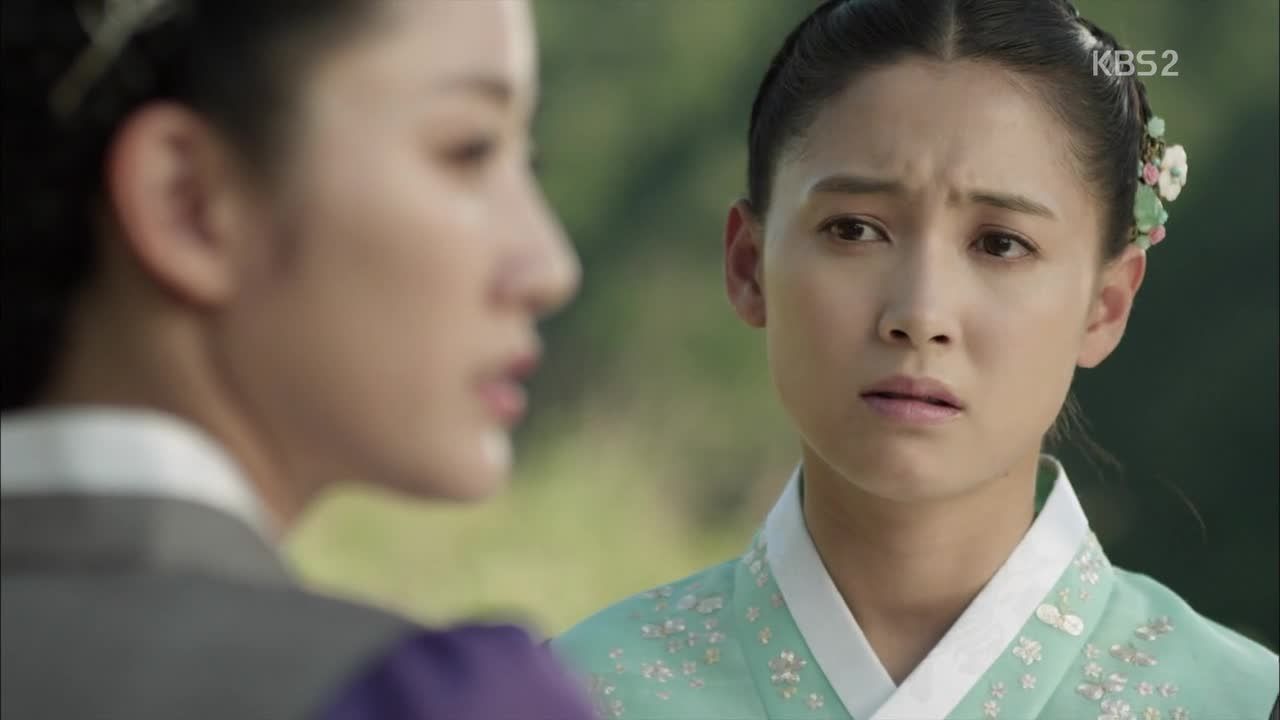 Gojong appoints several of his men to positions within the new bureau, to the consternation of his Sugu rivals. Minister Kim is particularly chagrined, and his cronies glower as the other faction passes by them in the courtyard. And then Minister Kim recognizes a face in that crowd—his son. Ho-kyung bows his head, and Minister Kim passes him by silently.
He calls Ho-kyung for a meeting in private, asking what the hell he was thinking in entering the court. Ho-kyung answers that he was merely given a chance to work toward his dreams, and took it. Minister Kim bellows in a rage that he's making a mockery of his father: "Do you want to see people point their fingers, saying that this father raised his son wrong?"
Poor Ho-kyung, who is both hurt and angered: "Is that what you are afraid of? Are you so afraid that it will become known that I am your son?" He asks what happened to the warm and caring father who had elevated his mother from the lowest class to commoner status, who treated his bastard son as a legitimate one and taught him his studies: "What has changed you?"
Minister Kim only sputters in rage. Ho-kyung continues, "I did not realize that having one illegitimate son could make you so afraid. You have risen to the position of government minister! Whose censure are you afraid of receiving?"
Ho-kyung assures his father that he won't breathe a word to anyone: "Just as I am a shameful son to you, you are not a father I am proud of."
Yeon-ha is sent to Lord Lecherous' household, and Hye-won can do nothing but say that she's sorry. Choi Won-shin visits Yoon-kang to inform him that he has found a new specialist and can bring him right away. Yoon-kang says that it's already too late, but Choi presses, promising additional recompense to make the waiting worth it.
As Choi leaves, Yoon-kang sees his entourage follow him out, armed with a bevy of gifts for Lord Lecherous… and Yeon-ha. She casts a look back and sees him looking at her, and Yoon-kang watches with his heart in knots as she's hurried along.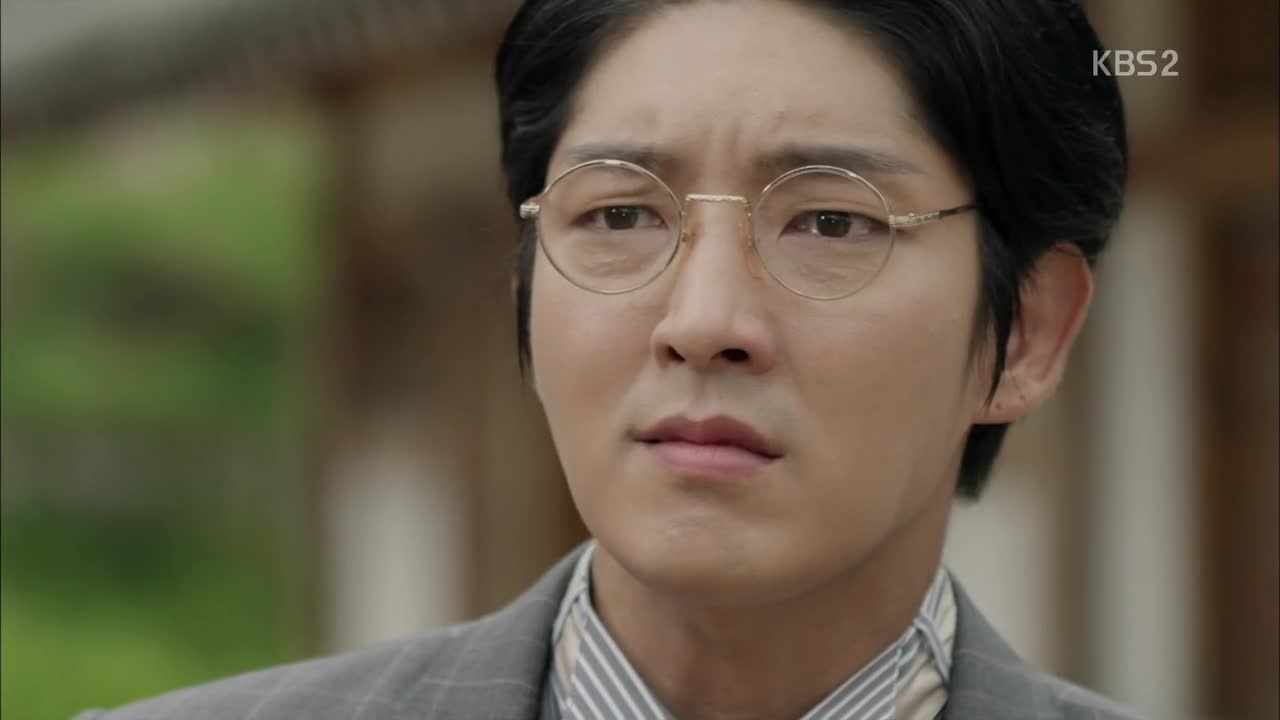 Lord Lecherous is pleased to welcome his new slave girl, who is set aside with the instruction that she is "not meant to be put to work." Hint, hint. Yeon-ha hears this and understands her fate, and cries for her brother.
This is something of a two-for-one deal for Choi Won-shin, because he gets the promised technician and also another chance to catch the gunman, since he's fairly certain Yoon-kang will act tonight to save the girl.
The guard presence is beefed up that night as Yoon-kang arrives at the house and sees a perimeter of gun-toting watchmen. His foot slips and sends a roof tile crashing noisily down, but thankfully a cat is on hand to take the blame for the disturbance.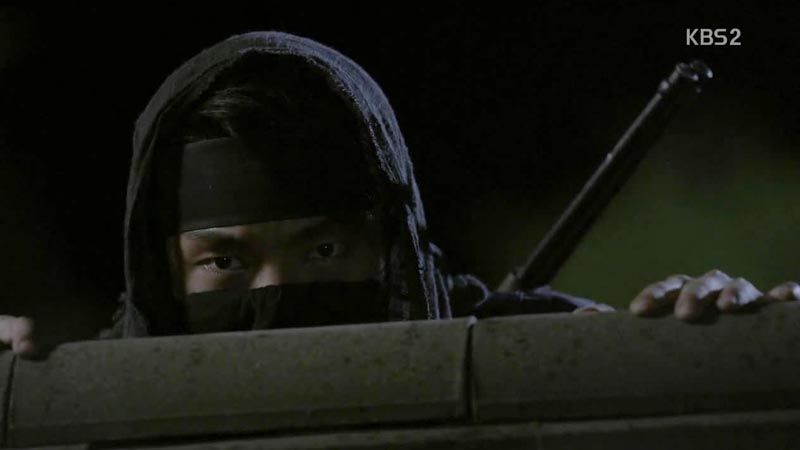 Soo-in pores over her manual, frustrated that her demonstration failed. Her cheeky maid never fails to crack me up, pointing out that she was only ever good at fireworks, and that's what she produced in the demonstration. Soo-in glares, not appreciating the reminder.
Ho-kyung finds her stewing over the problem, and she decides that the only way to know what went wrong was to consult a real expert. He's happy to see the return of the old Soo-in, the one driven by curiosity, who has been absent for so long.
Seeing that he's far outnumbered, Yoon-kang retreats rather than press his luck. The presence of gunmen at Lord Lecherous' home also confirms Choi Won-shin's involvement. Now he'll have to find a way around the line of defense to get his sister out.
Slave girl Je-mi starts teaching Kanemaru a few phrases in Korean, since he's decided he'd like to understand what's going on around him. Yay, I want to see this character utilized more, especially since the actor is fluent in Korean and is totally capable of doing more. Yoon-kang welcomes the lessons and jokes that he won't be able to talk about Kanemaru behind his back anymore.
Sang-chu is less happy, though, and pulls Je-mi aside to chide her for the lessons. He can't exactly say that having Kanemaru understand would actually be a hindrance, and Je-mi enjoys the work, so reluctantly Sang-chu concedes. "Only a little, though!" he orders. "One phrase a day!"
Soo-in is relieved that Hye-won has found a new specialist, and that their project can continue. Hye-won doesn't have the heart to tell her what she knows about Yeon-ha, though she sighs to her father that Soo-in will find out someday, and when that time comes, she will likely cut ties with Hye-won.
Choi Won-shin just says that's unavoidable: You win some, you lose some. Hye-won does not share his dismissive attitude, warning, "But you may lose me as well. Have you forgotten what kind of child I was? I was a slave too."
The reminder is disturbing to Choi, who tries to end the conversation. Hye-won adds in a hard voice, "I was raped by my owner, and beaten by my mistress who accused me of seducing him." Choi shouts at her to stop. She continues, "You should not have sent Yeon-ha away like that, in front of the daughter who suffered the same."
Per Yoon-kang's instructions, Jung-hoon requests to be assigned to handling affairs that involve the Japanese. This allows them to meet without arousing suspicion, so when he drops by on a police-related excuse, he and Yoon-kang sit down to discuss Yeon-ha's situation.
It turns out that Lord Lecherous is actually Minister Lecherous (the minister of justice, to boot), and he's important enough that his upcoming birthday has people all over sending him gifts.
Jung-hoon is ready to jump up and rescue Yeon-ha right then and there, but since he lacks the smarts to make that happen, Yoon-kang tells his friend not to do anything. He especially warns him not to alert Soo-in—it wouldn't do anything other than make her feel bad.
Choi Won-shin introduces Yoon-kang to his new explosives expert and offers a demonstration on the spot. Yoon-kang agrees to finalize the contract tomorrow and leads the expert to the warehouse of materials.
Soo-in has taken in into her head to find out what went wrong with her attempt, and watches the activity from a distance through her spyglass.
Yoon-kang explains the failed demonstration to the expert, who says that if a certain ingredient were insufficient, it wouldn't even cause sparks, just smoke. That gives Yoon-kang an idea, and as he steps outside to mull it over, he gets hit in the eye with the reflection off Soo-in's spyglass. He sees the glinting in the distance, while Soo-in is preoccupied with the view he's blocking and is just happy when he moves out of the way.
She observes the expert mixing the chemicals and sees that his ratio is different, counting along as he scoops the various powders. Suddenly her view is obscured, and a face looms in her line of sight. Yoon-kang, of course.
Sheepishly, Soo-in confesses that she was seized with curiosity, and that her personality is generally like that: "If I read this book, I become curious about that one. If I see a picture, I become curious about the real thing. And if I have the real thing, I have to tear it open."
She apologizes again, and thanks him for stepping in at the demonstration. And somewhere during that explanation, the look changes on Yoon-kang's face and takes on a serious bent. Now he asks her for a favor, offering her to the opportunity to learn about explosives properly in return.
The request is to create a concoction that produces only smoke, which is something she can easily do. He needs her to keep it secret, and he needs it immediately. And so, Soo-in mixes together the powders and produces the smoke bombs.
Sang-chu takes his place in the line of birthday gift-givers outside Lord Lecherous' home, which gives him the chance to set the bomb and then escape in the ensuing chaos.
Yeon-ha is cleaned up and dressed nicely for the big night, and Lord Lecherous is eager to get the party started. He joins her that evening and makes small talk, which leads to him asking about her father. He recognizes Park Jin-han's name, and when she says firmly that he wasn't guilty of any crime, the lord recognizes that freely, saying that his only crime was in trusting the king. And then it's time to stop talking, and he gets grabby.
Yeon-ha resists, and in her panic she slaps him across the face, leaving a scratch. Furious, he raises a hand to slap her, just as screams sound from outside. He opens his doors to a wall of smoke, and Yeon-ha seizes the moment to dart outside.
The estate is in an uproar, with servants screaming "Fire!" Visibility is near zero, and thus Yoon-kang's arrival outside the gates and on the rooftop goes unseen.
Yeon-ha creeps along the perimeter looking for a way out, only to be grabbed by Lord Lecherous, who's offended enough to skip over the raping to get right to the killing. He shoves her to the ground and raises his sword to strike, and Yeon-ha prays, "Oraboni!"
A shot rings out. Lord Lecherous falls, taking the bullet in the chest. Good riddance.
A masked Yoon-kang jumps down in front of Yeon-ha, who cowers at his feet, afraid she's next. But he calls out her name and lowers his mask before grabbing her tightly in an embrace, crying out his apology.
Just as I'm yelling at them to escape-first-hug-later, Yoon-kang looks up through the thinning smoke and spots a sniper on the rooftop. With only a split-second to spare, he whirls the two of them out of the way as a shot is fired, missing them by inches.
Yoon-kang spins around, cocks his rifle, and takes his shot.

COMMENTS
Yeon-ha is saved, yay! I'm happy for the characters, naturally, since this is what we've been building to and it's such a point of desperation for Yoon-kang. And let's face it, if our hero wants something, I want for him to have it, just because it hurts him otherwise. But mostly, I'm glad because the story should be moving forward now, and this episode made me feel that the Yeon-ha storyline could have been resolved yesterday.
I understand why you'd choose to deliver the big emotional payoff on a Thursday episode, so it's not a glaring flaw. But if you have to pick one side, it's always better to get to a plot point before your audience knows it wants it, than to get there after. That's what happens when your audience is getting both more savvy and less patient—once we know where we're heading, we want to be there already. So the best-paced stories will generally beat us to the punch, and that keeps us on our toes. All of which is just my way of saying: We knew Yeon-ha would be saved so we were happy when it happened, but in the absence of game-changers or twists, it's best we get there sooner than later. Otherwise it feels a bit like watching someone figure out a math problem—you have to go through the whole process and not skip steps, but I don't necessarily want to watch all of those steps.
That minor gripe aside, it's still a largely satisfying moment for me and I still totally cried, because you could feel the emotion in the air. And I do think it was a clever bit to thwart Yoon-kang for several days before he thought up the smoke cover—it makes him resourceful as well as just a good fighter.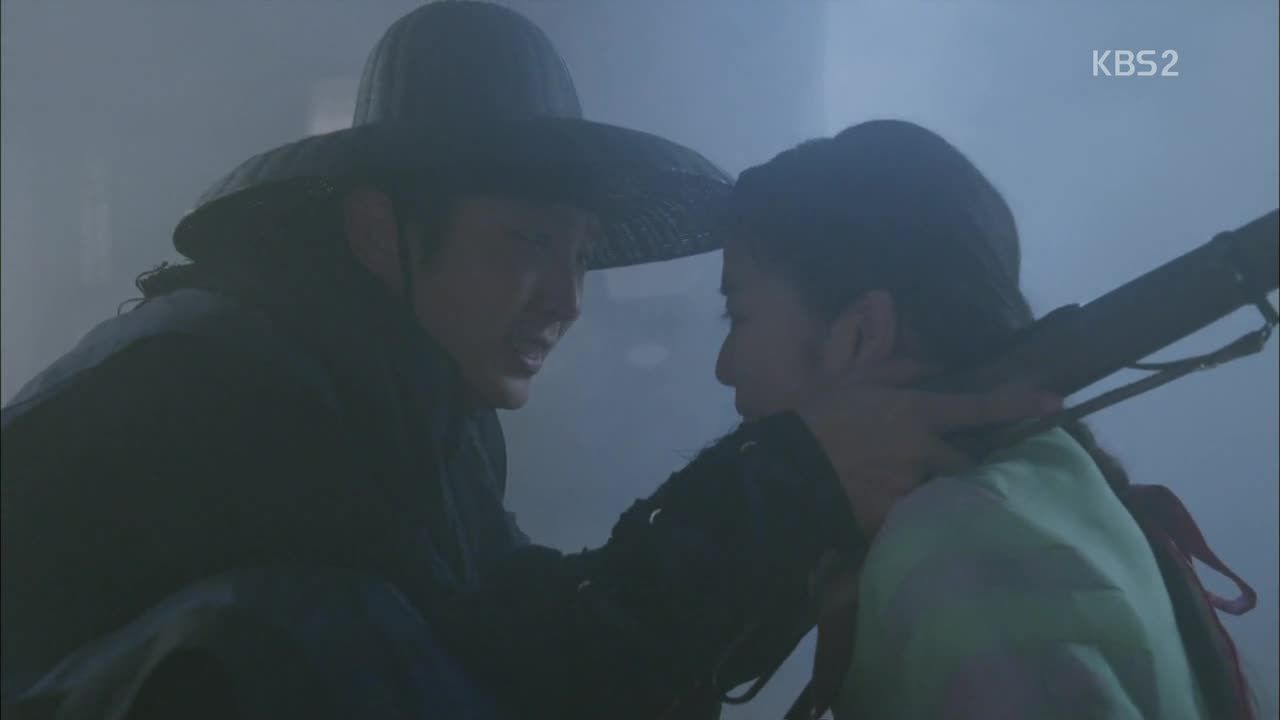 It also further obscures his identity, because he can slip away with a legitimate reason. I do find it amusing that everybody is essentially convinced that Yoon-kang and Hanjo are the same person (and also the gunman), but stymied by the lack of proof. Because if you attack one household and only steal one slave, it's pretty obvious why… and yet, while there's a sliver of a chance that Hanjo is his own person, you don't want to shoot yourself in the foot.
One development that did make me happy was the inclusion of Soo-in in the smoke bomb plan, for a couple different reasons. First, the fireworks seemed like it could be a throwaway bit used for mood setting and pretty scenery at first (no complaints about that, by the way), but then it served as a way to keep her integral to the plot, which I appreciate. And now it makes her complicit in Yoon-kang's dealings, in both the good and bad ways—bad because it could get them both into hot water, but good in that she's acting for a cause she'd willingly support anyway.
Plus, it gives her more confirmation that Hanjo is Yoon-kang, since I'm sure news of the smoke bombing will reach her eventually. (Well, I expect it to be news of fire, but she'll figure it out.) While Soo-in's naivety can be frustrating for those of us who want her to be a little sharper, I do think she's clueing into the possibility that Yoon-kang has a legitimate reason for hiding his identity, and she's been keeping her thoughts to herself. Really, the only people she's shared them with are Hye-won and Jung-hoon so I don't think she's been a blabbermouth, but I want her to play this one closer to the vest.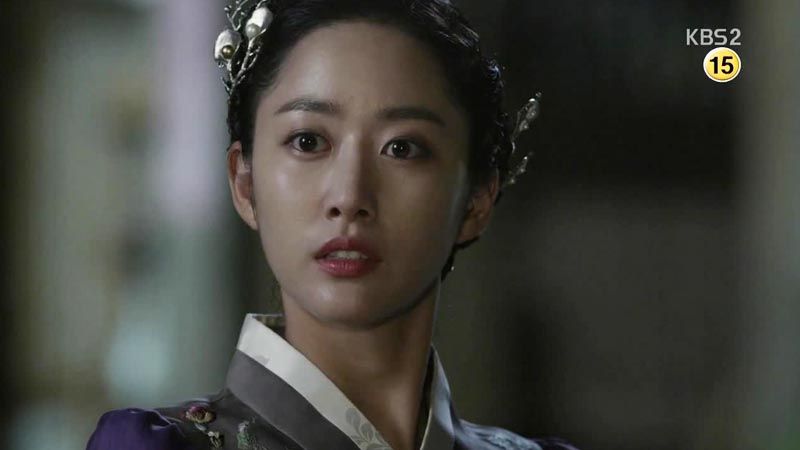 I continue to be impressed with Hye-won, and was surprised by the news of her past—not only because it gives her added dimension, but because she almost doesn't even need it. I mean that as a compliment, in that she is a character who feels like a fully thought-out person just in the performance, and the way she holds herself and betrays the tiniest of emotions in the smallest, fleeting moments. But the slave background is a bit of a stunner.
We're still left to speculate on the why and how, because as far as I can tell we've had no mention of her being adopted; so if she's Choi Won-shin's biological daughter, how did that period of her life come to pass? And if she is adopted, what was it that created such a strong bond between father and daughter? The paternal protectiveness is what keeps Choi interesting for me, and gives him vulnerability when he could have been a cold-blooded killing machine, so I'm curious to know more about their pasts.
I'm not going to go as far as to say I prefer Hye-won as a romantic interest because I'm programmed to go with the story as it's being presented to me, and I do quite like Soo-in. I feel like she's being held to some unrealistic expectations, but mostly I think the story could stand to move her more front and center, to be more active than reactive. And just to get the ideas flowing, let me suggest that the first thing she can react to are more kisses. If that's too greedy, I'll take hugs, too. Fine, some inadvertent skinship, and that's my final offer.
RELATED POSTS
Tags: featured, Joseon Gunman, Lee Jun-ki, Nam Sang-mi