Kang Haneul: Reinventing himself into leading man
He's definitely on fire: Kang Haneul, who began the year with a short but lauded appearance on Angel Eyes, has been cast as the lead in no less than four — yes, four — movies in 2014. Originally a musical theater actor, his breakthrough small screen performance was in last year's Monstar, after which he quickly auditioned for and won the part of Hyo-shin in Heirs. Now, less than a year later, the in-demand actor no longer needs to audition for parts, and he is struggling to keep up with the offers that have rolled in.
The actor has been on a publicity tour for Mourning Grave (also known as Ghost Story of a Girl), which is currently in theaters, and he's being praised for his first leading role in the Oh In-chun-directed feature, with news outlets reporting that he effortlessly navigated between the melodramatic, horror, and comedy aspects of the story to carry the movie. He was asked about how he was juggling his projects, shortly before the wide release of Mourning Grave.
"I've been having a hard time due to filming. In addition to supplemental scenes for Mourning Grave, overlap between C'est Si Bon and Age of Innocence productions meant that I recently forgot the code to get into the house I had moved into two weeks prior," Kang laughed. "However, I'm very grateful to have these projects to work and strive for." In addition to the three, filming begins this month on Twenty, which will reunite the actor with his Heirs castmate Kim Woo-bin.
Kang's been so busy he's hardly had time to breathe, but he took a few minutes to talk about Mourning Grave and how much he treasured the experience. The film was pulled off with difficulty, as production ran low on funds, and the cast and producers had to use all of their collective efforts to get it made.
"Our budget was small so we had to finish everything on schedule. Since we couldn't do many takes, we paused to look at the continuity and to consult with the director quite often. We had to immediately start performing as soon as the cameras started rolling, so it was important for everyone involved in the film to seek each other's opinions. I think that's why we all worked unusually well together. I gave it my all, and everyone else did too. The movie turned out sleeker than we could have imagined, and for that, we are very grateful to the director."
In Mourning Grave, Kang got to collaborate with his close friend, Kim So-eun (Horse Healer). The pair, who are both alums of Chung-Ang University's theater/film program, play first loves in the film. When asked how it was to work with each other, they both waved off the question, merely saying it was "ticklish."
Kang said, "We're good friends. Even during university, of the friends who pursued acting, we were the closest. So-eun isn't just a pretty girl. She's easygoing and unaffected, and is prettier because of her simple air. Our first scene is one where I blow hot air into her hands, and it was so awkward we kept laughing. It was really great and comfortable to collaborate together — we didn't even need to speak to be on the same page."
As mentioned, the actor is getting positive affirmations from within the industry and from the general public for his leading performance in Mourning Grave. He has steadily climbed to his current position, and has earned a title as one of the most influential actors of his generation, not by being a part of a large agency or an idol, but through his hard work.
"Of course it feels good to receive favorable reviews. Yet somehow, I gain a strange strength from reading criticisms. I'll read things like, 'He is so common-looking, why are they promoting him?' and 'Where did this ugly dude come from? Our idol oppas are the best!' and will think the comments are funny, but I also think to myself, I need to work harder. After Angel Eyes first aired, there were so many articles written about it, I asked my manager if we had issued a press release. As people start to pay more attention, I feel a greater sense of responsibility. I'll always try to reinvent myself with different characters and will struggle to digest each character and to learn."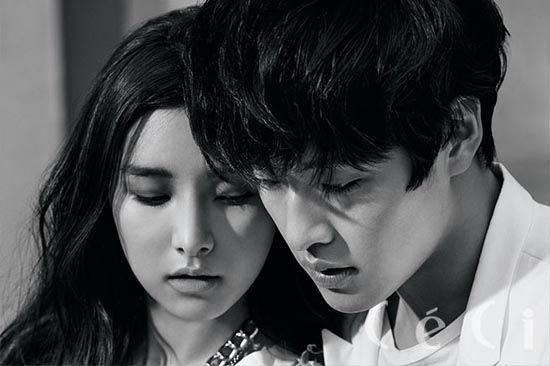 He's certainly accomplished a lot in a short amount of time, and is more than deserving of a break, but Kang has said he will not stop his efforts at growth, as an actor or as a person. He has said he doesn't want to be a foolish actor.
"Lately, I've been thinking that I need to read more books. Since an actor's job isn't just to act, I need to be smarter. I've realized a lot of the ways in which I am lacking. Recently I've been paying attention to directors at work. My thinking is, if I know a little bit about the editing process, I might be able to become a better actor. There are some individuals who are worried about me taking on back-to-back projects. I'll try my hardest to put my best efforts on screen so that the busy pace isn't evident in my work."
Kang appears to have a long and storied career ahead of him, and I hope he manages to stay appreciative of his opportunities and to maintain his healthy sense of humor about the business in the years ahead. While I won't be seeing Mourning Grave (I won't touch horror movies with a ten-foot pole), I promise to support you by watching and waiting for your other work!
Via ENews24
RELATED POSTS
Tags: interviews, Kang Haneul