Lee Seung-gi and Moon Chae-won couple up in Today's Romance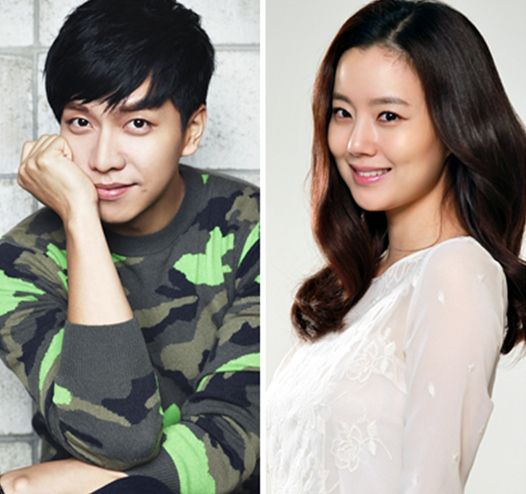 And the reunions of 2014 continue! Lee Seung-gi (You're All Surrounded, Brilliant Legacy) and Moon Chae-won (Good Doctor, also Brilliant Legacy) are confirmed for Today's Romance (a working title; it was previously called Three Men's Woman), which will be a movie about (you probably deduced from the title) the delicate romantic relationship between the two leads. It will be the first project helmed by director Park Jin-pyo (My Love By My Side, You're My Sunshine) in five years.
In his debut film role, Lee Seung-gi will be playing a guy who is constantly dumped and is always the giver in relationships — a real loser (ruh-roh, payback time for Moon's unrequited love in Brilliant Legacy?). Moon Chae-won will also be taking on a role that is a complete 180 from her previously classy characters, a weather forecaster whose pretty face belies the glib-talking, aggressive personality underneath.
About his casting, Lee Seung-gi said, "The pairing was interesting because it seemed like a natural relationship; one that could exist in real life. I enjoy the [rom-com] genre, so I'm really looking forward to this project. Also, I'm really happy that I get to work with Director Park, whom I've always liked. It's my first movie so I'm nervous and feel an additional burden, but I won't be greedy and will be ready to learn as I try my best."
Moon Chae-won said, "The story is about a warm and realistic romance, wrapped around moments of fun and humor. It is the kind of love that most experience at least once in their lifetimes, and that's what I liked about it. I hope it is a work through which I can show viewers another side to myself."
Today's Romance sounds like it will be adorable, but we'll have to patient to see these two cuties on the big screen together. The movie will begin filming at the end of this month and will be released in 2015.
Via SBS funE
RELATED POSTS
Tags: Lee Seung-gi, Moon Chae-won